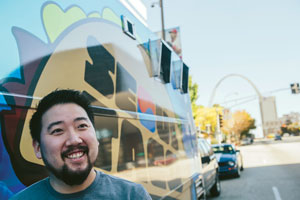 In 2011, Seoul Taco Founder David Choi sold his car to buy a food truck and start his St. Louis-based restaurant brand known for its Korean/Mexican street fare. Six years later, he has two food trucks and four store locations in Missouri and Illinois.
Over the years, Choi has become an expert in owning and operating mobile kitchens. He shares a few of his operating tips for food truck success and we follow up with more tips gathered from food truck manufacturers and other operators.
Choi's first tip: You don't always have to buy the food truck brand new. By purchasing a used truck at a lower cost, you can save money before you get your product off the ground. "The whole point of starting out with a truck is to get your concept out there for the lowest investment," he says. However, the equipment must work for your menu. Choi's first truck included a convection oven and a fryer, neither of which was necessary to his menu. "I removed the oven and fryer and that left me a griddle, a steam table and refrigerated sandwich prep unit, enough to get started," he says.
Choi advises keeping the menu small and simple at the start to help your execution and to keep the lines moving. He began with three items, Korean tacos, bulgogi and quesadillas. Not too long into the operation, he realized he'd need a larger griddle than the existing unit. Having removed the convection oven and fryer, he had enough space to install the size he needed. He's since added a few new dishes to the menu.
Space, of course, is always at a premium. For that reason, Choi says that operating out of a commissary makes sense not only from a sanitary food production standpoint (and it's code), but because it means you don't have to carry the world with you on the truck. "On our trucks, we have a tiny handsink of course, but we also have the smallest three-compartment sink I could find because we do our warewashing at the commissary," he explains. (He also discards waste and waste water at the commissary.)
"Concentrate on preparing the food that makes you unique and don't take up space with equipment you don't need," he says. In fact, Seoul Taco doesn't bother with too many beverages either, freeing counter and cold-storage space. "Some trucks have coffee urns and fridges for beverages, but we go to high-traffic areas that have plenty of beverage options all around. Again, we concentrate on the food." A cooler and a bag of ice suffices for Seoul Taco's few beverage offerings.
Filling The Tanks
As simple as it sounds, make sure to check your fluids before going out. This includes gas, propane and water. "You don't want to run out of juice in the middle of service," Choi explains. His gas generator sits in its own compartment in the back of the truck and runs all the lights, the tankless water heater, refrigeration and importantly, music. "Generators are loud," he explains. "You need to mask the noise."
Choi is adamant about installing very high-quality generators and tankless water heaters. "Do not opt for cheap versions of these items; your whole operation runs on them."
Operationally, he says, the success of the truck relies on maintaining a regular schedule so people know where to find you. "This is super important for brand awareness and for building a following," he adds. Open only for lunch Monday through Friday, Choi and his team always return to the same spots each week so that customers come to expect the truck. The rest of the time, Seoul Taco is booked on an almost-constant basis for private and community events, catering gigs, sporting events and more.
"We use our mobility to our advantage. There are plenty of ways to get creative with catering and delivery when you have a kitchen on wheels," he says. In fact, his trucks were booked for most of 2017 by last October. "We've done as many as 1,000 covers in four or five hours."
Operating Lawfully
Before you open a truck for business, check all local codes—both from the health department and transportation department. If you're proactive, these departments will become your best resources. There's nothing worse than building or outfitting a great truck and then finding out you have to rip it apart to meet code (see "Check Your Codes").
Additionally, you must obtain a business license for every city in which you plan to use the truck. You need to pull all the necessary permits, find out what taxes and other fees are required, look into parking regulations and acquire proper insurance.
Outfitting The Truck
Your menu determines what equipment you'll need; after that the weight of that equipment needs to be your next consideration. Start with your rig's gross vehicle weight rating. Your calculations on what the GVWR can bear needs to include the vehicle's base weight, plus the weight of all equipment, water, fuel, the generator, food product and people. The total can't exceed the GVWR.
As you're planning your equipment line-up, the amount of power drawn by each electric piece will impact the size (and cost) of the generator you'll need. You want to find the most efficient equipment using the least amount of amperage possible.
Food trucks move, so in addition to understanding shifts in weight from beginning to end of the day, such as water shifting from fresh to waste tanks, equipment installations have to be able to handle the vibration from the trucks, not to mention the occasional pothole. "We use a lot of undercounter shelving with containers and latching doors to hold smallwares and supplies in place during transit," Choi says. "And we make the most of vertical space, using it for storage."
Refrigerators should ideally have locking doors and shelving with partitions or walls to keep items in place, according to manufacturers.
Most health departments will shut you down if your refrigeration is not at the right temperature—41°F in most cases. Can yours maintain that temperature if you're serving out of an open window in 95°F weather?
Hot liquids, including water in steam tables and oil in deep fat fryers, require lids that latch to contain them in transit.
If you opt to condition the truck interior, two key considerations for ventilation include exhaust fan height and tempering make-up air. Choi, who operates his trucks year round, relies on the ambient griddle heat to keep employees warm in the few hours the truck operates during cold weather days. In the summer, employees hydrate often and just plow through the hot weather shifts.
If you're operating in freezing conditions, protect your plumbing lines from freezing overnight.
Spec For Strength
The other key with equipment is to spec strong. Some makers follow Marine guidelines, specifying equipment that can withstand the motion of the open seas. They include marine edges, sealed seams, extra welds, removable doors with extra-long push-pin hinges (so the doors won't bounce up and off hinges), flexible stainless tubing for gas lines and all-stainless interiors with coved edges everywhere for easy cleaning.
Research where you'll be operating your truck. Choi says, it's imperative to scout areas, figure out permits, check the brick-and-mortar competition, figure out if the customer traffic will support you, and assess the climate. "Again, you have to show up in the same place on a regular schedule, so vet those locations carefully."
Other operators also tell us it's a good idea to make friends with maintenance and repair people, both for the kitchen equipment and the vehicle. If you aren't selling food, you aren't making money. From the get-go, design your truck kitchen with maintenance in mind. Either install repair access doors on the outside of the truck, or choose equipment with easy access from the front.
Check Your Codes
Codes for food trucks can vary greatly between counties. Following are a few examples from the California Retail Food Code, considered one of the most stringent codes in the country. Check with your local environmental health department to find out what codes to follow in your area.
• A mobile food facility must be stored at or within a commissary for protection from unsanitary conditions.
• The facility must be cleaned and serviced at least once daily during an operating day.
• All equipment, including cooking equipment, interior of cabinets and compartments, must be designed and made of materials that result in smooth, readily accessible and easily cleanable surfaces.
• Equipment from which spillage might occur must have a fitted drip tray so spillage drains into a waste tank.
• Food products remaining after each day's operation must be stored in an approved commissary or other approved facility.
• A mobile food facility that is required to provide warewashing and handwashing facilities must provide one warewashing sink and one handwashing sink per site.
• A facility must operate within 200-ft. travel distance of an approved and readily available toilet and handwashing facility if it is stopped to conduct business for more than one hour.
• All utensils must be stored to prevent being thrown around in the event of a sudden stop, collision or overturn.
Sidebar reprinted from Special Report: Chains Go Mobile, by Allison Rezendes, FER August 2012.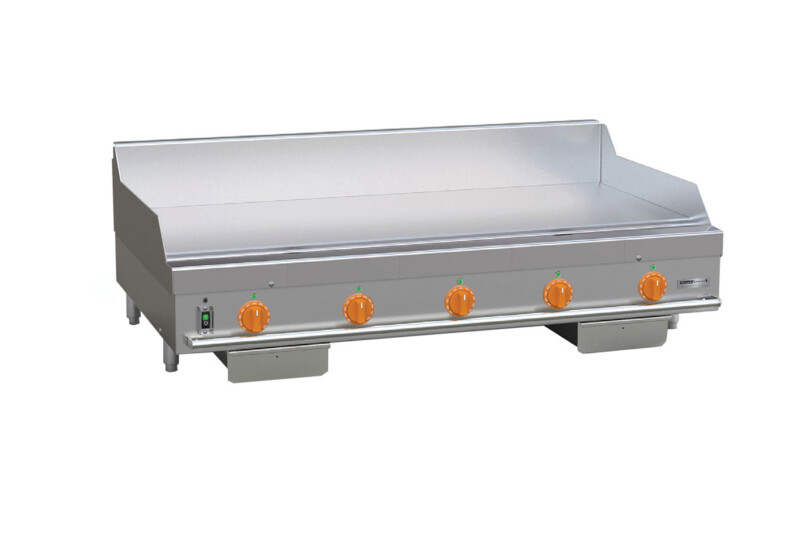 Cooking Equipment
Planchas, though convincing clones of their better-known sister product the griddle, quickly set themselves apart.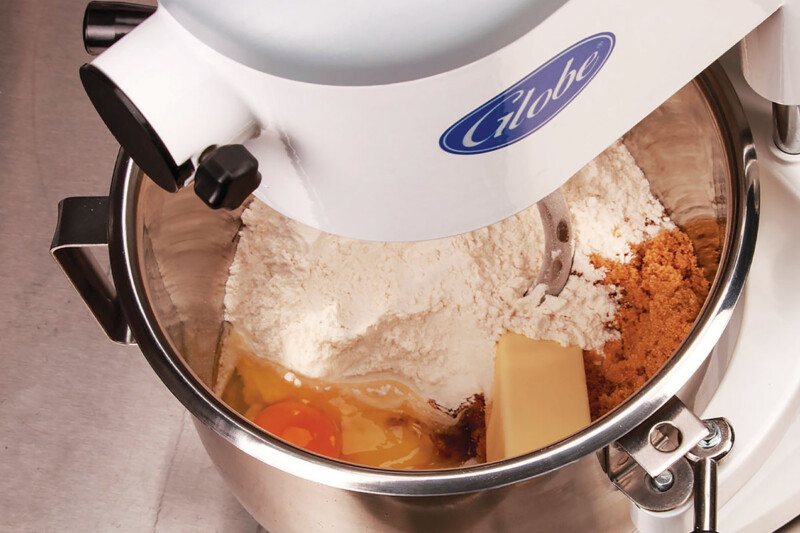 Equipment
The countertop mixer is the Swiss Army knife of the kitchen—small but mighty, with the power to perform various functions.