The Operational Perks of Today's Rack Conveyor Dishmachines
Forget steamy dishrooms; some of the newest rack conveyors improve environmental comfort and reduce overhead costs.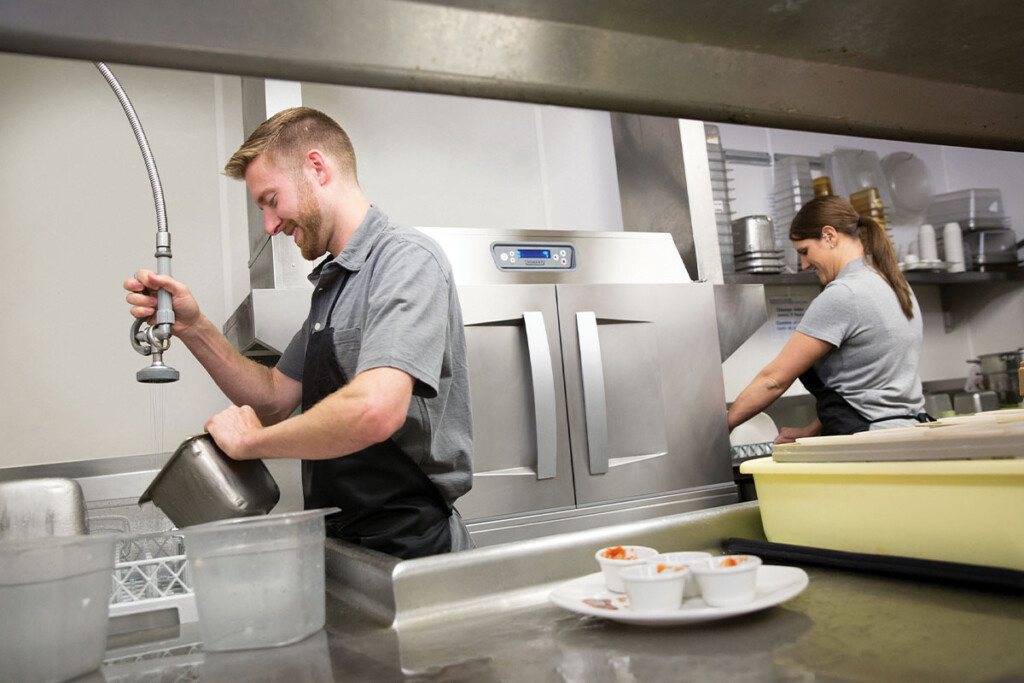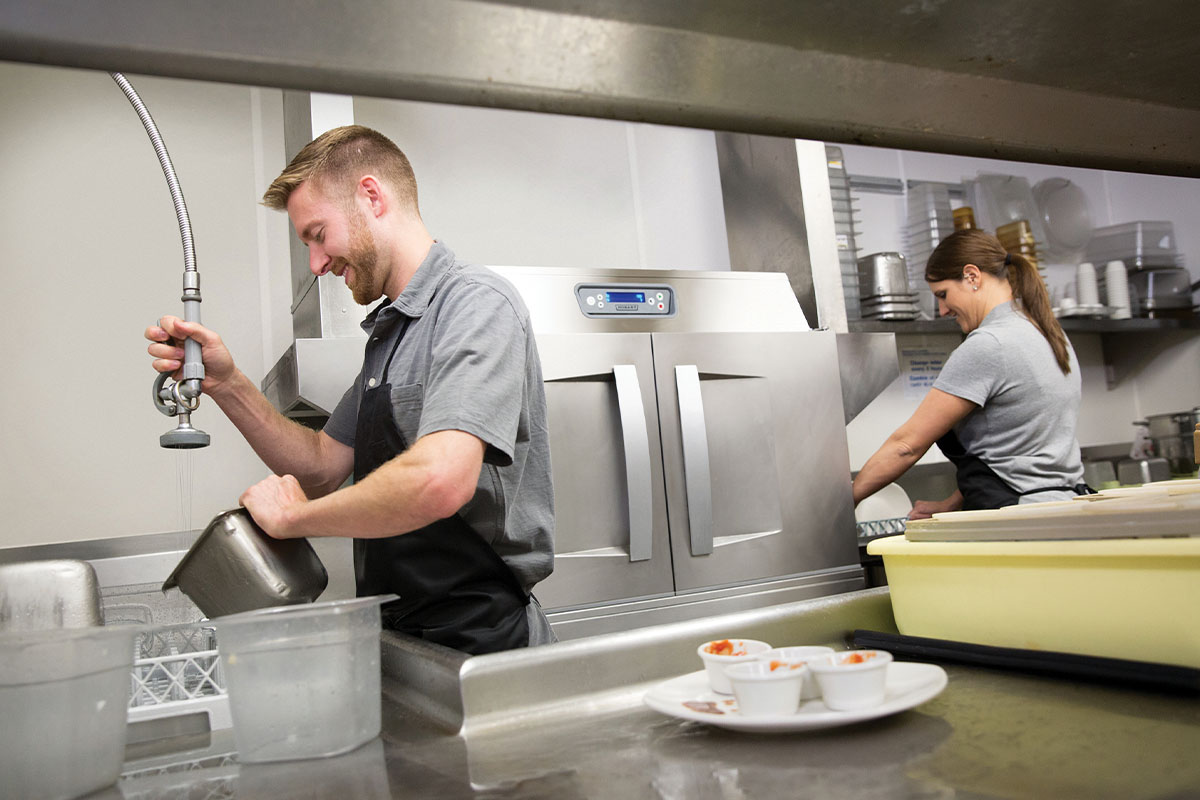 What if you could invest in a piece of equipment that would not only improve the work conditions for your staff but also help reduce overall operational costs? You might not think a rack conveyor dishmachine would be the answer. For decades, operators have counted on these machines to provide clean, sanitized ware for foodservice facilities, but they also were associated with the hot, humid work environment of the dishroom. However, newer features and technologies such as ventless options and self-diagnostic controls bring added benefits to help operators navigate a tight labor market and improve their bottom line.
A BETTER WORK ENVIRONMENT
In the struggle to hire and retain staff, it's not easy to entice people to work in a hot, humid dishroom—the natural result of a machine using hundreds of gallons of hot water and producing steam with each cycle. Ventless options in rack conveyors are one way to improve the work environment. While ventless technology is not new, over the past few years more manufacturers have introduced ventless options for rack conveyor machines on a wider selection of sizes.
Ventless machines help mitigate the humidity in the dishroom by capturing the steam while still in the tank, and then returning cool, dry air to the environment. "A vent hood is indiscriminate, pulling steam and heat from a room which you have to account for with makeup air," says one maker. "With ventless units, the heat load in the room from both latent and sensible heat is lower, making a noticeable difference." Make sure there is proper air circulation in the space; eliminating the condensate ductwork doesn't remove the need for proper air conditioning and air circulation in the dishroom.
Ventless machines put the steam they collect to good use, turning it into energy that is used to heat the water for the wash and rinse cycles. This allows rack conveyor machines to work with a cold water supply, saving thousands of dollars a year in energy costs for hot water.
Another benefit of ventless machines is not having to purchase and install a hood and ductwork. This not only saves money at installation, but can help in flexibility of design, allowing the machine to go in areas where it's difficult to install a hood or saving the operator from having to cut through the exterior of the building. Take into account the ceiling height when installing a ventless unit, as they're typically taller.
Some rack conveyors help reduce the need for pre-scrapping, taking some of the burden off kitchen staff. One manufacturer does this by pumping food soils out of the wash tank, which brings the added benefit of fewer tank fills per day because the water stays cleaner longer. Another manufacturer designed a cleaning system using the large volume of water in the wash tank to create a mechanical force that breaks up grease and food on the ware. It also transfers more heat to the plate for a more efficient rinse cycle.
GAINING CONTROL
For many years, manufacturers of rack conveyor machines worked on improvements in washing and sanitizing capabilities and more efficient use of water and energy, leaving room in recent years to focus on upgrading and improving control panels with diagnostic capabilities.
One manufacturer recently updated its touch screen control panel, first introduced in 2018, to add service diagnostics. When the machine isn't working correctly, an error code will appear on the control panel which the operator can use to troubleshoot and check for issues before calling a service technician. Operators also can use those codes when talking with the service company, so the technician comes better prepared for the job, turning what would have potentially been two trips into one. Other manufacturers have taken diagnostics a step further with a connectivity solution. This allows the manufacturer to log into the device remotely to help figure out where the problem might be and walk the operator through a possible solution.
Rack conveyors with the ability to connect to a network through Wi-Fi or ethernet help operators save in repair costs and reduce downtime of the machine. Further, they give operators the ability to download and analyze data such as wash and rinse temperatures, cycles run and time of use. These statistics are useful for HACCP compliance and reporting. The data also can help improve overall energy use and productivity.
SIZE MATTERS
Rack conveyor dishmachines come in a range of sizes, from 44 to 86 inches wide for the base unit, with single and double tank options, depending on space available and the turnaround time required. This helps make them a viable option for a variety of foodservice operations. Traditionally, rack conveyors are thought of as the go-to option for midsize operations with a lot of volume and K-12 school settings. But the convenience and efficiency make them a good choice for others as well. They process between 200-348 racks per hour, depending on the size of the machine and number of tanks. Smaller, fine-dining restaurants that set the table with all reusable ware might go through 14 or more items per person, making a rack conveyor a good solution to get clean dishes back into circulation quickly. As prices rise on disposable ware and people look for restaurants to embrace a more environmentally friendly concept, more operators are switching to reusable ware programs. Rack conveyor dishmachines help handle the demand on the dishroom. They even make a great complement to a flight-type machine for large operations such as convention centers and casinos, serving as a glasswasher for quick turnaround and spotless ware.
Keep in mind three things when sizing a rack conveyor dishmachine:
• The type of ware used
• Volume per day
• How fast you need ware cleaned and back in service
Once you have those answers at hand, consult with a sales professional to ensure you choose a machine that's right for your operation. "Whether you're replacing a rack conveyor or installing one for the first time, you don't want to make a big investment and overbuy, or underserve yourself," says one manufacturer. "Getting the right size for your operation is key to a smart investment for the long term."
Dick Eisenbarth, president emeritus at Cini-Little Int'l., contributed to this story.
---
A Clean Slate
Brush up on the capabilities of makers' newest rack conveyors, some of which have ventless options.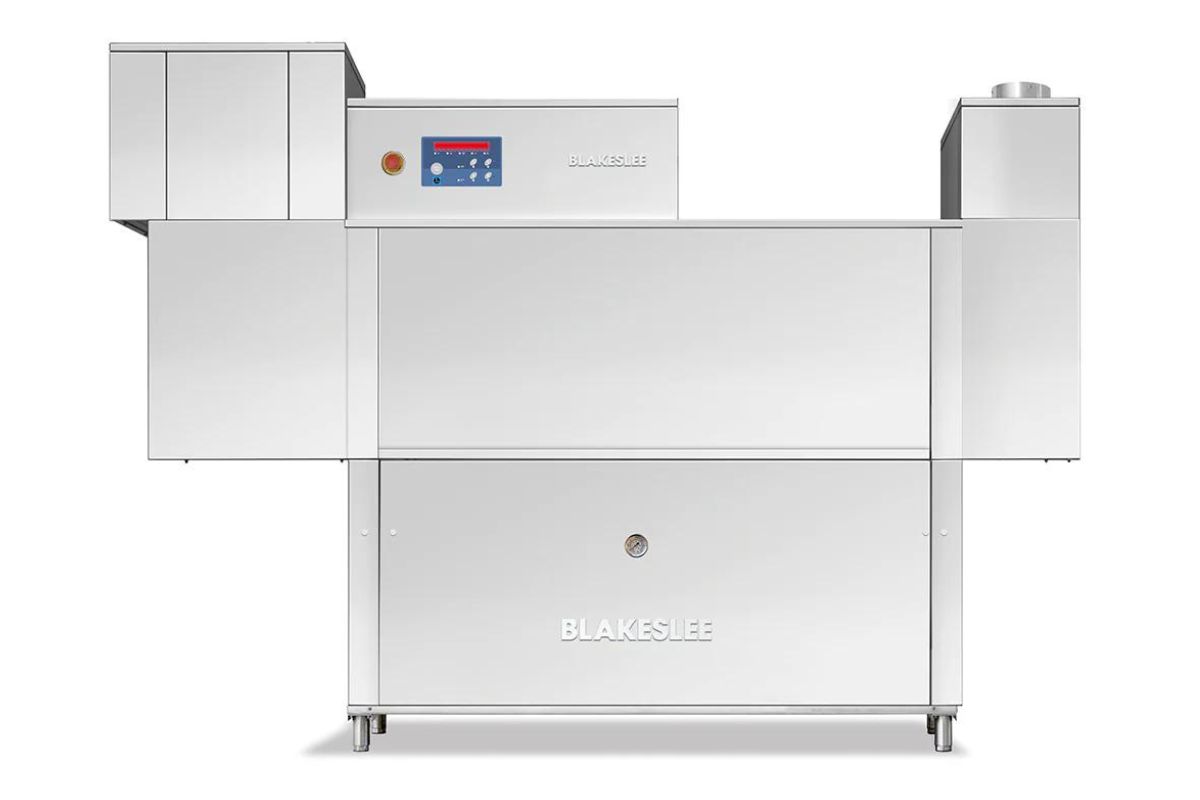 Blakeslee
Model: RC-62
Racks Per Hour: 212
Details: Economizers save water and energy across prewash, wash and rinse cycles. Stainless arms are removable for easier cleaning, and a stainless surface filter helps keep water clean. Consider an optional blower dryer, or, to save more energy, a top-of-line model with an integrated heat recovery system.
Website: blakesleeinc.com
---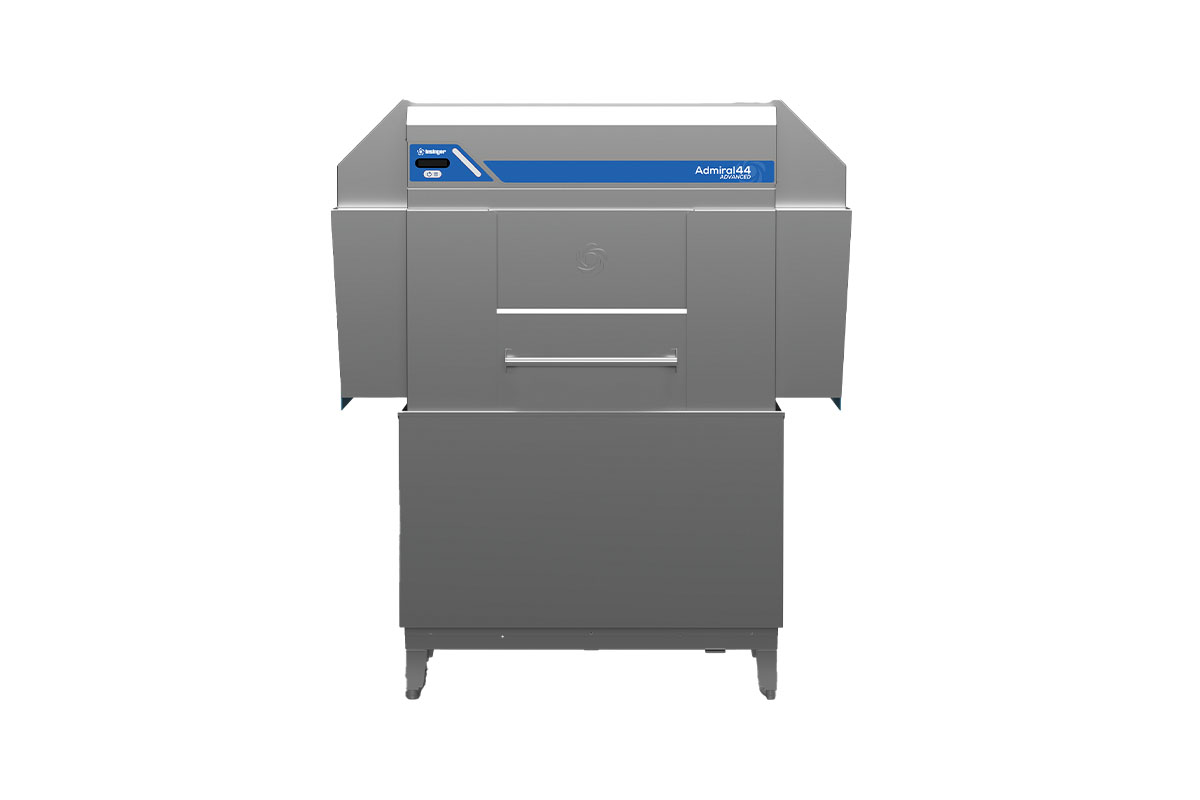 Insinger
Model: Admiral 44 Advanced VG
Racks Per Hour: 233
Details: Water sprays horizontally, from above and from below, to clean and sanitize ware from multiple angles. The final rinse cycle kicks on when a rack passes to save water and energy. An optional ventless system removes condensation and adds just 11/2-in. to the total height.
Website: insingermachine.com
---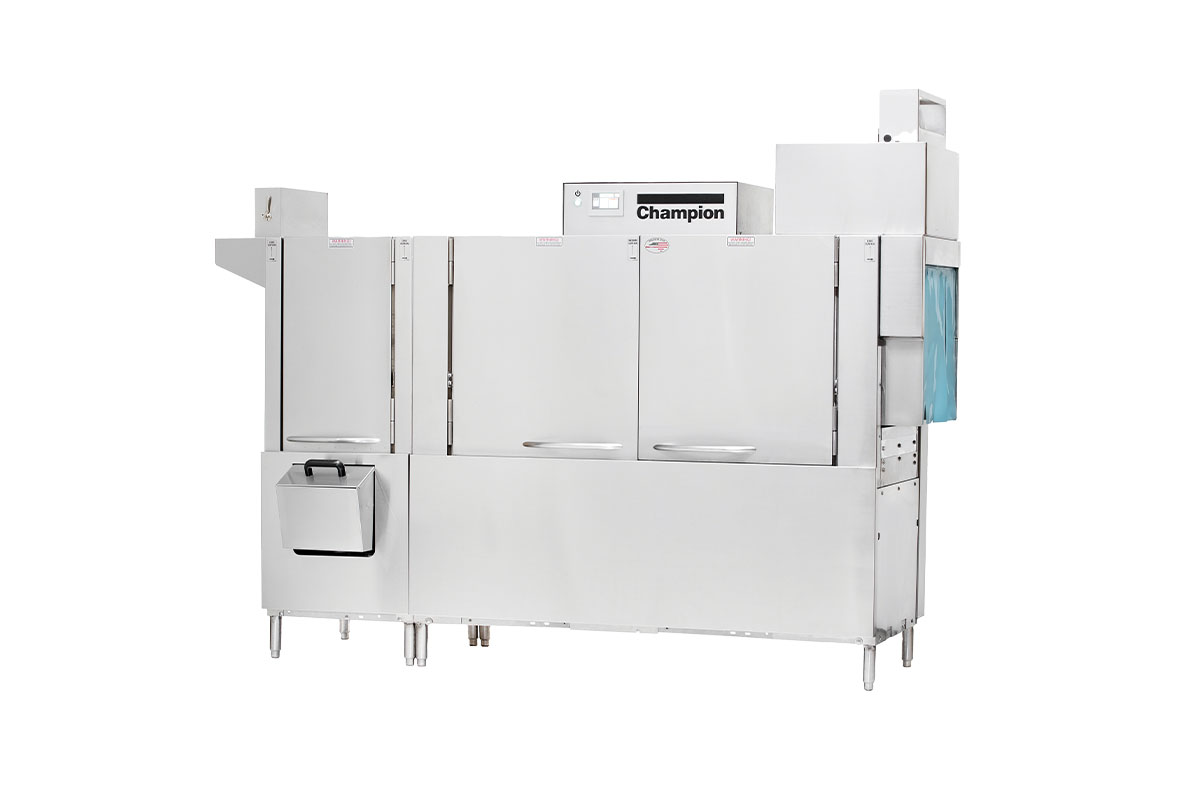 Champion
Model: 86PRO Series
Racks Per Hour: 348
Details: An automatic delime function, self-diagnostics and jam alerts help keep this Energy Star-certified machine running smoothly. A programmable machine dwell setting ensures racks align for optimal cleaning. Select PRO series units feature ventless heat recovery technology, with no Type II exhaust hood required.
Website: championindustries.com
---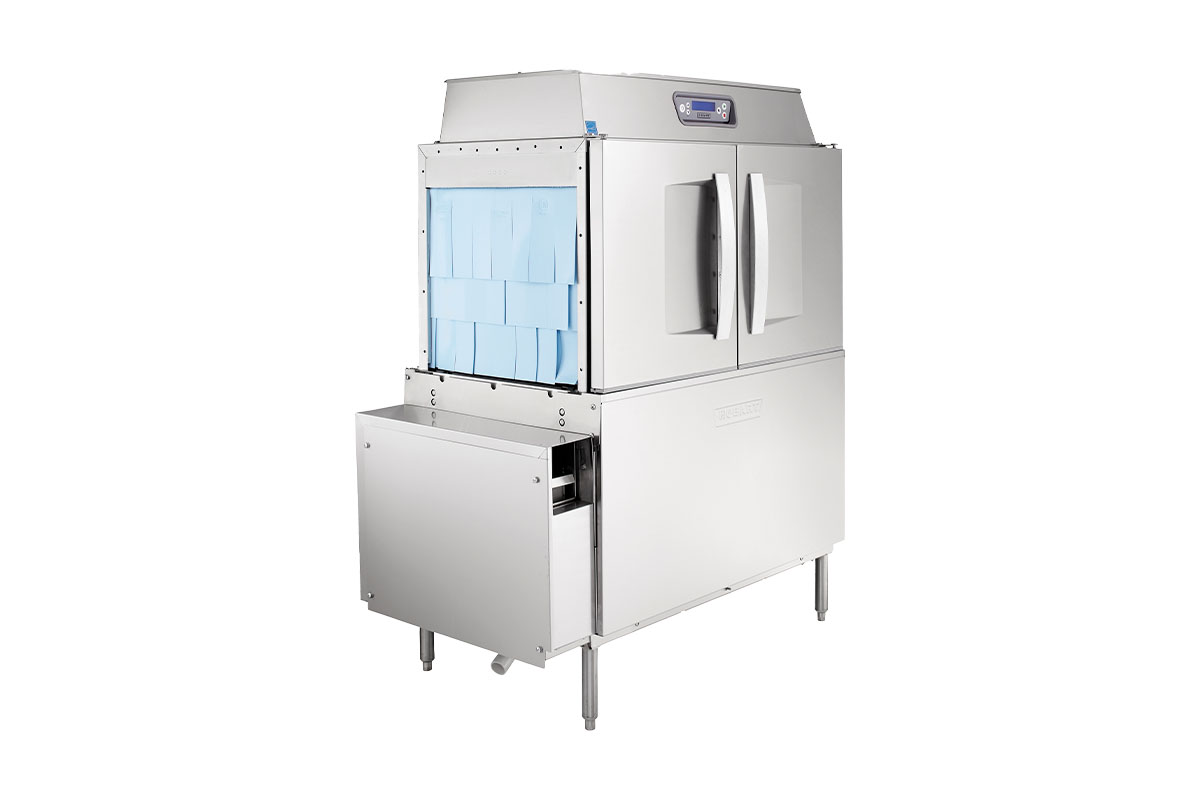 Hobart
Model: CL44eN-ADV advansys
Racks Per Hour: 202
Details: Keep wash tank water cleaner and reduce pre-scrapping time with the automatic soil removal feature on this Energy Star-certified unit. A pot and pan mode stands ready to tackle tough dishes, with the 19 1/2-in.H chamber able to accommodate up to six standard sheet pans. Use the control panel for service diagnostics, to activate a delime cycle and more. Select CleN models are ventless.
Website: hobartcorp.com
---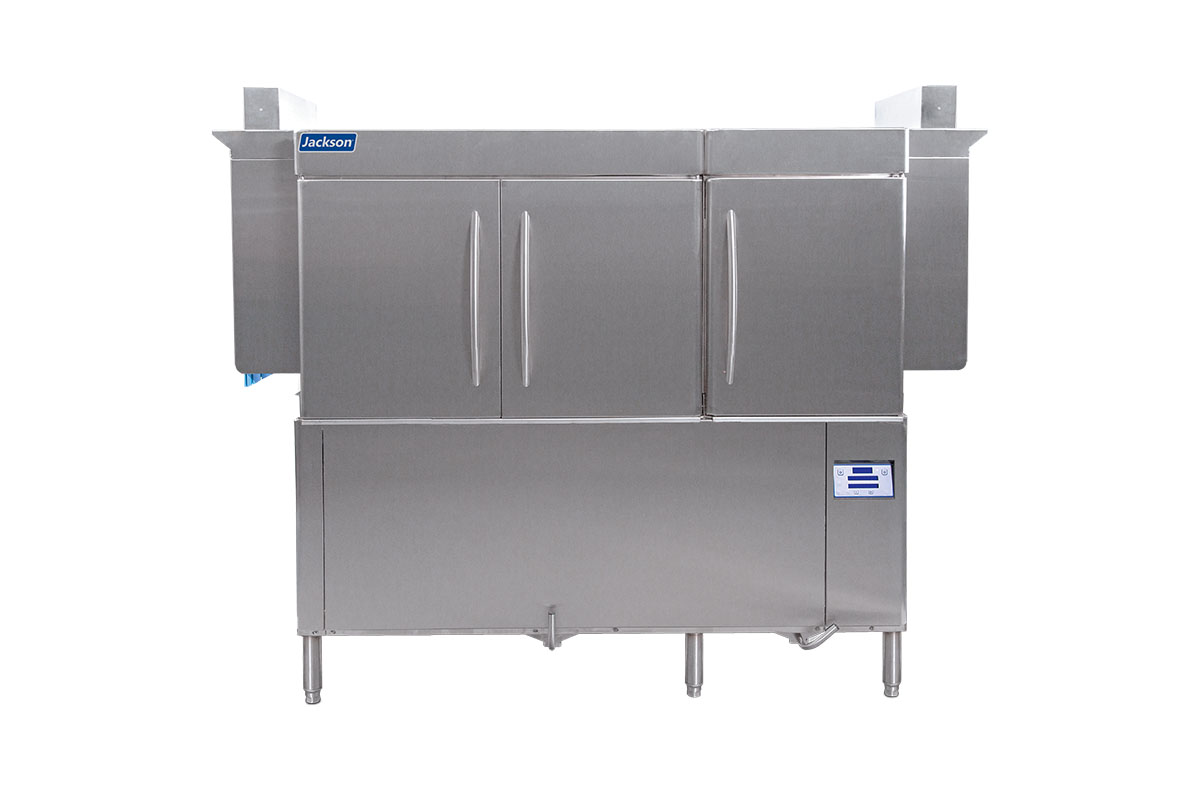 Jackson
Model: RackStar 66 ER
Racks Per Hour: 223
Details: This model's optional energy recovery system captures exhaust heat, using it to heat incoming cold water. Double-wall insulated doors keep your dishroom cooler and quieter, plus keep water hotter. Choose from two rinse cycles: econo rinse, using .35 gal. per rack, or turbo (for heavier soil), using .52 gal. per rack.
Website: jacksonwws.com
---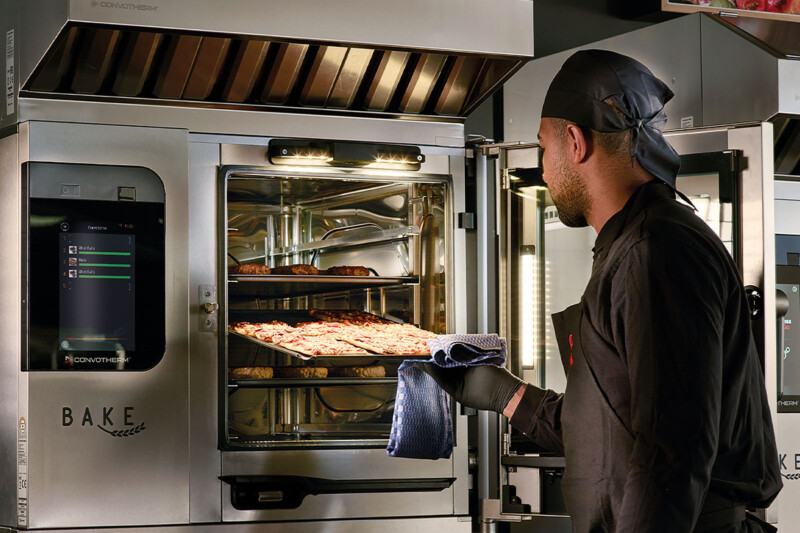 Combi Ovens
Today's combi ovens are smarter and more energy efficient, reducing the need for skilled labor and cutting utility costs.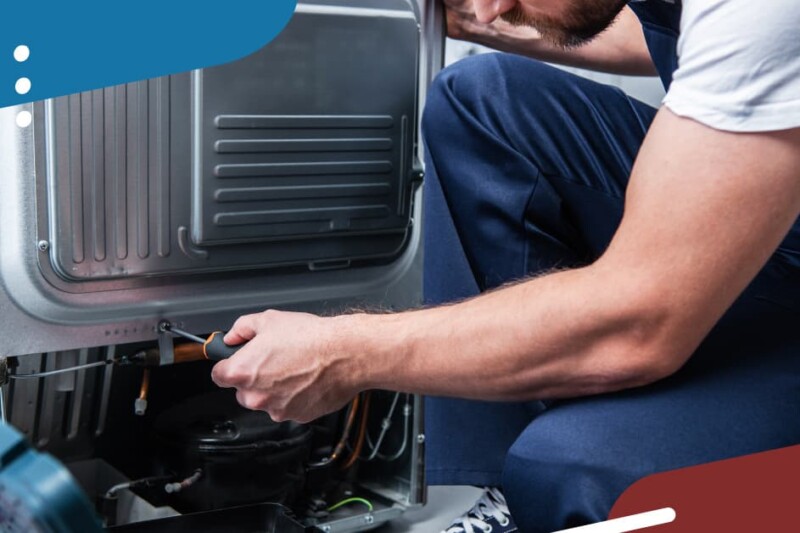 Equipment
Refrigerators and freezers are arguably the most essential appliances in a commercial kitchen, working around the clock to keep foods at the ideal temperature. When these appliances aren't functioning properly,…