Find the Perfect Combo With Combi Ovens
Today's combi ovens are smarter and more energy efficient, reducing the need for skilled labor and cutting utility costs.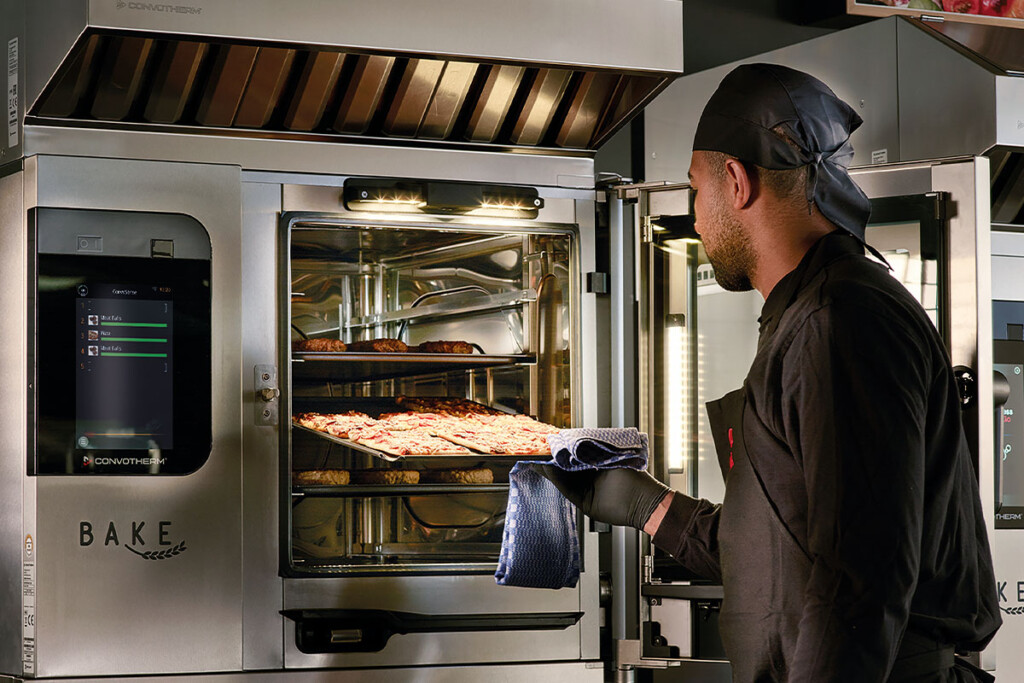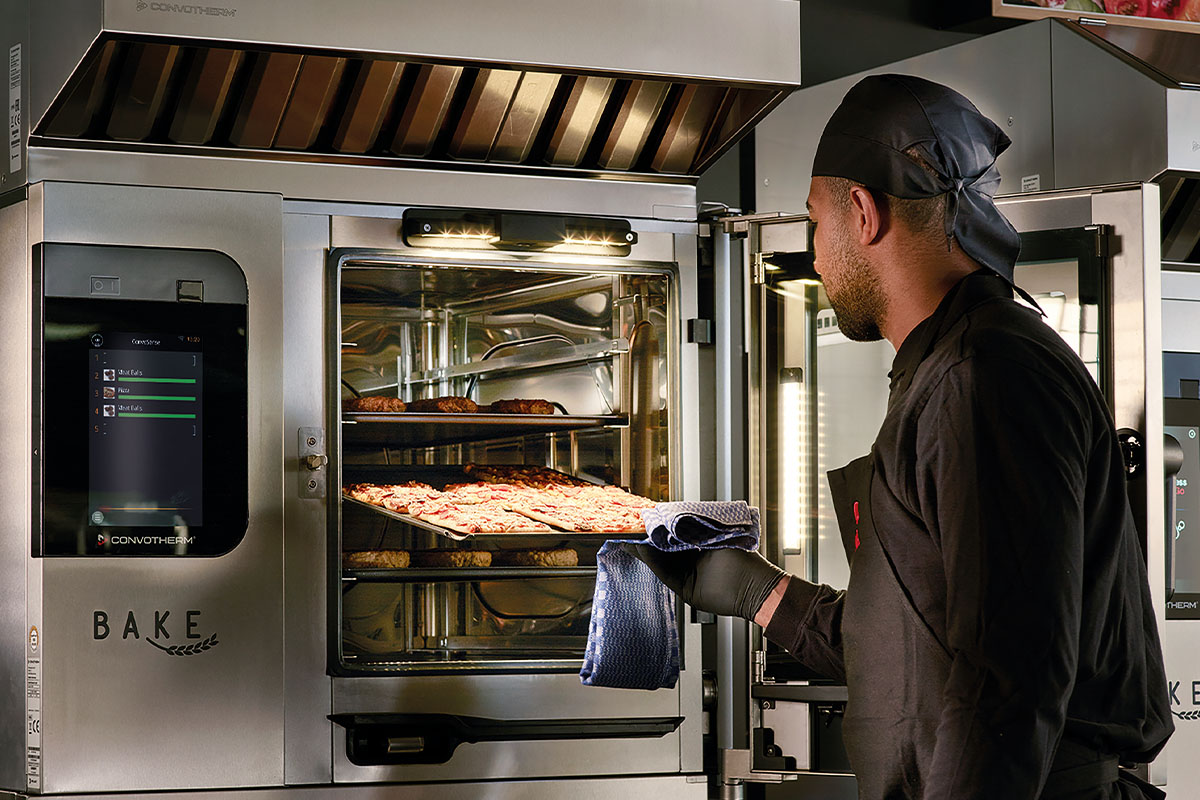 Combi ovens are known for their ability to multitask—it's right there in the name. They offer dry convection heat and moist steam heat, used independently or in conjunction. Nearly 50 years after its invention, the combi oven has become a centerpiece of many commercial kitchens, valued for its ability to bake, steam, roast, fry, grill, poach and more. Today, more operators are turning to combis for a variety of cooking needs, attracted by the ease of use that new models promise.
Manufacturers note an uptick in combi oven use for a number of applications: grocery stores roasting rotisserie-style chickens, fast-casual restaurants preparing rice and beans, quick-service restaurants rethermalizing foods and full-service restaurants baking foods traditionally cooked on a flattop or grill, like hashbrowns and burgers—all in an effort to get consistent results with less labor. The latest batch of combi ovens is smarter, more versatile, more efficient and more intuitive to use, which is good news for operators struggling to find skilled labor and coping with inflation. Given rising food costs, "no one can afford to lose product due to human errors," notes one manufacturer.
LABOR PAINS
Over 70% of limited-service restaurant operators and more than 80% of full-service operators report difficulty filling back-of-house positions, according to the National Restaurant Association's "State of the Restaurant Industry 2023." Fortunately, today's combi ovens use intelligent technology to streamline operations. You no longer need a chef's expertise—or barely any training for that matter—to operate them successfully.
On some models, crew members simply specify the desired end result—such as the level of browning and the internal temperature. Sensors detect the size, quantity and starting temperature. The ovens launch the appropriate cooking program, adjusting temperature, airspeed, humidity and cooking time as needed.
One combi features an artificial intelligence system with an optical sensor that scans each load entering the oven, detects the item, determines the load size and selects the cooking program. A 2023 National Restaurant Association Kitchen Innovations Award recipient, this combi works best for operations with a consistent, set menu, as it must undergo a training period to learn to recognize an operation's menu items. In turn, staff members require next-to-no training to operate the equipment; they simply load a tray, and the oven takes it from there. The oven recognizes if two food items require different temperature or humidity settings. Try to slide in a tray of broccoli while baking croissants, and you'll get an error notification, as the latter requires dry convection heat at, say, 338°F, and the former calls for steaming at 212°F.
Another manufacturer introduced one of the first speed cook/combi ovens in 2022; the unit combines the power of microwaves with hot air and steam, and also features self-cleaning functionality. The electric countertop oven, which also received a 2023 KI Award, can steam a pan of broccoli in 180 seconds and grill four ham-and-cheese sandwiches in 75 seconds, according to the manufacturer. Voice-activated controls let staff preheat the oven or change settings hands-free.
Several manufacturers offer Wi-Fi-enabled combi ovens with cloud-based remote oven management systems, allowing chain restaurants to instantly send recipe programs to all their locations. No more dealing with USBs for recipe management. These remote management systems also offer the capability to monitor the oven and track HACCP data.
Combi manufacturers have updated their control panels to simplify operations and ease training. The latest models offer intuitive interfaces that operate like a smartphone, featuring touch screens with color pictures of menu items. Some manufacturers offer the option of standard controls for a lower price point. Evaluate what fits your needs, keeping in mind that you will have the equipment for years.
ECO-FRIENDLY SOLUTIONS
Combi ovens also are more efficient than ever. Energy Star instituted its Version 3.0 requirements for commercial ovens earlier this year, requiring certified combis to meet more stringent energy-usage requirements and new water consumption criteria.
Version 3.0 also expanded the combi categories offering certification to include large and small electric combi ovens, small gas combi ovens and electric 2/3-size combi ovens. If you're looking for a combi oven in one of those sizes, it's now easier to spot whether the equipment is energy efficient, because you can look for the Energy Star certification.
Some utility companies offer rebates that lower your capital expenditure.
While Energy Star models typically have higher price tags than noncertified models, consider a couple factors before you get sticker shock: 1) Some utility companies offer rebates that lower your capital expenditure. 2) A more efficient combi can potentially decrease utility bills, reducing operating costs.
See caenergywise.com/calculators to compare qualified models from certain makers. Several states have passed recent legislation requiring new combi ovens to meet efficiency standards in order to be installed; check local requirements.
FINDING THE RIGHT FIT
Other factors to consider when specifying a combi oven include:
MENU ITEMS. Specify if your menu requires any special features. In addition to steam and convection capabilities, many combis offer an integrated smoker, allowing operators to hot smoke items like pork loin, brisket and short ribs, and to cold smoke salmon, cheese, veggies and more.
If your menu calls for several cooking processes, consider purchasing more than one combi, for example, using one for high-production baking and the other for smoking, grilling or other needs. Another option: One manufacturer introduced a multi-cook oven in 2022 that offers up to three separate chambers and, unlike prior models, allows combi and steam cooking. It also unlocks consecutive functions; a kitchen crew can combi cook in one chamber, bake in another and steam in still another.
THROUGHPUT. Combis are available in a range of sizes, from countertop minis to roll-in 20-rack units, towering over 6 feet. Consider how many racks you need and how many pans per rack. A mini might be perfect for a small coffeeshop, while a large school may need a large heavy-duty unit, with extra wattage to handle heavy loads.
SPACE REQUIREMENTS. Stacking units can be a space-saver, allowing two different cooking operations in the same footprint. One maker offers a single unit divided into two independently controlled cabinets, with controls for both cabinets at eye level. The maker also offers a slim team combi less than 22 inches wide. Another space-saving trick, offered by a different manufacturer, is a "disappearing door." When opened, the door slides to the side of the oven.
INFRASTRUCTURE. Combi ovens require a water supply line, a drain and a gas and/or electrical hookup. Check that you have all the necessary infrastructure. This could dictate where you place the equipment and impact space requirements. Determine whether you need a ventless combi oven or whether the equipment will operate under an exhaust hood.
CLEANING SYSTEM. Today's combis all offer simple self-cleaning, but operations and features differ. Some combis use cleaning tablets, others use liquids, and at least one company offers a sealed cleaning cartridge so crew members never come in direct contact with the chemicals. Figure in the costs of the cleaning chemicals—including shipping costs—into your operating expenses. Look at storage options also; for example, some models feature integrated storage drawers to house cleaning chemicals.
GREASE MANAGEMENT. Large quantities of grease are released when roasting high-volume/ high-fat products, like chicken. That grease can clog your drains and cause plumbing issues; in response, combi makers offer a variety of solutions. One manufacturer recently introduced an integrated grease collection system that pumps out 99.9% of the grease.
BOILER VS. BOILERLESS. Some combis have a built-in boiler; others use a boilerless system that sprays or injects water onto the heating element or onto a fan blade. One manufacturer that offers both types says a discerning chef might find a slight difference in a few food items, with boiler units having the edge for sous vide cooking and boilerless units for artisan breads.
WATER FILTRATION. Poor quality water can wreak havoc on equipment in a superheated steam environment, destroying an oven in as little as six months. Proper water filtration is important on both boiler and boilerless ovens. Some combi ovens come with an integrated filtration system. Test your water to determine what type of system is needed. If your water quality doesn't meet the manufacturer's required specs, it typically voids the warranty.
A combi oven is a major investment that could impact a large chunk of your menu. Work with your dealer or the manufacturer to take an oven for a "taste drive" to ensure the combi meets your needs before sealing the deal.
---
The Latest Batch
Resource-minded and intuitive, combi ovens and accessories pack plenty of useful features.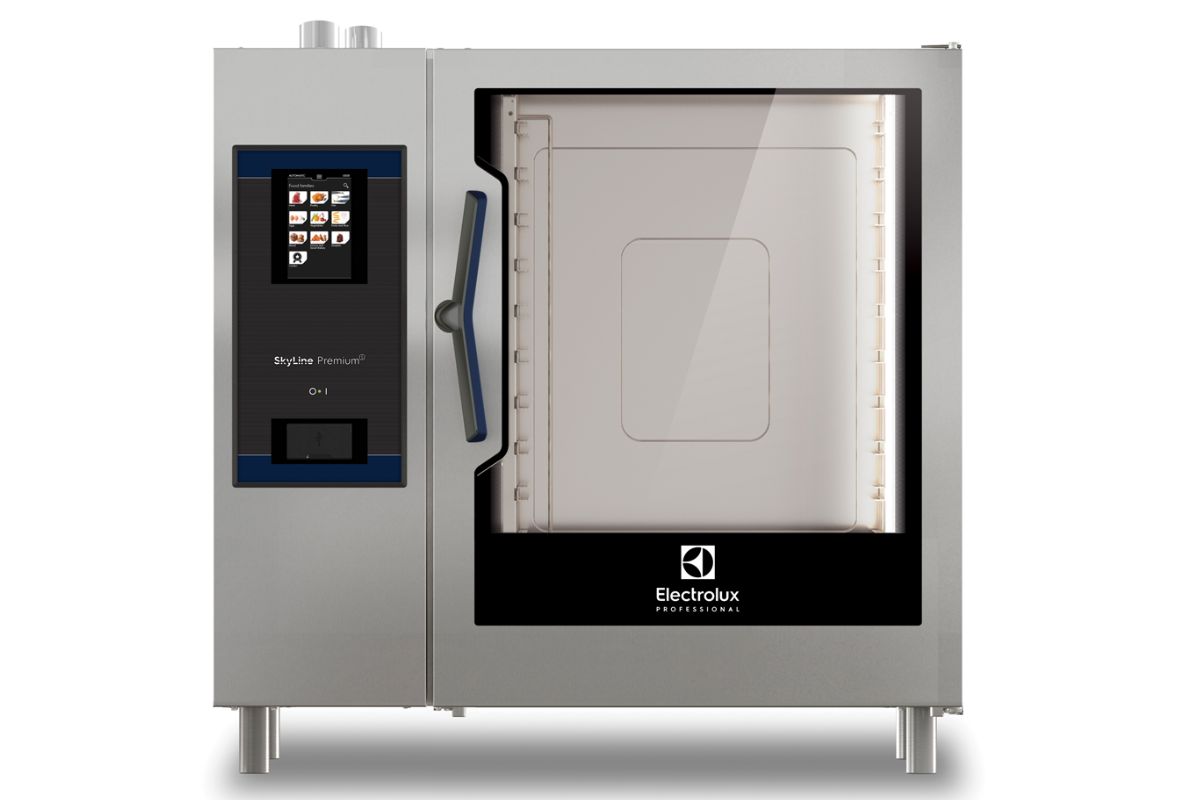 Electrolux Professional
Model: SkyLine Premium S (219753)
Features: An air distribution system, with seven fan speeds, drives uniform heat distribution for even cooking within this 10-pan, full-size unit. Humidity is precisely and automatically controlled real-time by a sensor, with settings from 0% to 100%. The customizable touch screen is color-blind friendly and available in 30-plus languages.
Website: electroluxprofessional.com
---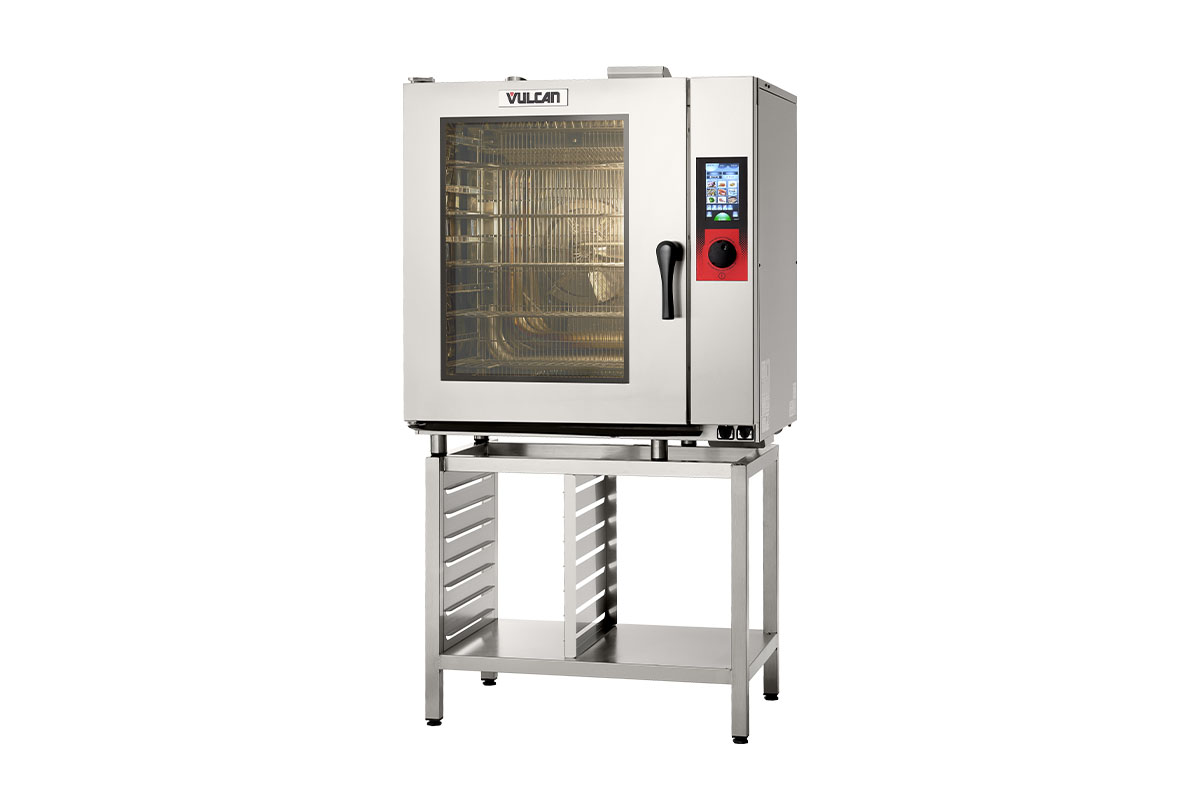 Vulcan
Model: TCM101E
Features: Users of this boilerless, electric unit can choose from preloaded recipes or manual operation, aided by automatic humidity adjustment for worry-free cooking at all skill levels. Choose from multiple cleaning cycles with built-in descaling abilities. 
Website: vulcanequipment.com
---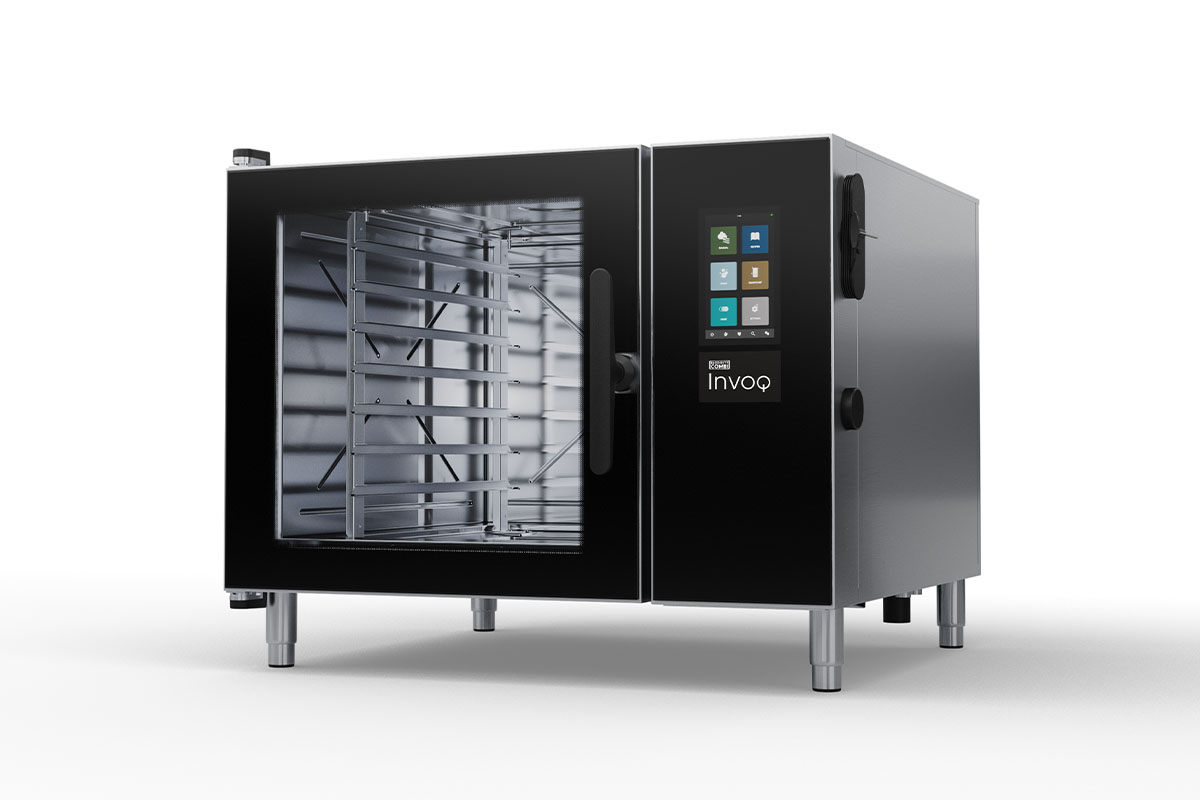 Blodgett
Model: Invoq Hybrid
Features: This zero-clearance unit has the capacity for seven sheet pans and capabilities for unsupervised cooking. It features an energy-efficient boiler with an injection steam system, smart sensors to keep cooking progress in check and more. Post-cooking, choose from seven automated cleaning cycles.
Website: blodgett-combi.com
---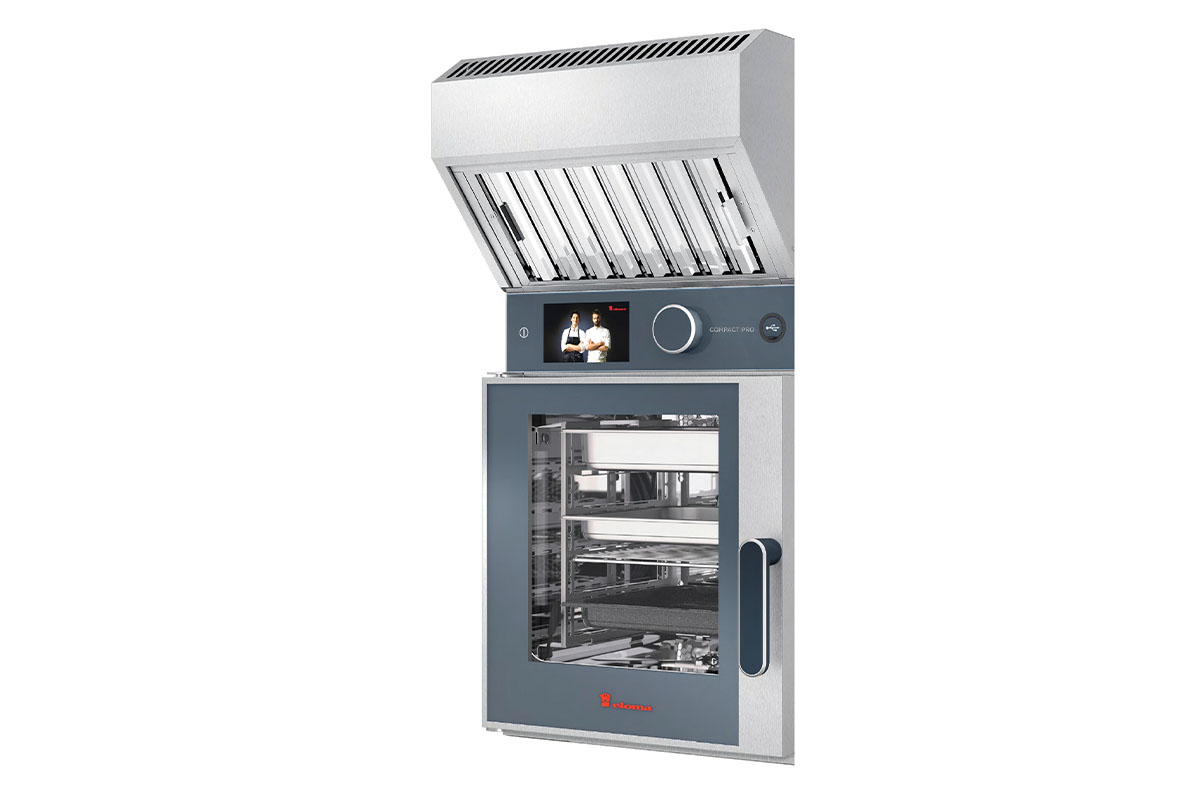 Eloma
Model: Compact Pro NCP 6-11 featuring the Multi Eco Pro Type 2 Hood
Features: The Compact Pro can now be fully ventless with the 2023 introduction of this hood. With this, the unit, which the maker calls "the world's first (and only) fully modular compact combi" can be installed virtually anywhere, front-of-house or back-of-house.
Website: elomausa.com
---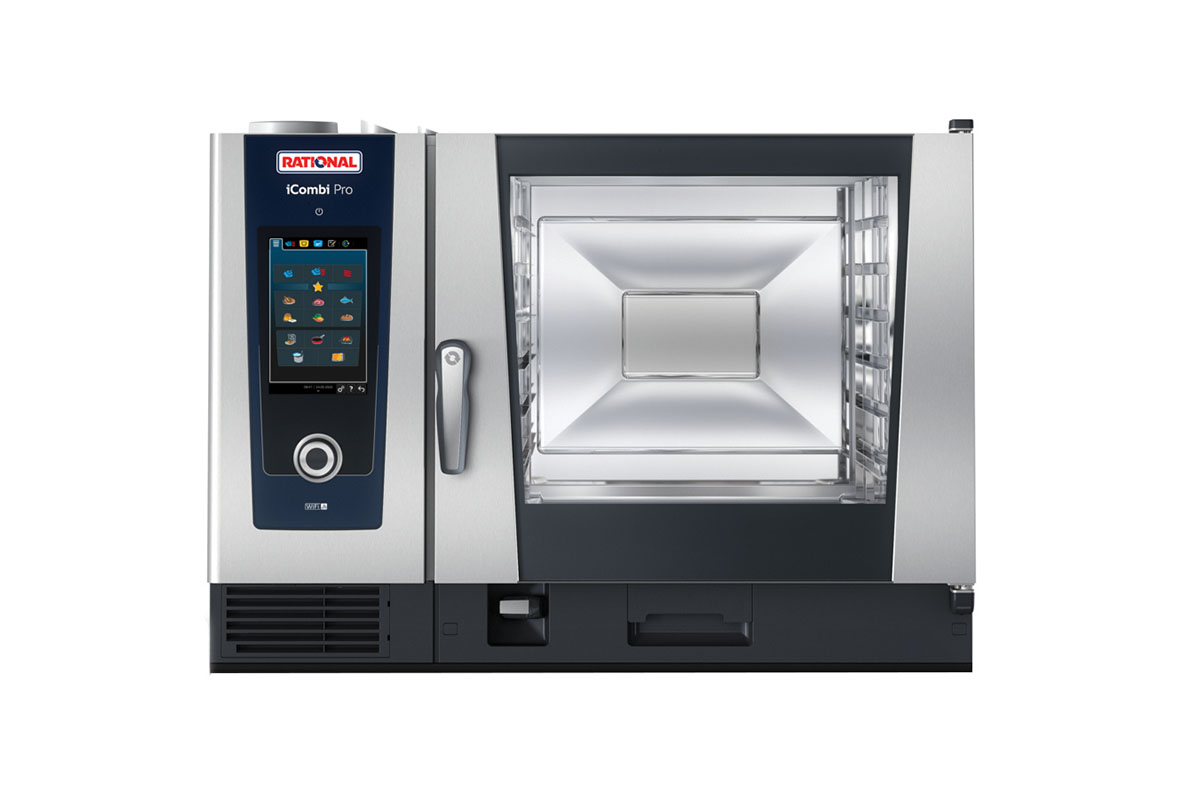 RATIONAL
Model: iCombi Pro 6
Features: Four "intelligent assistants" aid users of this combi—from suggesting browning levels and cooking pairings or sequences, to guiding cleaning processes, and even unlocking unsupervised cleaning. An increased steam setting, ideal for Asian cooking, is available. Manage recipes and access HACCP data remotely.
Website: rational-online.com
---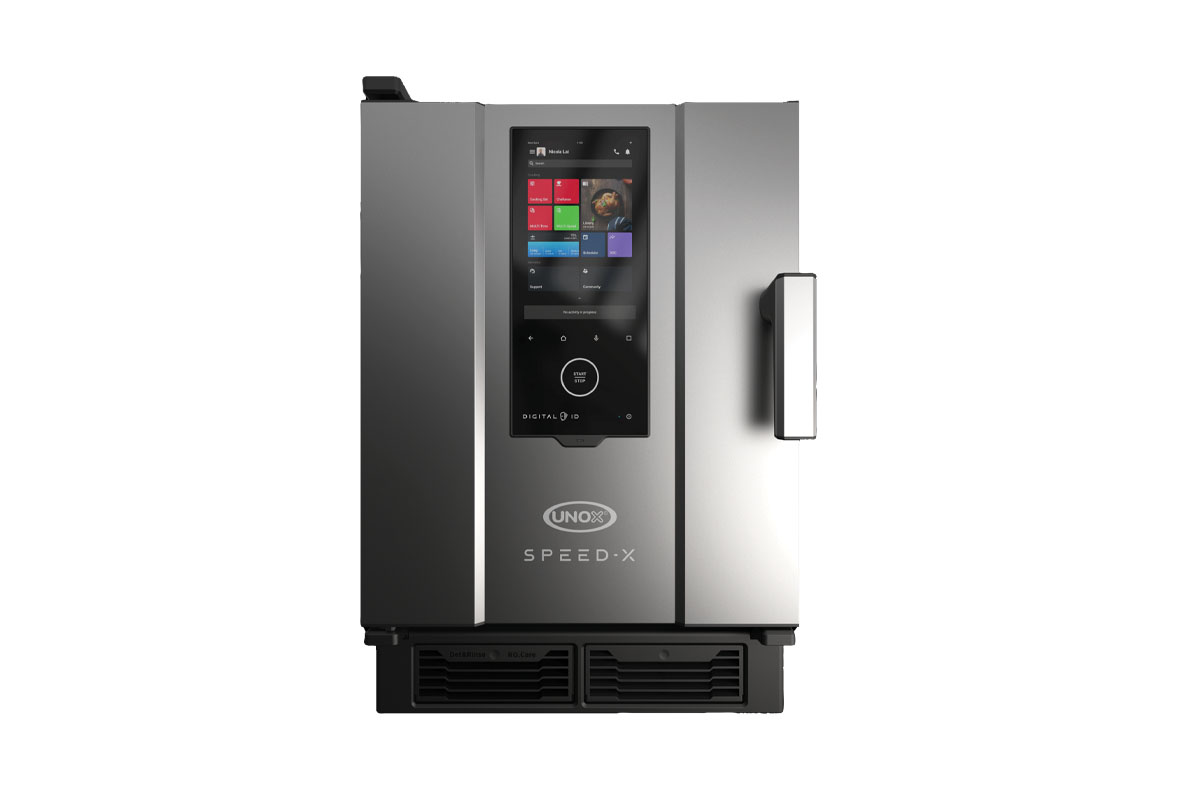 Unox
Model: Speed-X
Features: This model boasts 20% faster operation than a traditional combi, the maker says, plus the ability to cook raw items as a speed oven. Voice-activated controls and an automatic washing system add convenience. Choose from manual or automatic cooking modes, with the latter able to oversee up to 10 concurrent cooking processes.
Website: unox.com
---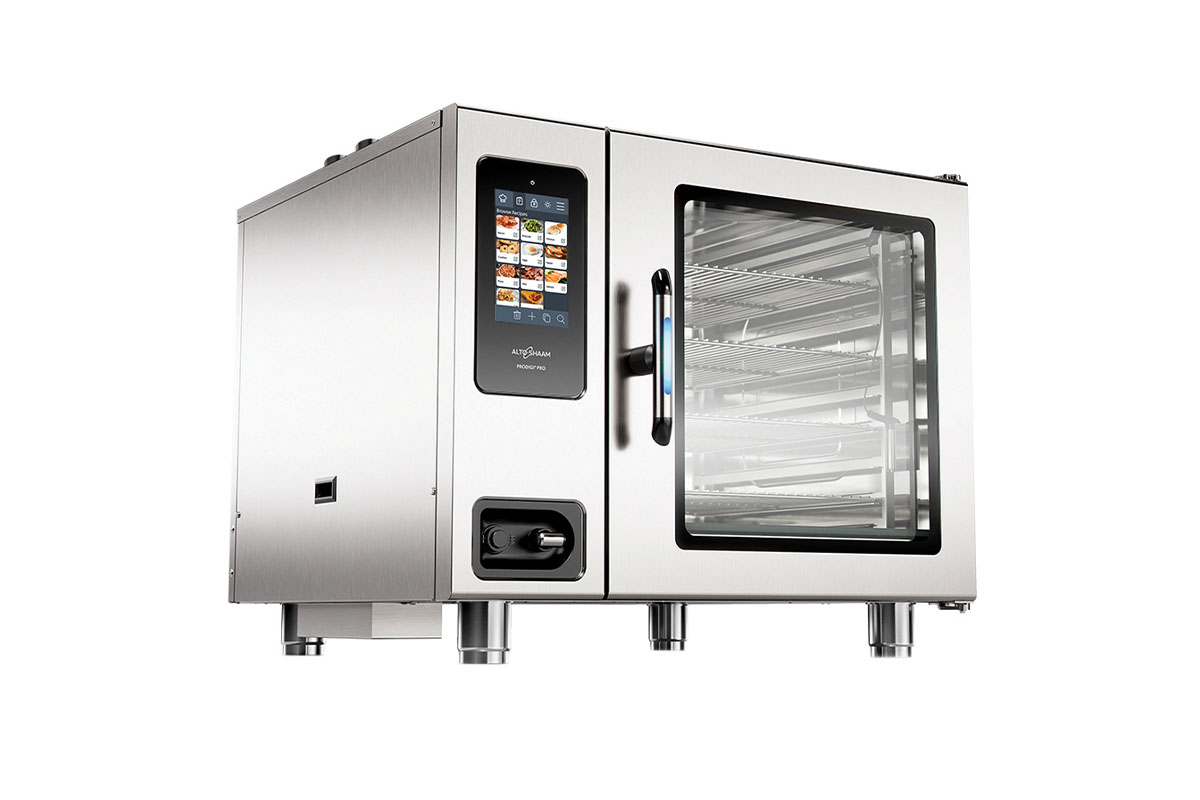 Alto-Shaam
Model: Prodigi Pro 7-20
Features: Reduce water use and maintenance costs with this boilerless model, and save labor with automatic self-cleaning cycles as well as remote recipe distribution. Choose between electric or gas units, plus options like a smoker, recessed door, Type 1 condensation hood and an automatic grease collection system. A zero-clearance design adds flexibility.
Website: alto-shaam.com
---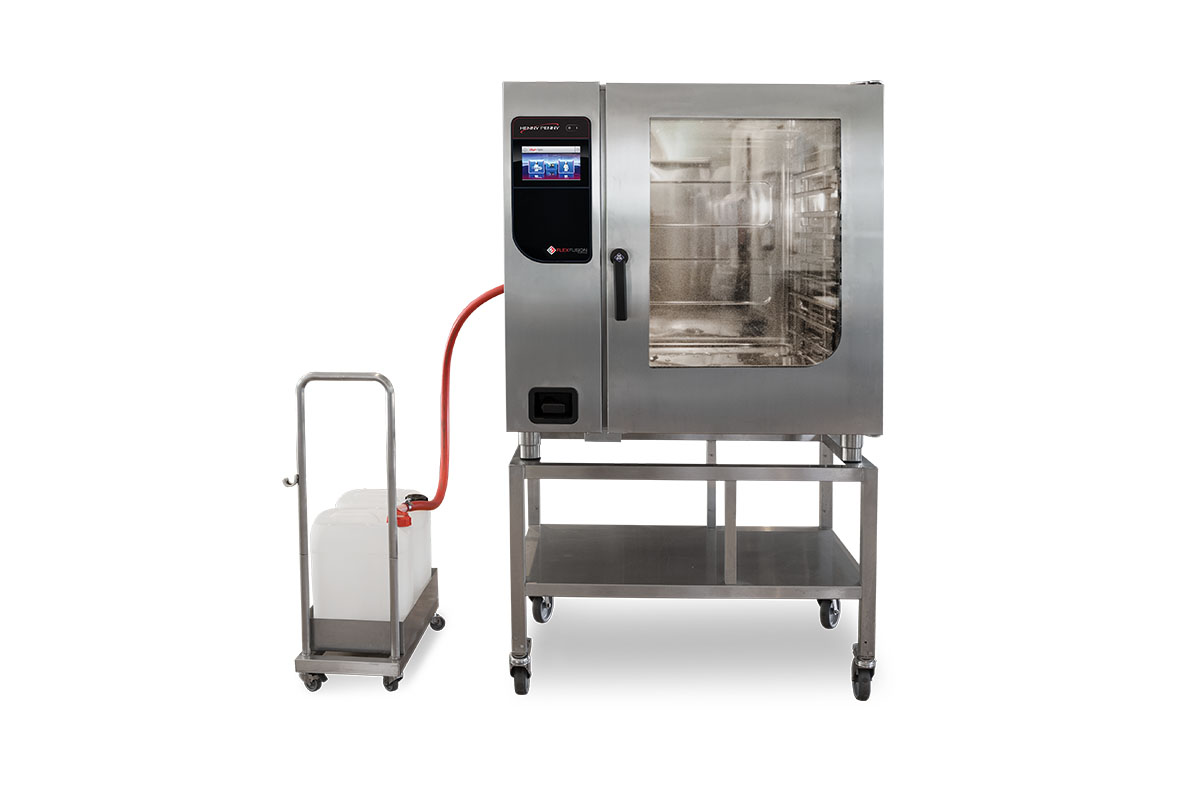 Henny Penny
Model: Grease Collection System
Features: Gain biodiesel revenue and a quicker ROI with this fully integrated system, compatible with all FlexFusion combi ovens. The maker claims that 99.9% of excess oils, fats and liquids from cooked products are safely collected in a dedicated container, leaving clean waste water.
Website: hennypenny.com
---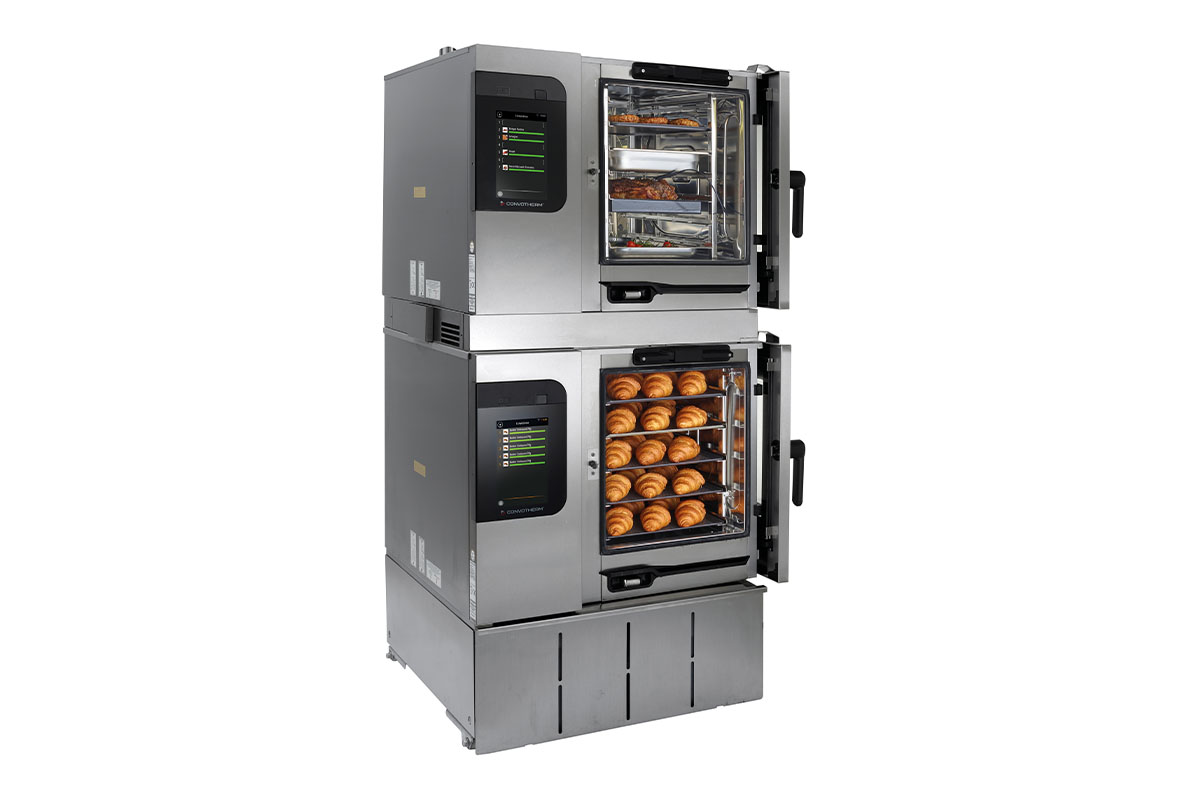 Convotherm
Model: Maxx Pro ConvoSense
Features: An AI-driven optical sensor automatically detects each product being loaded and activates the proper settings; this has the potential to save energy and water, and cuts out guesswork to ensure product consistency. You also can make it a double with the optional stacked functionality of this combi.
Website: convotherm.com
Editor's note: All featured models have been released or updated since June 2021.
---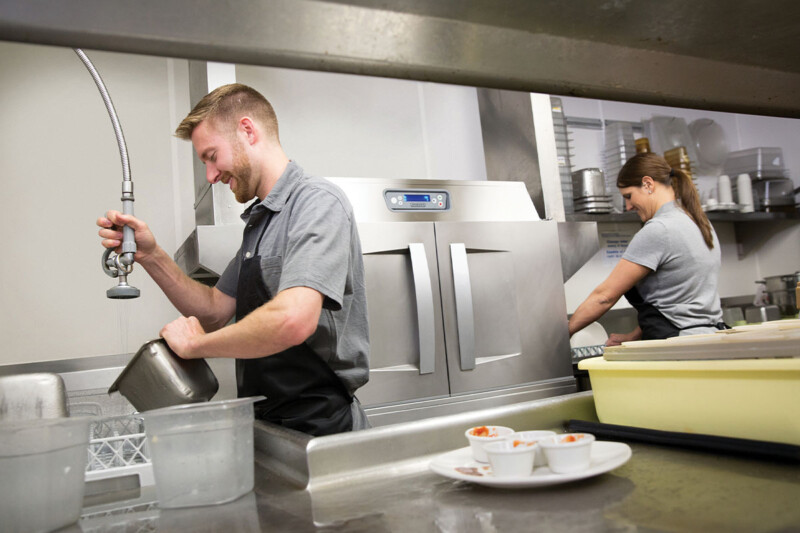 Equipment Comparisons
Forget steamy dishrooms; some of the newest rack conveyors improve environmental comfort and reduce overhead costs.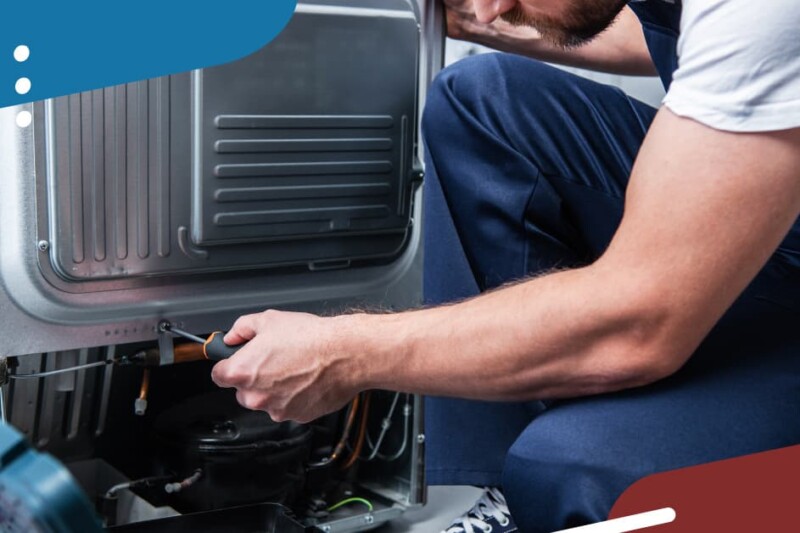 Equipment
Refrigerators and freezers are arguably the most essential appliances in a commercial kitchen, working around the clock to keep foods at the ideal temperature. When these appliances aren't functioning properly,…