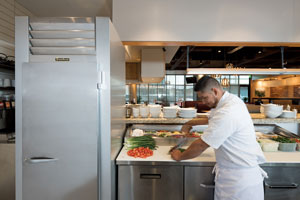 Reach-In Gallery
Makers introduced the following products at or after The NAFEM Show 2015.
BEVERAGE-AIR HORIZON SERIES
Beverage-Air's Horizon Series reach-in refrigerators now feature DOE 2017 mandate-compliant R290 refrigerant, and use an electronic control programmed with proprietary usage-optimized algorithms and internal LED lighting standard. At the same time, they require less warranty work because of simpler parts used in construction, such as a single-piece axial fan assembly. The refrigeration system, capillary-tube based, offers a high level of performance, further bolstered by a newly featured back channel shelf installed along the rear interior of the cabinet to prevent product from obstructing airflow. Additional features include reversible doors and antimicrobial door handles.
beverage-air.com
CONTINENTAL STANDARD SERIES REACH-INS
A balanced top-mount capillary-tube refrigeration system (thermal expansion-valve system optional) with more spacious storage for standard 18-in. x 26-in. sheet pans allows for even distribution of air. Three-in. foamed-in-place urethane insulation helps save energy. Lift-off doors with cam-action hinges allow for adjustments and removal without tools, and they're self-closing with a 90° hold-open feature and smooth, polished chrome workflow handles. Models in 1, 2 and 3 doors are available in either standard or shallow depth. All feature an electronic controller with digital display and hi-low alarm, and LED interior lighting. Options include half doors, glass doors (hinged or sliding), stainless exterior/interior, pan slide assemblies and pass-thru models.
continentalrefrigerator.com
CRES COR R-171-SUA-10E
Hold pans of food at serving temperature using Cres Cor's Insulated ChillTemp Refrigerated Cabinet. Highlights range from a forced air system providing even distribution of cold air, automatic defrost, and a UV bulb for better air quality and food freshness. The high-efficiency compressor comes with automatic overload reset and the refrigeration system is expansion-valve based. Pan slides accommodate a variety of pan sizes. The 1-piece extended base protects the cabinet body while recessed push/pull handles on both sides prevent damage to walls and allow for easy maneuvering. Self-closing insulated door (field reversible) prevents temperature loss; magnetic door gaskets create a proper seal. Five-in. swivel casters, 2 with brakes, offer mobility when unit is fully loaded.
crescor.com
DELFIELD COOLSCAPES REACH-INS
Delfield's new Coolscapes line of reach-in refrigerators features a 1-piece top-mounted refrigeration system that can be removed as an intact unit for servicing. Using environmentally friendly R290 refrigerant, these Energy Star-rated models are designed to maintain 33°F-40°F temperatures in heavy use. Electronic temperature control and responsive thermostatic expansion valve provide improved pull-down time, reduced compressor cycling resulting in longer compressor life, and lower energy consumption. Adaptive defrost keeps the evaporator free of ice, and condensate is removed with an energy-efficient hot gas system. A full range of sizes is available.
delfield.com
DESMON GOLD LINE
Desmon's GM7-ETL features a self-closing, hinged, magnetically sealed door; remove the gasket without tools. Constructed of stainless, the model sports an interior cabinet with rounded corners for easy cleaning; it uses LED lighting. Digital controls come with HACCP capabilities. Refrigeration has self-contained, capillary tube system and uses R404A refrigerant; evaporator is epoxy-coated to reduce corrosion. Temperature settings range from 28°F-46°F. The door extends the full width of the cabinet shell and has a lock. Model measures 2631/32-in.W x 311/2-in.D x 8315/32-in.H and accommodates 3 PVC-coated wire shelves.
www.desmonna.com
HOSHIZAKI COMMERCIAL SERIES
Hoshizaki America's Commercial Series reach-ins feature top-mounted, high-efficiency refrigeration systems with epoxy electro-coated evaporators for long life. Constructed with stainless front, sides, door and interior, the reach-ins have a unique ducted airflow system inside the cabinet to provide uniform cooling. A thermostatic expansion valve provides fast pull-down, and hot gas defrost prevents ice from forming on the evaporator. Solid-state digital controls monitor and control temperature, provide high- and low-temperature alarms, offer set points between 33°F-52°F, and display temperature in °F or °C. Available in single- or double-door configurations, the CR1S-HS and CR1S-HSL are Energy Star rated.
hoshizakiamerica.com
KELVINATOR KCBM23RSE-HC REACH-IN REFRIGERATOR
This reach-in refrigerator's fin-and-tube condenser improves performance in high-temperature environments; an automatic defrost cooling system offers worry-free performance. Easily monitor temperature via a digital control and display. Other features include a removable door gasket, adjustable shelves that are easy to handle and keep clean, self-closing door with 90° stay-open feature, and lock and key for protection of contents. Unit comes with heavy-duty casters; field reverse the door with purchase of kit.
kelvinatorcommercial.com
MASTER-BILT FUSION SERIES MBR-SH REACH-INS
Bottom-mounted refrigeration, solid half-door reach-ins from Master-Bilt are constructed with stainless front, sides and interior liner and door panel, and have an attractive curved corner design that reduces chances of injury. The standard electronic controller has a digital temperature display in either °F or °C, temperature set point adjustment between 32°F-40°F, visual and audible door-open alarm, and a "clean condenser" alarm that displays every 6 months. Anti-condensate heating wires line door frames, and auto defrost cycle keeps evaporator from freezing. Self-closing doors feature heavy-duty handles key locks, self-adjusting magnetic gaskets, and a hold-open feature at 110°. Two-, 4- and 6-half-door models are available.
master-bilt.com
MVP GROUP IKON SERIES
MVP Group's Ikon Series serves as a value line of reach-in refrigerators; choose from bottom-mount or top-mount models and 1, 2 or 3 doors. One and 2-door reach-ins are Energy Star rated. Highlights range from CFC-free refrigerant and foam insulation, electronic thermostat and digital LED temperature display, and self-closing doors that remain open at 90°; replace magnetic gaskets without any tools. Refrigeration system is capillary tube; condensate heating element comes built into the condensate pan for efficient evaporation of excess water. Easy-tomount 4-in. casters are lockable in front and come standard on all units. Models KB27R and KT28R come with a door swing that's field reversible.
mvpgroupcorp.com
NOR-LAKE ADVANTEDGE SOLID-DOOR REACH-INS
Nor-Lake's AdvantEDGE reach-ins have bottom-mounted, capillary-tube refrigeration systems with copper tubes, and ceiling-mounted aluminum fin evaporators. The automatic condensate evaporator uses an energy efficient air-over-wick style vaporizer. Adjustable controls feature a microprocessor with digital display to maintain even temperatures of 34°F-38°F, and a door open alarm. One-, 2- and 3-door models all feature heavy-duty pivot hinges, key locks, recessed-pocket curved door handles and self-adjusting magnetic gaskets. All stainless interior and exterior and vinyl-coated shelves offer easy cleaning and long life.
norlake.com
RANDELL STANDARD SERIES
Model R1R-29-1 single-section, reach-in refrigerator sports an energy-efficient single compressor system, automatic adaptive defrost system, and a hot-gas condensate evaporator. It has door-activated LED interior lighting, adjustable, heavy-duty coated wire shelves and 5-in. casters with the front 2 locking. Top-mounted compressor design provides easier access for preventative maintenance and condenser cleanings and accumulates less dirt than bottom-mount compressors, according to the manufacturer. Easily manage standard temperature settings through up/down arrows. Controller beeps after door's open for 30 sec. and also has a fan-on indicator.
unifiedbrands.net
TRAULSEN G-SERIES CONTROL
Traulsen's G-Series Control is an easy-to-use, water-resistant microprocessor control supplied standard on all Traulsen G-Series models; it includes a 3-digit LED display, and can display temperature in °F or °C. The new control features improved user interface, integrated smart sensor for adaptive control strategies, and advanced diagnostics that will monitor a wide variety of environmental conditions. This advanced technology allows Traulsen to control the refrigeration system, which is expansion-valve based, ensuring superior performance and temperature maintenance even in the most extreme environments.
traulsen.com
TRUE T-SERIES WITH HC REFRIGERANT
True Food Service Equipment's T-49-HC is a double solid-door reach-in in its new T-Series line of refrigerators. The bottom-mounted, capillary-tube refrigeration system uses R290 hydrocarbon refrigerant and is balanced to maintain cabinet temperatures of 33°F-38°F. ECM evaporator and condenser fan motors, LED lighting, positive self-sealing doors, and foamed-in-place insulation throughout add to energy savings enabling many models to meet or exceed Energy Star standards. Construction features stainless front and doors, clear-coated aluminum interior with stainless floor and coved corners. Unit comes with 6 adjustable PVC-coated wire shelves and an epoxy electro-coated evaporator to prevent corrosion.
truemfg.com
TURBO AIR SUPER DELUXE SERIES TSR MODELS
Turbo Air's Super Deluxe Series Reach-In Bottom-Mount Solid Door Refrigerators now sport natural refrigerant (R290/R600A). Units come with a self-cleaning condenser; the device keeps the condenser clean and prevents system failure by automatically brushing daily. Units come with digital temperature control and monitoring system; alarm sounds when doors are not sealed shut to protect food against spoilage resulting from cold air leaks. An early warning alarm program detects issues before malfunction occurs. Digital display allows for easy monitoring. Choose between 1- or 2-door models with capacities of 19 1/3, 29 or 4 11/10 cu. ft.
turboairinc.com
VICTORY ULTRASPEC WITH SECURE-TEMP 1.0
The Victory UltraSpec line of reach-in refrigerators features the V-Temp electronic control system that allows you to monitor and control the entire temperature maintenance process. It includes an on/off switch, expansion-valve-based refrigeration system, manual defrost cycle, interior light switch, LED temperature indicator in °F or °C, and audio/visual alarms for hi-low temperature, power supply interruption, door ajar, and "clean condenser." Two fan speeds and operation modes give you the flexibility to super-cool the box when food has just been loaded, automatically revert to energy saving when the door stays shut for 4 hr. An optional FlexTemp mode lets you manually select a temperature between 28°F-40°F. Victory's unique Secure-Temp 1.0 system uses Wi-Fi to let you monitor the temperature without software or monthly fees.
victoryrefrigeration.com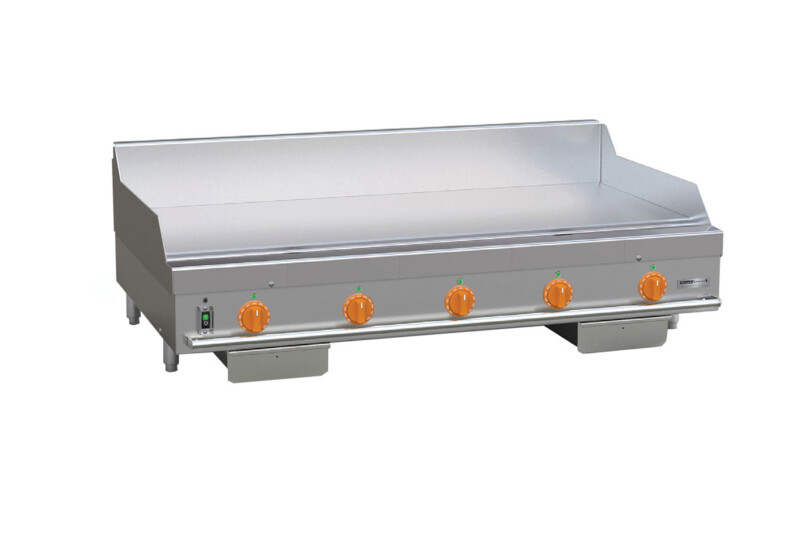 Cooking Equipment
Planchas, though convincing clones of their better-known sister product the griddle, quickly set themselves apart.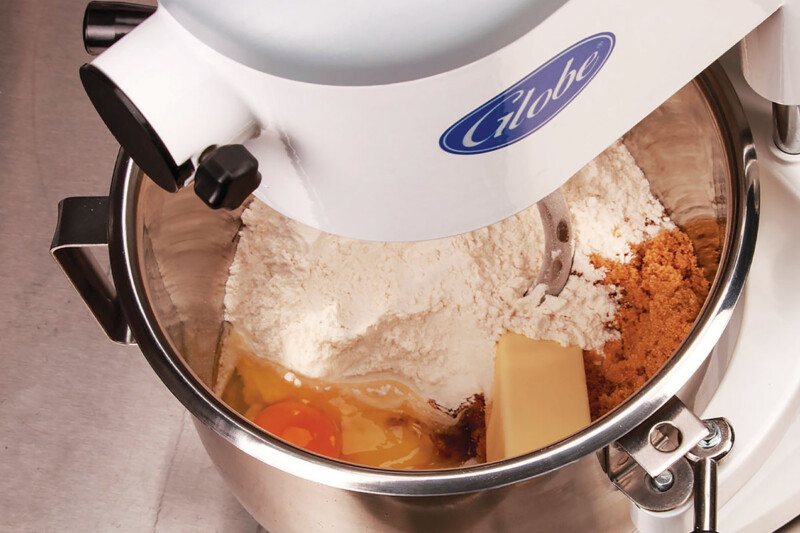 Equipment
The countertop mixer is the Swiss Army knife of the kitchen—small but mighty, with the power to perform various functions.