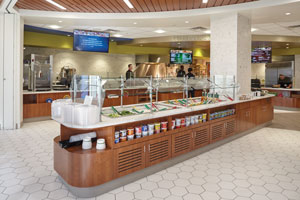 When the addition of a 350-employee administration building and other expansion increases your lunchtime foodservice transactions from 50 to more than 400, it's pretty clear your dining facility needs to grow, too. At Sycamore Medical Center, a full-service hospital in Miamisburg, Ohio, near Dayton, the new Parkside Bistro servery not only handles the increased customer count but offers a much wider menu of fresh items often finished in front of diners.
Originally opened in 1978, Sycamore Medical Center previously served customers with a linear galley-style serving line. Regardless of what each diner wanted to eat or drink, all had to pass through the entire serving line before getting to the cashier station. "Our team's biggest challenge was breaking up the traffic flow," says Josh Griffin, Designer/Project Manager at TriMark SS Kemp, commercial foodservice design consultant and dealer. "The line backed up out of the servery all the way to the elevators, disrupting other parts of the building."
In addition to traffic congestion, the layout wasn't conducive to food presentation, says Cheryl Shimmin, Network Director of Culinary and Nutrition Care. "It was all dissatisfying to employees," she says.
As the administration considered a new servery, it also wanted the new space to not just feed more people with more food items but to increase employee engagement with the customers.
As the team began to design the new space for efficient customer flow, it simultaneously developed an expanded menu to keep those customers coming back. "Previously, our menu items were best described as 'brown,'" Shimmin says. "We served a lot of fried foods, gravies and cornbread, all prepped and finished out of sight in the kitchen behind the serving area."
The production kitchen behind Parkside Bistro remains unchanged and its staff preps all new menu items on the existing equipment. A big difference with the new dining facility, though, is that much of the food is finished on the serving line, giving diners the impression of fresh food created in front of them. "People eat with their eyes," Shimmin says. In addition to the new food offerings, she says the goal for Parkside Bistro was to create a facility that looks like a vibrant restaurant, not an institutional cafeteria. She also points out that one of the first things you see when you enter is a colorful salad/soup bar, something lacking in the previous facility.
Three Serving Stations
Instead of having to wait through the length of a straight, galley-style serving line, diners now go directly to the salad/ soup bar or any of the three serving stations: Global Fare, Grille Works and Culinary Cuisine. Colorful television monitors above each station describe each day's offerings.
At Global Fare, described by Shimmin as an "action station," cooks finish many of the station's menu items on Electrolux high-speed panini grills, Vollrath induction ranges or a Lincoln impingement oven.
"We call it an action station because food is made to order, rather than having customers take a pre-wrapped sandwich that's been sitting under a heat lamp," says Griffin. "Also, the menu here changes daily. One day could be Tex-Mex, the next day might be meatball subs where an associate builds the sandwich in front of the customer. It's all freshly prepared, not run-of-the-mill cafeteria food."
New lunch menu items, often inspired by customers, include such popular items as Bang Bang Chicken and Pho Bowl. Other items include Thai steak wrap and Chicken Saltimbocca.
The Lincoln impingement oven, shared by both Global Fare and Grille Works, sits between the two stations. The exhaust hood installed over Grille Works could not be moved, however, so the construction engineers cleverly installed a small hood over the impingement oven that feeds into the larger hood nearby.
"Not being able to move the existing hood was a big challenge," says Shimmin. "We were afraid that despite the new separate-station approach, too much traffic would funnel to the grill area, which had to go under the existing hood. It's in the corner of the floorplan and we thought that would cause congestion." But with the tempting food offerings the café now offers at the other stations, diners are drawn throughout the servery, she explains. "Many stop at Global Fare just to see the show there."
Shimmin describes Grille Works as a typical grill with a difference: because of a focus on vegetarian options, employees cook meat on half of the charbroiler while preparing vegetable items on the other half. The addition of this charbroiler out front frees the existing charbroiler in the kitchen for patient meals, she says.
Using the charbroiler and a Pitco fryer, Grille Works staffers also prepare to-order sandwich specials, tacos, grilled chicken strips, French fries and more. The split-tank fryer lets employees cook both chicken and fish in the same unit but use two different oils, says Griffin.
The third station, Culinary Cuisine, also emphasizes vegetarian choices including black bean patties, bourbon tofu and edamame falafel.
The Grab & Go area offers pre-made items and bottled beverages for customers in a hurry and Hydration Station—just what it sounds like—provides coffee and fountain soft drinks as well as bottled beverages.
Visual Appeal Of Home
One of Shimmin's favorite things about the new Parkside Bistro is the sense of "home" it engenders. "The 82-seat dining area has the energizing feel of the servery, but also is very relaxing," she says. One wall offers diners a bright look outside through floor-to-ceiling windows. Another features a photographic forest mural continuing the outdoorsy feeling. Shimmin points out the crisp and clean use of blue and chartreuse throughout the facility, colors carried throughout a mix of seating options including tables and banquettes.
A "fireplace" adds to the calming nature of the space. The unusual feature uses water vapor and reflecting lights to simulate soothing flames. "We wanted the visuals to give our customers the feeling of being at home," Shimmin says.
"We were challenged with modernizing the look and feel of the servery and the dining room, which had been rather dark and drab," says Griffin. In addition to the windows, colors and fireplace, Griffin points to new lighting, the signage above each station and brighter countertops than before.
Challenges, Solutions
The project presented several additional challenges. One was the contrast of high- and low-volume traffic. "Because this facility has a large Monday-through-Friday administrative staff, our primary business comes during the weekday lunch period," says Shimmin. "We needed a design that could handle extreme-volume business at lunchtime yet efficiently serve lower volumes at breakfast, dinner and on weekends. For example, during breakfast, we offer self-service at the Global Fare action station. The food shields tilt into self-service mode to allow the customers to help themselves to warm cinnamon rolls baked in the kitchen."
While Shimmin says the serving stations don't offer self-service options yet at lunch or dinner, the ability allows flexibility in case of a staff shortage. "We could offer self-service pizza, baked in our oven and cut up by staff, then made available by the slice for customers to help themselves," she says. "Both Global Fare and Culinary Cuisine stations have the flexibility to offer self-service. We did not design that feature into the grill station, though."
What do you do with a structural column positioned in the middle of the serving space? Incorporate it into the design. "Sycamore originally wanted separate soup and salad stations, so we used the column to separate them on a single serving station," says Griffin.
By jackhammering the original floor during construction and running the utilities out of sight under the new surface, the new servery space is clearer with cleaner lines and is more open.
Renovation Timeframe
Transforming the servery into the Parkside Bistro took approximately six months, Shimmin says, from autumn 2016 to mid-March '17. "We kept serving a limited menu while the serving area was under construction," she says. Some hot wells and a cashier station in one of the building's normally private dining rooms kept hot food and commerce going during the transition. The Sycamore Medical Center supplemented the pared-back menu by bringing in wrapped sandwiches and easy-to-transport items such as hard-boiled eggs, apples and other grab-and-go items. The department also set up a tent outside for additional seating.
Once the new serving area opened in March, the seating area was closed off for construction until July. All seating during that time was in the outside tent.
Now that the whole shebang has been up and running for about half a year, Shimmin says a recent employee survey proves the changes have had a great effect on morale. No longer a source of dissatisfaction, Parkside Bistro now completely satisfies staff and visitors seven days a week.
SYCAMORE MEDICAL CENTER
Miamisburg, Ohio
Project: Parkside Bistro
No. of Beds: 120
Remodeled Dining Facility Opened: March 2017
No. of Seats: 82
Equipment Budget: $228,000
Sycamore Medical Center Network Director of Culinary and Nutrition Care: Cheryl Shimmin
Design Consultants: Josh Griffin, CFSP, Designer/Project Manager; Ben Bachman, CFSP, Contract Sales Rep; Anne Ladd, CFSP, Director of Merchandising and Tabletop; Jason Day, Sales Rep; TriMark SS Kemp, Cleveland
Architect: LWC Inc., Dayton, Ohio
Interior Designer: Pacific 33 Architects, San Diego
Millwork Fabrication: Aster Industries, Akron, Ohio
KEY EQUIPMENT
Global Fare
Cres Cor heated cabinet
Traulsen/ITW FEG reach-in refrig.
Electrolux high-speed panini grills
Hatco carving stations
Vollrath induction ranges
Grille Works
Lincoln/Welbilt impingement oven
Greenheck exhaust hood
Pitco/Middleby fryer
Star/Middleby charbroiler
Hoshizaki sandwich/salad prep table
Advance Tabco hand sink
Traulsen/ITW FEG reach-in freezer
Curtron/TMI swinging door
Culinary Cuisine
Vollrath induction ranges
Cres Cor heated cabinets
Advance Tabco work counter
Traulsen/ITW FEG reach-in refrig.
Salad/Soup Bar
Owner-supplied waffle maker
Hatco toaster
Vollrath induction warmers
Grab & Go
Federal Industries open merchandisers, pastry display case
Hydration Station
Turbo Air freezer merchandiser
Vendor-supplied coffee merchandiser, coffee makers, reach-in refrig. merchandiser
Owner-supplied ice machine
Throughout
Vollrath dual-temp food wells, drop-in hot wells, drop-in cold wells
Fabricated work counters, food shields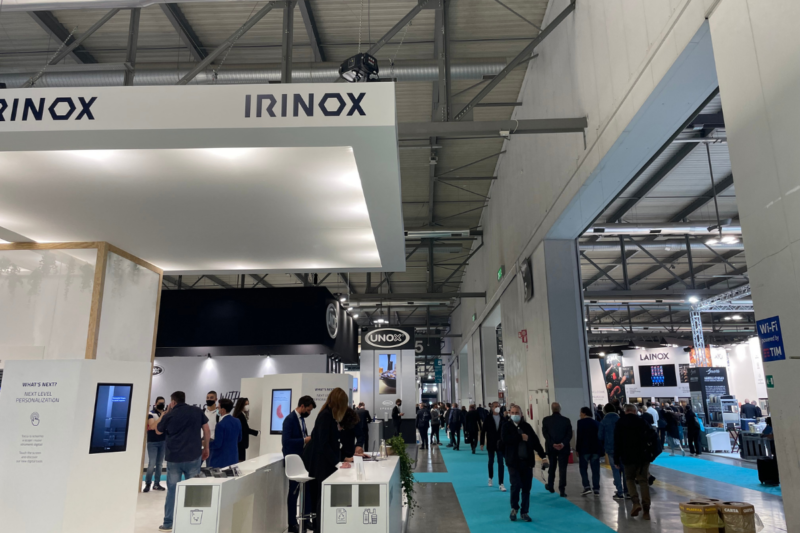 Events
HostMilano, one of the largest foodservice equipment shows in the world, kicked off today in Italy, and FER is on location.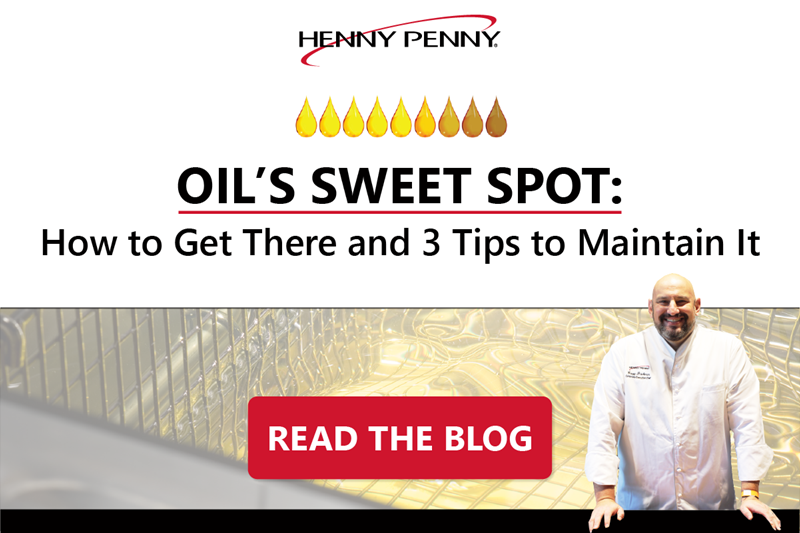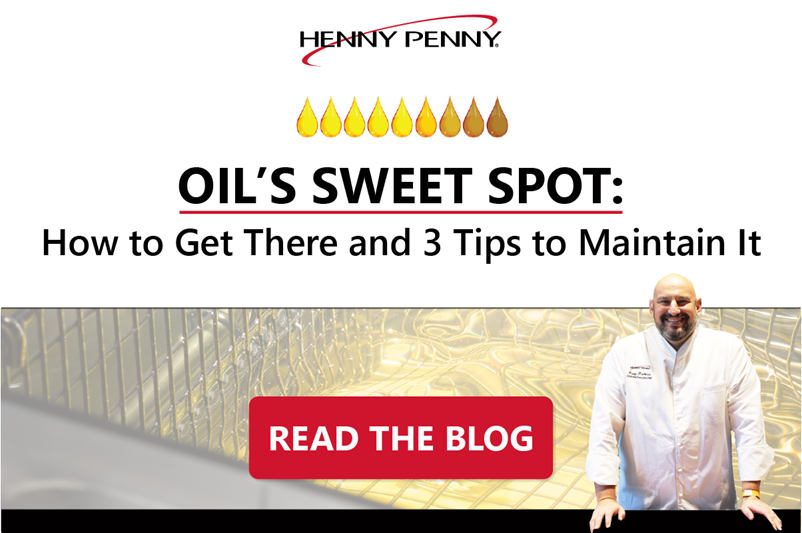 Uncategorized
Like many in the world of foodservice, you may assume that cooking oil performance is at its peak when you first start using it — but did you know there...