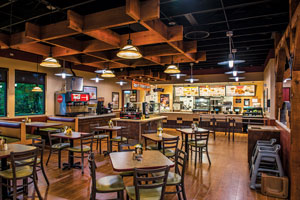 If the dawn of 2018 is a confusing time to be alive, it's also a perplexing time to be in the foodservice industry. Unemployment is low and workers' wages are starting to improve, but people aren't necessarily flocking to restaurants. Indeed, consumers seem to be using foodservice in different ways than they once did, with online ordering and third-party delivery services facilitating growing demand for off-premise consumption. Even people who continue to patronize brick-and-mortar restaurants have cut back on full-service dining occasions and are increasingly gravitating toward fast-casual eateries that promise fresh fare along with speedy order fulfillment and no-hassle payment.
Operators hoping to succeed in this environment are dealing with issues that have been familiar to them for many years. These include consumers' increasing demand for elevated, fresh, regionally sourced, made-to-order fare; the implications of labor shortages and a low-skilled workforce; high real estate costs and limited availability of good sites.
But they also say something is changing. Operators interviewed for this article believe that younger diners in particular are seeking different sorts of on- and off-premise foodservice experiences that don't necessarily involve interacting with restaurant staff. Some say their industry is increasingly turning into a tech business instead of a hospitality business.
To cope with these challenges old and new, foodservice executives are rethinking operations and equipment. They're cramming higher-volume multipurpose equipment into existing kitchen spaces, or redesigning production lines for smaller-footprint kitchens. They're purchasing equipment that helps them produce made-to-order dishes and fresh fare. They're looking for any equipment or tech that speeds up production, saves steps or makes life in the kitchen easier for low-skilled, high-turnover staff.
Above all, they're upgrading technology to smooth the way for online ordering and payment, as well as investing in equipment, packaging and partnerships for delivery.
We talked with six operators, and here's what they told us about how they see the coming year's business climate, and how they plan to approach it.
CALIFORNIA POLYTECHNIC STATE UNIVERSITY: More, Faster, Fresher
Spyros Gravas, Campus Dining Director
California Polytechnic State University, San Luis Obispo, Calif.
No. of Units: 27
Units Planned for 2018: None in '18; new dining complex to open in '19
Cal Poly is growing fast and has big plans, according to Campus Dining Director Spyros Gravas. The university is updating its Master Plan for the physical needs of the San Luis Obispo campus for the next two decades, based on expected enrollment growth of almost 30%. An important part of the scheme is creating a larger residential campus—and more residential dining. A 32,000-sq.-ft., three-story dining complex called Vista Grande is now under construction and set to open in 2019.
In '17, Campus Dining remodeled and renamed its main dining venues, now called Tu Taco Taqueria, Student Choice, Poly Deli, 805 Kitchen (a residential all-you-care-to-eat venue) and 805 Café (an adjacent spot offering açaí bowls and an espresso bar).
"Being aware of the rhythm of the campus and breaks in class schedules helps us to in crease speed of service during these times," Gravas says. "We're seeing a sharp increase in smoothies as well as cold offerings including salads, juices and grain and noodle bowls; we've expanded self-serve salad bars with more variety and less wait time. We've increased fresh-made, ready-for-pickup options in high-demand stations during peak hours."
Fresh grab-and-go items require refrigerated display and selling cases; cooked-to-order, individually portioned meals call for flexible electric countertop equipment. The action-station area at the new 805 Kitchen features a wok, a full grill and fry stations; supporting equipment includes mobile prep tables, combination hot/cold service wells and a new broiler.
"We've introduced more electric and ventless equipment in lieu of gas and hood-supported equipment—fast-cook ovens, induction cooking stations, crepe grills and gyro broilers," Gravas says. "We've increased production capacity by balancing automation and labor; for example, we now use a sushi-base preparation machine. The recent remodels have included layout and equipment modifications aimed at increasing throughput and transaction speed while maintaining quality, increasing variety and furthering sustainable practices."
FIRST WATCH: Build, Build, Build
Danny Foster, V.P. of Design and Construction
First Watch Restaurants, University Park, Fla.
No. of Units: 310
Units Planned for 2018: Approximately 40
At First Watch Restaurants, sales are booming, traffic is rising, and management thinks there's plenty of room for further growth. "The strategy is to build, build, build," says Danny Foster, V.P. of Design and Construction. "We have a very bullish development schedule."
Foster thinks the concept's success is partly attributable to its brand format, and partly to executives and staff "who know how to operate top-notch restaurants right out of the gate." But mostly, he believes, it's the appeal of the wholesome breakfast-and-lunch-only menu. "I think it's pretty inviting to people who want to eat something healthy and not feel too full," he says.
First Watch units built or converted in the last couple of years feature an "Urban Farm" interior design with reclaimed woods and metals. The decor complements an updated, ever-changing menu of fresh, creative fare like Farm Stand Breakfast Tacos, Lemon Ricotta Pancakes, organic veggies and house-made granola and pico de gallo. One signature is the Fresh Juice Bar, with choices ranging from fresh-squeezed orange juice to Kale Tonic. (The juice program required the installation of an additional prep area with juice extractors and a slicer.)
While the "build, build, build" program would be a challenge for any chain, First Watch has an easier time than others finding good real estate, Foster notes; developers of shopping and lifestyle centers are calling to offer endcap and ground-up sites, seeing a desirable tenant that would fill the parking lot only until 2:30 p.m.
Because the company is dealing with a variety of sizes and layouts in new units, flexibility is a must, Foster says, with the standard kitchen line being flipped or tweaked to fit. Updating existing units also is a challenge, since restaurants originally designed for $1 million in annual sales are now doing as much as $2 million. Crews have ripped out private meeting rooms, once a signature of First Watch stores, to accommodate more dining-room traffic.
In kitchens, "we're trying different equipment under the same hood—deeper or wider, or new brands that offer a bigger cooking surface to produce more food," Foster says. "We've started an initiative to dig deep, finding easier and better ways to do things to boost performance. It might be as simple as adding a refrigerated stand under a griddle to save three steps."
Another goal is saving on energy and utilities; staffers are now developing an RFP for a new dishmachine design that would cut water and power usage.
Updating technology for faster, smoother ordering and payment (and possibly delivery) is yet another priority. "Younger customers' habits are different," Foster comments. "They want to eat now, pay now."
THE GREENE TURTLE: The Power Of Flexible Formats
Bob Barry, President and CEO
The Greene Turtle Sports Bar & Grille, Columbia, Md.
No. of Units: 46
Units Planned for 2018: 5 to 7
Like many in the restaurant industry, The Greene Turtle, a sports bar and grill based in the mid-Atlantic region, observed a downturn in 2017, admits company President and CEO Bob Barry. "We're continuing to see drops in traffic counts in casual dining and other segments," he says. "The restaurant industry is changing; people are going to online ordering and delivery, things that challenge the sit-down restaurant."
To meet consumers' changing demands, The Greene Turtle rolled out its Oracle MICROS online ordering app in '17, and it's currently testing third-party delivery services. As part of the move to boost the takeout and delivery channel, the chain worked with its disposables supplier and other consultants on new packaging. "We tested a lot of packaging to make sure cold products would stay cold and hot ones hot, with proper venting to regulate the moisture level," Barry says.
Yet Barry also remains optimistic about growth of brick-and-mortar Greene Turtle restaurants. "One of our advantages over competing brands is our flexible format," he notes. "We have layouts to accommodate a range of sizes and a variety of spaces; we're not afraid to do conversions, we're not afraid to do freestanding units." A new restaurant inside a Maryland casino pairs with a grab-and-go express unit sharing the same kitchen. "We'll see if it will be a good avenue for the future," Barry says.
Kitchens have a more-or-less standard layout but can be scaled up or down, Barry explains. "We might go from four fryers to three, from a 4-ft. charbroiler or grill to a 3-ft. model. We'll also have some space saving and gain efficiency in the size of walk-in coolers and other storage." The company is moving away from a 65% front-of-house/35% back-of-house ratio to a 75%/25% ratio to gain more dining-room and bar seats in the same footprint. To make that possible, it's reducing the number of items on menus.
"The smaller footprints help with the overall cost of buildout and with daily, weekly, monthly and yearly operating costs," Barry notes. "Smaller units have smaller tax bills, smaller energy bills, smaller staffs."
Apart from cost reductions associated with more compact units, the chain seeks equipment that boosts labor efficiency or reduces ticket times, Barry says. For instance, he says, "We're looking at some great high-speed cooking equipment, including TurboChef ovens and conveyor ovens, that will increase speed and decrease labor without jeopardizing quality."
RISE & SHINE RESTAURANT GROUP: Control What You Can, Then Go Bold
Johan Engman, Founder and Owner
Rise & Shine Restaurant Group, San Diego
No. of Units: 9
Units Planned for 2018: 7
Johan Engman sits atop a small, successful and well-regarded San Diego restaurant empire: three outposts of his California-cuisine concept, Fig Tree Café, and six Breakfast Republic locations. But now his Rise & Shine Restaurant Group is in the midst of a building boom, with 2018 seeing the introduction of four new concepts (plus two more Breakfast Republic units).
Engman isn't fazed by the risk or expense. "The restaurant industry is always volatile," he says. "I try to control what I can—food quality, customer service—and not worry about things I can't control, like whether egg prices or taxes will go up tomorrow."
Engman believes the new brands have the formula for success: right concept, right price point, right neighborhood, right team. El Jardin, a high-end regional Mexican concept with its own garden, is helmed by "Top Chef" contender Claudette Wilkins. It's going into the Liberty Station development where Rise & Shine already has two eateries, and redresses a lack of authentic Mexican restaurants in the neighborhood.
Pizza Republic recreates an unassuming pizzeria in Florence that Engman fell in love with as a 23-year-old backpacker. He promises that "menu prices will be affordable, service will be unpretentious, but décor will look upscale, and the rooftop deck will be the trendiest in North Park."
The other new concepts build on the group's success with the breakfast-and-lunch format. North Park Breakfast Co. is edgier and more elegant than Breakfast Republic, with a different menu and specialty waffles. Eggies is at the other extreme: built with a 20-ft. x 8-ft. footprint inside a shipping container, it's a quick-serve spot with a fryer and two-burner stove. The first unit, adjacent to an existing Breakfast Republic, will serve its overflow customers in the high-traffic Pacific Beach neighborhood. Unlike a leased space, the container can be relocated as needed.
Part of planning for success is thinking through production systems and equipment. El Jardin will have a "Ferrari" of a display kitchen, Engman promises. "At a Breakfast Republic, it doesn't matter whether we use a fancy fryer," he points out. "At El Jardin, we're putting it where we can let people see, so the main brand we're using is very high end." Putting on a show also is important at Pizza Republic, where the specs call for a wood-fired pizza oven and station from Italy and glassed-in display prep areas where staffers make pasta and cure meats.
Other equipment needs are more humble. "In California, the minimum wage is going up, and that's huge," Engman says. "We tackle the issue with equipment that reduces manual labor or increases efficiency in the kitchen." One recent purchase for Fig Tree Cafe and the breakfast spots: a mechanical egg cracker that allows workers to drop eggs into a chute for separation from the shells in seconds.
ROY ROGERS RESTAURANTS: Honoring The 'Holy Trio'
Jim Plamondon, Co-President, The Plamondon Cos.
Roy Rogers Restaurants, Frederick, Md.
No. of Units: 55
Units Planned for 2018: 3 to 5
Roy Rogers is a limited-service restaurant franchise— but it's an unusual one. The brand is known for its self-serve Fixin's Bar piled with lettuce, tomatoes, pickles, sauces and condiments. More important, it boasts a varied menu centered around roast beef sandwiches, burgers and fried chicken. "We're uniquely situated among the competition, with our broad menu offering something for everyone, eliminating the 'veto vote' and making us very attractive to guests," says Co-President and Co-Owner Jim Plamondon.
Not surprisingly, upgrades to kitchen processes and equipment are centered on enhancing the "holy trio" of proteins. "We took out our old chutes and heat lamps," Plamondon says. "Now, food is prepared to order; beef for a sandwich is not sliced in advance, and a burger on the grill is finished just in time for the customer."
The chain is testing several new ovens for roasting its beef to the perfect time-and-temperature combination to maximize quality and minimize shrinkage. It's also on the lookout for new energy- and labor-saving features on its open fryers.
Labor issues also influence changes in the kitchen. "We're learning how to make kitchen layouts and equipment simpler and more efficient to make life easier for hourly workers," Plamondon says. A prime example: new double-sided prep tables with hot and cold drop-in wells for the menu's many side items (including baked beans, baked apples, mac and cheese and coleslaw), replacing the previous single-side, back-line-only configuration. "If the back-line employee is busy, a front-line worker can scoop them out, and that's important to us," he notes.
Construction costs are another key issue. "We have shrunk the size of our kitchens, so we're looking long and hard for efficiencies," Plamondon says. To fit smaller pads, the company has developed a more compact 2,700-sq.-ft. prototype with 10 fewer seats; it also is experimenting with inline units.
A newer challenge: "The restaurant business has started to morph into a technology business," Plamondon observes. "The millennial customer doesn't necessarily want to have to interact with people to order food." The chain recently rolled out online ordering and will test ordering kiosks. However, online and kiosk ordering will be only for pickup and takeaway, at least for now. "I'm not convinced the QSR industry is well suited for delivery," Plamondon says. "Our brand is all about quality, and some items just don't deliver well."
TUCSON MEDICAL CENTER: Boosting The Bottom Line
Beth Dorsey, Director of Food & Nutrition
Tucson Medical Center, Tucson, Ariz.
No. of Units: 3
Units Planned for 2018: 3 ordering kiosks with delivery
Beth Dorsey, Director of Food & Nutrition at Tucson Medical Center, sees her department as a revenue generator for the hospital as well as a big part of its mission to improve the health of the people of Southern Arizona. Beyond approximately 1,000 patient meals per day, the food and nutrition department caters meetings and operates three eateries for staff and visitors: a full-service, nearly round-the-clock café with $3 million in annual sales; an early-morning-to-late-afternoon limited-service café called Pepper's; and Higher Grounds, a morning-to-early-evening coffee shop offering Starbucks beverages, pastries and grab-and-go lunches.
"We have focused on driving revenue to the hospital, increasing average checks and customer counts year over year," Dorsey says. "I'd say our operations have annually added upward of $3 million in revenue, which ultimately helps us make additional investments in patient care."
Boosting food quality goes hand-in-hand with boosting profits. Menu offerings have evolved to meet consumer demand for fresher, healthier fare, including more fresh fruits and vegetables—many of them locally sourced through a new partnership with area farmers.
Additionally, "Our consumers are wanting a lot more customizable items," Dorsey reports. Foodservices has introduced house-made sushi and new teriyaki bowls in the main café as well as a self-service nacho bar and a smoothie and juice bar at Pepper's. For 2018, Dorsey and staff are planning to roll out thin pizzas freshly made to customer specifications, as well as an option for diners to customize snack cups with mix-and-match dry snacks.
Third, Dorsey says, today's customers "want food on demand; they're always on their phones, and want to be able to order food on their mobile devices rather than coming in and speaking with someone." Accordingly, '18 plans include the rollout of kiosks in three surgical lobbies and a labor-and-delivery waiting room, where visitors can order food and have it delivered.
Evolving meal demands mean changes in production systems and equipment. "We expanded our produce coolers, modified where we put what," Dorsey says. For example, the team transferred prepped items from a large refrigerator to a smaller one in order to use the larger unit to store the increased supply of fresh produce.
Dorsey says her department purchased about $10,000 worth of shelving when they altered the configuration of the storeroom to better meet the needs of the employees who use it. "We created a flow plan and grouped certain items together based on our menu and our staff needs for food prep and restocking of retail areas," she explains. "All shelves are labeled, and staff feedback has been positive."
In '18, the department plans to buy three new high-end combi ovens, in part for roasting vegetables. An already-planned HVAC upgrade above the kitchen makes it a fortuitous time to install new hoods, including one over the new conveyor oven that's been ordered for pizza production.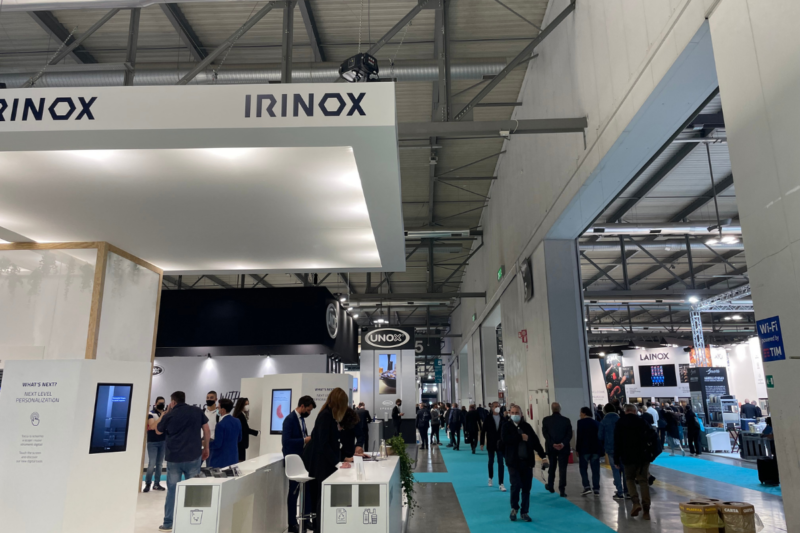 Events
HostMilano, one of the largest foodservice equipment shows in the world, kicked off today in Italy, and FER is on location.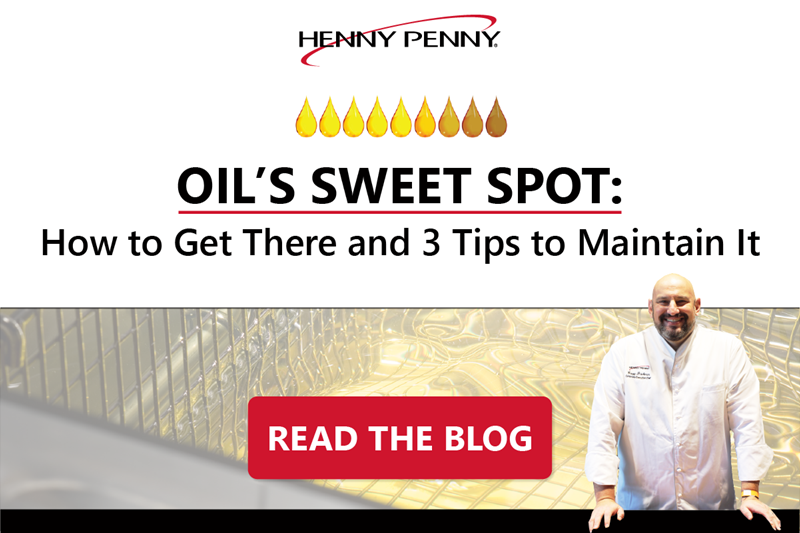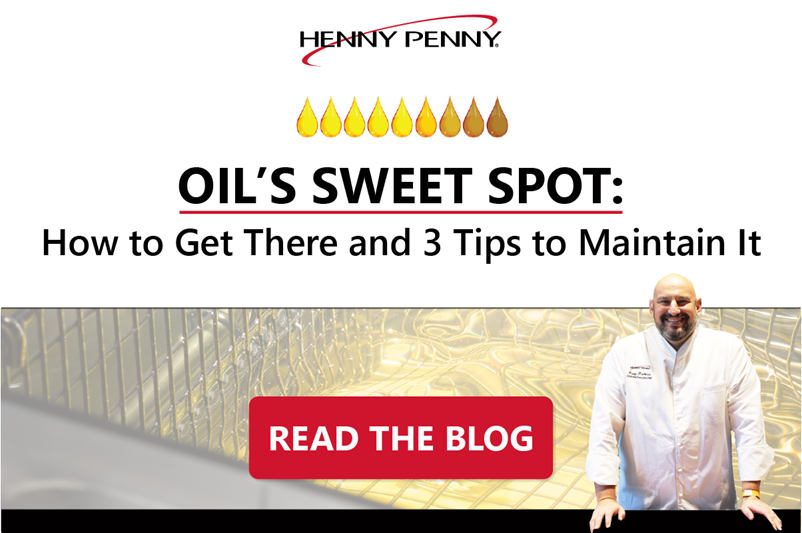 Uncategorized
Like many in the world of foodservice, you may assume that cooking oil performance is at its peak when you first start using it — but did you know there...