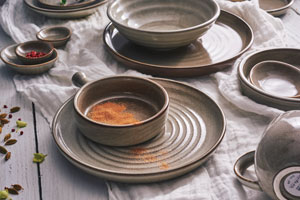 Diners today are more informed than ever before. They want to know where their food comes from and how it's prepared. They're paying more attention to your tabletop choices too; their friends also notice with photos of meals showing up on social media. Choose pieces wisely to differentiate your operation, reinforce your brand, and ultimately increase your check average. Lisa Hackworth, Product and Marketing Specialist, Wasserstrom Co.; Anne McCabe, Vice President, National Accounts, Boelter; Shannon Tallon, Category Manager-Tabletop, Edward Don & Co.; Morgan Tucker, Director of Business Development, M. Tucker/Singer Equipment, and Dave Turner, Editor/Chief Evangelist, TabletopJournal share the top trends they see in tabletop:
• Handmade dinnerware. Local artisan potters are the next foodservice celebrity. Operators crave hand-thrown pottery (some truly hand-thrown, others machine made). Work with partners who have experience designing for the rigors of commercial use; look for items that are food and dishmachine safe.
• Antique, vintage-looking pieces. Your grandmother's china (but updated) is now a big part of the tabletop scene. It goes back to diners' need for comfort; there's a lot of turmoil in the world. Look for tabletop items with a traditional floral pattern, along with distressed flatware and etched glassware.
• Mixology-oriented barware. Bar tools, such as embellished stirrers or metal straws, have made their way into drinks and onto the tabletop; they're not just for behind the bar anymore. You'll find retro, "Mad Men"-inspired glassware in bars across the country.
• Playful glassware. Expect a push in 2018 for quirky glassware—the more ostentatious, the more absurd, the better. Hawaiian-style cocktail glasses and skull glasses are a few examples.
• Earth-inspired colors and textures. Look for black, graphite-like flatware, rustic wood boards for charcuterie, and cast-iron bowls. Patterns that look like leather or lava, reactive glazes in blues, grays and blacks, and plenty of concrete, stone and slate also are on-trend.
• Millennial pink. As makers turn to social and fashion trends for inspiration, you'll find this rosy pink in all sorts of ware.
• Matte finishes. Rather than glossy, matte finishes— especially neutrals—are in high demand.
• Congruent tabletop presentations. Many operators opt to mix and match pieces but lately, at least one source notices a shift toward less disjointed presentations. Restaurateurs today can invest in more items per tabletop for a total refresh whereas a few years ago, they were likely to purchase single pieces to make bold impressions.
• Upgraded beverage service. Diners demand good coffee and tea. Makers now offer higher quality teapots, coffee pots, tea boxes, mugs and more. One supplier recently released hydro-dipped carafes in light wood, dark wood and travertine marble finishes.
• Customization. You have more opportunities to specify custom tabletop pieces, including those carrying your logo for social media posting. Makers require smaller minimums and offer faster turnarounds thanks in part to improved manufacturing technology, such as decal equipment. What used to take 12 weeks now takes a couple of weeks.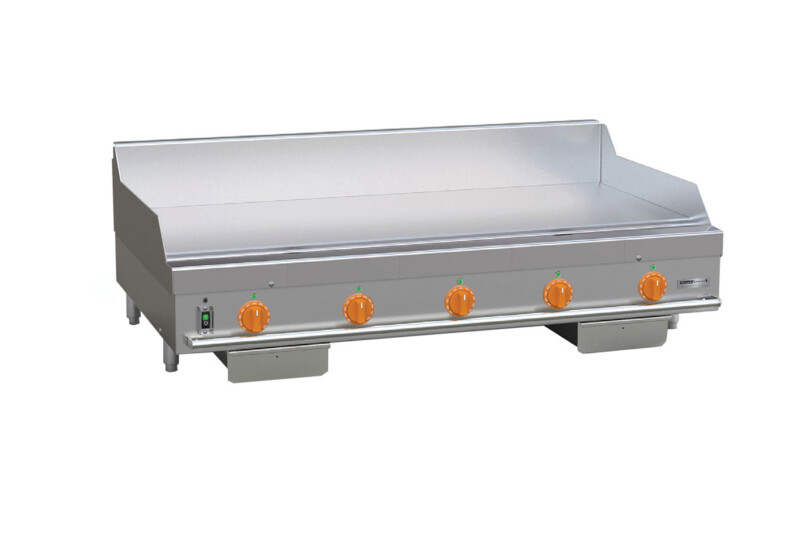 Cooking Equipment
Planchas, though convincing clones of their better-known sister product the griddle, quickly set themselves apart.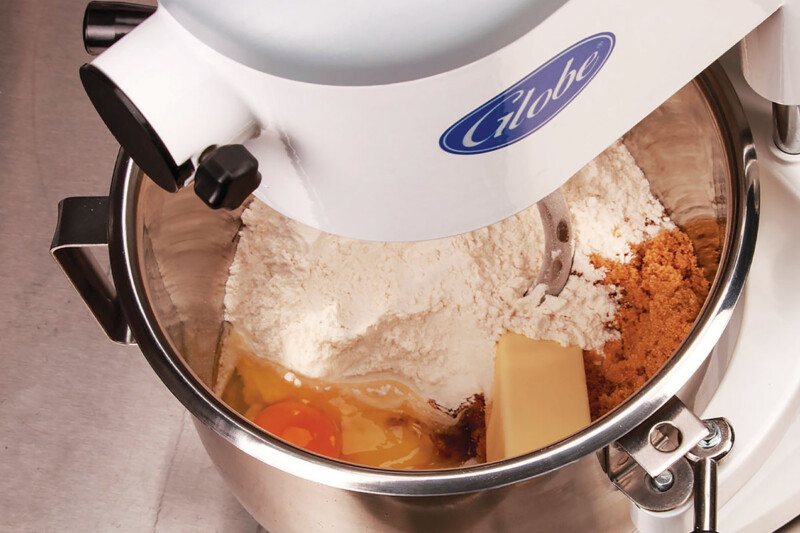 Equipment
The countertop mixer is the Swiss Army knife of the kitchen—small but mighty, with the power to perform various functions.