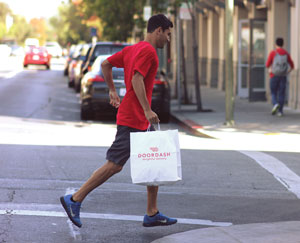 Ever feel like the pace of change is growing so fast that you can't keep up? Better get ready to experience some serious g-force in the next few years when it comes to food delivery. Delivery orders last year accounted for about 3% of total restaurant sales, according to The NPD Group. Hardly seems like much until you take into account that's 3% of $541 billion.
Restaurant patrons only sat down to eat 37% of the time last year. Carryout visits surpassed that at 39%, and 21% of transactions came from the drive-thru, demonstrating how little time consumers have for restaurant dining. Demand for delivery is exploding as more services are making it easier than ever for consumers—and operators—to have food delivered.
Delivery has been around for about 70 years. Even so, at the turn of the century, (doesn't that sound quaint?), if you wanted to be a couch potato and eat restaurant food at home, your choices were limited to pizza, Chinese food, and a few local mom-and-pop restaurants. You either had to pick it up yourself or find eateries willing to hire drivers to deliver the goods.
Most people perused phone directories for restaurants and ordered by phone. As online review sites like Yelp cropped up around 2005, finding a restaurant that delivered got easier, and people ordered by both phone and fax. The expansion of the Internet convinced a lot of operators to establish their own online presence, and with that online ordering grew more common after '10.
The ubiquity of smartphones is what's now driving both online ordering and the demand for delivery. With a variety of apps, customers can find a list of food and restaurant choices at their fingertips, select one, choose menu items, pay, and get a meal placed in their hands in 15 to 30 minutes with just a few taps on a smartphone screen.
Three Models
Of course, it isn't just smartphone apps that have driven the growth in delivery trend. It's the general consumer trend of shopping online and having everything delivered. Services like Amazon Prime have conditioned consumers to both expect the convenience of delivery and expect it quickly. And ride services such as Uber have put legions of potential delivery drivers on the street.
Millennials, especially, see food delivery as a natural outgrowth of both the technology and societal trends they've grown up with. The big boys are sitting up and taking notice. McDonald's is running a TV campaign advertising its delivery service. Burger King, which jumped the gun by testing delivery five or six years ago, announced it's back in the game. Even fine-dining restaurants like Momofuku M. Pêche in New York City now offer food delivery. If you aren't offering delivery yet, better gear up now before all the other kids on the block pass you by. So, what are your options?
In-house. The classic model of delivery is the enterprising restaurant that hires hourly employees, preferably with their own cars, to run orders from the store to the consumer's door. Perhaps no segment has adopted this model as well or as completely as pizza chains. Some have even purchased fleets of their own vehicles for their drivers to use. Pizza Hut is well known for its branded hot boxes on the back of motor scooters as well as its emblazoned Smart Cars. Domino's unveiled its DXP—a converted Chevy Sparks with a warming oven that holds up to 80 pizzas— two years ago.
"Owning the supply chain all the way to the customer enables businesses to control the entire customer experience," says Raanan Cohen, CEO of software logistics platform Bringg, Tel Aviv, Israel, "leveraging their brand at every single touch-point, from the driver's uniform to the giveaways they distribute."
The drawbacks are the high cost of labor as well as insurance, maintenance and operating costs of vehicles if you own the fleet.
Third-party aggregators. The demand for delivery has fostered an explosion in the number of services—and smartphone apps—springing up around the world. Those that got in early and found financing and/ or investors to help them grow quickly—Seamless/GrubHub, Caviar, EatStreet, Foodora, EHungry, Foodler—have expanded into national, even international (Deliveroo, Just Eat), entities. Others such as UberEats, Amazon Restaurants, DoorDash, Postmates, and Eat24 (Yelp) simply added food or delivery on to other services they already offered.
But the restaurant scene, especially independents, is local, and many markets are too small or too remote for coverage by the big names. Which means that a plethora of other services like Waitr, WaiterOnTheWay, Dine-InDelivery, BringMeThat, MyTown2Go, SkipTheDishes, Zomato and Swiggy cover territory others haven't yet reached.
These services assume all the logistics and responsibilities of getting food from your store to the consumer as well as providing a mobile ordering and payment platform for customers. All you do is sign up for the service and the aggregator incorporates your logo and menu into its app. Even noncommercial outlets like a hospital cafeteria trying to expand its business can sign up and benefit.
"The biggest benefit to using a partner," says Toby Espinosa, Head of Business Development at DoorDash, San Francisco, "is that we focus on driving incremental volume and superior logistics technology at a much lower price than it would cost to do in-house. Restaurants are then empowered to focus on what they know best, making delicious food."
The major downsides are being lumped in with a large percentage of the restaurants in your area, the inability to control the delivery experience itself, and the cost, usually a commission that can range from about 12% to 35%. The high end is often more than a small store's gross profit margin.
Hybrids. "Operators who want to design and control their own online presence use e-commerce providers like us," says Marty Hahnfeld, COO of Olo, New York City, "and are adding delivery to the brand's e-commerce site."
Software logistics platform providers such as Olo, Bringg, Orders2Me and Ordering Inc., develop operator-specific online/mobile ordering and delivery logistics software that drives e-commerce on both the operator's online and mobile e-commerce sites, and then help the operator contract with one or two delivery services such as UberEats, Postmates, Caviar, DoorDash or GrubHub depending on the market.
And new concepts are cropping up all the time. Olo, for example, was originally designed as an "order ahead" system. Its trademarked "Skip The Line" slogan was adopted by operators like Starbucks, whose typical order is too small for delivery. Instead, Starbucks customers place orders on the chain's e-commerce site for the store nearest them, and the order is waiting for them when they go to pick it up.
Ritual, a new social media app, allows employees in the same company to find out what others in their "circle" want for lunch, for example, pick a restaurant and gang the orders for the restaurant. It also alerts people in a group when one of them is placing an order; people can then ask that person to pick up an order for them at the same time.
"The social ordering feature, called Piggyback, enables consumers to easily connect with their network of colleagues and join their orders, making purchases of low-ticket items sustainable," says Robert Kim, Co-Founder and COO, Ritual, Toronto. "With Ritual, our partners are able to offer their entire menus, driving incremental revenue."
First Things First
Before committing to one of the many delivery options available, however, you have to think it through from an operational standpoint.
"Focus on what's going to be the best fit for your budget and your staff," says RafiCohen, Co-Founder, Orders2Me, Brooklyn, N.Y. "Can you afford to keep delivery quality of service high while keeping your waitstaff and your kitchen staff happy? Delivery food prep means less time for in-house prep, especially since delivery customers have an expected delivery window. Waitstaff or counter staff will have customers in front of them awaiting an order while deliveries go out first, and that can add a great deal of stress on top of a server's existing responsibilities."
Signing up with a third-party delivery service is a relatively inexpensive way to test the potential strains delivery can put on your operation. What you want to look for is what impact the incremental volume from delivery orders will have and where. You might have to add extra employees to assemble orders for delivery drivers as they arrive, or beef up staffing in the kitchen to keep up with production at busy times. Space, too, may come at a premium when you add delivery orders to your normal mix. Panera Bread Founder and former CEO Ron Shaich once referred to the mass of people in the order pick-up area near the cash register as "the mosh pit." Panera has reduced wait times and traffic jams with its mobile ordering app and touchscreen ordering, which control the flow of orders, and by installing a simple shelf to hold digital orders.
"The trick is to manage the incremental volume," says Ren. Hjorth, Director of Operations, Fomo Eats Catering, Las Vegas, which operates The Halal Guys in three franchise stores. "We had the luxury of testing delivery by opening a delivery-only commissary in San Francisco while we built our first store there (since the permitting process took less time). Once the store opened, we tested ways to handle delivery orders and in-store orders at the same time. At peak times now, we may have two or three employees dedicated to delivery orders."
Reconfiguring Your Space
The San Francisco store already had a warming cabinet for delivery and take-out orders, but moving it closer to the pick-up area saved employees valuable time and reduced congestion behind the counter. In newer stores the company is adding more counter space with a separate area for delivery drivers.
"We don't assemble orders until the drivers are there," Hjorth says, "because we don't want to put cold sauces in with warm food until the last minute." To save time assembling orders, staff in each unit wrap hundreds of bundles of utensils and sauces in napkins at the beginning of each day so they're ready to grab when orders are assembled.
Sweetgreen, the salad and grains bowls chain that got its start in Washington, D.C., and is now headquartered in Los Angeles, has redesigned new stores with the front split into two areas, one for customers and one for delivery that's serviced by a separate prep line. Digital orders now account for about a third of the company's sales. Chipotle, too, is adding a separate assembly line in some of its new stores to handle digital orders as well as catering. And Starbucks is looking into something similar to better manage its queue of in-house and "Skip The Line" digital orders.
"We are fortunate to have two kitchen lines in every one of our restaurants since we have inside business and drive-thru business at every location," says Nick Scarpino, V.P. of Marketing and Public Relations, Portillo's Restaurant Group, Oak Brook, Ill. "The second line has the capacity to handle delivery orders even during our busiest times."
"With hand-off of orders happening at the counter, curbside and at the drive-thru, the prep system has to clearly delineate who the hand-off goes to," says Olo's Hahnfeld, "a customer, a delivery driver, or a take-out customer. And there are hundreds of these orders per day at many restaurants."
All About The Food
Operators want food to arrive at each customer's door as hot and as fresh as possible. After all, food is what differentiates you from others and is the primary representation of your brand. While you can set an expectation for the time it takes either in-house or third-party drivers to deliver food, you can't control it. (Remember some of the problems a large pizza chain faced when it guaranteed delivery in 30 minutes or less?)
No doubt, certain foods travel better than others. Pizza, sushi, Asian food, even Italian food all travel pretty well, and can be quickly re-heated in a microwave or oven if they aren't as hot as expected. (OK, so maybe you don't want customers to zap their sushi.) And many third-party delivery companies provide insulated bag or box carriers for drivers (some branded, like those from DoorDash).
Packaging plays a big part, too. In most cases, if you're already using take-out packaging for pick-up orders it will work for delivery, too. In others, you might make changes.
"We tested delivery for more than a year," says Portillo's Scarpino, "and we've made several tweaks to our packaging to maintain the quality of the food as well as possible. This is an ongoing project for us as we keep making incremental improvements over time."
The Halal Guys stores use an aluminum tray with a clear lid for dine-in customers, but use a paper lid for delivery orders because it holds heat better. Sweetgreen packages its locally sourced salad greens, toppings and dressings separately so flavors and textures are the way they're intended. And Denny's has designed its delivery packaging in such a way that pancakes sit on top of warmer food so rising steam keeps them soft.
When it gets right down to it, however, customers who order food for delivery know what they're getting.
"I think French fries were the industry's original concern," Hahnfeld says. "As far as we can tell, consumers reset their expectation when ordering delivery. They know the fries won't be great. Convenience trumps quality."
Vetting Vendors
With so many options to choose from, where do you start? Look at your business from four perspectives. First, what's your menu mix and check average? How visible are you in the marketplace? How tech-savvy is your operation? And how much profit margin do you have to work with?
McDonald's, for example, has tremendous visibility and lots of heavy users, so the tack the chain took with delivery was screening and selecting a last-mile delivery service to partner with. Starbucks has similar visibility, but due to the fact that customers are unlikely to pay a delivery charge on a latte and they have good saturation, the chain chose to create its own mobile ordering platform with the help of a vendor that lets customers order ahead for pick-up.
A smaller chain like The Halal Guys, with less visibility in new markets, may rely entirely on third-party delivery services to build its business. To do so, however, may mean signing up with several.
"We use a half-dozen services," says Hjorth. "We vetted our delivery partners by the ease of use of their platforms, the number of drivers in each market to assure quick delivery and hot food, and the financial considerations— what they charge in commissions and whether they add a customer delivery charge. The Halal Guys rolled out its own delivery app nationwide, but it's really for high-use customers. As a franchisee still gaining awareness, we actually may have to add more partners until there's a market shakeout."
A drawback for restaurants that sign up with multiple delivery services (in addition to the lack of marketing oomph when lumped in with hundreds of others) is the logistics of keeping orders straight. The three stores that Hjorth presently oversees have a tablet from each delivery service for incoming orders. "To keep them straight, we put in a separate receipt printer for each one to help orders move down the line more smoothly," he says.
If you already have an online presence capable of taking customer orders, a mobile platform is your next step.
"We considered several options," Scarpino says, "everything from handling all deliveries ourselves to outsourcing the entire delivery experience. Ultimately, we ended up with a great blend of accepting delivery orders on our own platforms and delivery partner sites, and outsourcing the delivery aspect to trusted partners."
"Nothing makes customers want to order takeout or delivery more than the convenience of a mobile app," says Orders2Me's Cohen. "It's a fast, convenient way for customers to order without re-entering personal information every time. And integrating your app with your POS system eliminates the potential for human error when it comes to transferring orders from a separate system to the kitchen or the register."
With your own mobile app tied into your own POS system, you control the entire customer experience except last-mile delivery. To find a partner for that piece, experts recommend assessing both the financial ramifications and delivery experience. "Really find out how those external delivery services will ensure they're aligned with your brand's values and standards," says Bringg's Cohen.
Whether the market shakes out or not remains to be seen, but delivery will only become a larger piece of the foodservice business. "Sitting on the sidelines is no longer an option," Hahnfeld says.
Virtual? Or Ghost?
With the growing popularity of food delivery and the mobile apps that make it easy for customers, the industry is experiencing a tremendous amount of experimentation. Food trucks have been food fashion trendsetters for some time. Pop-up restaurants that give operators a chance to test new concepts or menus are old hat. Food delivery apps make it possible for a restaurant to exist without seating or even a storefront.
A number of entrepreneurs—both well-known foodies and techies who see a niche—are playing in this "virtual" or "ghost" restaurant space. Home meal replacement companies like Blue Apron, Munchery, Plated, HelloFresh, and Purple Carrot deliver meal kits or prepared meals to solve the dinner dilemma. David Chang of Momofuku fame, invested in Maple, a New York food delivery start-up focused on the office lunch business.
Green Summit took the concept even further, opening nine non-existent restaurants in New York simply by signing them up on the Seamless delivery service. By opening a commissary instead of a restaurant, the thinking goes, the operation can focus on food production and generate enough volume to bring down the cost of delivery.
"With just a kitchen, production is more efficient because staff is dedicated to production not interfacing with customers," says Peter Schatzberg, Founder of Green Summit. "Food for all nine concepts was designed to be cooked and held ready to assemble—no cook-to-order."
The food truck craze prompted serial entrepreneur Chris Baggott to open ClusterTruck in Indianapolis two years ago. The company licenses recipes from local food trucks, which it then produces for delivery in a commissary kitchen. He's since opened a kitchen in Bloomington, Ind.
Good Uncle does something along the same lines, licensing menu items from popular restaurants and making in its own vans for delivery only to specific drop-off spots on college campuses. Presently, Good Uncle services the Syracuse University campus.
Interesting concepts all, but is the market ready for them? Maple in New York City closed last May. Green Summit got support from GrubHub (which bought Seamless) to expand to Chicago, but closed its Chicago operations last fall, and founder Schatzberg is no longer with the company.
"I left," he says, "because I want to get into a new space where I can make more than $6 billion. When I got into food delivery, labor was $5 per hour for delivery. Now it's between $9 and $15 per hour. I won't get back into food unless it's fully automated and labor falls to five percent of sales."
Even if the virtual restaurant concept ends up leaving ghost restaurants in its wake, entrepreneurs in both the food and tech worlds will continue to look for ways to marry the two.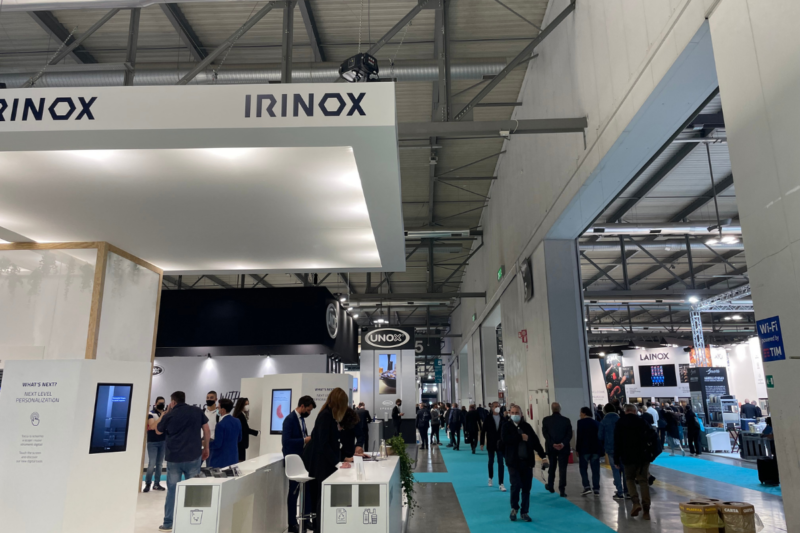 Events
HostMilano, one of the largest foodservice equipment shows in the world, kicked off today in Italy, and FER is on location.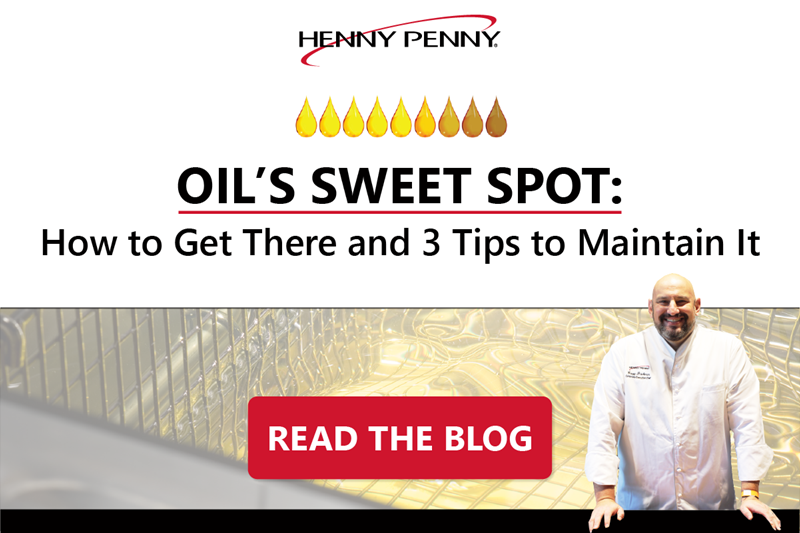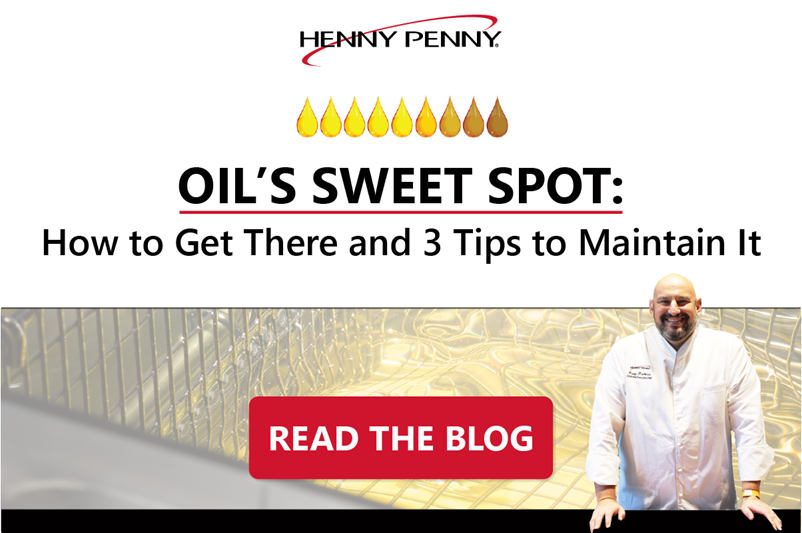 Uncategorized
Like many in the world of foodservice, you may assume that cooking oil performance is at its peak when you first start using it — but did you know there...