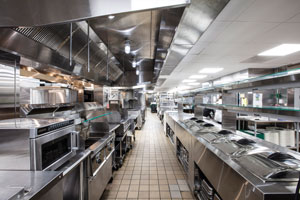 Adirondack Medical Center at Saranac Lake is a 95-bed acute care hospital that offers a variety of inpatient and outpatient medical and surgical services to a rural upstate New York community. The center's main kitchen, which serves 150 patients and 400 guest meals a day, overlooks Lake Colby with views of the Adirondacks in the distance.
Until recently, however, the center's interior was not as picturesque. "Our kitchen and dining room were original to when the building was constructed in 1967. Both were in dire need of updating," says Carl Bowen, Director of Nutritional Services, who recently completed a $2 million redesign of the foodservice facilities.
Two years ago, Bowen originally intended to execute an $80,000 equipment update to bring the kitchen up to speed but he says it soon became apparent that almost everything down to the HVAC had to be completely replaced. "At that point, we secured funding from the board and began a $2 million renovation with the goal of modernizing equipment, upgrading safety and efficiency, and expanding our local food program, which I call 'farm-to-patient,'" Bowen says.
For the next year and a half, Bowen planned and executed a redesign of the dishroom (320 sq. ft.), dining room (1,500 sq. ft.) and kitchen (2,850 sq. ft.). In lieu of hiring an architectural firm, Bowen took over the design himself. "I interviewed staff from each section in my group to find out what could make their tasks more efficient," says Bowen, who has previously been involved in two other kitchen remodels. "We also researched and did site visits to other hospital kitchens to identify best practices."
Old & New
For decades, Adirondack Medical Center foodservice staff had been making the best of less-than-ideal equipment. Without charbroilers, the program heavily relied on convenience foods such as pre-cooked burgers and chicken, and without reach-ins, they needed a lot of freezable bins to hold food during service time. Beyond the dated peach tile walls, the layout also had plenty of physical shortcomings—from a pot sink hung too close to a food production area to a long obtrusive wall that split the kitchen into two narrow cluttered mini sections.
When they began renovations a year and a half ago, they encountered their first hurdle in updating the old exhaust system that went straight up through the second and third floors of the hospital. "We didn't want to disrupt patient care areas by ripping open walls that could have asbestos," says Bowen. "Instead we sealed off that ductwork and ran all new ducts, as well as rerouted plumbing and electrical, all to the exterior of the building. The new ones had to be heavily insulated."
Another key improvement was opening up the view to the hospital's amazing surroundings by removing the center wall that cross-sectioned the kitchen. "We're lucky; every window in the kitchen and dining room has a million-dollar view of the lake and mountains," says Bowen. "So, in the redesign, we maximized that view and took advantage of all that natural light for the workstations."
The redesign also improved workflow to increase efficiency and minimize any contamination from outside deliveries. "In the old space, delivery people had to push their handcarts through the kitchen, which meant road salt and other debris could be tracked in on their boots," says Bowen. "So, we cut through a wall and put in a sliding door into the walk-in cooler that opens to the hallway that goes straight to the receiving dock. Now deliveries route over a series of shoe-cleaning mats before food is dropped off in the walk-in. There, one of our staff checks its temperature and puts it away." When dry goods come in next to the pot sink, staff wheels over one of the kitchen carts to transport it to the appropriate area of the storeroom, where, Bowen says, they now have twice the amount of space thanks to Cambro high-density shelving in which racks push tight together eliminating the need for several isles.
Other key equipment of the redesigned kitchen includes a charbroiler, high-efficiency gas fryers, and a proofing box that allows more baking and fresh bread production. "Another big upgrade was getting dual convection steamers that allow us to cook our fresh products instantly without losing color or display profile compared to what we did before, which was boil them," says Bowen. With the new equipment, Bowen and his team have reduced their use of convenience foods by 80%.
Bowen also wanted to ensure that cooks had ample room to take care of patient cooking, so the redesign took some production tasks out of the kitchen and into the dining room. "We cut out a portion of the wall between the dining room and kitchen for an open dining concept and added another hood to facilitate display cooking," says Bowen. "We cook eggs and bacon to order as well as have a panini and a pasta sauté station."
Meanwhile back in the kitchen, the patient trayline starts at the corner of the walk-in cooler, where staff can grab cold items from shelves backloaded to keep older product in front, and newer product in back. Staffers then pass trays down to an induction activator to start heating plates before stocking them with food from the hot wells, where a diet technician supervises the contents of each tray.
Technology Upgrades
Prior to renovations, a 24-ft. hood dissected the kitchen into two narrow spaces. In its place are five hoods, with one on the front serving line to use for display cooking. "Having five hoods substantially saves heating and cooling costs as we can just run the hoods needed," says Bowen. There also is an aisle between the hoods to allow cooks to more efficiently access cooking lines.
Below the hoods, utility distribution walls with screens show breaker information by equipment. "There's a flip breaker right there at point of use, so there's no need to get the building operations team involved as we used to," says Bowen. "There's also quick connects, shut-off control channels for hot and cold water as well as gas, so that we have total control over every single piece of equipment. We can lock out specific ones or shut off one water outlet if there's a leak instead of shutting off the whole kitchen like we had to before." In between the hoods and the utility walls, openings improve sight lines and let natural light flow through the space.
The updated kitchen also includes temperature sensors throughout to adjust the make-up air coming into the hoods as well as the speed of the hood so that they are not running too much air or creating negative pressure by pulling ambient air out of the hallway.
Technology also plays a major role in improvements in food safety. "We get bad weather, including ice storms that can knock out power, and we have to be able to feed patients no matter what," says Bowen. To that end, the updated kitchen includes multiple fail-safes to keep foodservice operational such as duplicates of equipment in both electric and gas.
"Our reach-ins also have a set of dual compressors that will maintain temperature and are connected to an online system that sends hourly temperature readings to my smartphone," says Bowen. "If we have something even remotely close to being out of temperature, it texts me and our on-call refrigeration service provider. If they are unavailable, it connects to another professional refrigeration company so it gets fixed before we lose any food."
Serving Time
Despite the large scope of the renovation, the team managed to run full dining room and patient operations. They converted a nearby employee lounge to a food prep space up to health code standards, relied more on convenience foods, built a temporary dishroom outside, used part of the dining room for production and had a trailer parked outside for cooler goods.
With the renovation complete last June, Bowen says they have been able to expand their "farm-to-patient" local food program, sourcing everything from vegetables to beef to maple syrup. "A big part of that is making sure we have appropriate ways to cook fresh food because you can't source a grass-fed burger and then throw it in the oven. Now we have a nice charbroiler so the flavor and presentation are better," says Bowen, adding that Press Ganey patient satisfaction scores are up 20%.
In fact, the renovation has been so successful, it's created a new problem: not enough seats in the dining room. "We have people coming in from the community to eat here. It's not seen as 'hospital' food anymore," says Bowen. Over the next two years, they hope to accommodate that uptick in interest by bumping out the front wall of the dining room for a 20-ft. x 70-ft. expansion.
ADIRONDACK MEDICAL CENTER
Saranac Lake, N.Y.
Name of Facility: Bistro By The Lake
No. of Beds: 95
Opened: June 2017
No. of Seats: 75
Hours of Operation: 7 a.m.-6:15 p.m.
Station Sampler: Display Cooking, Grab-N-Go, Pizza, Make-Your-Own-Salad Bar, Beverage, Ice Cream, Hot Entrée, and Soup
Average Check: $6.50
Cost of Project: $2 million over 2 phases
Annual Sales: $350,000
Adirondack Medical Center: Carl Bowen, Nutritional Services Director; Brianna Hunter, Nutritional Services Manager; Allison White, Nutritional Services Assistant Manager; Mark Yamrick, Plant Operations Director
Contractor/Fabricator/Installer: J. Hogan Refrigeration & Mechanical, Peru, N.Y.; William J. Murray Electrical Contractors, Plattsburgh, N.Y.; Sandford & Burtis Fire Equipment, Syracuse, N.Y.; Kings Fabrication-Custom Stainless Steel Work, Utica, N.Y.; Chris Lane Custom Wood Work, St-Regis Falls N.Y.
HVAC Engineering: BVH Integrated Services, Bloomfield, Conn.
KEY EQUIPMENT
Storeroom
Cambro shelving
Kitchen
Keating gas fryer, 36-in. electric griddle
Hatco food warmer
Vulcan/ITW FEG gas charbroiler, top gas range, salamander broiler
Lincoln/Welbilt CTI conveyor oven
Blodgett/Middleby convection oven
Cleveland/Welbilt convection steamer, steam kettles, braising pan
CaptiveAire hoods, distribution walls
Winholt proofing cabinet
Delfield/Welbilt reach-in refrig., reach-in freezer
Alto-Shaam cook/hold oven
True sandwich prep table
Galley Line patient trayline
CrownTonka/Everidge walk-in cooler and freezer
Hoshizaki ice machine
Dishroom
Cambro drying racks
Champion/Ali Group conveyor dishmachine
Eagle Group bay sink
Servery
Star/Middleby panini press
Galley Line serving line, salad bar
Hatco pizza warming unit, induction heating units
Infinity hot food merchandiser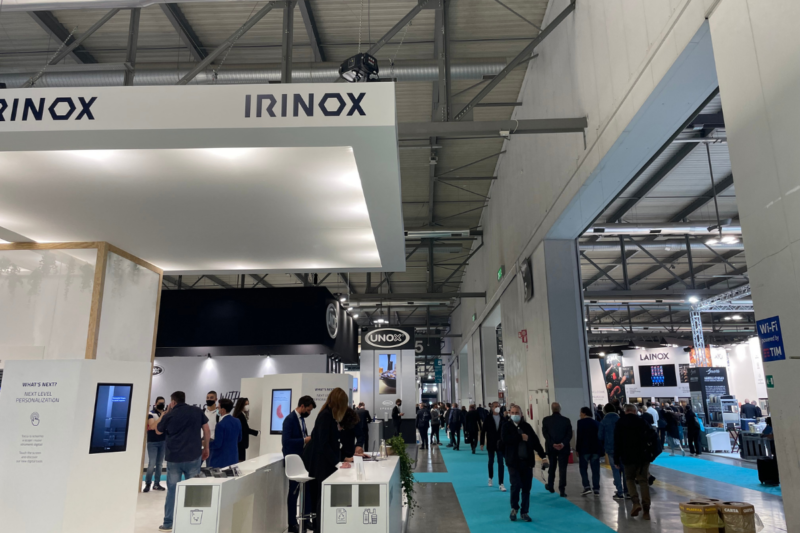 Events
HostMilano, one of the largest foodservice equipment shows in the world, kicked off today in Italy, and FER is on location.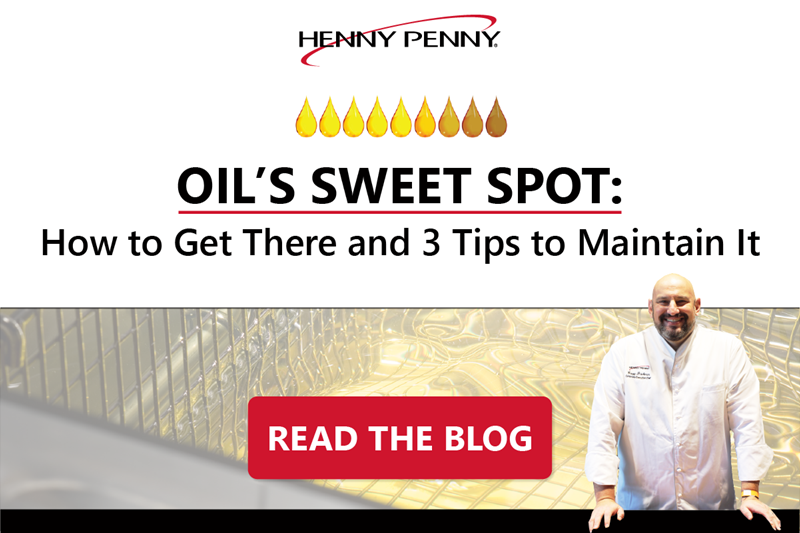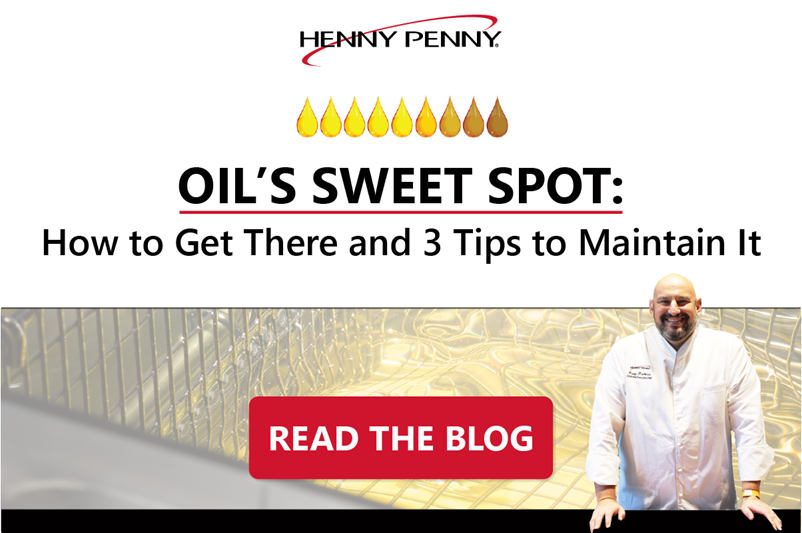 Uncategorized
Like many in the world of foodservice, you may assume that cooking oil performance is at its peak when you first start using it — but did you know there...