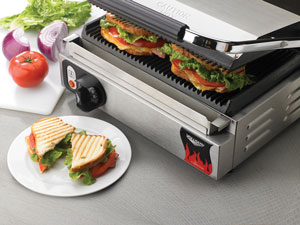 Got a Cuban sandwich, veggie wrap or some other menu item your competitors down the street don't have? You can press your advantage with a sandwich press or panini grill. These simple but versatile countertop units can add flair to sandwiches by quickly toasting them on both sides at once. And they can help you change up your menu by giving you a double-sided griddle that can cook meat, seafood, poultry and grill veggies.
You don't have to stop there. Think quesadillas, calzones, Texas toast, burritos, flatbreads, grilled shrimp skewers, even pastries.
Panini grills are really light-duty, countertop clamshell griddles. They toast, griddle or grill foods quickly on both sides simultaneously. Manufacturers typically offer both single units with a cooking surface anywhere from 10-in. to 14-in. wide and 12-in. to 16-in. deep, and double, split-top models that can be up to about 25-in. wide.
The top and bottom cooking surfaces, called platens, can be smooth or ribbed (to provide attractive grill marks), or a combination of the two, so your menu options are expansive. Split-top presses or grills also have dual heating controls for the two sides, giving you a lot of flexibility to make multiple menu items with a single, compact piece of equipment. Most platens are clean-in-place, but one maker's pop out and go in the dishmachine.
Get Your Groove On
Though relatively small for cooking equipment, most of these presses are very solidly built. One maker says even its smallest model is nearly 50 lb. Look for things like stainless chassis construction for strength, and stainless exterior surfaces and rubber-tipped legs for easy cleaning and stationary operation.
Most manufacturers use fine-grain cast iron for the platens, which can be smooth or grooved, as mentioned earlier. At least one makes its units with polished aluminum cooking surfaces, however. One advantage is that the heating elements are die-cast into an aluminum block in the top platen, eliminating external wiring (it's in the handles).
Both cast iron and aluminum distribute heat pretty evenly. Aluminum tends to heat more quickly, so can provide quick recovery and potentially greater efficiency. Generally they're lighter duty than cast iron versions, ideal for warming bread-based items. Cast iron, which retains its heat longer, is the heavier duty choice and can handle burgers and chicken for example. Some also say cast iron is a safer material than aluminum, which may impart aluminum oxide to food (which is why it's no longer used in Europe). Manufacturers say there's little chance of that happening if you care for the equipment properly.
Cast iron must be seasoned to keep it from oxidizing, but some manufacturers coat their cast iron surfaces, either with enamel or some other non-stick material such as Teflon, to make them easier to clean and care for.
Manufacturers use a variety of designs to lower upper platens onto the food being grilled or cooked. Typically, platens can accommodate foods from about . in. to 4 in. in thickness. On some, employees have to manually adjust the platen to match the food height. Other designs put the platen on gimbals or some other self-leveling device, and it automatically adjusts to the food height when it's lowered. Most also are spring-loaded so they're easy for employees to lift up when the food is done, and so they put steady pressure of about 3 lb. or 4 lb. on the product when they're in pressing mode.
You're In Control
Controls range from simple to sophisticated. Basic panini grills have an on-off switch, thermostat control and usually an indicator light to let you know it's heating.
Slightly more sophisticated units have digital controls that include a timer. Newer digital models also can be programmed to time and temperature. Most come with about four pre-set programs that can be changed if you want.
Temperature settings on thermostats range from 0 F-570 F. A typical range is from 150 F- 425 F. The sandwich presses often have higher temperature settings of around 550 F or 570 F to brown bread more quickly or sear grill marks on products. You may have to play with your products in a manufacturer's test kitchen to find equipment with the right temperature range.
A couple of models also feature USB ports and flash drives to accommodate programs for a wide range of menu items. More than simple sandwich presses, these are speed cookers in the vein of speed ovens. One has its top platen in a hood that when closed also microwaves food from the sides, quickly heating the interior of the item while grilling/toasting the exterior— it's ideal to ensure top-to-bottom cooking/melting for panini items that are on the thicker side. The other uses three types of heat—conductive heat from direct contact with the platens, microwaves, and infrared heat. The maker claims it's not only fast but also results in even heat throughout the product, crispier exterior, and up to 60% savings in energy.
Traditional single-wide units plug into standard 120V electrical outlets, but since they draw about 15 amps, putting them on their own circuit is a smart idea. Double split-top units, the microwave-assist press, and the speed press all require 208/240V service.
Stay Safe
Safety features are common to most units. Most models have temperature delimiting switches that prevent heating elements from getting too hot and burning themselves out. Some automatically open when either the cook cycle is done or the press reaches a certain temperature so food doesn't burn. Automated models typically won't let employees start a cook cycle until the griddle/grill is at the proper temperature helping ensure food safety and cooking quality.
The speed press has a lid with an electromagnetic catch that locks closed until the cook cycle is complete. Cooking surfaces are easy to clean. Heat activates a special cleaning solution for the quartz glass so all employees have to do is wipe it clean.
Most units have side-mounted grease troughs that are easy to empty and clean. Some models have grease troughs mounted in front—also easy to access and clean; a couple have rear-mounted troughs.
Street prices range from a little more than $500 for a basic single unit to more than $8,200 for the speed press. A typical double split-top unit runs about $1,200.
As always, test-drive a couple of models before you buy, and check warranties and service networks to see what works best for your operation.
Panini Care
Panini presses get a lot of use and too rough up-and-down action can take a toll on this relatively small appliance. Pay attention to the grease troughs; keep the press clean of grease and carbon buildup. The former can mess with motherboards and carbon will insulate the platens to the point where they don't conduct heat efficiently. But take care to train employees on how they use water, vinegar or chemicals to clean the presses; protect the motherboard. You can opt for an after-market parts kit for after-warranty refurbishing to save on service calls too.
Panini Grill Manufacturers
Electrolux
professional.electroluxusa.com
Equipex
equipex.com
Globe/Middleby
globefoodequip.com
Grindmaster-Cecilware/Electrolux
gmcw.com
Hatco
hatcocorp.com
Midea
us.midea.com
Nemco
nemcofoodequip.com
Prince Castle
princecastle.com
Star/Middleby
star-mfg.com
Vollrath Co.
vollrath.com
For more panini grill makers, visit the FER Buyers Guide at fermag.com.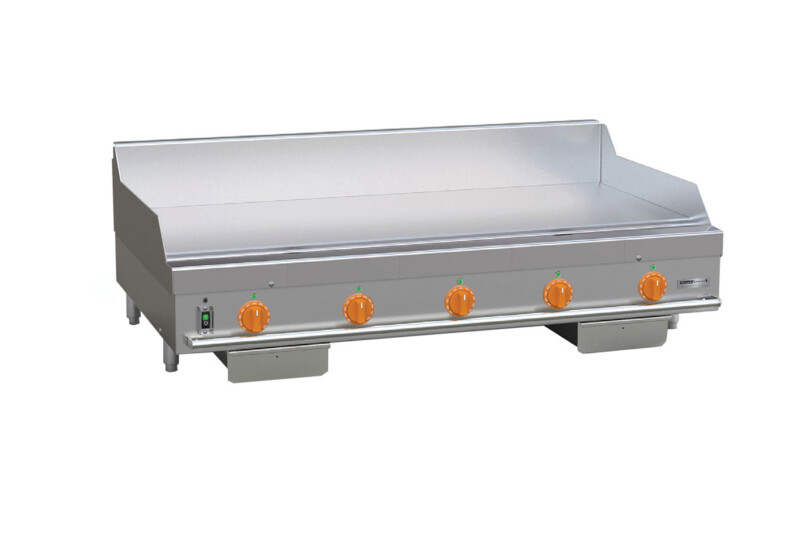 Cooking Equipment
Planchas, though convincing clones of their better-known sister product the griddle, quickly set themselves apart.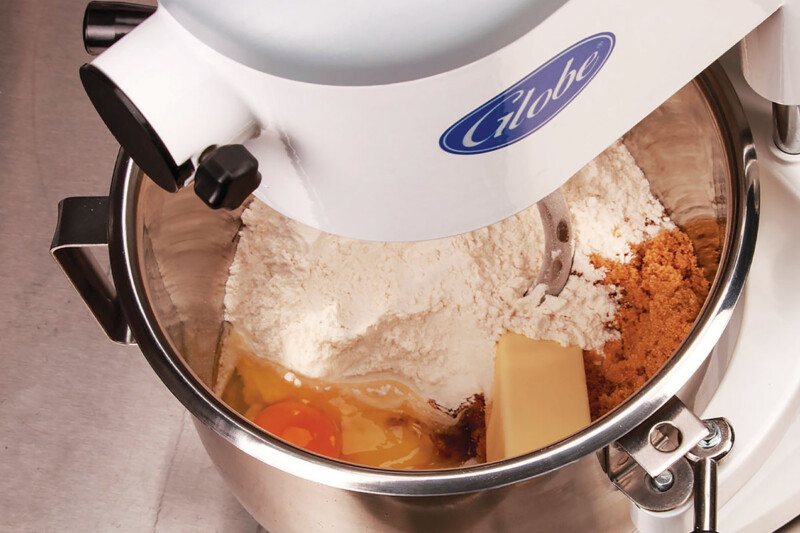 Equipment
The countertop mixer is the Swiss Army knife of the kitchen—small but mighty, with the power to perform various functions.