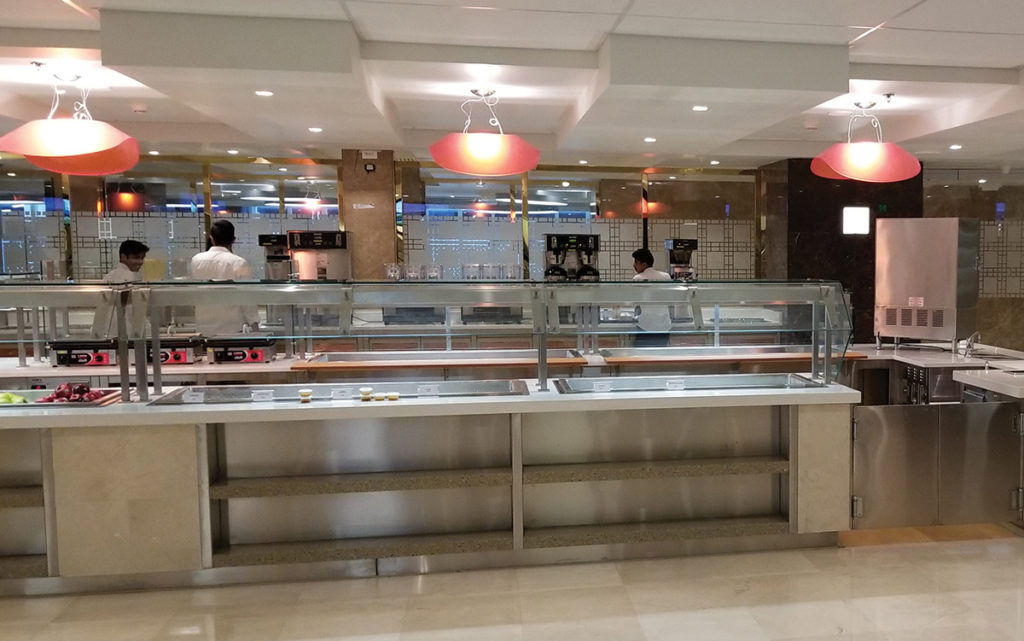 In the summer of 2011, a surprising email came in via the Ricca Design Studios' website— from the Kingdom of Saudi Arabia. The message related that the King Faisal Specialist Hospital and Research Centre (KFSH&RC) was undertaking what it identified as a "mega project." A new central energy plant and a new tunnel under the sprawling campus were just two of the key elements being added to the existing facilities of the KFSH&RC, but the proposed project also included the creation of an impressive high-rise treatment center, the King Abdullah Centre for Oncology and Liver Disease (KACO&LD). While operating theaters and laboratories were priorities, the planners knew that the 23-floor structure (21 floors above ground, two underground) also would need extensive foodservice facilities.
"The email we received included a rough request for a proposal," recalls David Chislett, FCSI, Executive Principal, Ricca Design, "and they wanted to know if we would consider helping them with the foodservice planning for the new campus. I picked up the phone and called Mr. El Yemni, the department head at the time, and asked if they would be willing to host us so we could view and discuss the plans, tour the existing facilities, and then prepare a proposal for the services they wanted us to provide."
Chislett notes that arranging a visa took time, but in February '12, he was on his way to the Saudi capital, Riyadh. "We quickly connected with the people on site, as friends and colleagues. After spending a few days with the team, it was clear that they were in need of our help. An earlier attempt at planning the kitchens and servery for the new hospital was completely unacceptable, so we were really starting from scratch. By fall '12, we were contracted and moving forward on a full-campus foodservice master plan. We did a complete redesign of the cancer center kitchens and servery, a complete servery and dining center interior design (a service we offered at the time), and a central campus foodservice commissary."
Meeting Needs
Different end-users—patients, staff, visitors, and the public—meant different needs for the various kitchens and serveries. The room-service kitchen for patients undergoing intensive therapy, including chemotherapy, had to be able to provide meals 24 hours a day, because treatment could be scheduled any time of day. Also required were special diets, which needed to be produced on the same production/service platforms as regular diet offerings. In addition, there was a need for an up-market, interactive-cooking-platform servery for staff and the public to visit all day. And with more than 70 different nationalities on campus, the servery had to be able to offer a multitude of cuisines.
All of the facilities to support these serveries needed to be designed, as well. Chislett relates, "The hospital has a world-class bakery/pastry team. They produce some of the best pastry I've ever had. But their facilities were old. We had to replace the aging centralized bakery-pastry shop in the original facility with a new production/finish bakery-pastry kitchen in this new location." Ricca also designed and documented a new centralized warehouse/ commissary for the entire campus for receipt, pre-preparation (including a centralized butchery), and bulk storage of incoming foodservice-related food and sundries. This facility also had to be set up to dispatch food and sundry goods throughout the campus by means of both the new underground tunnel and existing surface roadways. The design team also included multiple facilities for cleanup, from warewashing to refuse processing.
Challenges, Choices
Working on a project half way around the world, with time differences and travel distance created challenges. Requirements and specifications established by various departments of the government of the Kingdom of Saudi Arabia (KSA) complicated things, too. KSA contracts specify that contractors purchase KSA-produced materials unless the needed material is not available locally. When anything needed to be imported, the Saudi Arabian Standards Organization (SASO) requires that fabricators and manufacturers apply for Certificates of Conformity, documents required to get each shipment of imports through Saudi Customs.
There were physical challenges, too. The new facility exists in the lowest level of the tower building—the second basement. Chislett notes, "HVAC construction was already in place (creating low ceilings) and the facility's high structural mat lead to drainage challenges, so any work related to HVAC and plumbing were impacted by the limited height on this floor and the shallow depth below the slab to the structural mat below. Designers and the construction crew took great care to coordinate services while keeping the foodservice spaces."
On the plus side, with a budget of $11.5 million and a request to create a foodservice operation that would match the vision of the state-of-the-art hospital, the team was able to put in lots of new, cutting-edge technologies. "We were excited by the chance to introduce really high-performance equipment and quality-thinking design for this project on many fronts. This runs the gamut from a multi-cuisine servery to a facility-wide vacuum technology for waste removal to an innovative, continuous 'room service tray-line' approach. It's comprised of two levels of tracks (from Caddy Corp.) that make up a gravity-fed roller-conveyor system, one (the upper level) is for regular food and one (the lower level) for special dietary needs. The conveyors start in the cold room and then move through the hot food room, with chefs' counters facing the trays. Orders are a la carte and, as the trays move past, the chefs prepare and put on the tray whatever has been ordered. All food arrives at the same delivery point, to be transported to patients' rooms.
A considerable amount of the equipment had to be customized for the venue, given the size of the project. Some of the chosen technology was leading-edge—and Chislett reports that all the newer technologies are operating every bit as well as expected. While everything was high quality, Chislett identified some key items that were essential to optimizing the operation of these facilities. The Halton Capture-Jet Exhaust Hoods with M.A.R.V.E.L. Demand Control Ventilation reduce the facility's daily ventilation/HVAC costs. The team specified a MEIKO Waste Star Vacuum Waste Handling System because its multiple points of disposal helps reduce potential cross-contamination and reduces labor (no need to haul garbage through kitchens). The MEIKO Tray Conveyor System with three towers for soiled tray collection is a convenience for diners and kitchen staffers in the scrapping area and also reduces labor. MEIKO M-iClean dishwashing system offers innovative but still user-friendly warewashing with minimal use of resources— particularly important in a desert nation where water is a commodity. A Bally walk-in blast chiller offers capacity for capturing flavor profiles, food safety, HACCP compliance, and extended food quality shelf-life. A Hoshizaki E-Water Electrolyzed Water System achieves chemical-free sanitization of potentially-hazardous food preparation zones. FSF Manufacturing provided high-quality custom stainless fabrication throughout the project.
The Serveries: Designing, Dining
The center's foodservice includes two serveries, one for foodservice employees and a much larger one—5,760 sq. ft.—for those working at or visiting the hospital.
While the design reflects local geography, the food on offer reflects the diversity of the clientele. There are seven separate platforms for serving, with signs that identify the cuisine. The platforms include fresh greens, soups and sandwiches to-order; pastry, dessert and gelato; pasta, flatbreads, and Mediterranean; Western Grill; pan-Asian, sushi, noodles, and Chinese; Middle Eastern and Indian; and self-serve beverages. The good food appeals to nationals and visitors alike; everyone is partaking of all the platforms regularly, Chislett says. Overhead monitors keep patrons updated not only on menu offerings, but hospital news as well.
Lessons Learned
Finally, in February '18, roughly six-and-a-half years after that first, tentative email appeared in the Ricca offices, the KACO&LD foodservice operation was ready to open. While it is too soon to judge all aspects of the design, so far, things have been going as planned. Looking back over the entire process, Chislett reflects, "I learned that coming alongside of clients and truly helping are the most rewarding parts of our practice. I learned that clients can become life-long friends, and even though they might live half-way around the world in a culture quite different from mine, we can still be there for each other over time."
Asked what advice he would give someone else faced with a project like this, Chislett concludes, "Be bold, ask a lot of questions, don't assume a project in another country will run the same as you are used to, partner well and do your homework!"
KING ABDULLAH CENTRE FOR ONCOLOGY AND LIVER DISEASE, KING FAISAL SPECIALIST HOSPITAL AND RESEARCH CENTRE
Riyadh, Kingdom of Saudi Arabia
No. Of Beds: 300 inpatient beds plus 96 beds in infusion center
Opened: KACO&LD, April 2017; foodservice facilities, February 2018
Foodservices Designed: Room-service kitchen, main kitchen, support kitchen, retail venue, banquet kitchen, staff and public servery, servery support, including storage, production cooking, bakery, warewash, pastry kitchen, centralized warehouse/commissary for the entire campus
Hours Of Operation: Inpatient room service: 24/7; servery: 7 a.m.-9 p.m., panini/coffee café: 5:30 a.m.-midnight
Foodservice Equipment Budget: $11.5M USD
Facility Design Consultant: David Chislett, FCSI, Executive Principal; Stephanie Curtis, Director, Ricca Design Studios, New York
KFSH&RC Mega Project Director: Ahmed Alyahya
Operator, KFS&RC Foodservices Departments: Saud ElHalal
Architects: Andrew Alexander, Senior Architect, Al Bawani, Riyadh, Kingdom of Saudi Arabia
Engineers: Georges Chahine; Hector Caalim, WG Mustang, Riyadh, Kingdom of Saudi Arabia
Interior Designs: Carl Newmark, Partner; Emelia Jost, Associate, AIA, LEED AP, NCIDQ, Ricca Design Studios
Kitchen Equipment Contractors: Sucur Dias, Project Manager; Mohannad Alkhalifah, Assistant Manager, AlYacht Marketing, Riyadh, Kingdom of Saudi Arabia
Fabricators: Michael AmRhein, V.P., FSF Mfg., Oviedo, Fla.
KEY EQUIPMENT
(Due to extensive schedule, FER lists equipment in alpha order vs. by foodservice area).
AccuTemp griddle
ACP/Ali Group microwave
Alto-Shaam roast & hold ovens
Bally blast chillers; walk-in coolers & freezers for meat, poultry, produce, fish, juice & water, special diets, eggs, bakery; mechanical sliding doors
Beech Ovens/Middleby tandoor oven, hearth oven
Bertrand dough sheeter
Bi-Line/Champion/Ali Group power pot wash system, clean dish table, slant rack shelf
Biro tumbler marinator, poultry cutter
Bizerba bench platform scales
Blanco/Hupfer basket dispenser
Blendtec blender
Blodgett/Middleby double convection oven
BUNN iced tea brewers, coffee brewers, hot water dispensers
Caddy Corp. 2-level tray conveyor, tray & flatware dispenser
Cambro ice caddy
Carter-Hoffmann/Middleby heated transport trolley, hot holding cabinets
Cecilware juice dispenser, frozen drink machine
Champion/Ali Group mechanical pot washer
Channel Mfg. can racks
Cres Cor enclosed pan rack trolley, dish trolleys
Delfield/Welbilt ice cream cabinet
Dinex/Carlisle wax based trolleys
Doyon/Middleby bread slicer, water meters, rotating convection oven
Dutchess pizza dough press
Eagle Group food shields, serving counters, u/c refrigs. & freezers, hand sinks; floor troughs & grates, corner guards, wall flashing, mop sinks & faucets, high-density shelves prep tables, u/c refrig.; bains marie tables w/sinks; refrig. rail tables, chef counters w/sinks, carving stations, flatware dispensers, cold wells, hot wells, tray stands, cup/saucer staging zone, bev. counter, condiment display zone, overshelf, pass-thru shelf, angled shelf assembly, stainless/glass wall cabinet, u/c refrig., pass-thru shelf, marble-top & maple-top baker's work tables w/sink and flour trough, potwash sink, tubular wall shelf w/utensil rack, work tables
Electrolux pressure skillet, microwave & reg. panini grills
Eloma/Ali Group combi ovens, roll-in combi ovens
E-Water Systems electrolyzed water system
Follett/Middleby ice bin
Franke espresso machines
Frontline fryer waste-oil collection system, fryer oil pumps
Glastender lettuce chiller/dispenser
Groen/Unified Brands tilt kettles & skillets, steam kettles
Halton exhaust hoods (Type I & II)
Hatco conveyor toasters, heat lamps, bain marie heaters, drop-in hot shelves
Henny Penny pressure fryers, fryer assemblies, fryer banks, dump stations
Hobart/ITW FEG food processors, vert. cutter mixer, peelers, meat cutting band saw, meat grinders, slicers, floor scales, 5-, 12-, 20-, 40-& 80-qt. mixers
Hoshizaki ice machines
Hupfer spice trolley
Ice-O-Matic/Ali Group ice maker, ice & water dispenser
Insect-O-Cutor insect killers
Jade Range/Middleby 2-, 4- & 6-burner ranges w/convection oven, cheese melters, refrig. base, modular charbroilers, griddle range w/oven, plancha range w/oven, wok range, refrig. base w/drawers, 3-burner and chiller assembly, spreader cabinet
Lakeside transport & pan rack trolleys, room service tray trolleys, glass rack dollies, heated dish dispensers, flatware/tray trolleys
Lang/Middleby clam griddle
Lincoln/Welbilt double pizza oven
Local vendor rice washer
Mafter Bourgeat chocolate tempering machine
Market Forge/Middleby storage shelving
MEIKO Waste Star facility-wide vacuum waste removal system w/waste stations throughout, cart wash, scrap/up rack assembly, flight-type dishmachine, tray/conveyor/up-rack assembly, tray lift assemblies for tray makeup & soiled tray accommodation; soiled tray accumulator
Merrychef/Welbilt accelerate oven
Metos dry waste bin on trolley
Metro/Ali Group dunnage rack, dish & tray trolleys
Mono dough dividers
MS Technologies egg washer
Multivac vacuum pack machine
Nilma tilting vegetable washer/tumbler, produce trolley, vegetable peelers
Omni Temp evaporator coils, remote refrig. system
OptiPure water filter systems
Orwak 4 bin compactor, cardboard baler
P+L Systems knife cabinet
Panasonic rice cooker
Piper Products pan trolleys, ingredient bins, equipment stands, mixer stands
Robot Coupe blender trolley, food processors
Rosito Bisani noodle-pasta cookers
Rosseto cereal dispenser
RPI grab & go air-screen refrigs., sushi display case, refrig./ambient merchandiser
Rubbermaid mop cart, produce process container, trash receptacles
Sage Systems floor steamer, pressure sprays
Santos vegetable juicer
Silver King milk dispenser
Steel King pallet storage
Stoelting/Vollrath ice cream machine
Structural Concepts refrig. island
Sveba Dahlen baking trolley, 4-deck oven w/steam, rotating rack oven, dough proofer/retarder, 3-deck oven w/steam
T&S hose reel assembly, hose reel control box, prerinse hoses, brass dipper wells w/faucets
Tork napkin dispensers
Tournus knife cabinets
Traulsen/ITW FEG reach-in refrig./freezers, fast freeze freezer, reach-in refrigs., hot holding cabinets, roll-in refrigs.
Urschel Laboratories slicer/cutter
Vitamix blender rinser
Waring blenders
Wells/Middleby soup wells, hot cereal wells
Zumex citrus juicer