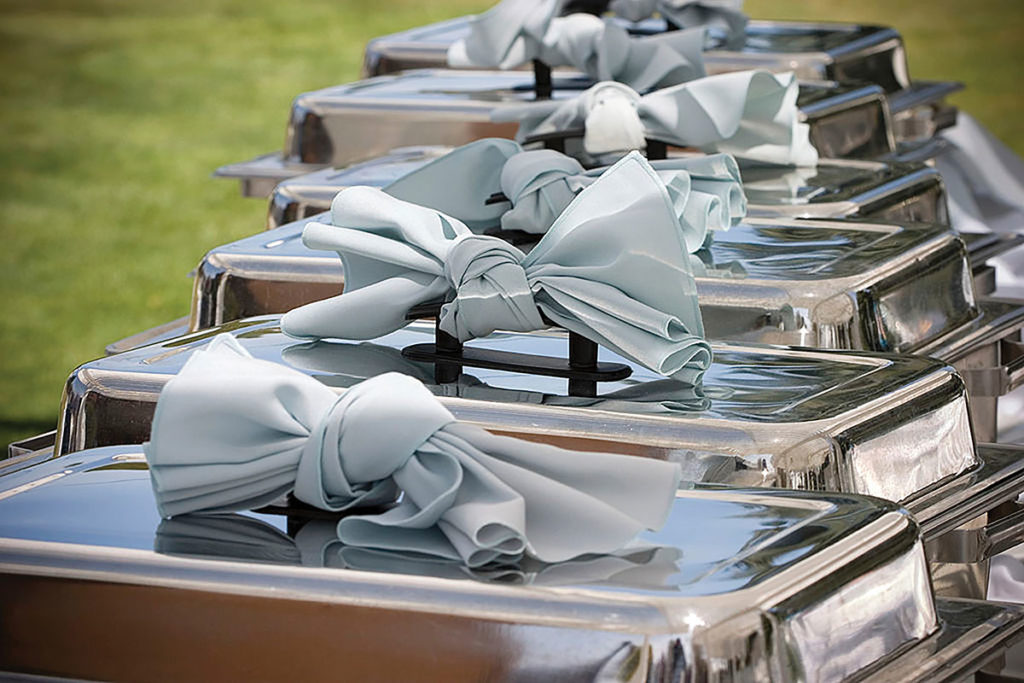 It's bound to happen sooner or later. Some pie-eyed young couple who met in one of your stores wants you to cater their wedding in a local park. Or someone in your organization gets the bright idea of holding a corporate-team building retreat in the wilderness and wants you to provide meal service.
Off-premise catering is challenging under the best circumstances. When the location is "off the grid," with no access to electricity or water, careful planning and the right equipment can keep those challenges from mounting. Location and the availability of services such as electricity and running water will influence your menu planning, but equipment options have reached a point where almost anything's possible in any venue.
Most important, of course, is food safety, which means keeping hot foods hot and cold foods cold. Ice, canned heat, and a good probe thermometer are likely to become your best friends on these jobs. But innovation is making it easier to keep food safe in the field. And at almost all points in the process there are options ranging from basic to sophisticated. Here's what to consider.
Transporting/Holding
• Insulated carriers, which hold anywhere from one to six 4-in. hotel pans can keep food hot or cold. They can be top-loading or front-loading. Most are designed with handles so they can be carried easily and with inserts on top for cutting boards. Most are stackable, and they also can be transported on dollies or wheeled bases, secured with a strap.
• Thermal inserts slide into many kinds of insulated carriers to help maintain temperatures. Simply refrigerate cold inserts for eight to 10 hours or heat hot inserts in a 350°F oven for two to three hours before placing in the carrier. You can insert thermal barriers to divide hot food from cold within one carrier.
• Mobile hot/cold boxes are insulated cabinets on wheels that hold a lot more food than carriers. They have multiple tray slides inside giving you the flexibility to move and store sheet pans or hotel pans of product in many different configurations.
• It's important to note that you'll need a truck with a lift gate to transport rolling carts as opposed to insulated carriers, which you can load into a van, station wagon or even the trunk of a sedan for very small events. You can rent the vehicle you need if you don't own one, but figure it into your costing.
• Hot/cold drawers. Some boxes are designed with ventilated drawers at the bottom where you can place canned heat for hot food or dry ice for cold.
• Electric hot boxes. Some hot boxes are designed to be plugged in for preheating and loading. Once loaded, insulation keeps the food hot for several hours when the unit is unplugged for transport and holding. A new type on the market is equipped with rechargeable batteries, which continue to heat the box for four to six hours when it's unplugged in the field.
• Propane hot boxes. Also new on the market is the addition of a little one-gal. propane tank to an existing mobile hot box that delivers eight hours of hot hold time.
• Mobile refrigerators. Another recent innovation is a mobile refrigerator that uses a sealed thermochemical refrigeration system to keep food cold for seven to 12 hours. A valve opens allowing liquid ammonia to react with chemical salts in an evaporator, producing cold. Plugging the unit in reverses the process, recharging the unit by removing the ammonia from the salts and condensing it back into a liquid.
• Solar-powered thermostats. A few of the new insulated rolling boxes, hot and cold, have solar-charged, battery-operated thermostats so you can keep tabs on the internal temp at a glance.
• Glass racks. You're scratching your head, but if you have appetizers or desserts in individual containers—glasses, coupes, ramekins—you can transport them more easily, hot or cold, in glass racks.
• Dollies, racks, wheeled bases and casters. Make sure you have a way to get food, ice, and utensil containers from where your truck is parked to the site intact. One manufacturer makes a folding cart that stows easily. Several manufacturers also offer a choice of casters on their carts and insulated boxes. Four- or 5-in. poly casters are fine for smooth surfaces, but for rougher terrain, go with large rubber-wheeled casters (see Pro Tips, pg. 45). Also, look for transports with a wheel-forward design; it helps prevent tipping over rougher surfaces.
Cooking
There are as many reasons to cook on site when you're off the grid as there are to prepare and cook all your food in advance. Here, too, you have a lot of options.
• Fire pits. If local fire code allows it, you may want to cook food over an open or closed fire pit, such as roasting a pig for a luau, or steaming shellfish and vegetables in a pit for a clambake.
• Charcoal grills and smokers. For good old-fashioned backyard barbecue-type events, charcoal grills or smokers may be the best way to prepare dogs, burgers, chicken, ribs, brisket, corn on the cob, etc.
• Butane burners. For exhibition station cooking, such as omelets, sautéing or saucing pasta dishes, butane burners work well and are easy to transport and set up.
• Countertop or full-size propane equipment. Several companies make gas countertop cooking equipment—four-burner stoves, griddles, grills—that convert to propane. Relatively easy to set up in the field, they can provide back-of-house cooking options at remote locations. For volume cooking, full-size propane versions are available too. Set them up on plywood for stability.
Serving
• Chafing dishes. De rigueur for most catered buffets, chafing dishes heated by canned heat work well in most situations, except in breezy conditions. You'll need a plan B if you anticipate wind; there are skirts for chafing dishes and shields that can block the wind. Staff needs to regularly check the water level in chafing dishes and replace canned heat when they go out. Chafers also can be used for serving cold foods. Simply use ice instead of water in the base.
• Insulated carriers. For less formal events, top-loading insulated carriers are a good way to keep food hot or cold while serving. Many companies make lids for pans you can use to cover food when guest traffic is low.
• Ice beds keep cold food cold and display them attractively. For larger events, you may want an ice company to deliver both cube and crushed ice so you don't have to transport it.
• Rolling carts. Some models can be set up to transport and hold plated food. Servers unload carts and take food directly to seated guests.
• Utensils. Bring more serving utensils than you think you'll need, and change them out every half hour.
• Lightweight displays. A plethora of lightweight (bamboo, pressed board, resin fiber) display systems are available today that assemble from separate pieces into elaborate and great-looking buffet setups. Disassembled, they take up little space during transport.
Sanitation
• Beverage containers. Bring plenty of hot water in insulated beverage carriers/dispensers both for general clean-up and for handwashing stations. Pump soap and paper towels complete the station. A little hand sanitizer can't hurt.
• Mobile handwashing stations. A few manufacturers make hand-washing stations with tanks for hot water, built-in refillable soap pumps, and paper towel racks.
• Sanitizer buckets. Keep sanitizer buckets on hand, either chlorine or quaternary ammonia, just as you would in your kitchen so staff members can clean as they go.
• Three-compartment "sink." For light-duty washing—utensils, cutting boards, etc.—set up bus tubs like a three-compartment sink, with hot soapy water in one, hot rinse water in the next and sanitizing solution in the third.
PRO TIPS
Lisa Richards, CEO of Picnic People, San Diego, has specialized in off-off-site catering (no electricity, no water) for some 35 years. She and her staff have a unique expertise for what works for transporting, hot- and cold-holding, cooking, serving and sanitation when you have to bring everything with you for a professional catered event. Whether it's a corporate picnic for 2,000 or a team building event for 50, Richards shares tried-and-true equipment advice:
Transporting: The variety of transport totes available, specifically made for catering, work very well, but invest in a quality brand. Sometimes however, events are so large, she needs more carrier totes. "I'll use an Igloo 50-qt. that fits 2-in. and 4-in. deep pans and layer pans between sheets of cardboard in the cooler." Ice packs sit in the bottom and on each layer of cardboard. In the trucks, padded blankets available from moving companies are incredible insulators, she says. "I cover hot and cold carriers with them."
Wheels: "Probably the most important and most overlooked item," she says. "You need to order the big, rugged pneumatic wheels on all your equipment." They should have a little "give" that can roll over everything from glass to grass. She carries spare wheels in her trucks. ("Lose a wheel, you're out of luck.") She also warns that you need to take care getting top-heavy equipment on and off trucks. "They can topple very easily."
Cooking: Richards has propane versions of everything from fryers to convection ovens, but her first choice is a charcoal grill—even over propane grills. "Charcoal never runs out," she explains. "I line a 5-ft. grill with four layers of aluminum, fill with two 30-lb. bags of charcoal and continuously cook for hours." She also cooks proteins about 80% done and finishes on site, but then the challenge is finding hot holding that holds without continuing to cook.
Hot Holding: Richards is a fan of the hot holding boxes and rolling cabinets on the market, and owns several. In a pinch, and because she loves the simplicity for her younger employees, Richards has covered a simple speed rack filled with pans of hot food under an insulated cover, put a couple of canned heat candles in the bottom and draped a few moving blankets over the top.
Cold Holding: Refrigerated trucks bring refrigeration on site, but in transport and on the line, coolers with ice packs keep cold foods cold. Again, use cardboard to insulate between layers and moving blankets over the top. Dry ice works for long distances, but make sure you put a barrier between the food and the "ice."
Service: Double bowls or bins with ice in the bottom keep foods cold on the serving line. Look for lids with molded-in handles vs. those that are riveted or screwed on—they can come loose. Melamine and compostable disposables are game changers in terms of jazzing up the look of events. "I never use any serving-ware material that's breakable." For serving chafers, Richards swears by the collapsible shields that form a box around canned heaters. "They totally block the wind and look great." Because they collapse flat, it helps in storage—a perennial problem for caterers.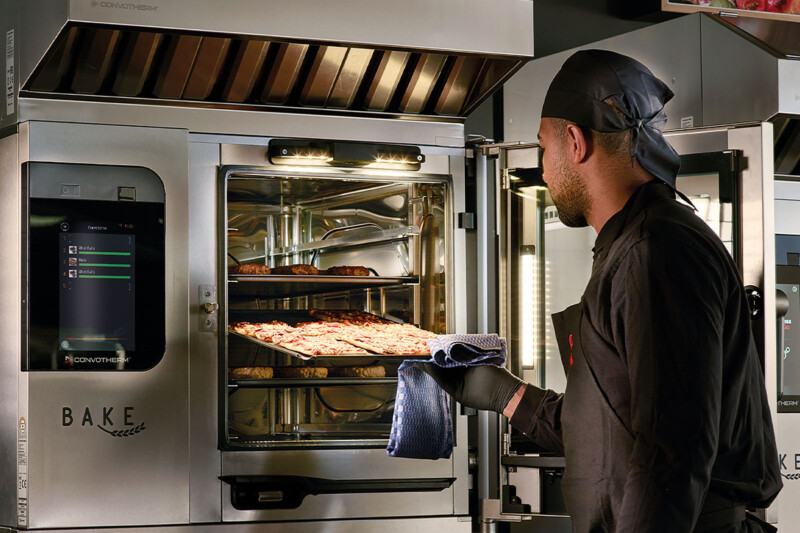 Combi Ovens
Today's combi ovens are smarter and more energy efficient, reducing the need for skilled labor and cutting utility costs.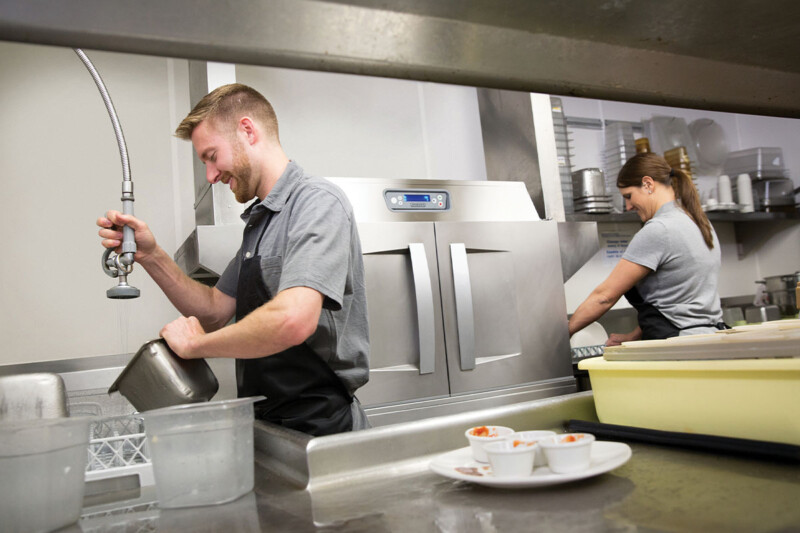 Equipment Comparisons
Forget steamy dishrooms; some of the newest rack conveyors improve environmental comfort and reduce overhead costs.