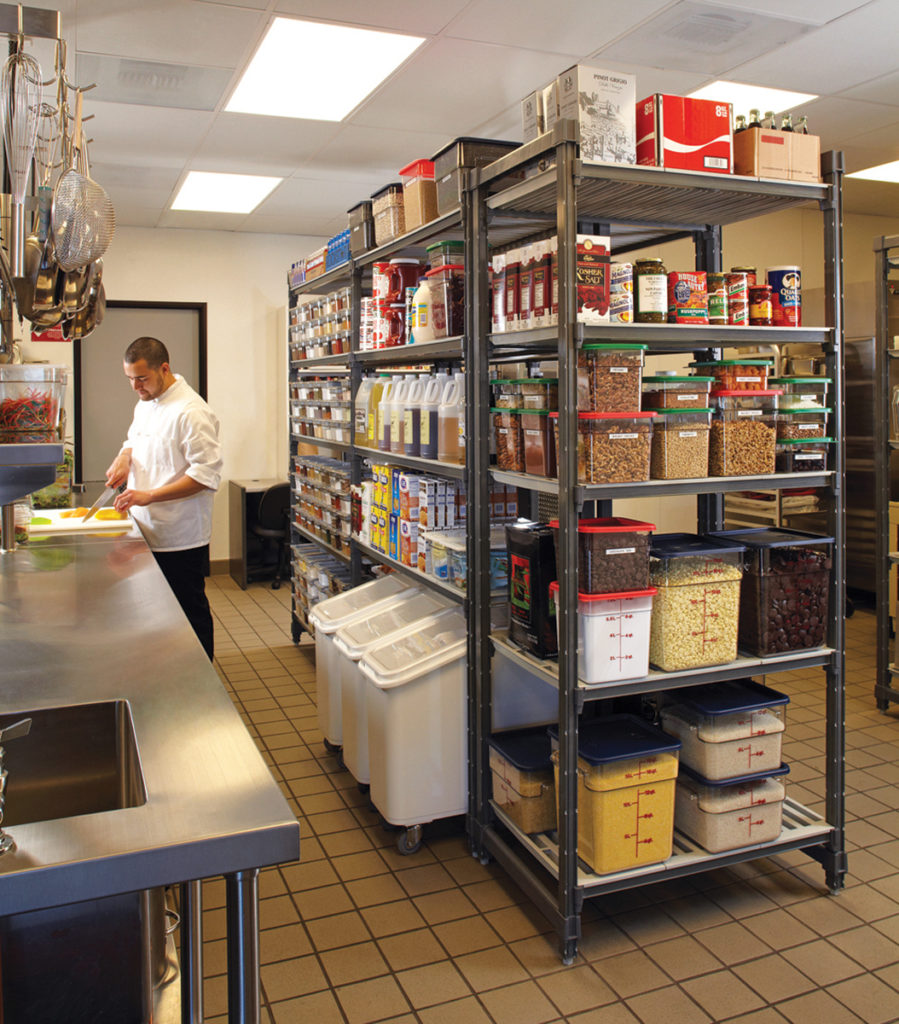 Dry-storage shelving is an overlooked workhorse in many operations; while employees hustle through the kitchen transporting, cooking and serving food, shelving stands quietly to the side holding all of the things those workers use throughout the day. However, shelving comes in many types, sizes and configurations and making the right choice ensures that your dry-storage units solidly and efficiently stand up to years of use.
Variables include the type of material used to construct the shelving, size, what you're storing on it, where in your facility it's being installed and the local climate.
Materials include aluminum; chrome-plated and epoxy-coated metal wire; antimicrobial-coated wire that protects against bacteria, mold and mildew; stainless; plastic-coated metal; and composite plastic. Each material offers advantages that range from humidity- and corrosion-resistance to ease of cleaning to price. Each also comes in solid or vented shelf styles.
The first question to ask yourself is, what is being stored on the shelving? Chemicals? Consider epoxy-coated solid shelving with added protection from removable plastic mats. Bulk food such as 50-lb. bags of rice and flour? Solid bottom shelves or dunnage racks are best for the weight of bulk storage and antimicrobial materials help maintain food safety. These also keep heavy items low to the floor so your employees won't strain their backs lifting and moving these items. Canned goods? Boxes of canned goods? Individual cans can be arranged to fit on shelves while boxes need to fit squarely on shelves without hanging over the sides. One maker has an innovative first-in, first-out can storage/dispenser for No. 10 and No. 5 cans, much like the ones used in groceries for soups, but much more heavy duty. Linens and uniforms? Avoid aluminum as oxidation can discolor your fabrics. Small items such as bottles or condiment jars? Solid shelving keeps these items standing upright instead of possibly leaning or falling over on vented shelves.
Location within the facility is an essential variable in picking the right shelving, too. For instance, shelving near splash zones in regularly hosed-down areas is best made of stainless, composite plastic or epoxy-coated metal. The same goes for operations in humid regions, near the ocean or by a pool. Aluminum, while it never rusts, will degrade in salty sea air.
Use Available Space Efficiently
No matter the location, do your homework before ordering shelving. One of the most common mistakes made by operators and specifiers, according to manufacturers, is not properly measuring the available space for shelving. Measure poorly and you may end up with too little or too much shelving or a system that doesn't properly fit the space. Measure twice, says one manufacturer, and think things through. A 6-ft.-high shelving unit will be even taller if you add wheels. Also, properly measure doorways to make sure that a wheeled rack passes through or you've taken away the mobility you wanted. If your business is seasonal, make sure you factor in enough storage for your busiest months.
Shelf height and depth are variable and the right combination differs by an operation's needs. The tallest and biggest units aren't always the smartest choice, says one maker. Several suggest that some facilities benefit from shelves that are narrower than the common 2-ft. depth; 18-and 21-in. depths often take up minimal space while holding sufficient product. While shelves can go deeper, another maker advises against making your employees reach 3 ft. back to lift a 20-lb. box of something. Work carefully with the manufacturer during the specifying process; they are experts at maximizing your storage capacity.
In addition to measuring your physical space, one maker suggests you estimate the weight of the items you want to store. Either weigh it yourself or ask your vendors for the weights of items you order. While the same manufacturer says that standard food items will rarely exceed the shelving weight limit, spreading them evenly across the shelf surface evenly distributes the weight.
According to a number of manufacturers, a 4-ft. shelf typically holds 800 lb., while reinforced bottom shelves hold up to 1,200 lb.
Rolling Storage
Does your operation break down deliveries on a loading dock away from the kitchen? Do you routinely hose down and clean your storage area? Shelving units on wheels makes both scenarios easier to deal with. Rather than transport deliveries on multiple utility carts, consider filling a mobile shelving unit with product on the dock and rolling it to your storage area. Keep it placed next to your static shelving until you need to roll it out again.
Mobile shelving is more expensive than static, so check your budget before adding wheels to everything.
High-density shelving is a mobile option for tight spaces. Using a track system, you simply move shelving units placed right next to each other, creating an aisle to grab what's needed.
Solid Or Vented Shelves?
Vented shelves are popular because they let light through, making stored contents easier to see in low-light conditions.
Solid shelves, though, are best for bottom shelves, preventing water from routine hose-downs from splashing up from the floor onto the bottoms of stored items. Local health regulations may even require solid bottom shelves.
Solid shelves also prevent contamination from one shelf to the one below it. This is particularly important when storing chemicals. Using removable mats on either vented or solid shelves adds an easily cleanable element of safety and are good at containing other kinds of spills, too.
Warning Signs
Even the perfect shelving system for your needs won't last forever. Regular cleaning helps, but certain signs will tell you it's time to replace with new units. Bowed shelves, listing units and anything wobbly are inefficient and dangerous. Look for rust as vigilantly as a health inspector will. Under constant use, even epoxy coating chips away, letting moisture in and causing rust. When your shelves are beat, it's time for new ones.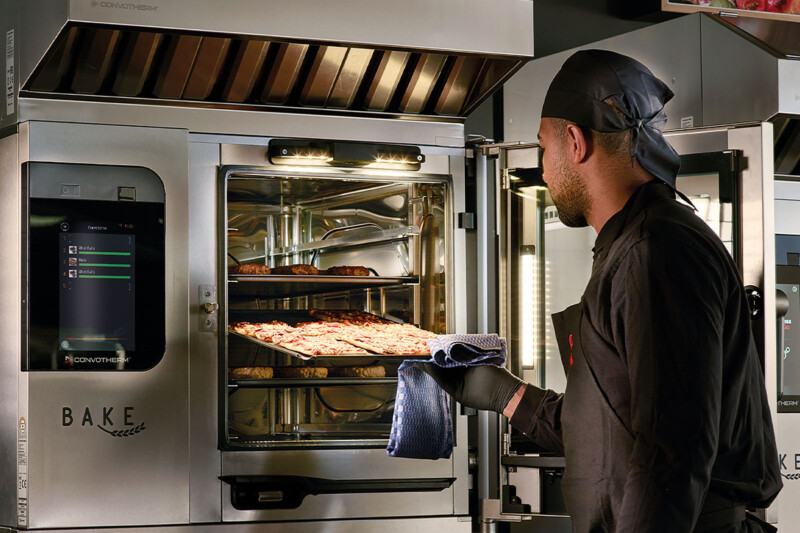 Combi Ovens
Today's combi ovens are smarter and more energy efficient, reducing the need for skilled labor and cutting utility costs.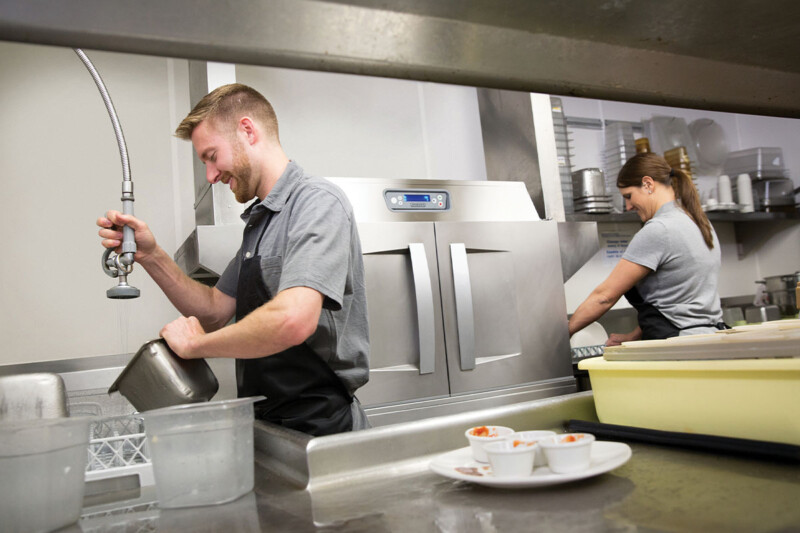 Equipment Comparisons
Forget steamy dishrooms; some of the newest rack conveyors improve environmental comfort and reduce overhead costs.