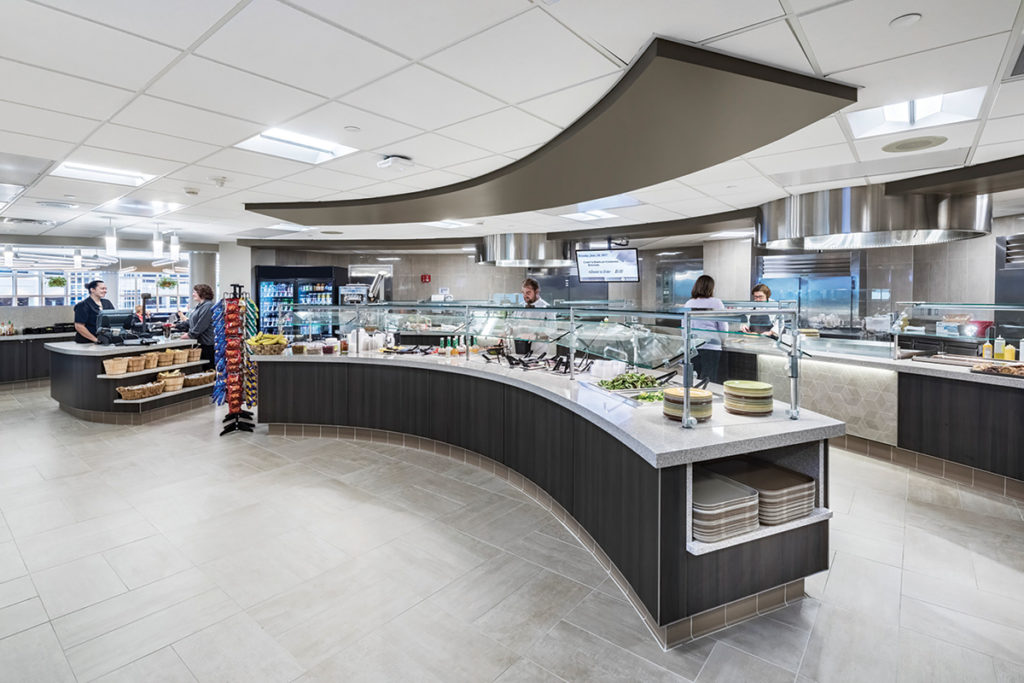 Like a lot of healthcare facilities, Mary Greeley Medical Center, a 220-bed regional hospital that serves 13 counties in central Iowa, was overdue for some upgrades. In 2015, however, the Ames-based hospital completed a $129 million expansion project that included a new six-story tower, an expanded emergency department, a new main entrance with an enclosed skywalk, and a new power plant.
In '17, hospital administration completely renovated the servery, the final component of their updated foodservice program that also includes a room service kitchen and first-floor coffee shop. "Administrators wanted to activate the second level where their servery is and make that public area a nicer place to land as you come in through the new skywalk from the parking garage," says Christine Guyott, FCSI, RD, Rippe Associates, who spearheaded the foodservice renovations. "Our firm has been working with Mary Greeley the last 20 years as they were looking to upgrade their retail area and kitchen. We've started about five different plans over the years for them but it was never the right time."
With the expansion project, foodservice renovations finally got off the ground. Over three years of phased construction, with a short gap between kitchen and retail projects, Guyott and her team upgraded Mary Greeley's dining program. "We renovated the room service kitchen so it was a permanent room service parallel layout, which has hot food cooking directly behind the cooks' workstation and the cold assembly on the opposite side. We also redid their dishroom, created a functional cold food storage area out of an old conference room, and renovated the first-floor café," she explains.
Made To Order
Next came the retail space. "The old servery was your typical '80s layout and design," says Matt Hart, the hospital's Director of Dietetic Services. "There was a lot of stainless, not much color, and there wasn't anything you would consider comfortable, inviting or homey." In the former space, employees cooked and prepped food in the back-of-house and brought it up to hot wells. All of the entrée stations lined up on one wall that backed up to the kitchen with a salad bar on the opposite side of the room.
"Before the renovation, if you wanted an entrée, dessert, pizza or sandwich, there was one line that led to the cash register," says Hart, adding that more than 66% of Greeley's foodservice retail sales are from employees. "Wait times are a typical problem for hospitals," adds Guyott. "Staff members have 30 minutes to eat lunch and they don't want to spend that time waiting in line." The new design puts the popular stations of deli and pizza on the opposite side than the hot entrée stations to split their traffic and queues over several areas. There's also separate grill, entrée, and display cooking stations; a salad bar for both hot and cold foods; a grab-and-go cooler; pass-thru beverage coolers; and separate lines for two cashiers.
Another goal of the renovation was to add display cooking and action stations. "In the former space, the cooks did everything in the back of the house," says Hart. "Now the cooks are all in the servery face to face with customers with food made to order right in front of them." Sandwiches and wraps are made to order at the deli station while the display cooking stations rotate through made-to-order and customizable omelets, stir fry, pasta, pho, ramen noodle and Mongolian grill items.
Curves & Spaces
With the servery so prominent to visitors entering the building, Hart says they wanted the new space to reflect the overall design of the hospital. "We wanted to make sure that people coming out of the skywalk could see that the serving area was right there," says Guyott. "Thanks to the glass wall in back of the pizza station, visitors can see through to the stone hearth pizza oven and peek inside to the servery. In the station build-out, we tried to match some of the curvature that was happening in the building." To reference those curves, there's a new serpentine-style salad bar that snakes through the center of the servery. "Our team worked hard to make it a double-sided salad bar without making it too tight for the space and to get the food shields designed so that people could reach the food while the bar achieves that curvature," says Guyott.
Space was a constant challenge. "The retail space was pretty small for the volumes that they were doing," says Guyott. Expanding the first-floor café in '15 helped. However, the main servery on the second floor had no extra room to increase its size. To make better use of the existing seating area, they replaced four-tops and long tables with an efficient mix of two-tops and singles. "We also couldn't fit everything in the foodservice area so we pushed the condiment area and beverage station into the dining room as well," says Guyott.
Traffic Flows
Public traffic patterns added to the challenge of a tight servery. Along with traffic coming from the skywalk, approaching the servery from behind the pizza station, another flow of traffic passes literally through the retail space to move from one side of the hospital to the other.
"The public foot path goes by the dishroom drop-off, the condiment counter, and then between the pizza area and the salad bar, and then goes out," says Guyott. "In our design, we placed a low wall at the corner condiment counter to help direct that flow of traffic and frame the servery. We designed it so eventually, they could take out that panel of glass that separates the servery and skywalk and make that public corridor skirt around the serving area instead of through it," she adds. "I envision future leadership questioning 'why are we going through the retail area?' and I wanted to make it easy to change."
To keep the servery operational throughout the renovation, Guyott says they started with the areas away from the kitchen such as the pizza, deli and the salad bar. Once they were complete, the foodservice team served from those new stations while crews continued working on the other areas, which were going in under the new exhaust hoods. "We actually had to tweak the design after we started construction in this area because the low ceilings meant we had to adjust those stations based on where the hoods could fit," she says.
"Matt was great to work with because he could roll with these types of changes," she says. "Because we've been on campus so many times over the years in back-to-back projects, we really developed a strong bond as a whole team. We all really understood expectations and had great communication throughout the various phases."
MARY GREELEY MEDICAL CENTER
Ames, Iowa
No. of Beds: 220
Opened: Original hospital opened 1916; renovated kitchen completed 2014; coffee shop café completed 2015; renovated retail opened 2017
No. of Seats: 124
Hours of Operation: 6 a.m.-7:30 p.m., 7 days/week
Station Sampler: Hot Entrée, Grill, Display Cooking, Salad Bar, Deli, Pizza
Average check: $5.66
Cost of Project: $620,000 (foodservice equipment only)
Annual Sales: $1,200,000
Director of Dietetic Services: Matt Hart
Foodservice Consultants: Christine Guyott, FCSI, RD, Principal; Rochelle Monahan, MBA, RD, Operations Project Manager; Jessica Dengel, Sr. Project Manager; Joy Enge, Sr. Specification Writer, Rippe Associates, Minneapolis
Architect & Interior Design: Shive-Hattery, Des Moines, Iowa
General Contractor: Henkel Construction, Mason City, Iowa
Foodservice Equipment Contractor: Hockenbergs, Des Moines, Iowa
Fabricator: Albers, St. Paul, Minn.
KEY EQUIPMENT
SERVERY
BSI food shields
LTI hot/cold pan, 3-well, 2-well
Piper heated plate dispenser
Randell/Unified Brands refrig. prep table
Jade/Middleby grill w/refrig. base
Halton exhaust hood, demand control ventilation system
Krowne hand sink
Traulsen/ITW FEG pass-thru refrig., 1 & 2-sec. roll-in refrigs.
Waring 4-slot toaster
Imperial 6-burner range
True reach-in display refrig.
Alto-Shaam u/c cook & hold oven
APW Wyott/Standex soup well
Eagle undermount hand sinks
Bobrick soap dispenser, towel dispenser
Hatco heated shelf
Wood Stone hearth pizza oven
John Boos mobile pizza cutting table
Dispense-Rite cup dispenser
Amana microwave oven
3M water filtration system
Follett/Middleby ice maker
Multiteria, a manufacturer of engineered modular serving counters, is pleased to co-sponsor *FER*'s Healthcare Design feature. Learn more about us at multiteriausa.com.
Alluserv, a manufacturer of healthcare meal delivery systems, is pleased to co-sponsor *FER*'s Healthcare Design feature. Learn more about us at alluserv.com.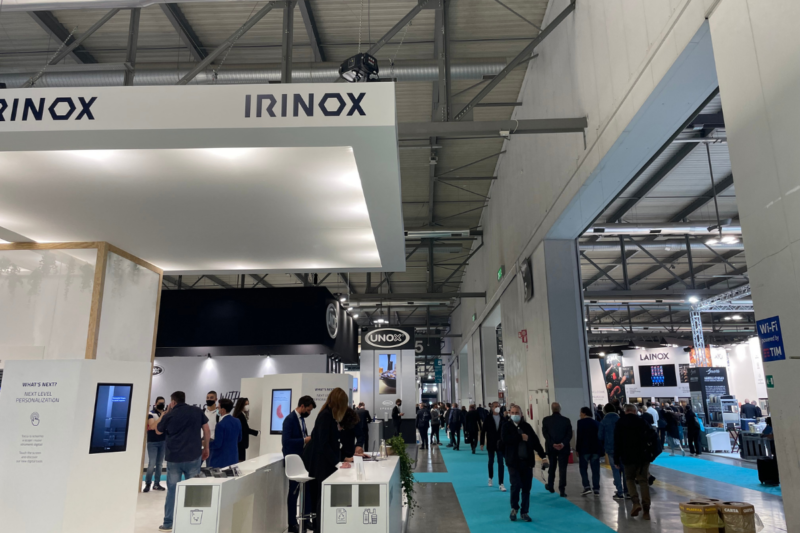 Events
HostMilano, one of the largest foodservice equipment shows in the world, kicked off today in Italy, and FER is on location.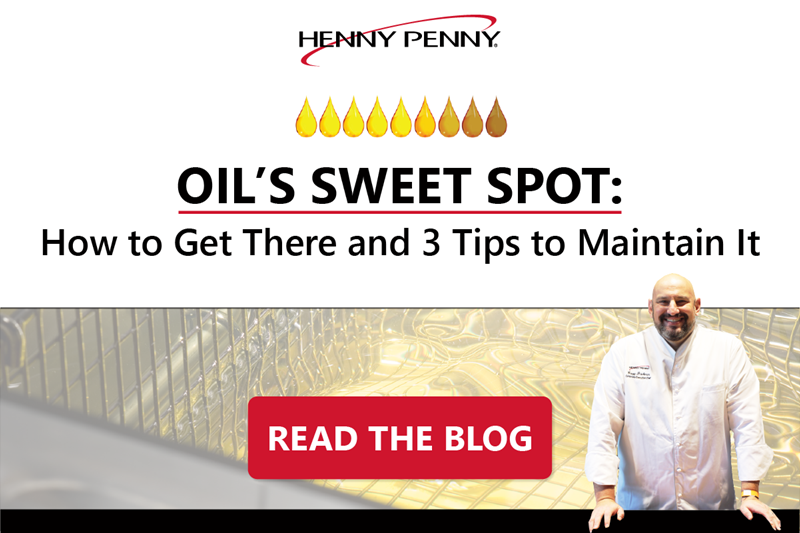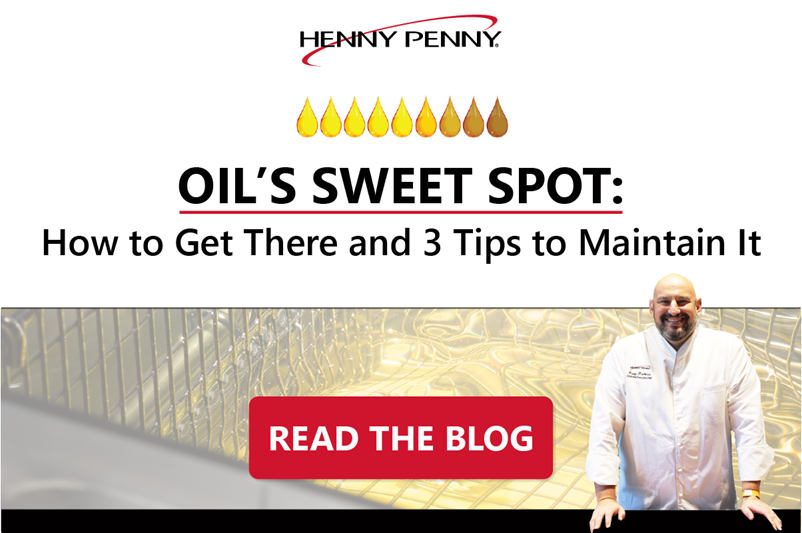 Uncategorized
Like many in the world of foodservice, you may assume that cooking oil performance is at its peak when you first start using it — but did you know there...