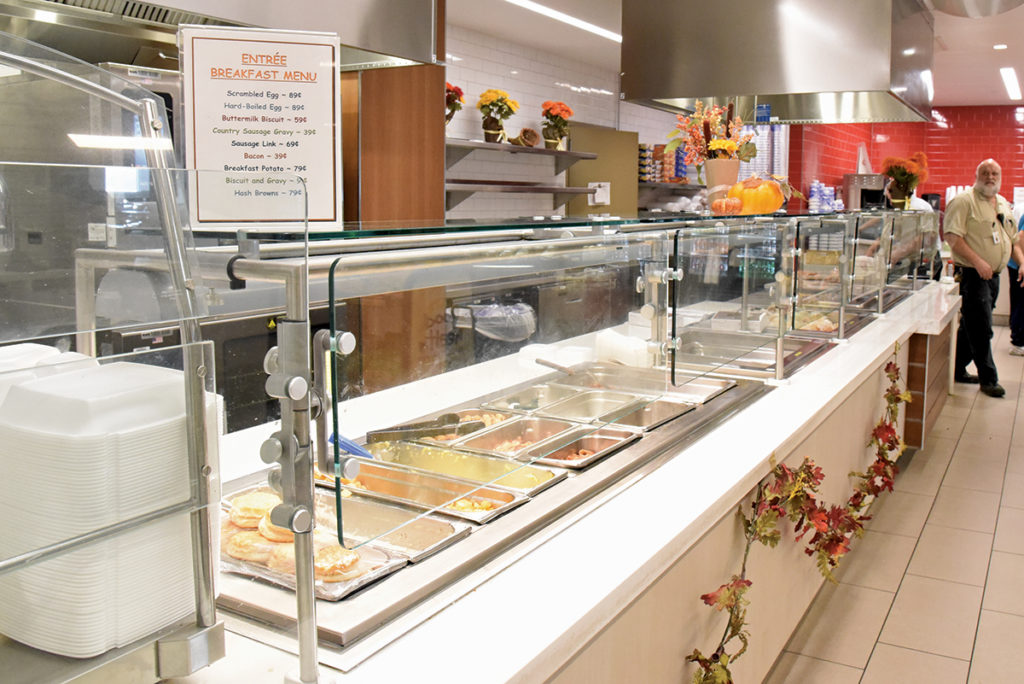 When you walk into the renovated servery at WVU Medicine Ruby Memorial Hospital in Morgantown, W.Va., the first thing you might notice is the Salad Bar surrounded by people. Its white stone finish reflects the light and really makes this station a focal point of the cafeteria. Your eyes might also move to the Action station, where cooks prepare meals with fresh ingredients from local farms. Or maybe the grab-and-go boxes of healthy snacks near the entrance catch your eye. But one thing you probably won't notice is the size of the door you just walked through, which is twice as big as it was originally. Some might take entryways for granted, only seeing them as a way to move from one room to the next. But the doorway to Ruby Memorial's new servery in some ways epitomizes the entire renovation. Paying attention to details and opening up space has helped this operation improve traffic flow and provide better service as a whole.
Before renovations, the servery's traffic flow was congested and often backed up so much that it was difficult to even get people through the door. The building had simply outgrown the cafeteria that had been built in the 1980s. While the foodservice department made some upgrades through the years, they had done nothing major to accommodate the rapid growth of the hospital. The service level was limited as a result of constraints at the current stations, and even after getting food, customers waited in another long line to pay.
The team's goals for the renovation were to enlarge the space as much as possible, improve traffic flow and add variety and flexibility to the offerings. They did it all with careful planning and attention to detail, and the end results are a resounding success.
Making Space, Improving Flow
One challenge of the renovation was how to enlarge the servery in an existing building. Widening the door was just one structural change that opened up the space. Knocking down walls helped as well. The old servery was adjacent to Ruby on the Run, a foodservice outlet for snacks and grab-and-go items, as well as a vending area flanking the entryway. Designers incorporated those two areas into the main servery. Additionally, crews collapsed a wall at the back between the old beverage station and a utility closet to open up more space.
Once designers created the space, the challenge was to make the best use of it with new equipment and flexible stations. They replaced a Freestyle drink machine with two traditional fountain beverage machines; the change improved speed and efficiency in moving people through the beverage line. They split the station that had served pizza and deli items in two. Pizza now has its own platform. The Deli station earned an upgrade—two counters set perpendicular to each other allow for staff to work in tandem filling orders, helping get more customers through at a time rather than forcing one long line.
Finally, the team installed double-sided cashier stations to improve efficiency. With all of those improvements, the time to get people through from entrance to exit was cut in half, an important savings in a cafeteria serving more than 4,000 people a day.
Promoting Good Food Choices
Even before planning renovations, the foodservice department made offering healthier menu options a priority. In 2014, the operation went fryer free, using convection microwave ovens for items that were traditionally fried, and began working more with local farms to get fresh produce seasonally.
Healthy menu options became a central goal of the redesign. Designers added display cases for bottled water and other healthy drinks at the cashier stations to provide alternatives to sugary sodas, and display racks in front of the Deli station to hold whole-grain chips.
Designers focused on offering fresh, whole foods and more fruits and vegetables at the renovated stations as well. The Salad Bar isn't just a beautiful focal point to the servery, it's twice as big as the original platform and allows for more options, including more seasonal ingredients such as those fresh greens and other vegetables from local farms. Employees use shotgun pans to efficiently refill ingredients at this very popular station.
Designers paired the Entrée station with an Action station, where induction ranges allow cooks to make made-to-order fresh products with local ingredients right in front of customers. The Entrée station boasts a rotisserie oven, which increases menu options to pair with bulk-prepared items from the main kitchen.
Flexibility For The Future
To make best use of space, the team designed menu flexibility into the stations. The Salad Bar, for example, is actually two units put together. This bigger size allows the department to turn half of the bar into a yogurt bar with a choice of different fresh fruit and granola toppings while still having plenty of space for salad options, or to shut down parts of the bar for more efficiency during slow traffic times.
The Grill station also proves flexible. At almost twice the size of the previous station, the Grill station includes a griddle, charbroilers and ACP Menumaster ovens, as well as hot and cold wells. A typical day's offering might include grilled burgers with a variety of toppings, a hot side dish, and coleslaw or potato salad. Designers organized the station so that it could serve pizzas, made-to-order sandwiches and limited entrées if needed. Cooks make these products in the kitchen and package them to serve from the Grill station. The idea is that, in a servery open 24/7, the Grill station could serve multiple purposes with a limited staff.
Service During Renovations
One of the biggest challenges of the renovation was the foodservice department's need to remain open while making improvements. They accomplished this by splitting the work up into phases, so that they only had to shut down one or two parts of the servery at a time.
The overall renovation started off with upgrades to the kitchen and creation of a cold room in '16. The cold room, one of the first built in West Virginia, is a space adjacent to the walk-in freezers and refrigerators that is kept at 40°F, allowing for employees to prepare food without exposing product to dangerous temperatures. The early construction was the first phase of the renovation, allowing for a strong foundation to move forward with the servery renovation, which the team accomplished in stages over the course of about a year. The first phase of the renovation focused on knocking out the wall to the former c-store and using that space for the larger Grill station, as well as remodeling the Beverages station. During this time customers could order grilled items at the existing Entrée/Action station. Next came the Salad Bar and Entrée/Action station. During this phase, the new Grill picked up production of entrées, while a limited salad bar and ready-made fresh salads kept all options available.
The third stage involved work on Deli and Pizza, which included the installation of a gas-fired deck pizza oven. During that time, employees used the Grill station to serve pizza and deli sandwiches, a practice that would continue on late shifts after the official opening. The final phase included expanding the cashier area and placing the coolers and display cases.
During renovations, the department displayed renditions from the architect so people could see what was coming, and they provided plenty of communication, to their own staff as well as the entire hospital.
"It was definitely a challenge for our staff, going through all the trials and tribulations of the renovation," says Kevin Currey, Retail Manager, Ruby Cafeteria. "But now that it's open, they're so excited about the new space. It's almost a collection of different restaurants, and they each have pride in their stations. It boosts their spirit and engagement." Foodservice department members aren't the only ones happy with the new space; it's been a big success with everyone.
WVU MEDICINE RUBY MEMORIAL HOSPITAL
Morgantown, W.Va.
Number of Beds: 690
Servery Opened: January 2018
No. of Seats: 350
Hours of Operation: 24/7
Station Sampler: Entrée/Action, Grill, Deli, Pizza, Salad Bar, Grab-And-Go, Beverages
Average Check: $4.75
Cost of Project: $2.8 million
Annual Sales: $5.1 million
WVU Medicine: David Mittelmeier, MBA, CDM, CFPP, Nutrition Services Director; Kevin Currey, Retail Manager (Project Manager); Brandon Oleksa (Planning, Design, Construction)
Foodservice & Interior Design Consultants: Jason Shymoniak, IKM Inc., Pittsburgh; Will Chizmar, Star Culinaire, Bethlehem, Pa.
Architect: Jason Shymoniak, IKM Inc.
Contractor: WVU Medicine Facilities
Dealer: Michael Day, Nat'l. Accounts Team Lead; Brian Ruth, Project Manager, Singer Equipment Co., Bellmawr, N.J.
KEY EQUIPMENT
Salad Bar
Delfield/Welbilt drop-in cold wells
Beverages/Grab-And-Go
Traulsen/ITW FEG pass-thru refrigs.
Vendor provided coffee urns, iced tea brewer, cappuccino machine, hot chocolate machine, soda dispensers, soda conduit, soda system rack Follett/Middleby nugget ice machines
Pentair Everpure water filtration system
Structural Concepts refrig. self-serve island display case
Grill
Traulsen/ITW FEG reach-in refrig., reach-in freezer
Halton hood, fire suppression system
Lang Mfg./Middleby electric countertop griddle
Delfield/Welbilt refrig. bases, drop-in hot/ cold well, drop-in cold well, drop-in hot well, sandwich/salad prep tables
EmberGlo/Midco electric countertop charbroilers
ACP/Ali Group Menumaster ovens, equipment stands
Eagle Group hand sink
Hatco heated display merchandisers
Pitco/Middleby French fry warmer
Entrée/Action
Traulsen/ITW FEG reach-in u/c refrigs.
Halton hoods, fire suppression systems
Rotisol USA rotisserie oven
Alto-Shaam combi ovens, carving station, heated low-temp holding cabinets
Eagle Group floor trough, drop-in sink
Electrolux high-speed grill
Garland/Welbilt countertop induction ranges
Delfield/Welbilt drop-in cold well, drop-in hot/ cold wells, drop-in hot well
John Boos cutting boards
Pizza
Halton hood, fire suppression system
Bakers Pride/Standex deck pizza oven
Dormont Mfg. moveable gas connectors
Alto-Shaam heated low-temp holding cabinets
Hatco heated shelf warmer
T&S Brass pantry faucet
Delfield/Welbilt drop-in hot wells, drop-in cold well
Traulsen/ITW FEG reach-in u/c refrig.
Structural Concepts refrig. self-serve display case
Server condiment dispensers
Deli
Electrolux SpeeDelight sandwich presses
Eagle Group drop-in sinks
Traulsen/ITW FEG reach-in u/c refrigs.
Alto-Shaam combi oven, ventless hood, stand, heated low-temp holding cabinet
Pentair Everpure water filtration system
Vitamix blenders
T&S Brass pantry faucet
ACP/Ali Group Menumaster ovens
Structural Concepts refrig. self-serve display case
Delfield refrig. sandwich/salad prep tables, drop-in hot/cold wells, refrig. drop-in cold well
Hoshizaki ice/water dispenser
Throughout
Sparks serving counters, back counters, work counters, shelving
BSI food shields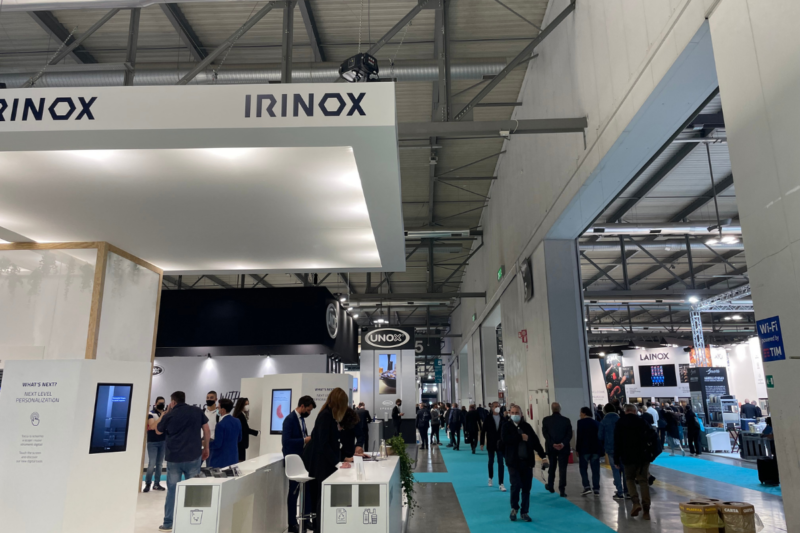 Events
HostMilano, one of the largest foodservice equipment shows in the world, kicked off today in Italy, and FER is on location.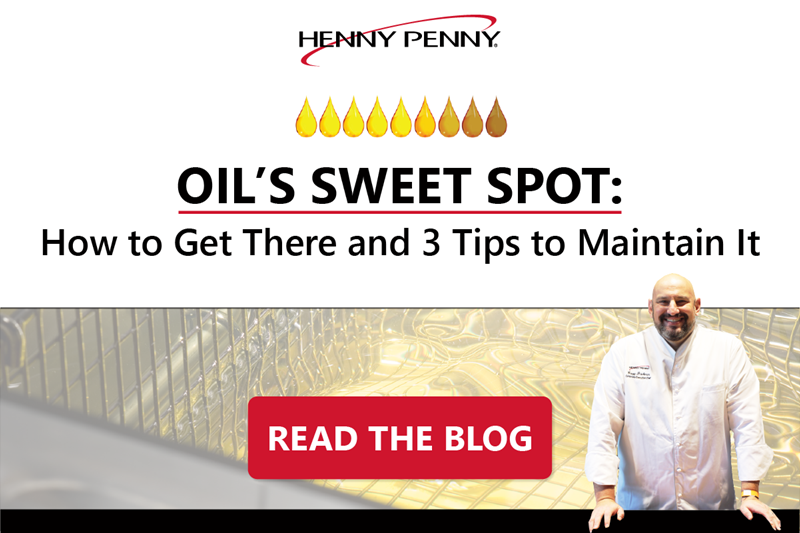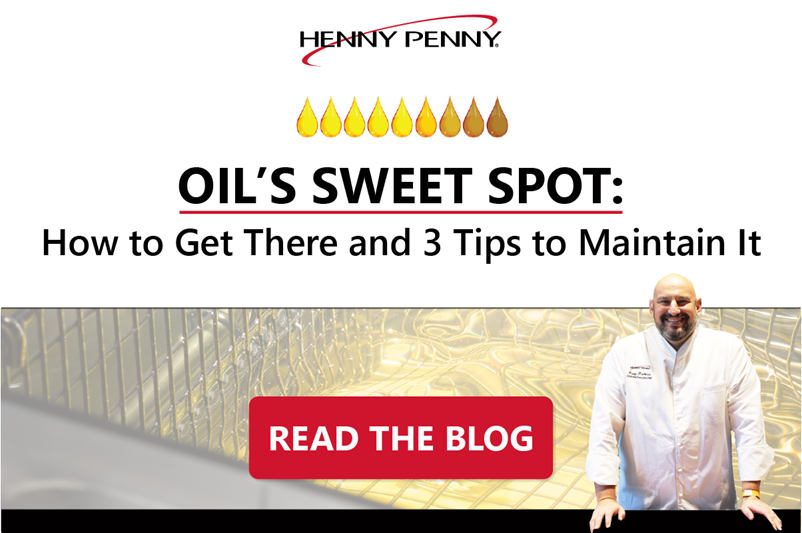 Uncategorized
Like many in the world of foodservice, you may assume that cooking oil performance is at its peak when you first start using it — but did you know there...