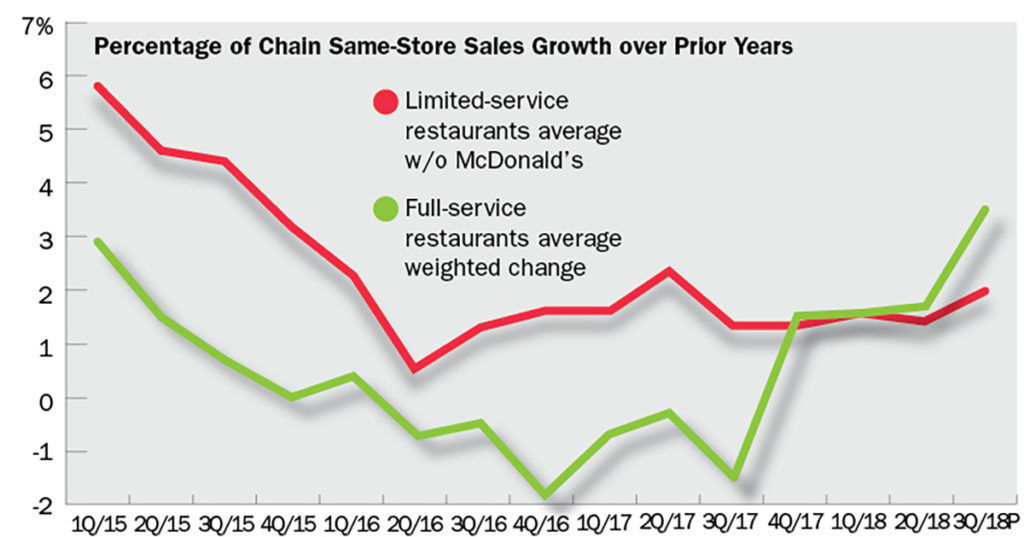 "Déjà vu again, almost," as Baseball Hall of Famer Yogi Berra might have said. Most operators in most segments will think 2019 looks a lot like '18. Overall operator sales growth will look much like last year's. And let's face it, foodservice has been fairly steady as she goes, with sustainable but not jaw-dropping growth numbers, for the past few years. But the year ahead will be different, too.
As of press time, Technomic Inc. put foodservice operator real growth at 1.6% for '18, about two-tenths of a point better than '17. The Chicagobased research firm projects growth for the year ahead will maintain that 1.6% real rate.
With a caveat or two. Those foodservice overall figures might be revised downward a little, says Joe Pawlak, Managing Principal at Technomic, depending on how November and December came in. "There has been some recent softness in the market overall, despite [rising] delivery, that continues to concern us," he says. "We might be [as much as] 0.5 to 1 point high on some of the restaurant segment growth numbers," he advises, referring to the figures in the chart with this story. Revisions, if any would be needed, would come this month, he says.
Outside Forces
On the macro side, a lot of economic measurements for the year ahead will look familiar. Overall inflation is expected to remain stable. It may rise a hair, but still in the mid-2% range, not much higher than in '17. And Technomic pegs menu-price inflation for '18 and '19 at 2.5% for each year. No big surprises in any of those measurements.
But other things likely will change. Most leading forecasters predict GDP growth will slow during '19. No face through- the-windshield slowdowns, but gradual braking. The Fed is expected to raise interest rates another time or two for '19, so that'll rein in investment, which reins in expansion and job creation a bit.
Blue Chip Economic Indicators is among those predicting slowing GDP growth for the next few years. With it, unemployment will begin creeping upward again, but stay relatively low. The '17 Trump-administration tax cut will continue to leave some extra money in some consumers' pockets, so that's a plus.
The impact of U.S. import tariffs and retaliatory tariffs from trade partners will be mixed.
"On the tariff front, the overall impact has actually been positive on the cost side…resulting in surpluses in many commodities, causing lower prices," Pawlak says. On the other hand, tariffs on imported materials and subassemblies, where used, won't help costs.
"Labor costs on the transportation side are causing higher costs of delivery of all goods," Pawlak notes, "which is actually causing higher landed costs of raw materials to operators." And then there are wages. Bureau of Labor Statistics data indicate wages in second-half '18 started rising above 3% annual growth rates. How wages, interest rates and GDP movements balance out going forward remains to be seen.
"Labor obviously is the big issue facing all operators today," Pawlak continues. "We see some restaurants shortening hours because they can't find labor, or can't afford it. Even after we see an easing of the labor tightening, operators will still need to deal with legislated higher minimum wages, so this issue will not go away."
FSR Sales, Traffic Improving
One clear change this past year: FSR appears to be recovering, if slowly. After suffering shrinking same-store sales from mid-'16 through 3Q '17—as a result in part of rising menu prices and encroachment from LSRs such as fast-casual getting into third-party delivery—moribund FSR returned to positive same-store sales growth starting 4Q '17 and continuing all through '18.
It might be too early for the bubbly, though. "Some chains are reporting better same-store sales numbers, but you need to remember these improvements are off of pretty dismal year-over-year comparables," Pawlak says.
The cumulative effect is that FSR real growth this coming year is projected just below 1%.
Otherwise, segment dynamics for the coming year will remain much as they were last year. In LSR, the fast-casual subset will remain the bright spot, with real growth of 5.4% and 5.6% growth last year and this.
Healthcare overall will continue to grow at close to 3%, fueled largely by 6% growth in the senior-living subsegment.
Supermarket foodservice will continue to steam ahead in the 3% real growth range, but its pricing advantage has been eroding, and restaurant delivery convenience will likely have an impact there.
"The industry is still growing at a relatively moderate pace," sums up Pawlak. "Keep in mind we have very strong GDP and recently, wage growth, yet the industry is growing at levels below 2% real. In previous years with such strong economic growth, we would expect to see higher levels of industry growth, but since the Great Recession, the same indicators such as disposable personal income and employment growth no longer appear to be the key drivers of the industry. Although foodservice is growing at a faster rate than overall population, perhaps we have hit a saturation level in the industry to where, for either economic, time, or effort reasons, consumers just can't increase their frequency of restaurant use."
So, operators will keep experimenting. Delivery, including a lot of third-party delivery, is still just 3% of traffic according to NPD Group, Port Washington, N.Y., but it's growing like crazy. And kitchen automation will play a bigger role too. If the old recipes for success get stale, try new ones. People will always eat.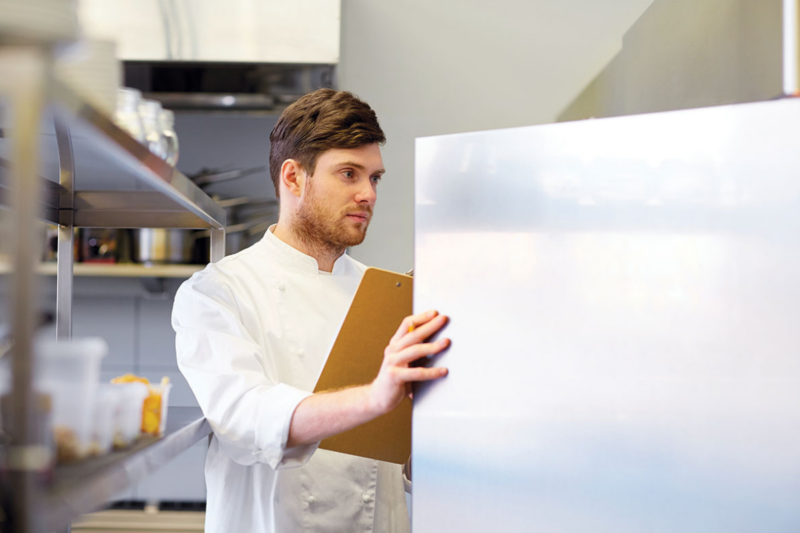 Uncategorized
RSI's Mark Montgomery's persistence and patience is key in repairing an operator's failing reach-in cooler.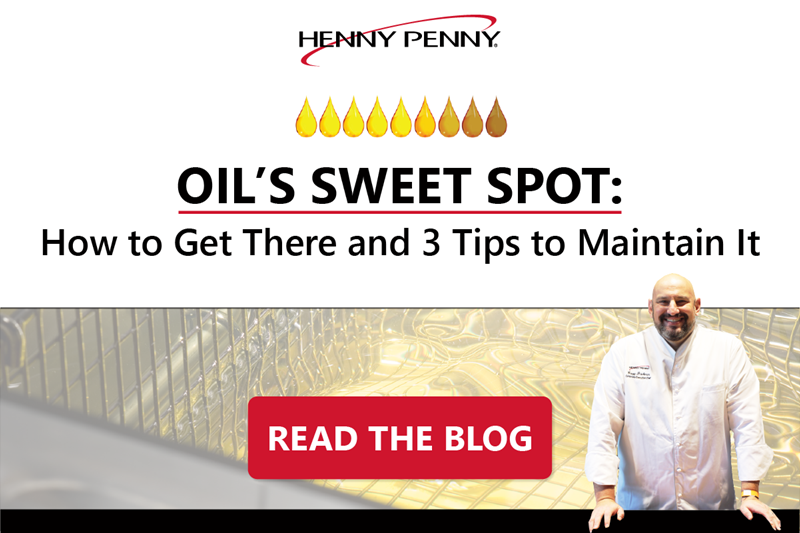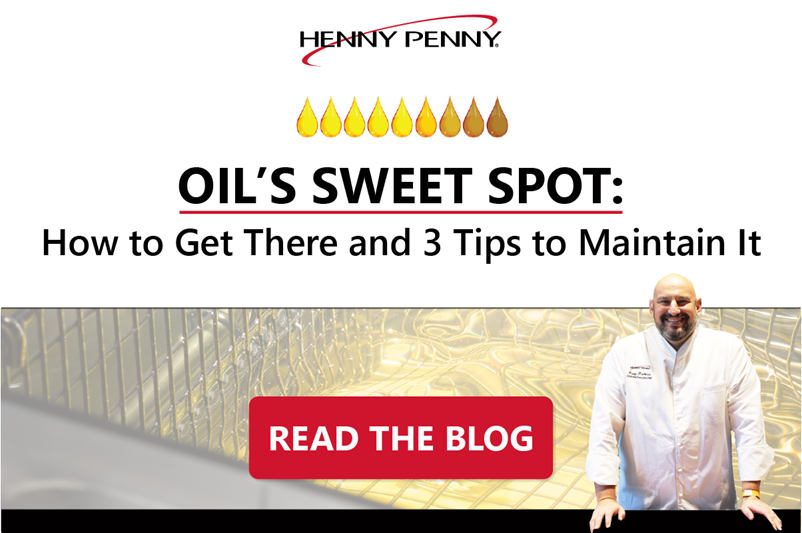 Uncategorized
Like many in the world of foodservice, you may assume that cooking oil performance is at its peak when you first start using it — but did you know there...