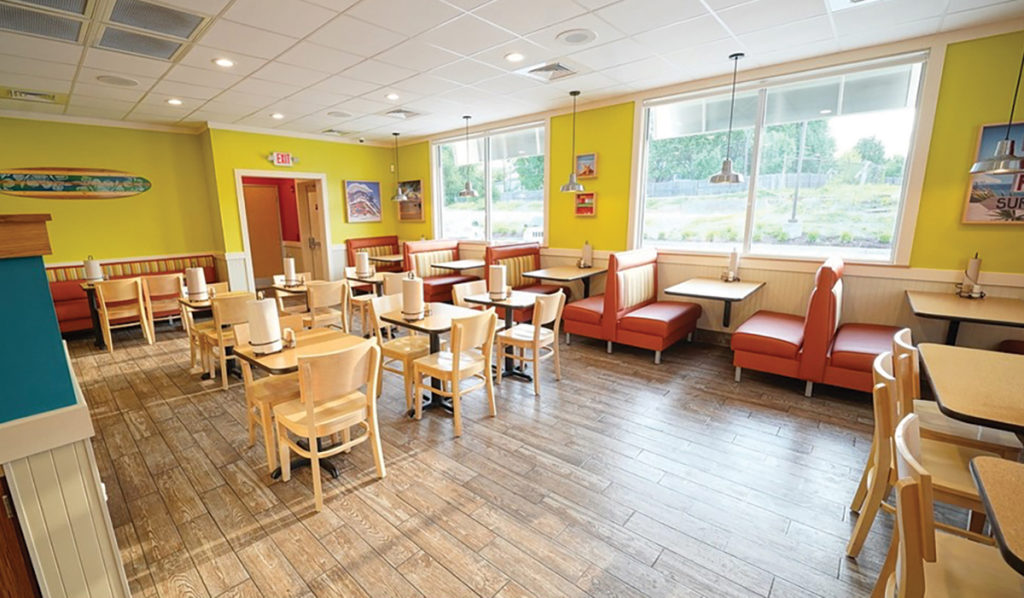 Construction issues. Real estate challenges. Online delivery apps. Streamlining kitchens. Smarter equipment. These were just a few of the refrains we heard when talking to five operators—three commercial, Captain D's, Nashville, Tenn., Checkers and Rally's, Tampa, Fla., and Eat'n Park Hospitality Group, Homestead, Pa., and two noncommercial, Centra Health System, Lynchburg, Va., and Stanford University, Stanford, Calif.—about the year ahead. Most are optimistic. All are laser-focused on controlling what costs they can and mitigating those they can't while working to expand and grow.
Almost everyone we spoke with mentioned the pain of rising construction and real estate costs. Part of the cost uptick is normal. But regionally, unpredictable weather patterns will increasingly impact expansion budgets. Last September and October, not one but two Category 5 hurricanes put much of the southeast under water. In November, unprecedented California wildfires burned out of control. Operators in expansion mode are coping with skyrocketing materials and labor costs, especially in areas that are rebuilding after disasters.
Forward-thinking operators are already working to offset rising construction costs. On-site solutions include a rise in pre-fab building components and, where feasible, modular elements. Their new prototypes are almost always more compact than predecessors, which helps in finding real estate. And in kitchens, operators continue to seek out equipment that can boost consistency, reduce labor and do more in a smaller footprint.
Third-party meal delivery companies are racing to meet consumers' seemingly insatiable expectations for convenience. Restaurants embracing the third-party app delivery field will need to take a hard look at layout (where to stow the extra and carry-out disposables), ordering systems (standardizing chainwide for cross-platform consistencies) and equipment (adding new equipment or opening delivery-only kitchens to meet demand). On the design side, catering to consumer convenience is leading to digital elements such as self-order kiosks, digital menu boards and designated pick-up areas for off-premise orders. Roboticsoperated vending machines are on the table too.
The following pages give a snapshot of five operators' visions of the business climate in the year ahead, and how they plan to approach it.
CAPTAIN D'S: Prototype Fuels Growth
Larry Jones, V.P. of Construction
Captain D's, Nashville, Tenn.
No. of Units: 540
Units Planned for 2019: 30
Captain D's turns 50 years young this year, and the Nashville, Tenn.-based, quick-casual seafood chain is going stronger than ever. So strong, in fact, that the company's 2019 plans call for 30 new stores—nearly double the 16 restaurants opened in '18.
"We feel that the economy has improved and consumer sentiment is higher than before," says Captain D's Construction V.P. Larry Jones. "As a value-driven seafood restaurant, we feel we're well-positioned for the future."
Part of Captain D's smart positioning comes from a new prototype it debuted in December '18 in New Iberia, La. Not only is the new building smaller than its predecessor, the kitchen is more compact, its equipment package upgraded and the dining room size is scalable according to demographics.
Jones shares details: "The new building is 1,948 sq. ft. with seating for 44 guests at 16 tables. Our square footage reduction primarily came from the most expensive area, the kitchen, as a result in large part of the launch of our collaborative countertop fryer project with Vulcan and Traulsen. We now have high-capacity electric fryers that sit atop freezer bases, reducing the need for flanking cold storage. The efficiency gains that come with the electric fryers mean our exhaust is reduced by over 300 cubic ft. per minute and our HVAC is reduced by 5 tons. We've got a new production platform that optimizes vertical space, allowing us to 'wrap' the kitchen around the new equipment. The result is a comfortable, efficient kitchen in a much smaller space."
Growth challenges include rising construction/land costs and employee staffing. "Real estate is harder to find and more expensive. And on the construction side, material and labor costs continue to rise at unprecedented rates. I have two stores under construction in Louisiana, where post-hurricane rebuilding work has caused material and labor to skyrocket."
In a move to offset some of the unavoidable on-site cost increases, Jones and his team are looking into adding modular components to future stores. "As contractors deal with labor shortages on job sites, which stretches project timelines, we're thinking that limited modular construction may be the right path," Jones says. "If you can build faster with fewer trades, it may pencil out."
In addition to the new prototype, Captain D's biggest equipment rollout in '19 will be "conveyor toasters to support our new sandwich initiatives," Jones reports. The company also will be focusing on boosting drive-thru and third-party delivery sales by tweaking its parking lot layout and upping its staging area space for to-go orders.
CHECKERS & RALLY'S: Ready To Deliver
Jennifer Durham, Senior V.P. & Chief Development Officer
Checkers and Rally's, Tampa, Fla.
No. of Units: 900
Units Planned for 2019: 70-80
Location (physical and online) and delivery will fuel Checkers and Rally's in 2019. The 900-unit, Tampa, Fla., quick-service burger chain, with its sister drive-thru concepts that share the same building design but different branding, has set its sights on "using our small footprint to out-position larger competitors," says Checkers Senior V.P. & Chief Development Officer Jennifer Durham.
As a bare-essentials burger production system, Checkers and Rally's sites need less than a half-acre in which to slot a building, outdoor seating, drive-thru and parking for up to 12 cars. The super-compact footprint opens many possibilities.
"We're finding new site opportunities at retail centers and malls that have oversized and underused parking lots, for example," Durham says. "Our new-restaurant pipeline, with 140 locations expected to be site-approved this year, is the largest our brands have seen." In '19, the company plans to open 70 to 80 new restaurants including new market entries in Pittsburgh, Sacramento, Calif. and Charlotte, N.C.
Checkers and Rally's big push in '19 will be on delivery, thanks to online order partners such as DoorDash, Uber Eats, Grubhub and Postmates. "It's the Amazon effect in restaurants," Durham says. "Consumers are so used to having everything delivered that they expect that for fast food as well. The level of importance customers place on convenience is staggering."
To ready itself as a delivery-friendly platform, Checkers and Rally's have spent the past year rolling out standardized point-of-sale systems. "For every restaurant to be available to the ordering apps and websites, our order system had to be uniform—hence the POS rollout," Durham says.
Beyond the POS terminals, technology also has impacted restaurant equipment. Checkers and Rally's are constantly seeking to add efficiency to an already efficient layout. New blenders used for signature (and labor-intensive) Kool-Aid Slushies have been overhauled. New this year to all stores will be Blendtec blenders that can, with the touch of just two buttons, dose the proper size and flavor of syrup while crushing the ice.
The entire cookline also is being scrutinized. "We're working with Welbilt's FitKitchen based in New Port Richey, Fla., to optimize our kitchens," Durham says. The chain plans to unveil the resulting prototype, still in its early stages, in '19. "We are looking at *all* the equipment," she adds. "There are no sacred cows."
The year will include challenges, too. "Our extra-small and cost-effective sites make it harder to attract bids from general contractors, especially in an expanding economy," Durham says. "While most of our new restaurant build out is price-certain, fluctuating installation and rising site work costs have increased costs for our franchisees."
CENTRA HEALTH SYSTEM: Upgrading & Expanding Foodservices
Timothy W. Schoonmaker, CEC, CCA, CDM, CFPP, FMP,
Director & Executive Chef, Nutrition Services and Centra Culinary Creations
Centra Health System, Lynchburg, Va.
No. of Units: Patient & retail dining in 4 hospitals, food truck, catering programs and foodservice outreach programs
Units Planned for 2019: 2 new cafés, 1 new food truck
Tim Schoonmaker, Director & Executive Chef for Nutrition Services at Centra Health System, Lynchburg, Va., faces the new year with many, and varied, irons in the proverbial fire. In addition to overseeing nutrition services for 1,000 patient beds spread across four hospitals and three nursing homes, Schoonmaker manages Centra's retail operations, keeps tabs on Centra's popular purple food truck called Code Fresh and helps manage and grow the department's in-house coffee brand called Riverside Roasters. He also manages expanding catering programs to area schools and takes part in occasional fundraisers around town. Daily foodservice tallies 1,900 patient meals and 6,800 retail meals. In 2018, Centra's Nutrition Services generated $4.4 million in sales.
Schoonmaker's willingness to innovate while keeping a close watch on metrics for cost, quality and service has positioned Centra for positive outlook in the coming year. "We've seen anywhere from 5% to 15% growth in our retail operations, and our food truck sales are up 75% over '17," Schoonmaker says. "We're also being asked for more meal solutions outside the four hospitals, such as enhanced grab-and-go in our cafés and medical buildings to replace vending machines."
Training plays a key role in innovation. "Every month we do a 'Food Lab,' where all our foodservice leadership team gathers to test recipes, experiment with new pieces of equipment, or bring in vendors or business partners as guest speakers," Schoonmaker says. After a cooking session that pushed a Merrychef speed oven to its limits, not only did the team come up with a new menu for their coffee bar, the hospital went on to deploy 15 speed ovens systemwide.
The year ahead will see plenty of growth. "In five years, Centra plans to open a patient tower that will add 96 beds," Schoonmaker says. "Nutrition Services is already working on how to accommodate those beds, which will be interesting since space has not yet been allotted for foodservice!"
At press time, Schoonmaker had purchased about $500,000 worth of foodservice equipment in '18. Centra's kitchen equipment to-do list for '19 includes replacing old convection ovens with combis, adding two roll-in combis, replacing a 50-year-old walk-in, and implementing a trayline system for a cook-serve kitchen.
"Between equipment upgrades, purchasing a second food truck, opening units, and renovating a current café, we'll spend around $1.5 million," Schoonmaker says. He expects organic growth in '19 to average 15% to 20%.
STANFORD UNIVERSITY: Moving Efficiency & Sustainability Forward
Michael Gratz, Executive Director R&DE Stanford Hospitality & Auxiliaries
Stanford University, Stanford, Calif.
No. of Units: 11 residential-dining and 16 retail-dining locations (3 late night), 4 catering operations, athletics concessions and more
Units Planned for 2019: Redwood City campus to open in '19; graduate residences planned for '20
The economy serves up equal parts opportunity and challenges for Stanford University's Residential & Dining Enterprises (R&DE), Stanford, Calif., which serves more than six million meals annually to students, faculty, staff, conference guests and campus visitors.
"We're in the midst of Silicon Valley's current boom," says Michael Gratz, Executive Director for R&DE Stanford Hospitality & Auxiliaries, whose department oversees campus retail dining, catering, stadium concessions and vending operations, as well as the Stanford Guest House. "The high demand for housing and services, combined with the strong labor market and low unemployment, indicate a positive economy."
Challenges facing Stanford's R&DE team include "limited availability of housing for staff and students alike, so people are living farther away and experiencing longer commutes," Gratz says. And as the university's physical campus and population grow, "we need to continue to focus on long-term sustainability. And, as students expect foodservice availability around the clock, we are seeking cost- and labor-efficient ways to meet those needs."
Two major Stanford initiatives will help address some of the challenges facing R&DE. "Stanford will be opening a new campus this year, about seven miles away in Redwood City—the first significant expansion to the original campus," Gratz says. It also plans to open a new graduate housing project. "When Escondido Village Graduate Residences opens in '20, it will increase graduate student housing capacity by almost 20%." Gratz and his team keep a close eye on advancing efficiency and sustainability, particularly now as the industry faces increasing service demand during a labor shortage. The year ahead will see continued investments in energy-efficient equipment and supplies; growth in services through online ordering, robotics, digital menus and mobile food preparation; new educational opportunities for staff and students via learning labs and campus gardens; and continued reduction in environmental impact with compost, recycle and reuse programs and leverage of the university's Sustainable Energy System Innovations initiatives.
"We are always evaluating new technology for its ability to create efficiencies," Gratz says. "For example, we're improving automation of foodservice delivery, and are currently piloting robotics around campus—initially for coffee, smoothies and salads—to keep up with the 24/7 student demand. And each year we explore new sustainable equipment and supplies in support of the university's goal for a zero-waste campus by '30."
EAT'N PARK: Steady Ahead
E. Andrew Dunmire, AIA, LEED AP BD+C, V.P. Design & Construction
Eat'n Park Hospitality Group, Homestead, Pa.
No. of Units: 78 (Eat'n Park-68; Hello Bistro-8; The Porch-2)
Units Planned for 2019: 3 Hello Bistros
"Our growth strategy is to continue to solidify our core markets while exploring new ones," says Andy Dunmire, V.P. of Design & Construction for Eat'n Park Hospitality Group, Homestead, Pa. "The economy seems to be improving, judging by our rising guest counts and check averages."
At the same time, the stronger economy also brings labor challenges. "We're seeing the labor pool shrink, and workers who are willing to change to new jobs more readily," says Dunmire, confirming retaining labor is a challenge for the chain. The company is keeping a close eye on minimum wage news, and makes a point of reviewing company benefits to stay competitive.
Eat'n Park brands' biggest growth area—and focus for Dunmire and his design team—continues to be carryout. "We've added call-ahead windows for Eat'n Park and Hello Bistro locations, and we take orders from our website and our app. The percentage of carryout business has doubled in the past two years."
From an operations point of view, the carryout surge has required back-of-house adjustments. "We've increased staging areas for carryout and added speed tables and hot holding equipment, including soup wells, so orders can go out faster, and no one has to trek across the kitchen," says Dunmire. To date, the company has modified about 80% of Eat'n Park locations.
Hello Bistro, which debuted in 2012, is perfectly positioned to meet carryout demand. "Our guests want food that's freshly prepared, served fast and travels well," Dunmire says. With its menu of "ginormous" salads and burgers, soups and sandwiches, Hello Bistro is "right in the sweet spot," Dunmire says. The company plans to open about three Hello Bistros per year for the next few years. By contrast, the company will replace or update older Eat'n Park locations rather than open in new markets.
Improving back-of-house efficiencies has been an ongoing project for Dunmire and his team. "We're looking to right-size equipment based on sales volume, and there is still a lot of low-hanging fruit," Dunmire says.
Example: ice machines. "These perform better when they work harder and more steadily. A bigger bin with a smaller ice machine will last longer than a larger ice machine that cycles less frequently, we've found," Dunmire says.
Second example: hot water tanks. "We are in year two of testing a new brand of hot water tank," Dunmire says. "The previous five brands we've tried have only lasted about three years before failing."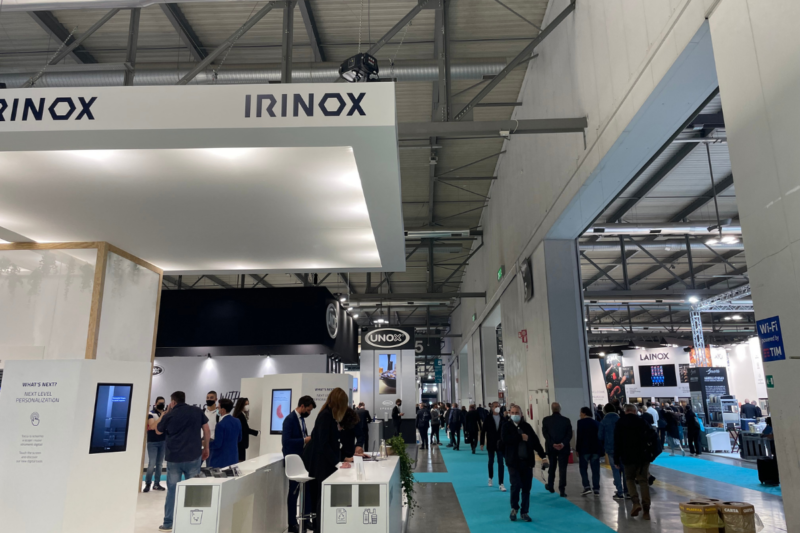 Events
HostMilano, one of the largest foodservice equipment shows in the world, kicked off today in Italy, and FER is on location.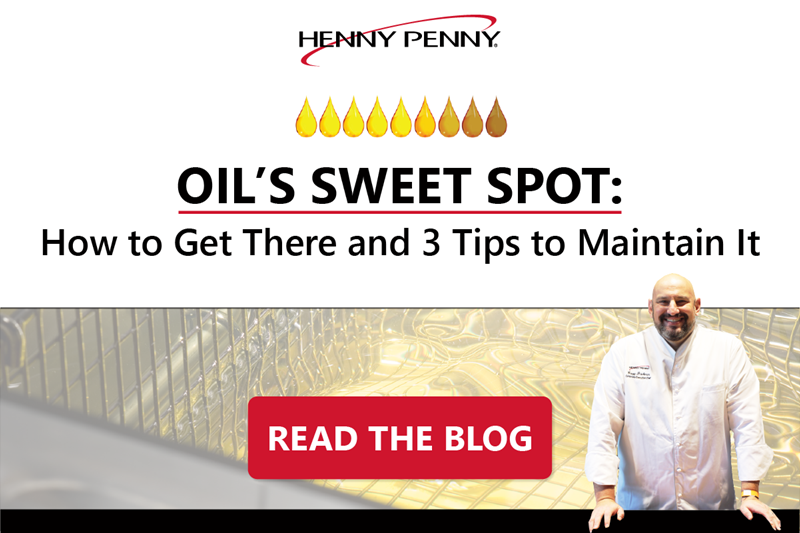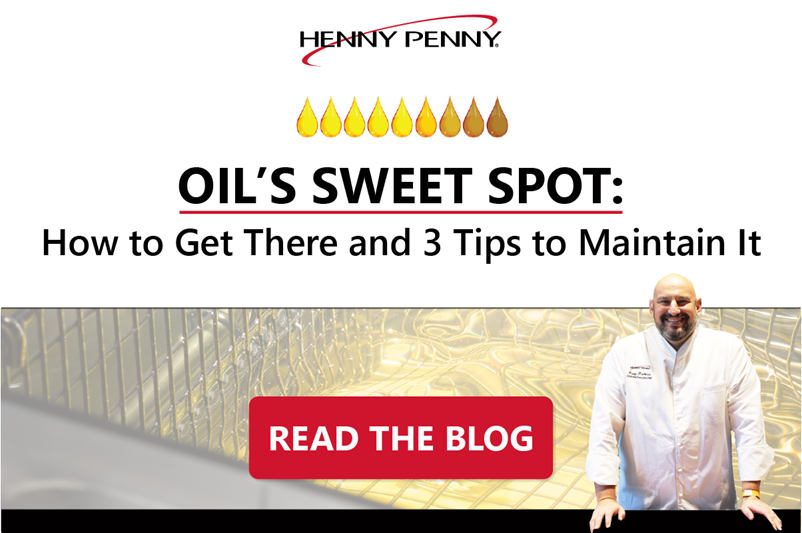 Uncategorized
Like many in the world of foodservice, you may assume that cooking oil performance is at its peak when you first start using it — but did you know there...