How, When and Why to Spec Custom Fabrication in Your Kitchen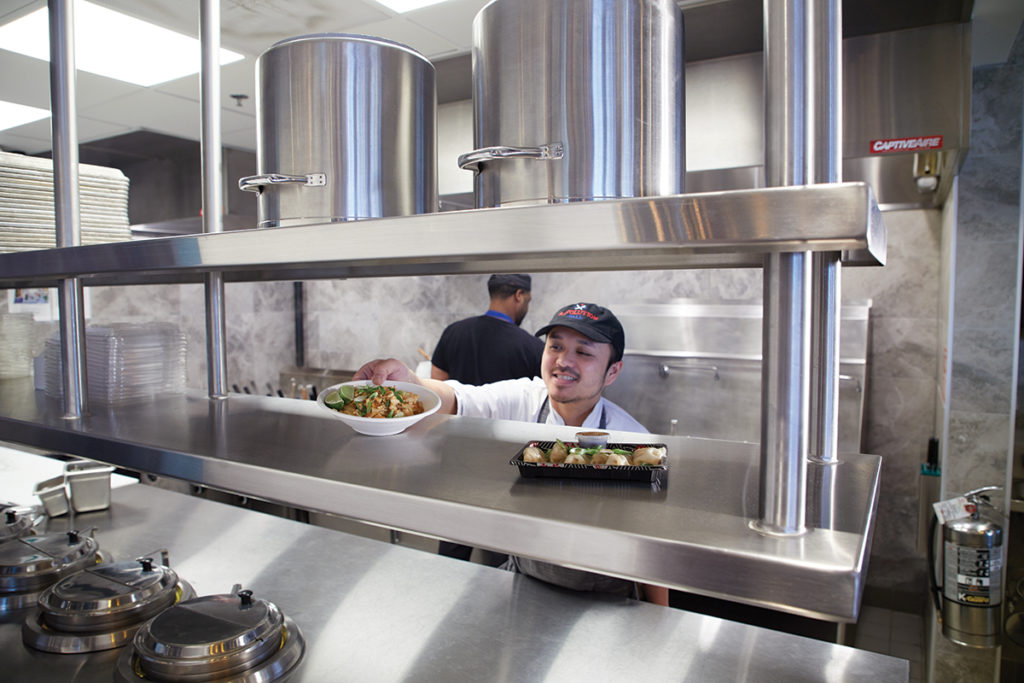 Look up fabricate in the dictionary, and you'll come across definitions like "invent," "create," "construct," "build," "manufacture," "produce" and "make up."
When it comes to communication, fabrication is at best a good story and at worst intentional deception. But as far as your kitchens are concerned, fabrication is a must.
In the back of the house, you count on fabricators to provide you with sturdy, durable worktables, prep sinks, hand sinks, shelves, panels, backsplashes, dish tables, and much more. And you can buy many of those types of products out of a manufacturer's or fabricator's catalog. These off-the-shelf products come in a wide range of sizes, making it relatively simple and cost-effective to outfit a foodservice kitchen with basic needs.
Custom fabrication provides a number of benefits that not only can justify higher upfront costs in terms of value, but also provide a pretty quick payback on the premium you might pay. And many large fabricators offer what can be a happy medium between off-the-shelf products and an all-custom kitchen—stock products with add-ons or drop-ins such as a prep table with hand sink, or a worktable with shelves.
While typically more expensive, custom products sometimes can be less expensive than the combined cost of three or four stock products they replace. And if you have multiple units where the custom piece will be used, costs will likely quickly come down on a per-unit basis compared to a one-off.
You have a lot of choices, so when does it makes sense to spec custom fabrication, and how do you vet a good supplier? First, it helps to understand the three basic reasons why you'd want custom-fabricated products or equipment—fit, function and form.
Fit – Whether you're building a new unit from scratch, building out an existing space or remodeling, there are a couple of reasons you might want the bespoke fit of custom fabrication. "Real estate, or lack thereof, is the largest cost of any operation," says Robert Doland, FCSI, Jacobs Doland Beer, New York. "To be able to fit that space with just the right amount of what you need is a big benefit." Counters or worktables can extend all the way to walls without conforming to the nearest 12 in. or leaving gaps. That's more space for landing dirty dishes, salad prep or countertop equipment.
Just as important is sanitation. "Equipment that's fabricated to better fit the space is easier to keep clean and sanitary," says Eric Weiss, Presi- dent and CEO, elite | studio e, Farmingdale, N.Y. Seamless construction means no gaps or crevices for food to get in, and is safer for employees, too.
Function – Depending on both your menu and your production flow, you may require a specific layout or equipment in a certain spot to achieve operational goals. You may want a recessed hand sink built into a prep table, for example, to make employees at that station more efficient.
"Being able to customize ensures the efficiency of a particular work flow," says Doland, "and also provides for everything that's needed for the task without having to run back to a storeroom or adjacent prep station. Having everything needed on hand and in its place is worth far more over time than the initial cost of fabrication."
One fabricator cites a client with a chain of movie theaters that offers a full-service menu during showings. Dirty dishes come into the kitchen all at once at the end of a movie. Designers specified a larger than normal landing table in the dishroom to handle the load. Another manufacturer noted that refrigerated chefs' tables are a commonly custom ordered piece.
The advantage of a custom piece, as opposed to simply cutting a hole in a stock table and drop- ping in a sink, is that it will be all of one piece with no flanges and no caulk. That's both safer and more sanitary.
Custom pieces specifically designed for a task or station also tend to be structurally stronger than combined stock pieces. "Fabricators can design fortification into certain areas," Doland says, "which helps them stay useful longer than standardized items."
Form – While function takes precedence when fabricating custom items, form sometimes comes to the fore once the function solution is found. Open kitchens, chef's tables, serving lines that back up to the kitchen, essentially any prep, cook- ing or service area visible to your customers is ripe for customization. The point being that you want equipment to look as good as it performs.
Good fabricators can produce practically any creative project your designers can dream up, and many have both design and engineering staff to make sure the end product truly is as functional as it is beautiful to look at.
While back-of-house fabricators work primarily with stainless (and other metals), customizing the look often means working with other materials. One major fabricator is known for butcher- block tops, for example, and many of the larger manufacturers are accustomed to fabricating for the front of the house, too, which means using everything from glass to quartz, marble, laminates and surfaces like Corian in addition to wood.