Food Shields: An Essential Part of Your Kitchen Lineup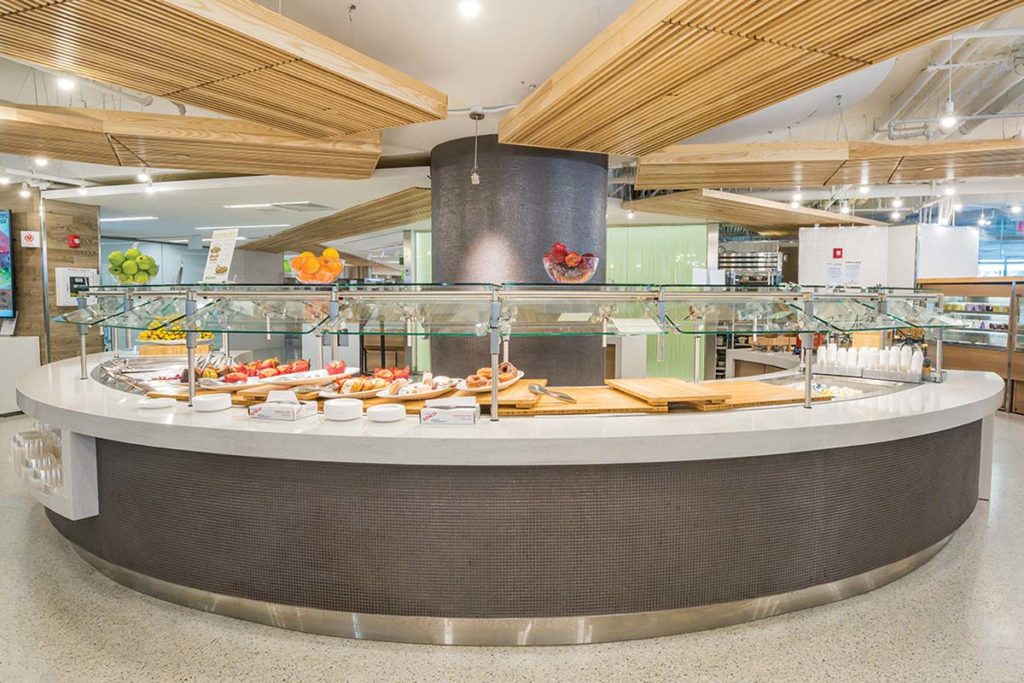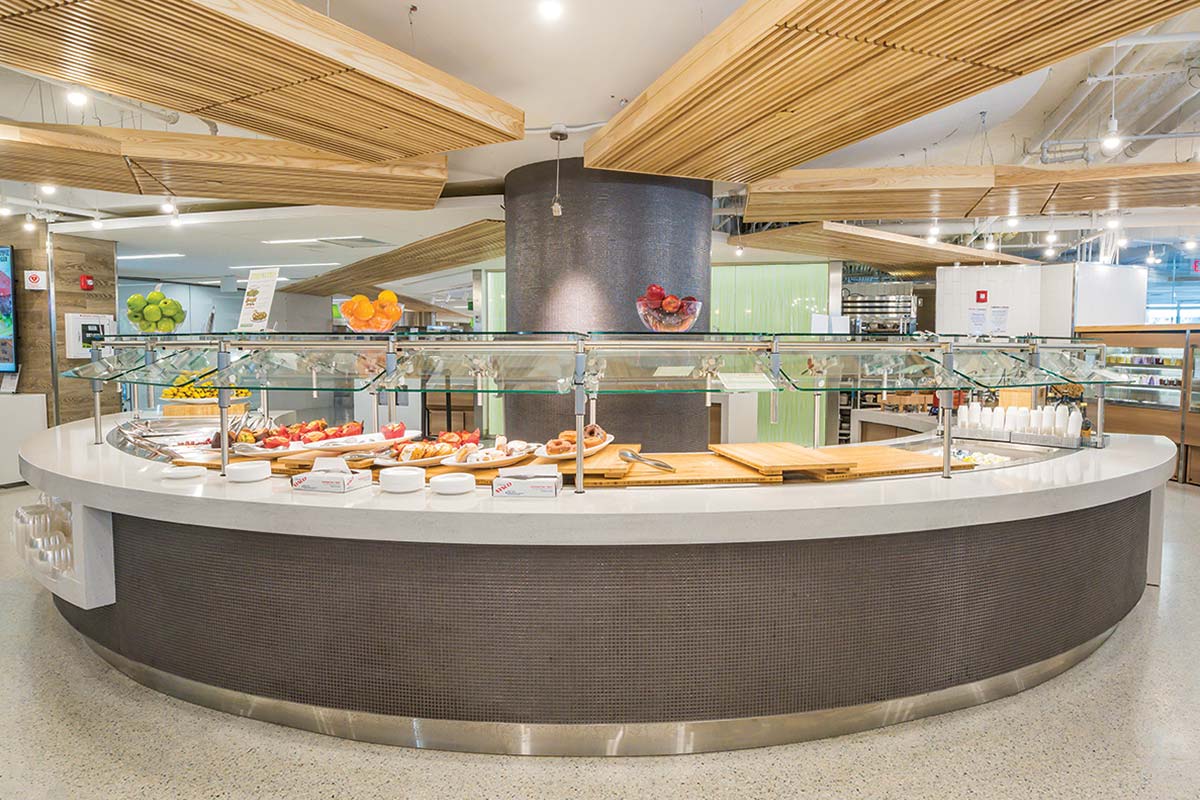 When going through a renovation or new build, it's easy to overlook the importance of food shields. And the truth is, when designed well, shields should go unnoticed, blending seamlessly with the serving counters and showcasing your menu items.
But food shields—also called sneeze guards, food guards or breath protectors—are an essential part of your equipment lineup. These clear panels are the lens through which customers view your merchandise. Plus, nearly all health jurisdictions require food shields, which serve as a barrier between the mouths of guests and unpackaged food, minimizing potential contamination.
Don't treat food shields as an afterthought, says one manufacturer. "Custom food shields are pretty expensive these days. Make sure you maximize the value of your food shields for aesthetics and durability."
Food-shield installations range from basic portable guards that can sit on a countertop for a temporary breakfast buffet to custom-built, permanently-mounted food shields stretching across 10 platforms with varying types of service styles, from full-service to self-service to vertical partitions. Several makers sell food shields as integral components of service-bar packages but this article focuses more on stand-alone, often custom-fabricated, models.
Makers have offered many notable advancements in the equipment category in recent years. "Food shields started out as really bulky, kind of eyesores, but with the styles now available, they've actually become a nice aesthetic feature on serving lines," says one manufacturer.
Read on to learn about the different food-shield styles, mounting basics, add-ons available and how to care for your investment.
Quality Materials
Makers construct food shields using either glass or acrylic panels and stainless or aluminum frames or other supports. Installers attach the shields directly on top of countertops or mount them from underneath. Portable guards sit on countertops. Available curved or flat, glass panels are the most common choice for permanent food shields. Typically measuring 1/4-in. or 3/8-in. thick, the panels boast tempered or laminated glass, protecting guests and employees in case of breakage. If damaged, tempered glass breaks into tiny, harmless fragments; laminated glass has a polyvinyl butyrate layer between two panels of glass, holding the glass shards together if they happen to shatter.
Flat glass panels, depending on thickness and depth, have a distance limit of about 60-in.W before they start to deflect under their own weight. Some makers can stretch bent tempered glass panels up to 92-in.W between posts. The height of the panel depends on the service style.
Manufacturers use acrylic panels when building portable guards because the material is lighter. But acrylic may scratch easily or fog if employees use the wrong cleaner. Portable guards make sense when serving guests in an area not originally intended for foodservice applications or for banquet-style services.
Stainless or aluminum frames can have hollow or solid, round or square posts that generally measure 1-in., 1 1/2-in. or 2-in. in diameter or square. The finish options for posts are almost endless. At least one maker offers different materials other than the usual metal for posts, helping you achieve an original look.
The company worked with a client who had a shipwreck-themed servery. The client requested the frames appear to be salvaged material, and so the company built posts using seal-coated angled iron.
Frameless, UV-bonded food shields are another option. This minimalistic design gives guests an even clearer view to the food with no structural components in the way.
Style Selections
When you're ready to specify shields, plan out how employees will serve guests at each platform. Your answer will determine which styles to choose.
Full-service food shields make sense at platforms where employees are plating food and passing it to guests. Use self-service food shields at counters where guests are serving themselves. Vertical partitions work well in places where you want guests to view cooks preparing food but employees are not passing plates to guests. Canopy or island-style shields fit dual-sided, self-serving counters, such as a salad bar in the center of a servery. Multi-tier shields feature upper display shelves for holding clean plates, for example, and angled, self-service panels on the bottom tier.
Don't confuse convertible food shields with adjustable food shields. Convertible food shields allow you to fluctuate between full-service and self-service and do so while complying with code. This flexible style is the go-to option for many operators. For example, set the panels in self-service mode for a grab-and-go breakfast station in the morning, serving on-the-go guests and then switch the panels to full-service mode for an employee-plated comfort-foods station at lunch.
Adjustable food shields generally only allow you to adjust the angle of the panels on self-service models.
"Not all adjustable food shields can be either full-service or self-service because the glass panels don't always close to the proper measurement to meet NSF requirements," notes a manufacturer.
If you plan to regularly switch service styles, be sure to ask your designer the right questions. For example, does switching the shields from self-service to full-service leave a gap between the bottom edge of the glass panel and the countertop? If so, the gap must be only so high to meet NSF standards. Or if you're switching from full-service to self-service mode, will the edge of the angled glass panel push customers too far out to reach the food? Some makers will shorten the height of posts so that the glass panels are shorter when used for self-service style.
Meanwhile, decide whether you really need convertible food shields. "Balance your wants and needs with your budgetary constraints," says a manufacturer. "Many end-users end up setting these food shields in place and leaving them. The glass is heavy [about 35 lb.] and some operators don't feel comfortable having their staff adjust the panels every day."
Brackets on convertible and adjustable models are a key differentiating factor between manufacturers. Many leading companies sport patents on this type of technology.
"You'll want to work with a manufacturer that builds brackets that don't require tools to adjust the panels," says one manufacturer. "Look for equipment that lets employees maneuver the panels simply by loosening hand-tightened knobs." And while most adjustable food shields rotate (some models a full 360°), at least one maker offers shields that also have a vertical adjustment mechanism, allowing you to slide the panels up and down the posts to adjust the height.
When specifying food shields, think about whether you require pass-over shelves. Top shelves typically measure 8-in.D but in some cases, end-users request 18-in.D or 24-in.D shelves to accommodate shorter staff members who can easily set plates on the shelves and push them toward guests. If you opt out of deep pass-over shelves at full-service counters, determine how employees will hand plates to guests. Do you need to leave space at the end of the food shield to allow room for employees to pass plates to guests over the counter?
Finally, if your 30-ft. serving line requires multiple styles, from vertical partitions to self-service to full-service, for instance, ask your designer how they plan to tie them all together seamlessly. "Installations look well-thought out—more fluid—when you have an integrated lineup as opposed to having two guards that are side-by-side, each with end panels, for instance," says a manufacturer.
Counter Connection
Mounting food shields correctly requires close coordination between the food-shield maker and countertop manufacturer. Several makers can supply you with both counters and food shields, but most companies ship the shields to the countertop maker for installation.
"In new construction, ensure that whoever's building your food shields and whoever's building your counters are communicating with each other," a manufacturer says. "You can select really high-end equipment, go to install it and then find out that the food-shield posts are in the wrong place. Coordination is key."
Designers organize food shields on counters so that they work in harmony with the equipment below. Glass spans and equipment in the counter will dictate where posts are mounted. Food shields with front and rear posts are typically screwed straight into the countertop. Food shields with a cantilever design—a front panel with a top shelf and one support post at each end of the span—often require heavy-duty support from underneath the counter. Undercounter mounting has become popular because it's quicker to wipe counters clean when compared with surface-mounted support flanges, which can collect food debris.
Notable Add-Ons
Maximize the value of your food shields by taking advantage of the growing number of accessories available— from merchandising components, such as food-holding trays or bowls that attach to (and detach from) the posts—to digital displays, heat strips or heat lamps and light tubes.
"By strategically using add-on merchandising components, operators can take advantage of impulse purchases and increase their average ticket," notes a manufacturer. "Displaying nutritional or allergy information has become more important and so some food shields now incorporate digital displays to share that information."
The digital displays are LCD screens, varying in size, that attach directly to the food shields. Through a USB flash drive, the screen enables you to display information conveniently at guests' eye level. No more taping notecards to panels.
Heat strips or lamps are typically not required on food shields if the serving counter already includes hot-holding equipment. But if the counter doesn't have this equipment and you need to keep pizza slices or other menu items warm, heat accessories will hold the items around 145°F.
Adding fluorescent or LED lighting to food shields enhances the appeal of menu items. Some designers consider food shields the equivalent of jewelry cases, showcasing your merchandise as well as protecting it. Fluorescent works well if you're on a tight budget but LED uses less energy, eventually leading to cost savings, and puts out minimal heat, which is ideal for cold products. If adding these fixtures doesn't fit within your budget, consider dropping down lights from the ceiling or soffit to achieve good lighting.
Look for a manufacturer who skillfully integrates these add-ons. High-end makers will conceal as much of the electrical wiring and bulky strips as possible, as opposed to bolting the fixtures to the food shields without any concern for aesthetics.
Guard Care
When it comes to caring for food shields, it's all about keeping them clean. Much like all other equipment in your servery, these shields can collect grime and food debris. At a minimum, after every shift, employees need to wipe down the panels with an approved cleaner and clean the frames with a sudsy, damp cloth followed by a dry towel.
As for maintenance, depending on the level of usage, the brackets on convertible and adjustable food shields may break or need to be tightened. Other repairs may include replacing a heat lamp or a light bulb, if your equipment features these accessories. Overall, food shields are durable pieces of equipment, and so long as plates or utensils don't collide with the panels, you can typically rely on them for a decade or longer.
Food Shield Dos And Don'ts
Don't treat food shields as an afterthought.
Ensure the food-shield maker and countertop maker are communicating with each other.
Do consult with your local health department about food shield requirements.
Choose well-constructed, easy-to-use brackets on adjustable or convertible food shields.
Double-check whether your convertible food shields will meet code in self-service and full-service mode.
Don't specify such a shallow top shelf that your shortest staff member can't pass plates to guests.
Ask how your designer plans to seamlessly tie together all the different food-shield styles on your serving line.
Choose a manufacturer who will skillfully integrate add-ons, including digital displays, heat accessories and lighting.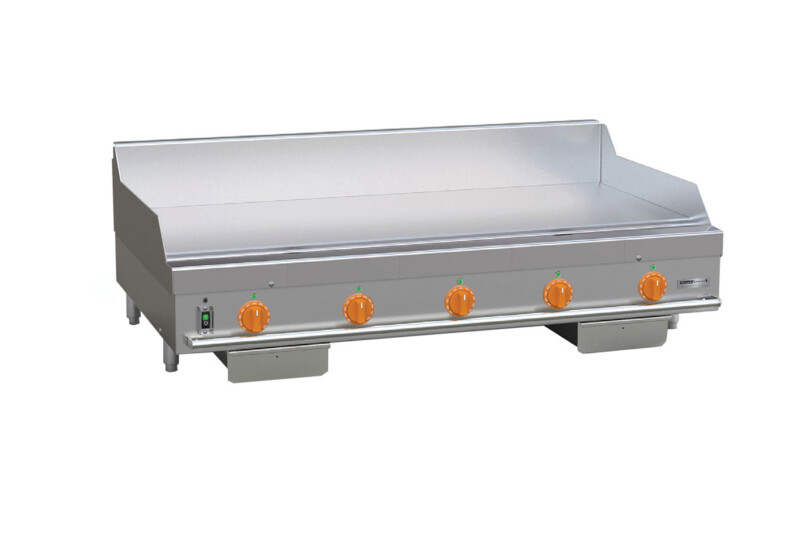 Cooking Equipment
Planchas, though convincing clones of their better-known sister product the griddle, quickly set themselves apart.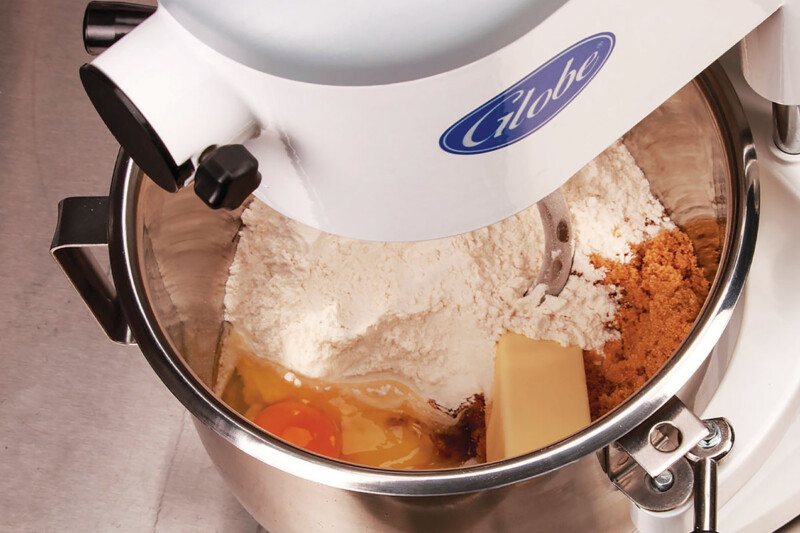 Equipment
The countertop mixer is the Swiss Army knife of the kitchen—small but mighty, with the power to perform various functions.