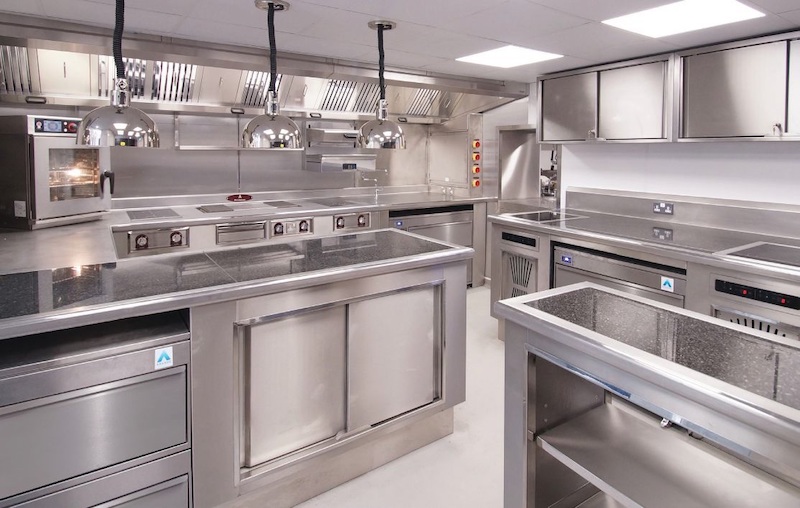 Foodservice operators at healthcare facilities face the challenge of serving more varied and healthful menu items with less available kitchen space. Refrigerated bases help achieve this goal by maximizing floor space and giving kitchen employees easy access to refrigerated and frozen ingredients at their cooking stations.
Also known as chef bases, these units provide a heat-shielded top for placing countertop griddles, fryers or ranges on the cookline with easy-to-pull-out refrigerated drawers below. With ingredients available right at the station, employees won't have to continually leave their post to grab what they need from larger refrigerators or freezers located elsewhere in the kitchen.
Manufacturers offer a variety of styles and options, but nearly all come in two-, four- or six-drawer configurations. Widths vary most commonly between 36-in. and 110-in. Some manufacturers offer custom sizes based on your available space or your specific equipment lineup on top. Whether stock or custom, all widths of refrigerated bases come with standard drawer sizes accommodating standard size pans (typically 12-in. x 20-in.) for holding food. Will you need 4-in.D or 6-in.D pans? Make sure the model you choose takes your pan size; the drawers of some models hold only one size, while other models accept 6-in.D pans in one drawer and 4-in.D pans in another.
Standard drawer sizes, despite custom cabinet widths, means easy repairs using off-the-shelf gaskets and other parts.
Temperature Range, Condensers
Broadly, chef bases offer temperatures from 28°F-54°F (different models have limited ranges within this temperature spectrum), providing either short-term refrigerated or freezer storage. Foods needing long-term storage should still be held in traditional walk-in or reach-in coolers.
Consider condenser placement and airflow vents when looking at chef bases for your space. Many bases come with condensers mounted on the side. Front-breathing units have both intake and exhaust vents in the front (intake on the bottom where ambient air is cooler and exhaust leaving at a higher level), while some units exhaust air in the back. Check for proper clearance space from the wall(s) before installing the base.
Cooling With A Difference
In traditional chef bases, fans blow refrigerated air through the drawer cavity. Some come with one fan, others come with multiple fans for more uniform cooling.
At least one manufacturer relies on gravity to naturally drop cold air from the top of the unit down through the insulated drawer inserts. These units, in one- or two-drawer configurations, come with a separate condenser for each drawer, gently dropping cold air over the contents and keeping the food from drying out and reducing shrinkage. Once the cold air passes down over the food, fans extract the cold air and send it around the system again.
While traditional bases act as either refrigerator or freezer, this manufacturer's bases give you the flexibility to change the temperature between -8°F-59°F in 0.1°F increments. It also offers "matchbox" units which offer drawer access from front and back, allowing employees working across the station from each other to pull ingredients from the base.
The Dish On Drawers
Constant use is going to give your drawers a beating, so make sure yours are built to take it. Consider the sliding assemblies, including slides and ball bearings, and choose what might hold up best and is easiest to repair.
Drawers typically hold 12-in. x 20-in. pans either side by side or front to back. With front-to-back configuration, at least one maker maximizes capacity and airflow; the configuration leaves more room for the refrigeration system and boosts the overall performance of the equipment. Side-to-side design, however, minimizes the chances of food spilling from one pan to another when the drawer is opened or closed. At least one manufacturer provides full extension of its drawers; this allows your employees to pull the drawer out all the way and easily lift the pans out without tipping them and possibly spilling the contents.
At least one manufacturer designed finger cutouts in the drawers that let you get your fingers beneath the pan for easy pullout.
Another maker warns against employees leaving the drawers open a little bit during busy times to speed up service. Not only does this keep the unit from maintaining proper temperatures, it also presents a hazard to anyone walking by.
Construction, Controls
Makers build most chef bases from stainless, although some have aluminum components. Because these units get used so often, heavy-duty construction is essential. At least one manufacturer uses ABS thermoplastic polymer for its interiors. The maker claims that unlike stainless interiors which absorb heat when the drawers open, ABS does not, minimizing temperature drop inside.
Some countertops are flat from edge to edge but most sport a marine top, a raised edge on all four sides. Not only does a marine edge contain spills from the equipment installed on top of the base, it acts as a barrier to that equipment, keeping it from falling off.
Mounting brackets that secure the base to the wall provide additional protection. Brackets are unattachable, allowing you to move the base when it's time to clean the area. Choose either casters or legs for your base, depending on how often you want to move it.
Heat shields are important if you plan to place hot cooking equipment on top of the base. Some are foamed-in-place, sealed polyurethane foam; some add a ceramic heat shield to the foam; and some are plywood layers. Excessive heat radiating from the equipment above will affect temperatures in your refrigerated base and possibly melt the insulation, voiding the warranty. For example, avoid removing the legs on the cooking equipment above to accommodate shorter employees. Legs create an air space between the equipment and the base; removing that layer of air transfers heat directly to the top of the base and increases the chances of affecting interior temperatures and damage to the unit.
More and more, controls are digital rather than manual. Not only do digital controls provide a more precise temperature regulation, some offer temperature and voltage readouts, high-temperature alarms, defrost cycle prompts and more.
One manufacturer's digital control system senses the need for defrosting based on use, rather than on pre-set time periods.
Maintaining Your Base
Given the amount of use (and abuse) your chef base is likely to get, plus all of the grease and debris it will get from the cooking equipment on top, it pays to keep up with cleaning and maintenance.
Periodically, disconnect the base from its power supply, open the drawers and let it come up to room temperature. From the inside out, clean with a solution of warm water and either baking soda, ammonia or vinegar, rinse with clean water and dry with a soft, clean cloth. Check your owner's manual for other cleaning specifics.
For longer equipment life, more efficient operation and energy use as well as consistent temperature control, clean the condensers at least monthly. At least one manufacturer offers a self-cleaning condenser (in which an integrated brush rolls up and down the coils several times a day to remove dust). In other models, regularly disconnect the power supply and hand-wipe dirt from the condenser with a semi-stiff brush or vacuum cleaner with a brush attachment.
Maintaining your base includes proper maintenance of the equipment on top. For example, a gas charbroiler shooting flames down at the chef base can cause damage to the unit. Take care of your base and it will take care of you.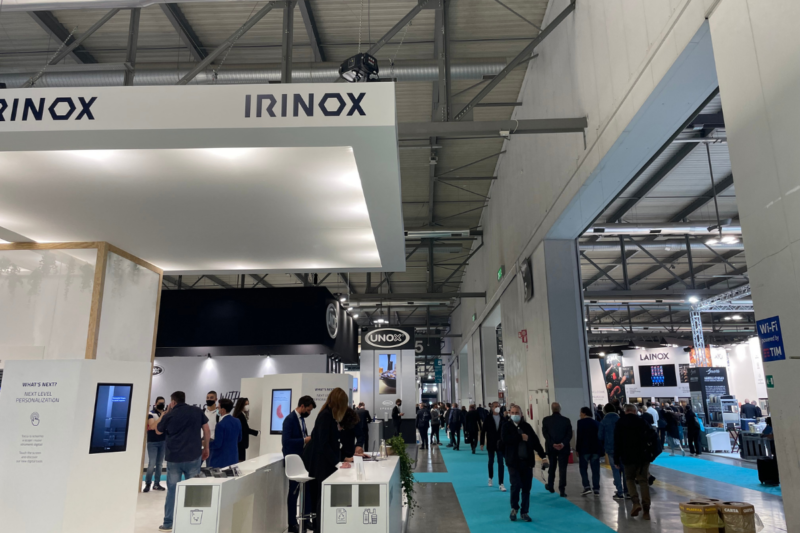 Events
HostMilano, one of the largest foodservice equipment shows in the world, kicked off today in Italy, and FER is on location.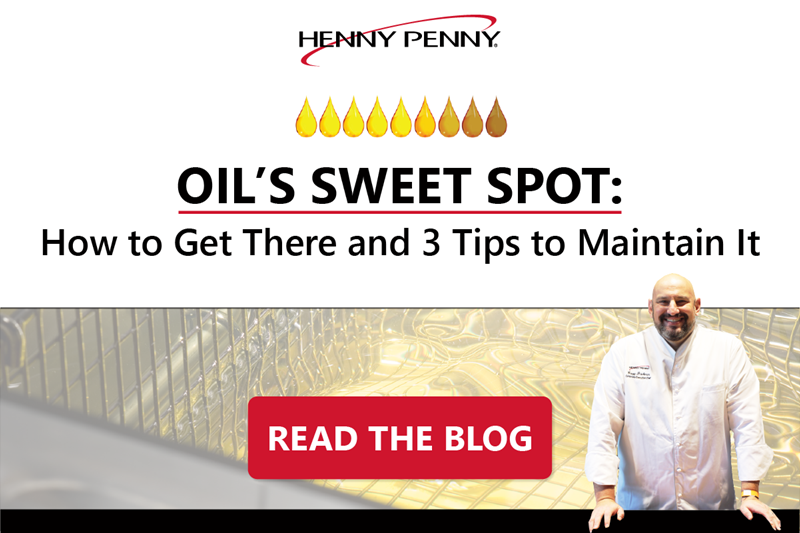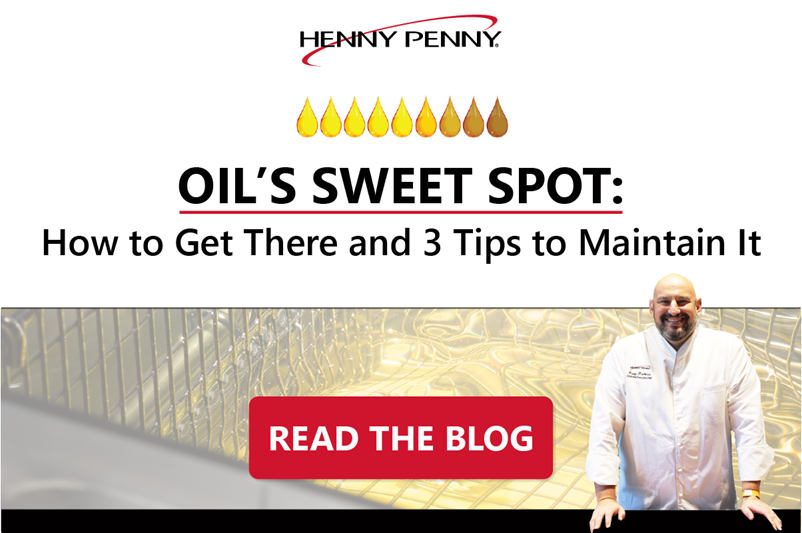 Uncategorized
Like many in the world of foodservice, you may assume that cooking oil performance is at its peak when you first start using it — but did you know there...