Hot Transport: Mobile Hot Holding Cabinets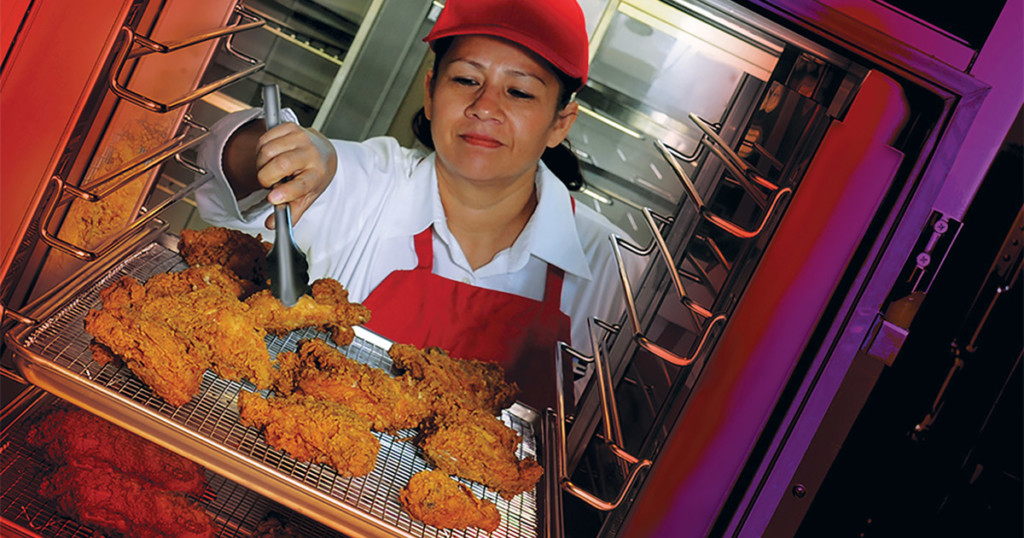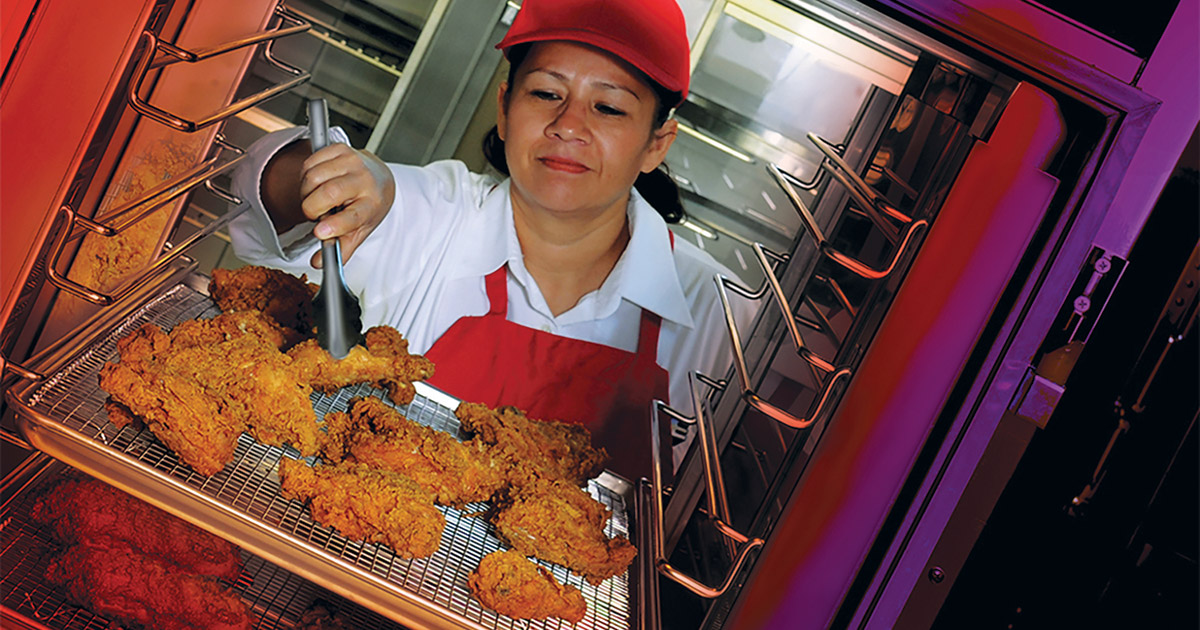 At one time or another, most foodservice operations need to move quantities of food from point A to point B. Whether you have a restaurant catering an off-site event, a commissary servicing satellite dining rooms or a production kitchen regularly moving food short distances, a hot holding cabinet on wheels makes the task easy.
While you may think these hot boxes are primarily for facilities that produce food in bulk, more and more operators of all stripes are putting them to good use.
Tracking the Trends
Several industry trends are fueling growth in this equipment category, and a number of new products have been introduced in the past several years as a result.
Takeout and delivery. Growth in carryout and delivery aided by the popularity of online and mobile ordering has created a need for operators to keep food hot and fresh while waiting for customer or delivery driver pickup. Hot holding cabinets have been brought from the back of the house to the front at the point of service to hold these orders. As such, manufacturers have upgraded the look of some models for front-of-house use, and some offer custom graphics as an option. One manufacturer even offers a "smart" self-service holding cabinet that unlocks a door to the compartment holding a customer's order with a QR code or PIN texted to a smartphone.
Catering. More operators are turning to catering events off-premise as an additional revenue stream, and often the venues selected are remote and off the grid, requiring equipment that's tougher and self-sufficient. Equipment manufacturers have come up with a number of products that offer alternative heat sources, longer-lasting heat retention and extreme durability.
Pop-ups, farmers markets and street fairs. As a way to test new menu items or new concepts or to market themselves locally, operators are setting up temporary shop. Mobile hot boxes let them offer more with less cooking equipment at sites with no kitchens.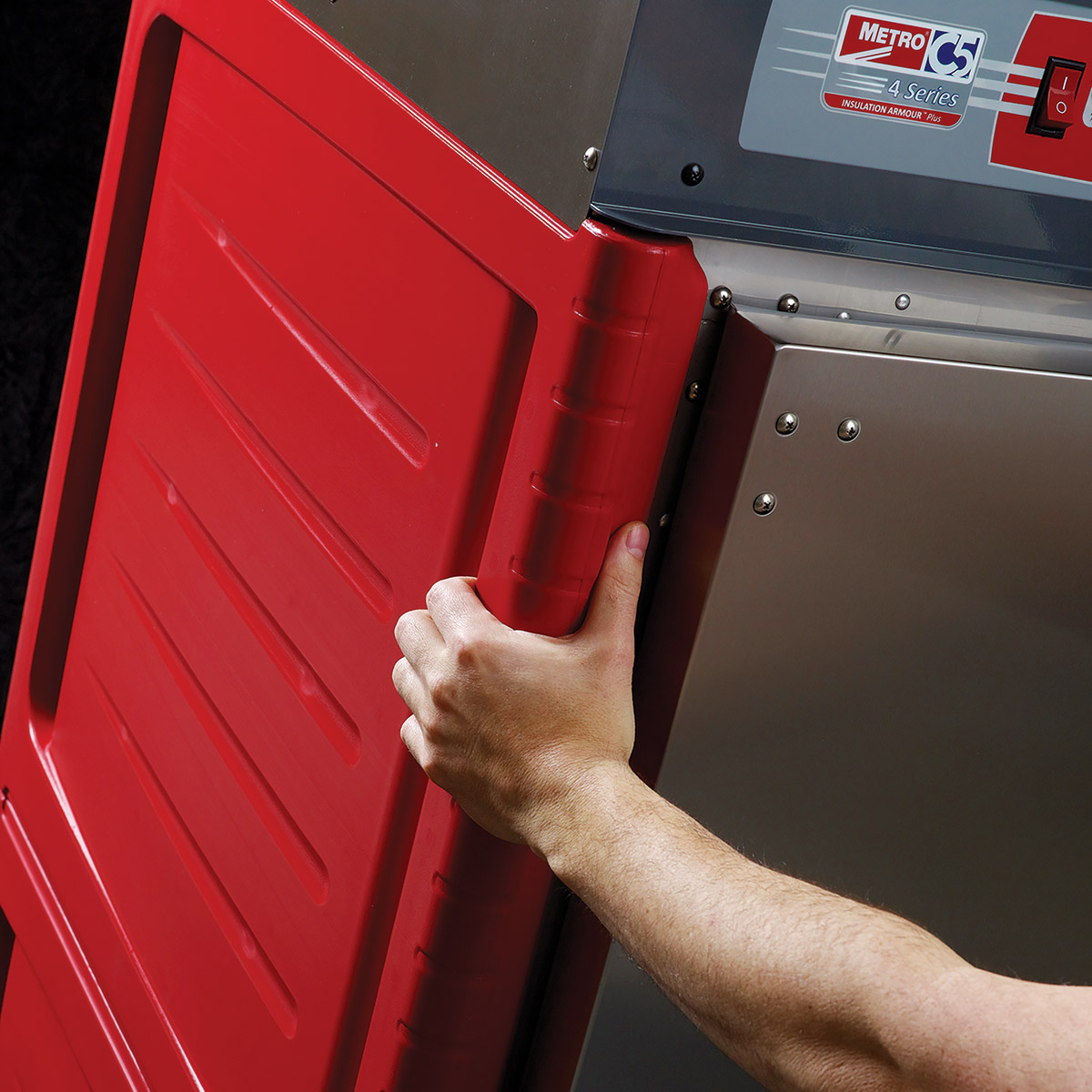 Pick a cabinet that best fits the level of mobility your application requires. This Metro/Ali Group C5 4 Series unit has panels that act as a full-body bumper for protection during transport.
Degrees of Mobility
Virtually all hot holding cabinets are on casters, making them all mobile. They're generally designed with three degrees of mobility in mind, however. Think of them like you would a family station wagon, a mid-size SUV with front-wheel drive and a true, fourwheel-drive off-road vehicle.
Non-insulated aluminum-construction and even some stainless models, for example, are designed to remain relatively stationary in the back of the house, keeping food warm to replenish a steam table or begin a meal service. There are heavier-duty insulated models, too, of course, but these cabinets are mobile only so employees can move them from one area of the kitchen to another to fill or empty them.
Satellite transport cabinets are the next step up in mobility. Designed to get food from one location to another—say from a hospital kitchen to a cafeteria in another building—they're built to take bumps and bruises, traverse varied surfaces and retain heat while unplugged for several hours if necessary.
Off-the-grid carts are designed for travel over rough terrain and operation in locales with no power. In addition to sturdy construction, features often include thick, foamed-in-place insulation, stainless or plastic-clad exterior, large pneumatic wheels and alternative heat sources such as propane or batteries and solar-powered controls and displays. Molded polyethylene hot boxes, though not always pretty, are the most ding-resistant and weatherproof, and may provide an economical alternative depending on your application.
Based on your volume, types of pans you use for food production, and the physical layout of your operation, you'll find a model size that fits your needs. Cabinets are available in full-size (typically close to 6-ft.H), ¾-size (between 54-in.H and 60-in.H), half-size (about 36-in.H) and undercounter models (less than 32-in.H) with a range of interior dimensions.
There are other heated cabinets and carts associated with specific types of foodservice, such as banquet carts or meal tray carts that deliver plated meals in hotel or hospital settings, but they're not part of this article.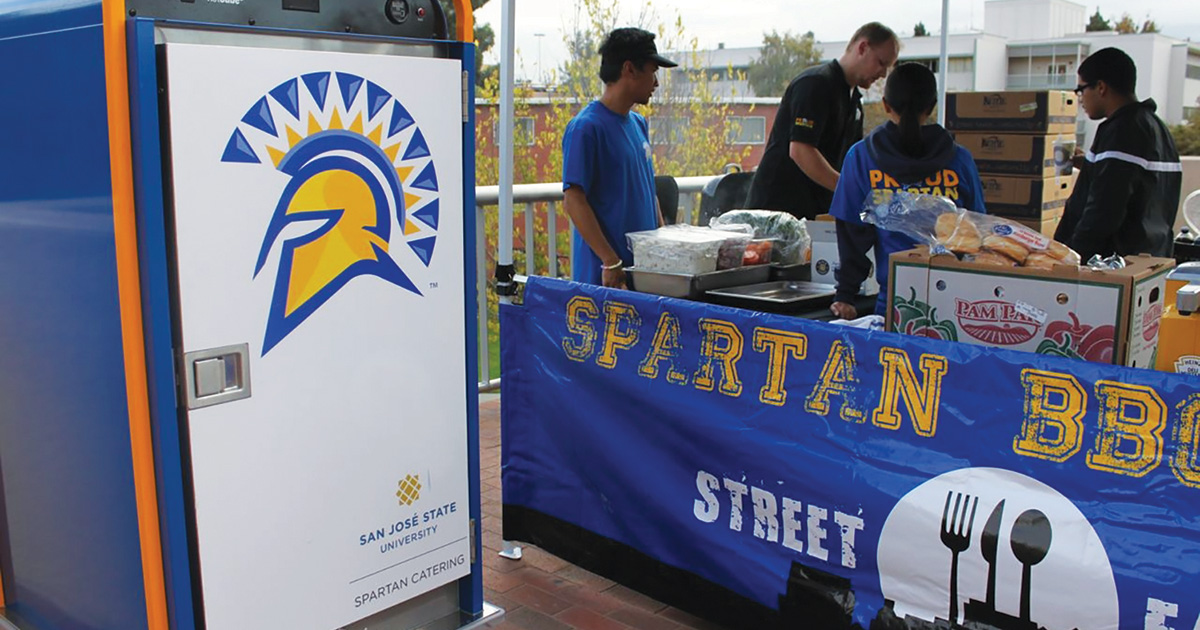 No electrical outlet? No problem. Certain off-the-grid hot holding cabinets use a propane fuel heat system to keep menu ingredients at safe temperatures. — Courtesy of Cres Cor.
In the Frame
Frame construction is a key indicator of what type of cabinet you're looking at. Molded polyethylene cabinets are rigid without frames. Makers construct both aluminum and stainless cabinets with steel frames that are either angle-iron or tubular. Heavier gauge steel (many are made with up to 18-gauge) usually indicates a tough box that can stand up to more abuse.
To reinforce the frame, several models come with a cross-brace in the back wall. Other models use tubular steel on each side of the doorframe and weld it to the base of the unit. An advantage is that door hinges and latches can fasten directly to the frame reinforcement instead of just the skin of the box itself. On the other hand, tubular steel takes up space which some makers say leaves less room in the double-wall construction for insulation.
Variations include one design that bends the top and side metal sheets inward to form a seam that's welded together. The seams act like a frame, giving the cabinet rigidity.
One maker uses a combination of steel and polymer construction, wrapping polyurethane foamed-in-place polymer panels around a steel-bodied cabinet instead of traditional double-wall insulated construction. The result is greater structural rigidity, better energy efficiency and heat retention, built-in handles and full-body bumper protection.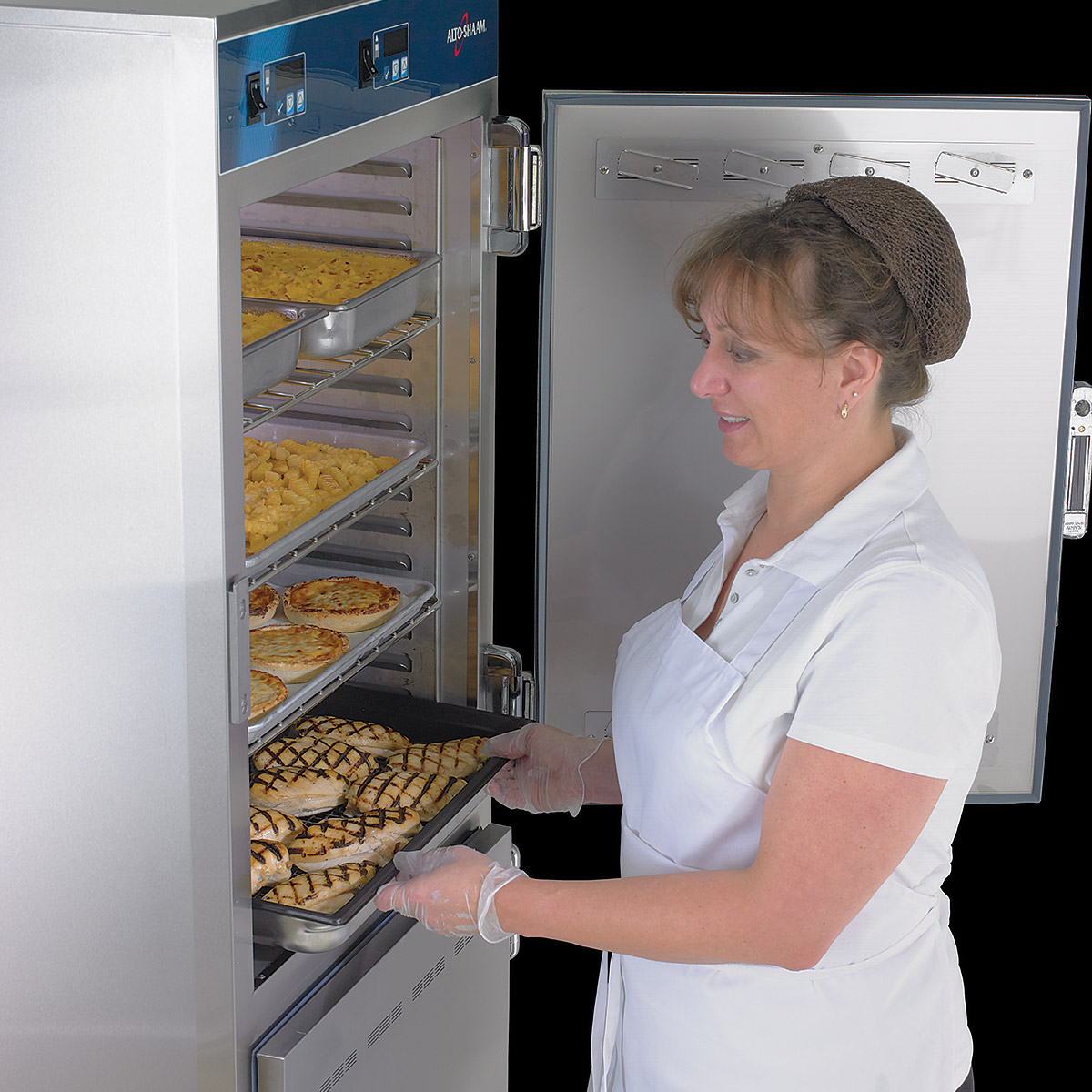 Stacked models let you individually control two units, which means more holding flexibility in one footprint. — Courtesy of Alto-Shaam.
Checking Sources
Manufacturers heat holding cabinets in one of several ways. Most limited mobility and satellite transport cabinets are heated electrically, though some insulated cabinets simply retain heat (and their holding time can be extended with canned fuel). Many off-the-grid cart models are nonheated insulated carriers, some are electrically heated, and some offer alternative sources of back-up heat in addition to electric. You have choices when it comes to plug-in models
Bottom-mounted. Heating elements mounted in the bottom of the cabinet or base of the unit let heat rise. Many are removable, either lifting out from a cut-out in the base or from a pull-out drawer, for service and cleaning.
Top-mounted. Models with heating elements on top typically require a fan to distribute heat evenly throughout the cabinet. As with bottom-heated cabinets, staffers can remove most of these heating elements so they can hose out the cabinet.
Convection. Some models have fans to circulate hot air through the cabinet, keeping food warm with convection. Heating elements may be top- or bottom-mounted.
Wraparound. At least one manufacturer designs models with heating elements in the walls of the cabinet, surrounding the food inside with radiant heat, eliminating the need for a fan.
Heating elements typically range in power from 600W to 1,000W for half-size units and 1,500W to 2,000W for full-size cabinets. Fans on convection units will use some additional power, so if you're concerned about efficiency, compare the numbers before you buy.
A note about convection units: Some models blow air up the sides of the cabinet in one direction to produce a counterclockwise swirl of warm air inside. One maker directs air up both the sides and rear of the cabinet for more airflow. Still others blow air up the back through a series of louvers that direct it across each layer of product from back to front for even heat distribution. Compare recovery times to see which type is best for you.
---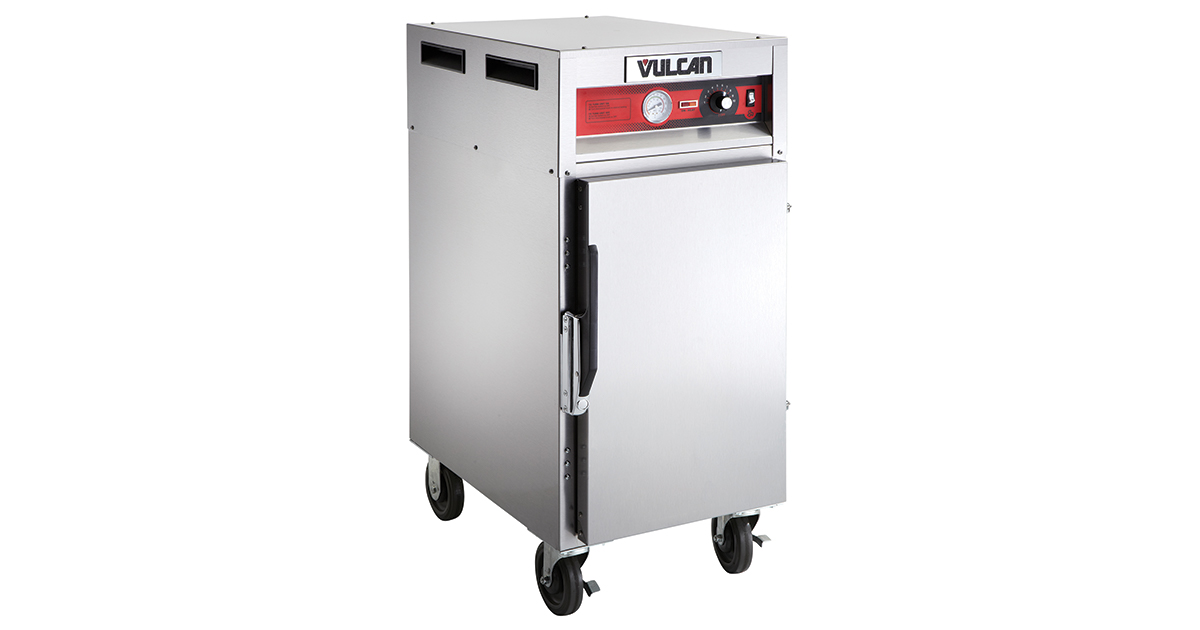 Recessed handles are a good option if the unit doesn't come with a bumper. Look for recessed control panels, too. — Courtesy of Vulcan.
Wet or Dry?
Since different foods hold better under different conditions than others, you also have the option of "dry" heat cabinets (for things like fried foods that need to keep crispy), cabinets with humidity systems and models that can be switched from one condition to the other. Those with humidity control range from simple to sophisticated.
All cooked food releases steam, so one way to control moisture is to cover food pans tightly. Some holding cabinets have an adjustable vent that employees can open to release moisture or close to retain it, an inexpensive way to control humidity.
Passive humidity. These systems let you fill a pan of water, usually about a gallon, in the base of the unit. The heated pan releases moisture. Drawbacks are that you can't control the level of humidity in the cabinet, and the pans can slosh water when the cabinets are moved.
Active humidity. Many models have separate, enclosed water tanks and heaters to control moisture in the cabinet. Controls range from manual settings for temperature and humidity levels to electronic monitors that use sensors to maintain the moisture level in the cabinet.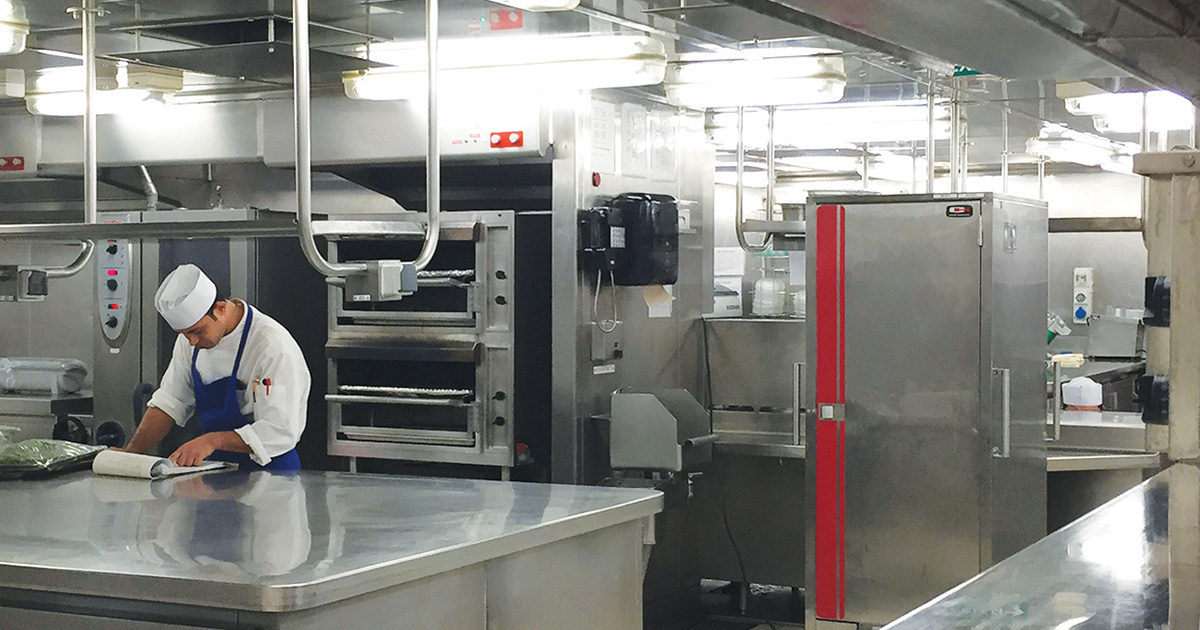 Consider your volume, pan types and operation layout when selecting what size cabinet you need. — Courtesy of Carter-Hoffmann.
Keeping It Hot
Holding time for an insulated cabinet that isn't plugged in usually runs about two hours, but can run longer depending on insulation and construction. Many double-walled insulated cabinets use fiberglass insulation that runs either 1½-in. or 2-in. thick. Some makers use foamed-in-place polyurethane insulation, which can retain heat even better.
Polyethylene or polymer-clad steel cabinets generally provide the best heat retention, with hold times running four hours or more without being plugged in.
Off-the-grid carts can hold product temperatures even longer using alternative heat sources such as propane or batteries.
Checklist for Choosing a Model
Ready to specify a mobile hot holding cabinet? Consider the following:
✓ Interior cube/design. Identify what you're holding, how much and in what types of pans.
✓ Footprint. If used outside the kitchen, check the cabinets fit through doorways, on elevators, around corners in hallways, in storage areas and on transport vehicles.
✓ Construction. Are cabinets built tough enough for the application? Frames, bases, latches, hinges, handles, bumpers, slide racks and casters all need to withstand bumps and bruises of everyday use.
✓ Heating system. Do you need dry heat or moist heat? One model may be able to handle both. If you want moisture, how much and how precise? Do you want convection heat? A removable heating unit? Look at the pros and cons of each system.
✓ Electric service. Where will cabinets end up? If there isn't electric service at all, can you use canned fuel? Check holding times when not powered up to see if it's well insulated for your needs. And don't forget cord sets—make sure cords are long enough to supply service once you get the cart to its location.
✓ Ergonomics. Do you want controls on top or bottom? Are employees strong enough to move large carts or are they better off with half-size cabinets? If employees are in and out of the cabinet a lot, do you want Dutch doors? Are handles well placed?
✓ Efficiency. Look for Energy Star-rated models, but compare energy costs to help you decide what's best for your operation
More Options to Consider
Hardware and cabinet size are important when selecting a mobile hot holding cabinet. Here's what to look for:
Doors. Choices include full-size or Dutch. Materials include stainless or clear Lexan.
Hinges. Common edge-mounted hinges may be fine for light use, but look for flush-mounted pin hinges that won't get whacked out of alignment or damaged in transport. Really heavy-duty hinges have reinforcement plates to which they may be welded or bolted, not just screwed in, so they're attached securely.
Latches. These, too, should be flush-mounted, not edge-mounted, for transport applications. They can latch mechanically or magnetically. Either can pop open in transit, so order a transit latch (which often can be secured with a padlock, too) if you use the cabinet for off-premise catering.
Handles. A good rule of thumb is to consider recessed grips if you spec cabinets without bumpers (see "What to Note About Bumpers" on pg. 32), and consider handles as long as they don't protrude outside the bumpers. Handles should be securely bolted or welded on, and it's a good idea to spec back-up reinforcement plates for heavy-duty use. Polyethylene or polymer-clad carts have handles or grips molded into the edges.
Slides. The ideal is cabinets with adjustable universal slides that can accommodate hotel pans or sheet pans. However, when you work with a rep or supplier, let them know what types of pans you cook or transfer food into, and they'll help spec the best interior arrangement of slides to accommodate the most product.
Guide to Casters
Casters are key to mobility. Those smaller than 5 in. really aren't designed for transport. Materials, positioning and whether fixed or swivel all play a role, too. For heavy-duty applications, casters should be welded or bolted to the base, preferably with a reinforcement plate for added strength. Use the following as a guide when studying casters:
Hard rubber casters. Commonly used on carts designed to stay in the kitchen.
Polyurethane casters. Best all-around casters, particularly on carpeted surfaces, they may have sealed roller bearings or Delrin bearings, which are a little harder to roll but require less maintenance in operations that use a cart wash.
Semipneumatic casters. Provide a more cushioned ride over hard surfaces, yet are still suitable for carpets. They require more force to roll than polyurethane.
Fully pneumatic tire casters. Tires with treads are best for outdoor use over hard surfaces (such as service drives) or uneven terrain.
Fixed or swivel. Most holding cabinet makers recommend specifying two fixed casters and two swivel casters for maneuverability. Some makers also design carts with casters in an offset pattern, so one caster can guide the cart over thresholds and bumps.
Brakes. Makers recommend at least two casters have brakes to keep carts stable during transport on trucks or once in position at the service site.
---
Mobile Hot Holding Cabinets Gallery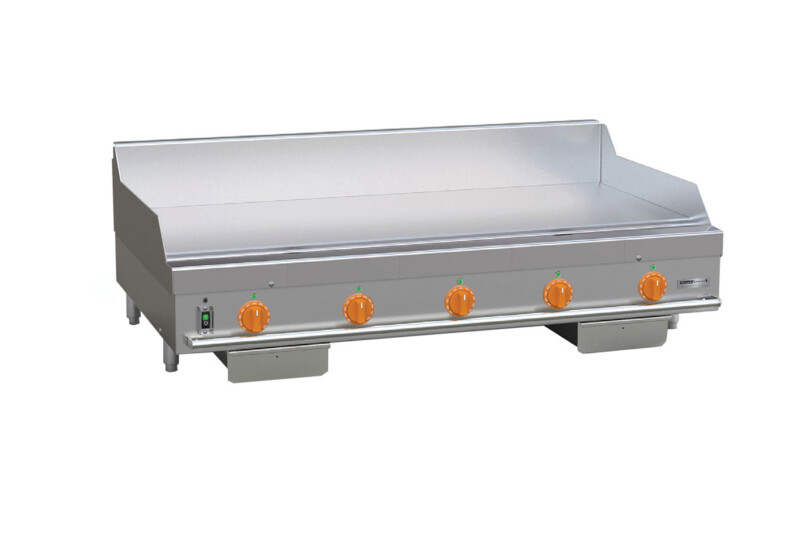 Cooking Equipment
Planchas, though convincing clones of their better-known sister product the griddle, quickly set themselves apart.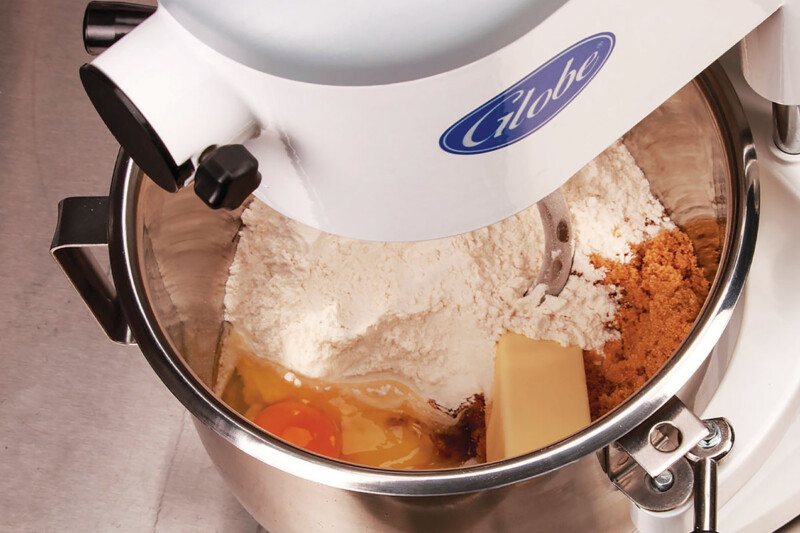 Equipment
The countertop mixer is the Swiss Army knife of the kitchen—small but mighty, with the power to perform various functions.