How to Spec Walk-In Coolers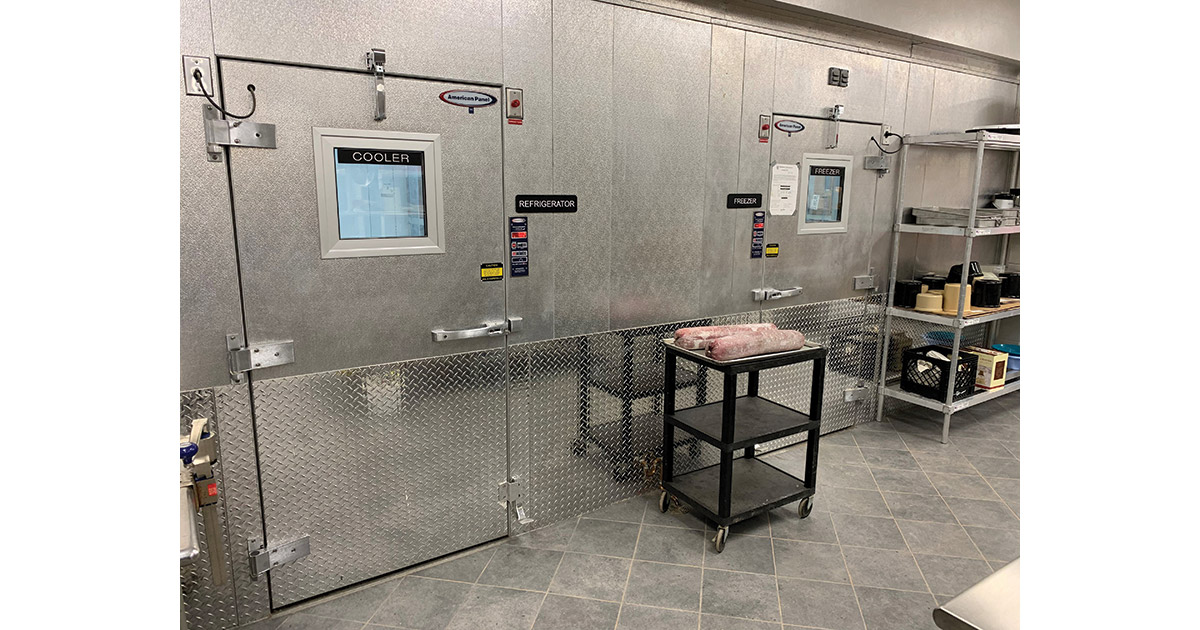 AMERICAN PANEL
American Panel custom manufactures walk-in cold rooms that fulfill many bulk storage needs. Panels are manufactured in 4-in. thickness and comply with all nationally accepted building codes. Foamed-in-place insulation offers the highest insulating value, reducing operating costs. Fiberglass reinforced polymer, used in door and frame, does not transmit heat and will not rust, warp, twist or support bacteria. Units are assembled and tested in American Panel's factory prior to shipment to ensure correct installation the first time.
---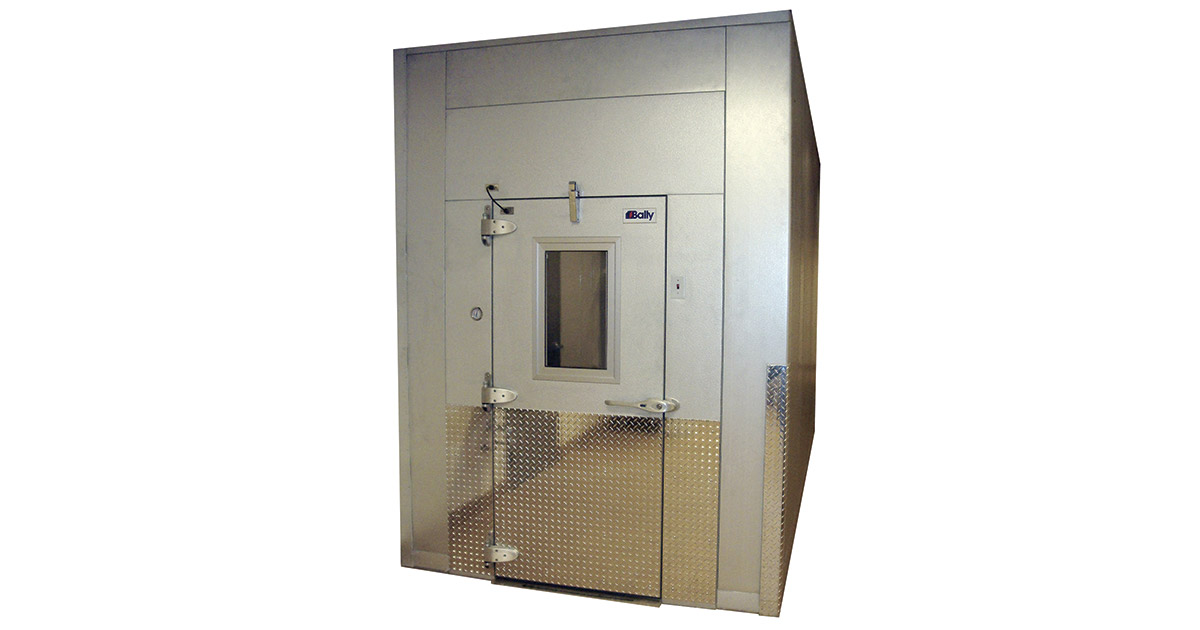 BALLY
Bally uses the same construction on its doors as it uses on its panels: nonozone-depleting rigid insulation, foamed-in-place and securely bonded to metal skins for structural strength. A reinforced U-channel steel frame with a thermal breaker prevents twisting and sagging and eliminates the need for structural members. Bally's Speed-Lok construction allow the door to be assembled to the walk-in panels with ease and provides a sturdy structure that will last for years to come.
---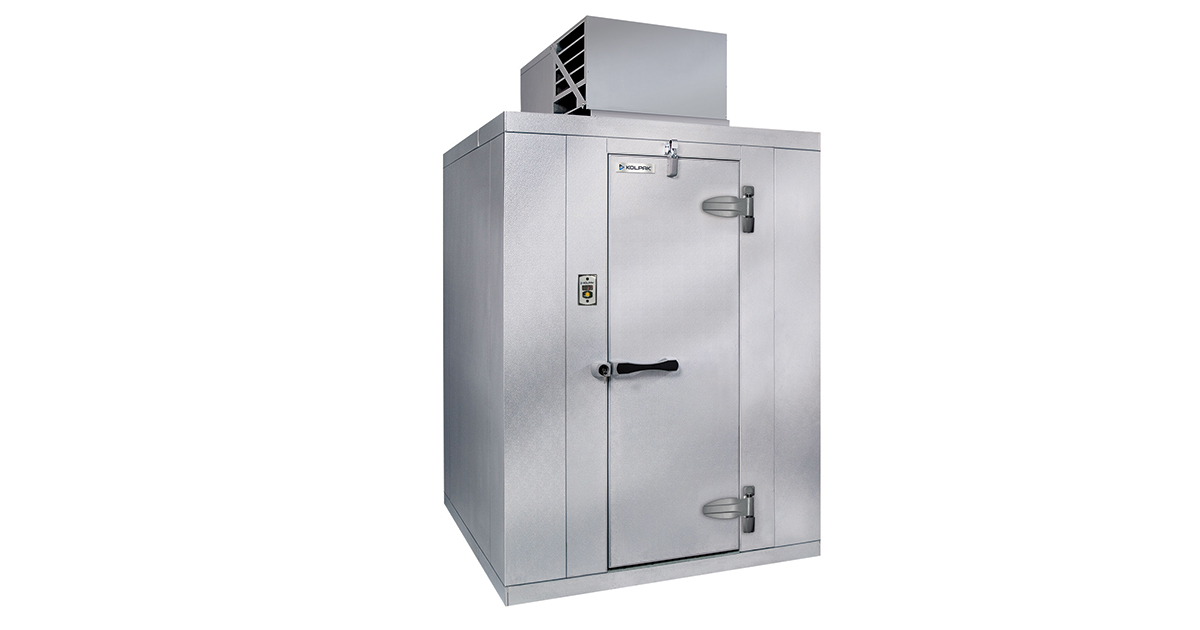 KOLPAK
Kolpak Polar-Pak walk-in coolers boast rugged, high-performance construction. Modular panels of 4-in. 100% foamed-in-place non-CFC urethane foam off er superior insulating capabilities. Exterior and interior feature top-quality galvanized metal. Polar-Pak also offers improved air circulation around the coils, making the unit economical and efficient to run. Polar-Pak is flexible enough to be used in virtually any configuration. Some standard 7-ft.-6-in.H units are part of Kolpak's Quick Ship Program and ship within seven days.
---
KPS GLOBAL
KPS Global introduces FUSIONFRAME, a new insulated polyurethane panel frame system for walk-in coolers that provides four times the R-value thermal performance and structural performance equal to or better than wood. The system's structural and insulating properties extend the life of walk-in coolers while providing energy savings. FUSIONFRAME limits vapor infiltration, moisture absorption, condensation development and icing of joints, and reduces heat gain through the cooler envelope by up to 50%. The system is custom-built to spec for each order.
---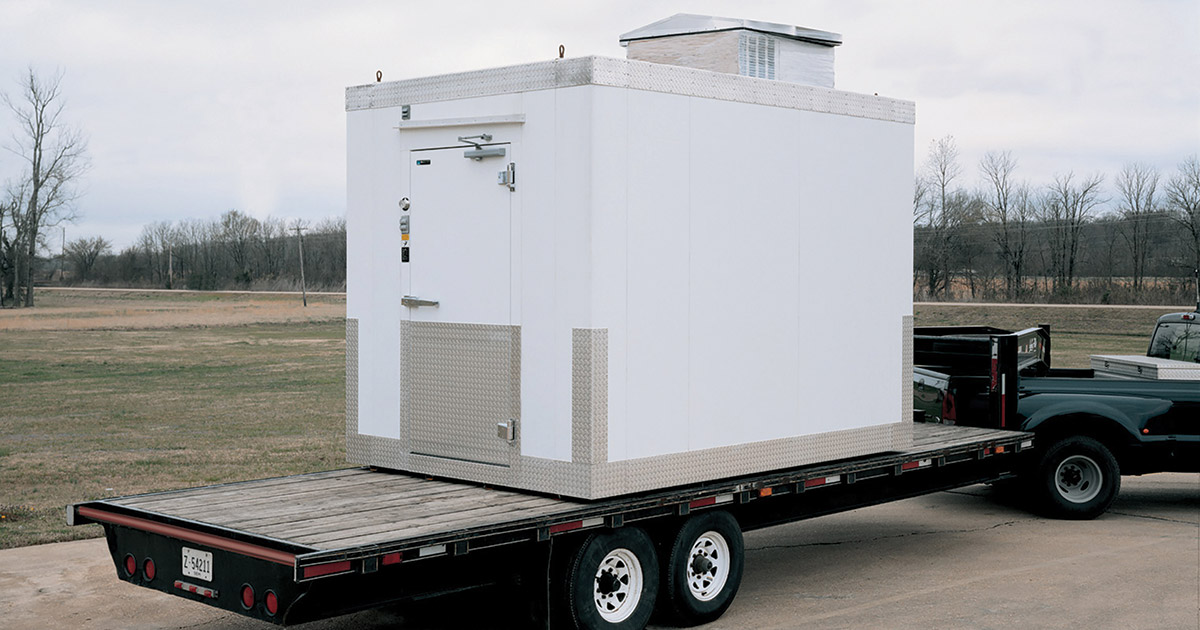 MASTER-BILT
Master-Bilt walk-in coolers provide the right amount of temperature-controlled space. Choose from several types, from a minimum 36-sq.-ft. units to elaborate 10,000-sq.-ft. warehouses. Ready-Bilt models ship pre-assembled from the factory. Quick Ship walk-ins ship in fi ve business days after the order is received. 10-Bilt models off er more options and ship in 10 days after order receipt. Bilt2Spec walk-ins are custom built to fi t your application.
---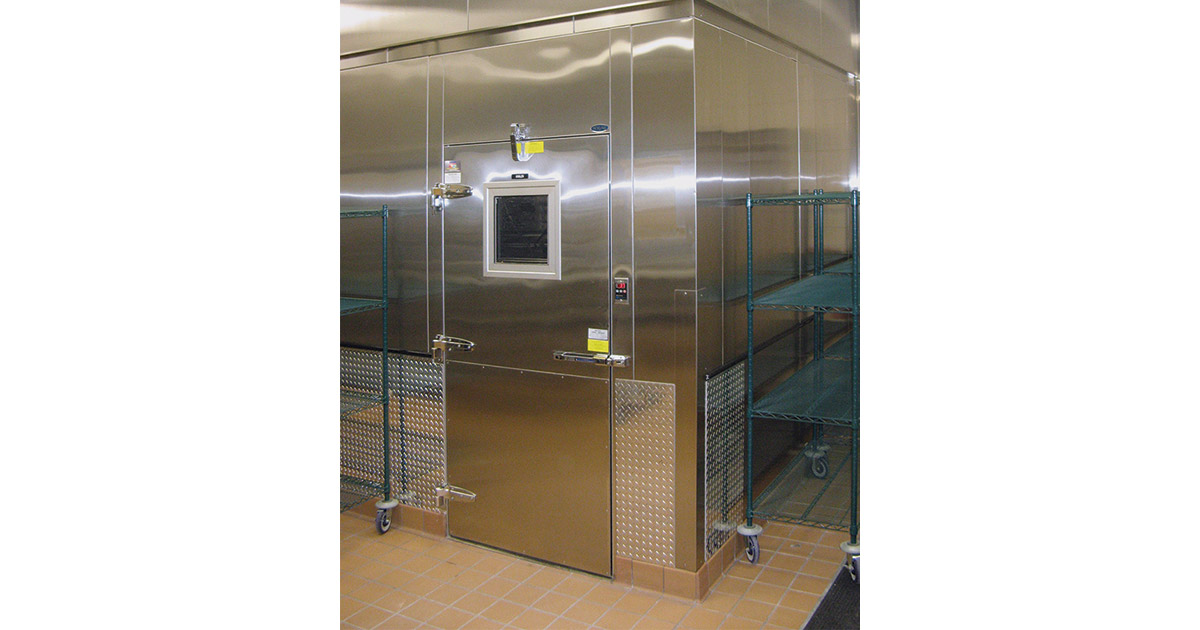 NOR-LAKE
Nor-Lake's Kold Locker line offers same-day shipment on most models with simple-to-install Capsule Pak refrigeration systems. Fast Trak models are available in unlimited length options, with fi ve-day shipping in many cases. Fineline models are custom-built to the buyer's specifi cations, with any size, color, shape or metal finish desired.
---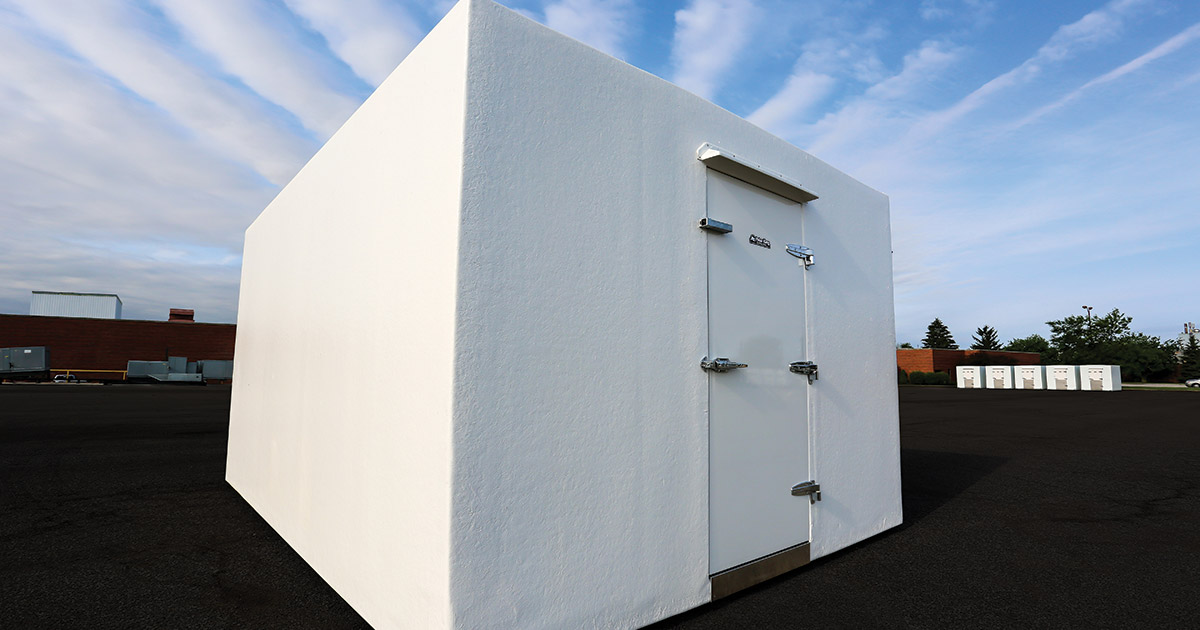 POLAR KING
Polar King walk-in coolers feature a seamless fi berglass design and are constructed specifically for outdoor use. NSF-certified walk-in coolers incorporate closed-cell polyisocyanurate foam insulation encased in fiberglass, inside and out. This construction method provides quality structural strength, R-values and lifetime energy savings. Polar King's warranty provides 25-year coverage for the foam insulation and 12-year coverage for the structure.
---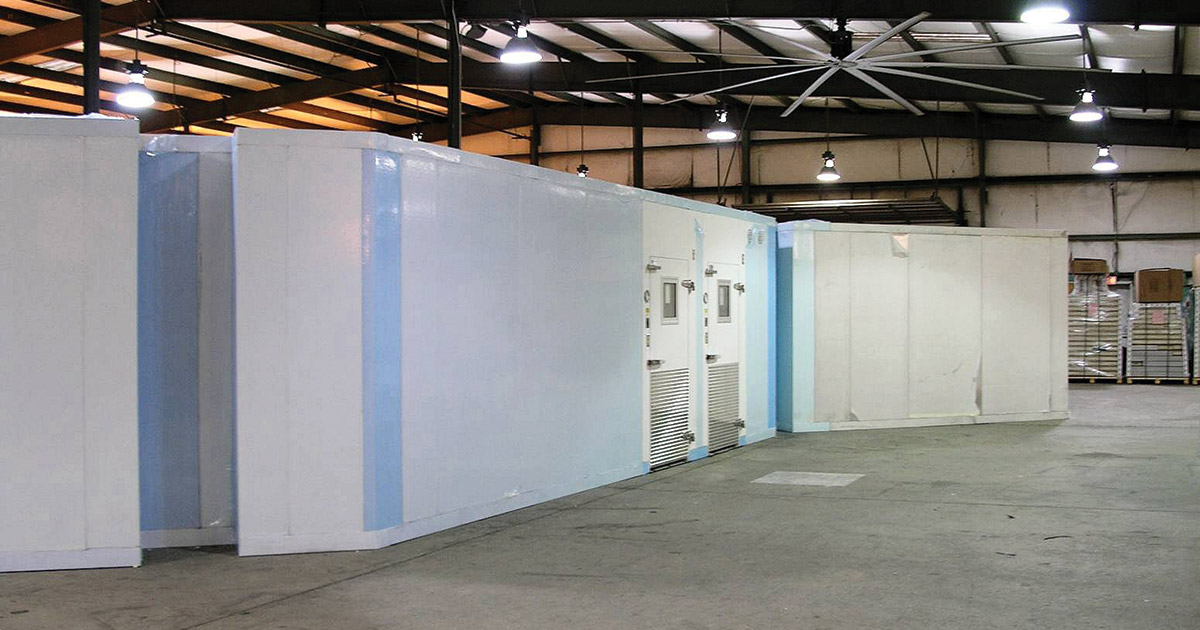 THERMO-KOOL
Thermo-Kool designs its walk-in coolers for maximum customization, durability and performance. High-density Durathane panel design allows the ability to manufacture in 1-in. panel increments for flexibility to fi t unusual space configurations and maximize cold storage requirements. Thermo-Kool pre-assembles walk-ins prior to shipment to ensure a trouble-free and quick installation, with each panel securely locked in place so no cutting and pasting are required in the field.
---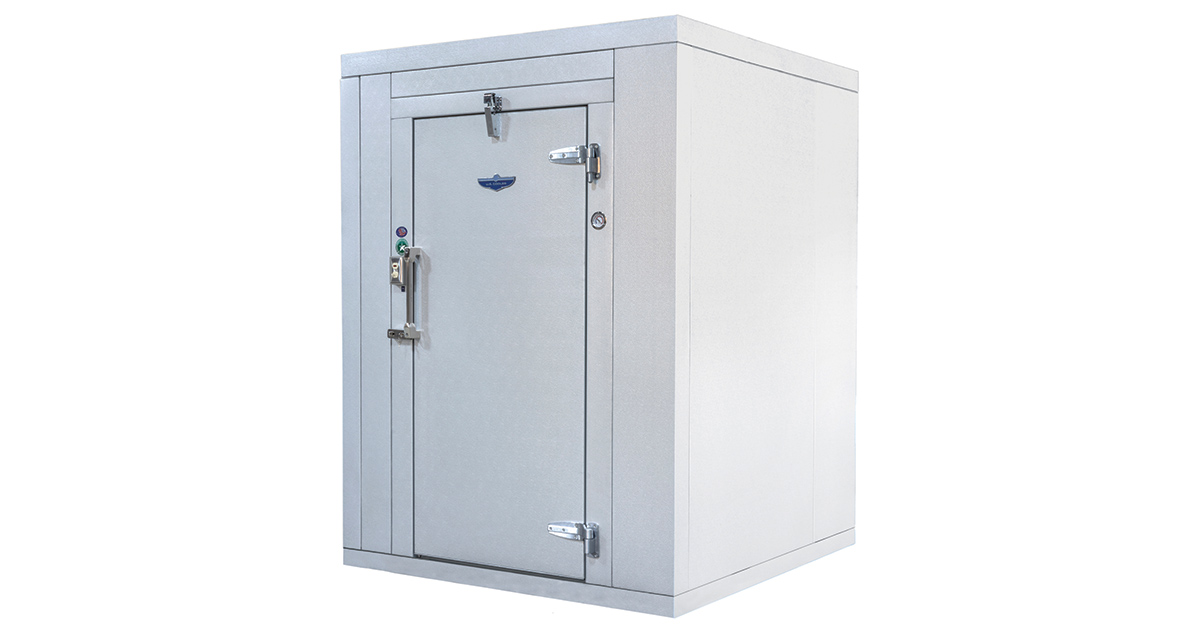 U.S. COOLER
Fastcooler is U.S. Cooler's Quick Ship Program with in-stock models shipping within three to fi ve business days. They are made with the same precision and high-quality materials and designed to provide a quick delivery with a low cost. Fastcooler models include: indoor and outdoor options, floor and floorless options, vert-ergo handle, adjustable hinges, light switch, digital thermometer and numerous lengths and widths.
---
The premise of a walk-in cooler is obvious: it's a cold box for storing foods and beverages. But there's more technology in and on the box than you might think—and manufacturers have made recent advancements. Federal regulations now require newer environmentally-friendly (yet slightly less efficient) refrigerants; however, manufacturers have simultaneously reduced the electrical load needed for cold storage and thus minimized its carbon footprint. At least one supplier has further improved the efficiency and lengthened the useful life of its cold boxes with new construction methods that keep the compartment airtight and watertight even at the vulnerable points in the corner joints and around the door frame. Newer units feature door status alarms, doorframe heater wire shutoff systems, automatic temperature data recording for HACCP, even remote alarms and remote control through USB ports.
Who Needs a Walk-in and Why
There's no simple formula to determine whether a restaurant's volume, hours of operation, menu and food preparation system would merit the addition of a walk-in cold box. If meat, fish and produce arrive daily, reach-in refrigerators may provide adequate storage. But if you're finding that staff are having to replenish supplies constantly, you may want to consider a walk-in cooler for backup. (You can even add a reach-in door to the walk-in.)
Several makers note that today's greater emphasis on fresh fare has increased overall demand for walk-in coolers—and, correspondingly, reduced demand for walk-in freezers.
A reach-in cooler should be the first choice for cold storage of items that will be accessed many times an hour. If you have products that are going to be stored for days or if you're storing in bulk, then you will want to use a walk-in cooler, says one manufacturer. "The walk-in is your bank for food storage," says a sales and marketing vice president. (If you're storing items for months, you'll need a walk-in freezer.)
Why not just add more reach-in refrigerators? "If you keep adding reach-ins, you're adding more condensing units and lots of electrical service to a job site," explains one supplier's director of operations. By going to a walk-in cooler, you're cutting down substantially on utility costs—particularly since walk-ins also are much better insulated than reach-ins.
Some operators may actually require more than one walk-in cooler if they're storing a lot of beer or wine. While 35°F-38°F is a good temperature for storing multiple items together such as produce, meat, fish and beverages, a specialized beer cooler will hold the beverage at a lower temperature and a wine cooler too will provide less chill (about 50°F). If space is a concern, it's possible to site the box and condenser elsewhere in the building, or even outdoors. It's even possible to cut a door in an exterior wall to access the unit, although that would add to the cost.