Drive Impulse Purchases With Heated Merchandisers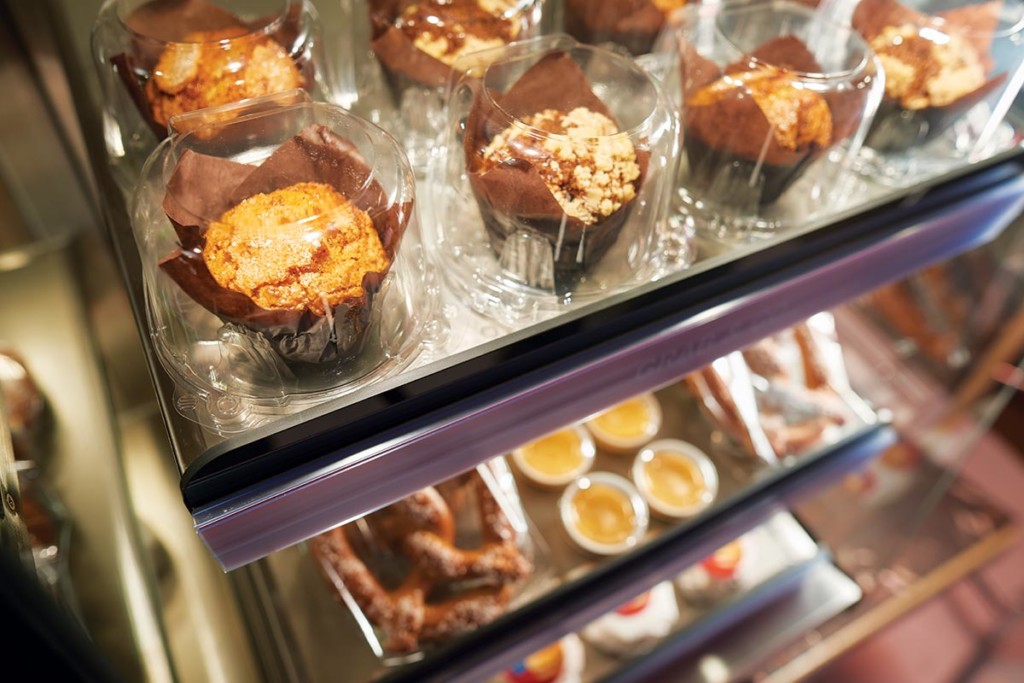 Countertop, self-servce hot holding merchandisers are simple enough, but they're also one of the hottest equipment categories in foodservice right now. The reason: These cabinets align with a number of megatrends—including increased snacking, the rise of grab-and-go formats for speedy customer throughput, and more recently, the boom in takeaway and delivery. Operators are placing these merchandisers front and center in school cafeterias and college dining halls, micromarts, convenience stores and other on-site foodservice locations to boost impulse sales of everything from hot sandwiches to burritos to personal pizzas.
Convenience stores, in particular, are making a big push to capture food purchases, notes one manufacturer. "Fifteen years ago, you were lucky to get a snack at a c-store, but now you see them taking food to another level." For instance, he says, store or commisary employees can prepare a number of breakfast or lunch sandwiches ahead of time and hold them, making high-volume sales possible during rush periods.
Additionally, with online and mobile ordering and third-party delivery services changing the foodservice landscape, restaurant operators are employing self-serve heated merchandisers for new purposes. "Preordered meals for takeaway, or for a driver to pick up, weren't necessarily a target point originally," says a product specialist. "But absolutely, operators are using these merchandisers, off to the side in a separate area, to store hot food until someone comes into the store. The Grubhub driver can walk up, look at the receipts, find the right name and take the food."
Heated merchandisers may be perceived as low-tech, but there have been important developments in recent years to improve food quality, keep temperature and humidity levels consistent, and make food eye-catching and easily accessible. These include radiant heat systems, more precise humidity control, digital displays, bright energy-saving LED lighting and air-curtain cabinets as well as designs that feature more glass to better merchandise products.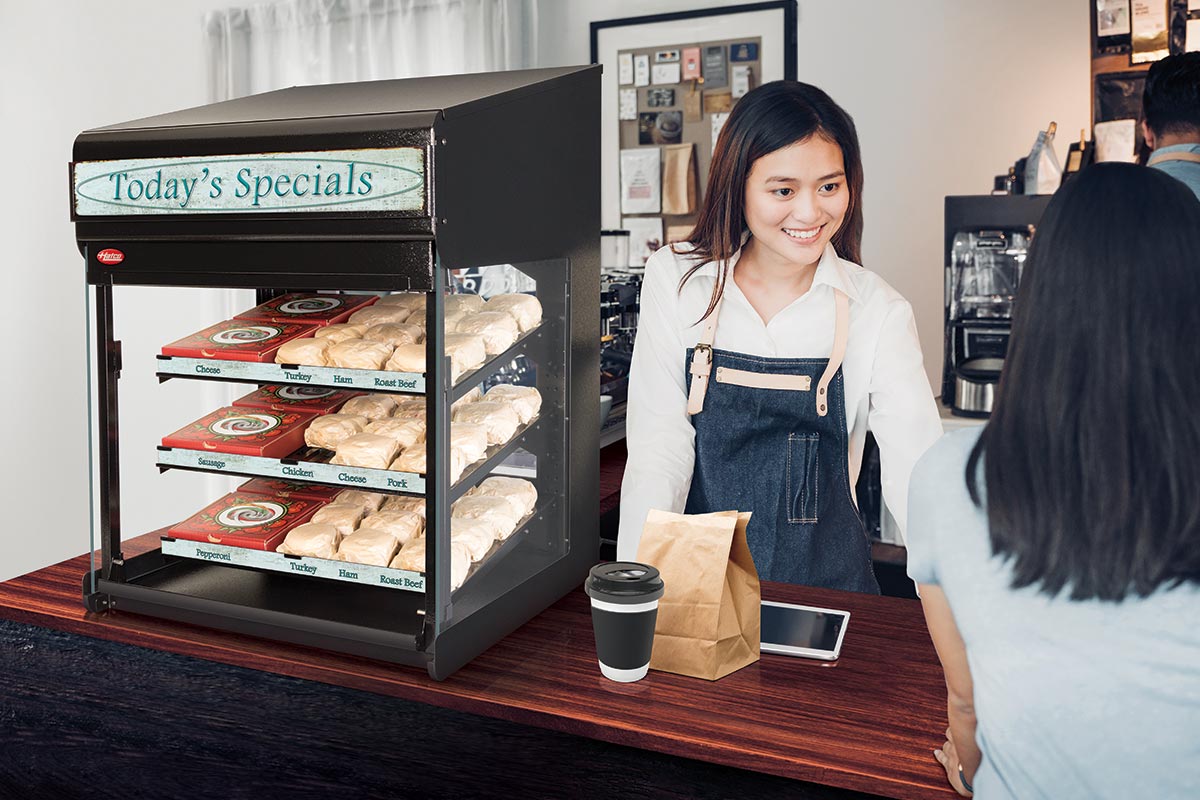 The Key Ingredients: Heat and Humidity
Countertop merchandisers can hold food—typically at 160°F-170°F (well above the minimum temperature for food safety)—and maintain quality for two to four hours. Moister items (such as those that contain cheese and/or vegetables) are able to withstand the longest hold times.
A couple of manufacturers use radiant heat systems through heated electrical wires inside the merchandiser box and shelves, rather than the more typical circulating fans with forced hot air. The gentle, even heat means food doesn't dry out as quickly, and product quality and temperature are consistent from one shelf to another. Heated wires in the shelves also can create multiple temperature zones for different products in the same merchandiser.
Manufacturers that do use forced air usually incorporate a water reservoir to create the right level of humidity for the food being held. Employees pour distilled water into the reservoir, which features a submerged heating element to boil water for steam to be wafted through the cabinet by fans. Alternatively, a plumbed water line can spray small amounts of water through atomizers onto an evaporator plate for instant humidity at the level specified for each product. In either system, a control allows employees to order up the right humidity level.
Heated merchandisers have traditionally used simple analog dials to control temperature and humidity, but manufacturers are beginning to use digital displays for more precise control. Some newer models feature timers and lockout codes. Internet connectivity for remote operation is on the way, manufacturers say, but not currently on the market.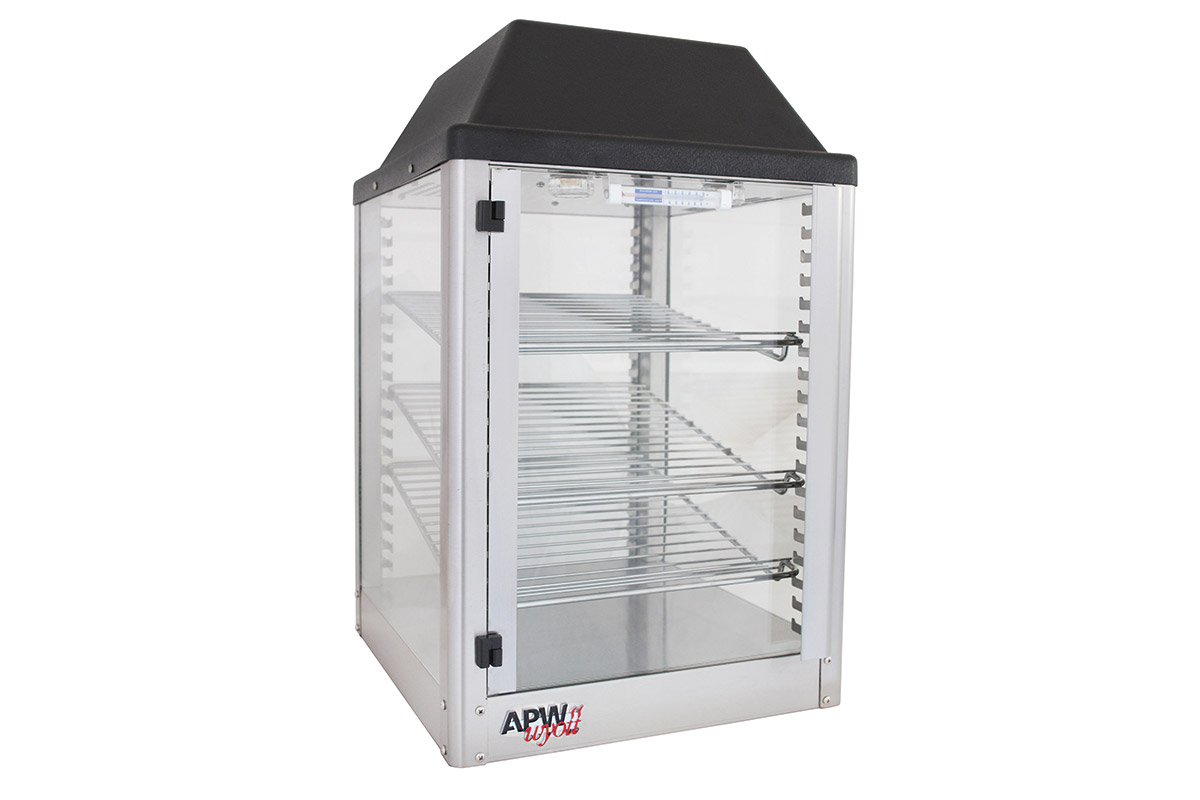 Appearance Matters, Too
"They say 50% of success in foodservice is visual," notes one product specialist. "If the customers can't see the food, there's a much greater chance that you won't sell them the product."
To improve presentation, countertop hot-food cabinet manufacturers are adding bright, warm, energy-efficient LED lighting. They're also offering a multitude of graphics packages and color options for the outside of the merchandisers, including changeable graphics that allow operators to feature different products at different times of the day. High-volume clients also can order custom graphics with their brand logos and signature colors.
Another trend is "less frame, more glass," as one product expert puts it. "It's a more European look—less bulky, less industrial." Although this manufacturer uses aluminum shelves, others offer glass shelving to further enhance the "floating" look. The new look works well with today's visually focused grab-and-go packaging that features clear lids and black bases.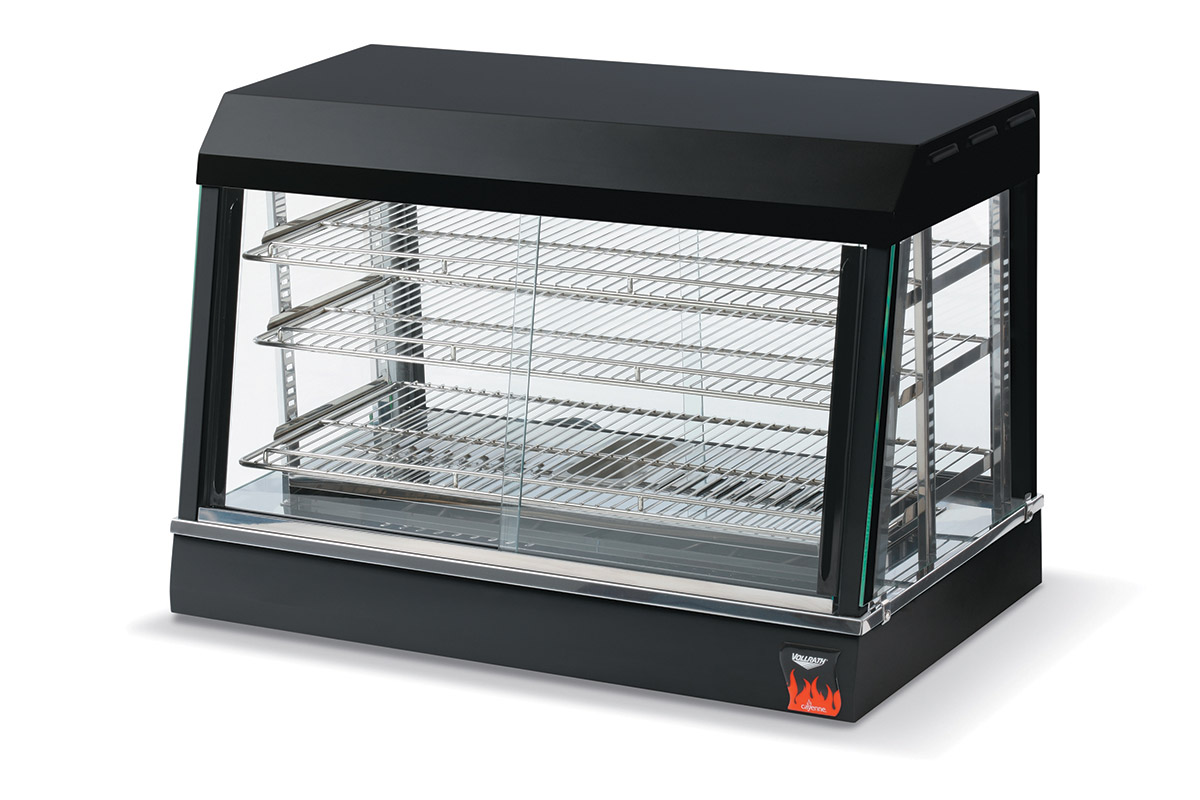 The "less frame" aesthetic is advanced by another trend: heated air curtains, rather than glass doors, on the front of the cabinet. Air curtains are more consumer-friendly because they make the food more easily "grabbable." In these cabinets, it's recommended that food items be wrapped in aluminum foil, paper or plastic wrap for food safety and to help maintain ideal temperature and quality.
The option of slanted shelving also can make a hot food display more appealing, since the customer sees more of each item at the front of the shelf and gets a sense of abundance from the similar items stacked behind it. (For the operator, slanted shelves also have the advantage of enabling gravity feed, so staff don't have to push foods forward from the back to replace those sold.) "Slanted shelving is better for a little higher countertop, allowing customers to view the product and grab it more easily," says one product expert.
"Flat shelves are great for operator use and for lower countertops," he adds. Horizontal shelving also is best for products with toppings or foods that are liquid or semi-solid, such as individual containers of soup or mac and cheese, another specialist notes. A combination cabinet—with slanted shelves on top and flat shelves on the bottom—can handle a variety of menu offerings.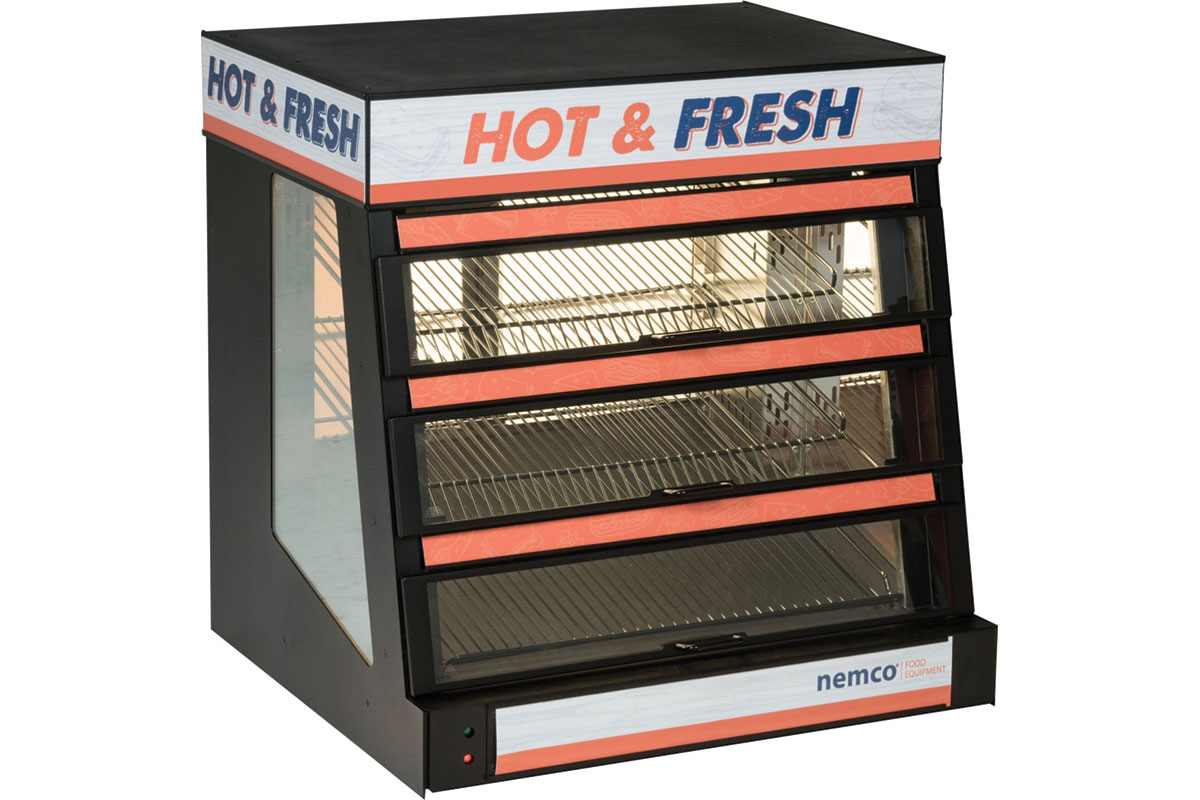 Top Homework Questions
As with any foodservice equipment, the first consideration when purchasing a self-serve heated merchandiser is your operation's volume and production flow. Some of the key questions to discuss with your supplier:
What products will be held, and for how long? What's your peak throughput? What is the ideal capacity that will accept a full batch of cooked product or sustain a busy peak period?
Do the foods to be held require dry or moist heat, or both?
Will the case be used for different foods during different dayparts, such as breakfast sandwiches in the morning and grab-and-go individual pizzas at lunch?
What are your footprint and height constraints? For example, will a slim-line vertical warmer or a horizontal slide warmer work better for you?
Is the countertop you're hoping to use for the merchandiser directly under a heating and air conditioning vent? If so, you may need ot choose another spot on the counter, particularly if you're using an air-curtain model.
"Billboard" space is critical. How much space on the surface of the cabinet will you need for labeling and promotional materials?
Given that heated merchandisers don't tend to have a lot of maintenance problems, are you willing to pay a premium for a merchandiser featuring radiant heat, precise humidity controls, LED lighting, a custom look and the highest level of manufacturer support?
---
Countertop, Self-Serve Merchandisers Gallery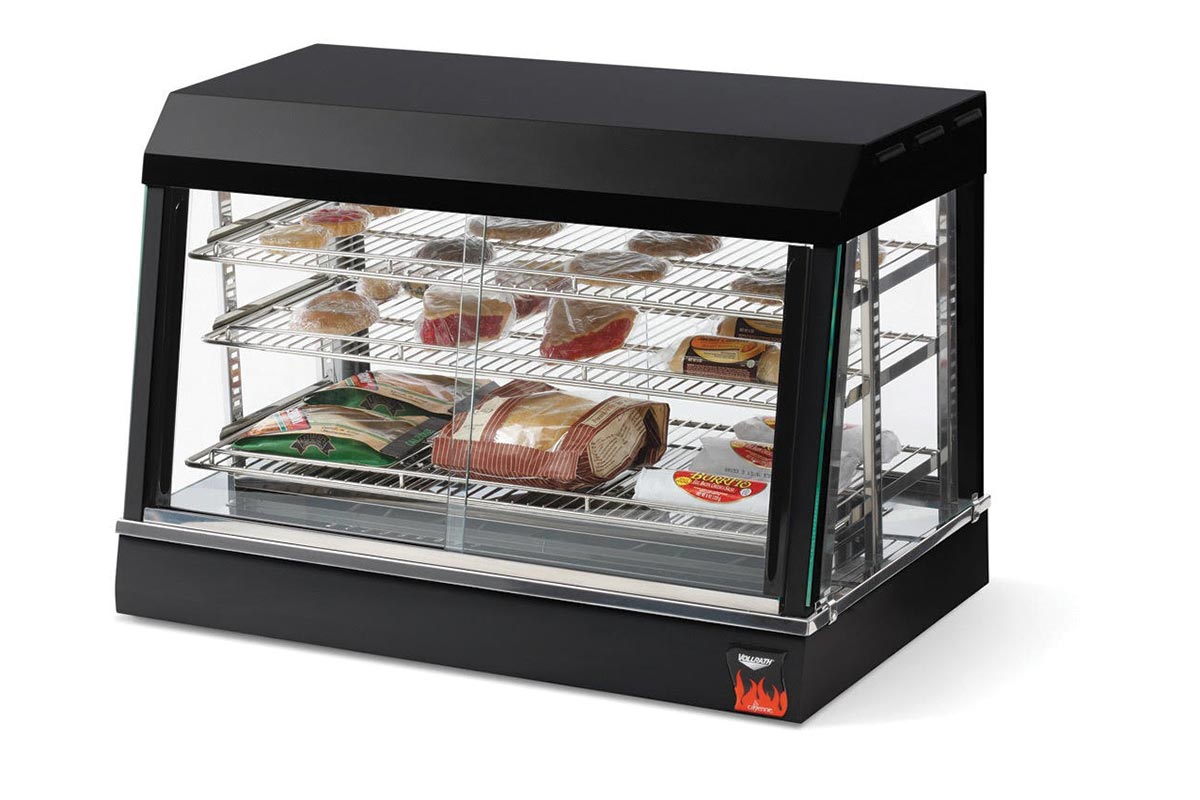 VOLLRATH CAYENNE HOT FOOD MERCHANDISERS
Vollrath's Cayenne Hot Food Merchandisers, 36-in.W x 19-in.D x 25-in.H, offer thermostatically controlled heat with 85°F-175°F temperature range. A specially designed baffle provides even temperature distribution. Humidifying system keeps food looking fresh longer. Front and rear sliding doors offer self-serve convenience for customers and easy loading for staff. Three adjustable shelves allow for versatile displays. Lights can be used without heating function. Double-wall stainless construction keeps the cabinet cool.
vollrath.com
---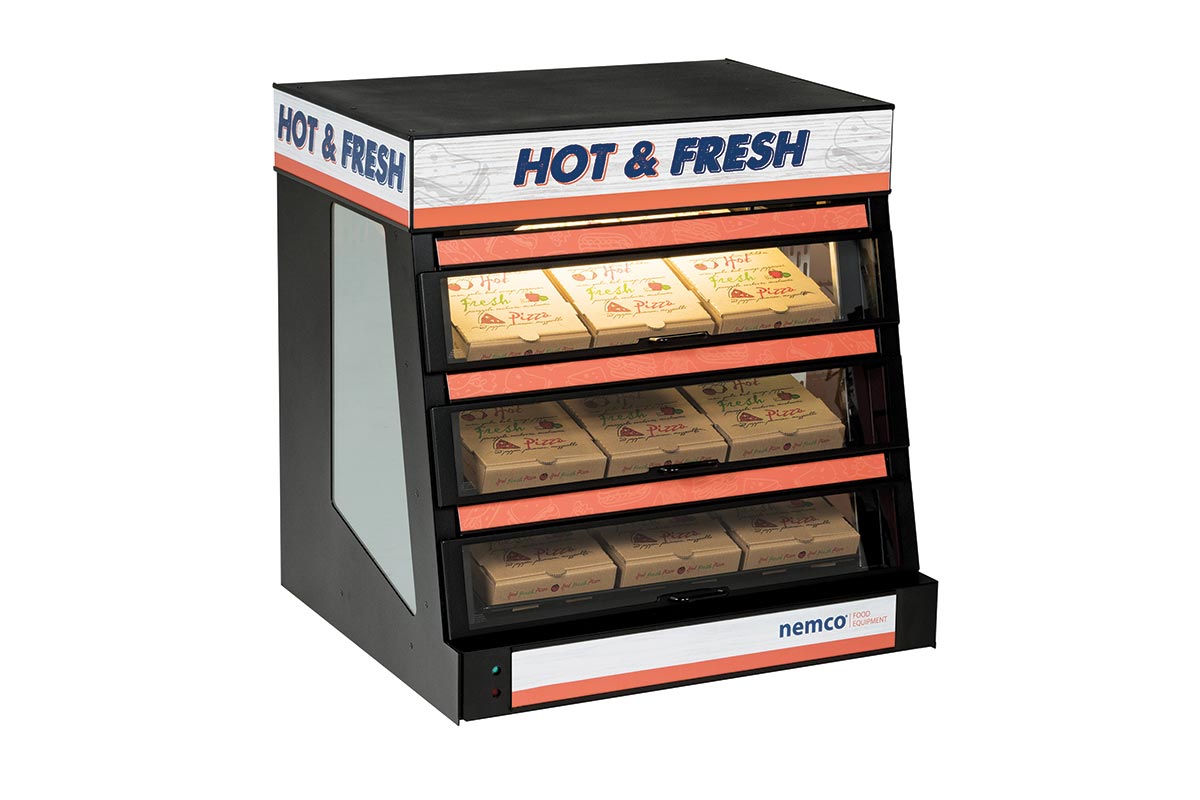 NEMCO HUMIDIFIED MERCHANDISER
Maintain food quality with Nemco's Humidified Merchandiser. An onboard water reservoir prevents product from drying out, while two-way mirrors on both sides and the rear door enhance the visual presentation. Self-closing, slow-return doors ensure complete closure to hold moisture and temperature (ranging from 120°F-185°F with three knob settings) and avoid energy waste. Unit comes with electronic controls for easy adjustments in temperature and humidity. Humidified merchandiser is 2913/16-in.W x 281/4-in.D x 306/8-in.H.
---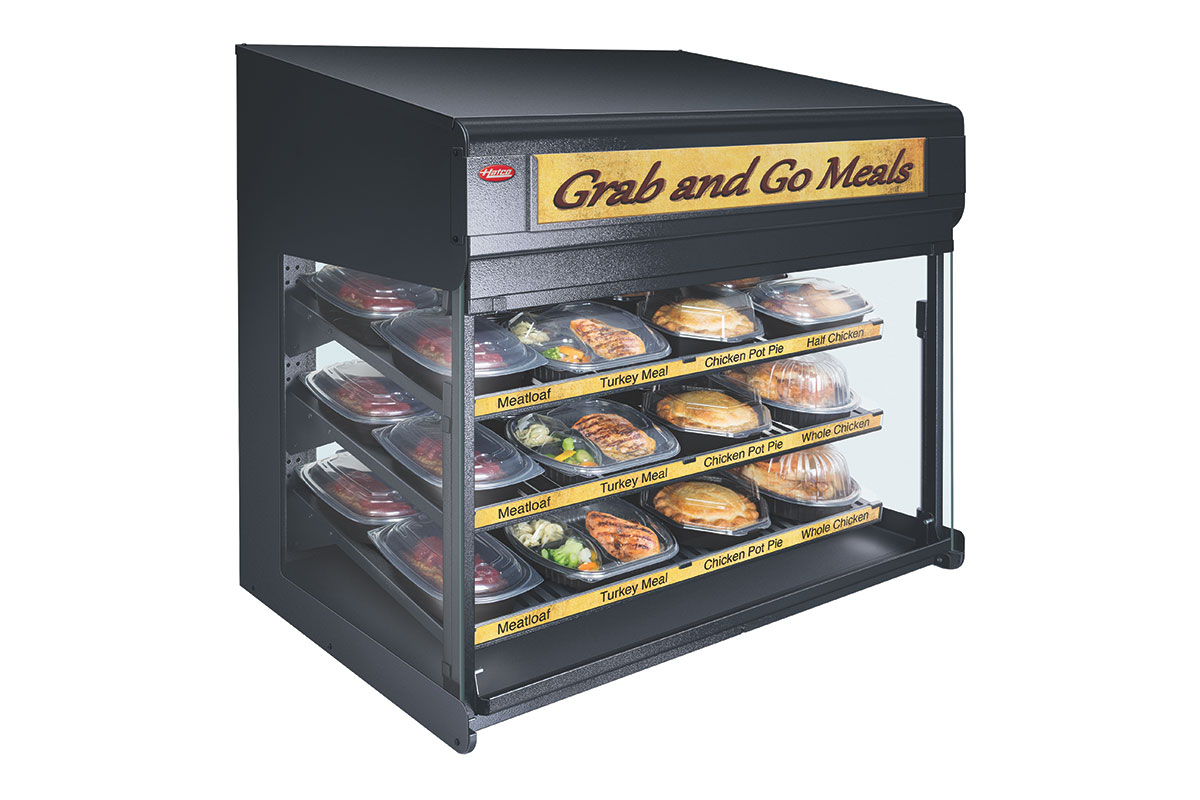 HATCO FLAV-R-SAVOR HEATED AIR CURTAIN CABINET
Hatco's FS3HAC Flav-R-Savor Heated Air Curtain Cabinet effectively keeps foods at ideal, safe-serving temperatures without the use of doors for immediate access to hot, fresh products. Heated air at the front of the cabinet is forced downward, forming an air curtain to warm each shelf evenly. Holding temperatures range from 85°F-175°F. Unit features adjustable slanted or horizontal shelves, balanced LED lighting and easy-to-use digital controls. Available in 36-in.W or 42-in.W.
---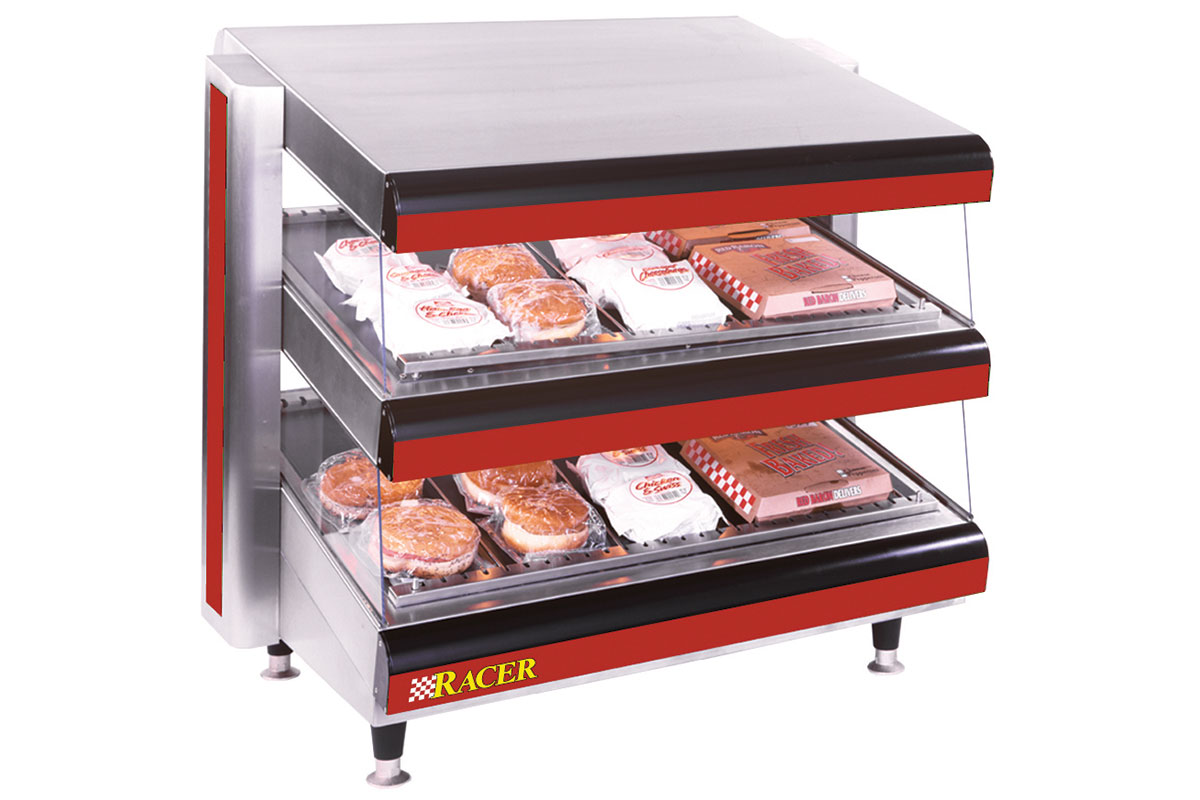 APW WYOTT RACER MERCHANDISERS
Wyott's Racer Merchandisers keep wrapped products at NSF-certified temperatures (at or above 145°F) with infrared overhead heat and a thermostatically controlled heated base. Infrastructure and support are made of solid stainless. Unit will not sway from side to side or sag in the middle. Coated aluminum heated base transfers heat efficiently and allows boxed and wrapped products to smoothly slide toward the front. Tempered glass end panels allow maximum visibility. Available in horizontal one- or two-shelf configurations with either flat or slanted shelves, with six sizes for each type, ranging 30-in.W to 60-in.W and 18-in.H to 32-in.H.
---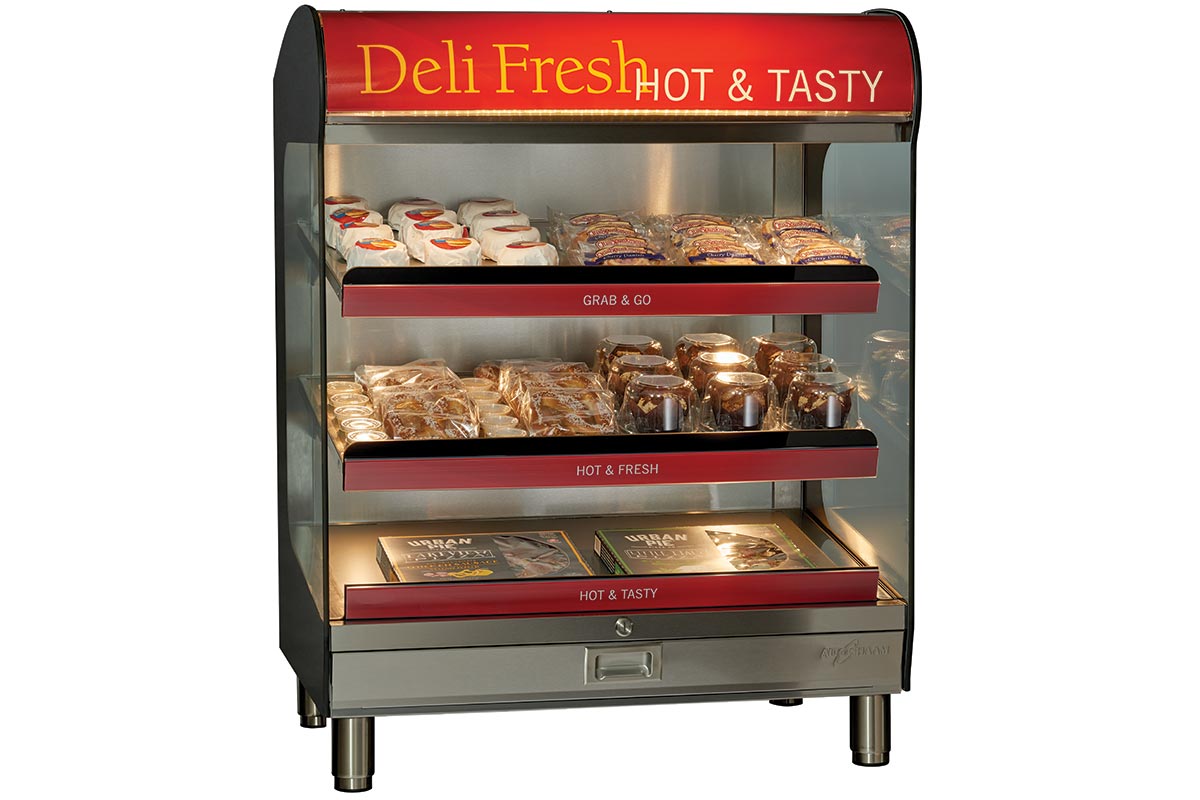 ALTO-SHAAM HEATED SHELF MERCHANDISERS
Alto-Shaam Heated Shelf Merchandisers feature Halo Heat technology that provides precise, even heating (holding items at an internal temperature of up to 200°F) for the highest quality food and the lowest cost of ownership. Radiant heat evenly surrounds food with low-density thermal cables rather than extremely hot elements, added humidity or fans. Alto-Shaam Heated Shelf Merchandisers hold a variety of ready-to-eat products, including rotisserie chickens, pizza, sandwiches and more. Changeable graphics for each shelf can be switched out meal-to-meal and day-by-day. Available in 24-in.W or 36-in.W.
---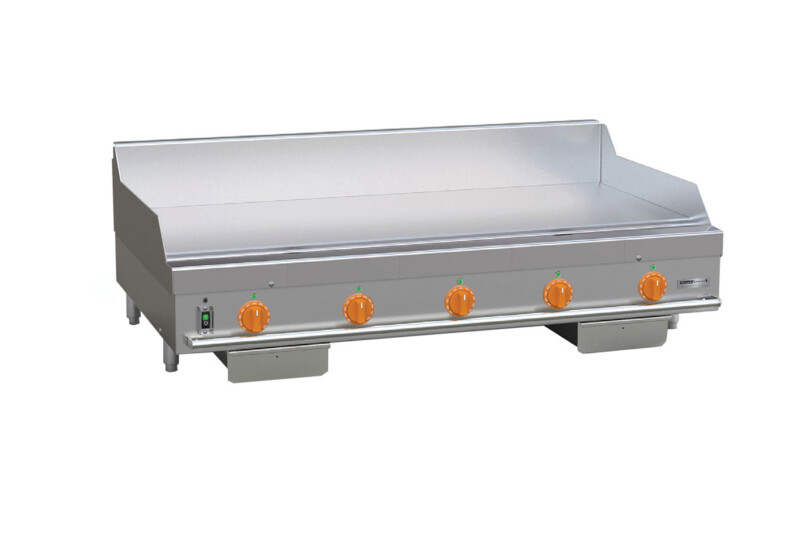 Cooking Equipment
Planchas, though convincing clones of their better-known sister product the griddle, quickly set themselves apart.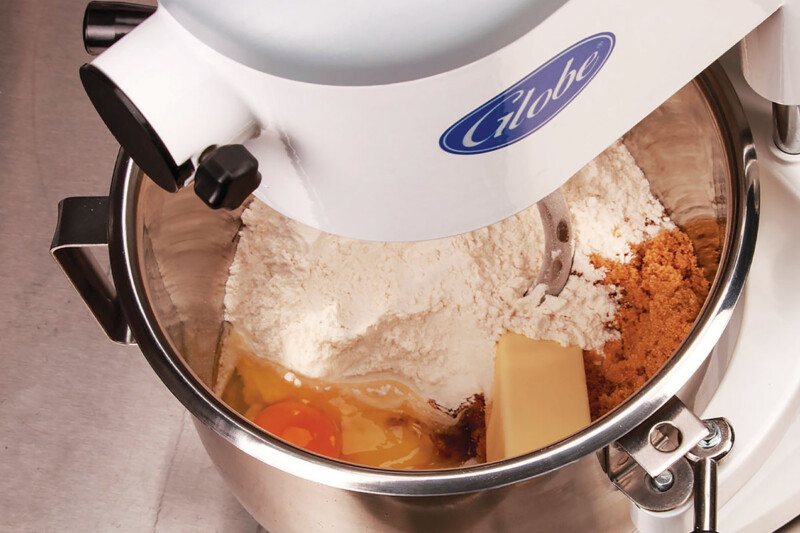 Equipment
The countertop mixer is the Swiss Army knife of the kitchen—small but mighty, with the power to perform various functions.