How to Spec an Electric Fryer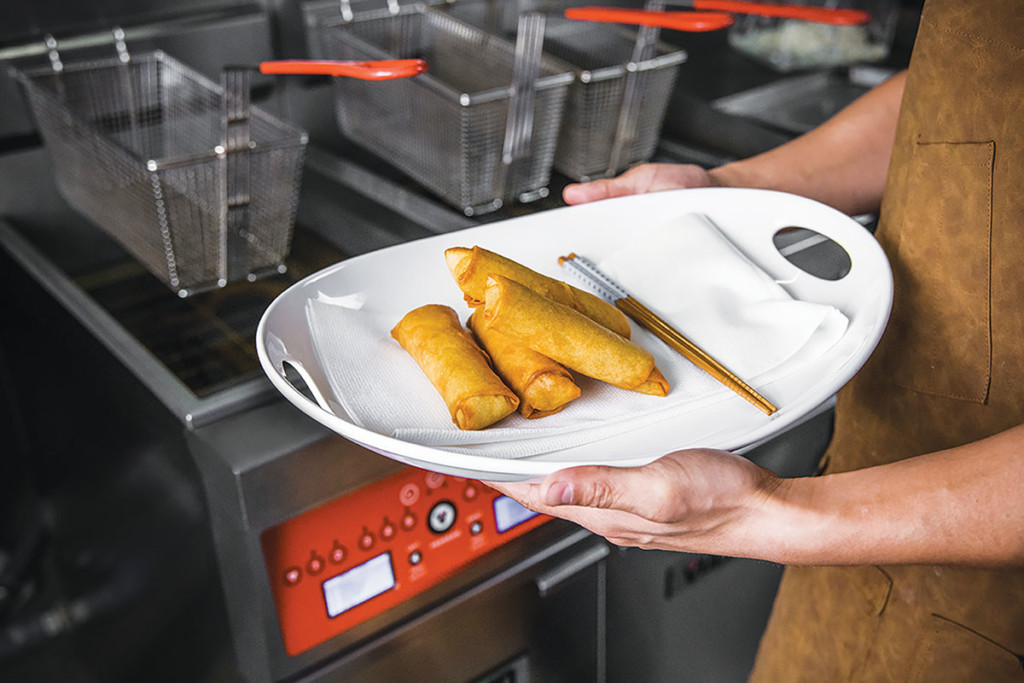 Most commercial fryers—more than four out of five models sold—are powered by natural gas. It's been that way for many years because, in most parts of the country, gas is available and cheaper than electric power.
However, electric fryers have been getting more attention lately, and for good reason. "If gas therms were the same price as kilowatts, you'd probably always go with electric," says one manufacturer of both types of fryers. For a number of reasons, electric fryers are intrinsically more efficient. To be Energy Star-rated, electric fryers must convert 85% of their electric power into heat—in contrast to gas fryers, where the Energy Star threshold is 50% efficiency. Electric fryers are often preferred in high-volume operations, in part because they can last 20 years or more in a fast-food environment, compared to about 10 years for a gas fryer.
Most gas fryers heat a series of tubes in the oil, which in turn radiate heat to the surrounding oil. The heating element of an electric fryer is directly submerged in the oil. That means the fry tanks don't get the same metal stress of repeated expansion and contraction, so they're likely to last longer.
Also, because electric fryers have less complex engineering and fewer moving parts than gas versions, maintenance costs are typically lower. Electric fryers have no exhaust heat going up the flue, so they don't heat up the kitchen as much as gas versions—making for a more comfortable cooking environment and lower air-conditioning bills.
Unlike gas fryers, certain-sized electric fryers may go under so-called ventless (or recirculating) hood systems with no external exhaust. That means that once paired with a ventless hood, you may be able to place an electric fryer where there are no gas connections, such as coffee shops in office buildings, or in a spot in a kitchen that doesn't have room under an existing hood. Always check local codes, though. Also, take into account the heat load to the space that the fryer will generate.
---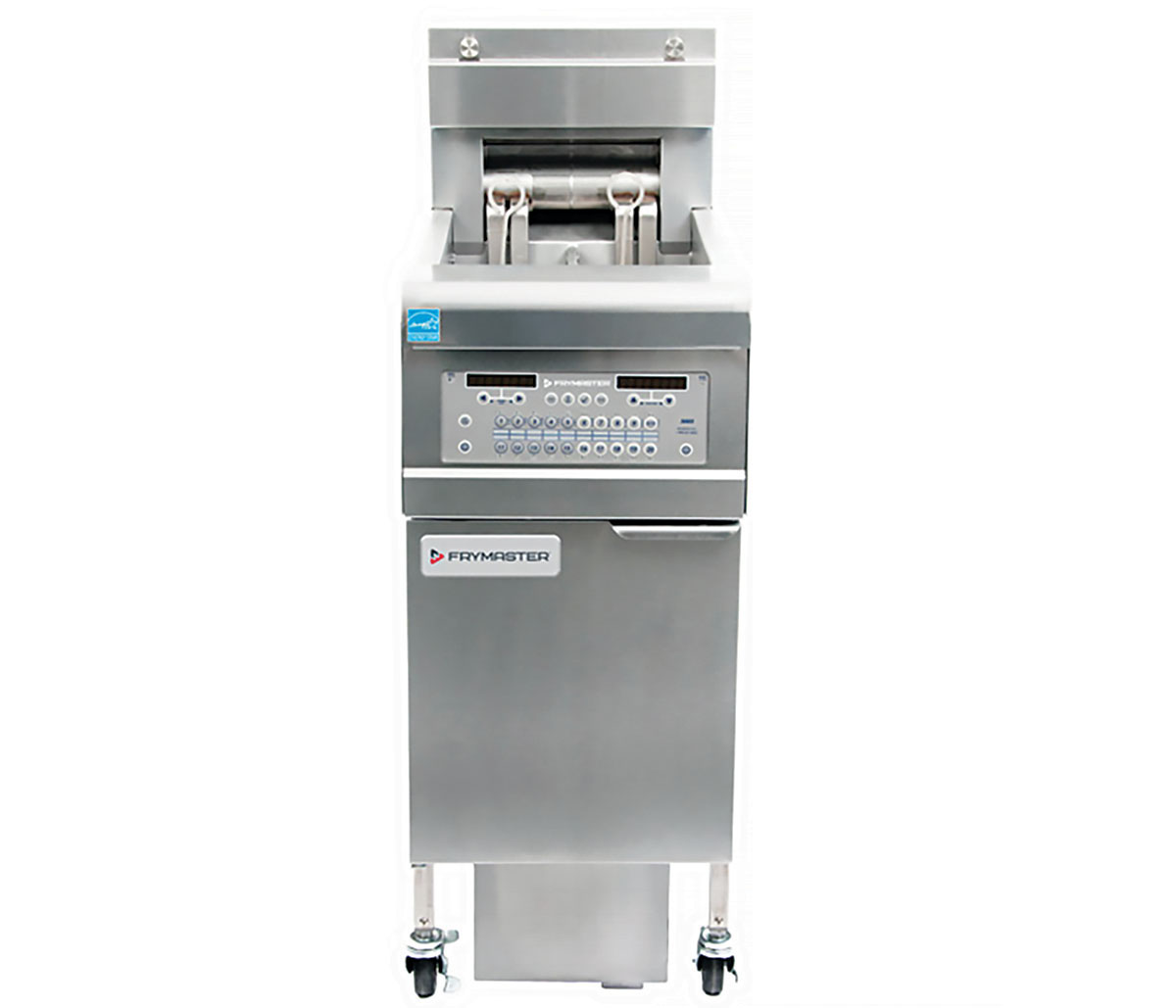 Saving Energy, Time and Oil
Today's electric fryers are more energy efficient than ever before. In recent years, makers have reconfigured heating elements, typically as flat bars rather than round tubes. These ribbon-like elements can bend more easily and loop around the bottom of the vat more times for more heating power and thus greater energy efficiency. Other energy-saving features have been added to some electric fryers, including an idle mode that turns off the heat in a vat if it's inactive for a set period of time.
Mechanical components have been rethought to allow for quicker, easier servicing. Among the improvements are electrical coils in the oil well that now lift away easily. Some companies have redesigned other mechanical parts, such as the oil filtering pump, to lift out for easy cleaning as well.
To be Energy Star-rated, electric fryers must convert 85% of their electric power into heat.
Many newer fryers, both electric and gas, feature reduced-oil vats. Less oil is used for each frying cycle and the oil is filtered more frequently, extending its life. Also being more widely adopted in gas and electric models are automatic oil filtration systems that increase both the speed and effectiveness of filtration. In other models, a sensor in the vat that measures chemical changes in the oil as it's used will alert staff when it's time to change the oil. Either system eliminates guesswork, so the foods fried in the vat maintain the same quality throughout the life of the oil.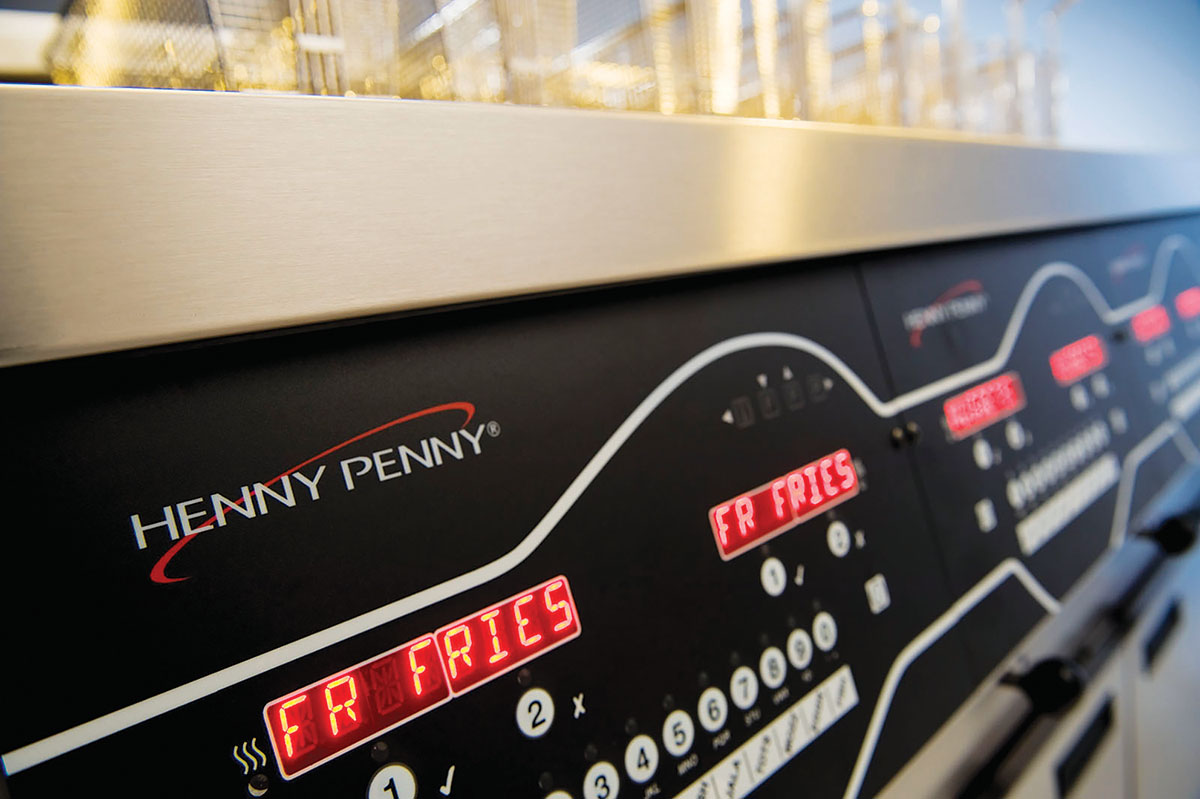 User-Friendly and Intuitive
Makers of both electric and gas fryers have computerized and simplified controls to make operation easier. "Instead of teaching a new hire to fry to a certain color of doneness, all you have to do is train him to press button one," explains one manufacturer's vice president of national accounts. "You can program for a single restaurant or for a large chain." Basket lifts may be automated, or the fryer may signal doneness with a buzzer.
Sensors in vats can measure chemical changes in the oil and alert staff when it's time to change it.
Most manufacturers now offer electric and gas units with preprogrammed fryer cycles, and also have custom programming options that can be downloaded from corporate emails or websites and transferred to the fryer via a USB port.
Data collected from fryers can be used to boost a restaurant's bottom line. Information captured may include the effectiveness of the unit's shortening management system, the number of filtrations per day, the number of daily cooking cycles for each product or the unit's heat recovery speed.
"Data is power," says one manufacturer. "When you have connectivity, the fryer can send out a multitude of data, but it's incumbent on the restaurant or chain to develop its own decision-making software to figure out what to do with all that data."
While no company has yet introduced a fryer linked directly to the cloud, many makers are working on it.
While no company has yet introduced a fryer linked directly to the internet cloud via Wi-Fi, many makers are working on it, and some are close to rollout. In coming years, new control technologies "will allow real-time monitoring of each fryer," says one company's vice president. "If 10% of the fryers have recovery issues that require service, that will allow you to make the budgetary decision to replace them. Or you can see what units' employees are not following shortening management procedures and schedule them for additional training, so you can extend shortening life and save on food cost."
---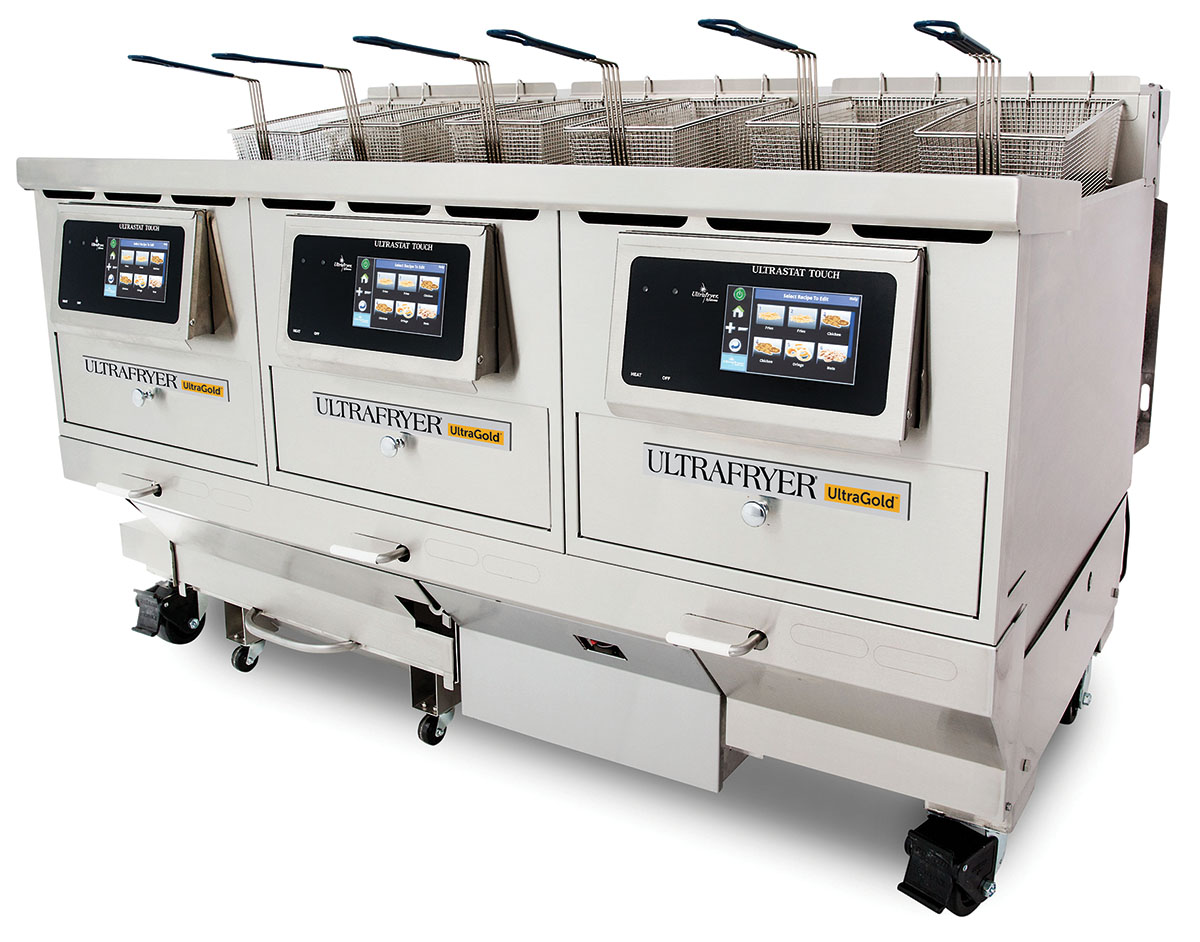 Questions to Ask Before Buying Electric
Before purchasing any fryer, you need to analyze your operation's needs. But there also are some electric-specific considerations to ponder.
What's the kitchen footprint? How much space can you devote to the fryers, and where? If you have the space, putting an electric fryer under a Type 1 hood is ideal. But if you don't have room under the hood, a fryer paired with a ventless hood system may be an option.
How many kilowatts can the facility support? Smaller fryers with 40- to 50-lb. oil vats use 13.5 or 14 kW, while fast-recovery heavy-duty fryers may require 21 or 22 kW. For freestanding restaurants, sufficiency of power is usually not an issue, but in a strip mall or food court, the power available may be limited. Unless low initial cost of equipment is a greater priority than maximum efficiency, look for an Energy Star-rated fryer.
What's the total cost of ownership? That includes the purchase price, the cost of the amount of oil used over the fryer's lifetime, utility costs, the HVAC load in the kitchen, maintenance and the fryer's expected life. Figuring all that into the equation could sway you toward an electric model despite its higher initial cost. Are there rebates? That could change your cost calculation. There can be significant rebates offered by local utilities to encourage the adoption of electric fryers, exceeding $500 per vat in some cases.
---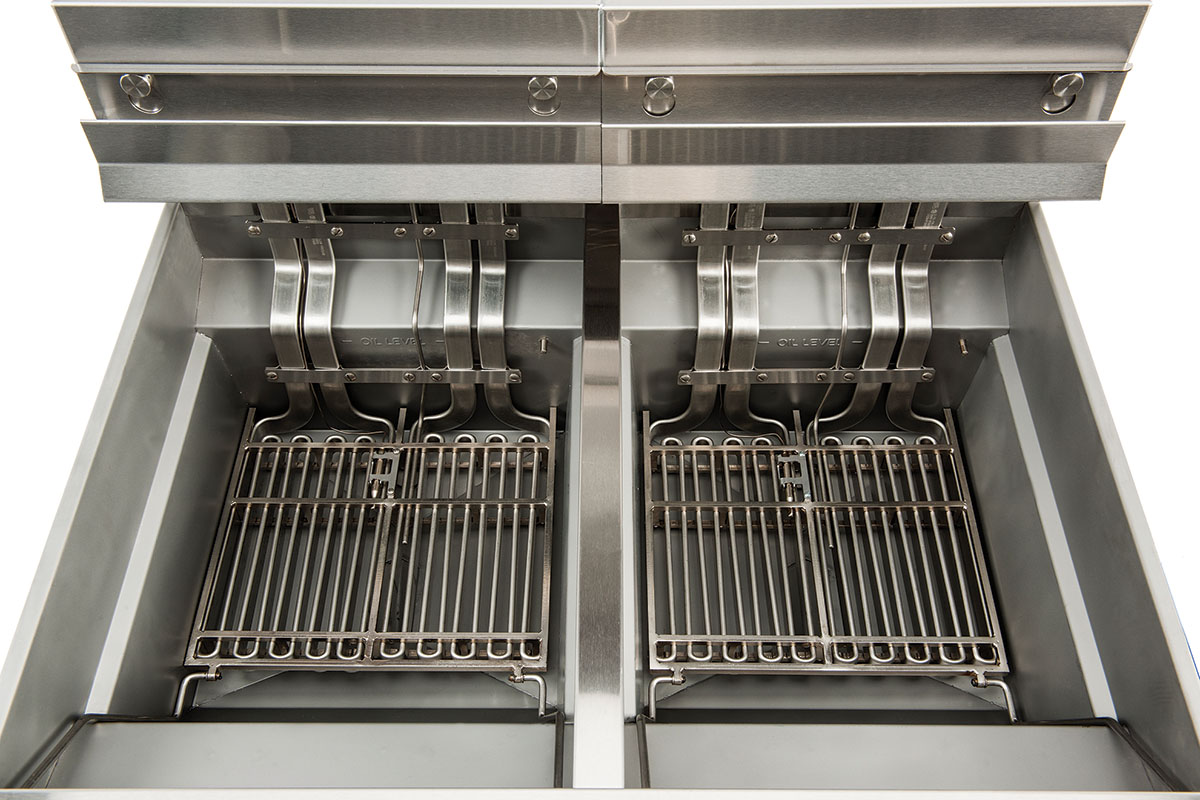 And for Electric or Gas
Along with some electric-specific questions, be sure to consider the following factors, which apply to both types of fryers.
What types of fried foods do you offer? Mostly starches or mostly proteins? Breaded or not? Lightly or heavily breaded? Do products go into the fryer fresh or frozen? Fresh foods cook more quickly. Battered foods cooked fresh create fewer particulates than if frozen. If a lot of particulates will be falling off the foods as they're fried, you'll need a vat with a larger cold zone, as well as an automatic push-button filtration system that can be activated after rush periods.
How many different fried foods are you producing? If you have a large fried-foods menu, offer fried-food LTOs or expect menu changes in the near future, you may need several smaller, dedicated fryers to avoid flavor transfer.
Do you need a light-, medium- or heavy-duty fryer? How many pounds of product do you fry per hour? What's the peak throughput? What percent of your sales come from the fried-foods menu? If it's most of the menu, you need a heavy-duty fryer that can produce more fried foods in a smaller footprint. Light-, medium- and heavy-duty electric fryers feature different materials and components, and the length of the fryer's working life is tied into the materials used and the quality of the build.
What's the recovery rate? If you have faster recovery, you're cooking at a higher average temperature, shortening the time to produce the same product. If you can shave 30 seconds off every fry cycle, that will increase the number of baskets you can sell in a day.
How much automation do you require? Do you want automatic basket lifts? Automatic filtration? Oil reclamation hookup? Answers to these questions will depend on your labor force and the volume and types of fried foods you're producing.
Is the machine easy to repair in the field? That will help avoid downtime. Look for a unit that's easy to clean too. For example, on an electric fryer, look for ribbon elements that self-stand and are sheathed in stainless.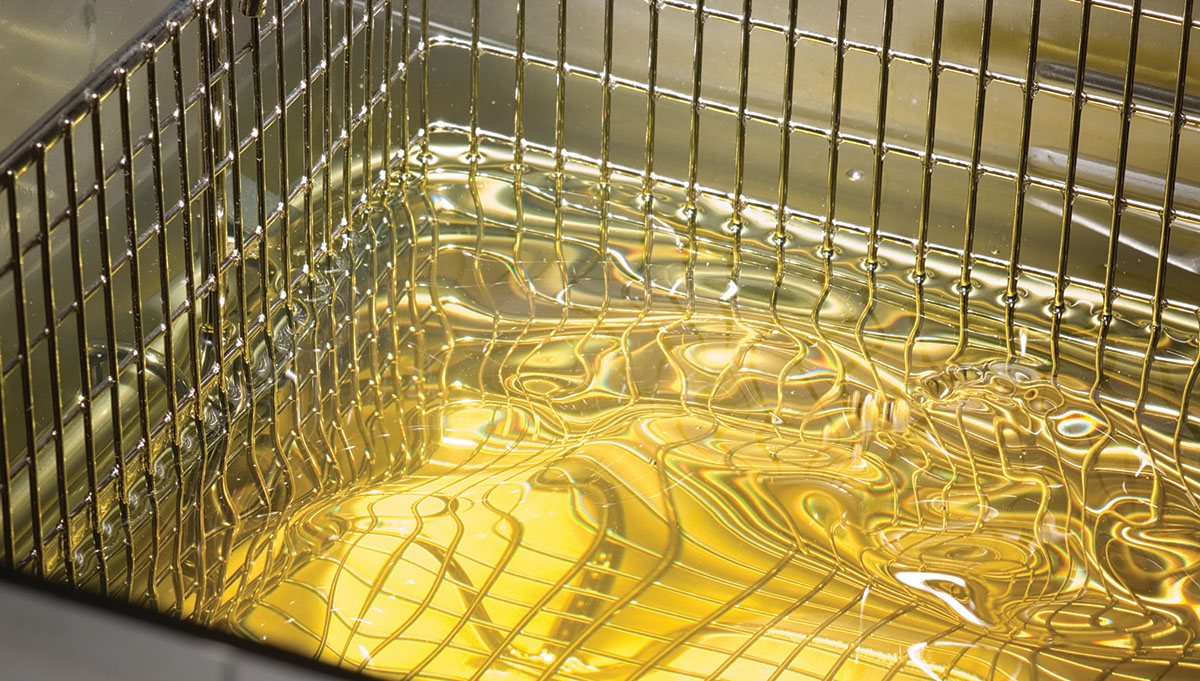 ---
Electric Fryer Stars
The following fryers mark the latest Energy Star-rated electric versions from six manufacturers.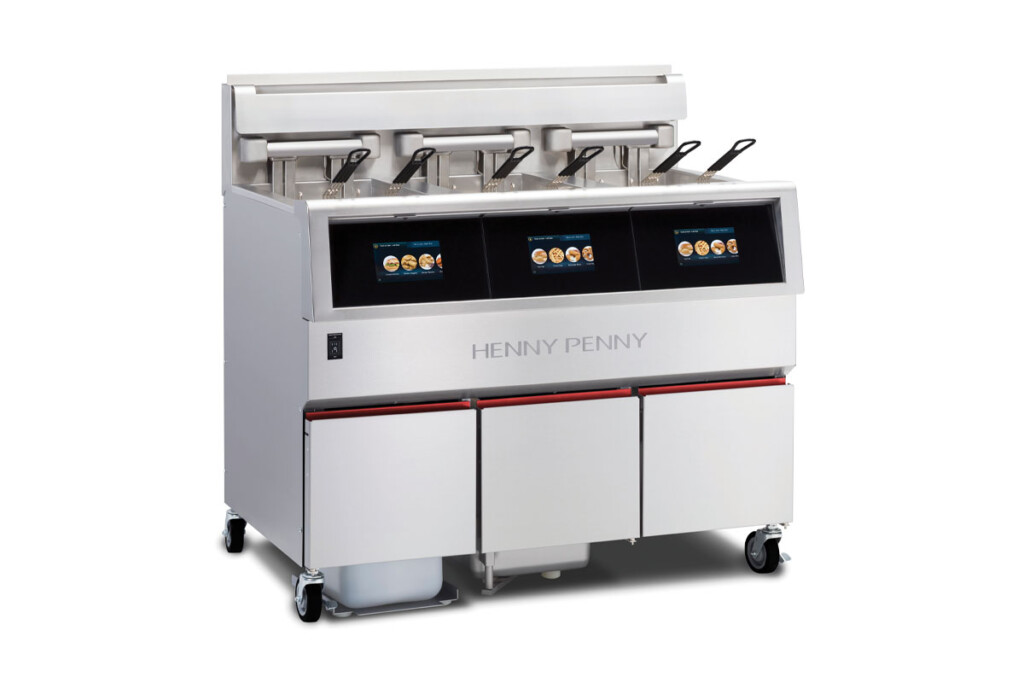 Henny Penny
MODEL: F5 Open Fryers
FRY POT CAPACITY: 30 lb.
SPECIAL FEATURES: The 7-inch touch-and-swipe screen with graphics-based operating system reduces training time. Built-in filtration lets employees filter individual vats while cooking in other vats.
WEBSITE: hennypenny.com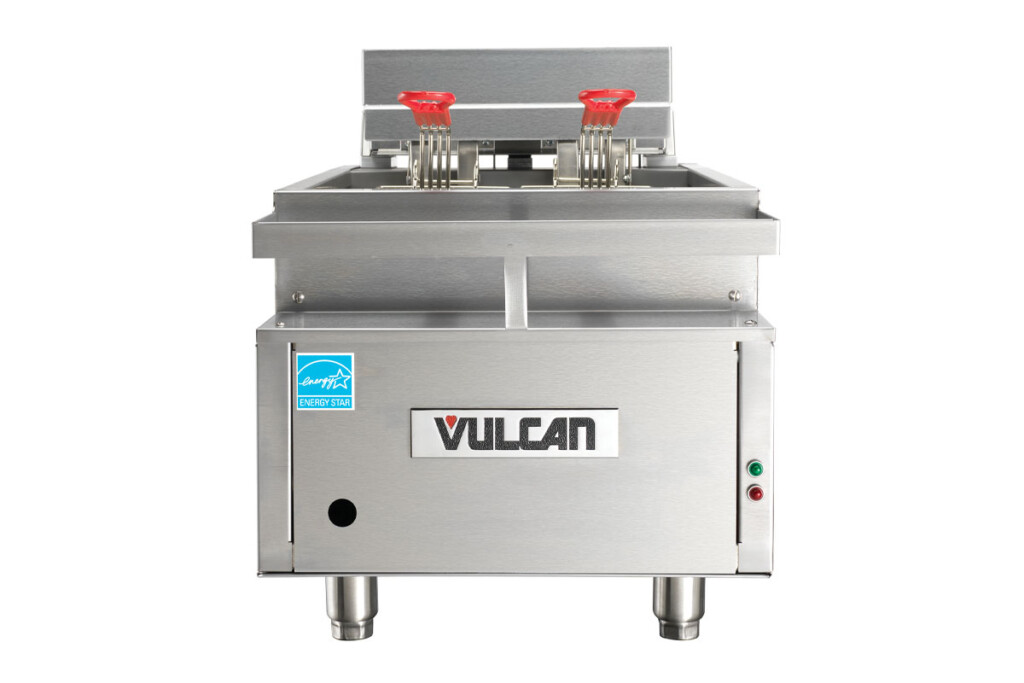 Vulcan
MODEL: CEF40 Series
FRY POT CAPACITY: 40 lb.
SPECIAL FEATURES: This countertop model uses a swing-up ribbon-style heating element with more surface area for cooking efficiency and quick recovery. A large drain valve with a quick-disconnect drain pipe allows for easy, fast filtration.
WEBSITE: vulcanequipment.com
Ultrafryer
MODEL: UltraGold 18 Electric Series
FRY POT CAPACITY: 70-110 lb.
SPECIAL FEATURES: The filtration system cleans shortening to increase food quality and extend oil life. Standard features include high-efficiency flat bar heating element, casters and all-stainless construction.
WEBSITE: ultrafryer.com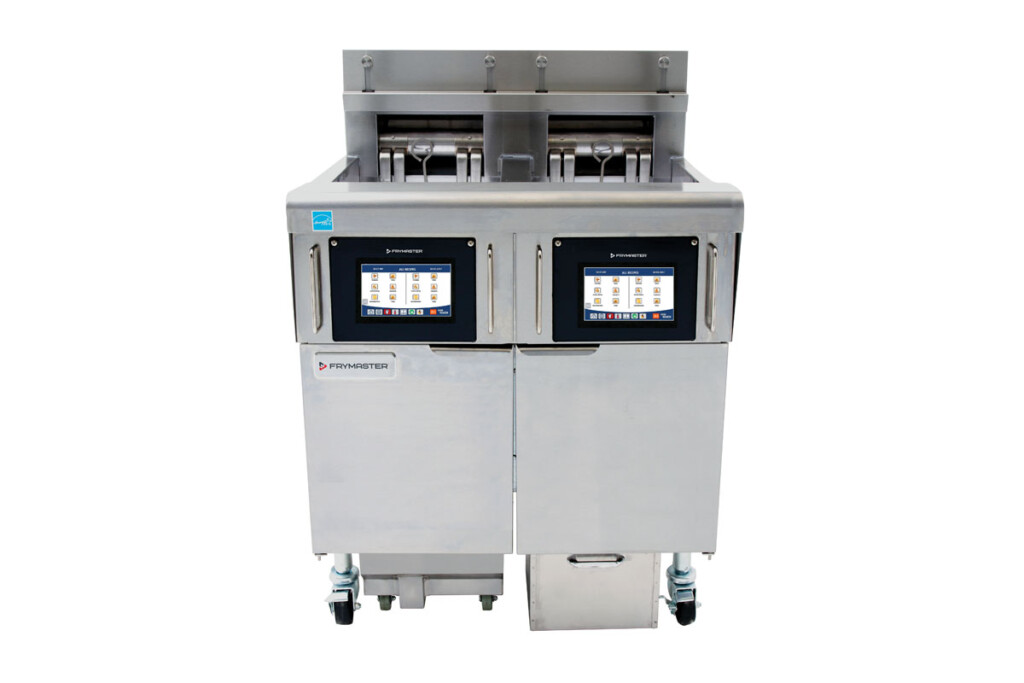 Frymaster
MODEL: FQE30U
FRY POT CAPACITY: 30 lb.
SPECIAL FEATURES: Oil-conserving fryer with controller that makes cooking and filtering simple. Cool mode reduces temperature of fryer when not in use and saves energy. Oil-quality sensor comes optional.
WEBSITE: frymaster.com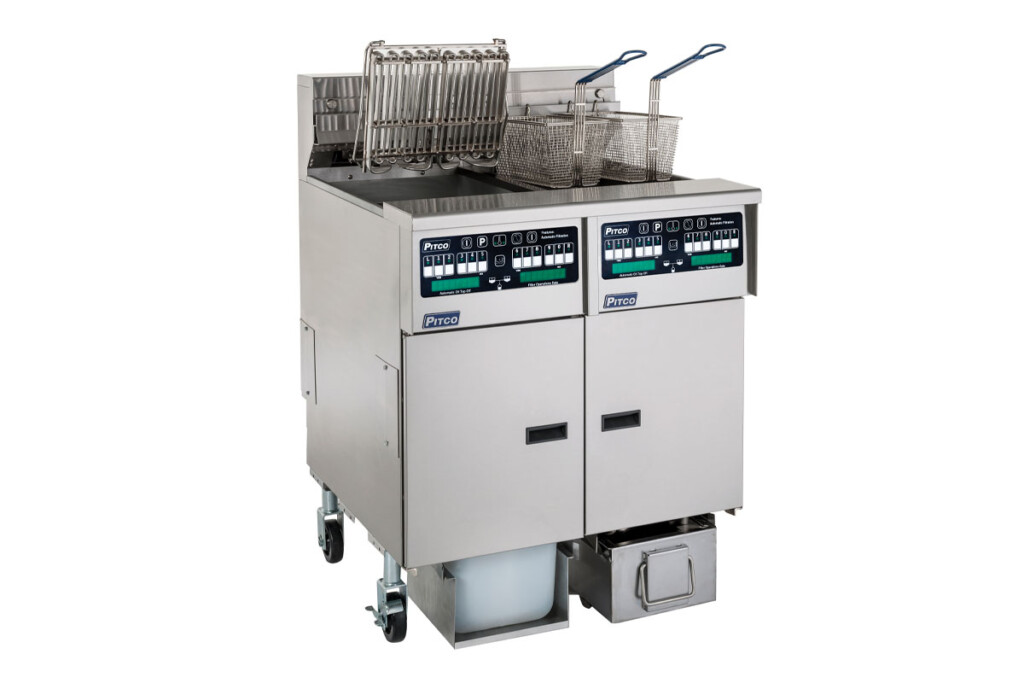 Pitco
MODEL: SELV14
FRY POT CAPACITY: 30 lb.
SPECIAL FEATURES: Reduced-oil-volume fryers minimize operating costs while maintaining high production. Monitor tracks cooking activity and indicates when to filter. Two-step process makes filtering simple and fast.
WEBSITE: pitco.com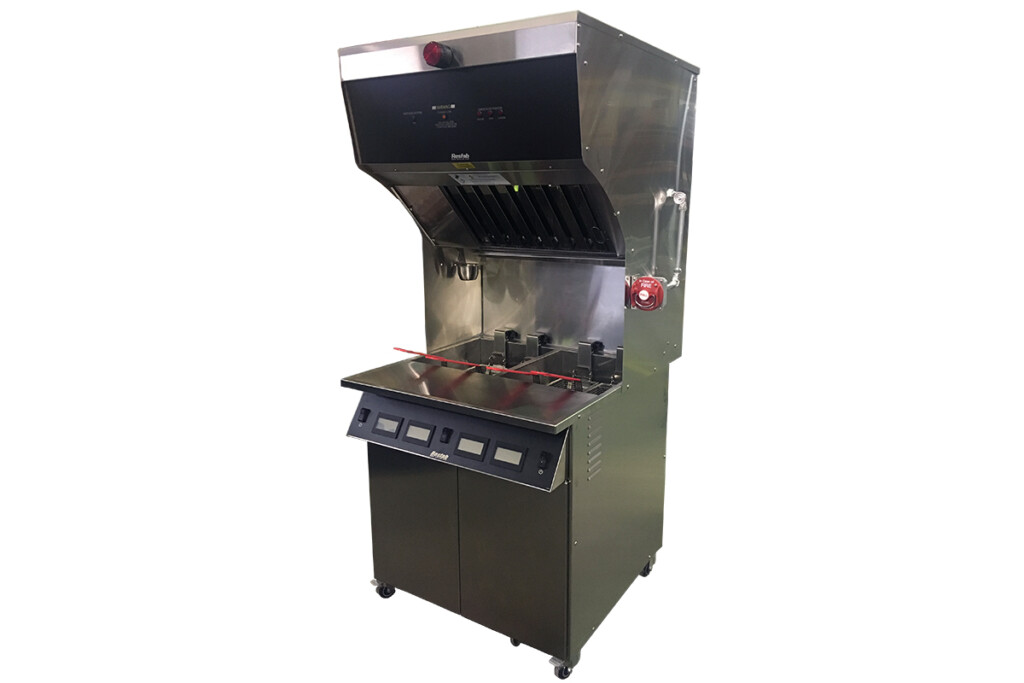 Resfab
MODEL: MB-502AT
FRY POT CAPACITY: 55 lb.
SPECIAL FEATURES: Shown here with an added ventless hood, the MB-502AT features an auto-lift system that allows for the use of one basket or two independently operating half-size baskets for versatility.
WEBSITE: resfab.com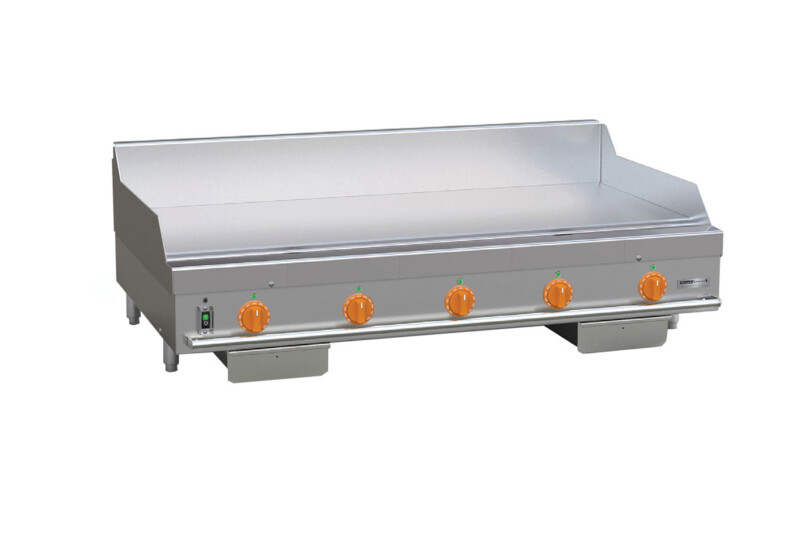 Cooking Equipment
Planchas, though convincing clones of their better-known sister product the griddle, quickly set themselves apart.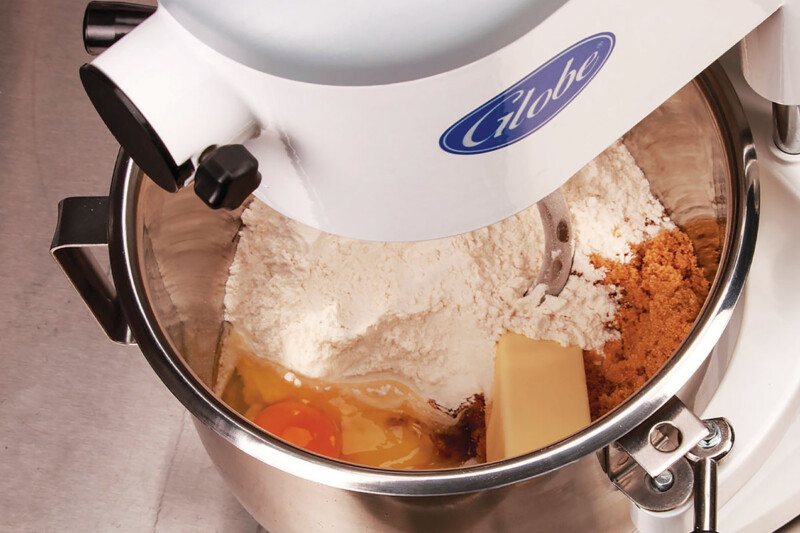 Equipment
The countertop mixer is the Swiss Army knife of the kitchen—small but mighty, with the power to perform various functions.