Fryer Files: A Guide to Finding the Right Energy Star Fryer
With so many energy-efficient fryers available today, which one is right for your operation?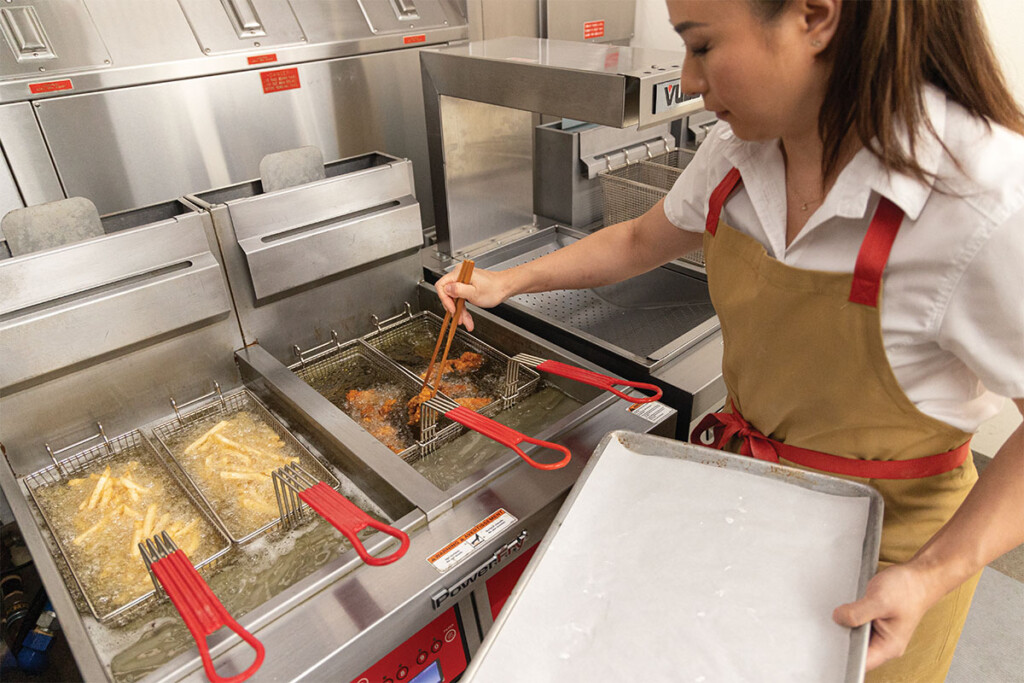 Pre-pandemic, fryers served as a profit powerhouse for many foodservice operators. French fries, mozzarella sticks, chicken wings and other fried delights typically offered strong margins. But as the price of labor, oil and food skyrocketed in the past three years, these margins have dwindled. One way to bring frying costs back into check is to choose an energy-efficient, Energy Star-rated fryer that reduces utility bills.
With an Energy Star-rated fryer, more of the energy consumed goes directly into the food—which means fewer dollars escaping up the flue as waste. On average, Energy Star-rated standard-size commercial gas fryers are 30% more energy efficient than non-qualified models, saving businesses about $410 annually per vat, or an average of $4,500 on utility bills over the product's lifetime. Energy Star-rated electric fryers are 14% more energy-efficient than standard models, saving businesses about $260 annually, or an average of $2,600 on utility bills over the product's lifetime. Less exhaust heat also can mean a cooler, more comfortable kitchen, leading to lower air conditioning costs.
"The only reason somebody might choose a non-Energy Star fryer is if they were just looking for the absolute cheapest acquisition cost on a fryer," notes the director of product management at a major fryer manufacturer. "The problem with that thinking is that you're looking at the cost of buying the fryer, not the cost of using the fryer."
Instead, consider the total cost of ownership, including energy and oil expenses. As an extra incentive, some utility companies and efficiency programs offer rebates for purchasing energy-efficient fryers, typically anywhere from $100 to $1,000. One manufacturer warns against automatically purchasing the lowest-cost Energy Star model—swayed by an attractive post-rebate price tag—before ensuring that it meets all your other specifications.
AN ENERGY STAR IS BORN
Energy Star is a U.S. government program that identifies energy-efficient products to help businesses and individuals save energy and protect the environment. To be Energy Star-rated, standard-size electric fryers must convert 83% of their electric power into the food product; for large-vat electric fryers, the requirement is 80%. The bar is lower for gas fryers, which are intrinsically less efficient. A standard gas fryer is about 35% efficient; to be Energy Star-rated, a gas fryer must clock in at 50% efficiency. Energy Star-rated fryers also must meet certain requirements for their idle rate, which measures how much energy the equipment consumes when holding the oil at the thermostat set point. These requirements apply specifically to open vat fryers; there is no Energy Star category for pressure fryers.
Some high-tech fryers feature an integrated oil sensor that detects when a buildup of byproducts necessitates an oil change.
Not all Energy Star fryers offer the same savings. If you're looking for the most energy-efficient one, electric fryers will always win. But often that doesn't translate to the lowest energy bills. In most U.S. regions, electricity costs more than gas, making the energy expenses for operating an Energy Star-rated electric fryer higher than that of a gas one.
There's a wide spectrum of efficiency among Energy Star-rated gas fryers. Some fryers are considered standard efficiency and just meet or slightly exceed the 50% efficiency standard, while others are high efficiency, and offer up to 72% efficiency. Idle energy rates also vary—from less than 4,000 Btu/hour, for a one-vat 14-inch fryer, to over 8,000 Btu/hour.
A number of factors play into efficiency differences: What type of heat transfer system does the fryer feature? How insulated is the fry pot? Does the fryer have a standing pilot light that's always consuming gas, or does it feature an electric ignition system? How efficiently does the equipment preheat? Can the fryer shift into an energy saver mode after idling for a length of time? Does it have an efficient solid-state thermostat with a tight temperature swing around plus or minus 2°F—always keeping the fryer at optimum temperatures—or a standard millivolt thermostat with a larger temperature swing, say plus or minus 7°F? Keep in mind that most high-efficiency gas fryers (versus standard efficiency) have electrical components and must be plugged into an outlet.
All that said, energy efficiency is only one feature to consider when specifying a fryer. You'll also want to consider other factors, including your menu, production demand and oil costs.
FINDING THE RIGHT FRY
Start your fryer search by specifying the menu items you'll be cooking. Some fryers are ideal for freezer-to-fryer products, like french fries. Others best prepare freshly breaded items—like fried chicken, which produces more sediment— and feature a large cold zone, a cooler area at the bottom of the pot where excess batter and crumbs can settle without burning, until filtered out. Otherwise, burnt sediment can quickly degrade the oil and corrupt food taste.
Your menu also will factor into the fryer size. While a 14-inch-wide, 14-inch-deep fryer pot might work for french fries, you'll typically want a larger vat for bone-in chicken.
Next, consider your production demands: How many pounds per hour do you want to produce? This could impact both the size and type of fryer you select. It's not enough for a fryer to be energy-efficient; it also must meet consumer demand. Otherwise, any energy savings will be negated by a loss in sales. Unhappy customers might never return. High-production, high-efficiency fryers offer the best of both worlds. They come with a hefty price tag, but your energy savings over the lifetime of the equipment will pay you back. Of course, if you sell a low volume of fried food, a standard production unit might meet your demand at a lower acquisition price.
Another important consideration is a fryer's recovery time—or how long it takes for the oil to return to the optimum cooking temperature between batches. This could be anywhere from instantaneous to over 50 seconds. "If you're an operator, you can't wait 27 seconds between each batch when you're in middle of lunch," notes one manufacturer.
OIL AND LABOR SAVINGS
"Oil is the biggest driver in the total cost of ownership, so if you can save money on oil, your savings can be much larger than even the energy savings," notes one manufacturer. Fortunately, many Energy Star-rated fryers offer oil-conserving features, letting operators bank both types of savings.
Automatic filtration systems have become commonplace, facilitating frequent filtering to remove impurities and extend oil life. Employees can filter oil with a quick touch of a button, offering labor savings to boot. Some of the latest models offer intuitive touch screens, which ease the filtering process and other operations, minimizing training time.
Some high-tech fryers also feature an integrated oil sensor that detects when a buildup of byproducts necessitates an oil change. This feature helps operators avoid the costly mistake of discarding usable oil, while ensuring that oil is changed before food quality suffers. Another oil saver: One manufacturer boasts that its ignition system heats oil gently, prolonging oil life.
Over the past 15 years, "low oil volume" fryers have gained popularity. These fryers feature oil pots designed to cook the same amount of food in 40% less oil. In other words, a low oil volume pot containing 30 pounds of oil can yield as many french fries as a traditional 50-pound pot. A smaller vat also means quicker filtration. An auto top-off feature ensures that these fryers maintain an optimal oil level. These fryers eliminate or minimize the cold zone, making them best suited for low-sediment freezer-to-fryer products.
Filtration can be challenging on large vat fryers used for bone-in chicken, with heavy sediment accumulating in large cold zones. Recent innovations have helped ease this problem. One large capacity fryer—a 2021 National Restaurant Association Kitchen Innovations Award recipient—features an automatic filtration system with multiple oil-return ports, promising easy and effective filtration.
Combining energy efficiency with these oil and labor savings could be the recipe for success when it comes to your fried food menu.
---
Comparison Shopping Tools
These two online tools can help guide your search for an energy-efficient fryer:
• Energy Star Product Finder: Explore more than 150 Energy Star-rated commercial fryers. A "compare" tool allows for an easy comparison of up to four models at once, based on efficiency and basic traits.
• California Energy Wise: Calculate and compare energy savings of different energy-efficient fryers. Under the "resources" tab, click on "calculators;" then select either "electric" or "natural gas" under "fryers." A sliding bar lets you adjust the energy-efficiency percentage and idle rate to see how those impact energy usage.
---
Above Average
Take a look at the noteworthy features available on five makers' Energy Star-rated fryers.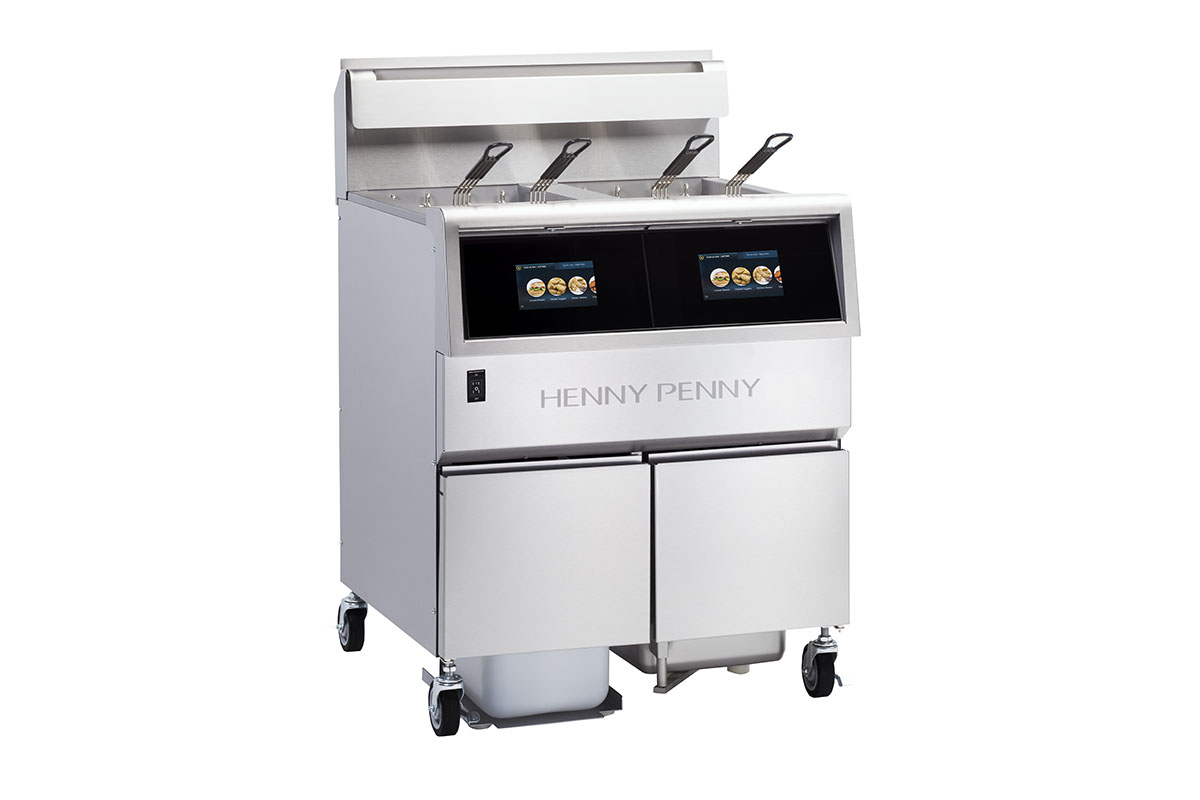 Henny Penny
Model: F5 Open Fryers
Type: Electric
Features: This line, in full production as of March 2023, offers models with one, two, three or four wells, with each 30-lb. vat able to achieve the same throughput as a 50-lb. vat in 40% less oil. Control each well from a 7-in., full-color touch screen, swiping through graphics to start cooking or to activate filtration cycles that run approximately three minutes.
Website: hennypenny.com
---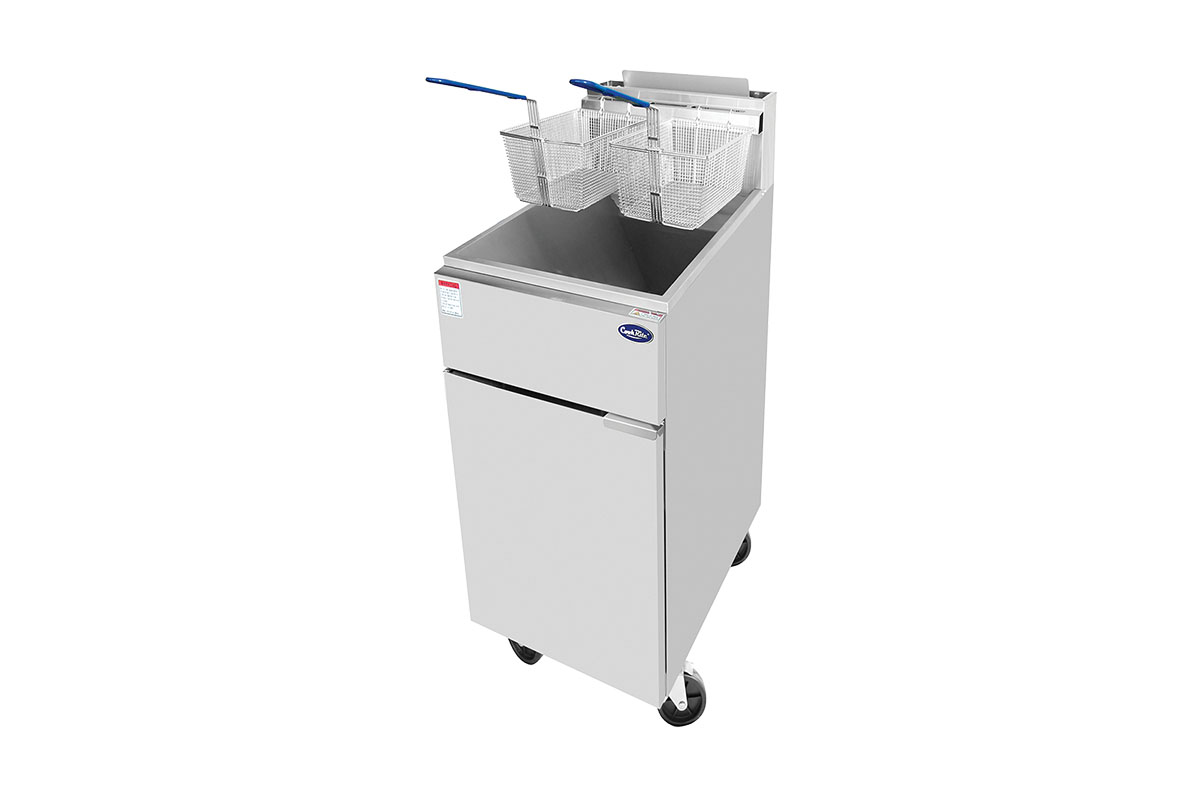 CookRite by Atosa
Model: ATFS-35ES
Type: Gas, natural and propane
Features: Three cast iron burners power this two-basket, 35-lb. vat unit, which has manual controls and a temperature range of 200°F-400°F. A cooling zone at the bottom of the tank captures food particles for extended oil life. A basket hanger, safety valve and self-reset high temperature limiting device mark a few more features.
Website: atosausa.com
---
Royal Range of California
Model: RHEF-75 Delux Series
Type: Gas, natural or propane
Features: This 75-lb. model, available in five sizes, boasts 72% energy efficiency and a per-hour production capacity of 129 lb. A built-in filter system is included; specify aisle space to remove the filter pan. Consider options like a filter screen in lieu of filter paper and triple filtration for heavily breaded products.
Website: royalranges.com
---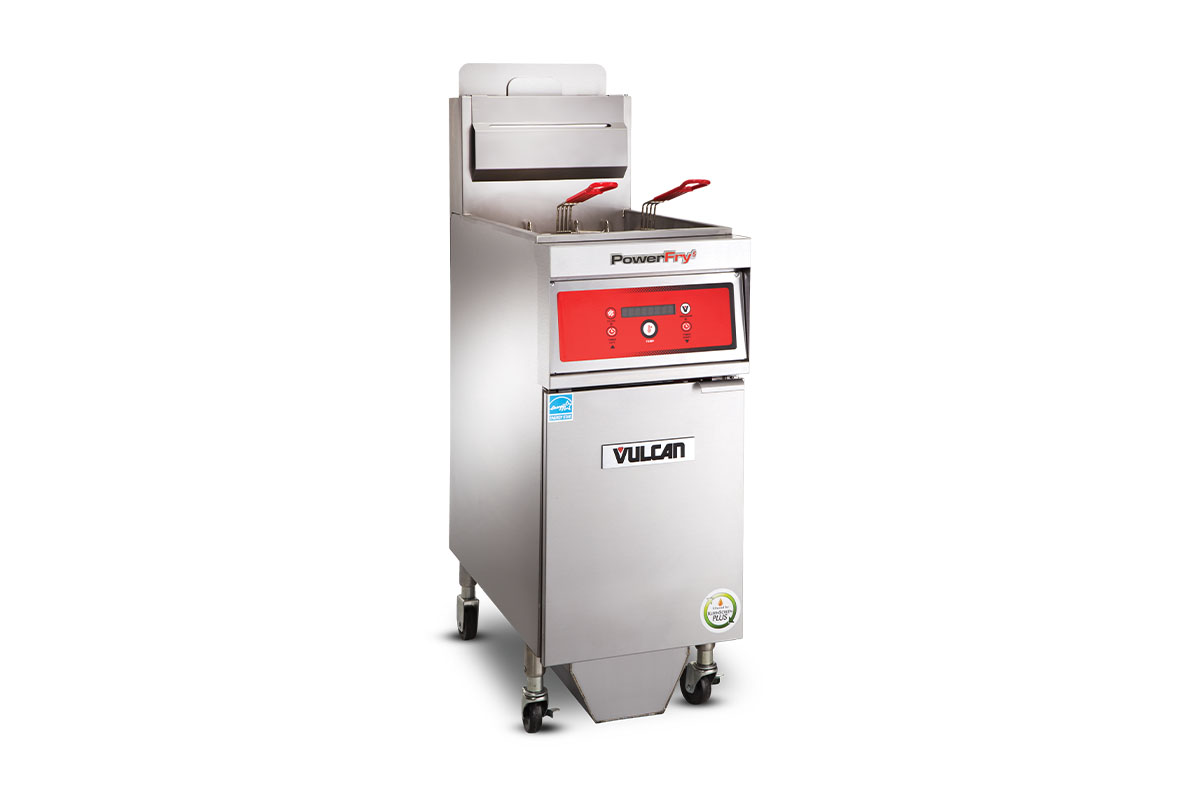 Vulcan
Model: 1VK45D
Type: Gas, natural or propane
Features: An energy-saving electric ignition uses 35,000 Btu/hour to help extend oil life on this 45-lb. to 50-lb. capacity model. Set cooking temps between 200°F-390°F on the digital display, and choose from three melt modes. Operators can connect fryers and select between a single basket (13-in.W) or a two-basket configuration.
Website: vulcanequipment.com
---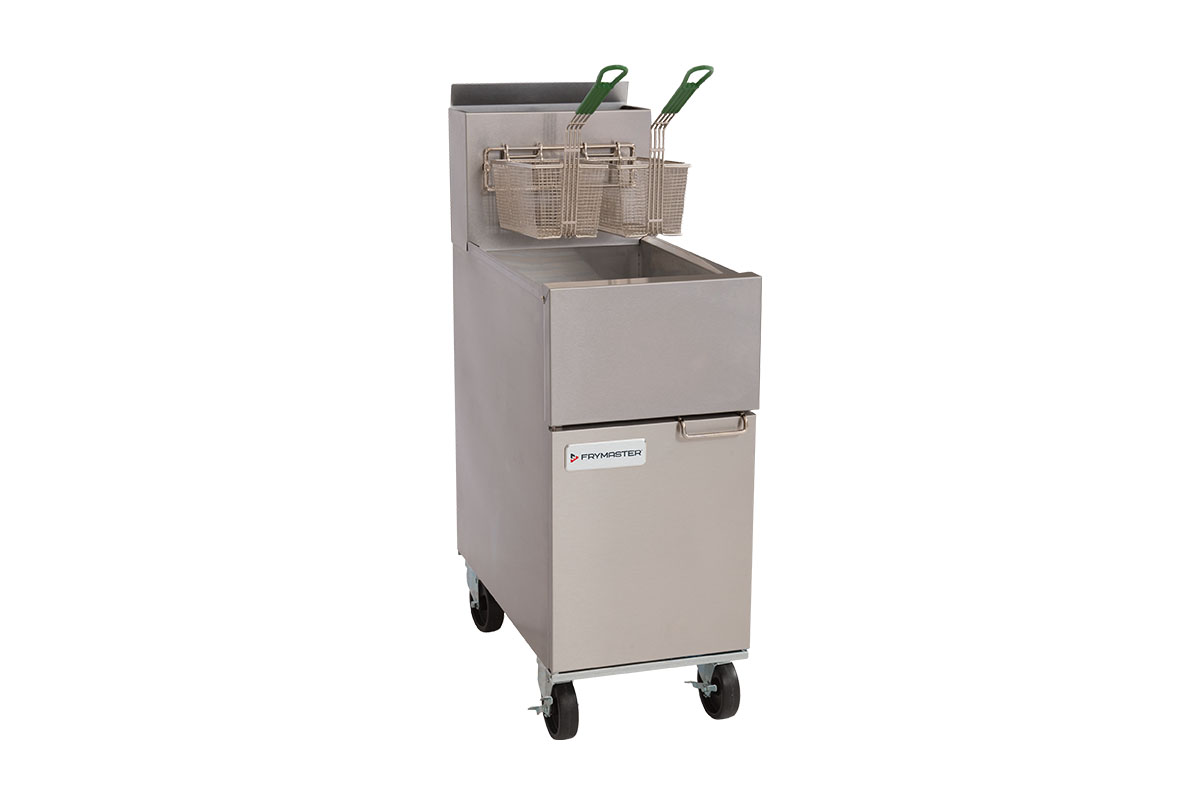 Frymaster
Model: ESG35T
Type: Gas, natural or propane
Features: This value fryer qualifies for energy-saving rebates, while also saving on energy and oil use. The 35-lb. frypot has the same cooking capacity as a 45-lb. fryer, and a wide cold zone keeps sediment away from the cooking area for improved oil longevity. Further, no electrical hookup is required.
Website: frymaster.com
---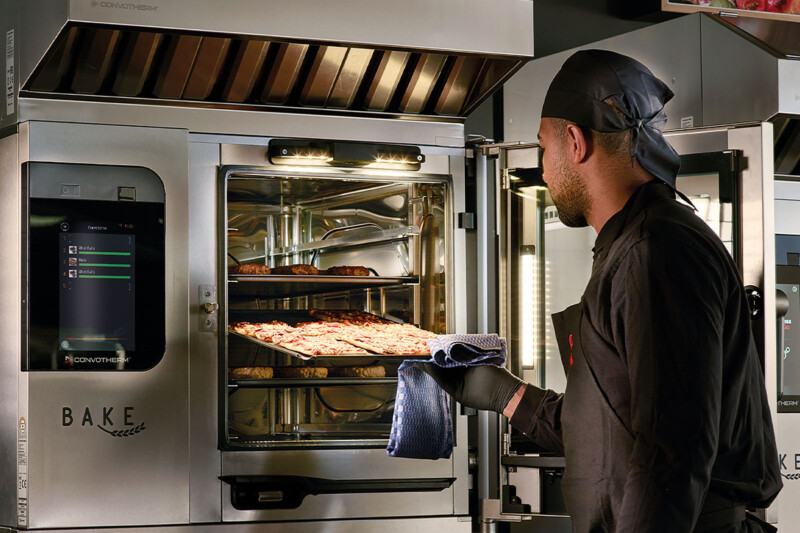 Combi Ovens
Today's combi ovens are smarter and more energy efficient, reducing the need for skilled labor and cutting utility costs.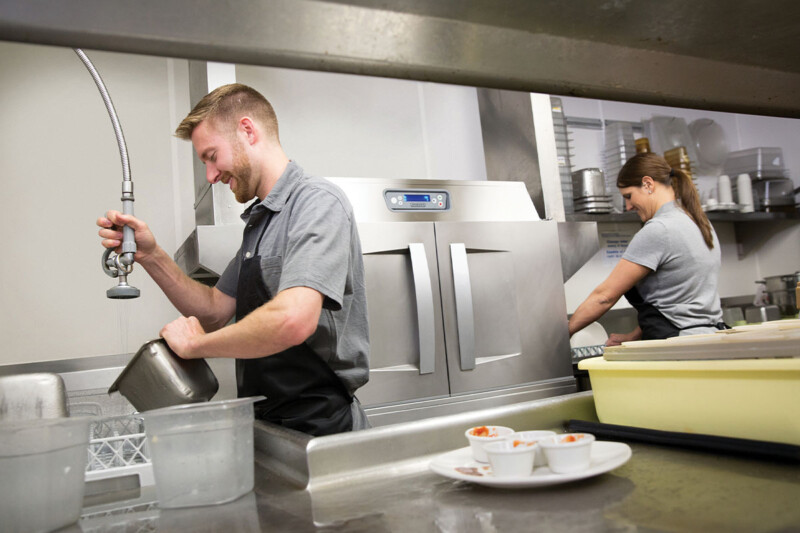 Equipment Comparisons
Forget steamy dishrooms; some of the newest rack conveyors improve environmental comfort and reduce overhead costs.