Hot Off the Shelf: Specifying Heated Shelving Units
Heated shelving units provide a convenient way to keep takeout orders hot. Note style, heat type and controls when specifying.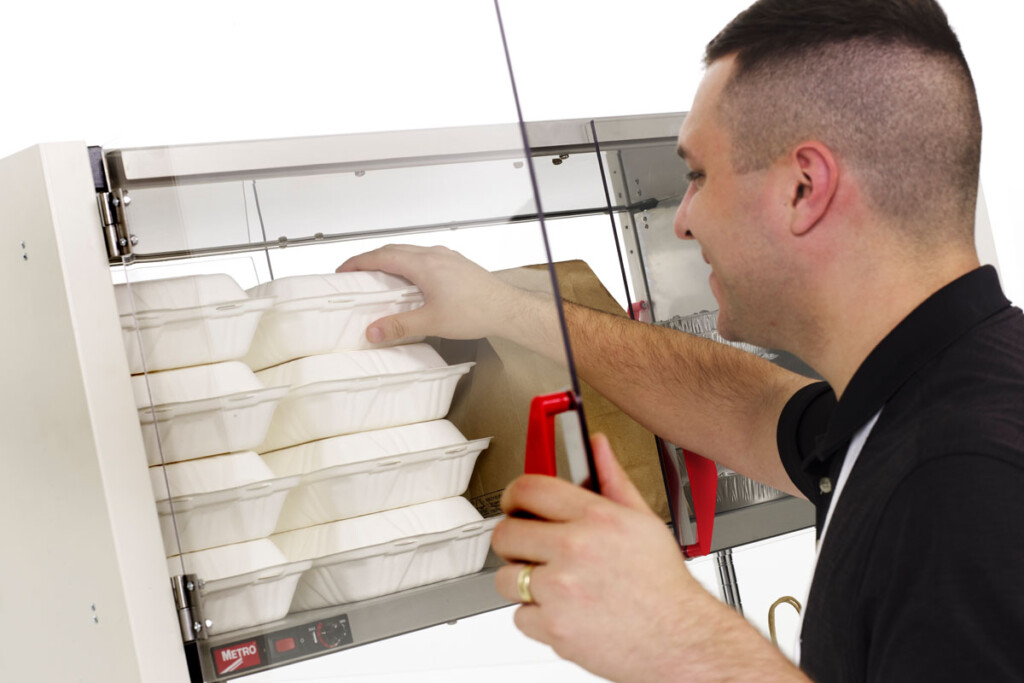 Since March 2020, the continued existence—let alone health—of the restaurant industry has relied upon off-premise sales. Amid mandated closures and other dining limitations, guests turned to drive-thrus, curbside pickup, takeout and delivery.
Off-premise dining now represents a larger proportion of sales in every commercial segment of the business, according to the National Restaurant Association's State of the Industry Report, and roughly half of all operators are devoting more resources to expanding off-premise sales than they were pre-pandemic.
The trend isn't likely to abate anytime soon. More than two-thirds of customers say they're now more likely to order takeout than before the COVID-19 outbreak began. In groups more comfortable with online ordering, like millennials, that rises to nearly three-quarters.
To help support the off-premise boom, manufacturers offer heated shelving units that keep takeout orders hot and appetizing for a short amount of time.
EASY ACCESS
Operators typically place heated shelving units in the back-of-house, while others may specify a unit with dividers, to create cubbyholes, or clear doors and set it in the front-of-house.
Overall, the equipment enables employees to quickly place finished takeout orders and move on to other tasks and, if in the front-of-house, for customers or third-party delivery drivers to see and grab the correct order.
Built to hold orders only up to 30 minutes, the units may not fit every application, but they do offer advantages over alternatives such as food lockers, holding cabinets or merchandisers. First and foremost, these units and systems are usually less expensive, starting at around $1,500.
Food lockers typically require customized software to work properly and entail training of both staff members and customers to operate. Customers can't see orders in holding cabinets, which are really designed for longer-term product storage with the door closed. And merchandisers are great for displaying product, not bagged orders, and may prevent customers or drivers from grabbing their orders, depending on the design.
Heated shelving units, designed for short-term holding (roughly 15 to 30 minutes), retail for $1,500 and up.
CHOOSE A STYLE
Manufacturers typically build heated shelving units as cabinet-type systems. At least one manufacturer designs its units by combining its traditional wire shelving systems with heated shelves.
The cabinet-type systems come with a base shelf on legs or casters, sides, shelves and a top. You can order models with two to five shelves in a standard width of about 36 or 44¼ inches and depth of about 20 to 24 inches, large enough to hold pizza boxes. Virtually all makers will customize the size and utility (e.g., combination of heated and unheated shelves, clear doors, etc.) of these cabinets to your specs.
Unlike prebuilt units, the wire shelving systems with heated shelves can adjust in the field. Operators can customize the spacing between shelves while on-site, for example. Shelves come in depths of 14, 18 and 24 inches. Others also make heated shelves that can fit some of these systems. Order models from one maker or mix and match (depending on your wire shelving system supplier).
TURN UP THE HEAT
Think through the various types of heat element designs, controls and warranties when specifying a heated shelving unit.
HEAT. The temperature range of these units is usually between 140ºF to 220ºF. Many use radiant heat using low-wattage elements operating on 120V power (though at least one maker offers models in 220V, 230V and 240V). There are, however, slight variations on theme.
Typically, manufacturers use a foil heating element adhered in a pattern to the underside of shelves, which are usually fiberglass-insulated. One maker says its "blanket" element delivers more consistent and precise heat. Another claims it extends its heating element further into corners to provide even heat. Yet a third affixes the heating element to an aluminum plate diff user that heats air below the underside of the shelf, which it says is the most consistent heat of all.
CONTROLS. Most, if not all, models provide individual shelf controls, including an on/off switch, digital temperature readout and temperature setting. But they differ in where they're located and how they work.
Some makers have controls on each shelf, but some put them on the front, and others on the back (facing the kitchen in pass-thru applications). One has a temperature control dial next to the digital display and on/off switch. Another hides the temperature controller behind a removable panel, so customers can't change the setting. A third puts a master temperature setting control on the back of the unit that lets staff members set each shelf's temperature. Finally, one maker has a touch-screen panel on the front of the unit that lets you set individual shelf temperatures.
WARRANTIES. A one-year parts-and-labor warranty is standard. At least one maker offers one year on labor and two years on parts, and another offers a two-year warranty.
---
Keep Orders Hot
START YOUR SEARCH FOR A HEATED SHELVING UNIT BY BROWSING THE FOLLOWING UNITS.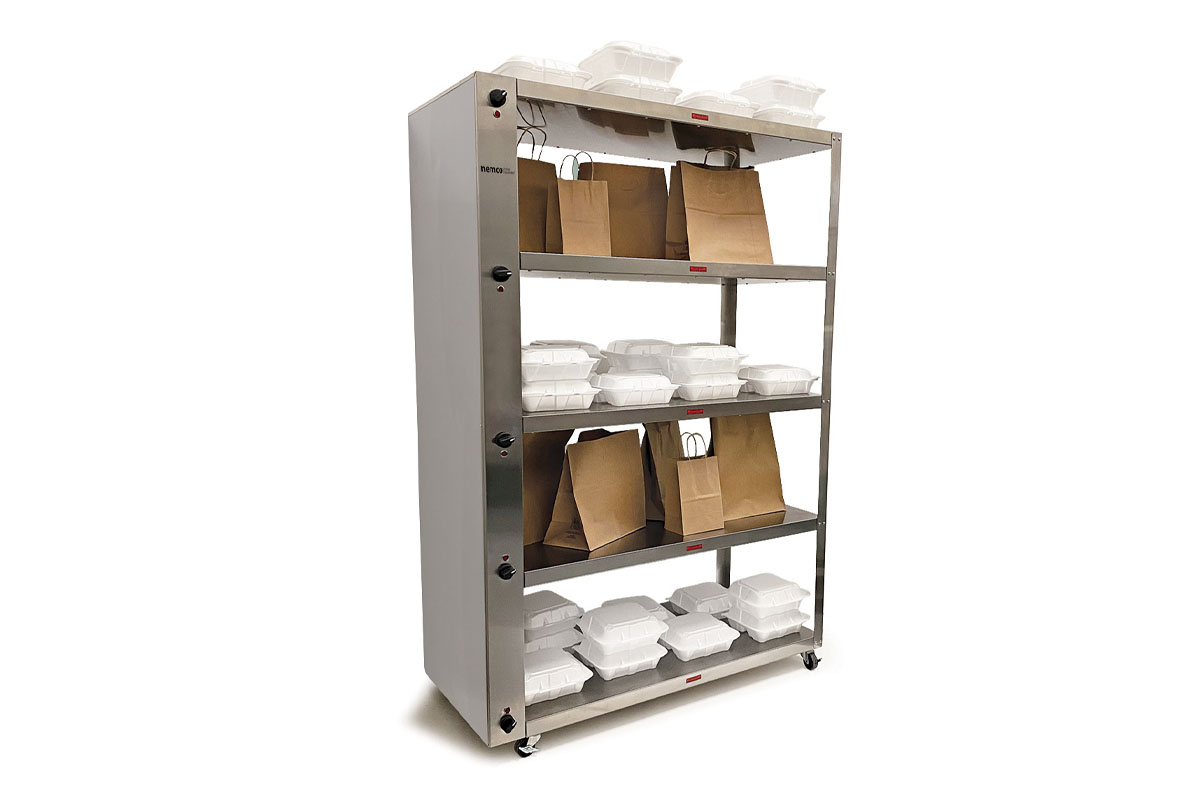 Nemco
MODEL: To-Go Shelves
FEATURES: Choose from two, three, four or five heated shelves; the shelves heat as high as 220°F; casters add mobility.
DIMENSIONS: 41⅝ -in.W x 20⅛ -in.D x 623⁄16-in.H (Model 6302-5 shown)
WEBSITE: nemcofoodequip.com
---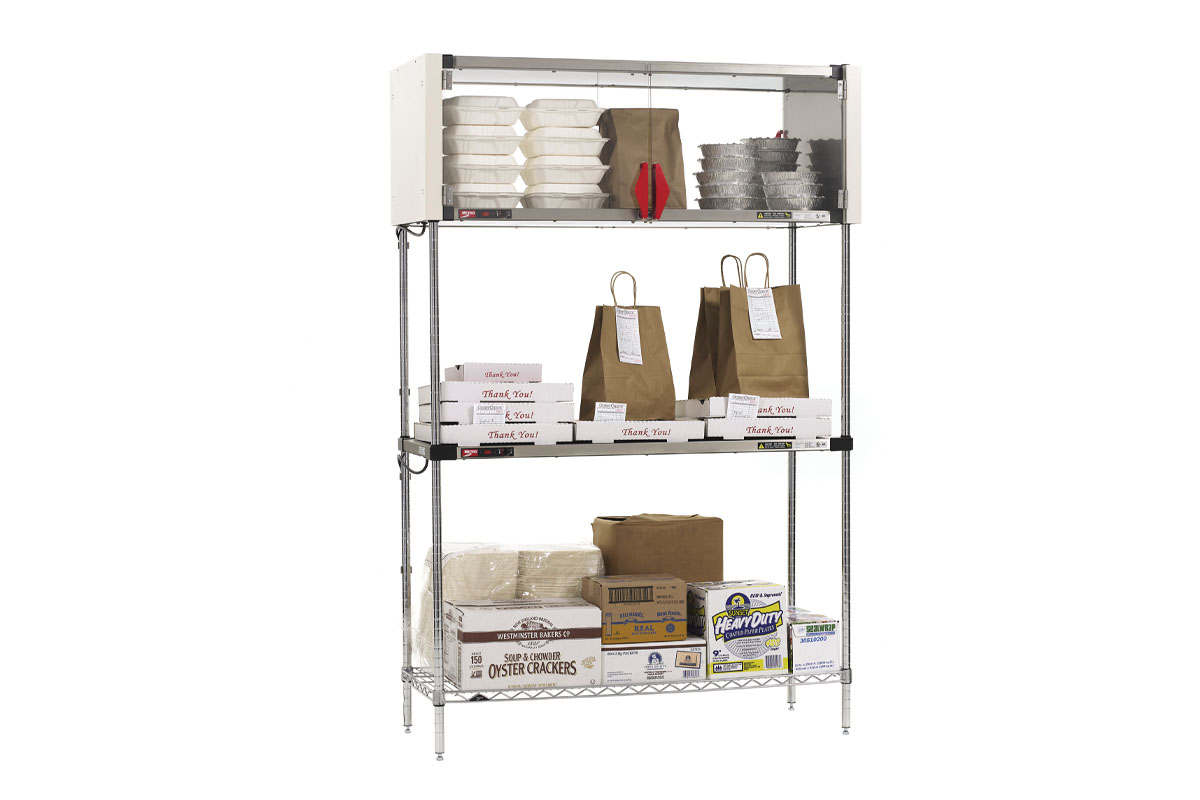 Metro
MODEL: Super Erecta Hot Heated Shelving
FEATURES: These units combine wire shelving with heated shelves for flexibility; use the enclosure kit to maximize holding time and increase security in the front-of-house. Adjust the shelves in the field in 1-in. increments if desired.
DIMENSIONS: Shelves range from 24- to 60-in.W and 14- to 24-in.D, system height varies.
WEBSITE: metro.com
---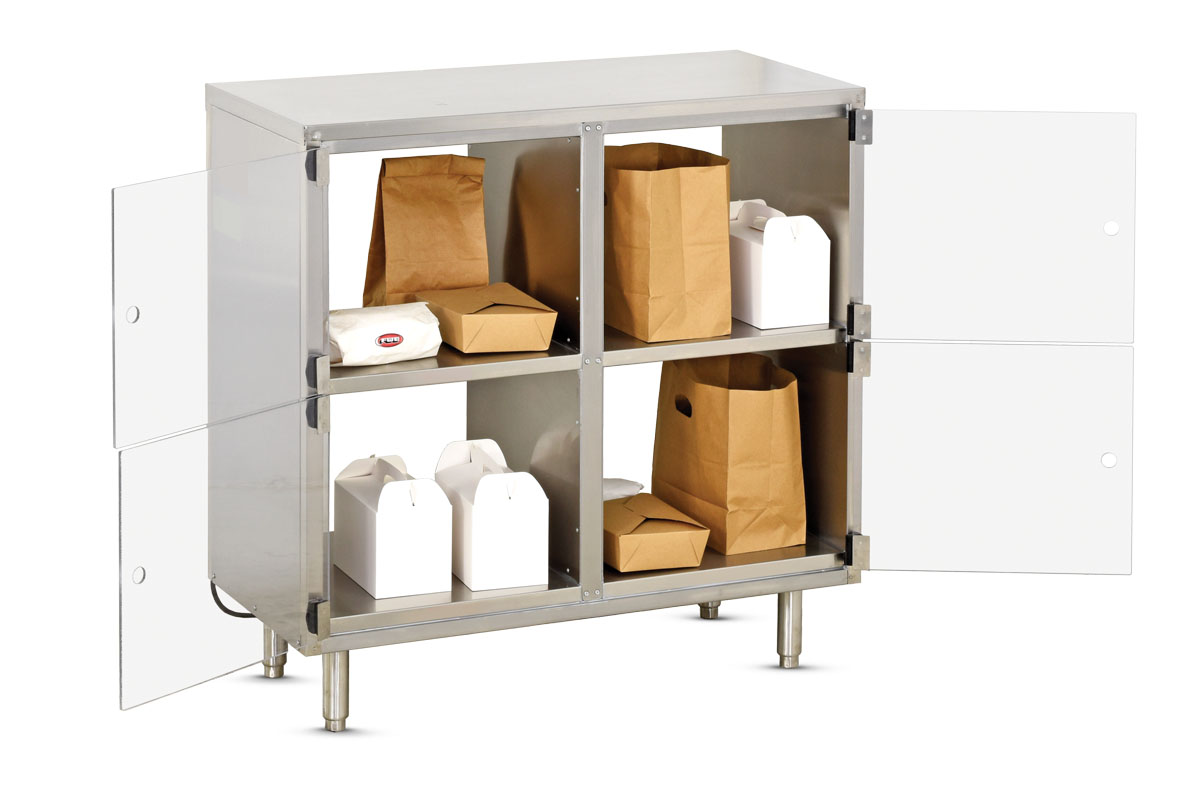 FWE
MODEL: Heated Holding Cubby
FEATURES: Cubbies separate orders for easy identification; optional polycarbonate doors simplify cubby labeling; an adjustable thermostat controller sits inside the unit behind a removable panel.
DIMENSIONS: 38¾-in.W x 19-in.D x 39½-in.H
WEBSITE: fwe.com
---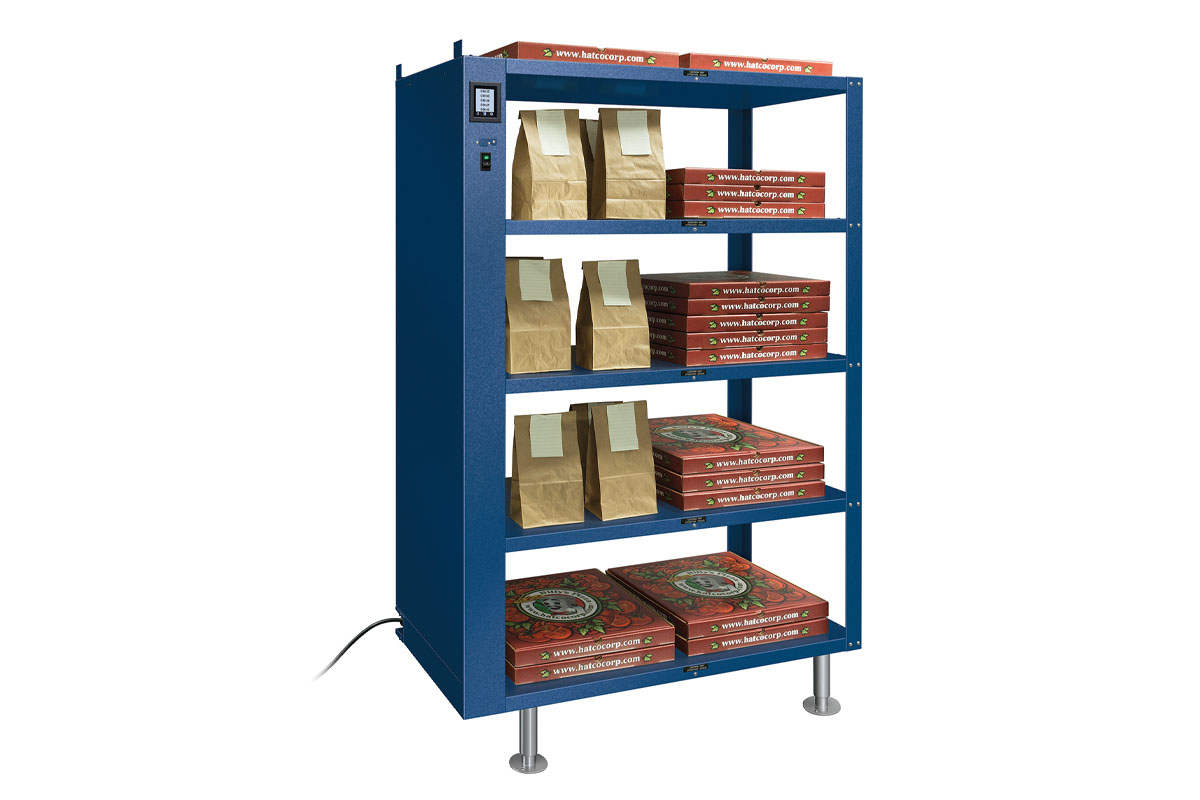 Hatco
MODEL: Glo-Ray 2-Go Heated Shelves
FEATURES: Choose from two, three, four or five-shelf models; touch-screen control with digital readout indicates separate heat and timer for each shelf; specify colors such as navy blue or red.
DIMENSIONS: 43-in.W x 20-in.D x 64 -in.H (Model GRS2G-3920-5 shown)
WEBSITE: hatcocorp.com
---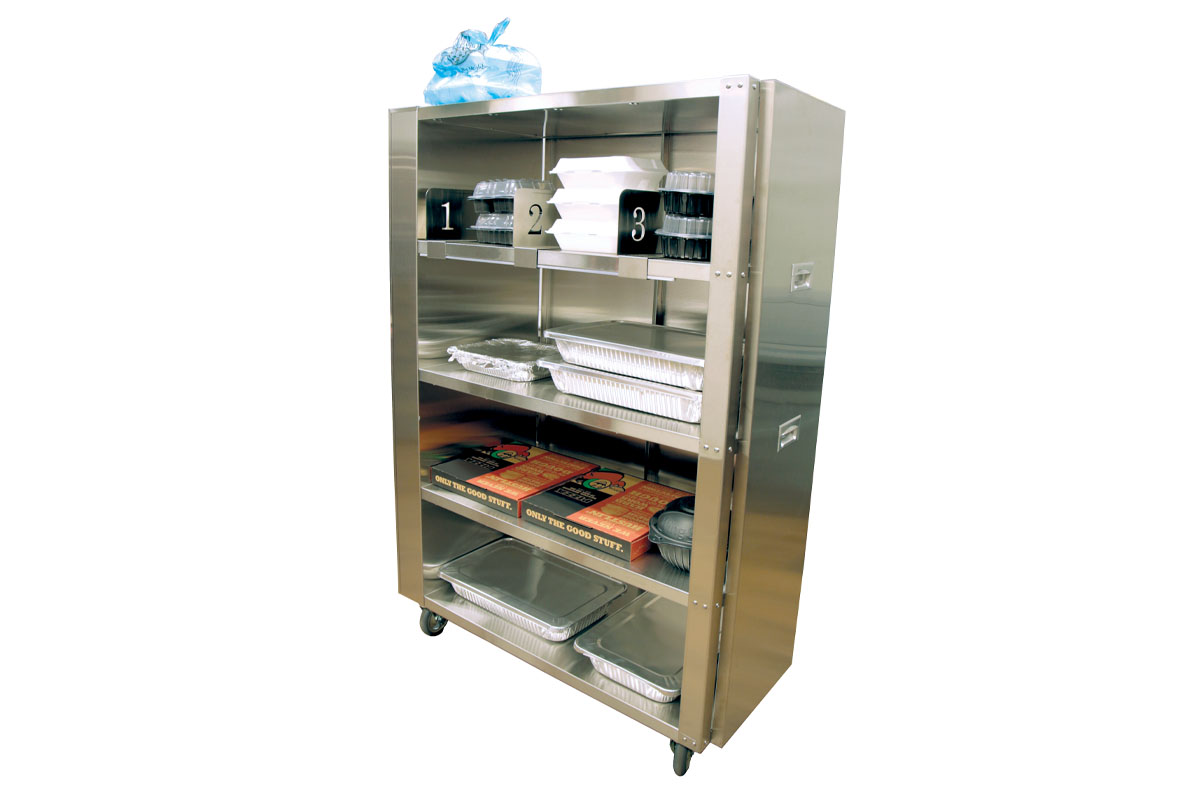 Cres Cor
MODEL: Heated Shelf Series
FEATURES: Choose from two, four and five-shelf models; hidden electronic controls on the back prevent customer interference; optional stainless side and back walls conserve heat; casters come optional.
DIMENSIONS: 44¼-in.W x 20¼-in.D x 65¼-in.H (Model HS5-203913-HT shown) Metro
WEBSITE: crescor.com
---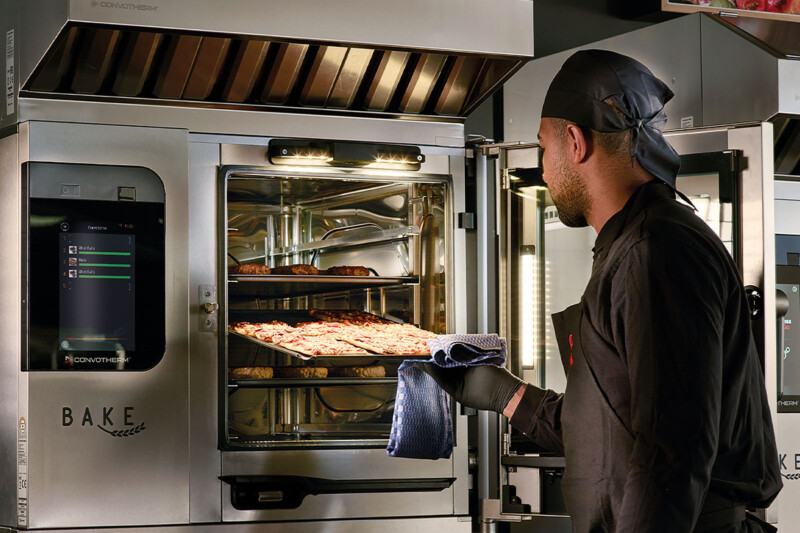 Combi Ovens
Today's combi ovens are smarter and more energy efficient, reducing the need for skilled labor and cutting utility costs.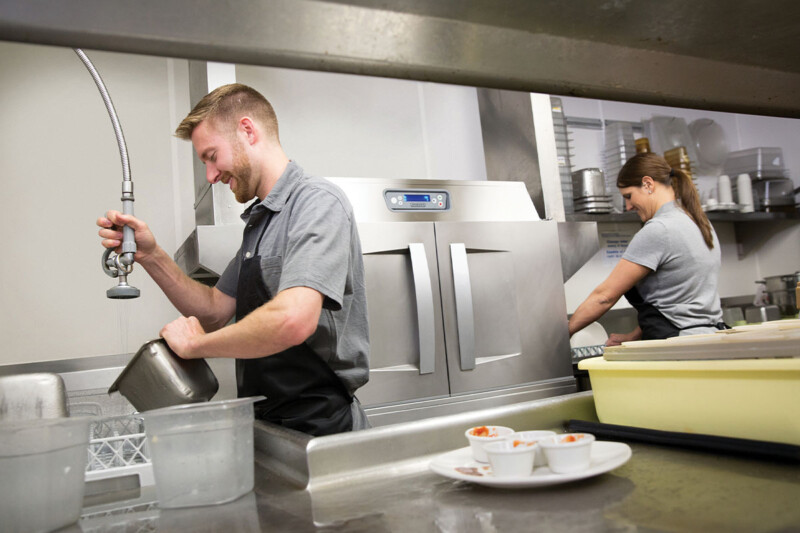 Equipment Comparisons
Forget steamy dishrooms; some of the newest rack conveyors improve environmental comfort and reduce overhead costs.