How to Choose the Right Blast Chiller
Advanced blast chillers offer up to 13 functions and 150 cycles, while others have gone back to basics for improved ease of use and trainability.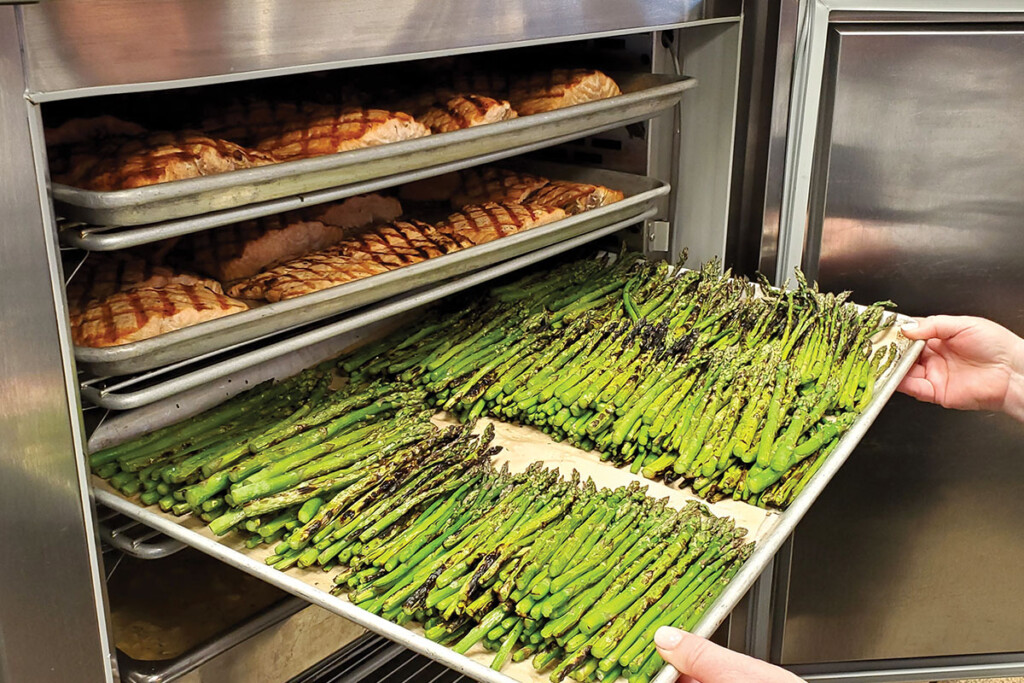 When blast chillers hit the market around three decades ago, they were designed to save labor, allowing prep work to be done days in advance and be held until needed. But today's challenge isn't so much about saving labor dollars; it's about making do with the labor you have, says one manufacturer of blast chillers.
With a blast chiller, operators can batch cook menu items and then hold them with a longer shelf life, nixing the need for a full staff daily or extra staff during peak seasons. The group at Wichita, Kan.-based chocolatier and confectionary Cocoa Dolce, for example, found that their blast chiller allowed them to meet the demand of last year's busy holiday season without having to bring in extra labor, as they had in the past, since they could work ahead and hold copious amounts of product without affecting the quality.
While all blast chillers perform the same basic function—make hot food cold quickly—there are countless models to choose from and plenty of new ones on the market.
Today's blast chillers can thaw, proof, reheat, hot hold, dehydrate, pasteurize, cook and more.
THE LATEST
Manufacturers of blast chillers have innovated on both sides of the spectrum over the last couple of years, putting out new multifunction models that feature more cycles than ever and other models that eliminate bells and whistles entirely.
One-stop shop: As for the most advanced, one manufacturer launched a new line last year that has 13 dedicated functions and 150 cycles. In addition to blast chilling and shock freezing, the line—which ranges from undercounter to walk-in models—also thaws, proofs, reheats, hot holds, dehydrates, pasteurizes, melts chocolate, low-temperature cooks (LTC) and chills, LTC and freezes, and LTC and holds.
Heating capabilities allow operators to streamline kitchen processes, says the manufacturer, as they can LTC and automatically chill, freeze or hot hold in one cycle for autonomous, labor-free overnight production. With the rethermalize cycle, operators can hold products cold and heat them the next day or up to 72 hours in the future. Thawing features can help operators decrease water consumption, reducing water and sewage costs. "These cycles are all designed to save the operator money and manage labor more efficiently," says the manufacturer.
Going green: The aforementioned multifunction line also is among the first to use R290, a natural refrigerant gas with low global warming potential, making it compliant with the most restrictive regulations on the overheating of the atmosphere by refrigerant gases and providing quicker chill and freeze cycles, up to 30% and 40%, respectively, on average. Another manufacturer released an undercounter blast chiller in 2020 that also uses R290.
Back to basics: As for simplicity, one maker launched a line in July that's touted as affordable and basic. Available in undercounter and reach-in, the units come with features that are simple to use and require minimal staff training. The maker says it created the line to address two common barriers to operators purchasing blast chillers: their high price tag and perceived difficulty of use.
"There are no bells and whistles. There are no high-tech capabilities. They are designed solely to support the task of quickly cooling food for the operator who's really concerned with purchase costs," says the manufacturer.
More modular: Another manufacturer recently released a first-of-its-kind 200-pound capacity, self-contained modular blast chiller. Using knowledge of panelized construction that's used for its walk-ins, the maker adapted that to a roll-in unit, creating a fully self-contained model that can be built on-site, solving challenges presented by elevators, staircases, tight doorways and other site restrictions.
DOWN TO IT
When specifying a model, take these considerations into account to ensure you invest in a blast chiller that best suits your needs and operation.
First, identify which menu items you plan to use for the blast chill process. Based on that, determine your production levels to narrow down the size model you need. Consider how much product you're looking to chill per cycle and also how much you're looking at doing throughout the day. Models range in capacity from 173/5 pounds to around 1,380 pounds. Sizing is key, as it's not unusual for operators to see a 12-month return on investment with a properly sized blast chiller, says one manufacturer.
If you plan to chill different types of menu items at the same time, consider a model with multiple probes; at least one model offers up to four probes. Also consider the kind of pans you use—some models fit hotel pans while others are made for sheet pans—and how many pans the unit will hold.
Next, determine how you plan to use the blast chiller—whether it will be to simply blast chill or if you plan to use it to shock freeze or take advantage of other cycles. Almost all models come standard with two chill modes—hard chill and soft chill—though not all models shock freeze, which typically lowers the temperature from 160°F to 0°F within four hours. Of course, other cycles involving everything from thawing to reheating also are available.
Blast chilling helps operators be HACCP compliant in chilling within the mandatory six hours, with most models chilling from 160°F to 38°F in 90 minutes. Some models can chill from 194°F in that timeframe. One maker says this can be done on its models due to the airflow, which sucks out some of the hot air while blowing cold air in, allowing it to take the temperature down faster from the higher starting point. The maker says operators who are putting food into these units at 160°F will have a lower cycle time, typically 60 to 75 minutes, "which means you can generally buy a smaller unit in comparison to some of the others."
At least two makers' new models can cool from any starting temperature, even boiling hot. Being able to chill directly from the heat source, says one of the makers, will improve the product's shelf life, yields and overall quality.
Bottom line: Stick to a particular model's guidelines. Putting food into blast chillers at temperatures that exceed recommendations can eventually wear out the compressor, condensing units and other components, cautioned one manufacturer.
Be sure to analyze your kitchen design to determine where your blast chiller will be located and that there's adequate space and electrical requirements. The smaller units generally require 120V—a standard wall outlet—while larger units require more power. Roll-in blast chillers typically require a floor drain, while reach-in models usually have a drain pan standard or can be plumbed to a floor drain.
Note the type of refrigerant used and whether your municipality has any restrictions on what's allowed.
KEEP IT RUNNING
Manufacturers have rolled out different types of features designed to extend the life of the equipment. Here are some features worth considering:
Automatic defrost. Some units offer an automatic defrost mode that automatically puts the equipment in defrost as needed, reducing the chances of staff forgetting to manually switch on the mode, which can cause the condensing unit to ice up.
Upgraded coil coating. Blast chillers are prone to evaporator coil leaks, says one manufacturer, due to the metal expanding and contracting in more extreme temperatures than normal refrigeration, which can damage the epoxy coating. At least one manufacturer uses an electrodeposition coating, a metal-like plating, that expands and contracts with the coils to help keep them from cracking. It also adds an extra layer of protection from food acids.
Probe management. Another part of the equipment that's prone to failure, says one manufacturer, is the probes. Typically, the connection terminals are housed in a technical space inside the cabinet, not easily accessible, except to a service agent. "A lot of people leave [the probes] in the product, hanging off the pan, sticking out the side, and they just break a lot," says the manufacturer. With the somewhat frequent need to replace them, one manufacturer moved its probe connections on its reach-in models to the inside of the door, making them more user-friendly to service.
With manufacturers offering new models, from budget-friendly to multifunction—and with more environmentally friendly and modular options—operators can likely find exactly what they're looking for in a blast chiller.
---
Frigid Factors
Weigh differences between nine blast chillers' cycles, capacities and more.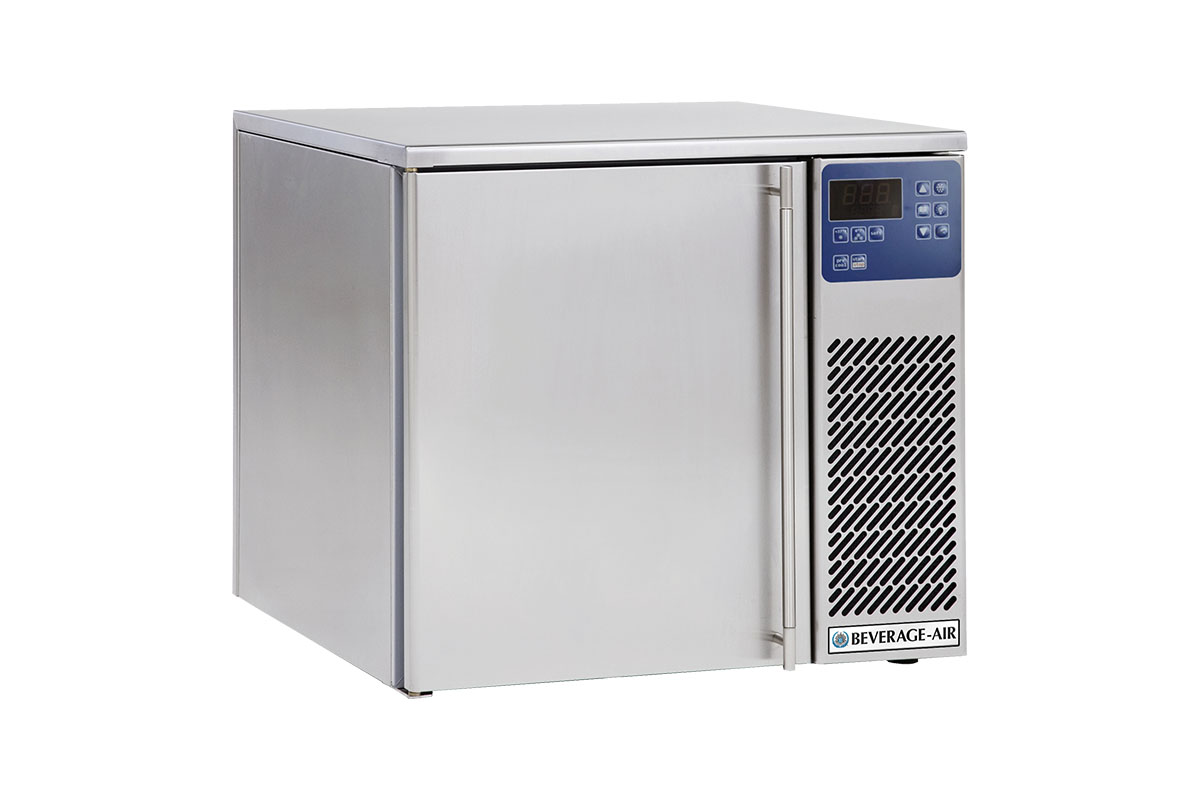 Beverage-Air
MODEL: CF031AG          
PRODUCT YIELD: Chill 173/5 lb. (194°F to 37°F) in 90 minutes, or freeze 11 lb. (194°F to 0°F) in four hours.
PAN TYPE/CAPACITY: Three hotel pans (12-in. x 20-in.)*
CYCLES: Blast chill and freeze
FEATURES: A self-closing door that props open at 100°, adjustable shelf supports and a stainless interior and exterior set this countertop model apart.
WEBSITE: beverage-air.com
*Hotel pans (aka steam table pans) have varying depths; refer to manufacturer specifications for exact capacity details.
---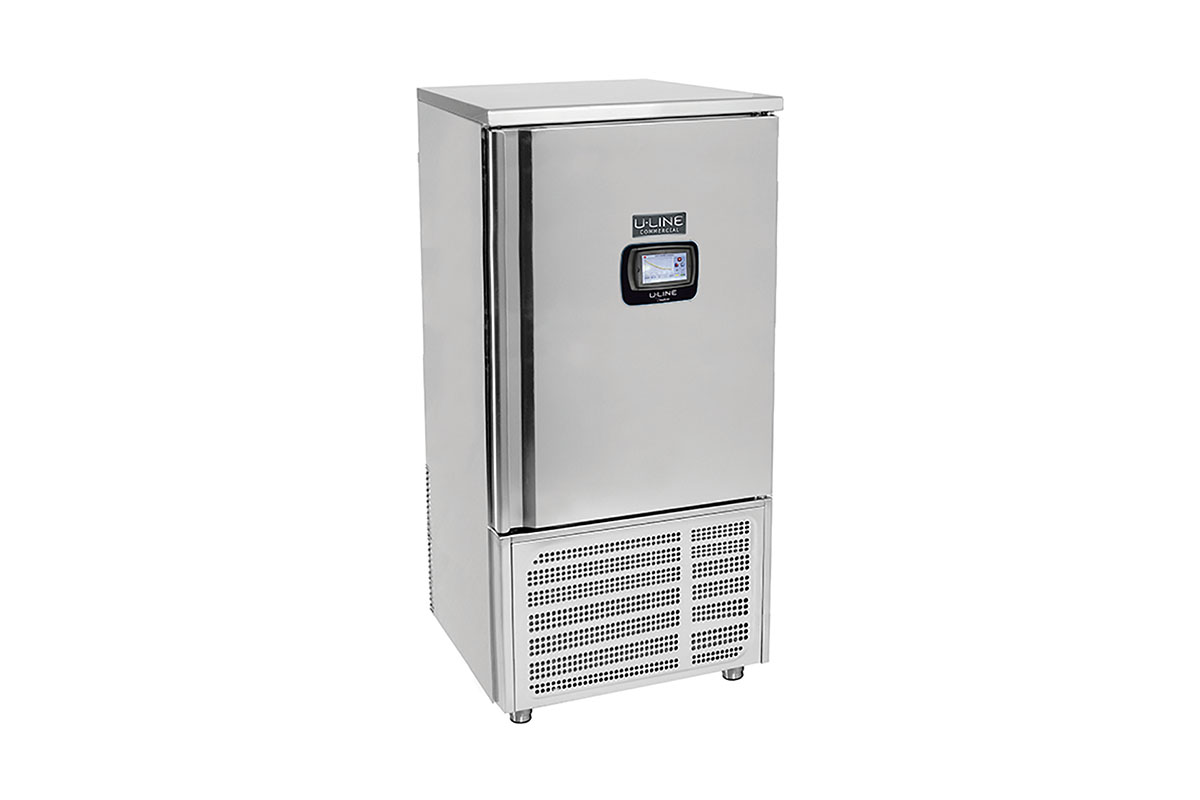 U-Line Commercial
Model: UCBF632-SS12A
Product Yield: Chill approximately 143 lb. (194°F to 37.4°F) in 90 minutes, or freeze roughly 110 lb. (194°F to -.4°F) in 270 minutes.
Pan Type/Capacity: 15 standard sheet pans or 7-15 hotel pans
Cycles: Soft chill, hard chill, soft shock, hard shock, thaw, hold and defrost
Features: A 7-in. digital touch screen control includes HACCP data tracker and alarms, and a multicore probe has four reading points. A self-closing door stays ajar at 105° and the unit runs on environmentally friendly R452A refrigerant.
Website: u-line.com/commercial
---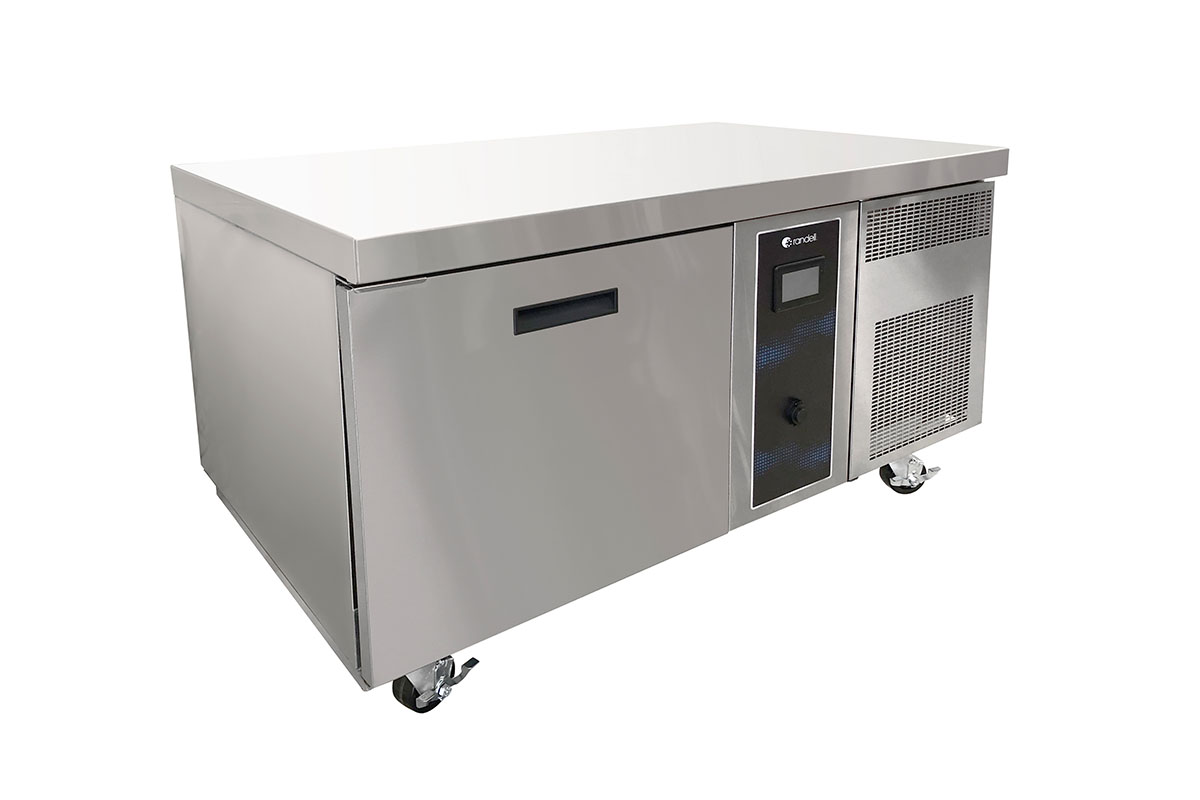 Randell
Model: BC-510WT
Product Yield: Chill through the 135°F to 40°F "danger zone" in 240 minutes or less.
Pan Type/Capacity: Five sheet pans or 10 hotel pans
Cycles: Chill by probe, chill by time
Features: Electronic controls, a touch screen display and a USB port for data collection are among this stainless unit's features. Undercounter (35-in.H) and reach-in models also are offered. Casters (6-in.) come standard.
Website: unifiedbrands.net
---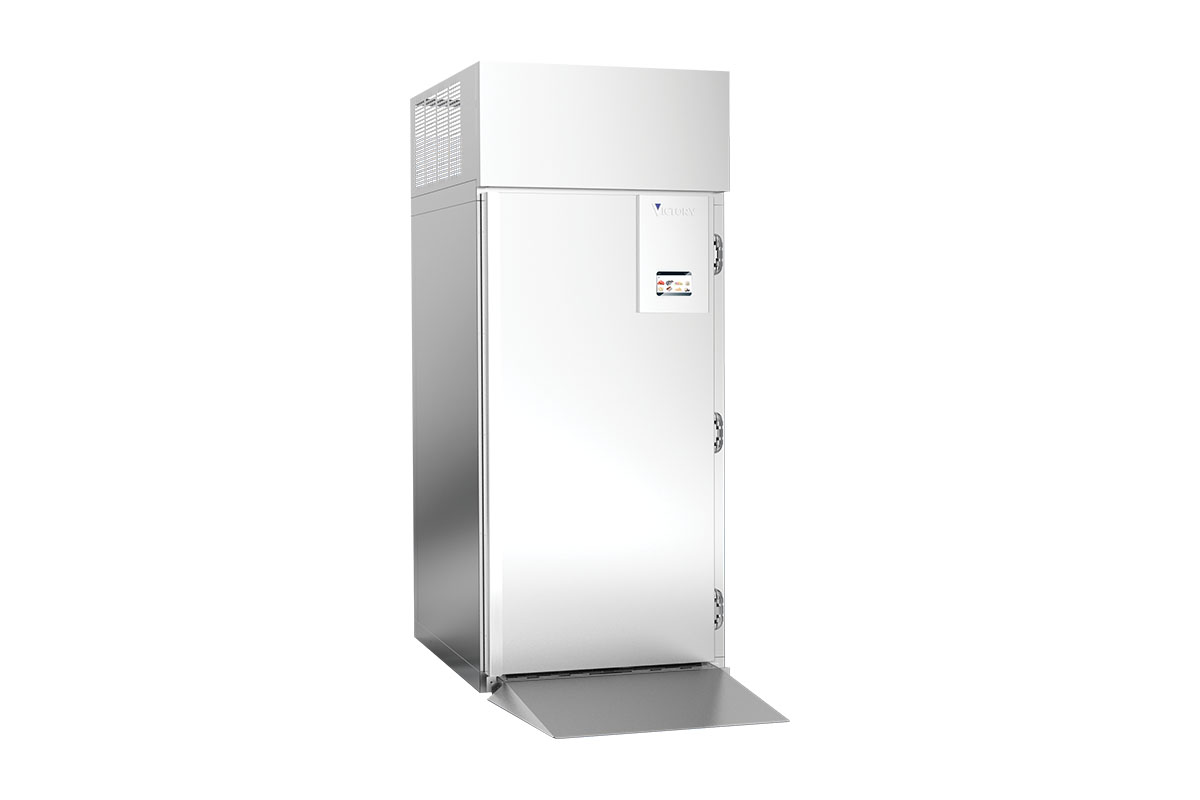 Victory 
Model: VBCFT-20-200PU-XL
Product Yield: Chill 187 lb. (194°F to 37°F) in 90 minutes, or freeze 88 lb. (194°F to 0°F) in four hours.
Capacity: Accepts roll-in cart (35-in.W x 40-in.D x 71-in.H)
Cycles: Blast chill, blast freeze, thaw
Features: Select your desired cycle on the touch display, use the USB port to upload and download data and recipes, and program up to 320 cycles on this self-contained roll-in unit. The pictured ramp is not included. In addition to warranties on parts and labor as well as the compressor, magnetic door gaskets are under warranty for two years.
Website: victoryrefrigeration.com
---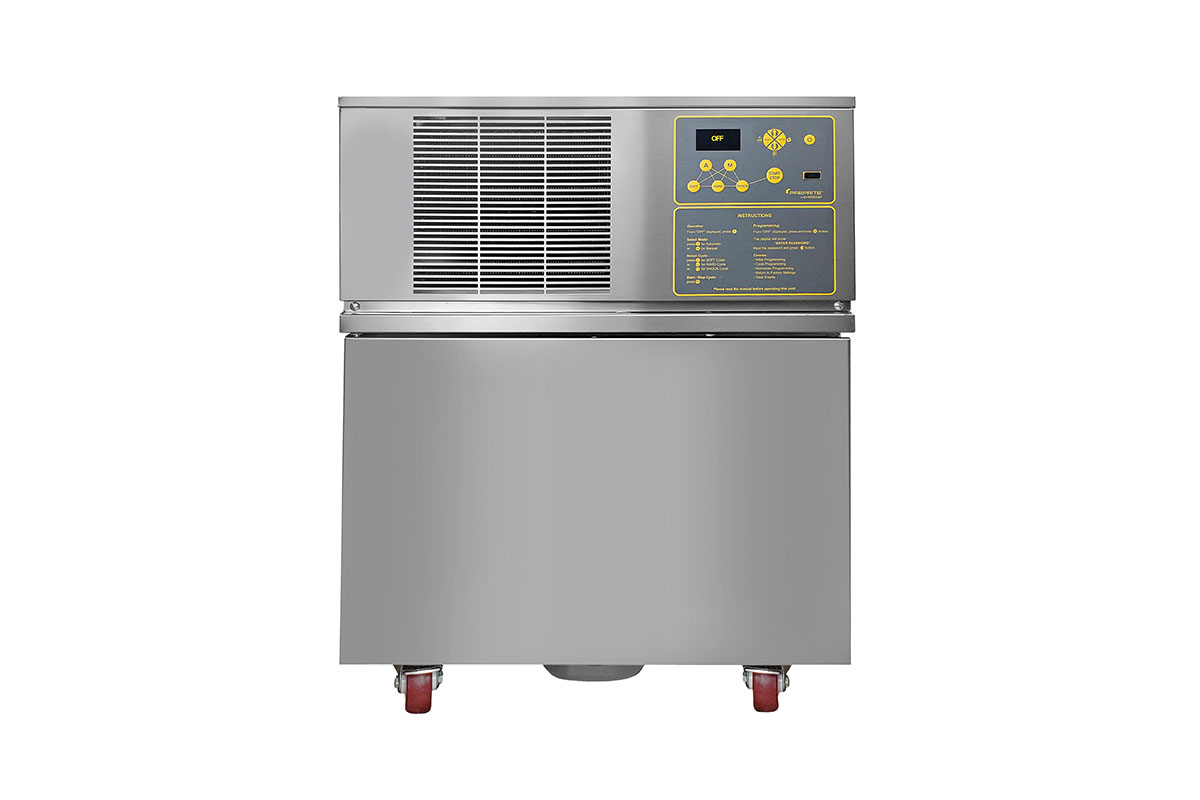 Everidge
MODEL: PBF 4.0
PRODUCT YIELD: Chill up to 40 lb. (from 160°F to 38°F) in 90 minutes, or freeze 20 lb. (160°F to 0°F) in four hours.
PAN TYPE/CAPACITY: Four to five hotel pans
CYCLES: Multiple, including soft and hard chill, shock freeze, evaporator defrost and ozone sanitation
FEATURES: This undercounter blast chiller (33½ – in.H) uses environmentally friendly R290 refrigerant. A three-way airflow system helps maintain consistent temperature, and an OLED display and USB port ensure communication.
WEBSITE: everidge.com
---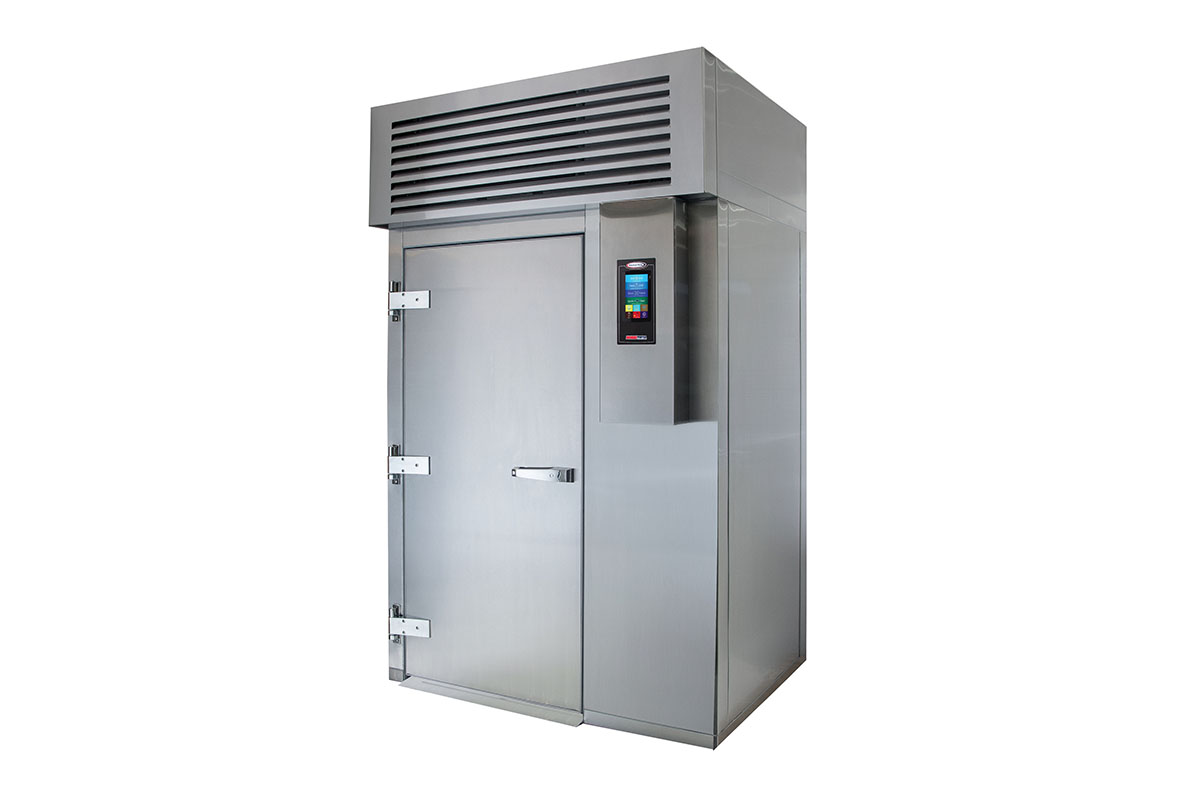 American Panel
MODEL: AP20BCF200-3-XL
PRODUCT YIELD: Chill 200 lb. (from 160°F to 38°F) in 90 minutes or 220 lb. in two hours; freeze 120 lb. (160°F to 0°F) in four hours.
CAPACITY: Accommodates one mobile rack (not included)
CYCLES: Soft and hard chill, shock freeze, quick start
FEATURES: Use the touch screen to activate one-touch quick start for your most-used cycles. Store up to 150 product names, and activate holding or defrosting modes as needed. The door is hinged on the operator's left. Consider multiple refrigerant options plus as an optional thawing package on this modular unit.
WEBSITE: americanpanel.com
---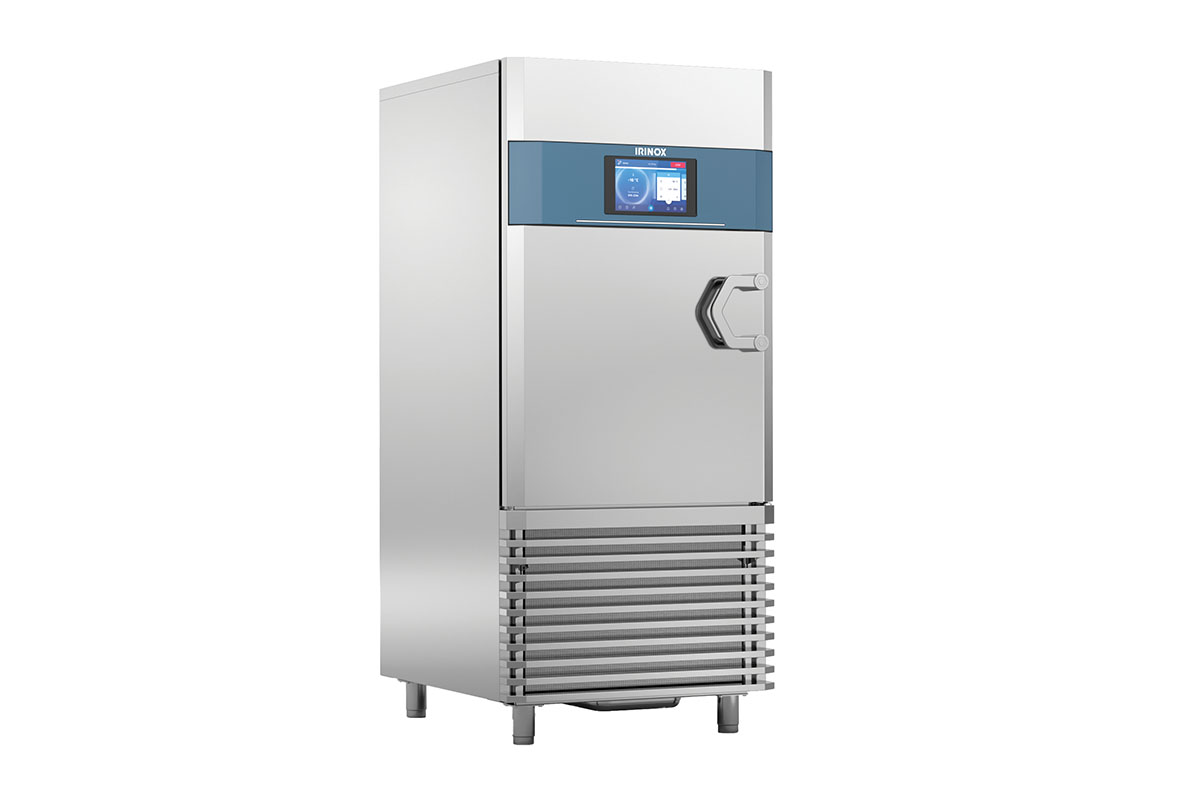 Irinox
MODEL: MF NEXT LL
PRODUCT YIELD: Chill 154 lb. (from 194°F to 37°F) in 90 minutes or freeze (194°F to 0°F) in four hours with standard or eco silent configurations; opt for a turbo model to chill or freeze 210 lb. 30% and 40% faster, respectively.
PAN TYPE/CAPACITY: 28 hotel pans or 14 sheet pans (18-in. x 26-in.)
CYCLES: 150 cycles, and up to 13 functions, including heat capabilities (chocolate melting, proofing, pasteurization and more), with the Excellence Package; the Essential package includes blast chilling, shock freezing, cold holding and continuous modes
FEATURES: Fifteen tray slides and a 160° door opening allow flexibility while loading this eco-conscious model, which relies on R290 refrigerant. With heating capabilities, this model's range is expansive, from -31°F to 185°F.
WEBSITE: irinoxprofessional.com/usa
---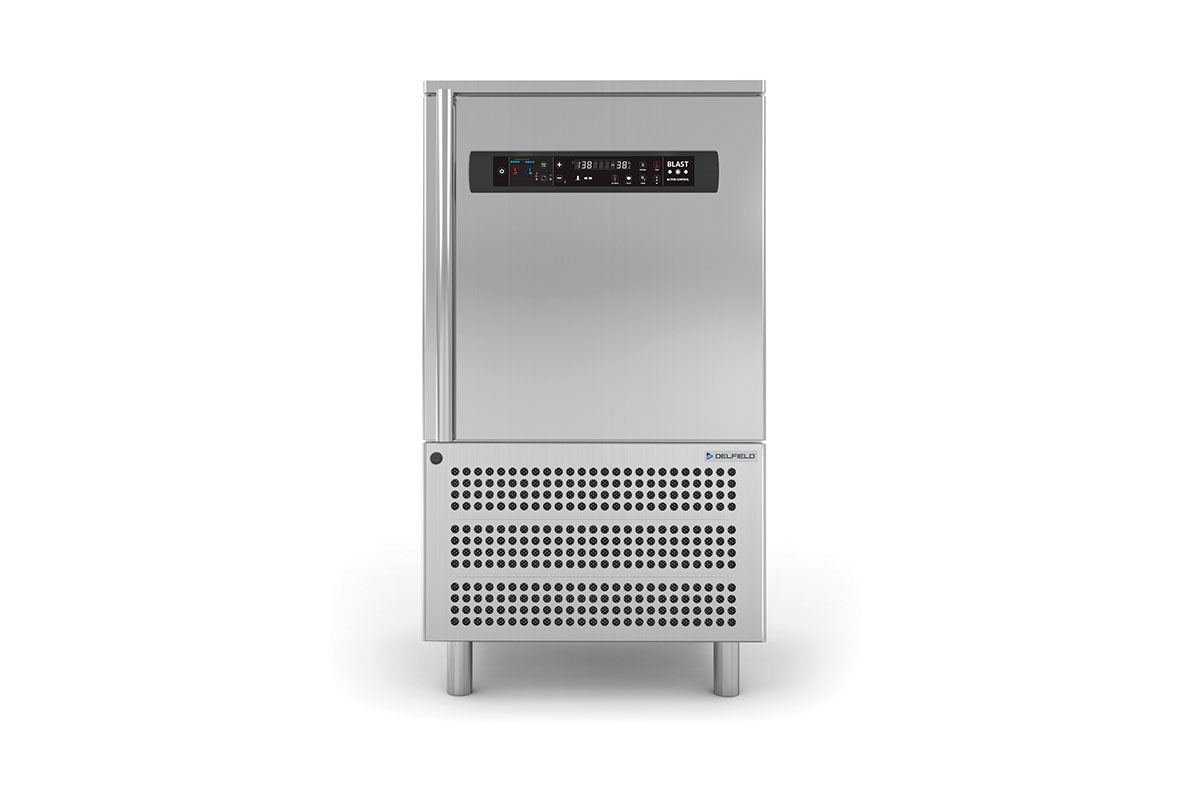 Delfield
MODEL: CV10E
PRODUCT YIELD: Chill 77 lb. in 90 minutes or freeze 55 lb. in four hours.
PAN TYPE/CAPACITY: 10 hotel pans
CYCLES: Blast chill, shock freeze, shock freeze continuous, thaw, ice cream
FEATURES: Start and stop chilling and freezing cycles, program and select often-used functions, start manual defrost, download HACCP data and more with the tap of respective controller buttons. A condensation pan comes standard.
WEBSITE: delfield.com
---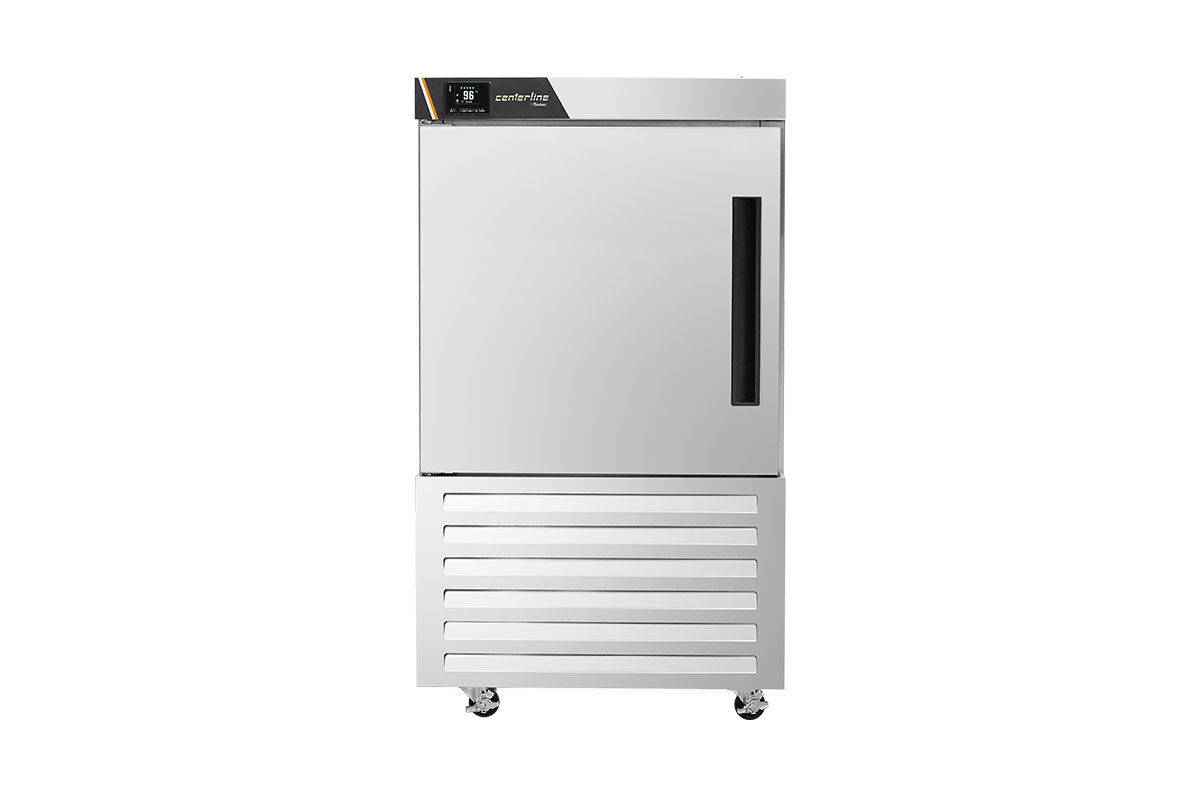 Traulsen
MODEL: CLBC7
PRODUCT YIELD: Chill approximately 56 lb. (from 160°F to 40°F) in 90 minutes, or 84 lb. in 120 minutes.
PAN TYPE/CAPACITY: Seven sheet pans or 14 hotel pans
CYCLES: Hard chill and soft chill
FEATURES: This self-contained reach-in blast chiller includes one food probe and seven shelves, and the condenser coil is easy to access for maintenance needs. Specify door orientation, and choose between casters (4-in. with locks on front come standard; 6-in. available at an added cost) or 6-in. high legs. Traulsen's Centerline product line, touted as affordable and simple, also has two undercounter models, one with a worktop and one without.
WEBSITE: traulsen.com
Editor's note: All featured models have been introduced since The NAFEM Show 2019. 
---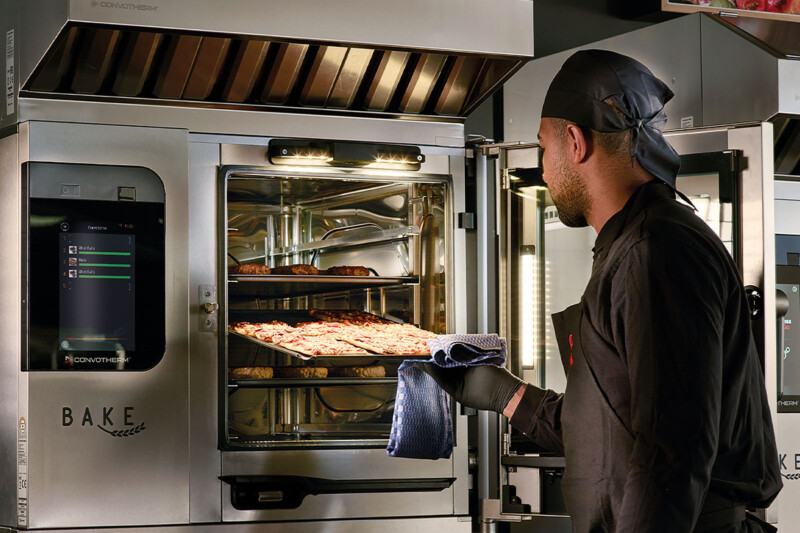 Combi Ovens
Today's combi ovens are smarter and more energy efficient, reducing the need for skilled labor and cutting utility costs.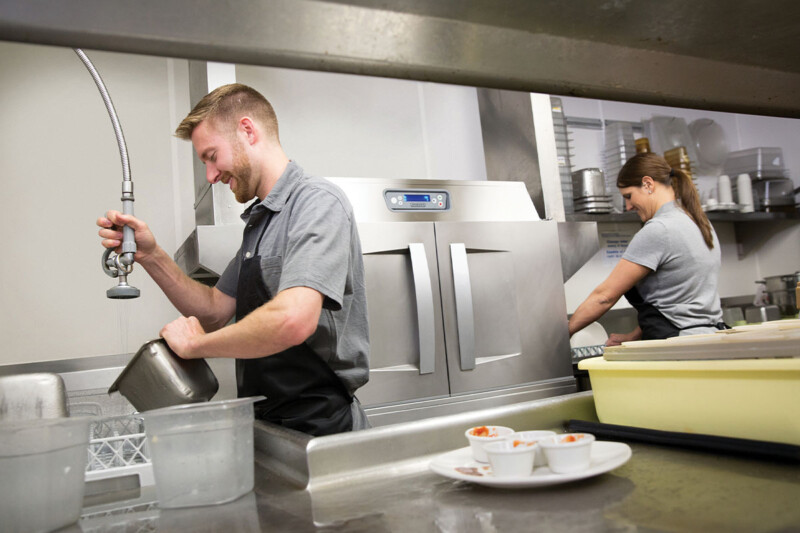 Equipment Comparisons
Forget steamy dishrooms; some of the newest rack conveyors improve environmental comfort and reduce overhead costs.