How to Spec Portable Air Filtration Units
Note filtration features, clean air delivery rate and more when choosing a portable air filtration unit.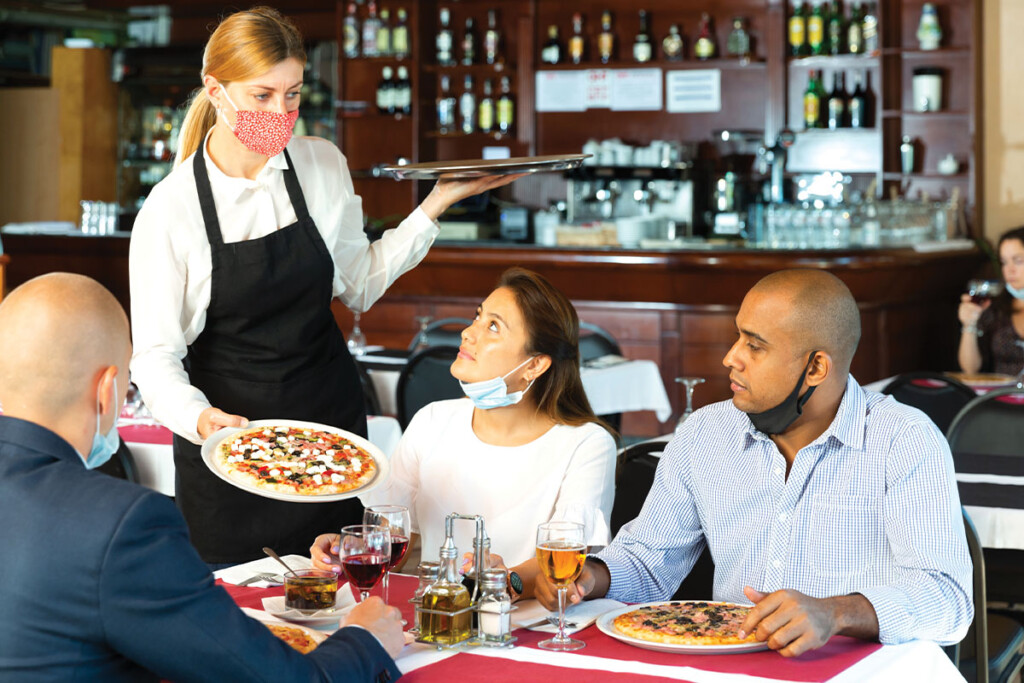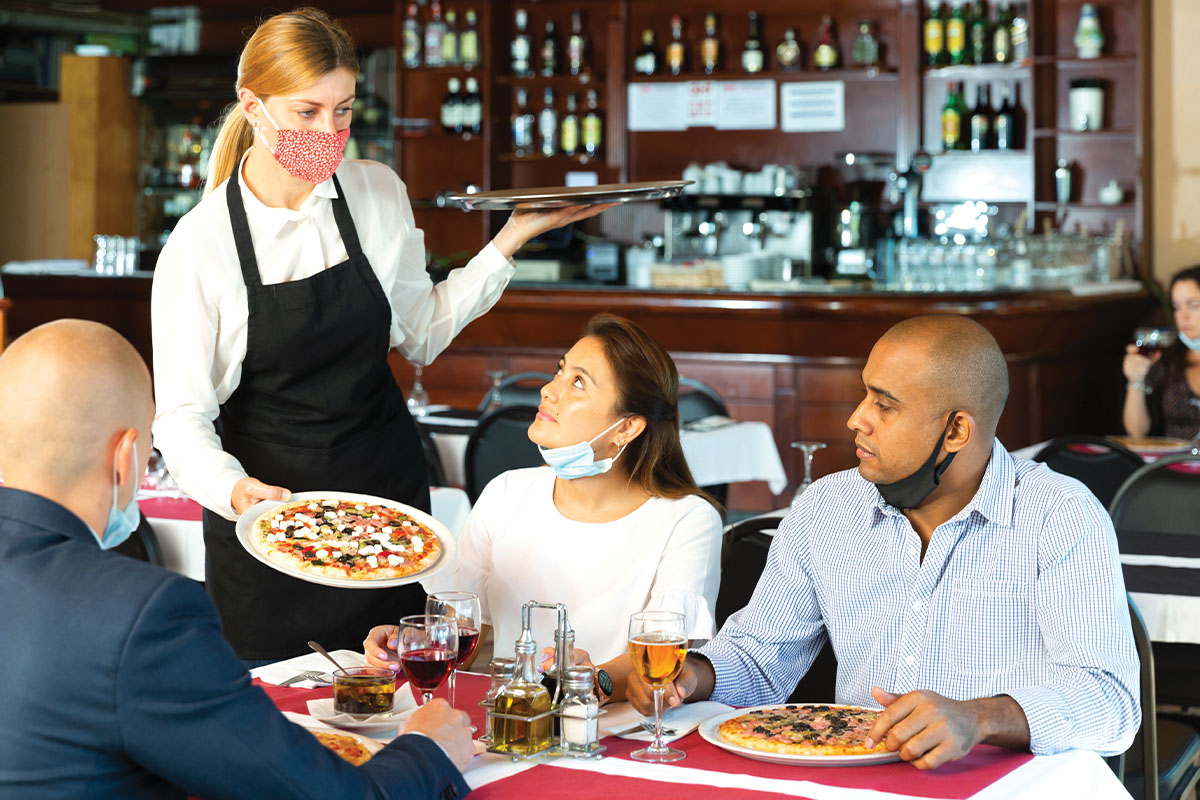 Incorporating portable air filtration units to cleanse indoor air of viral particles is recommended by the Centers for Disease Control and Prevention as well as the National Restaurant Association, two organizations sharing best practices for operating a safe restaurant environment amidst and after a pandemic.
Portable air filtration units are ideal options for restaurants where permanent installation is not practical, or for restaurateurs interested in filtration flexibility as the units may be moved throughout the location. The National Restaurant Association's COVID-19 Operating Guidance report states, "Portable air cleaners (also known as air purifiers) can be helpful when operations can't ventilate with outdoor air without compromising indoor comfort, or when outdoor air pollution is high." The CDC also suggests using portable units in addition to stationary devices to enhance air cleaning. An additional advantage is the lower investment necessary to purchase and care for portable devices versus retrofit.
Whether you purchase a portable air filtration unit for additional cleansing or adaptability, it's critical you specify the best option for your facility by considering the following factors.
FILTRATION MECHANISMS
Portable air filtration units come with a variety of filtration and cleansing mechanisms from several manufacturers.
Look for portable high-efficiency particulate air fan/filtration systems. According to the CDC, a HEPA filter "is at least 99.97% efficient at capturing particles 0.3 μm [micrometer] in size." The SARS-CoV-2 (COVID-19) particle size is approximately 0.1 μm, but will typically only travel in respiratory droplets and droplet nuclei, which are generally less than 5 μm in size.
Restaurants also should pick units that offer ultraviolet germicidal irradiation, which draws air into the unit, exposes it to UV energy, and renders the SARS-CoV-2 viral organisms sterile, ensuring they don't reproduce and are no longer infectious.
Unfortunately, neither filtration system can promise a 100% sterile and viral-free environment.
When specifying a portable air filtration unit, fixate on the clean air delivery rate, not the bulb efficiency.
CLEAN AIR DELIVERY RATE
Although many business owners focus on bulb efficiency when specifying a portable air filtration unit, they should be fixating on the clean air delivery rate, a standard established by the Association of Home Appliance Manufacturers, which is typically reported in cfm. "The larger the CADR, the faster it will clean the room," states the CDC.
OUTSIDE AIR IMPACT
Can you increase the outside air without overtaxing the air filtration system? By increasing the amount of outside air within your facility, you can dilute the inside air, further enhancing the system's capabilities.
In addition, consider airflow patterns when placing the device. The manufacturer and/or installation team should identify an establishment's airflow, then locate an area where the device will be most effective.
SMART CONTROLS
Some manufacturers build portable air filtration units with simple touch-screen user interfaces that offer bulb and filter life monitoring and speed switching, while others offer devices with Wi-Fi and Bluetooth connectivity, providing remote configuration and monitoring.
LOW MAINTENANCE
Most portable air filtration units are low maintenance, requiring a periodic wipe down on the outside by staff members. A maintenance company should change the filter and bulbs, which is necessary one to two times per year, according to one manufacturer. A majority of the portable units also are relatively quiet, creating light fan noise.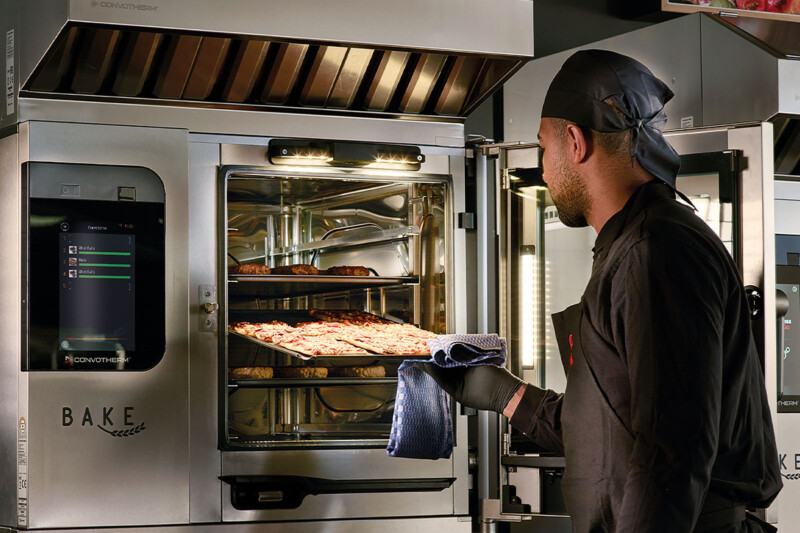 Combi Ovens
Today's combi ovens are smarter and more energy efficient, reducing the need for skilled labor and cutting utility costs.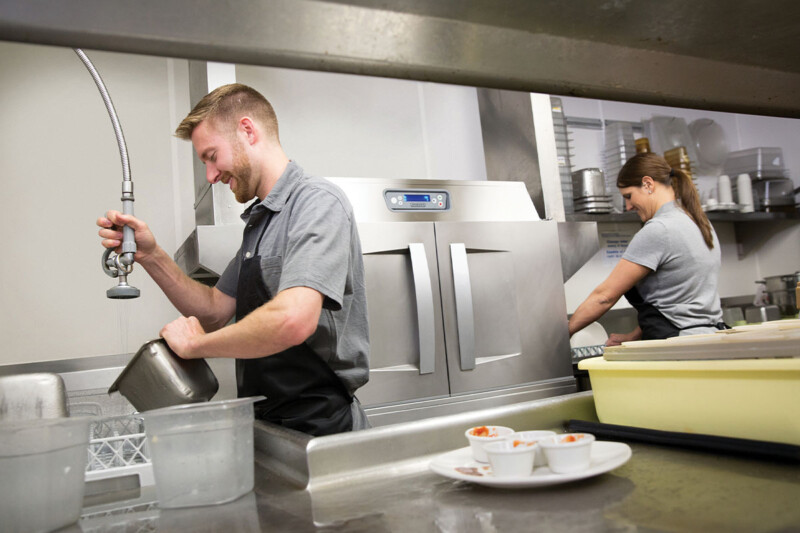 Equipment Comparisons
Forget steamy dishrooms; some of the newest rack conveyors improve environmental comfort and reduce overhead costs.