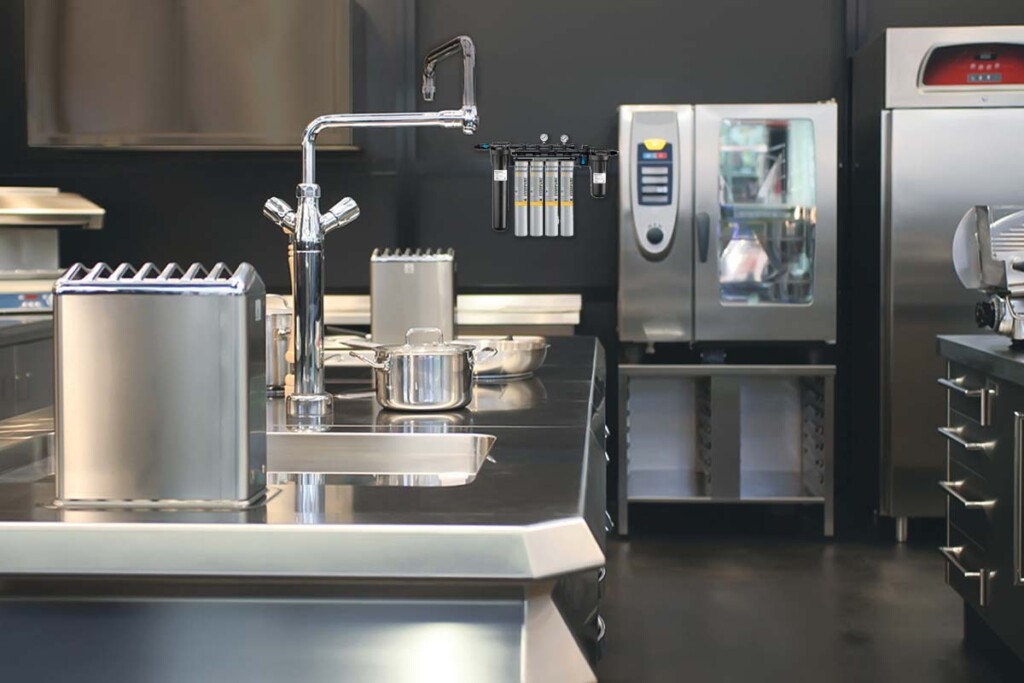 Here's a fresh take—water filtration isn't just about the food and beverages coming out of your commercial kitchen. (Don't get us wrong. That matters.) But water filtration also impacts equipment longevity, which pours into the customer experience, making it a big deal for a café, bar, or restaurant's bottom line.
Before we get into how, let's explain water filtration in a few sentences. This typically low-maintenance system reduces dirt, debris, organic matter, and chemicals, like chlorine and chloramine, in water through various physical or chemical processes. (Did you know? Approximately 45% of the US population is served water supplies with chloramine1.) With the reduction of the aforementioned debris and chemicals, you can enhance product taste and extend equipment lifespan.
Think of quality water for your espresso machines, ice machines, and combi ovens like extended performance oil for your vehicle. The good stuff will help prevent unexpected replacements or repairs down the road, allow your equipment to go the distance, and keep your kitchen up and running. The right filtration system is simply smarter for business.
Filtering out the costs and losses
According to leading foodservice equipment manufacturers, up to 75% of performance problems relate to water quality or lack thereof.2 Proper filtration significantly reduces mineral deposits, scale buildup, and equipment degradation. That means fewer repairs and unexpected maintenance over time, not to mention the risk of contamination, downtime, or undesirable changes to a product's flavor profile.
Replacing equipment comes with a hefty price tag. For example, just one full-size combi oven costs anywhere from $10k upwards to $45k. Maintenance, beyond what's routine, can add up too, whether it's more frequent cleanings from scale buildup or changing out a part here and there. These services can range between a few hundred to thousands of dollars (especially as the line items multiply).
But the real costs come from unexpected downtime. And while the concrete numbers may be tougher to tabulate, you can feel it. For instance, let's say you sell an average of 20 lattes an hour for $5 a cup. And then, let's say the espresso machine quits on you and can't be checked out until the following afternoon. Your business would be down $1600 in profits, not to mention any other add-ons customers would grab before checkout. Then there's also the loss of repeat customers. One bad impression or change to a customer's routine could factor into future sales.
Finally, there's the risk of contamination. This scenario is the most dreaded. It's not just the bad taste left in a customer's mouth. Contamination can spoil reputation, leading to negative press, fast-spreading word of mouth, lawsuits, and more. Bottom line is that a lot can affect it if your water is not up to standard.
The Right Filtration Solutions for Your Business
Every piece of equipment in your commercial kitchen has its role. Ice machines complement your fountain drinks. Espresso machines get the day brewing for your coffee-loving customers. Combi ovens wear multiple chef's hats—steaming, heating, and sometimes both at once. The point is different equipment functions require different filtration.
And it's not just your business operation, location plays a part as well. The landscape looks much different depending on where you set up shop. For instance, metropolitan municipalities may use more chloramine or chlorine to treat the water, while rural areas may encounter more sediment. Water quality also varies across the country, with areas, like South Texas experiencing highly corrosive water. You truly don't know what you're dealing with until you take a hard look at the source.
Types of Water Filtration Systems
Below, we outline the four types of water filtration systems recommended for the food service industry – base filtration, reverse osmosis (RO), water softening systems, and ozone. Each summary briefly explains the science behind the solution and which most common application(s) it supports.

Base filtration traps and removes specific contaminants at specific levels. Carbon filters do a great job of absorbing the impurities found in water, such as lead, radon, bacteria, pesticides or even parasites, thanks to the porous design. Conversely, water softeners remove minerals that create water hardness (which we'll dive into further). Both carbon filters and softeners are solid choices for brewing applications. A very hoppy cheers to that!
Water softening systems remove calcium, magnesium, and other minerals from drinking water. Resin beads inside the softener trap the calcium and magnesium and exchange them for sodium or potassium. Softeners help reduce scale buildup on equipment. Unlike the above, this solution works well as a pre-treatment for filtration and RO systems. It is also recommended for warewashing applications as a standalone option.
Reverse osmosis, or RO as the industry experts call it, offers full-spectrum protection, reducing nearly all impurities and toxins and enabling the management of Total Dissolved Solids (TDS) and mineral content. Top-of-the-line RO systems can grow with your business and save water, making them a more efficient long-term investment over lower-cost RO systems. RO systems can even add calcium and magnesium to help protect equipment and enhance the flavor profile. This makes RO a level-up option for coffee and espresso machines. If you're looking to reduce the most contaminants and enhance the customer experience—on top of extending equipment—RO is the way to go for coffee brewing and steam applications.
Ozone disinfection is a chemical water treatment technique based on the infusion of ozone into water. It simultaneously utilizes aqueous and gaseous oxidation to reduce contaminants and odors. It can help reduce the growth of bacteria, molds, yeast, and other pathogens. Any unused ozone will naturally revert to oxygen, leaving no residuals or harsh chemical odors behind. This solution is ideal for ice machines and other surface disinfection applications.
As you can see, there are a number of different filtration approaches that all serve a specific purpose. It's important to understand the quality of your water to understand how it may be impacting your business. An expert can help you test your water and confirm equipment specifications so that you can land on the right solutions.
Trust the water expert. Insist on Pentair.
You know your business, and Pentair knows water. The Pentair Total Water Management (TWM) team covers a lot of ground nationwide, including 20 plus master distributors, over 1000 dealers, and more than 1,500 service technicians.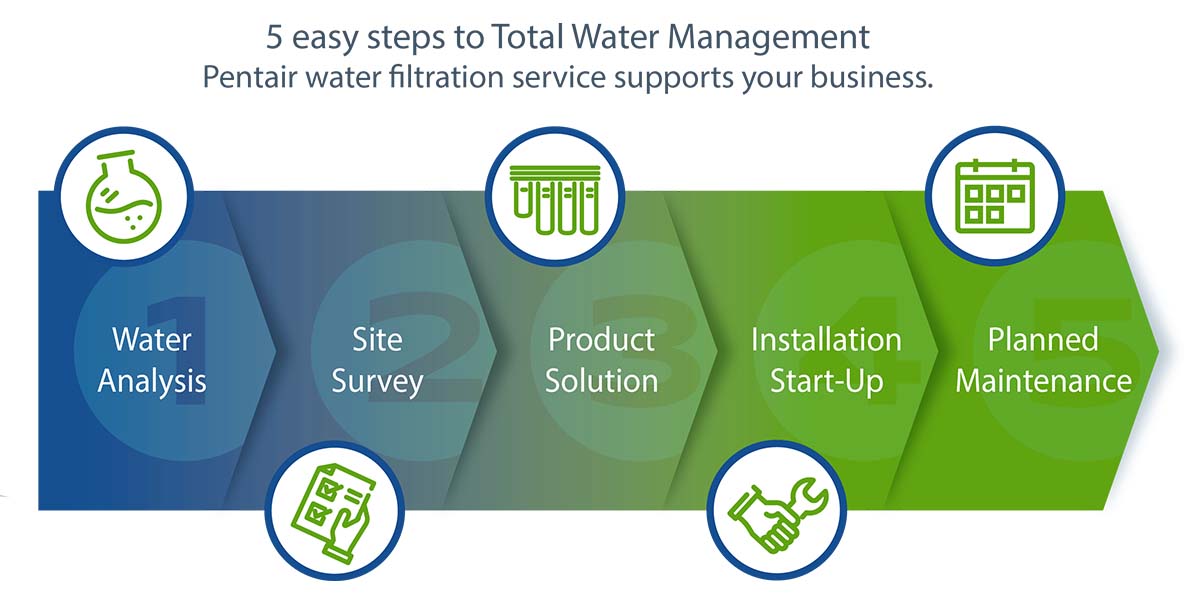 It's a qualified team and a quality-assured process. The TWM network works together to remove the guesswork (and debris and chemicals from your water). The five-step process includes water analysis, site survey, product guidance, installation, and ongoing planned maintenance. First, they determine the chemical mix of your water, which is critical. Then, a certified technician will travel to your site to assess your water system and identify potential problems.
After the site visit, you'll receive product recommendations based on your water quality and desired water application(s). The TWM team also can provide installation and ongoing maintenance, so it's hands-off for you, from assessment through the life of your equipment.
Pentair's proven program can save you time and money while offering peace of mind every step of the way. So, from one expert to another, be confident in the water running through your business.
Contact the Pentair TWM team and get started today! 1.800.842.6193 | TWM@pentair.com | pentair.com/twm
1 https://www.ntmwd.com/wp-content/uploads/2018/03/NTMWD-Answers-to-FAQs-on-Water-Treatment_UPDATED-3-29-18-1.pdf
2 Refrigeration for Air Conditioning Technicians, Cengage Learning, 2018 – https://johnstonboiler.com/resources/product%20knowledge-base/scale-deposits-and-efficiency-loss/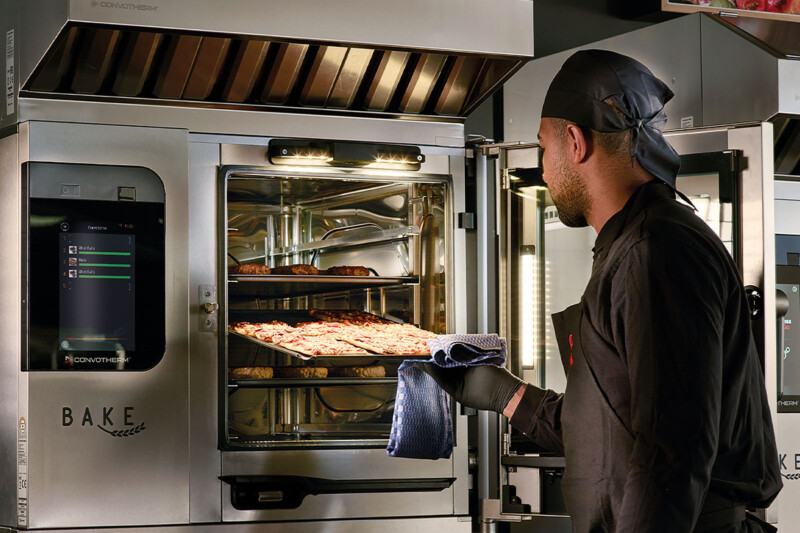 Combi Ovens
Today's combi ovens are smarter and more energy efficient, reducing the need for skilled labor and cutting utility costs.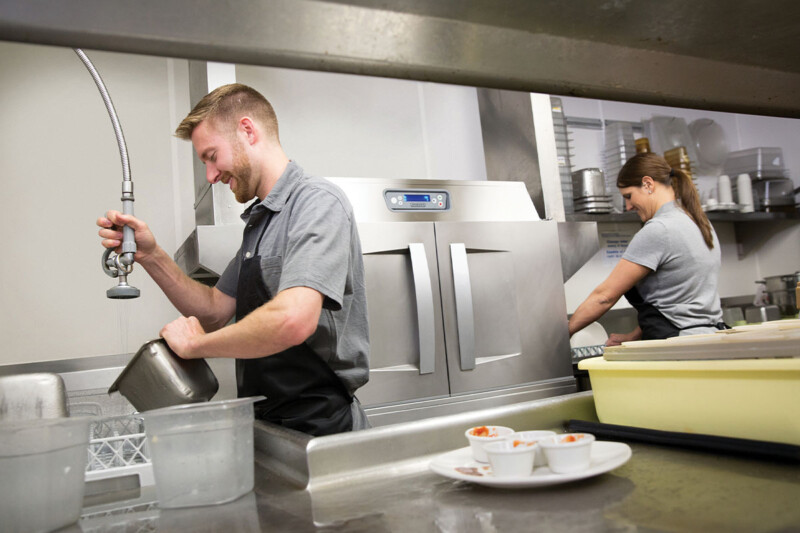 Equipment Comparisons
Forget steamy dishrooms; some of the newest rack conveyors improve environmental comfort and reduce overhead costs.