Smoker Smarts: Specifying Traditional, Dedicated Smokers
Gas and electric smokers offer savings in labor and fuel, while all-wood-burning models remain a favorite among traditionalists.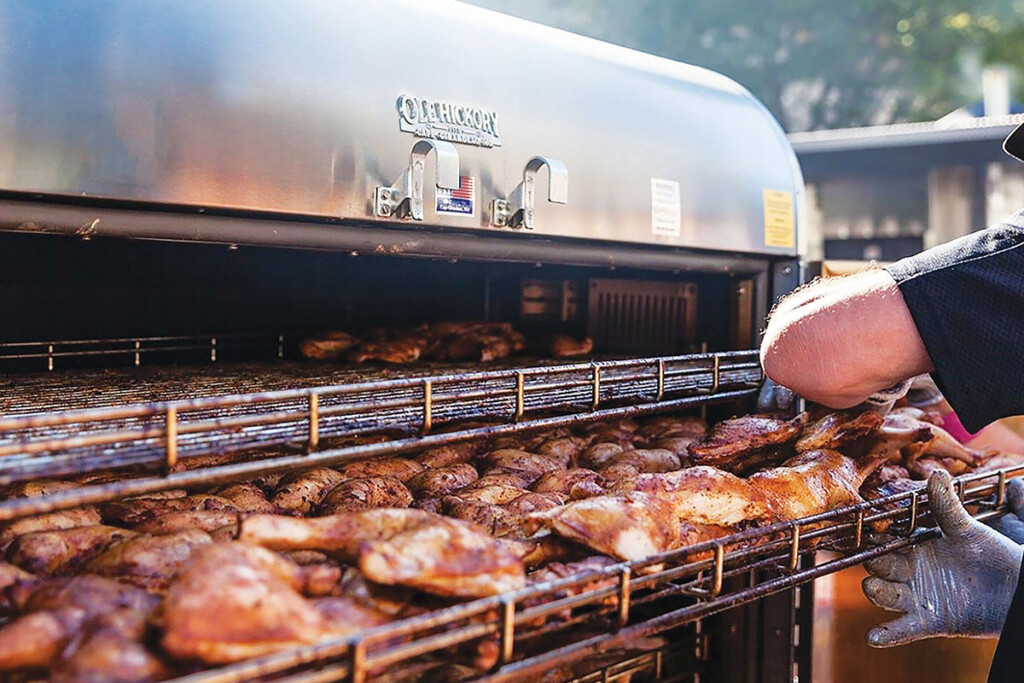 With its tender texture and smoky flavor, barbecue has been an American favorite for decades. But during the pandemic, some found an added benefit: It holds up well for takeout.
That may be why full-service barbecue brands Smokey Bones and Famous Dave's launched traditional drive-thru models. Smokey Bones opened its first drive-thru location in Bowling Green, Ky., in April, while Famous Dave's launched its first in South Salt Lake, Utah, in March. Both brands tout the models as giving customers everything they expect from a quick-service restaurant.
Dickey's Barbecue Pit, a Dallas-based concept, began incorporating virtual kitchens into its franchise models amid the pandemic. Requiring only a smoker and a warming cabinet, the virtual locations allow the brand to maximize delivery areas without the large upfront investment that brick-and-mortar locations require.
"What we saw during the pandemic was a big increase in ghost kitchens for the fact that barbecue is a really good takeout food. It holds well. It heats well. So, we saw an uptick in those delivery applications for smokers," says one manufacturer of smokers.
While the aforementioned barbecue brands have their smoker game set—two use gas models, while one relies on a pellet smoker—the options truly are abundant when it comes to picking out a commercial smoker. Note the Gallery below focuses on traditional, dedicated smokers; the market also offers cook-and-hold smoker ovens and combis with smoker options.
GAS, ELECTRIC OR WOOD-FIRED
Today, smoking meats is much easier than it was during the early days of barbecue when operators only had a pit and a flame to cook their products. Today's models give operators much more of a helping hand, with many using gas or electricity to help cook food product, resulting in increased efficiency and reduced wood usage when compared to all-wood burning.
What sets most makers apart is their cooking method. Some manufacturers offer solely gas models, while at least one offers both gas and electric options. Others focus only on electric, wood-fired or both.
There's a lot to consider when deciding between cooking methods. Manufacturers of gas-assisted smokers say they're ideal for commercial operators as they can smoke large quantities of meat, don't require skilled labor and are efficient. Gas-powered burners fire up quickly, bringing the unit to temperature fast. "Certainly, time is of the essence in most commercial businesses, and if you have to wait two hours to get your unit up to temperature, you've lost that time," says one manufacturer.
Electric-assisted models offer similar benefits when compared with all-wood burning: more control, less labor, quick heat-up and improved efficiency. Some electric models also can hold significant capacity. One maker's largest electric model can hold up to 1,800 pounds of meat.
Wood-fired pits produce the best texture on the outside of the meat, one manufacturer says, "which is what barbecue is all about."
As for wood-fired pits, including pellet smokers, which use wood for both the heat source and flavor source, one manufacturer says they produce the best texture on the outside of the meat, "which is what barbecue is all about." Wood-fired smoking, however, requires more labor and material than gas or electric models.
One maker says a benefit of using a pellet smoker over a log-fired smoker is that pellets produce the same flavor every time, whereas logs can have differing moisture contents and be less consistent. Further, the maker adds, pellet smokers create less ash and have a faster startup.
NARROWING YOUR FOCUS
When deciding which type of smoker to go with, there are several other factors to consider. First, decide your capacity needs by determining how much meat you will be cooking, and factor in the opportunity for growth and larger quantities.
Then, determine available space and access to ensure you have enough floor space in your kitchen or outside area, as well as accessibility for the equipment to be delivered and installed. Makers design several models to fit through standard doors. If space is limited, one manufacturer says some operators opt to place two smaller smokers in areas where space allows. A second smoker also can be an asset if one ever goes down, and adds flexibility to cook different products.
When installing a smoker, be sure to allocate enough space to load and unload the unit. A mistake one manufacturer says operators have made is leaving too small of an alleyway between the front of the smoker and a counter, making it impossible to bring in a large cart to load and unload large quantities of meat.
Next, decide how much labor you want to put in. "If you're doing big logs, there's a lot more labor involved," says a maker. "If you're doing a gas-fired smoker, there's less labor involved. And if you're doing a pellet-fired smoker, there's even less labor involved. And if you're going to an electric smoker, there's virtually no labor. So, you kind of need to make that decision."
Don't forget to check with your local municipality on coding requirements for properly venting your smoker. Select jurisdictions don't allow solid fuel cooking appliances without a lot of red tape, says one manufacturer.
AVAILABLE FEATURES
While certain smokers haven't had a lot of bells and whistles added to them in recent years, that's not to say the equipment hasn't advanced. Different makers offer different types of technology that can make smoking meats even easier.
Some manufacturers' models are thermostatically controlled, allowing operators to set the temperature, and as long as there's wood in the unit, it will cook until the food is done. On one model, this allows the unit to be unattended for up to 24 hours, which can be an added labor savings.
At least one manufacturer has an evacuation function that prevents operators from getting a face or building full of smoke when they open the doors. Instead, large dampers operate automatically when they open the front doors to direct the smoke rearward and out the stack.
While larger models generally use rotisserie racks to rotate the meat, smaller models typically rely on stationary racks. The racks don't heat as consistently as rotisserie racks, giving way to hot spots and cold spots. However, one maker uses a technology in its smaller gas models with stationary racks to combat this issue by distributing the heat and smoke to prevent temperature fluctuations. "You don't need to revolve the racks or move the food around; the technology moves the heat and smoke," says the manufacturer.
Another maker's most recent advancement is an improved controller system on its electric models that includes eight programmable, customizable cooking presets and a USB port for downloading cook time onto a USB flash drive for food safety management.
"We make constant improvements to our products, but there's been nothing really revolutionary in the last 10 years because we really believe we've kind of perfected this product and make it as well as it can be made," says one manufacturer.
'Meat' Your Match
Size up the capacities and methods behind four manufacturers' traditional, dedicated smokers.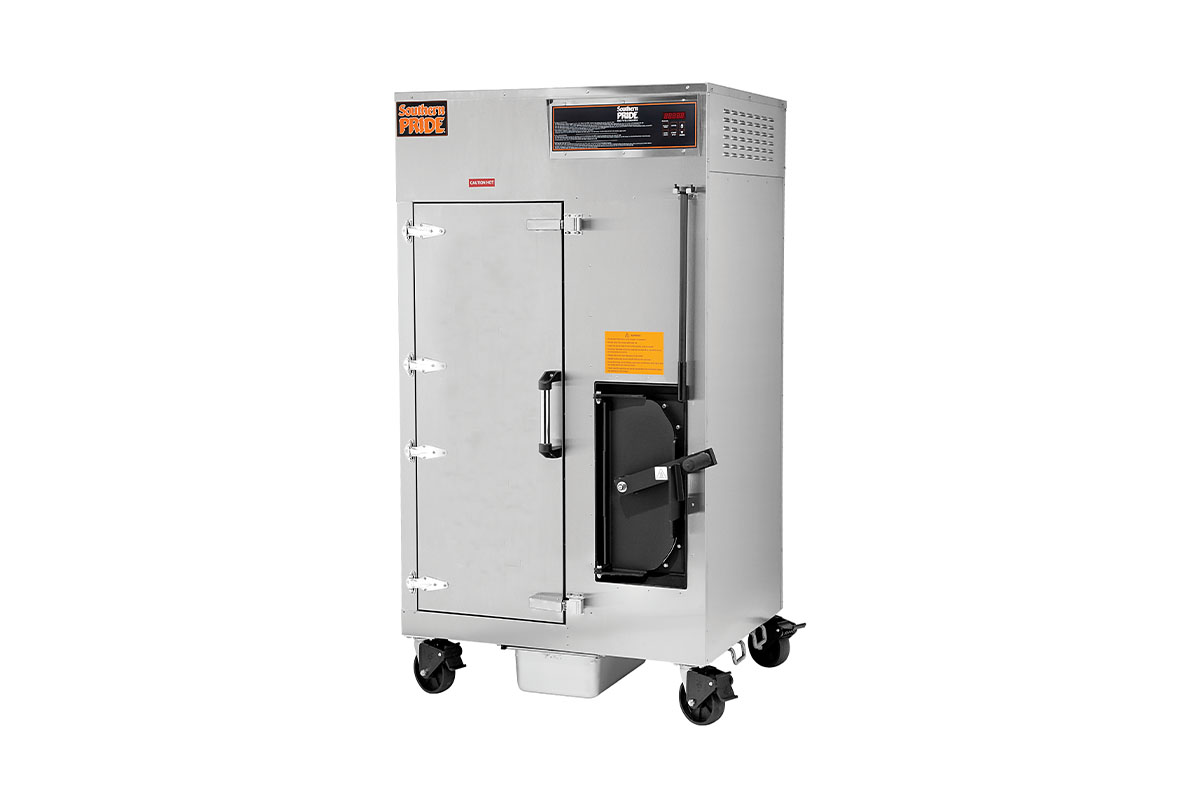 Southern Pride
Model: SRG-400
Heating/Cooking Method: Gas, wood
Capacity: The smoker comes standard with 14 nickel chrome racks, but can accommodate up to 27 racks with 1 1/2-in. spacing. Options include stainless racks and seven vertical rib racks (chrome or stainless, with each rack holding 13 slabs) in place of the standard racks.
Website: southernpride.com
---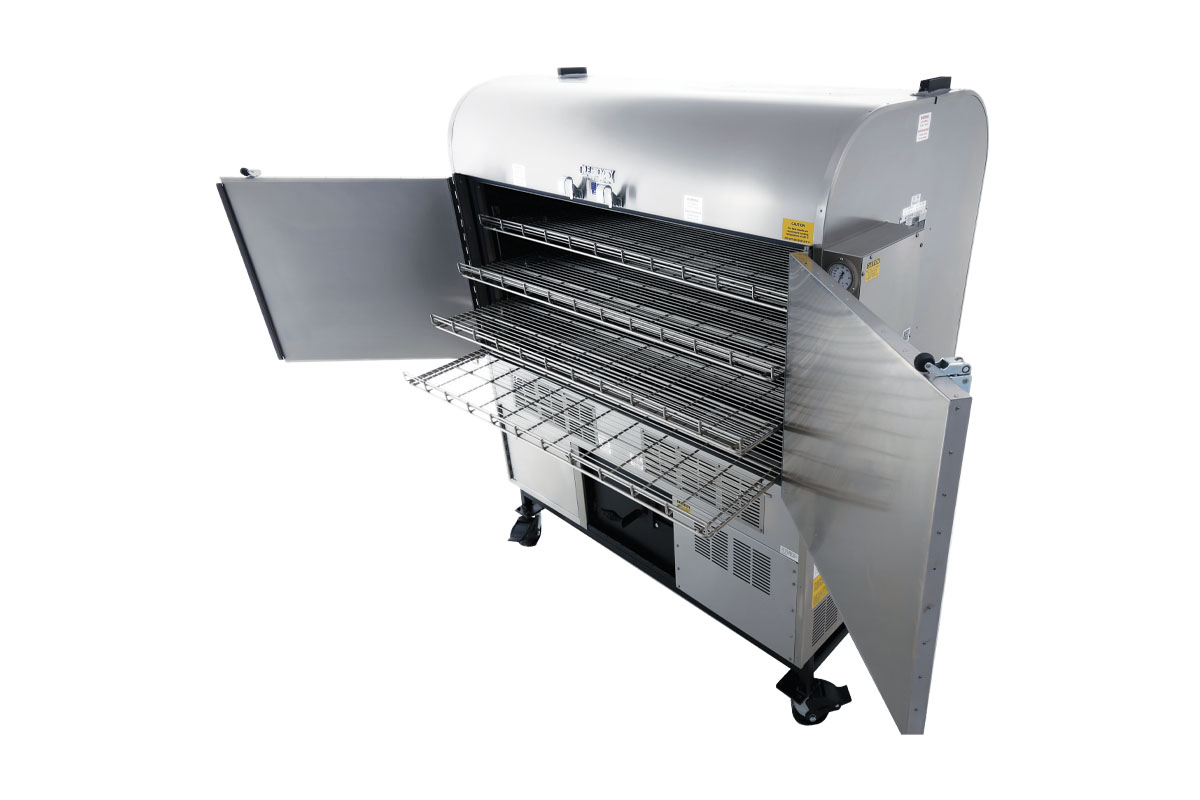 Ole Hickory Pits
Model: CTO-DW
Heating/Cooking Method: Gas, wood 
Capacity: Smoke up to 96 whole (31/4 lb.) chickens in this model. Four racks offer 40 sq. ft. of cooking surface, but a split, eight-rack configuration also is available. Choose from two material options: nickel chrome or stainless.
Website: olehickorypits.com
---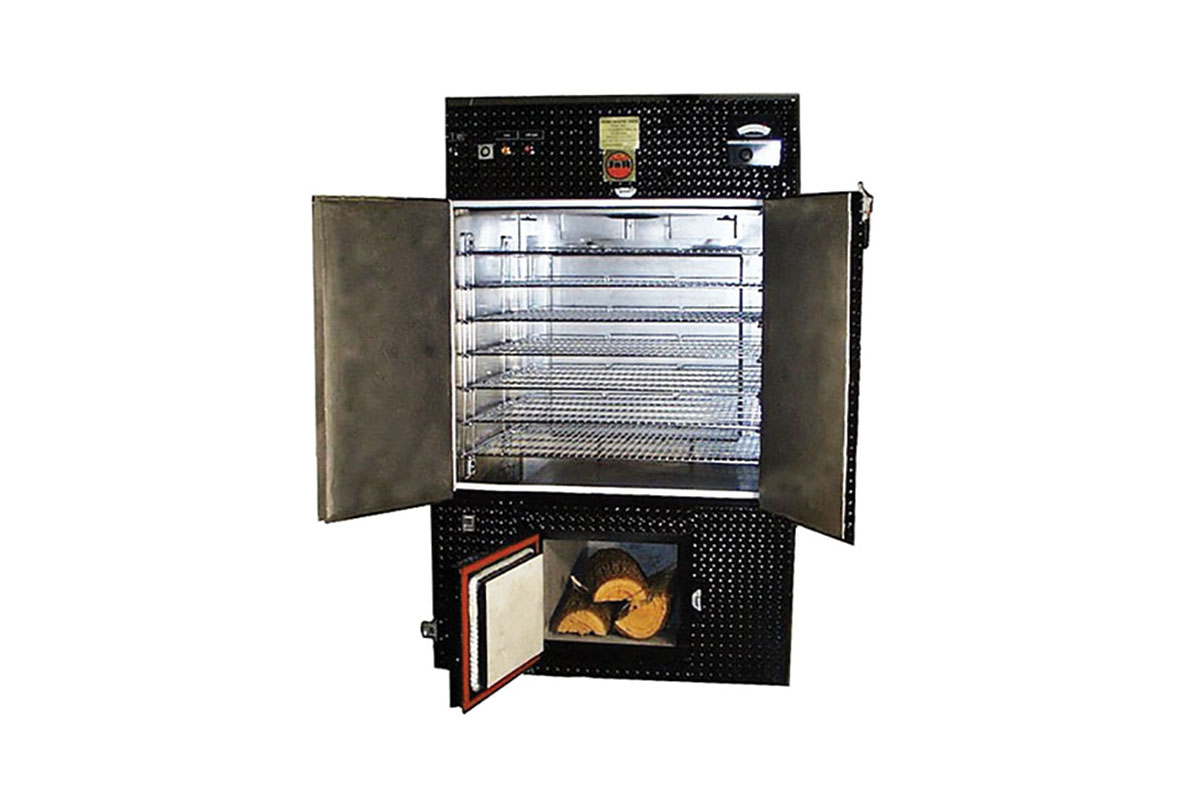 J&R Mfg.
Model: Smoke-Master Model 250 RFS Barbecue Pit
Heating/Cooking Method: Electric, wood
Capacity: Smoke bulk quantities (up to 600 lb.) of brisket, pork butt or tri-tips, or 161 slabs of backribs per load across seven nickel chrome racks.
Website: jrmanufacturing.com
---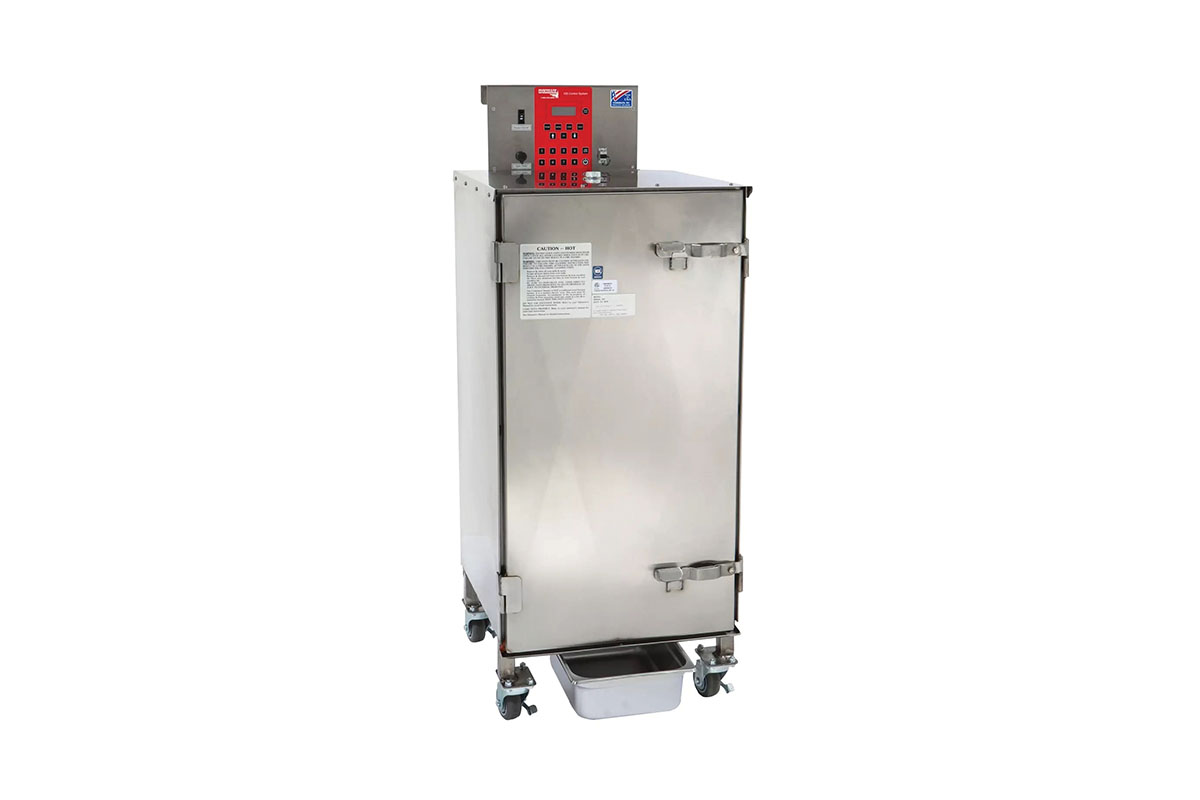 Cookshack
Model: SmartSmoker SM160
Heating/Cooking Method: Electric, wood
Capacity: Choose your protein—pork butt (up to 120 lb. per load); ribs (up to 50 lb. per load); brisket (up to 100 lb. per load); or chicken (20 whole per load)—and spread it across five shelves.
Website: cookshack.com
Editor's Note: The manufacturer-supplied food capacities are approximate and can vary with factors like weight, physical shape and more.
---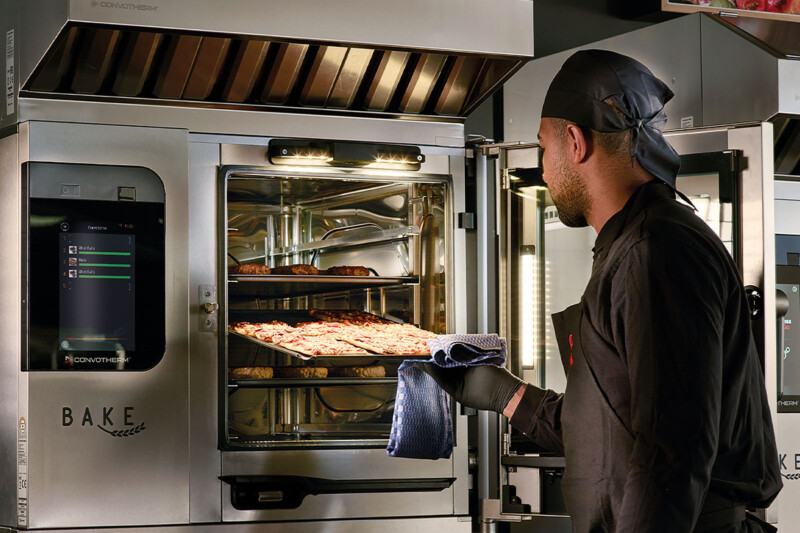 Combi Ovens
Today's combi ovens are smarter and more energy efficient, reducing the need for skilled labor and cutting utility costs.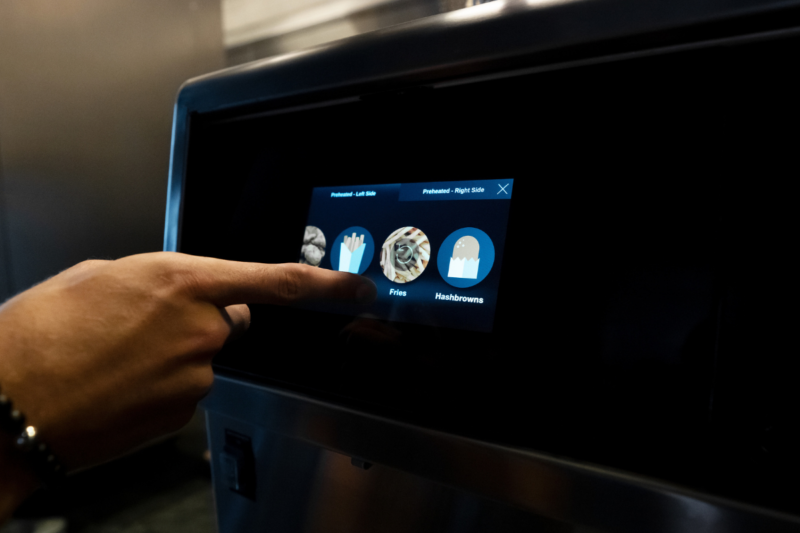 Equipment Comparisons
We are thrilled to introduce you to the cutting-edge Henny Penny F5 Touchscreen Fryer, a game-changer in the world of commercial kitchen equipment. Designed to enhance user experience, improve productivity, and…