The French cooking method boasts plentiful benefits, but it's still a bit misunderstood.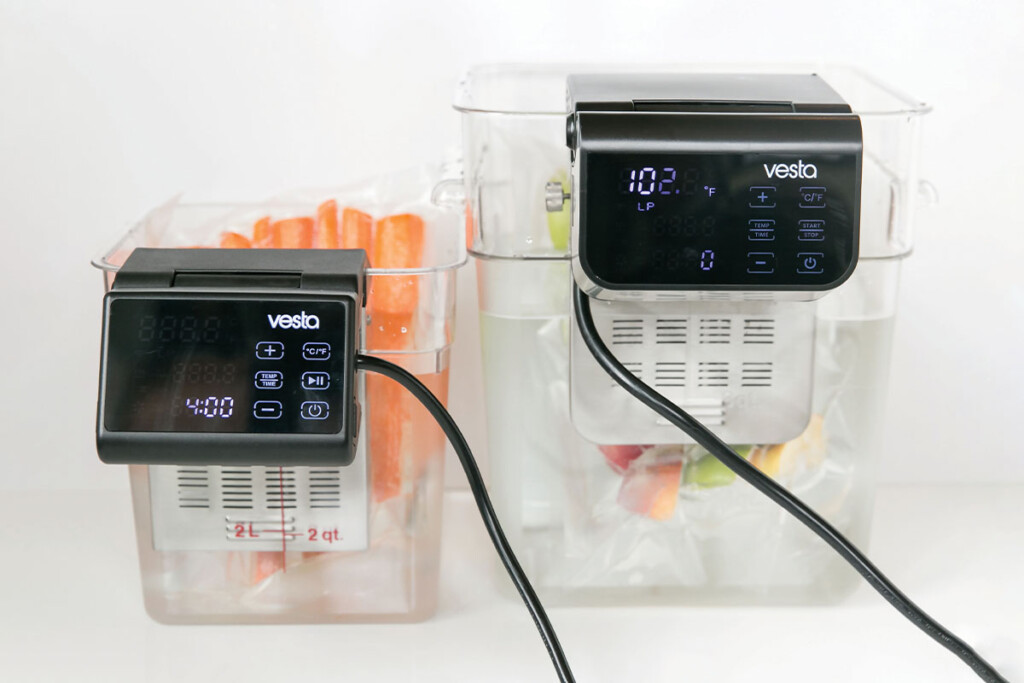 No matter a chef's talent, some insist you simply cannot replicate the results of sous vide cooking with traditional cooking methods.
In fact, one manufacturer of sous vide equipment says the texture achieved by the low-temperature French cooking method is "otherworldly."
"If you have traditionally cooked creme brulee and then you have sous vide creme brulee; the texture is just so luxurious," the maker says. "It's impossible to achieve. … You cannot cook an apple and achieve the same [snappy but completely tender] texture with a traditional poach, bake [or] roast as you do sous vide; it's not physically possible."
That differentiator, coupled with complete temperature accuracy, moisture and nutrient retention, consistent food quality from edge to edge, labor- and time-savings, and portion control are among the draws of sous vide cooking. If there's one shortcoming to sous vide, it's that the education and perceptions of some in the U.S.—from chefs to consultants and health departments—lag behind those of their international counterparts.
"I urge anyone getting into sous vide to not look at it as a gimmick," says one source. "Look at it as a tool that can really change your business for the better." 
The Brass Tacks
To get started with sous vide, you need a tank, to hold your cooking water and immerse the product, and an immersion circulator, to heat and maintain the desired heat across the tank. 
At least two manufacturers offer stainless tanks with integrated circulators, which, one such maker says "aids in moisture and heat retention which puts less strain on the unit, allows for better heat-up times, more consistent temperatures, less evaporation and temperature accuracy." Further, they add, the integrated setup ensures the intended amount of water is used.
On the other hand, those that offer circulators separate from the tank tout them as easier to maintain. They're also flexible, enabling easy travel (think catering or off-site) and use in a pot or hotel pan. One of these manufacturers also offers a tank that heats along with the circulator. 
When it comes to tanks, some say insulated metal tanks are best for heat retention, but polycarbonate tanks also are offered. A lid on the latter aids in reducing evaporation and stabilizing temperatures.
Your volume will determine the size of your vessels, with one maker saying its 7-gallon tank can crank out 40 servings an hour, while its 30-gallon tank can produce 150 servings an hour.  
The scale of your sous vide program also determines your design needs—something one maker says is too often an afterthought for consultants and operators alike.
"Even with the smaller tanks, you still want something insulated, and that has a drain, that way you're not lifting and moving hot water through the kitchen," the manufacturer says. "Depending on the volume of the tanks, you will want to consider the power of the circulator. For instance, our 30-gal. tank has heating built-in to boost the temperatures for recovery and preheat. The larger the volume of the tank, the more wattage you will need to get the job done."
Select chains and healthcare operators may opt to buy prepackaged sous vide products, but fine dining operators, commissary kitchens and other smaller-scale operations tend to prefer control over sealing. In that case, one will need a vacuum sealer—with one maker strongly urging a chamber vacuum sealer over edge sealers, saying the former has greater longevity—and BPA-free vacuum bags, plus refrigerator space to stow prepped product. If following a HACCP plan, something makers strongly advise (more on that soon), you also need precise temperature logging—something made easier by recent data-logging innovations, with some on circulators and some involving tablet systems to log and track products.
"Hospitals and assisted living are now loving this for the food safety and labor savings, where before the concept didn't have enough of a control to be considered safe," explains one manufacturer.
Taking It to the Next Level
Once properly equipped, take note of these best practices:
Get a HACCP plan. One pain point is that safety regulations vary by jurisdiction, but makers strongly urge adopting a HACCP plan. "It only takes one mistake to hurt somebody or kill somebody," one source says. Plus, with the proper protocols in place, you gain extended product shelf-life, potentially easing labor. 
Pre-sear your proteins, minus fish. Pre-searing—prior to cooling to 41°F (or below, depending who you ask), vacuum sealing, chilling and cooking protein—is sometimes overlooked. It pasteurizes the surface and adds flavor and aroma, one maker says. Importantly, it also sets the product's shape. "When you vacuum seal raw proteins, they take the shape of the bag," they say. "And when they come out of the bag, they look like they've been cooked in an envelope, and there's a seam around the side. If you pre-sear the food before that, that doesn't happen. So, the chicken breasts actually come out looking like chicken breast rather than Franken-food."
Buy commercial. Though it seems obvious, several makers say they've seen consumer-grade sous vide equipment in commercial kitchens. It may save some money upfront, but they're simply not built to hold up to the heavy use of a commercial kitchen.
Stay in the Know
Sous vide aficionados say education is critical to understand the science, safety and impacts of sous vide. Here are a few recommended resources, per Mike La Charite, co-founder and CEO of the International Sous Vide Association:
Culinary Research and Education Academy, lecrea.com
CREA, he says, "runs some of the most comprehensive sous vide trainings available." They offer in-person training programs and online courses accredited for ACF continuing education.
ISVA, La Charite's own association, hosts an annual online conference dedicated to sous vide cooking, with this year's iteration on Oct. 22-24.
Master Chef Rich Rosendale, an ACF accredited instructor, offers multiday in-person trainings on a variety of topics, including sous vide. He also offers online courses.
Spatial Awareness
Some manufacturers of commercial sous vide equipment include:
Breville Commercial *
Sammic
Vesta Precision
Waring
*Editor's note: Breville PolyScience—which sold its first immersion circulator for restaurant use in 2005—has formally rebranded to Breville Commercial.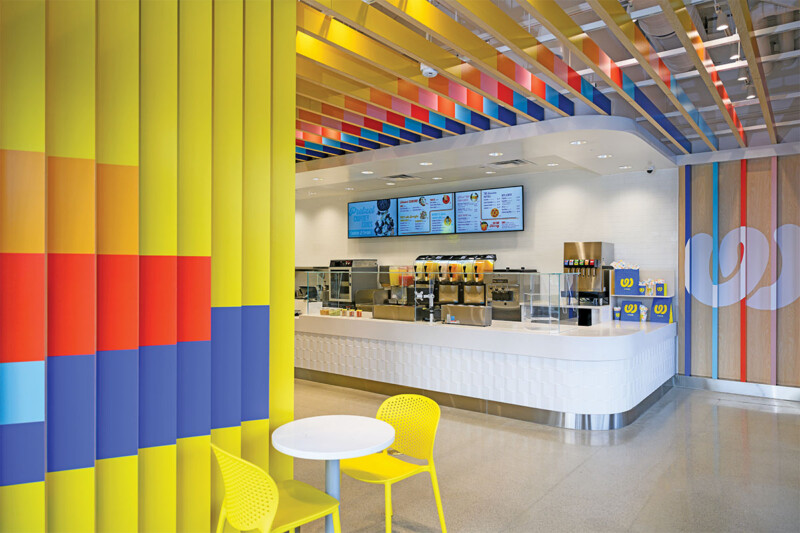 Kitchen Design
Wetzel's Pretzels, the multiunit bakery of shopping mall fame, now offers its soft pretzels and more at street-side through its latest concept.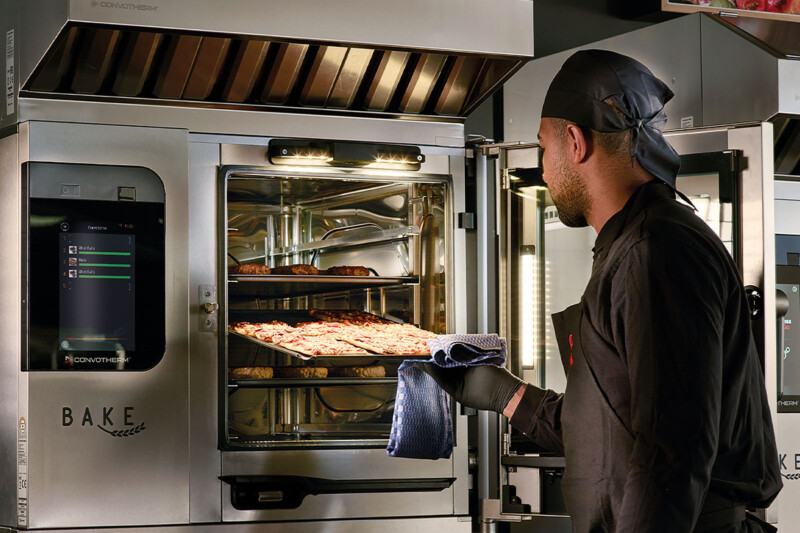 Combi Ovens
Today's combi ovens are smarter and more energy efficient, reducing the need for skilled labor and cutting utility costs.