The Anatomy of Blue Highway Pizza's Pickup Area
Increased takeout volume steers a Florida pizzeria's renovation, with the vision and help of starrdesign.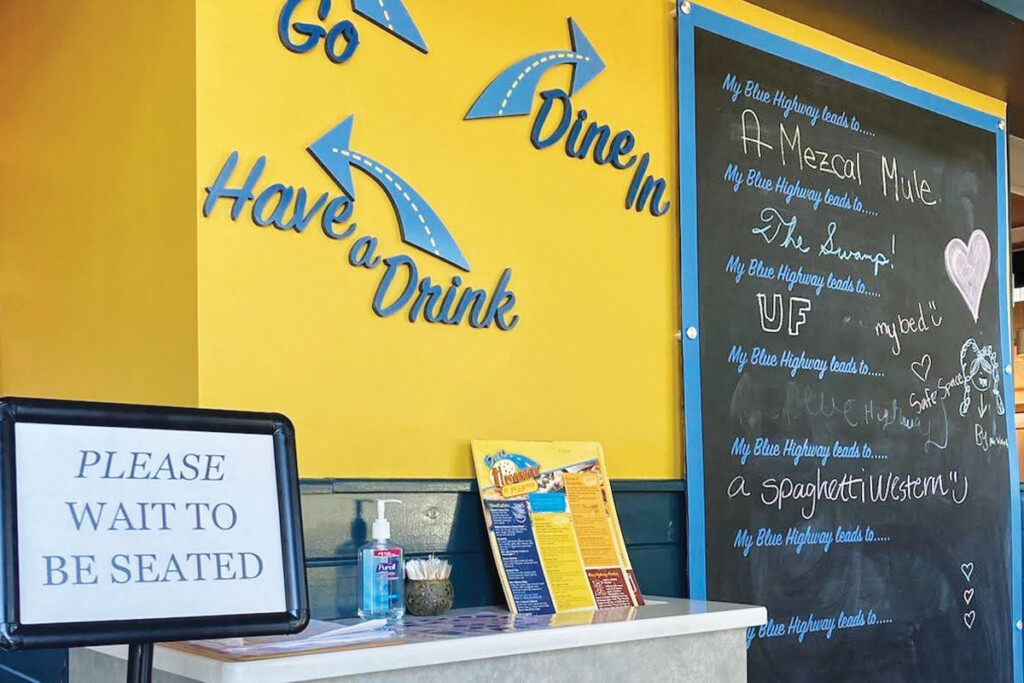 Blue Highway Pizza's customers may increasingly be choosing to take their orders to-go, but their loyalty isn't going anywhere.
"The highest I've set my ticket times to is two hours, but it will often exceed one hour and people will still wait; they still order," says Layla Ruffino, co-owner of the pizzeria in Newberry, Fla. Pre-COVID, Ruffino says the restaurant's margin was about 26% takeout, with Fridays running about 10% higher. For the past several months, though, daily takeout volume has increased to about 50% of their business, Ruffino says, and overall sales have spiked, too.
Even before all that, when a neighboring business shuttered amid the pandemic, Blue Highway Pizza's owners knew exactly what to do with the expansion opportunity.
They gained roughly 1,000 square feet, about a quarter of which became a dedicated pickup area. The recently completed renovation was led by starrdesign, based in Charlotte, N.C., in partnership with Level Architecture.
"This was a really unique project for us because the scope was so limited and the motivation so meaningful," says Steve Starr, president of starrdesign. "Frank and Winny Ruffino started Blue Highway in 2004 and became a cult favorite in the Gainesville, Fla., area. They then opened a second restaurant, getting their children involved in the restaurant management. Fast-forward to present day, and Frank and Winny are ready to transition to retirement and leave their children with a concept that will thrive for many years to come."
Here's a look at some of the defining elements of the pizzeria's pickup area:
Showing the way
Though dine-in customers wait to be seated, prominent signage on the wall helps orient those heading to the pickup area or bar. Starr said the "clear and creative" graphics are one of his favorite aspects of the project because they "reinforce the intuitive guest journey."
A human touch
With the takeout and dine-in areas now essentially operating as separate entities, Ruffino says longtime customers are relearning the territory. "We have a new entrance, so that's been a little confusing for people who have been dining with us for 12 years," Ruffino says. So, despite new directional signage on the walls, a well-placed host at the entrance has been key.
Belly up for a bit
Though Blue Highway makes every effort to keep to its estimated ticket times, guests do run early from time to time. Since the renovation, Ruffino says she's seen some to-go customers pass the time with a cocktail or glass of wine in hand. The bar's location also offers a separation from the dining room. "It's nice in that way that when one side is busy, the other side can't really tell," Ruffino says. To-go alcohol also has been permanently signed into law in Florida, meaning the bar could potentially fulfill that demand down the road, too.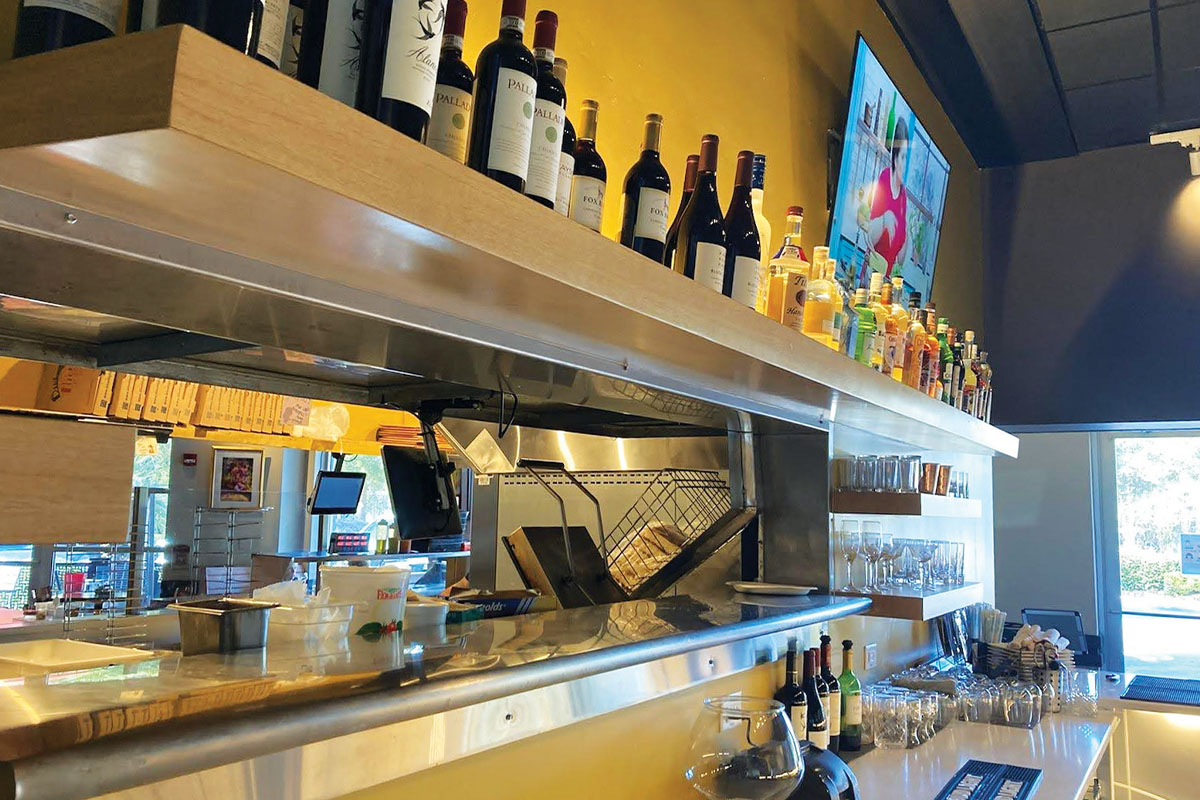 Getting orders up, out
Deemed an "operational necessity" by Starr, the addition of a pass-thru window—above the back-of-house salad prep station and behind the bar—linked the cookline to the pickup area, while a second, parallel pass-thru provides service to the dining room area. It ensures that hot-and-ready orders get where they're going in a seamless manner. Further, Starr says the new flow afforded an opportunity to add a dine-in expeditor and to-go expeditor during peak times.

Holding heat
In the mornings, kitchen staff proofs bread in the hot holding cabinet. As the day carries on, the equipment houses to-go orders, such as its hand-tossed pizza (Blue Highway's No. 1 seller) and pasta. The items await customer pickup just between the bar and POS, though admittedly not for long and never at full capacity thus far. "We have not really tested holding time," says Ruffino. " … We do a really good job of when we tell a guest a time, we don't make it early; we make it for that time."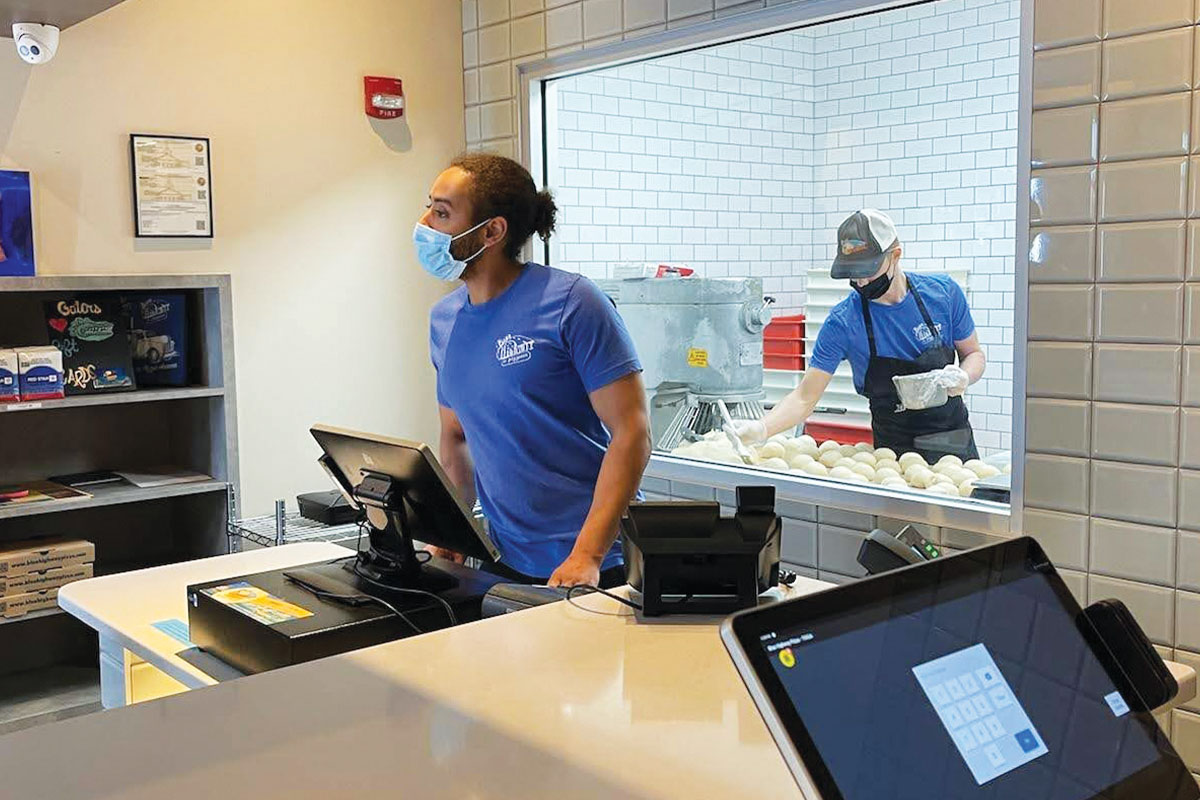 Closing the sale
To-go customers enjoy a POS dedicated to their transactions, alleviating cross-traffic with dine-in guests, who are checked out on handheld Toast devices. Further, as accurate ticket times are crucial to the flow, Blue Highway leans on Toast's software to manage theirs, adjusting prep time as needed to reflect real-time kitchen backlog. And while staff will take to-go orders by phone, they highly encourage ordering online, which "saves a lot of time and energy," Ruffino says.
Dinner and a show
A glass window offers a glimpse of Blue Highway's dough-making process—a point of pride—with two to three batches made daily from a mix of flours, fresh yeast, sea salt, olive oil and water. The process takes roughly an hour and a half, according to Ruffino. "They are fanatics about the dough preparation, and it really shows in the quality and consistency of their crust," Starr says. "We wanted a way to put that on display rather than hide it in the back-of-house."

Pick and choose
Pickup cubbies, specified by Starr for third-party delivery orders, also add flexibility for as-needed uses. Currently, Ruffino says the shelving doubles as a display for merchandise like shirts and dry yeast.
Bring it on home
Items like vintage soda, beer, wine, focaccia and dessert items are stashed in a highly visible open-air refrigerated grab-and-go merchandiser, tempting customers to spontaneously add on to their placed orders. Ruffino says take-home versions of house-made sauces and salad dressings, like Balsamic vinaigrette and creamy Gorgonzola, will likely join the mix, too.