2023 The NAFEM Show Guide: Equipment Trends Consultants are Buzzing About
Consultants point to today's equipment trends, and what operators can expect to see at The NAFEM Show.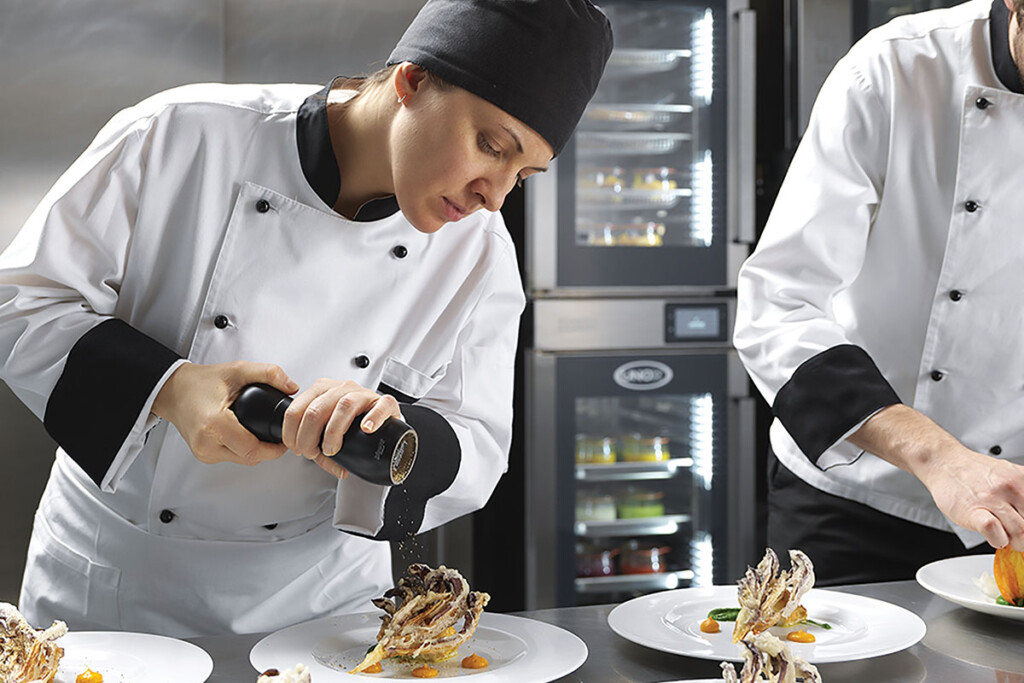 Talk about a sign of hope: Foodservice equipment and supplies specifiers can finally explore products they might not have seen yet when the The NAFEM Show kicks off in February. Here, consultants share what equipment is creating a buzz in the industry, and what they predict will fill the booths.
ELECTRIC
As more places ban natural gas in new buildings and climate change concerns grow, many consultants anticipate a boom in electric models. "We're going to see a large wave of electric equipment in probably a few different areas, not just induction cooktops," says Joe Schumaker, president and CEO of FoodSpace. He recently designed an all-electric servery for a software company in California. A dual-sided pizza station marks one of his favorite parts of the project. It has a hearth oven and a deck oven—both electric.
HIGH-SPEED OVENS
Several consultants expect a spotlight on high-speed ovens, aka accelerated ovens.
Their speed, small footprint and ventless capabilities offer operations like coffee shops the chance to expand their menu offerings, or those short on labor a way to bulk prepare items and finish them to order. More manufacturers now sell the equipment, and one of the newest models incorporates radio frequency, which reportedly helps it more evenly cook menu items.
"I would encourage people at NAFEM to really go to all the manufacturers who have accelerated cooking ovens and begin to really source out which of them meets their needs the most and how they operate," says Karen Malody, owner of Culinary Options. "There are many on the market now and they're not all the same."
VENTLESS
It's not new but the category continues to expand its offerings. "When ventless first came out, it was 'nice to have.' It was great at a snack bar or a small operation where you couldn't bring in a hood. Nobody ever thought about eliminating hoods or reducing them drastically," says Lenny Condenzio, CEO, Ricca Design Studios. "Now, it's more prevalent to think about as much ventless as possible to reduce hoods as much as possible. And it's becoming more feasible as more designs are requiring all-electric kitchens. When you have all electric, there's less of a demand on exhaust like there is with gas."
Be sure to take into consideration the heat gain to the kitchen when using ventless equipment. It can cause worker fatigue and increase the load on the building's HVAC system.
ROBOTS
Automation has served as a part of the industry for some time. For example, super-automatic espresso machines that craft specialty beverages at the push of a button came out years ago. But what's generating headlines now are robots that more closely resemble humans. Recent examples include an automated wok that tosses and mixes menu ingredients at Panda Express, and wing-frying robots at Wings and Rings, Buffalo Wild Wings, and Wing Zone.
"Restaurants and foodservice operations need as much help as they can get in the labor area," says Laura Lentz, design principal at Culinary Advisors. "Even though robotic equipment might be more expensive, if you can't get labor, for many people, it might be their only option."
INDUCTION
Dick Eisenbarth, president emeritus at Cini-Little Int'l., sees all kinds of operators looking at doing different things with induction equipment. Makers now offer the technology in drop-in wells, griddles, braising pans, woks and ranges, as well as a variety of different countertop warming and cooking applications.
"Front-facing induction display and cooking applications for guests create a lot cleaner look and appearance [than open burners] and suggest greater attention to the customer. It's also energy efficient," Eisenbarth says. He points to how induction equipment puts out less heat into the kitchen and is safer when compared with the open flames of gas equipment.
Meanwhile, Schumaker specified more than 50 undercounter induction warmers at the all-electric servery he recently designed. There are no drop-in wells or heated shelving.
MULTITASKING
Orlando Espinosa, principal, Orlando Espinosa and Associates, says the demand for equipment that offers multiple functions in one footprint continues to increase. He points to an appliance acting as three ovens in one that debuted in 2021, and another that looks like a tilt skillet but serves as a stove, pot, pan, deep fryer, pressure cooker and bain marie all in one unit, which came out in 2020.
"Those two pieces alone can give an operator a tremendous amount of flexibility with less labor and less footprint, and they're energy efficient. In the case of the [three-ovens-in-one appliance], it doesn't need an exhaust hood," Espinosa says.
EUROPEAN
Espinosa also has seen more European-style equipment, whether from the U.S. or Europe, hit the market. He lists a "hot fridge" from a company based in Italy (with a U.S. production facility) as one example. Two of his B&I clients are testing the hot fridge, which preserves cooked meals for days at serving temperatures, to help combat labor shortages. He's also found a hot holding merchandiser from the U.K. geared toward bagged off-premise orders. Likewise, Schumaker expects more technology-based items, such as a dishmachine now available overseas that can dismantle trays, to land in the U.S. during The NAFEM Show or soon after.
Additionally, consultants anticipate hearing plenty of talk at The NAFEM Show around more refined menu order pickup lockers, equipment that reduces energy and water use, and connected equipment that helps with remote diagnostics. Air fryers or even drones for food delivery also might make appearances.
"I'm really looking forward to the show and I'm hoping the manufacturers put their best foot forward," says Espinosa. "I'm hearing a lot of them will have some new items coming out so, we need the show. We need to rebuild confidence in the industry and in the economy."
---
Show Strategies
Consultants offer four tips when attending The NAFEM Show.
1. Do a complete analysis of your needs. For attendees with existing operations, think about your biggest pain points, then visit manufacturers that might have solutions, says Karen Malody of Culinary Options. For those who are still in the concept development phase, focus on the manufacturers that most likely have the equipment you need in the kitchen.
2. Map out the day. "The biggest mistake people make is they don't look at the show floor map in relation to the appointments that they're trying to make or the booths they want to see, and they start bouncing around," says Joe Schumaker of FoodSpace. "It's just such a massive show that you waste so much time walking and by the end, you don't feel like you got to see everything you wanted to see."
3. See it all. Or not. "A good beginner's strategy is to try to hit it all, see it all, explore it all," says Laura Lentz of Culinary Advisors. But for those who are repeat attendees, like herself, she recommends fewer appointments and taking the chance to wander the exhibit hall. She likes to find new-to-her companies.
4. Consider following up. Learning doesn't stop when the show ends. Orlando Espinosa of Orlando Espinosa and Associates suggests a factory visit or a tour of a facility using a piece of equipment you're interested in and talking operator to operator.
---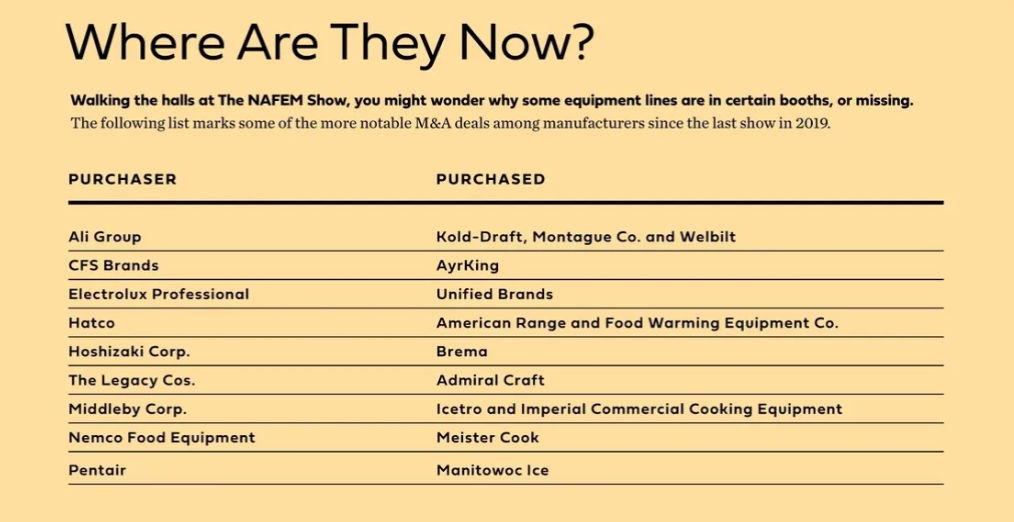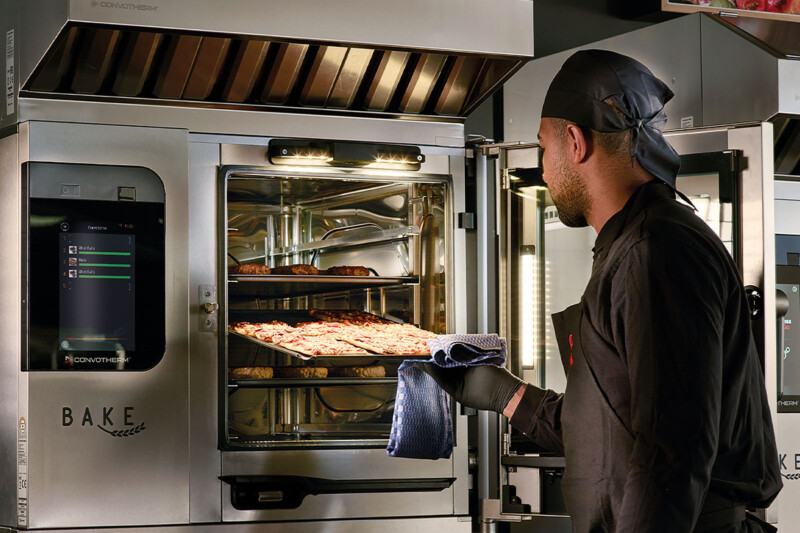 Combi Ovens
Today's combi ovens are smarter and more energy efficient, reducing the need for skilled labor and cutting utility costs.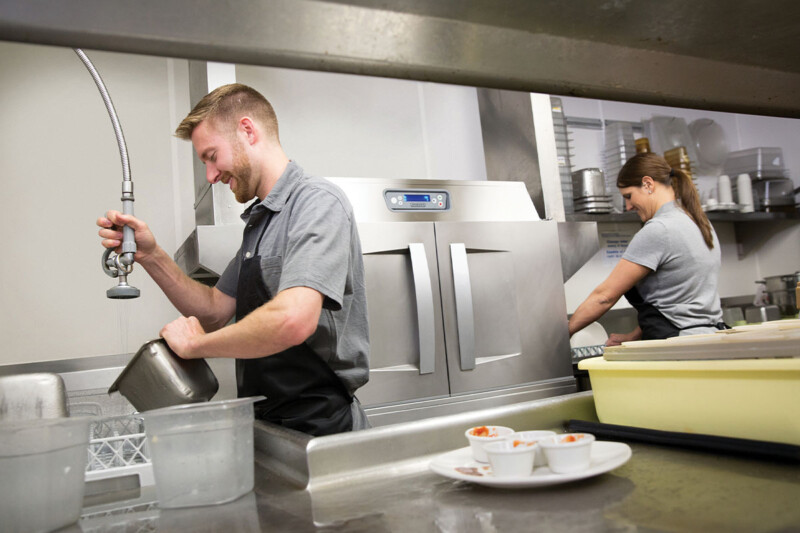 Equipment Comparisons
Forget steamy dishrooms; some of the newest rack conveyors improve environmental comfort and reduce overhead costs.