7 Space-Saving Equipment and Design Tips
Maximize production and minimize your footprint with this efficient equipment and design advice.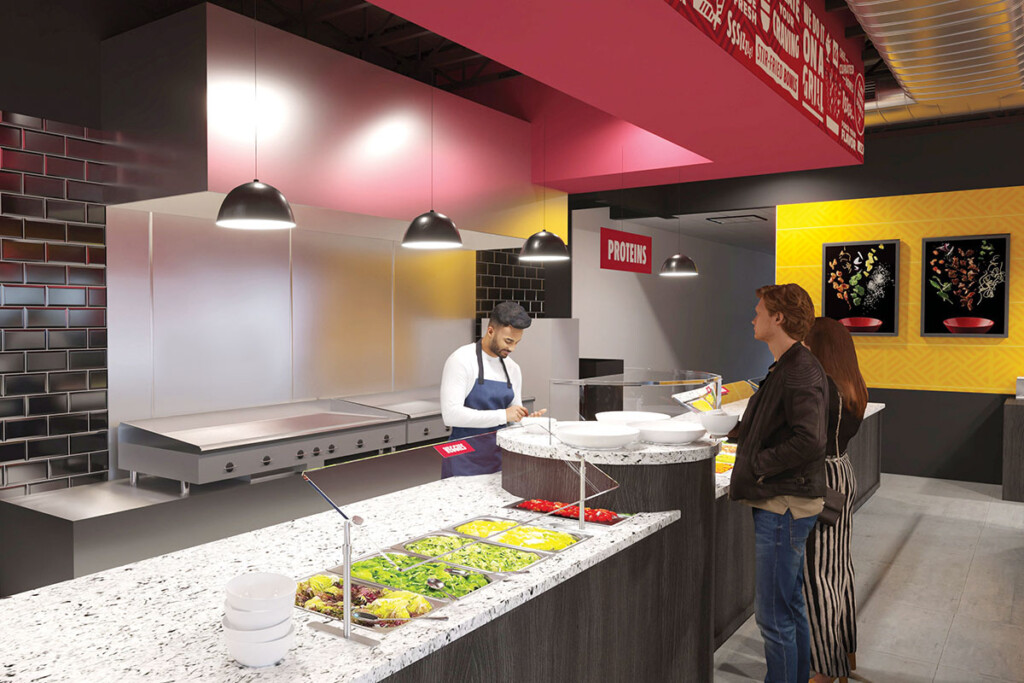 In today's challenging business environment, foodservice operators are forced to do more with less—and that includes churning out more food from smaller kitchens. "We're seeing a growing trend of kitchen sizes getting smaller and smaller," says foodservice consultant Stuart Davis, who leads Stuart Davis Design in the Chicago area. "The old rule of thumb was 60% front of the house, 40% back of the house. We're now seeing more like 70% front, 30% back. You're asking a smaller kitchen to handle more covers. The challenge from the get-go is to cram a lot of firepower into a small footprint."
In many locales, real estate costs skyrocketed over the past two years. "The cost per square foot of leased real estate is up," says Jay Bandy, president of Goliath Consulting Group in the Atlanta area. "People are going to smaller spaces, and just trying to make their operations work."
Meanwhile, many operators are multitasking more—serving increased off-premise traffic, often in addition to on-premise guests. Some operators are incorporating virtual concepts into their kitchens, expanding their production needs. Foodservice consultant Chris Cooper with Davella Studios in New York City is seeing some corporate-dining clients bring the production of baked goods in-house, looking to cut costs and gain quality control. The challenge: reaching desired throughput in a compact footprint. The solution: space-saving equipment and design that maximizes every square foot.
The bonus is that a compact, efficient kitchen can reduce labor costs. "Keeping the space small allows you to keep labor dollars down," says Raz Mahrouk, director of operations for The Absolute Brands, which operates Dog Haus and five virtual concepts. "If the kitchen space is maximized, then less steps are needed for your staff to move around and execute quickly."
Check out these seven space-saving tips:
1. REMEMBER: NO EQUIPMENT IS SACRED
Dallas-based Genghis Grill 86'd its iconic circular grill used for its stir-fry bowls, and replaced it with a rectangular flattop grill to reduce the footprint in its fast-casual prototype, set to debut this year. While old-timers in management initially resisted the idea of nixing the "sacred cow" round grill, "surveys showed that our guests didn't even realize what we cooked on," says Gregg Majewski, CEO of parent company Mongolian Concepts since 2021. "The customer just wanted good food fast." With off-premise orders comprising a bigger slice of business—30% compared to 4% pre-pandemic—many customers don't even see the grill, or catch a mere glimpse.
"You've got to be willing to take the chance to make the stores for tomorrow, today." —Gregg Majewski, Mongolian Concepts
The prototype slashes square footage more than in half, from about 5,000 square feet to 2,200 square feet. The cold station, stocked with veggies and proteins for grilling, now fits compactly in front of the rectangular grill, rather than 25 to 50 feet away from the circular unit, streamlining operations. "The whole restaurant can now be run by one person during nonpeak hours, down from four," Majewski says. That's a huge labor savings in addition to lower rent and a smaller price tag for building a new restaurant—$400,000, down from $850,000. "You've got to be willing to take the chance to make the stores for tomorrow, today," Majewski advises. "Or the labor market is going to kill us in the coming years."
---
Join Us for MUFES
Want to learn more about the kitchen of the future? Attend FER's Multiunit Foodservice Equipment Symposium, taking place April 25-27, 2023, in Tucson, Ariz. Click HERE to register now.
---
2. SPECIFY MULTIPURPOSE EQUIPMENT
Seek out equipment "that can do double or triple duty, rather than a one-trick pony," Davis recommends. His favorite is a multi-cook oven that offers up to four independent chambers. "You can cook three or four different items at different temperatures for different times," he says. "You can bake souffles on one shelf and cookies on another, without any smell transfer." A newer model incorporates steam, allowing humidity levels to be controlled independently.
Food wells that change from hot to cold, at the touch of a switch, also offer space-saving flexibility. "You can keep bearnaise and hollandaise sauce hot for a breakfast sandwich," says Davis, "and then at lunchtime, use the same space to keep lettuce and tomatoes cold."
Another masterful multitasker is the combi oven. "It's a real space-saver," says Bandy. "It's your convection oven; it's your steamer. You can even grill items in a combi with the right equipment."
3. GO VENTLESS
The size of the exhaust hood marks one of the biggest limitations in a kitchen. Consider selecting ventless appliances that allow you to operate with a smaller hood—or possibly, no hood at all. "Ventless has come a long way," Davis says. Combi ovens, multi-cook ovens, rapid-cook ovens and conveyor ovens all offer ventless options.
If you're tight on space, consider equipment that can be rolled away when not in use.
"There are enough tools now to put together a kitchen that can produce high-quality food without requiring hoods," Davis says, "which gives you much more flexibility with your space."
4. MAKE IT MOBILE
If you're tight on space, consider equipment that staff members can roll away when not in use. For example, use a cart for cutting meat or produce, then move it to your dry storage area when the lunch rush starts, recommends Bandy.
Likewise, a compact mobile breading station can be wheeled away when not in use, he says. If you marinate proteins, consider a tumble marinator on wheels that quickly coats items. Some low-profile models can even be easily stored under a work table.
5. OPTIMIZE YOUR SPACE
Sonny's BBQ launched a prototype last year with a smaller footprint, shaving 500 square feet off the kitchen. "The design of our smaller prototype focuses on optimizing the restaurant for the way our current guest wants to dine; a smaller dining room and a better layout that makes ordering takeout easier for our guests," says Josh Duke, senior operations manager for the Orlando, Fla.-based barbecue chain.
The prototype moves the barbecue smokers out of the kitchen to the front of the house, putting them center stage for guests, and opening space in the back of the house. The kitchen line—which traditionally was shaped like a box and funneled orders through one window—is now transformed into a line that separates dine-in orders from takeout. The line is strategically placed parallel to the server station to minimize kitchen traffic, creating a compact design. Countertop fryers were replaced with standalone fryers, which more efficiently handle Sonny's volume. A custom fabricated table, with builtin hot wells, streamlines operations. "Before we had a standalone table where all the equipment was just set on top, so it was bulky and not as efficient," Duke explains.
Cooper, meanwhile, recently collaborated with a large eatery and caterer in New York City to replace six convection ovens with one roll-in combi oven. Every weekend the client, bakes 15,000 chocolate chip cookies and 1,500 pounds of chicken. "We were able to reduce their production time by approximately 35%," says Cooper. Not only are the combi ovens more efficient and less labor intensive, but they also improve yields and maximize consistency.
6. USE VERTICAL SPACE
If you're running out of floor space, build your kitchen design upward. Install an ice maker on top of a soda machine; put a blast chiller under your combi oven; and stack speed ovens, microwaves or multi-cook ovens, Bandy suggests. Optimize undercounter space by opting for worktop freezers and refrigerators, rather than traditional worktables.
The Absolute Brands freed up 2½ feet on its cooking line by replacing charbroilers with wall-mounted salamanders, Mahrouk notes. It captured additional floor space by replacing traditional hot holding units with hot holding cabinets stacked atop two-drawer fridges or freezers.
Don't overlook low-tech solutions, Bandy advises. Maximize shelving throughout, so that items can be stored efficiently. Use a vertical rack for cutting boards instead of laying them flat. "It sounds like a little thing," he says, "but sometimes it can open a whole shelf."
7. THINK OUTSIDE THE BOX
Is your kitchen cramped, but there's plenty of space outside your backdoor? Consider installing an all-weather walk-in cooler outside, with a cut-through for direct access, suggests Bandy, who used the technique to help a client convert a quick-service unit into a barbecue restaurant that demands more refrigeration space. "It's an easy way to grab up to 200 square feet of additional space."
Walk-in coolers aren't the only equipment that can be safely bumped outside, says Bandy, pointing out that the barbecue joint also is placing its smokers outside. "We're pushing things outside the building and making use of the inside prep space."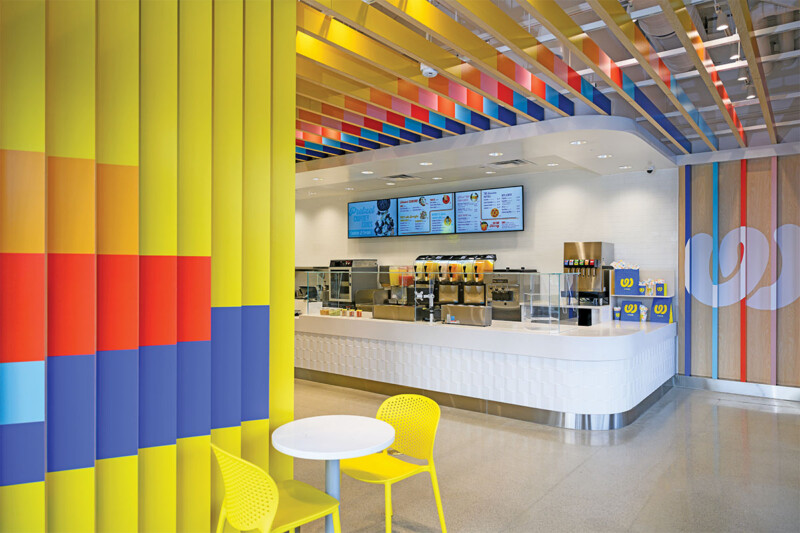 Kitchen Design
Wetzel's Pretzels, the multiunit bakery of shopping mall fame, now offers its soft pretzels and more at street-side through its latest concept.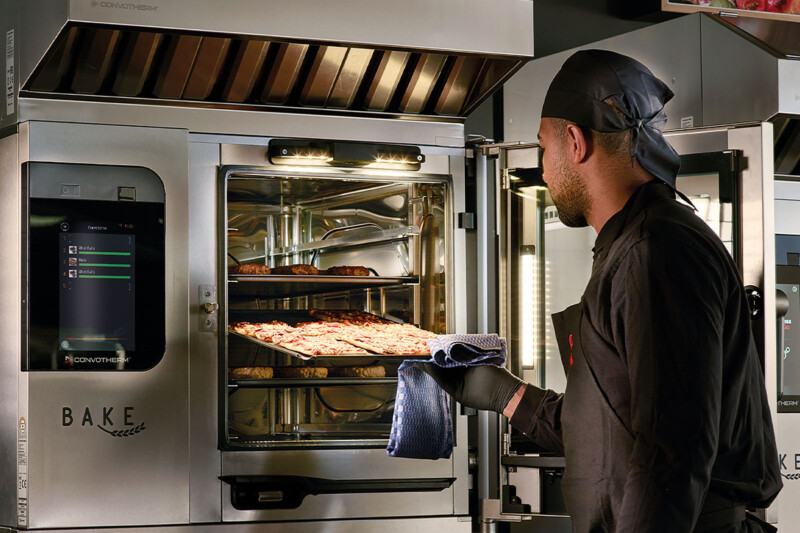 Combi Ovens
Today's combi ovens are smarter and more energy efficient, reducing the need for skilled labor and cutting utility costs.