When The Stand first opened its doors in Encino, Calif., in 2003, the menu centered around classic burgers and hotdogs served in a retro diner-style setting. A second restaurant followed, then a third and a fourth. Then the menu began to grow as well, to about 40 items.
So when the time came for Founder/CEO Murray Wishengrad and his son V.P./Culinary Director Jason Wishengrad to expand their concept into future new locations, they needed a prototype that would be contemporary enough to please food-savvy SoCal customers, nimble enough to handle the broad menu and operationally smart in terms of labor, energy and space usage.
In '14, the team decided to create a modern version of The Stand, embodied in a prototype opened in March '16 in Northridge, Calif. The new design features an eye-catching kitchen-forward layout, state-of-the-art equipment and a bright, engaging front-of-house that draws people in from late morning through late evening.
The Stand's kitchen-forward layout defines the new design. Guests walk past the cookline, visible behind 2-ft.-high glass panels, to reach the ordering point. "We wanted to involve customers in the culinary experience before they order," Jason says. By passing the kitchen action on the way to the menu board and registers, guests become immersed in the food process.
Because this is a SoCal burger and "dog" joint, sandwich toppings extend far beyond the traditional lettuce, onions and tomatoes. The Stand's menu highlights Brussels Sprouts ($6) as a featured vegetable; Sesame Kale Salad ($12) is a customer favorite; while its Guac On Fire hotdog ($6.25) is dressed with cilantro lime aioli and tortilla strips, to give just a few examples.
"We pride ourselves on a large menu, executed fast, with quality food," Jason adds, tallying six salad options, 10 hotdogs, 12 burgers and 12 sandwiches. "You can explore something new every day."
The Stand Northridge sits on the ground floor of a 300-unit residential/retail development near Northridge Fashion Center. A fenced patio leads guests from the sidewalk into a dining room, fitted with wood tables, booths, a Carrera marble high-top with orange-enameled metal stools and a custom-made shuffleboard table.
Guests place orders at the counter, making their choices from a 16-ft.-wide LED menu board, framed by a custom-made brushed aluminum metal louver assembly that stretches from the kitchen to beer taps.
Grab-and-go sweets, bottled soft-drinks and a wall with 20 taps (16 beer, four wine) offer tempting point-of-purchase additions to customers.
Prototype Planning
The Stand's makeover planning began in '14. The design team was led by the Wishengrads, in partnership with architect Jonathan Glasgow, Interstice Architects, San Francisco; and Gregg Golem and Louis Cummings, Interactive Restaurant Consulting, Thousand Oaks, Calif.
The prototype started with a 20+ page questionnaire and interview from IRC delving into details on the owners' goals and plans. Immediate goals included making the kitchen more visible, improving service and production, maximizing use of space and improving equipment efficiency. Some 10 scaled schematic drawings later, the team arrived at a final layout.
The Northridge location offers more space than previous Stand restaurants—3,500 sq. ft. with 130 seats, compared to 2,500 sq. ft. and 100 seats. Two months into operations, The Stand Northridge already pulled in about 80% of sales compared to existing locations. The restaurant serves 600 to 900 covers daily with a check average of $10 to $14.
Menu Drives Equipment
The Stand's back-of-house consists of three main action areas: the open-to-view cookline and order-assembly area (276 sq. ft.), beer/wine taps plus walk-in, and prep and storage (434 sq. ft.).
As always, product flow dictated equipment placement. Along the front line (facing customers waiting in line) are burgers and sandwich prep. Starting on the far left, a bread rack and conveyor toaster brown buns for grilled proteins coming off the griddle and charbroiler. Employees can add finishing ingredients from the hot- and cold-holding wells to the right of the charbroiler.
The opposite side of the line features an Imperial Range six-burner range and griddle with ovens below, fryers and dump station and a cold prep salad table atop cold-holding drawers. Prepared food moves toward the order-staging area—the short diagonal wall that separates the cookline from the order point.
"This being a burger and hotdog restaurant, grills are critical," Golem says. "The new units, made by Vulcan, are composite grills with edge-to-edge heat—no cold spots."
Planners chose the charbroiler, also made by Vulcan, partly for its efficiency in cooking but also for its durability. "We run the charbroiler at 500°F to quickly sear burgers, sausages and chicken," Jason notes. "Burgers take five and a half minutes to cook."
A CVAP hot-holding cabinet made by Winston holds all the buns and French rolls. The unit features controls that finely adjust humidity to keep the breads being held fresh, without drying out, according to Golem.
The Stand Northridge added Alto-Shaam cook-hold ovens to the line-up. "Among other things, we use them for short ribs and porchetta," Jason says. "We start the meat in the morning and take it out at night—eight hours of slow braising with wonderful results." The team will retrofit existing Stand restaurants with the units.
Also of note, the front line's variable-speed hoods include a side panel on each end to better capture grease and smoke from the cooktops. "The side panels help direct and capture the smoke better," Jason says. "We've used them on our hoods since opening the Encino store in '03."
Tapping Into Success
An eye-catching beer tower with 16 craft beer taps and four for wine—serve as an irresistible adult focal point behind the order counter. The tower, custom-made by Global Dispense, features two front-slanting vertical supports and two levels of taps, all in a matte finish aluminum that matches the louvers above. The direct-draw system stores beer and wine kegs in a walk-in on the opposite side of the wall.
"Our goal was for guests to arrive at the register and be impressed by the beer display," Jason says. "We wanted to create the perception that The Stand is the place to go for craft beers." The numbers show their plan is working: beer sales at the Northridge store are about 9% of sales, compared to about 6% at existing locations.
An undercounter glass-door refrigerator below the taps chills glasses and also stores whipped cream and to-go condiments.
To the right of the taps, a Waring three-spindle drink mixer and a Taylor soft-serve ice cream machine tempt guests of all ages.
Back-Of-House Upgrades
Time and space constraints led designers toward back-of-house innovations for warewashing and office security.
In the dishroom, an undercounter high-temperature glasswasher made by CMA handles up to 30 racks per hour. "The Stand uses the warewasher for glassware from our beer and wine service, plus some utensils and plates," says Jason, pointing out that in-store meals are served in disposable plates and plasticware. "Each cycle takes only two minutes to run. With our new beer system, we knew there'd be more glassware to wash."
In the far back-of-house, planners found themselves with a reach-in closet-sized space (4 ft. x 8 ft.) for the manager's office. To meet Americans With Disabilities Act requirements, yet still keep the desk and computer secure during off-hours, planners installed a rolling metal mesh door similar to those used in shopping malls. The mesh barrier scrolls up and out of the way into a tight spiral.
"When the desk is not in use, the manager pulls down the gate and locks it at the bottom," Jason says. "It's really helped us save on space." So successful is this roll-up solution that the team will use the mesh barrier in all future Stand locations.
Coming Up
Two Stand openings, in Irvine and Pasadena, Calif., have followed the Northridge prototype. The Wishen-grads expect to open as many as 15 new restaurants over the next four years. Initial growth will take place in greater Los Angeles and Orange County, followed by future sites in Arizona, Nevada and Oregon.
SPECS
MENU/SEGMENT: Fast casual, "American Classics, Redefined"
HEADQUARTERS: Encino, Calif.
FOUNDED: 2003
NUMBER OF UNITS: 7 in California: Encino, Century City, Woodland Hills, Northridge, Irvine, Pasadena, Newport Beach
SIZE: 3,400 sq. ft.
SEATING: 130 seats (including patio)
FF&E PACKAGE: about $350,000
2017 OPENINGS: 3 planned
OWNERS: Murray Wishengrad, Founder/CEO; Jason Wishengrad, V.P./Culinary Director
DESIGNERS: Gregg Golem, Principal; Louis Cummings, Senior Designer, Interactive Restaurant Consulting, Thousand Oaks, Calif.
DEALER: Raulie Treadway, Regional G.M.; Corina Machado, Account Executive, Chefs' Toys, Los Angeles
ARCHITECTS: Jonathan Glasgow, AIA; Roy De Jesus, Interstice Architects, San Francisco
WEB: thestand.com
EQUIPMENT
Cookline
Alto-Shaam cook/hold ovens
Winholt mobile pan racks
True reach-in freezers, undercounter freezer, sandwich prep table, refrig.
Accurex/Greenheck variable-speed hoods, makeup-air unit
Imperial Range range
American Range fryers
Advance Tabco work table
Hatco food warmer
Wells/Middleby drop-in hot wells, cold wells
Winston drawer-type warmer
Vulcan/ITW FEG charbroiler, griddle
Belleco conveyor toaster
Bar/Beverages
Curtis ice tea brewer
Lancer beer dispensing head
True back bar cooler
Scotsman/Ali Group ice machine
Waring blender
Taylor soft-serve ice cream machine
Perlick glass rinser
Global Dispense custom draft beer tower
Krowne Metal underbar drop-in ice chest
Back-Of-House
Metro/Ali Group shelving
Ice-O-Matic/Ali Group ice machine
Servend/Welbilt carbonator
Noritz tankless water heater
Imperial Brown walk-in cooler
Eagle wall-mounted shelving
CMA/Ali Group undercounter dishmachine
Lawrence roll-up service door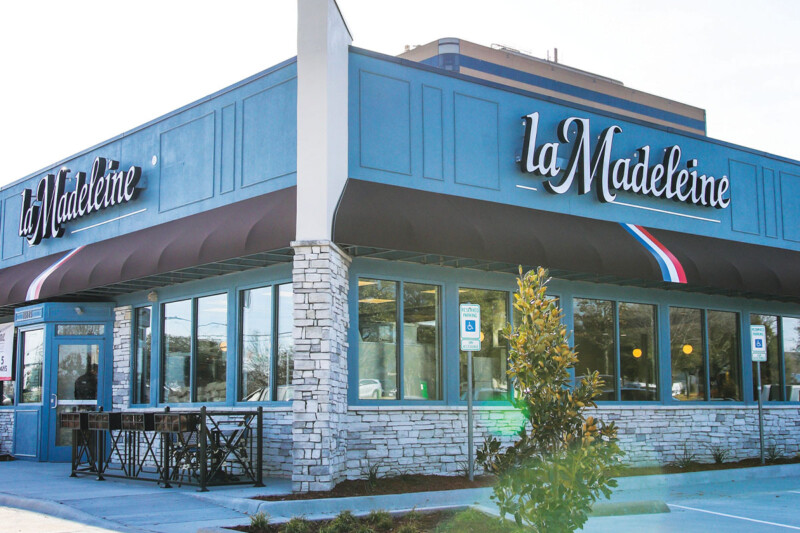 Kitchen Design
La Madeleine's all-new prototype in Dallas boasts its first-ever drive-thru and a from-scratch bakery.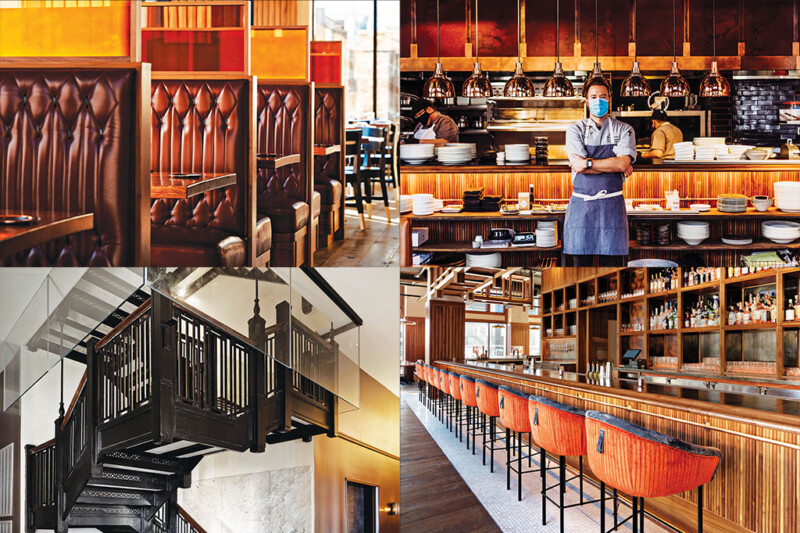 Design
Mulberry Street Tavern produces hearty entrees from an open kitchen, complete with a wood-fired charbroiler, inside a former bank building more than 100 years old.