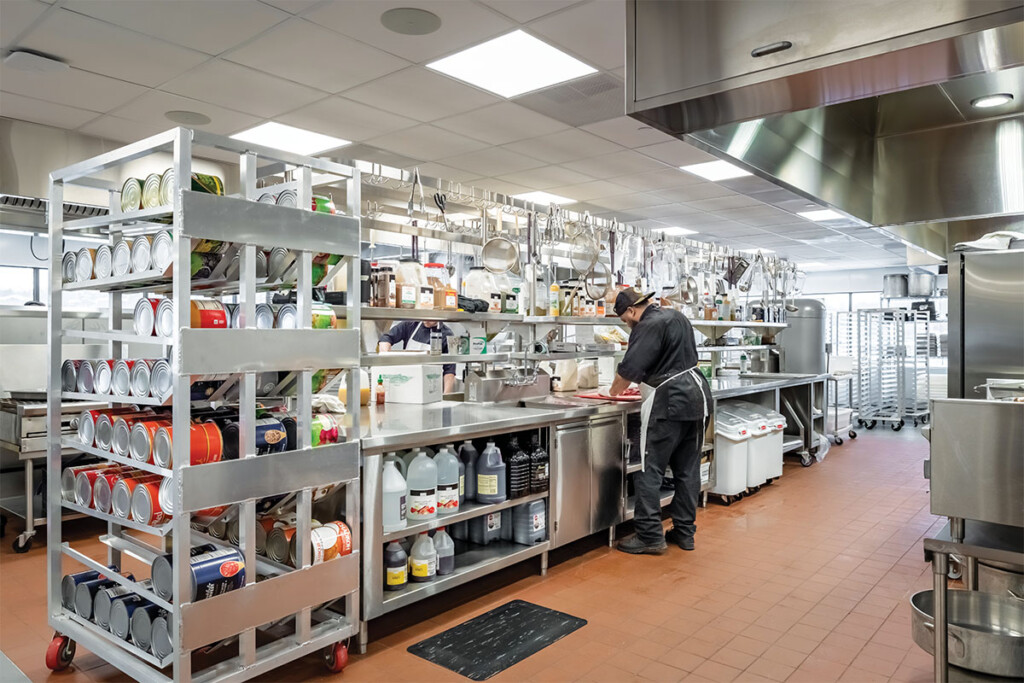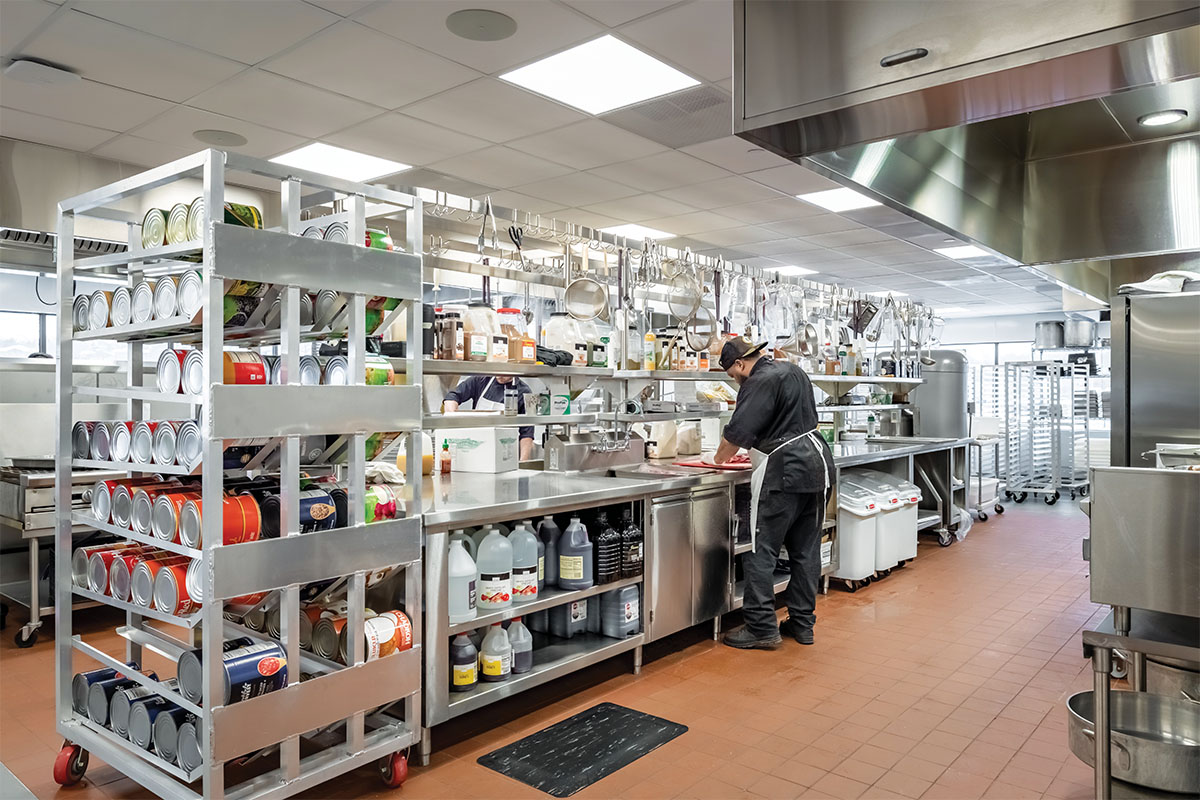 Open Arms of Minnesota—a volunteer-powered, nonprofit organization that provides meals to critically ill Minnesotans—needed more room.
"We would run out of freezer space at our Minneapolis headquarters and production kitchen," says Open Arms CEO Leah Hebert Welles. "In the past, we have had to rent a mobile freezer around Thanksgiving and park it in the alley nearby. Demand has grown that much."
After an extensive search, Open Arms leaders chose a spot in nearby St. Paul, Minn. There was just one problem: The site was an office building. With low ceilings and an abundance of windows, it was not exactly conducive to foodservice. What prevailed, however, were some of the building's other attributes— key among them proximity to a major highway (putting it within easy reach for the volunteer workforce) and its size, spanning 17,000 square feet.
Fast forward to today, and Open Arms' St. Paul location, opened in January 2023, has more than doubled the nonprofit's meal production capacity. "Our two facilities together produce about 1.5 million meals per year," Welles says. The St. Paul location produces 17,000–18,000 weekly meals—and has the kitchen capacity to double that volume. The original Minneapolis location makes about 12,000–14,000 weekly meals. At press time, Open Arms was serving some 2,200 clients, most of them in the Twin Cities.
"It is not our mission to be the most efficient kitchen in the world," Welles says of the project. "Instead, our goal is to involve the volunteers, the ones who are helping create meals for people who are sick. In the St. Paul facility, we wanted the kitchen to be the first thing people saw when they entered the building. We wanted an inviting space where volunteers could work together. And we wanted capacity and room to grow."
Growth Plan
The group that oversaw the creation of the St. Paul facility included Pope Design Group, led by Rebecca Frenning, who handled building plans and interior design. Rippe Associates, led by Eric Goodrich, along with Ryan Braudt and Connie Dickson, who doubles as a longtime volunteer at Open Arms, handled foodservice design.
"It took us all a while to get the details figured out so Open Arms could be successful and get the facility exactly the way they wanted it," Goodrich says. "Once we had all those details, the project [moved into high gear]. They wanted to start using the space as soon as possible."
"Our first look at the St. Paul location was in January 2021," Goodrich adds. Design drawings started in August 2021, and construction drawings by that December.
Project highlights include a kitchen wrapped by windows, a 1,300-square-foot walk-in freezer capable of holding up to 60,000 frozen meals, and plenty of workspace for Open Arms volunteers and staff.
"Fitting in all the program pieces Open Arms wanted, including support space, kitchen, cold storage, offices and volunteer space, proved quite the puzzle," Frenning says. "The whole project was driven by the kitchen and volunteer spaces. That's the heart of what they do."
Challenges All Around
Windows, layout and equipment installation posed the biggest design challenges for the team.
Windows wrap all the way around the building. "We went through a lot of different designs in order to [situate] equipment away from exterior walls and bring in natural light to the kitchen and work areas," Frenning says. "For staff and volunteers working in a kitchen, [the windows provide] a more pleasant working environment."
The windows also help advertise Open Arms. "Thanks to the [East Lafayette] Frontage Road location, our building can be seen from the nearby highway," Frenning adds. "Now drivers and visitors can see lights on and activity happening."
Determining the general layout within the building for the kitchen, walk-in storage and workspaces prompted many discussions. "From a construction perspective, it would have been easiest to put the kitchen toward the north end where the higher ceilings were—just for the ease of duct runs," Goodrich says. "But as Rebecca says, Open Arms' priority was to give the best employee and volunteer experience possible, which called for a bright, open kitchen within view of the reception desk and main lobby."
Architects created a dedicated main entrance for Open Arms (in addition to the building's existing entrance). "The doors open into a vestibule [preserving heat during Minnesota winters] and then into an open space with a reception desk, gathering spot and delivery pickup area, plus a volunteer lounge," Frenning says.
Equipment installation challenges came from both the roof and the building's slab.
"The weight of the refrigeration systems for the 1,300-square-foot freezer and nearly 900 square feet for the four coolers would have been more than the existing structure could bear," Goodrich says. "The systems all had to be installed on the ground next to the building."
The slab posed another issue; it wasn't thick enough. "As far as walk-in flooring, a manufacturer's floor isn't permanent. We prefer a recessed floor with proper insulation and a clean transition of the same kitchen flooring into the walk-in," Goodrich says. "Given the inability to recess the floor, we had to simply recess the walk-in manufacturer's floor, then had a floor covering applied to the floor panels to seal it, preventing liquid from seeping into the joint between the floor panels."
Taking a Tour
The St. Paul facility's kitchen area covers 7,800 square feet. About 45 full-time employees staff the food production and prep areas. In addition to the Open Arms employees, about 100 volunteers are on-site daily—more than half of them working on meal assembly and the rest picking up for deliveries.
The food production area's equipment choices combine flexibility and volume. The hot food production area features three tilt skillets and two four-burner ranges along one line and a rotating rack oven, convection ovens, roll-in combi ovens and charbroiler along the other line.
The food production area's equipment choices combine flexibility and volume.
Between the hot lines is a double-sided worktable that makes maximum use of vertical space. "There's a lot going on there, with ingredient bins, sheet pan racks, dollies, overshelves and utensil storage," Goodrich says.
Just-cooked food items undergo rapid cooling in the three blast chillers before being moved into the cooler. Volunteers pull from this cooler as they put together meal sets, and then wheel completed meals into the massive freezer.
A Look Ahead
Open Arms expects its shipping program to double in scope between now and 2025.
"[Thanks to a dedicated shipping area at the St. Paul facility], we will be able to ship into western Wisconsin and out toward the borders of North and South Dakota as well," Welles says. "We are slowly growing that part of our mission."
FACTS
OPEN ARMS OF MINNESOTA ST. PAUL, MINN.
SEGMENT: Nonprofit production kitchen
OPENED: January 2023
KITCHEN SIZE: 7,800 square feet
EQUIPMENT PACKAGE: $1.7 million
OPEN ARMS: Leah Hebert Welles, CEO, Minneapolis
CONSULTANT: Ryan Braudt, senior project manager; Connie Dickson, principal (retired); Eric Goodrich, principal, Rippe Associates, Minneapolis
ARCHITECT & INTERIOR DESIGN: Rebecca Frenning, principal and director of interior design, Pope Design Group, St. Paul, Minn.
DEALER: Todd Olson, contract sales, Boelter Premier, Minneapolis
GENERAL CONTRACTOR: Greiner Construction, Minneapolis
WEBSITE: openarmsmn.org
KEY EQUIPMENT
• Accurex hoods, demand control ventilation system
• RATIONAL oven racks, roll-in combi ovens
• Groen tilt skillets
• Southbend convection ovens
• Imperial four-burner ranges, charbroiler
• Vollrath worktables, mobile equipment stands, work counters with sinks, overshelves, mobile mixing bowls, sheet pan dollies, dishtable
• Baxter rack oven
• Robot Coupe food processor
• Hobart food processor, dishmachine, 20-qt. and 140-qt. mixers
• ThermalRite walk-ins
• RDT racked refrigeration system
• American Panel blast chillers
• Metro refrigerator/freezer shelving, dunnage racks, cutting board storage shelving, drying rack
• John Boos hand sink
• New Age mobile racks, steam table pan rack
• Scotsman ice maker, bin
• 3M water filtration system
• Channel Mfg. can rack
• Salvajor disposer
• Component Hardware spray rinse
• Infinity Metal Fabrication soiled dishtable with sinks
• Gates Mfg. floor trough
• Eagle Group utility shelf
• Oliver Packaging machines
• Bunn coffee grinder, airpot brewer, coffee server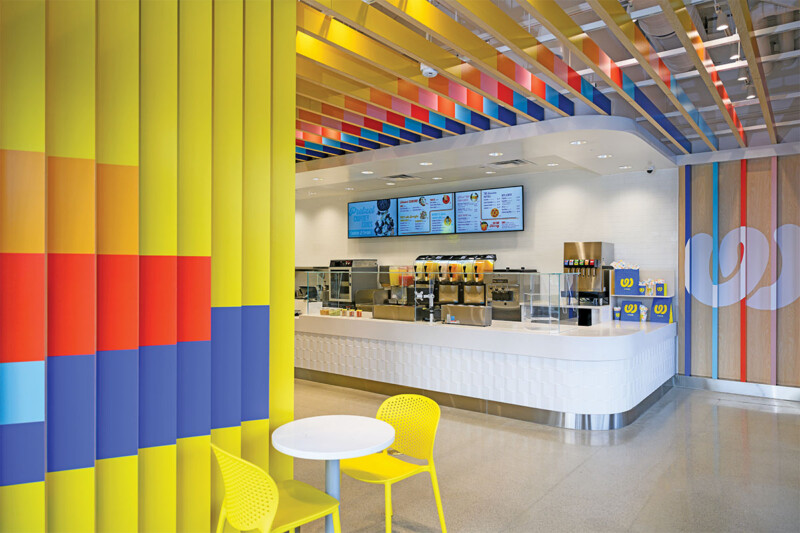 Kitchen Design
Wetzel's Pretzels, the multiunit bakery of shopping mall fame, now offers its soft pretzels and more at street-side through its latest concept.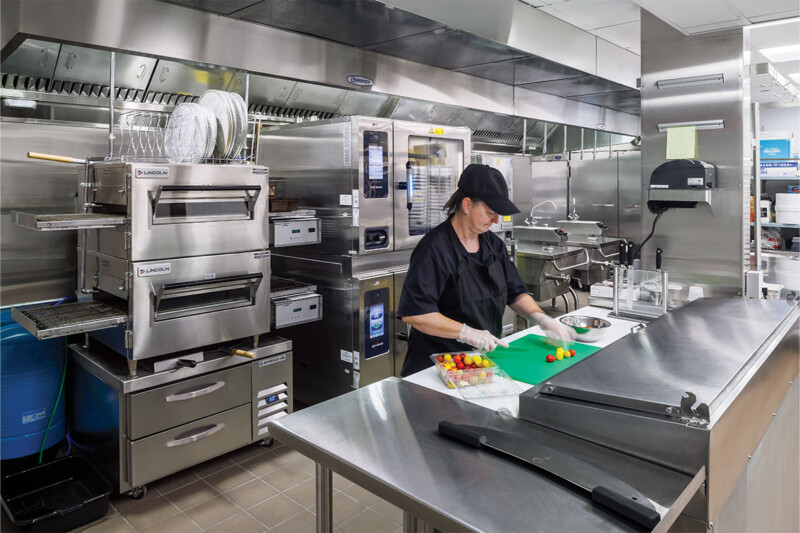 Kitchen Design
Designing for a state park courting corporate clients took teamwork.