Project Spotlight: Collaboration Clears Hurdles
Designing for a state park courting corporate clients took teamwork.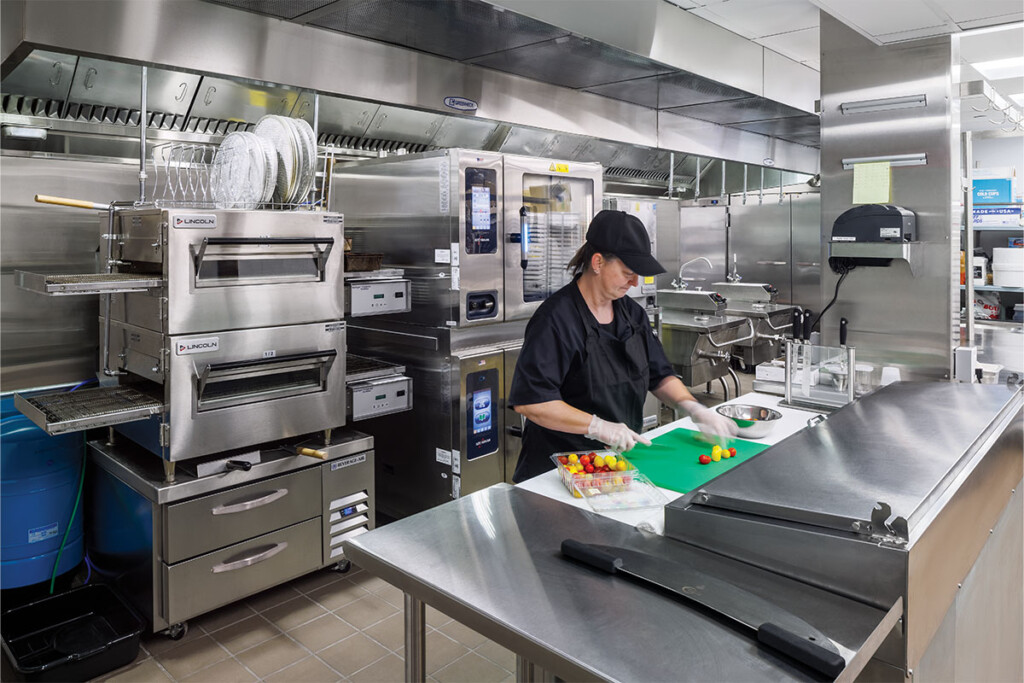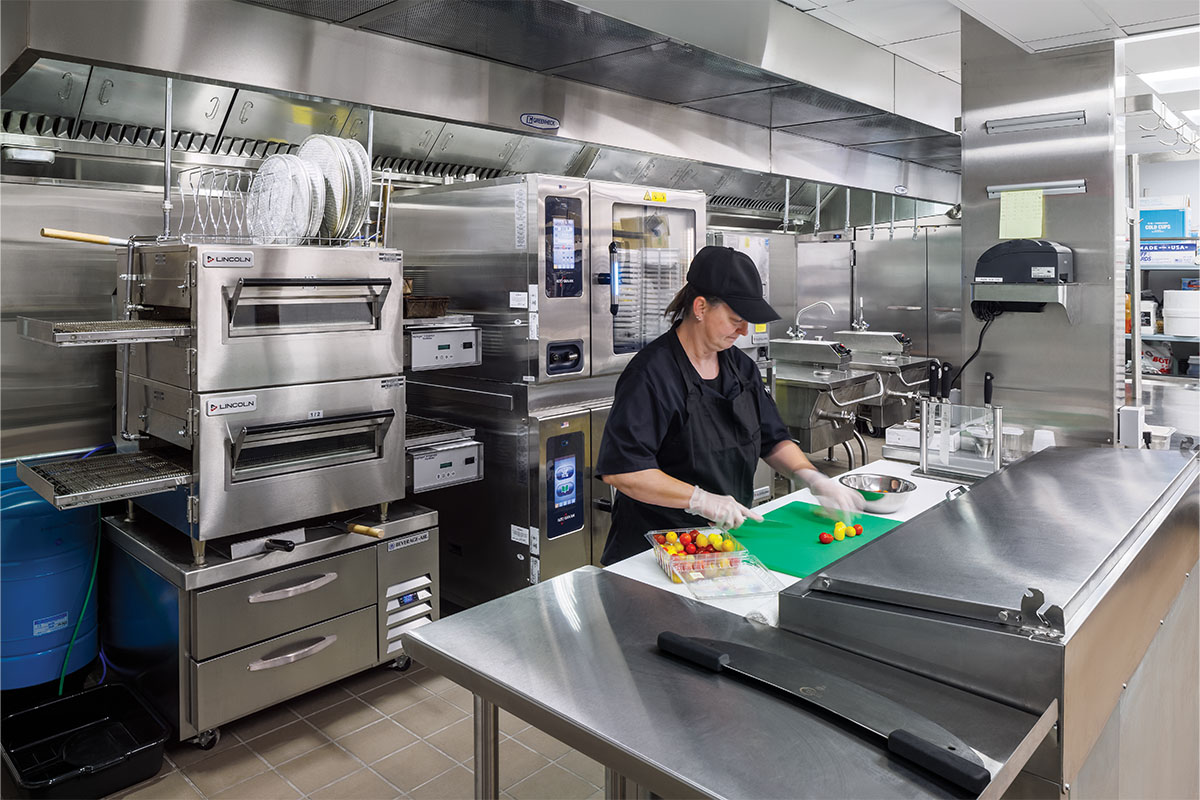 One of the biggest challenges in planning out any higher-volume, full-service foodservice facility is "not designing like every day is Easter," notes Kevin Banas, a project manager at foodservice design consultancy Cini-Little Int'l. "You need to find a middle ground between the busy points and the slowest points and work in some versatility for how [the concept] will handle when things get busy."
But in a Midwestern state park, where any fine-weather weekend can turn into an Easter-type day—and, conversely, where a rainy or snowy stretch of days can make business exceptionally slow—that challenge is even more pronounced. Such was the situation confronting Banas and the Cini-Little team in designing foodservice spaces for Hocking Hills Lodge & Conference Center in Logan, Ohio.
Hocking Hills is Ohio's newest state lodge, having opened in October 2022 after a 2016 fire destroyed the lodge that previously stood on the grounds. Ambitions for the new 81-room lodge with a full-service restaurant, pub and grab-and-go cafe were lofty. While dining options aren't typically what bring people to state parks, whether for a day or for an overnight stay, the Ohio Department of Natural Resources from the get-go wanted Hocking Hills to offer cut-above foodservice options that would encourage people to keep coming back—and to choose Hocking Hills for their special events.
"They were very hands-on with us," Banas says of the parks department, which, with the help of Sioux Falls, S.D.-based Regency Hotel Management, oversees nine Ohio state park lodges under the Great Ohio Lodges banner. Together, Cini-Little and the parks department benchmarked the menus at other dining concepts in the state-park lodge system, identifying must-haves that would meet the needs of both families/daytime guests and corporate clients. In addition to Rock House Restaurant, an all-day concept that requires reservations at dinner and prides itself on offering regionally sourced meats and cheeses, Hocking Hills operates Rock House Pub (open daily at 3 p.m.) and Cafe 22 (beverages in the morning, snacks and sweet treats for the afternoon crowd). A formal event space can accommodate up to 230 people.
"We wanted to be able to offer choices that are familiar and comforting to guests but also be able to provide something a little nicer for private-event clients," says Banas, pointing to the ability to accommodate special menu requests and dietary restrictions.
One menu must-have that came out of that analysis: pizza. "That was the thing that surprised me the most," recalls Banas. "Being that I live in Chicago, usually, if you want pizza, you go to a pizza restaurant. But they do a phenomenal, excellent trade in pizza."
These menu and sales analyses, in turn, influenced facility design and foodservice equipment selection—a challenge made more complicated by the fact that an operator wasn't on board at the time construction began in July 2020. But the "phenomenal resource" of the parks department helped alleviate some of those challenges, Banas says. "They suggested some equipment revisions themselves based on working with chefs at some of their other facilities," he says. And versatility for variable guest volumes was built in through the use of equipment such as a walk-in cooler, dry holding cabinets, a combi oven and blast chillers—"things that give staff the opportunity to maybe work ahead with their mise en place … [or] finish off an item in advance without compromising quality." Meanwhile, a conveyor impingement oven and energy-efficient pizza prep table support the pizza program.
The result of that careful and collaborative planning was that when an operator did come on board, says Banas, "we were available to review some of their [plans] and make sure that nothing was outside the realm of feasibility … They largely went with the facility as we had designed it, finding it suitable [to what they had in mind]."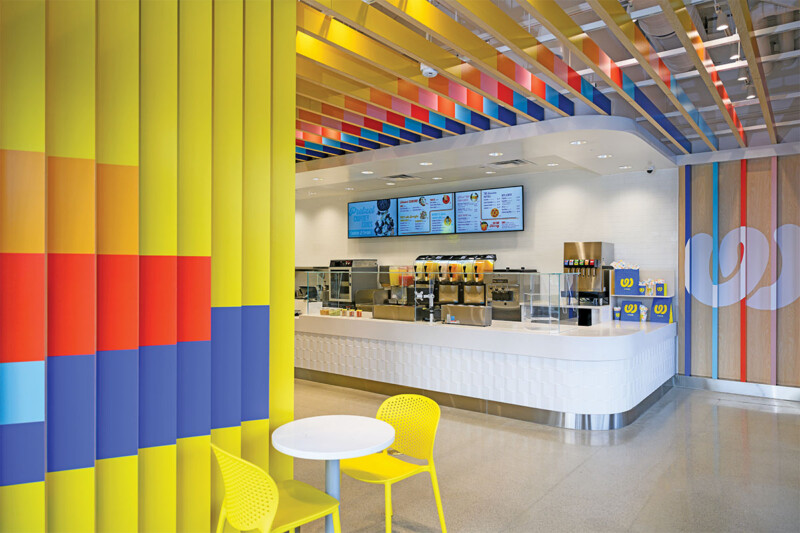 Kitchen Design
Wetzel's Pretzels, the multiunit bakery of shopping mall fame, now offers its soft pretzels and more at street-side through its latest concept.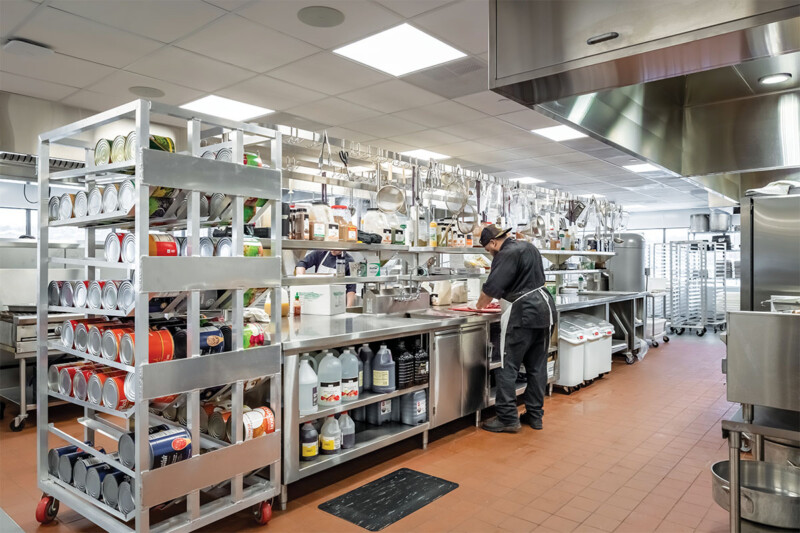 Kitchen Design
Open Arms of Minnesota—a volunteer-powered, nonprofit organization that provides meals to critically ill Minnesotans—needed more room.