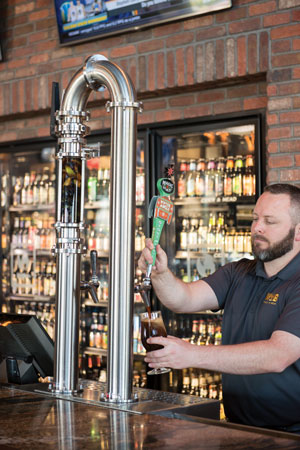 When World of Beer opened its first store in 2007 in Tampa, Fla., the concept served strictly craft beers and wines. Customers who were hungry had to order food to be delivered by nearby restaurants.
World of Beer's alcohol-only model ended in '13 when Paul Avery came on board as CEO. For Avery, who joined World of Beer after more than 20 years with Outback Steakhouse and OSI Restaurant Partners, adding food to World of Beer line-ups made sense.
In an interview with the Tampa Bay Times in '13, Avery said, "We've gotten a number of comments from customers about having the ability to order food inhouse. Some states will require a minimum threshold of food sales, so in order for us to entertain [opening in] those states, we'll have to achieve that threshold. We'll have to put in larger kitchens without losing our focus as a great craft beer experience. My vision is to have upscale bar food that's interesting, flavorful, memorable. Food that complements the beer."
Under Avery's leadership, the chain spent three years transitioning from a beer- and wine-focused model to one that offers spirits and food as well. Adding food to the concept has led to an average 30% increase in sales. Some units have done even better. "World of Beer's Gainesville, Fla., location logged a 50% sales jump after retrofitting a kitchen," notes COO Dave Reid.
Today, World of Beer operates 71 restaurants in 15 states. The company also operates one unit in China with another soon to open in Korea.
Kitchen Evolution
Early World of Beer kitchens—or food areas—were carved out of whatever space was available. The areas could be as small as 100 sq. ft., relying on one or two speed ovens to turn out a limited menu of "tavern fare," or shareable appetizers. Fast forward to today, World of Beer's kitchens are fully equipped foodservice operations occupying 900 sq. ft. and supporting a nearly 40-item menu. Shareable favorites include German pretzels with beer cheese, green chili chicken nachos, beer-brined chicken sliders, as well as flatbreads, sandwiches and burgers. World of Beer's first such prototype opened in Tampa in '16, with the second prototype in Lexington, Ky., slated to open this summer.
The designers' goals for World of Beer's kitchen included specifying equipment flexible enough to match future menu expansion, powerful enough to keep up with expected volume, and with enough cold storage so cooks could get through peak service times with minimal re-stocking.
In terms of square footage, World of Beer's prototype back-of-house (including kitchen, warewashing, prep and walk-ins) matches the footprint of the concept's commanding 22-seat bar and its behind-scenes walk-in beer coolers.
The kitchen's four stations—flatbread, grill, fryer and expo/makeup—fit compactly in about 300 sq. ft. The flatbread station relies on a griddle along the back wall, supported by two stacked, accelerated ovens and pizza prep table opposite.
The grill station comprises a four-burner range, countertop charbroiler atop a two-drawer refrigerator, and a vertical toaster on top of a cook-and-hold oven. The cook-and-hold oven, made by Winston, replaces the convection ovens used in many existing World of Beer kitchens. "It's more efficient than ovens we used to use," notes Brian Martel, World of Beer's former purchasing and construction manager.
A bank of three fryers anchors the fryer station, also supported by hot wells, a microwave, speed oven and undercounter refrigerator opposite. An undercounter freezer to the right of the fryers stocks ready-to-cook menu items.
The expo station features a pass-thru window that at 8-ft. wide is nearly double the width of previous World of Beer kitchen models. About three-quarters of its width sports an overhead food warmer. Designers equipped the expo area with a sandwich prep table facing the cookline, copious undercounter refrigeration and a plenty of worktop space on the pickup side where servers assemble condiments and stage trays.
One recent upgrade to World of Beer's prototype can be found in the kitchen's hood. The CaptiveAire CORE unit combines a built-in self-washing feature along with a fire suppression system—both using the same nozzles and water supply. When the fire system activates, water sprays along the length of the plenum and into the duct to suppress flames. A soapy, non-corrosive extinguishing agent added to the water helps put out fires quickly.
Between the self-washing feature and the fire suppression feature, Martel anticipates annual repair and maintenance savings of several thousand dollars per year for each hood. "The nozzle system's overlapping coverage gives us more flexibility in where we position equipment; the nightly self-wash cycle reduces the need for duct cleanings; and the fire suppression system's tie-in to the water main provides an unlimited water supply in the event of a fire," Martel says.
"Hoppiness" Is A Full Bar
World of Beer has approved 24,000 unique beers to be part of a rotating systemwide menu. Of those, stores typically offer about 500 brews in cans or bottles, and about 50 on tap. The bar is the focal point of the restaurant. Guests seated at any of the 22 bar stools have a first-row view of the beer tap array. Bottled and canned beers sit on freestanding shelves behind eight glass doors opening directly into the walk-in. Together with the behind-scenes walk-in beer cooler, the area covers nearly 1,000 sq. ft.
"Most people are amazed when they find out how complex the World of Beer draft systems really are," says Reid, who gives tours to World of Beer coolers when the opportunity arises. World of Beer's beer cooler, roughly the size of a semi-truck trailer and situated immediately behind the bar, is packed with hundreds of beer kegs from around the world.
"[We've got] a state-of-the-art Micro Matic draft system with beer lines designed to prevent oxygen permeation or flavor transfer; on-site blended gas management for various styles of beer; a power-pack glycol chiller for remote dispensing; round-the-clock temperature monitoring and CO2 sensor alarms," Reid says. "Throughout the system, 304-grade stainless components ensure the quality of brew is delivered as our brewers intended while maximizing keg yield and profitability."
To guarantee freshness and avoid any commingling of flavors, World of Beer policy requires lines to be flushed after every keg change.
"One of our bar highlights is the 3-ft.-high Beer Infusion Tower that delivers both regular and infused beer to enhance the experience and taste profile of various brews," Reid says.
The Infusion Tower delivers a single brew from either of two pipes. One pipe sends beer through an infusion chamber, the other straight into the glass. The infusion changes daily—and the sky, apparently, is the limit. Brews can be infused with fruits, vegetables and herbs. Adventurous guests can sample beer infused with coffee beans, jalapeños, wood chips—and even Whoppers chocolate candy (which are paired with a Scottish Ale at the World of Beer in Midtown Atlanta).
World of Beer also features a Cask Beer Engine, which in the days before mass refrigeration was used as a bar's primary serving mechanism. The cask engine pours specialty beers at warmer temperatures and lower carbonation, which lets drinkers fully experience flavors and aromas.
Coming Up
This year, the company expects to add another 16 domestic locations, as well as open its second restaurant in Korea. International goals for the next few years call for five locations in Korea and five in China.
SPECS
MENU/SEGMENT: Craft beers, wines and spirits + tavern fare
HEADQUARTERS: Tampa, Fla.
FOUNDED: 2007
NUMBER OF UNITS: 71 taverns in 15 states, plus 1 tavern in China
SIZE: 4,500 sq. ft. with 1,200-sq.-ft. patio
SEATS: 165
2017 PLANS: 16 openings planned for the U.S.; 1 unit to open in Korea
WORLD OF BEER: Paul Avery, President and CEO; David Belliveau, Executive Chef; David Reid, COO; Brian Martel, former Purchasing and Construction Manager
DEALER: Johnson-Lancaster and Associates, Clearwater, Fla.
WEB: worldofbeer.com
EQUIPMENT
Back-Of-House
Ecolab low-temp dishmachine, filter
BK Resources pre-rinse units
RTI fresh-oil tank, waste-oil tank
Snowman/Prock Operations walk-in food freezer, cooler
Metro/Ali Group shelving
Focus Foodservice dunnage racks, wire shelving
Manitowoc/Welbilt ice maker, bin
Cookline & Prep
Master-Bilt/Standex undercounter freezer, pizza prep table, sandwich table, undercounter refrig.
Dean/Welbilt fryer
Frymaster/Welbilt fryer filter
Hatco overhead food warmer
Merrychef/Welbilt accelerated oven
ACP/Ali Group microwave oven
Globe countertop griddle, 4-burner hot plate, charbroiler
Star/Middleby vertical toaster
Winston cook-and-hold oven
True 2-drawer refrig.
CaptiveAire hood, fans
Bar
Snowman/Prock Operations walk-in beer cooler
Gemtron beer cooler display doors
Alexander keg storage rack
Premier Metal & Glass bar rail
True bottle cooler
BK Resources underbar liquor display, speed rail, dish cabinet, mixing station, underbar sink
Micro Matic glycol beverage cooling system, power pack shelf, cask dispensing head, bar chiller, glass rinser
Bar Maid glass washer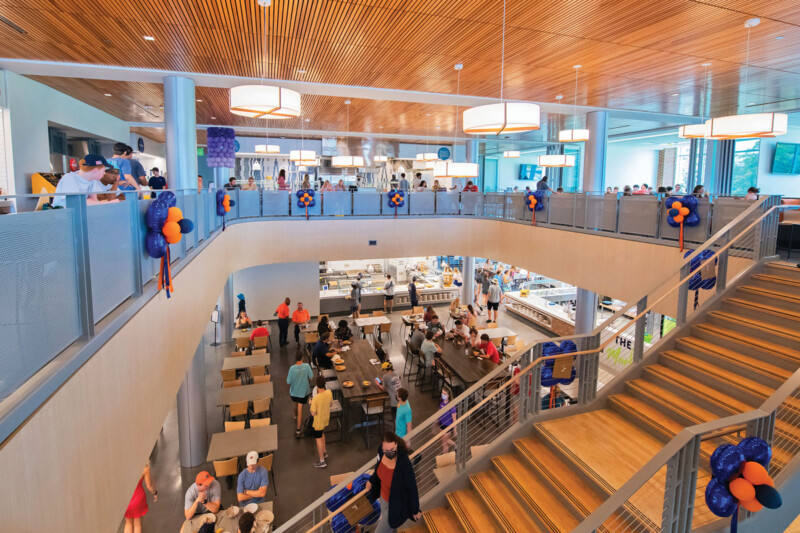 Design
Auburn University's new dining hall boasts an efficient layout with a variety of platforms, featuring a tortilla maker, Mongolian grill and other specialty equipment.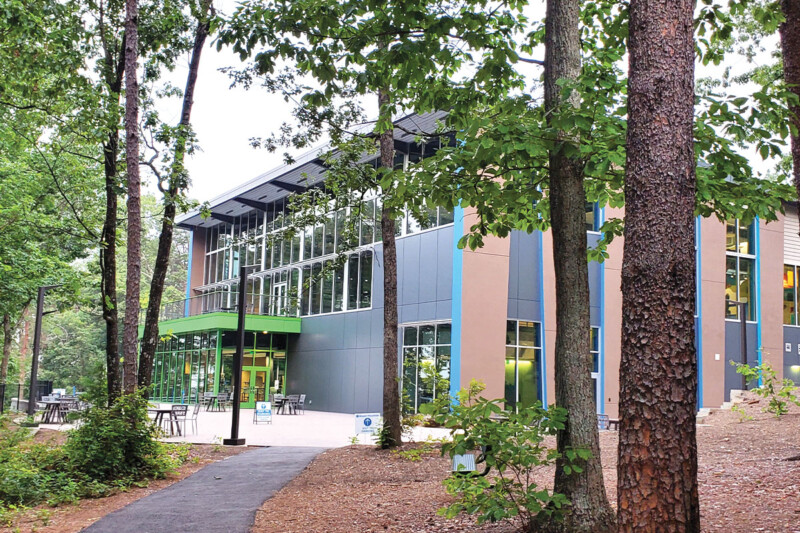 Kitchen Design
A dining facility at the Roper Mountain Science Center, part of Greenville County Schools, delivers freshly made meals to crowds on field trips while preparing students for a foodservice career.