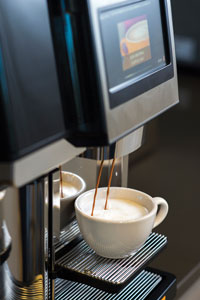 Super-automatic espresso machines turn out quality beverages with consistency, and with minimal labor. Suppliers offer traditional, semi-automatics too but super-automatics grind beans, tamp grounds, and brew and dispense espresso-based drinks with the touch of a button. Pick a one-step model and use it as a self-service machine in your front-of-house. Or choose a two-step machine, which comes with a steam wand, so employees can control steaming the milk, adding theater and flexibility.
Hybrid models, a combination of traditional espresso machines and super-automatics, also are available. These three-step machines still automatically grind, tamp and brew espresso, but they use a portafilter, which employees remove after brewing a shot and knock on a box to empty; this third step mimics a barista operating a semi-automatic. The platform works well for those looking to compete with specialty, independent coffeehouses, but who aren't equipped to train true baristas.
Specifying super-automatics starts with a big-picture vision. Are you a food-forward or beverage-forward operation; do you need a self-service or full-service model? What drinks will you sell? Many models offer hot and cold milk and flavor infusions, along with espresso shots. Once you decide on a menu, your supplier will work with you to program the super-automatic's parameters, such as the type of grind, tamp pressure, temperatures, milk foams and flavor amounts. Marketing also is important. Think about signage and even branded cups. Remember also to research roasters. No super-automatic will turn poor-quality coffee into a delicious cappuccino.
Along with defining your vision and menu, plan what equipment technologies and specs, maintenance requirements and after-care support will best fit your operation (see "Caring For Super-Automatics," below).
Super-Automatics: Here And Now
Manufacturers recently added more user-friendly features to touchscreens, and have incorporated WiFior cellular communication. Nearly all makers also have added cold-foam capabilities. Not yet mainstream, this frothy, stable foam tops cold espresso drinks, which younger customers especially crave.
In a self-serve environment, touchscreens on super-automatics let customers create their own drinks by swiping as they do on their smartphones. Newer touchscreens come with language support and guided order flow. Customers select a cup size or add a flavor or an extra espresso shot, for example. One supplier's machine offers 12 to 16 base drinks with a maximum of 100 variations.
For operators, WiFi or cellular capabilities enable two-way communication. To start, the technology can power the super-automatic to send you alerts via text or email that a hopper is low on beans, the machine hasn't completed the cleaning cycle, or the milk container is low. It can allow the machine to report statistics, such as sending the number and type of drinks sold to a chain's corporate headquarters. It may help prevent theft too. Compare what drinks the super-automatic dispensed with how many drinks employees tallied at the cash register. Note one supplier offers a vending option for its super-automatics that accommodates credit and debit cards.
Additionally, through a cloud-based program, at least one supplier can push recipe changes to geographically dispersed equipment. If a chain wanted to add a new cup size for cappuccinos, the supplier could push the recipe to all super-automatics, saving the operator onsite service calls. Ask manufacturers what information their models can or can't share as it varies from one to the next.
Size It Right
You've decided on a one-, two-or three-step model, created a menu and thought through what technologies matter to you. Now it's time to look at the basic equipment specs, including capacity and dimensions.
Suppliers usually offer low-to-medium, medium-to-high and high-volume super-automatics. Let the number of drinks per day you plan to serve—and within what time frame you plan to serve them—guide you to the right-sized machine.
Note how long the machine takes to make drinks. One supplier's model takes 45 seconds to make a 16-oz. drink, while another one of its models with a different milk pump system makes the same drink in 25 seconds. Keep in mind two or more machines could make sense if you have extra-high demands during peak hours.
Measure your available counter space. These models come anywhere from 13-in.W up to 32-in.W. Figure in additional space if your menu includes milk and flavor shots. Many super-automatics pull milk from a side-by-side or below-counter refrigerator, typically holding standard 1-gal. jugs of regular and low-fat milk. Some super-automatics come with a mini-fridge (to hold the gallon jug) incorporated into the machine or as separate option. Flavor shots (separate from in-machine flavor powders) often come in bottles but one supplier promotes its bag-in-box, syrups-and-sauces setup.
Super-automatics need water lines, electric connections and clearance on top for the bean hoppers. If you plan to attach an inline water filter (versus relying on a full-facility water filtration system) be sure to allow enough clearance on the back of the super-automatic or under the counter.
Brewing, Steaming
Along with capacity and dimensions, construction of a super-automatic's brew group and milk system should also figure into your research.
Brew chambers, or brew groups—where hot water moves through recently ground beans formed into a tightly packed puck—are typically stainless or plastic. Stainless better holds hot water temperature. One supplier of plastic brew groups touts the advantages of an end-user being able to swap it out, discard it, and replace it with a new unit for quick, easy maintenance.
Related to the milk system, check out the steam wand when comparing two-step or three-step models. Remember super-automatics are meant to save labor. Does the model you're considering come with a steam wand that automatically shuts off when the milk reaches the specified temperature? Several suppliers offer intelligent steam wands, which not only shut off at the right temperature but add the desired amount of foam to milk. Ask how the machine textures milk. Manufacturers have a one-of-a-kind process to make it rich and creamy, or dense and dry, depending on the beverage.
List price on super-automatics comes in around $20,000-plus. With the right model, and marketing and maintenance support, your operation will meet customers' ever-growing demand for premium espresso-based beverages; you'll appreciate the labor savings. Ask suppliers to help you calculate ROI and create a business case.
Caring For Super-Automatics
There's a lot going on inside a super-automatic. Many manufacturers put a good deal of effort into making them easy to maintain. Touchscreens and WiFi or cellular communication has enhanced the process. Plus, suppliers compete on after-sale support. Make sure the supplier you're considering partnering with has a good track record, and works with clients that are similar to your organization.
Daily cleaning routines of super-automatics range from seven minutes to 18 minutes or more. For example, one maker's model demands about six minutes of an employee's time and the machine spends 10 minutes doing the rest. The staff member drops a cleaning tablet in the top of the super-automatic to flush out the coffee oils, and puts a cleaning solution in the refrigerator to flush the milk system. The employee manually cleans the outlet that dispenses coffee, as well as the mixing chamber where the powder mixes with water to create flavored drinks. This particular model locks out end-users if it's not cleaned within a specified time frame, say, 24 hours. Once cleaned, the machine powers back to service.
Newer touchscreens offer picture-prompted cleaning. Instead of reading a manual or watching training videos, the touchscreen displays tutorials to guide employees step-by-step through proper cleaning techniques. As for cloud-based programs, one supplier's super-automatics use a real-time connection to deliver up-to-the-minute status of the machine and identify any needed support. The supplier's service team and you can view the on-screen error codes and diagnostic reports at the same time to get the equipment up and running as fast as possible.
Preventative maintenance (averaging a service call once a year, or every 40,000 to 50,000 cycles, for one product line) might include replacing components that control water, or O-rings on a rebuildable, stainless brew group. One maker's line comes with plastic brew groups that end-users can remove, discard and replace with new units. Recent models are far more modular.
Keep up with water filters too. Neglect filtration and you'll destroy your investment in less than six months. Check for chloramines. More and more municipalities are adding this disinfectant (chlorine mixed with ammonia) to water and it can destroy boilers if not controlled. Let your supplier help you find the right filter system.
Super-Automatic Espresso Machine Specialists
BUNN
bunn.com
Concordia/Middleby
concordiacoffee.com
CREM/Welbilt
creminternational.com
Franke Coffee Systems North America
franke.com
Grindmaster Cecilware
gmcw.com
Melitta
melitta-professional.com
Nuova Simonelli
nuovasimonelliusa.com
Rancilio Group/Ali Group
ranciliogroup.com/Egro
Schaerer
schaererusa.com
WMF Americas
wmf-coffeemachines.com
For more super-automatic espresso machine suppliers, search "Coffee Machines, Espresso" in the FER Buyers Guide at fermag.com.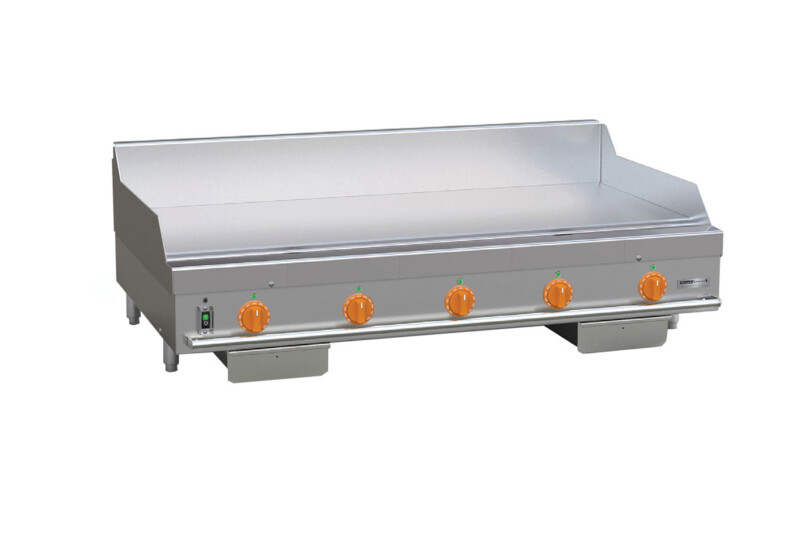 Cooking Equipment
Planchas, though convincing clones of their better-known sister product the griddle, quickly set themselves apart.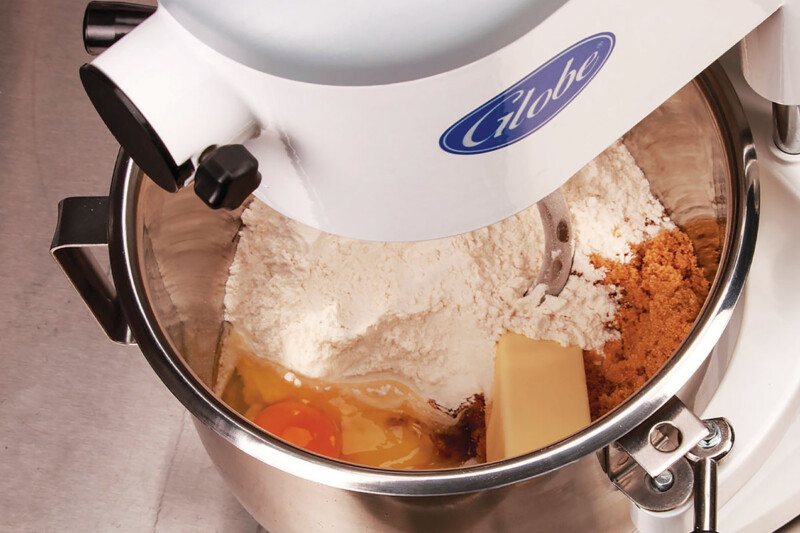 Equipment
The countertop mixer is the Swiss Army knife of the kitchen—small but mighty, with the power to perform various functions.