In early 2016, four back-to-back restaurant openings and one crazy mistake helped kickstart the development of Cowboy Chicken's modular kitchen prototype.
The uniqueness of each restaurant in the Dallas-based chain created complexities. Some locations were end-caps, other inlines. Sizes varied by about 500 sq. ft., and widths ranged from 25 ft. to 40 ft. All feature wood-fired rotisseries.
"We had to make new training adjustments with each opening because each back-of-house, especially storage, was so different," recalls Chris Mastin, Director of New Store Development for the 22-unit chain. "That prompted us to take a hard look at what worked best, so no one would have to take more than a few steps to reach what they needed."
The best argument in favor of a modular kitchen plan was a doozy. "I walked into the new Lincoln, Neb., store and saw they'd put the freezer under the hood and the hot box on the opposite side of the wall, facing the prep area. It was my own fault—I'd missed seeing the listed equipment numbers on the plans, and was away during the installation," Mastin admits.
In early summer of '16, a front-of-house branding makeover led by KJP Marketing Services, Smyrna, Ga., and Propaganda Inc., St. Louis, helped the rotisserie chain move from "cowboy kitsch" to "cowboy cool." To highlight the "flavor born over an open flame," restaurants feature neutral browns and grays with pops of orange. Design elements include fun graphics, plenty of wood (locally sourced), with white subway tile, solid surface countertops and sealed concrete floors as counterpoints.
Cowboy Chicken's new kitchen, which debuted in early '17, adds the final polish to the concept. The prototype showcases the rotisserie ovens while corralling kitchen operations into a 20% smaller space, reducing labor needs, trimming equipment needs and utility use, and improving overall operational flow.
Saddle Up For Change
Top wranglers behind Cowboy Chicken's new kitchen included Mastin, James Lanoux, Director of Franchise Operations, and Gaston Rodriguez, Regional Franchise Support Manager. As the three traveled together to open new stores, discussions about ways to improve operations soon led to sketches and plans for a smarter kitchen layout.
By spring '16, the team mapped out several new cookline plans that could handle the "ridiculous volumes of new store openings but also function well over the longhaul," Mastin says. Construction began in September '16, and the prototype opened for business in February '17 in Oklahoma City.
"Any one of us could have come up with the design on our own, but working together was so much faster," Mastin adds.
Josh Monahan at Best Restaurant Equipment & Design, Columbus, Ohio, reviewed the plans "to make sure everything was properly scaled, that we didn't have missing or extra equipment, or any freezers under the hood," Mastin says with a laugh. The dealer also helped the chain "make sure the equipment we specified would be durable enough to last into the future."
New Home On The Range
Improving Cowboy Chicken's cookline flow and right-sizing its equipment package has touched on everything from worker roles to equipment placement to food inventory. Cowboy's streamlined prototype kitchen covers 1,125 sq. ft., down from the 1,400 sq. ft. of existing restaurants. The changes reduced the overall cost of the equipment package by about $9,000.
Key equipment changes include repositioning certain pieces, getting rid of a grill, downsizing freezer space and changing hood specs.
"Our number-one goal was reducing steps for our employees," recalls Mastin, all too familiar with areas of improvement thanks to 11 years with the company. "We'd watch the prep cooks going from the back of the kitchen into the cookline to access the convection ovens or steam kettle, even at peak times. It made no sense."
Rotisseries were among the first items to be scrutinized. Existing Cowboy Chicken restaurants rely on two fullsized, custom-made wood-burning rotisserie ovens. Those ovens sit back-to-back under two separate hoods, with one facing the dining room and the other the kitchen. The Cowboy prototype, however, uses one full-sized and one half-sized rotisserie. Guests can fully view the side-by-side ovens—an impressive 10-ft. wide display, surrounded by brick.
The reduced oven capacity hasn't affected the operation, Mastin says. "We can actually cook up to 135 chickens at one time, though we choose not to," he adds. "Our product mix allows us to manage this rather easily. During every 60-minute period, we can cook/serve 54 chickens—nearly one per minute. This allows us to serve considerably more guests than that since we typically serve quarter or half chickens."
The change also reduced hood requirements. "Now we can place both rotisseries under a single hood [with accompanying cost savings]. The front-facing ovens serve as focal point for the dining room," Mastin says. "And the new configuration has increased available bar seats facing the ovens. From fall to spring, everyone wants to sit in those seven spots. Little kids are especially mesmerized by the sight of the flames and rotating chickens."
As a much-needed side benefit, the rotisserie change eliminated a traffic-flow bottleneck. Moving the one rotisserie "gave us 6 extra ft. of BOH space—which in most of our new locations is enough to add one more kitchen access point," Mastin says. The new doorway gives bussers a straight shot into the dishroom, with no need to cross paths with servers or cooks.
Other cookline equipment shifts eliminated steps and path crossings, as well. By moving the convection ovens and steam kettle to the open end of the cookline, prep cooks now have easy access to them all times of the day.
The new layout has led to job reassignments. "That was one of our best moves," Mastin says. "No longer does the employee cutting apart roast chickens walk 10 ft. to the end of the line to work the fryers. Now the employee working the cold table turns around, grabs corn fritters or okra from the freezer and drops them into the fryer."
So Long, Freezer & Griddle
An initiative to reduce food item SKUs to focus the menu around rotisserie chicken allowed Cowboy Chicken planners to subtract the grill and walk-in freezer from the design.
"Taking grilled chicken off the menu proved a sore point for some customers," Mastin says. "But operationally, [our cook staff] couldn't have been happier. The items were labor intensive and pulled staff away from other important tasks. The only way to meet ticket times was to pre-grill— but the protein's holding time wasn't long enough for our needs. We finally 'X'd the grilled chicken, which let us remove the grill and reduce the hood size."
Streamlining menu SKUs also reduced freezer storage needs to a few reach-ins. Gone are the frozen fries. "Now we're cutting our own fries in-house," Mastin notes. Also gone are frozen pita pockets, black-eyed peas (a slow-selling, space-hogging item), and marinades for the grilled chicken, to name a few.
"We used to have a walk-in freezer—but now we use just a reach-in freezer in back and a single-door freezer supporting the cookline," Mastin says. "We didn't go into the process saying, 'let's ditch frozen items so we can switch to smaller freezers.' That wasn't our intent—but the result has been that we can now get by on less freezer space."
Exhaust Upgrade
While certain equipment specs remain the same as in existing Cowboy restaurants, the kitchen exhaust system earned an upgrade. "Since we moved the rotisserie, we could go from three hoods down to two—and switch to CaptiveAire's Core line for the same cost as before," Mastin says. The CaptiveAire Core unit combines built-in self-washing feature along with a fire-suppression system— both using the same nozzles and water supply. When the fire system activates, it sprays water along the length of the plenum and into the duct to suppress flames.
"We actually had one hood go off [as a result of excessive heat] at our Oklahoma City store," Mastin says. "The restaurant was down for only half a day. With the old hoods, we would have been closed for up to two days and would have had to pay for system recharging."
Happy Trails Ahead
Cowboy Chicken's Oklahoma City prototype has enjoyed steady success over its first three months. "It's a franchised location so we can't share numbers," Mastin says. "What we have noticed, though, is that the restaurant is able to run the production line with three workers instead of four used at older stores."
At press time, volume at this store has remained steady, without the usual drop-off that follows many grand openings. "I don't know whether that can be attributed to our new design or not, but I do know it has made the post-opening transition much smoother," Mastin says.
By year's end, Cowboy Chicken expects to open eight to 10 new stores.
SPECS
MENU/SEGMENT: Wood-Fired Rotisserie Chicken/Fast-Casual
HEADQUARTERS: Dallas
FOUNDED: 1981
CHECK AVERAGE: $16.80
NUMBER OF UNITS: 22
SIZE: 2,500 sq. ft.
SEATING: 76 seats + 20 patio seats
FF&E PACKAGE: $192,000
2017 OPENINGS: 8-10 more planned for California, Georgia, Iowa, South Dakota, Kansas and Texas
COWBOY CHICKEN: James Lanoux, Director of Franchise Operations; Chris Mastin, Director of New Store Development; Gaston Rodriguez, Regional Franchise Support Manager
INTERIOR DESIGN: KJP Marketing Services, Smyrna, Ga.; Propaganda Inc., St. Louis
DEALER: Josh Monahan, Account Manager, Best Restaurant Equipment & Design, Columbus, Ohio
ARCHITECT: Greg Landry, Principal, Landry Architects, Richardson, Texas
WEB: cowboychicken.com
EQUIPMENT
Back-Of-House
Kolpak/Welbilt walk-in cooler<br>
Hoshizaki ice machine<br>
Kloppenberg ice bin<br>
Robot Coupe food processor
Cookline
Custom full-size & half-size rotisserie ovens
CaptiveAire rotisserie hood, Core self-washing hoods, fire suppression system
Cres Cor mobile warming cabinet
Delfield/Welbilt 48-in. sandwich prep table; undercounter refrig.; 2-door reachin freezer; 1-door reach-in freezer
Panasonic microwave oven
Randell/Unified Brands hot wells
Dean/Welbilt fryers
Rankin 4-burner countertop hotplate
Blodgett/Middleby double-deck convection oven
Cleveland/Welbilt 6-gal. countertop kettleHatco heat lamps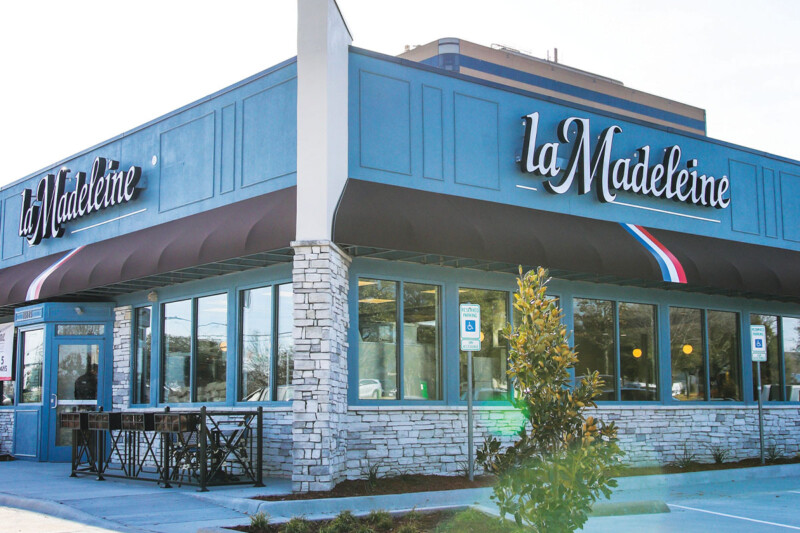 Kitchen Design
La Madeleine's all-new prototype in Dallas boasts its first-ever drive-thru and a from-scratch bakery.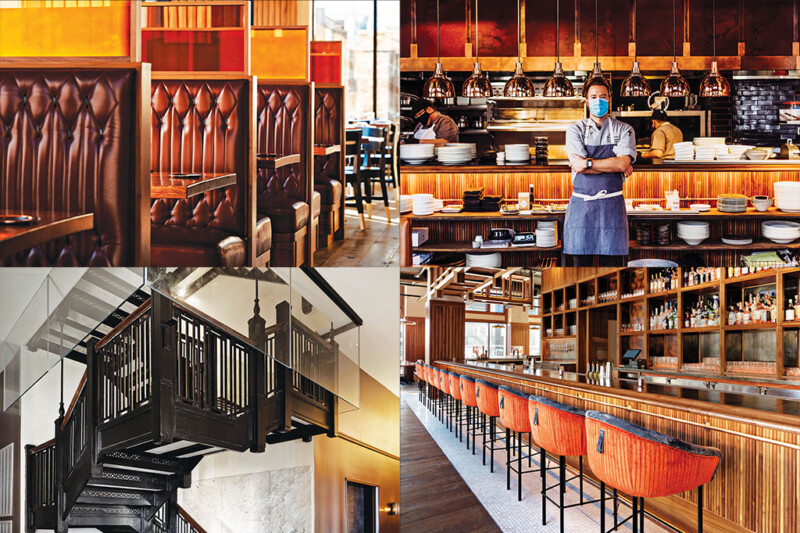 Design
Mulberry Street Tavern produces hearty entrees from an open kitchen, complete with a wood-fired charbroiler, inside a former bank building more than 100 years old.