The Lowdown On Undercounters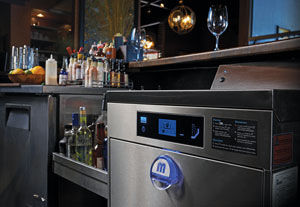 Load and start your dishmachine at home and you'll likely wait at least 45 min. to an hour before those dishes, glassware and flatware are clean. Put the same load in a commercial undercounter dishmachine and they'll come out clean and sanitized in about one to two minutes. They can wash about 500 dishes an hour, the same time it takes your dishmachine at home to run a single cycle.
Not only are they fast, these days undercounter dishmachines are downright miserly when it comes to their use of water and electricity. Dishmachines that are Energy Star-rated use anywhere from 0.6 to 1.19 gal. of water per rack. New energy-saving techniques abound, ranging from better insulating to clever booster heater design and even heat recovery technology.
Manufacturers say energy savings and new features aren't the only reasons undercounter models are flying out the door. A relatively small footprint compared to three-compartment sinks, sanitation and labor savings also make them more attractive to operators.
What's New
When we last covered the category in 2013, the big push on the manufacturing side was coming out with models that would meet Energy Star's version 2.0 specifications for commercial dishmachines. Energy specs now are based on idle energy rates, but the DOE is in the process of soliciting a test method based on operating energy use. Until then, however, Energy Star has no plans to revise the specs.
Most makers have since come out with a model that meets the version 2.0, and though many had one as of our last story, some are new to the market. (Check them out in the Gallery below.) And Energy Star models that were available four years ago have been updated and improved in a variety of ways.
All dishmachines must have automatic chemical dispensers to get the NSF stamp of approval—and pass most local health codes. NSF/ANSI 29 (the part of NSF 3 that addresses chemical feeders) says they don't have to be part of the machine itself, and in the old days, gravity-fed dispensers with solenoid switches were attached to the wall near many dishmachines. These days, to properly maintain chemical concentrations for detergent, rinse-aid and sanitizing solution in low-temp machines, most manufacturers are building pumped dispensers into their machines that prime and meter the required chemicals precisely.
Between NSF and Energy Star 2.0 specifications, however, manufacturers have likely reached the limits of what their models can offer in terms of water savings. In designing machines that use as little water as possible, they've essentially bumped up against the laws of physics. Using less water at this point won't get dishes clean or sanitary enough to meet NSF specs. What manufacturers have done instead is built in more features that make their models easier to operate, maintain and service.
Where And When
A number of factors will help you determine where and when an undercounter dishmachine makes sense. First, what are you washing and in what timeframe? If dishes, then how many you wash will help you choose between an undercounter and a door-type machine in the back of the house. A coffee shop using disposables may only have utensils to wash, but a fast-casual restaurant using disposables may have pots and pans along with utensils, so a door-type machine may be better suited to its needs.
Several manufacturers have guides to help you estimate the number of dishes you'll have to wash per hour based on customer counts and the type of operation. The NSF capacities of most machines don't account for time spent loading and unloading, though, so figure about 70% of the capacity listed on a model's spec sheet. In general, undercounter units can handle 50 or fewer meals per hour.
Space is another consideration. Undercounter dishmachines take up less space than three-compartment sinks, which often make them ideal where some glass or ware-washing is necessary, but space is at a premium. Trading out sinks for a dishmachine also enhances food safety, since dishmachines—high-or low-temp—always properly sanitize whatever's in the dishmachine. And they typically save labor over hand-washing.
If your answers justify an undercounter, ranking your priorities in terms of its use will help you decide which models to consider. For example, some models filter wash water through multiple screens between cycles for dishes or utensils that aren't scrapped well.
The door opening and interior height of various dishmachine models on the market varies as much as five inches. If you're washing large mixing bowls or half sheet pans, you'll want as large an opening as possible.
If you put your undercounter machine behind a bar or serving line, the steam that escapes most high-temp dishmachines at the end of a cycle may not be acceptable. So, you might choose a heat-recovery model that captures most steam and uses it to warm incoming cold water used in the next wash cycle. Or you may decide on a low-temp machine.
In a more residential setting such as a nursing home, electrical service could limit you to using a low-temp dishmachine. Or, in that setting, you might not have the space for a standard machine. However, at least one manufacturer puts out a model that's less than 30 in. high. The unit also fits under today's popular thick countertops.
Hot Or Cold, Lease Or Buy?
Dishmachines are available in two types. High-temp dishmachines wash at about 155°F and sanitize using water that's at least 180°F. (NSF 3 says that a fresh water final rinse must be hot enough to heat the surface of dishes to 165°F for at least 15 sec., so it requires water leaving the spray manifold to be at least 180°F.) Low-temp models wash using 140°F water from your water heater and sanitize with chemicals.
Most operators agree that high-temp machines do a better job of warewashing, particularly items that have sticky or greasy residue on them—melted cheese or egg yolk on dishes or lipstick on glassware, for example. Except for a couple of heat-recovery models, though, high-temp machines release steam when you open the door after a cycle, which may not be aesthetically pleasing to patrons in some settings.
High-temp machines also leave dishes and glassware hot at the end of a cycle. In a bar setting, you'll need plenty of space to let glass racks cool before you can use them, or have a good supply of back-up glassware. A major benefit of high-temp models behind the bar, however, is that glassware dries quickly and has no chemical residue or odor. The chemicals used in low-temp dish-machines can give wine and beer an off taste and odor and make carbonated beverages go flat. They also leave glassware wet.
The low-temp machine market has long been dominated by chemical suppliers offering them on a lease basis, much like soda fountain equipment comes through the soda supplier. That saves you upfront purchase costs, but over time, the chemical costs add up, and leases are designed to factor in interest over time, making leased models more expensive overall than buying them outright.
These days, a lot of dealers offer lease-to-own programs for high-temp machines for those who can't buy them outright, so the playing field is a little more level. If you plan on buying, look closely at both the warranty and the service contract. Service is typically provided by chemical suppliers on leased low-temp machines.
Modern Features
Since most manufacturers have met the Energy Star bar with at least one model, they're concentrating on building in features that improve ease of operation, reliability and serviceability.
Operation. Electronic controls make most of these models as easy to operate as pushing a single button. On models that have special features, indicator lights guide users to features such as cycle times that they can select with the push of a finger on the control pad. Early electronic models often used a Mylar sheet to cover push-button controls. Now, manufacturers are either using touchscreens (one made with Gorilla glass) or using virtually indestructible, simple stainless push buttons. One maker locates display LEDs on the dishmachine's protruding door handle so functions can be seen from a distance.
Here are a few features that may be available standard or as options on undercounter models:
• Multiple cycles. Many models offer a choice of multiple timed cycles for light to heavy soil. Several models run 120/180/240 sec. cycles while another model sports 120/200/277 sec. cycles.
• Detergent and rinse aid pumps. These automatically prime and dispense the proper amount of chemicals into the dishmachine (NSF/ANSI 3 requires them, but not all dishmachines have built-in pumps.)
• Pumped drain. A pumped drain lets you use either a floor or wall drain for waste water, drains the washer faster, and ensures that it drains completely before a fresh water final rinse (in high-temp machines).
• Soft start. The wash water pump increases pressure to full power gradually so glassware and dishes aren't jostled and potentially broken.
• Auto-clean. Some models automatically rinse out the inside of the machine when it's shut off at the end of the day.
• Delime cycle. This cycle automatically flushes the booster heater and dishmachine with a chemical descaling agent.
Other alerts or options on some models include:
• Low chemical alert. Lets you know when to replace detergent, rinse aid, or sanitizing chemical (on low-temp machines).
• Clogged wash-arm sensor. Alerts you when a wash arm is clogged and not cleaning effectively.
• Dirty water indicator. Alerts you when filter screens need to be cleaned so detergent can clean more effectively.
Reliability/Serviceability. Manufacturers have improved reliability by making models easier to clean and maintain, so they need service less often. When they do need service, however, some features help pinpoint problems quickly, keeping service costs to a minimum. Here are some features offered:
• Easy-to-remove wash and rinse arms. More models have separate wash and rinse spray arms with specifically designed spray patterns. For cleaning, most can be removed without any tools, and at least one maker has snap-in, twist-off spray arms.
• Color-coded parts. To ensure proper cleaning, at least one maker fashions blue-colored parts that need to be removed and cleaned.
• Easy-clean screen filters. Screens on most machines easily remove for cleaning, and one maker designed a screen in a pull-out drawer that's accessible on the front without opening the door.
• Leak detector. At least one manufacturer has a leak detector that automatically shuts down the dishmachine and alerts you when it has a leak.
• Advanced service diagnostics. Sophisticated electronic controls provide self-diagnostics that help service reps quickly and accurately pinpoint and fix problems.
As always, check warranties and service contracts before you buy to make sure you can keep your dishmachines up and running wherever your stores are located.
Prioritize how you plan to use the machine and the features you'd like, and you'll find an undercounter model that best suits your needs.
High Or Low?
HIGH-TEMP
Pros:
Better results. Removes lipstick/oils/grease better than low-temp.
Fresh water rinse leaves no chemical sanitizer residue.
Less caustic to machine and serviceware.
Lower chemical costs.
Cons:
Higher purchase price as a result of the built-in booster heater.
Requires higher electrical service.
Leaves glassware and dishes hot.
LOW-TEMP
Pros:
Uses less power; requires standard electrical service.
Lower purchase price.
Cons:
Higher chemical cost.
Leaves chemical odor and residue on glasses/dishes.
Chemicals are hard on the dishmachine and wares.
UNDERCOUNTER DISHMACHINE GALLERY
BLAKESLEE UC-20
Blakeslee's undercounter dishmachine sports one of the larger door openings at 185/16 in. It washes up to 45 rack/hr., and consumes 0.68 gal. of water per rack. Construction features include an 18-gauge stainless tank and interchangeable, stainless upper and lower wash and rinse arms. Other highlights are the door safety switch, automatic tank fill with liquid level safety switch and stainless filters to protect the wash pump. Choose from 5 cycles depending on the ware. An intuitive digital display with cycle indicator light provides simplified operational instructions and allows for long-range visibility. Power-saving mode automatically regulates and reduces energy consumption if unit is left unattended for more than 30 min. This machine has quiet wash and rinse cycles and comes with built-in detergent and rinse aid dispensers with hook up.
blakesleeinc.com
CHAMPION UH330ADA
At almost 30-in.H, the UH330ADA is an ideal solution to work under any ADA countertop regardless of its material thickness. This high-temp dishmachine with a built-in booster heater runs only on cold water and removes the steam after each cycle thanks to its condensate removal system. Soft start protects glasses and dishes from chipping and breaking; multi-cycle offers 3 cycle time options for enhanced cleaning; and dry assist provides improved and quicker drying of wares. Set the cycle time to 120 sec. (fastest) and the machine washes 30 racks/hr.; it consumes 15.6 gal./hr. of water. Overall dimensions are 24-in.W x 27 1/2-in.D x 29 1/2-in.H. Other features include detergent and rinse-aid pumps, advanced service diagnostics, pumped drain, automatic drain cycle, and 1-hp pump.
championindustries.com
CMA 180UC
The CMA 180UC high-temp dishmachine features a built-in booster heater with a dual wall that separates the heater from the wash tank. The heat radiates from the booster heater to the wash, eliminating the need for a wash-tank heating element. An automatic soil-purging system filters wash water, trapping food waste in an easy-to-remove external drawer; keeping wash water clean also helps reduce chemical use. The Safe-T-Temp feature ensures that the wash cycle runs until the final rinse water is 180ÆF. Upper and lower rotating wash arms blast water throughout the all-stainless interior, yet water consumption is just 0.75 gal./rack. The machine's interior comes with a large, 14 1/2-in.H clearance that accommodates larger dishes and half-size sheet pans.
cmadishmachines.com
DIHR ELECTRON 500 PLUS USA
Italy-based DIHR's Electron 500 Plus USA is sound and heat proof thanks to its double-walled, deep-formed 304 stainless structure. The machine offers 3 NSF-approved cycles. With the cycle of 180 sec., the machine can handle up to 20 racks/hr. consuming only 0.79 gal. per cycle. The Electron 500 Plus USA was made to guarantee optimal results and drastically cut energy consumption notably through its PLUS System. The latter grants the perfect balance between the rinse pressure and the rinse temperature, stabilized at 185ÆF thanks to the atmospheric boiler that avoids adding fresh water from the mains.
dihr.com/en
ELECTROLUX GREEN & CLEAN PNC 502316
The Electrolux PNC 502316 undercounter dishmachine/glasswasher uses only 0.80 gal. of water per rack, ensuring low consumption of energy, water, detergent and rinse-aid. Capable of washing up to 30 racks/hr. (about 540 dishes), this hot-water-sanitizing dishmachine has a built-in booster heater and a 304-stainless frame. A choice of 3 wash cycles (120/180/240 sec.) make this the ideal machine for cleaning plates, cups, utensils, glasses and cutlery. Features include state-of-the-art electronic controls with built-in programming, self-diagnostics for serviceability and an automatic interior rinse-down cycle. Soft start offers additional protection to more delicate wares; a Wash Safe Control LED light illuminates to indicate that the machine properly rinsed all items.
professional.electroluxusa.com
HOBART ADVANSYS LXER
The LXeR undercounter dishmachine uses only 0.62 gal. of water per rack, and has an array of advanced features, including a cold-water condensing coil energy recovery system that also helps eliminate steam; custom cycle selection, including NSF-certified pot-and-pan wash on the heavy cycle; soft start; snap-in rotating rinse arms; clogged wash arm sensing; auto delime feature that also delimes the booster heater; dirty-water indicator; automatic pumped drain; and an auto-clean cycle that washes down the inside of the machine at shutdown. A large, 17-in. door opening accepts oversized types of ware. Top mounted controls come with an advanced digital cycle/temp display. This machine washes 24 racks/hr. (600 dishes) on a normal cycle, and measures 23 15/16-in.W x 26 13/16-in.D x 32 1/2-in.H.
hobartcorp.com
JACKSON DISHSTAR HT-E
The DishStar HT-E features a built-in booster heater with Sani-Sure temperature monitoring to ensure 180ÆF final rinse water. The digital LED control panel has simplified controls that allow easy operation and access for service. Functions include 2 extended wash cycle times (select 3 min. or 5 min.) and a delime cycle. Auto fill, automatic pumped drain, and built-in chemical pumps and priming switches make operation as simple as pushing the start button. The HT-E can wash 27 racks/hr. (675 dishes/hr. and 972 glasses/hr.) using only 0.65 gal. of water per rack. This model sports durable stainless construction throughout and is air-insulated between body and stainless housing.
jacksonwws.com
JET-TECH 737E
The 737E features an electronic control system with intelligent software LED interface that allows you to select 3 different cycles (120/180/240 sec.) with 1 touch and provides advanced service diagnostics information. With an hourly production of 30/20/15 racks, it can wash up to 540 dishes/hr.; water consumption measures 0.74 gal./cycle. Soft-start protects glassware and dishes from breakage. The built-in booster guarantees 185°F final rinse temperature, and alternating heating resistors between booster and wash tanks reduce energy costs. The auto-drain pump also has a self-cleaning wash-down feature.
mvpgroupcorp.com
KROMO DUPLA 50 USA
With overall dimensions of 23 7/16-in.W x 24-in.D x 33 5/16-in.H, the double-skin undercounter Dupla 50 USA, by Italy-based KROMO, is designed to meet the needs of any catering environment. The compact stainless dishmachine is deep-drawn and equipped with an inclined wash tank for a perfect drain. Other features of this low-water-consuming machine (0.74 gal./cycle) include a rinse-aid dispenser and a thermostop system that enables the rinse cycle to start only when the water in the boiler reaches 185°F; it significantly reduces the energy needed to run the machine.
www.kromo-ali.com/en
MEIKO M-iCLEAN UM
MEIKO's M-iClean UM with GiO module introduces integrated reverse osmosis water filtration in an undercounter dishmachine. The 3-stage filtration process removes even the finest impurities from the water, eliminating the need for hand polishing. The unit features an illuminated door handle that glows blue for ready, green for washing and red for alerts/messages. A touchscreen control panel displays status and messages in plain text; and internal lighting makes it easy to use in darkened front-of-house areas. Components that require manual cleaning are blue for easy identification and maintenance. Other highlights include auto safe to ensure proper sanitizing temps, soft start, pumped final rinse, and a leak detection system. This unit washes 23 racks/hr. (includes time between cycles for heating cold water) with a water consumption of 0.61 gal. per rack; it measures 23 5/8-in.W x 23 5/8-in.D x 33 1/2-in.H.
meiko.us
MOYER DIEBEL 383HT
The 383HT high-temp dishmachine offers a new Fill Sentry device that ensures proper fill and rinse performances; Rinse Sentry technology that ensures proper 180°F final rinse temperature; Drain Sentry technology to monitor and ensure proper draining of the machine; and a new Auto Clean feature that washes the chamber at shutdown keeping the unit clean. Smart Display technology provides digital temperature readouts along with cycle progress indicators. It also features a counter-balanced, double-skin door, a 2-kW tank heater and a 4-kW built-in booster heater. It comes complete with 1 peg and 1 flat-bottom rack. Options or accessories include a 6-kW booster heater, 6-in. stand, drain-water tempering kit or additional racks.
moyerdiebel.com
PERLICK PKHT24
This high-temp dishmachine cleans glassware, including removing lipstick stains, and leaves no chemical flavor or residue. The Safety-Temp feature ensures proper temperatures in the final rinse by holding the wash cycle in run mode until the 180°F rinse temperature is detected. The unit's constructed of stainless and has digital LED temperature gauges and top-mounted controls for easy operation and monitoring. The unit washes 30 racks/hr. (600 glasses/hr.) and consumes 0.75 gal. of water per cycle. A 11 1/4-in. door opening and raised wash chamber reduces bending over to remove racks. Unit comes with detergent and rinse chemical pumps and a removable stainless pump protection screen for easy cleaning. Use the 6-in. legs to raise the height for ease of use.
perlick.com
STERO SUH
Stero's SUH undercounter dishmachine has a built-in booster heater capable of a 70°F rise in water temperature that ensures a 180°F final rinse temperature. The washer has interchangeable upper and lower wash and rinse arms, low-chemical alert indicators, digital cycle and temperature display with error notification, automatic tank fill, pumped drain and pumped rinse. A 17-in. door opening allows you to wash larger items, and the 116-sec. cycle lets you wash up to 31 racks/hr. with only 0.78 gal. of water per rack. Options and accessories include power cord kits, drain-water tempering kit, 6-in. base and 17-in. stand.
stero.com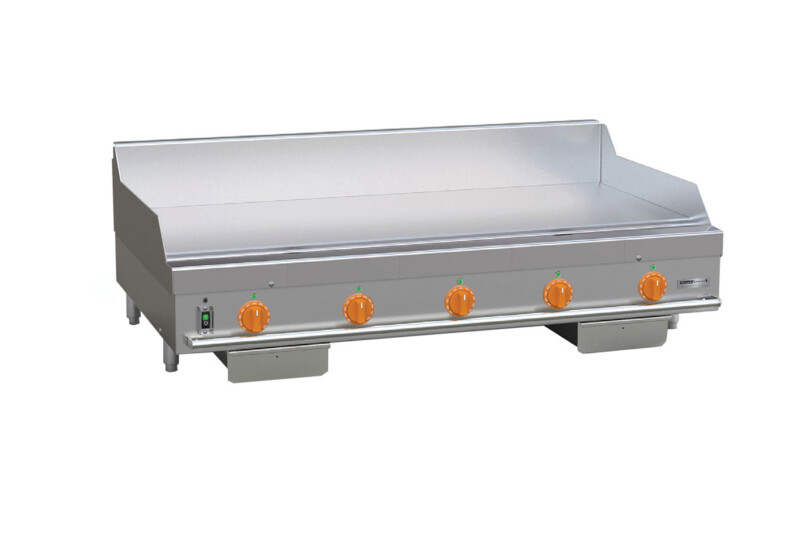 Cooking Equipment
Planchas, though convincing clones of their better-known sister product the griddle, quickly set themselves apart.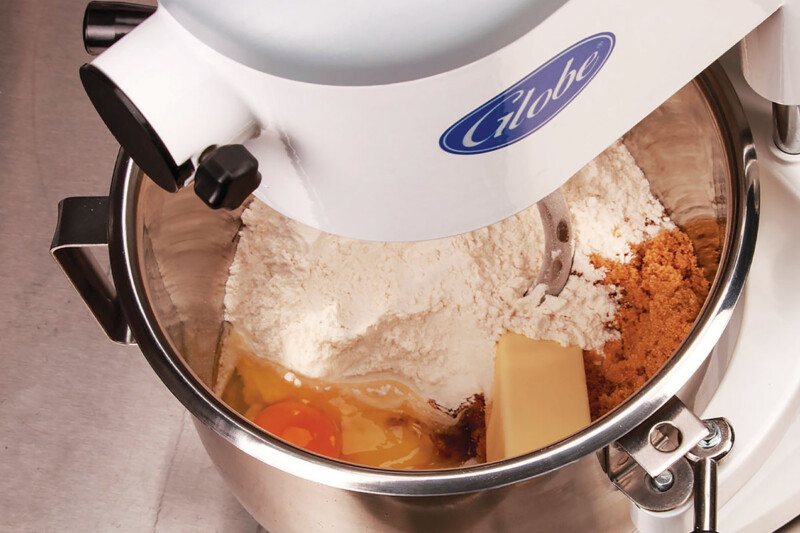 Equipment
The countertop mixer is the Swiss Army knife of the kitchen—small but mighty, with the power to perform various functions.