Filter the water: Every brand of combi oven requires a minimum level of water quality that must be met; it's usually part of the warranty. So before you set up for the combi, get your water tested and do it locally. With the detailed report on the quality of the water coming into the facility, combi oven makers and the water filtration experts with whom they work will help you install the exact water filtration system you need at each particular location.
Change the filter: This is a very common mistake, according to manufacturers. Either foodservice staffers forget to change the filter media or, worse, they bypass the filter when it gets full and clogged and never hook it back up. Many combis will send an error code warning that filters need changing. You can tell employees to use their phones to schedule filter change reminders, as well. Train everyone that this is a step that cannot be ignored.
Proper installation: The root of most combi "issues" is a bad installation from the get-go, not only in failing to provide a quality water supply, but in the location of the combi and making sure connections are right (hoses for supply water; hoses to drain and cool discharge) and the oven is level. Hire licensed professionals to install the unit properly and run it through several test cycles. When installing the combi, consider which way your employees or a service tech will need to move it to get at the controls (a few brands have front-access controls) or to clean air intakes. Depending on the model, it will be easier to move the unit either to the left or the right—but think about this in advance because if you can't move it, you can't service it. Where the oven is positioned in relation to the floor drain is an issue, too. Hot condensate drains from the combi to the floor drain, but on many models, the oven's air intake is located on the underside of the unit. Don't locate your combi so that the air intake is right over the floor drain—electronics and steamy moisture are a bad combination.
Give it space: If the control board is too close in proximity to a grill, fryer or broiler without a heat shield, you could see an error code before long.
Cleaning: Combi interiors are usually a high-quality, seamlessly welded stainless surface and they should be wiped down every day, preferably with a wet, soft cloth. Never use scratchy materials, steel wool, or flat-edge scrapers. Most combi ovens today are self-cleaning and it's an option you'll want. Most offer everything from a 20-min. quick-rinse to a heavy-duty, 130-min. or so cleaning cycle. Every manufacturer has recommended cleaning solutions and instructions that must be followed. Cleaners come in liquids or sprays, pouches or cartridges, etc.; and very specific directions of how to use them. Employees can't deviate from these instructions; cleaners used in their concentrated (undiluted) strength for example will eat through hoses.
Ban pressure hoses: Touchscreens on combis are designed to be waterproof, but that does not mean they can withstand pressure hoses. To clean off smudges, use an alcohol wipe. Alcohol wipes are handing to have on hand too for the core temperature probes. If you can, opt for detachable probes that store externally (those permanently attached inside ovens seem to take more abuse, according to manufacturers.)
Drains and hoses: The drain at the bottom of the combi oven is designed for steam condensate runoff. If that drain is clogged, the oven will not run. Tell employees that nothing except water is permitted to go down the combi drain (read this issue's Back Story to find out why).
Hoses need watching too. Over time, hoses—for the drain lines, the steam bypass, the cleaning pump—will wear out. Check them at least once a year and get them replaced if they're starting to fail.
Copyright FER April 2016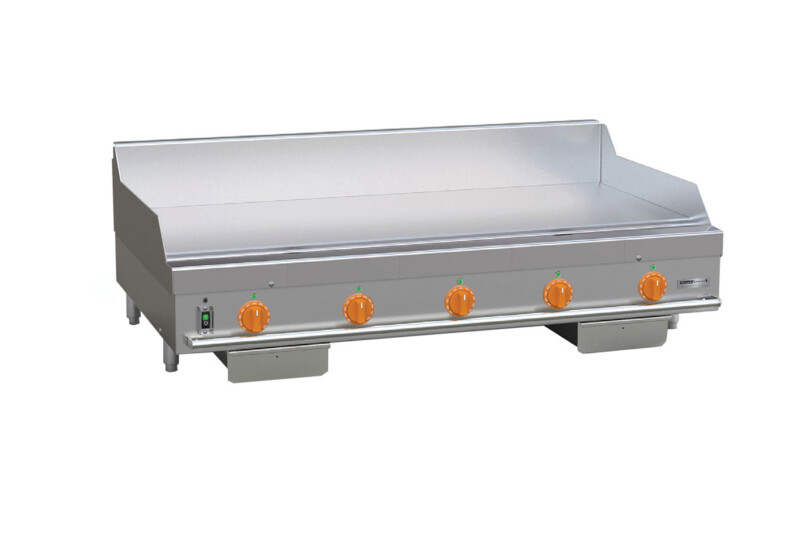 Cooking Equipment
Planchas, though convincing clones of their better-known sister product the griddle, quickly set themselves apart.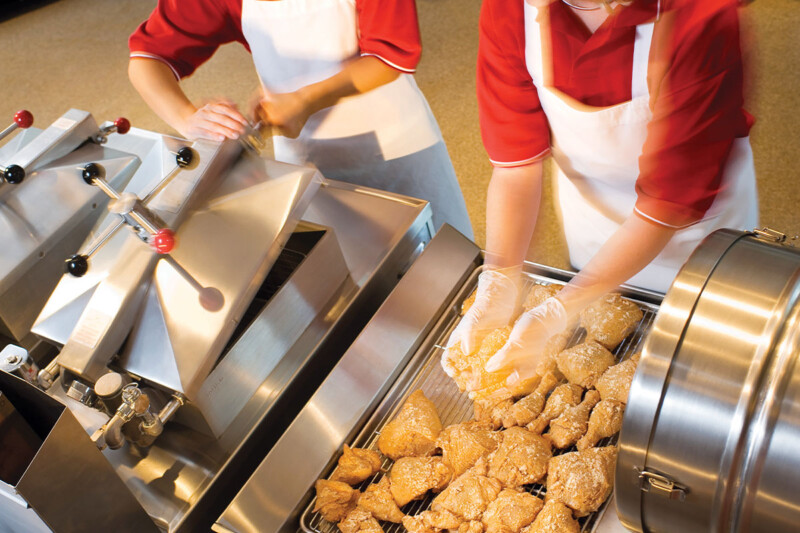 Equipment Comparisons
With oil and labor prices on the rise, today's pressure fryers offer an economical way to cook fried chicken and other comfort foods.