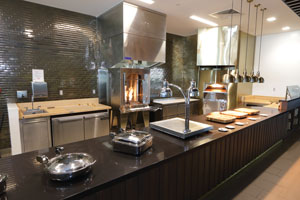 At Churchill Downs, home of the Kentucky Derby, it's not just the thoroughbreds whose speed is measured from start to finish.
"We pay close attention to how much food and beverage we're able to serve, and how fast guests receive their orders," says General Manager Ryan Jordan; he's responsible for operations at the iconic Louisville, Ky., horse racing track. Recent foodservice renovations to the Food Court on the second floor and Turf Club on the third floor of the Clubhouse (the main building fronting the mile-long oval) have boosted not only speed but customer satisfaction.
"There's been a significant uptick in F&B sales as a result of renovations," Jordan says. "For guests, it's easier to find the food, our presentation improved and the lines move so much faster. And for our foodservice staff, they're working in new kitchens with new cooking equipment and bar service areas, and they have much more prep and holding space."
For the all-day spectacle that is thoroughbred racing, the F&B side rivals ponies in importance. "If you go to a Super Bowl or a World Series event, the game is finished in maybe three hours. But here at Churchill Downs on Derby day, the gates open at 8 a.m. and the Derby race doesn't run until 7 p.m., and during that time we're hosting nearly 160,000 visitors. It's a full day of fashion, food and cocktails," comments David Danielson, Executive Chef for Levy Restaurants at Churchill Downs. "Foodservice isn't just an amenity. It's a supporting character in the Kentucky Derby experience."
Danielson applauds the changes. He worked closely with Jordan and kitchen design consultant Kristin Sedej, FCSI, Principal of S2O Consulting, Chicago, in overhauling the racetrack's restaurant operations over the past five years. The long-term plan started with the creation of the exclusive Mansion area on the top floor of the Clubhouse in 2013; phase two, completed in '16, renovated various foodservice outlets and bars including the Turf Club; and phase three, completed this year, overhauled the Food Court and other foodservice areas on the second and third floors.
"To raise the bar year after year this way is rare," Danielson says. "We've been fortunate. But we also have to deliver."
And deliver they do, in numbers and volumes that can be hard to wrap your head around. "We do about $10 million in foodservice sales during the Oaks and Derby two-day span," Danielson says. Supporting that effort are some 4,000 foodservice staff, including cooks, servers and support.
"Overall foodservice sales are up 25% compared to what sales were before renovations," Danielson says. The Food Court in particular has already broken all previous records, with a 72% leap in sales over Mothers' Day weekend compared to those for the holiday in '16.
Saddle Up At The Food Court
In June, FER joined Danielson and Sedej for a back-stage culinary tour of Churchill Downs to check out the latest phases in the renovations, the Food Court and Turf Club.
The previous Food Court, last remodeled in '05, relied on a "design where you entered from either end, walked around to choose and order your food, then paid through one exit point that had three cashiers and six POS units," Jordan recalls.
"Guests had to stand in line for food, then stand in line again to pay," Danielson adds about the old design's bottlenecks. The back-of-house had similar inefficiencies. The former food court lacked sufficient cooking power to produce all the food needed at the point of service. So, staff prepared food in a main kitchen one floor below and transported it to the second-floor Food Court in Sterno-heated carts, Danielson explains, pointing to a fleet of well-used transport carts parked in an out-of-the-way staging area.
The new Food Court opened in May '17, two weeks before the Derby. Visitors were wowed. It's five times larger than before and is roughly shaped like a horseshoe with concepts facing outward all around the perimeter. A support kitchen as well as dry and cold storage are housed inside the horseshoe space. The court's perimeter concepts include Bourbon Batch BBQ, Central Avenue Cantina, Spires Sweet Shop, Perfecta Pizzeria, the COOP Chicken, Runner's Grill & Brew, I'll Have Another and Fast Track Grab & Go. Each concept is fitted with two to four cash registers—including 20 registers for the bars located on the two corners—for a total of 38 points of service.
"Now that all concessions concepts face the concourse, guests can get their food, beverage and pay—all at once," Jordan says.
In the center of the horseshoe, Sedej designed a new support kitchen to fit under existing hoods, still in place from the former layout. Equipment such as combi ovens, highefficiency fryers, charbroilers and griddles provide enough fire-power to supply food to each nearby concept regardless of crowds. The proximity, and eliminating the need to transport food from the floor below has had a significant impact on speed of service and food quality. Cooks can now batch-cook as needed, a change that has considerably reduced food waste, as well.
In the pizza area, for example, double-stacked, ventless impinger ovens by Lincoln and high-tech hot holding cabinets have replaced deck ovens and heated carts.
"The beauty of ventless conveyor ovens is how they can provide a quicker product without the need of a Type I hood and black iron ducts," Sedej says. "They're multitasking too; this area started as a pizza-only concept but planners were able to expand the menu offerings to introduce hot sandwiches as well."
Foodservice employees rely heavily on smart, precision-humidity holding cabinets to stay ahead of demand. "We can choose from 'high crisp' to 'high humidity,' depending on the foods we're holding," Danielson says. The units let his team work way ahead in terms of food production because they hold foods just the way they went in. "They've enabled us to serve a higher quality product, with greater consistency," he says, adding that it takes fewer service people because they can work in advance and pace the production rather than needing all hands on deck to get the food out when the crowds come.
The COOP Chicken, famed for its hand-breaded chicken tenders, relies on an AyrKing breader to do all the work. "On busy days, we'll go through 2,000 lb. of chicken tenders," Danielson says. "At one point we tried breading chicken ourselves by hand. Incredible waste. Once we got the breading station, we went from three cases of breading per day down to one case for the same volume. The equipment pays for itself."
Cooking adjacent to point of service also has boosted throughput and reduced waste. "In the Cantina, we used to grill chicken in the main kitchen and re-therm it on the second floor," Danielson says. "Now we're grilling right there, as needed. Product is much fresher, service times are faster, and food waste has dropped by about 10% because we're cooking to demand rather than to anticipated numbers."
Turf Club's Culinary Show Horse
One floor above the Food Court, the 1,200-seat Turf Club caters to higher rollers. "Tickets cost several thousand dollars per person for the two-day Oaks and Derby races, and include a four-course meal as well as buffet and alcohol in addition to other amenities," Danielson notes.
The old Turf Club featured "an eight-course, progressive, family-style dinner," Danielson recalls. "Beautiful food. But then, I would talk to guests during the rest of the meet and they would complain that courses had been missed, or that drinks they ordered weren't served."
The '16 culinary makeover takes pressure off the back-of-house and serving staff by doubling buffet space and adding an eye-catching display kitchen. "Expanding the buffet area solved the issue of guests' widely staggered arrival times and the problems involved trying to keep track of who had been served which course," Danielson says. "Now, as soon as guests arrive they can enjoy the buffet while they wait for their orders from the kitchen."
The Turf Club display kitchen's focal points include a Wood Stone stone-hearth oven, a Wood Stone vertical rotisserie, an Oscartek gelato case and an Alto-Shaam carving station supported by plenty of undercounter hot-holding cabinets. Induction heaters built into countertops add flexibility in that chafers and servingware can be deployed heated or ambient.
The adjacent buffet area, created on wheeled platforms so the space can be reconfigured to best accommodate anticipated crowds, includes frost-top units that "let us serve about 1,200 oysters on Friday nights," Danielson says. A spacious dessert buffet area gives people sweet finishes, a pick-me-up no matter what happens on the track.
At Your Service (Bar)
Keeping guests well-lubricated with Churchill Downs' signature mint juleps (some 120,000 12-oz. pours served over flaked ice this past Derby day, according to Danielson) and other adult beverages is almost as important as the fastest thoroughbred on the track.
To that end, Sedej's renovation designs added three service bars to run as server-only back-of-house support for certain indoor dining areas. "The change has nearly quadrupled the number of bartender positions," Jordan notes. "It's been a great way to make drinks and serve guests faster."
The service bars speed table service and eliminate the need for servers to compete with patrons for bartender attention. "Servers enter and have private access to an ice station, soda gun and POS terminal that's on a shelf," Sedej explains. "Staffing each service bar is a dedicated bartender with a cocktail station, wine refrigerators, sinks, dump sink and bottled beverage cooler. We also equipped these service bars with conveyor glasswashers paired with dump sinks so all glasses come and go from the service point."
The Finish Line
"Our new kitchens have allowed us to completely change the level of service and give guests a great experience," Danielson says. "People who've been coming for 20 years have told me that the service and the food quality is the best it's ever been."
Jordan continues to look ahead because renovations aren't done yet. "Next year's Derby will see the opening of a $37 million tower, with 36 new luxury suites—each with a fully equipped chef's table and bar for in-suite foodservice," Jordan says. The project, complete with foodservice design elements provided by S2O Consultants, also will include three support pantries with cook-hold ovens, plating space and walk-ins. A key element will be a warewashing facility that will serve both the new tower and an existing tower that has 62 suites. But that's a design solution for another day.
SPECS
MENU/SEGMENT: Sports venue
HEADQUARTERS: Louisville, Ky.
FOUNDED: 1875
CHURCHILL DOWNS RACETRACK: Kevin Flanery, President; Ryan Jordan, General Manager
FOODSERVICE OPERATOR: Executive Chef David Danielson, Levy Restaurants, Chicago
KITCHEN DESIGNER: Kristin Sedej, FCSI, S2O Consultants, Chicago
ARCHITECT: Turf Club – Populous, Kansas City, Mo. & 20.20, London; Food Court – R2Architects, Voorhees Township, N.J.
DEALER: Ryan Rongo, M.L. Rongo, Melrose Park, Ill.
WEB: churchilldowns.com
EQUIPMENT
Concessions – FOH & BOH
Star/Middleby charbroiler griddle, tortilla warmer
Eagle Group sinks, shelves, worktables
Winston mobile heated cabinets, pass-thru holding cabinets, cook/hold cabinets
Scotsman/Ali Group ice maker
Follett/Middleby ice bin
Glastender coolers, underbar ice chests, speed rails
Perlick back bar coolers
Thermo-Kool/Mid-South Industries walk-in coolers/freezers
Continental refrigs., freezers, pizza prep tables
Gold Medal popcorn popper
True bottled beverage refrig.
Carter-Hoffmann/Middleby fried food holding station, nacho holder
Lincoln/Welbilt conveyor oven
Alto-Shaam combi oven
Nemco hot dog grill, bun warmer
Wells/Middleby drop-in hot wells, cold wells
Stoelting/Vollrath soft-serve dispenser
Hatco heated display case, buffet warmer
Vulcan/ITW FEG fryers
Merco/Welbilt holding cabinet
AyrKing breading table
Manitowoc/Welbilt flake-ice maker
Turf Club Display Cooking
Wood Stone stone-hearth oven, vertical rotisserie
Streivor exhaust hoods
Nationwide back counter, pizza cut counter
Continental pizza prep table, undercounter refrigs.
FWE humidified holding cabinets
Hatco heat lamps
Oscartek freezer display case
Alto-Shaam portable carving station
BSI food shields
Service Bars
Moyer Diebel/Ali Group glasswashers
Eagle Group work tables, sinks, shelves
Continental undercounter refrig.
BUNN tea brewer
Cambro dollies, dishracks
Glastender underbar liquor displays, glass racks, ice chests, speed rails, blender stations, ice bins,
underbar fillers & drainboards
Perlick backbar refrig.
Manitowoc/Welbilt flake-ice machine
Natura water/CO2 dispenser
Traulsen/ITW FEG wine cooler
By The Numbers: 2017 Oaks & Derby
105,100 attendees to Oaks
158,070 attendees to Derby
4,000 foodservice staff on hand
127,000 mint juleps served
1,000 lb. of mint required
522,000 cans of beer
163,000 hot dogs sold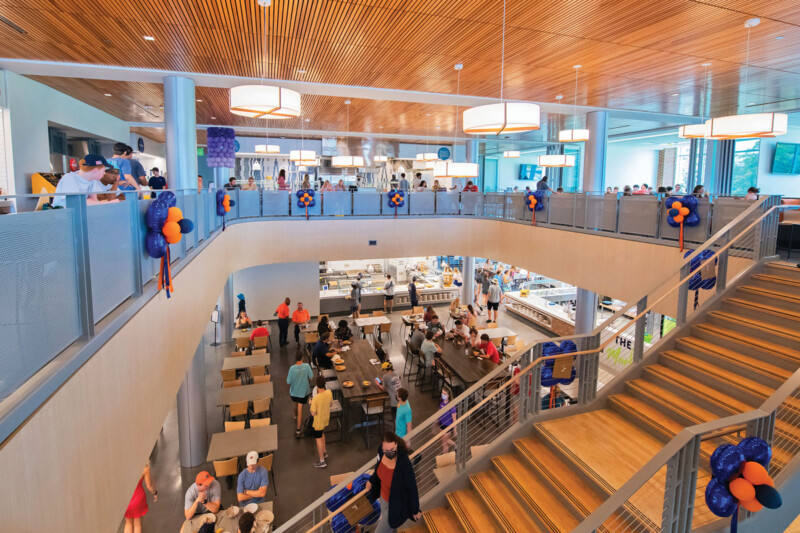 Design
Auburn University's new dining hall boasts an efficient layout with a variety of platforms, featuring a tortilla maker, Mongolian grill and other specialty equipment.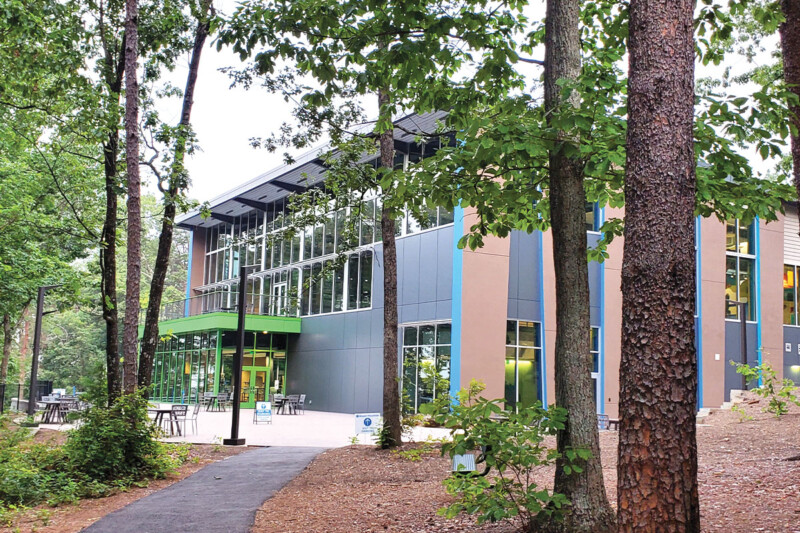 Kitchen Design
A dining facility at the Roper Mountain Science Center, part of Greenville County Schools, delivers freshly made meals to crowds on field trips while preparing students for a foodservice career.