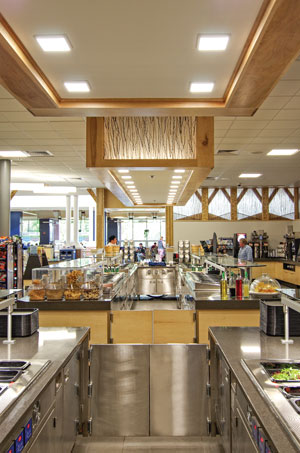 The new, improved Bear's Den retail dining facility, located on the second level of the University of Maine's highly trafficked Student Union building, opened right on schedule, Aug. 21, 2017.
Students and faculty returned to find the old and often overcrowded servery transformed. Ash wood paneling and cabinetry framed the food stations, from the salad bar to pizza to sushi, sub sandwiches, grill and burritos. Dark gray tile floors and quartz countertops evoked Maine granite. Throughout, designers created a contemporary Maine forest motif both with wood timbers along perimeter walls, and also through backlit panels overlaid with layers of twigs set into an ash wood frame.
Reactions have been great, reports UM's Dining Services Director Glenn Taylor, three weeks after the Bear's Den's reopening. "I hear people commenting on how much brighter it is now, how the lines are shorter and service is faster, and checkout more efficient, to name a few." Transaction counts and check averages have nudged upward, too. The new servery handles about 2,200 daily transactions, up substantially from the previous year. Check averages have risen $0.50 to a new average of $6.43 per check, Taylor reports.
That the Bear's Den could be renovated during a 13-week construction period is a result of great partnerships and smart design. Three key goals define the project: complete the servery on time, make it better, and improve the look.
For starters, the project's abbreviated timeframe was a challenge. The countdown clock for a full gut-and-rehab of the 5,400-sq.-ft. servery started ticking in May, and ended in August when students returned. The servery had to reopen for business in August, leaving just 13 weeks for construction.
A second big challenge was how to boost flow, efficiency and variety within the existing footprint. Even though UM's student population had grown by 10% since the restaurant opened in '00, its "land-locked" location inside the Student Union building meant no room for expansion. University clients also requested new stations and more food variety.
And finally, the university wanted the new Bear's Den décor to reflect its natural surroundings—Maine's forested, rolling mountains. At the same time, the clients asked that the new facility discretely bump up security for the retail outlet.
The Starting Bell
Design planning for the ambitious project started in January '17. Initial team members included UM's Taylor and Facilities Project Manager Walter Shannon; foodservice consultant Thomas McArdle, FCSI, TJM Consulting, Yarmouth, Maine; and architects Andy Hyland and Lita Semrau. General contractor Gilbert Thibeau, The Sheridan Corp., Fairfield, Maine, was tapped in February.
"The design team quickly generated an aesthetic for the project, and then selected equipment manufacturer and custom fabricator LTI [Jonesboro, Ga.] to supply cabinetry and accompanying equipment," says Semrau. And that's when planning began running on multiple parallel tracks to meet the August deadline.
"We couldn't wait for walls to be built before confirming counter sizes," says McArdle. Instead, the team relied on LTI as its custom fabricator and the general contractor to fine-tune dimensions for the quartz countertops, cabinetry and accompanying serving equipment at the same time plans were being submitted for final approvals from the client.
Additional construction efficiencies came from having the company's technicians familiar with the equipment and cabinetry do the actual installations rather than relying on local installation teams. When casework and equipment, supplied by dealer Gordon Food Service, Taunton, Mass., arrived in July, LTI technicians assembled and installed each piece, verified that it worked, and corrected any issues.
Bear Down, Bear's Den
McArdle's task was to build flow, function and variety in the existing footprint that made up the Bear's Den servery.
"We couldn't expand because of Bear's Den's location within the Student Union, and we couldn't eliminate any stations to relieve congestion, because of growing demand," McArdle says. "So, we made it all work by re-configuring and re-equipping."
The original layout and the new layout are both "L"-shaped, with structural columns in the center of the space that complicated both the old and new layouts.
In the original Bear's Den, traffic flow overlapped queues, causing confusion and occasional collisions. The biggest culprits were two large freestanding stations. The soup/ salad bar had been placed in the short leg of the "L," too close to a support column. The resulting 4-ft. aisle became a pinch point during peak times. And a combined station that bundled together Ancho, Sushi and a beverage cooler, positioned in the longer leg close to the cashiers, were the second issue. That combined station was divided by a full-height wall that made the servery look and feel smaller, while blocking cashiers' view of most of the servery, making it easier for casual pilferage to take place.
Smart layout has made the new Bear's Den a model of efficiency. Designers first opened up circulation patterns and sight lines by moving the combined Ancho and Sushi stations from their middle-of-the-floor spot to a space along the wall that had been previously occupied by a little-used c-store. "Both stations now have their own refrigerator, prep space and storage instead of sharing resources," McArdle says.
Next, designers shifted the Salad Station to the spot that had been used by the burrito and sushi block. They also added a freestanding Flex Station (equipped to serve hot or cold foods as needed) next to the Salad Station. The new 9-ft.-wide space surrounding the two stations has put an end to long lines and cramped circulation.
Equipping Bear's Den
Designers replaced or upgraded much of the 17-year-old servery's equipment. Here are some of the highlights:
"A simple upgrade to a Carter-Hoffmann Crisp 'n Hold fried-food holding unit to the Grill Station has really improved product quality. The new unit recirculates hot air through the product so it stays crispy," McArdle says. Under the old system, fried foods soon became soggy from being kept in standard hot food wells.
Also upping efficiency at the Grill Station is a new, larger walk-in cooler/freezer, used as well for the adjacent main kitchen prep space. In the freezer are fryer basket racks made by Channel, designed to hold 12 fryer baskets. "Instead of dumping [frozen product] into the fryer for every order, batches are pre-portioned into baskets and hang ready to cook," McArdle says.
QuickSwitch food wells have revolutionized Bear's Den's menus. "Each individual well can switch from hot to cold to freeze by changing its setting," McArdle says. The Flex station, for example, can now go from a hot/cold self-serve breakfast bar to a make-your-own taco bar at lunch to an ice cream sundae bar for after-dinner dessert. "After I introduced this equipment to the university's chef and foodservice director, they wanted the units used throughout the servery," McArdle adds.
In the Asian Station, three flush-mounted induction woks have replaced an open burner range with elevated rear burners. "In the old station, the back burners were so hot and inconvenient that they were only used for stacking extra pans, which looked messy and blocked views," McArdle says. "With the three woks in a row, there's no need for reaching across hot pans." Adding to the cooking convenience: hot/cold wells flank the three induction woks on both sides. Immediately behind the cooks is a work table fitted with a drop-in cold pan on one end, giving prep cooks a spot to keep cold ingredients cold.
An astute observation at the Ancho burrito station early on led to an operational improvement. "When we first visited the Bear's Den, I noticed that almost every student asked for the same burrito," McArdle says. "Because the top-selling item also was the daily special, cooks were making each one to order, which took time. We designed in a custom double-heated shelf to make the station grab-andgo instead of made-to-order. They can now make a dozen or so of the special burritos in advance. So, the line moves faster, and congestion's avoided."
SPECS
MENU/SEGMENT: University dining
ENROLLMENT: 11,300 students
OPENED: August 2017
SIZE: 5,400 sq. ft. (servery); 4,200 sq. ft. (support kitchen and storage)
SEATING: 420
COVERS/DAY: 2,200
CHECK AVERAGE: $6.43
TOTAL PROJECT COST: $3.6 million
FOODSERVICE EQUIPMENT COST: $1.1 million
KEY DESIGN PARTNERS:
Clients: Jeff Aceto, Facilities Management Director; Kerry Chasteen, Assoc. Dining Services Director; Jodi Munster, Dining Services Manager; Walter Shannon, Facilities Project Manager; Glenn Taylor, Dining Services Director; Ken Violette, Purchasing Manager, University of Maine, Orono, Maine
Foodservice Consultant: Thomas McArdle, FCSI, Principal, TJM Consulting, Yarmouth, Maine
Architectural & Interior Design: Andy Hyland and Lita Semrau, Port City Architecture, Portland, Maine
General Contractors: Wesley Jordan and Gilbert Thibeau, The Sheridan Corp., Fairfield, Maine
Dealer: Steve Zafirson, Project Manager, Gordon Food Service, Taunton, Mass.
WEB: umaine.edu/dining
EQUIPMENT
Throughout
LTI serving counters, wall cabinets, work counters, QuickSwitch hot/ cold wells, 2-tier heated Ceran glass displays, prep tables
Versa-Gard food shields
T&S Brass fill faucets
3form decorative paneling
Beverage Station
Fetco coffee brewer, dispensers
Curtis cappuccino dispenser
True refrig. merchandiser
Dispense-Rite/Diversified Metal Products cup dispenser
Cornelius ice/soda dispenser
Cereal/Pastry Station
Silver King/Marmon refrig. rail
Hatco conveyor toaster
Federal Industries pastry display
Ancho Station
Wells/Middleby drawer warmer
Continental refrig., heated cabinet
Star/Middleby panini grill
Sharp microwave
Sushi Station
Federal Industries combination sandwich/salad prep refrig. self-serve case
Town rice cooker
Continental refrig.
Grill Station
Carter-Hoffmann/Middleby Crisp 'n Hold food station
Star/Middleby conveyor toaster
Pitco/Middleby fryer battery w/oil filter system
Asian Station
CookTek/Middleby induction woks
Pizza/Pasta Station
Middleby Marshall/Middleby double-deck conveyor pizza oven
Keating drop-in pasta cooker
Continental pizza prep table
Sandwich Station
Continental sandwich prep table
Equipex/Sodir panini grill
Star/Middleby panini grill
TurboChef/Middleby oven
Salad Station
LTI Temp-est Aire cold pans
Wells/Middleby soup wells
Desserts
Taylor soft-serve ice cream freezer
Minus Forty undercounter freezer, merchandiser
Cashier Station
Federal Industries refrig. island merchandiser
True refrig. merchandiser
Back-Of-House
Traulsen/ITW FEG pass-thru heated cabinet
Blodgett/Middleby double convection oven
Jade/Middleby range
Pitco/Middleby fryer battery w/filter system
Market Forge/Middleby 40-gal. tilt skillet, 60-gal. tilt kettle
Cleveland Range/Welbilt steamer
Hatco sink heater for bain marie
Manitowoc/Welbilt ice machine
Bally walk-in cooler, freezer
Cambro shelving
Channel fryer basket rack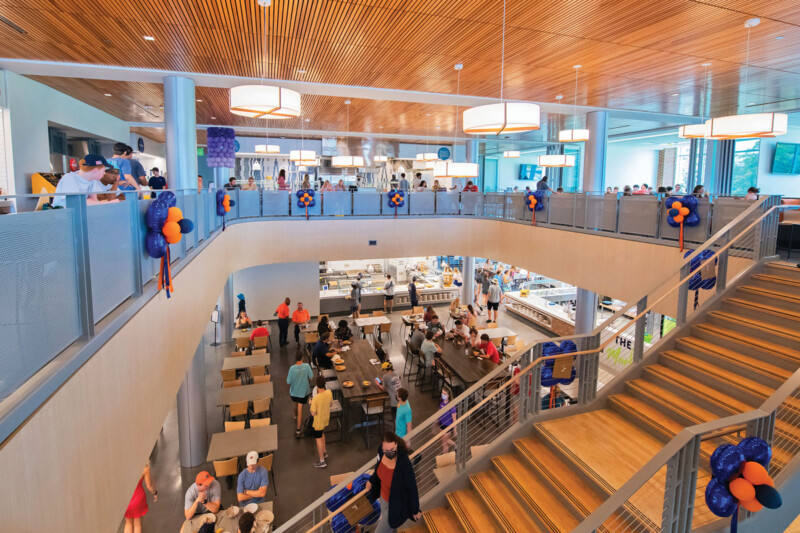 Design
Auburn University's new dining hall boasts an efficient layout with a variety of platforms, featuring a tortilla maker, Mongolian grill and other specialty equipment.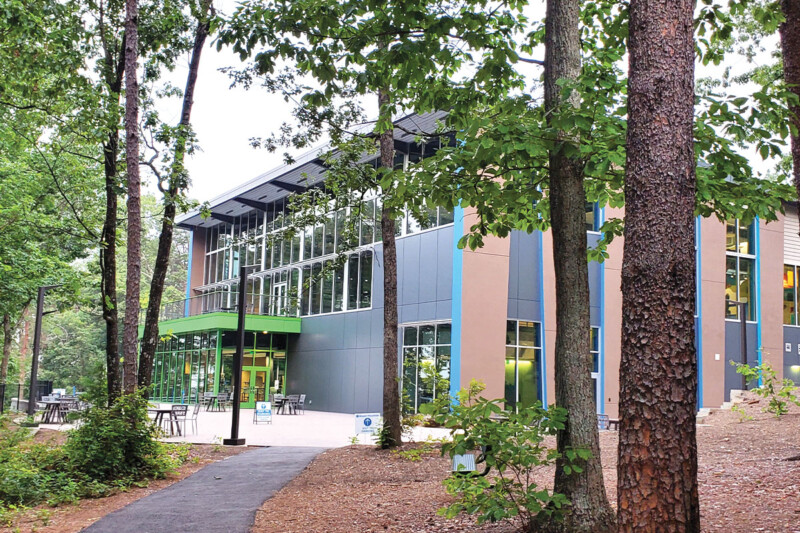 Kitchen Design
A dining facility at the Roper Mountain Science Center, part of Greenville County Schools, delivers freshly made meals to crowds on field trips while preparing students for a foodservice career.