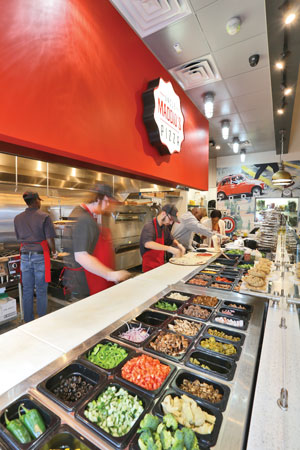 Uncle Maddio's Pizza, a fast-casual, 40-unit New York-style pizza concept based out of Atlanta, has debuted a prototype where make-line associates interact less with guests rather than more. The new model may seem counter-intuitive. But thanks to one key layout change, plus tweaks to the building and front-of-house, customer satisfaction and throughput are up, and sales are booming.
The prototype, opened last November in Acworth, Ga., has seen a steady sales increase compared to similarly sized locations—with none of the usual honeymoon period drop-off typical of just-opened restaurants. The Acworth franchisee is already considering revamping his other unit to match the new layout.
Maddio's, Before
Existing Maddio's stores use a "your way" ordering model made popular by Subway and Chipotle. The chain's make-line features twin, side-by-side pizza stations—one for in-store dining, one for carry-out and delivery. Guests order at the counter by making a series of choices to build their pies, starting with pizza size (individual, medium or extra-large) and type of dough (white, whole wheat or gluten-free) and sauce. As they move down the line, a designated worker adds three (or more) toppings to the guest's liking. Payment comes at the end of the process.
Even with Maddio's twin make-lines, backups still happen—especially when people visiting for the first time have to figure out the ordering process. Maddio's execs studying the issue knew there had to be a better way around the slow factor.
A design team led by CEO Matt Andrew and Operations V.P. Jenelle Brown took up the challenge.
"About a year-and-a-half ago, we conducted consumer surveys," says Brown, who joined Maddio's in 2016 after 10-plus years working in operations for Ignite Restaurant Group and Outback Steakhouse. The create-your-own model, they found, actually puts some pressure on regulars because it's more work for them to go through the order process when they already know what they want. It can be slow for them. "Under that model," she says, "you might be interacting with one worker for the sauce, another for the toppings, and so on. The new design means you tell one person your full order in one spot. It's way more efficient."
The Maddio's design team concluded that while new visitors enjoyed the back-and-forth with their pizza builders, the all-important repeat customers were more interested in the food than interactions.
"Our biggest takeaway from the research was that we could enhance customers' journeys simply by moving the register to the front," Brown says. "It's a simple change, we worked through multiple scenarios before finding the best solution that addressed all our business needs." Under the new layout, the register serves as one-stop shopping for guests.
The register change was first tested at a Maddio's in Denver in early '17. And yes, the new layout came with a learning curve for franchisees as well as customers. "It was a little tough; our franchisees really thought people wanted more interaction," Brown says.
Register, Here!
Maddio's Acworth prototype is testing—and validating—the changes.
"In the Acworth store, customers order and pay first," Brown says. "Then they have a choice of following along to watch their pizza being handcrafted by a pizza maker, or they can go sit down and wait for the food to be brought to table. This increases the speed of service because our cooks are working off a ticket that shows all the ingredients at once."
The POS position change triggered a host of supporting layout adjustments, including:
• Moving beer taps and beer kegs closer to the order point, helping alcohol sales.
• Delineating the cooking area from the front-of-house with a half-wall behind the ordering point.
• Providing pizza "theater" for up to six diners via a bar-height dining table facing the make-line.
• Removing a salad merchandiser from the equipment package now that salad fixings—and salad making—have been added to the make-line.
• Adding extra space along the front, which allowed the dough proofer and dough-making activities to be moved into better view, emphasizing Maddio's "Made Fresh" promise.
• Positioning a dedicated carry-out/delivery register at the end of the line, which is easy to access from the side entrance.
• Adding a beverage cooler holding canned and bottled soft drinks to the carry-out/delivery side.
• Reinforcing the chain's "Made Fresh" message by wrapping the walk-in, positioned at the end of the make-line, in a colorful graphic wrap and installing a 4-ft. x 4-ft. window into the interior to show bins of tomatoes and other ingredients.
• Adding a water and ice dispenser at the beverage station to alleviate backups at the Freestyle machine. The team also added a station to serve iced and sweet tea.
Maddio's Open Kitchen
Two pieces really anchor the back line of Maddio's kitchen— a floor mixer used for making dough, and the double stacked conveyor oven. The conveyor oven's top unit has a split belt; employees use the narrower belt for small items such as bread sticks and cookies, and the wider belt for medium and large pizzas. The lower oven is dedicated to personal sized pizzas.
Employees also use the oven during prep time too, for baking cookies and roasting corn. "The majority of our cooked prep items run through the conveyor oven," Brown notes. "It provides us with great consistency, and there's less need for skilled cooks—all you do is set the correct temperature and belt speed."
Maddio's plans to test a triple-stacked conveyor oven at a soon-to-open location in Albany, N.Y. "Ovens can be retrofitted as needed," Brown says.
To the right of the conveyor oven is the expo table, fitted with cold drop-in wells and hot wells. Employees dish out soups at this point as well.
Acworth Accolades
Other updates also set Maddio's Acworth prototype apart. These updates include new menu boards, value-engineering tweaks to the building and equipment package, and updates to the front-of-house décor.
Designers simplified the menu boards from their former text-heavy style to a more intuitive, visually appealing three-step process guiding customers as they place their orders. "The previous format tended to be a bit overwhelming for guests," Brown says.
Value-engineering changes help the cost-of-entry for franchisees. Some are part of the updated décor. "Maddio's used to have a lot of subway tile walls," Brown says. "The new design uses laminates that provide great pops of color and are less expensive to purchase and install."
Other changes are invisible to guests; these changes include lower-gauge stainless in the back-of-house areas, a different millwork package, new flooring sealant, and two fewer sinks compared to existing stores.
Maddio's front-of-house makeover was spearheaded by Jennifer Rotondo, founder of foodservice consulting firm The Kitch, based in Atlanta. Maddio's new design centers around making the restaurant a community gathering spot.
Maddio's new interior starts with a neutral color palette of natural wood flooring and walls. Chairs are done in wood and black steel. Hits of warm red around the interior start with the rectangular "shroud" covering the hood and showcasing the cooking area. A long banquette is backed in red. Ductwork also is painted red, as is the metal cage surrounding lights above the community table. Seating options have something for every group—moveable two- and four-tops, comfortable banquette seats, the party table, and a corner banquette where cool Italian graphics cover the wall above.
SPECS
MENU/SEGMENT: Fast-Casual Pizza
HEADQUARTERS: Atlanta
FOUNDED: 2008
NUMBER OF UNITS: 40 units in 11 states
SIZE: 2,600-2,800 sq. ft.
SEATING: 65-85
FF&E PACKAGE: $162,000
2018 PLANS: 8, including one at Hartsfield-Jackson Atlanta Int'l. Airport
UNCLE MADDIO'S: Matt Andrew, CEO; Jenelle Brown, V.P. Of Operations and Training
INTERIOR DESIGN: Jennifer Rotondo, The Kitch, Atlanta; Peter Mitchell, The Mitchells Agency, Tallahassee, Fla.
ARCHITECT: Tom Tedrow, Tedrow Design Group, Atlanta
DEALERS: Equipment: Greg McBrayer, TriMark, Atlanta; Millwork: Josh Klein, Closet & Cabinet Experts, Savannah, Ga.; FOH: Kent Prater, Design Mfg. Group, Atlanta; Lighting: Green Lighting Group, Daniel Island, S.C.; Digital Menu Boards: Allure/A Christie Co., Atlanta
WEB: unclemaddios.com
EQUIPMENT
Kitchen
Garland/Welbilt 2-top burners, 24-in. griddle
CaptiveAire hood
Globe/Middleby food mixer, slicer
Delfield/Welbilt salad prep refrig., LiquiTec pizza prep refrig., drop-in ice pan
Lincoln/Welbilt conveyor pizza oven
Vollrath food pan warmer
Turbo Air grab-n-go merchandiser
Doyon/Middleby dough sheeter
Hoshizaki ice machine (atop beverage dispenser), water and ice dispenser
Vendor supplied tea urn, tea dispenser
T&S Brass pre-rinse unit
Advance Tabco dunnage rack
John Boos hand sinks, work table
Beverage-Air/Ali Group draft beer Coolers
Behind Scenes
Hoshizaki ice machine
Kolpak/Welbilt walk-in cooler
SunFab 3-comp. sink
Ecolab dishmachine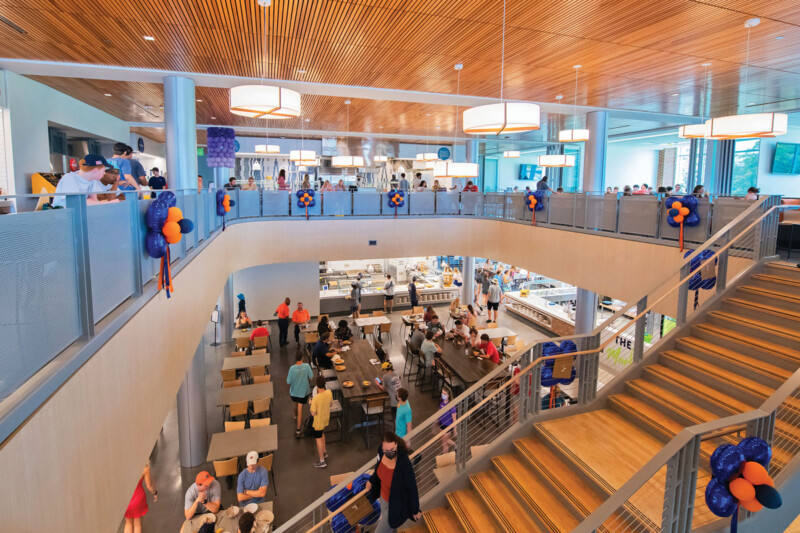 Design
Auburn University's new dining hall boasts an efficient layout with a variety of platforms, featuring a tortilla maker, Mongolian grill and other specialty equipment.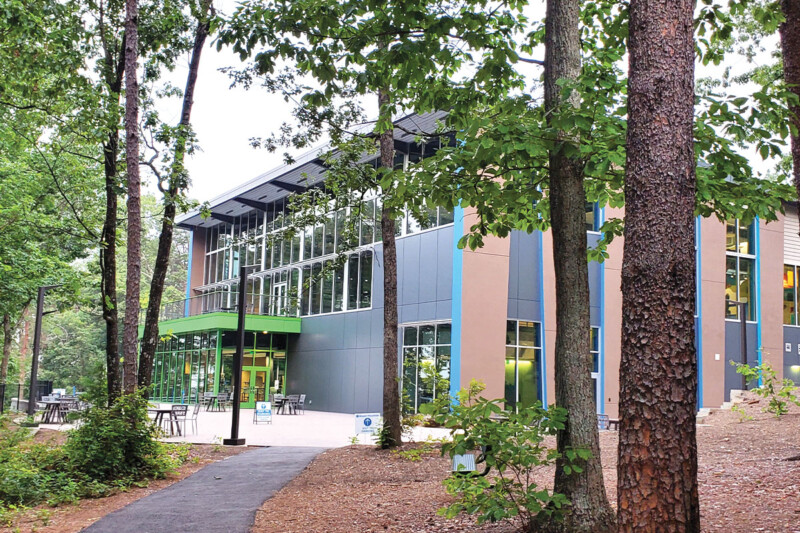 Kitchen Design
A dining facility at the Roper Mountain Science Center, part of Greenville County Schools, delivers freshly made meals to crowds on field trips while preparing students for a foodservice career.