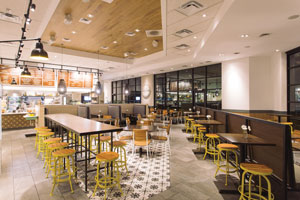 When private equity firm Hargett Hunter Capital Partners, Raleigh, N.C., purchased in 2016 the Original ChopShop, an approachable, natural food restaurant with three units in the Phoenix area and a nearly cult following, it had big plans: to take the concept national. But first they needed a model restaurant.
The group opted for an unusual path: They would build and operate three slightly different prototype restaurants—then put the best elements of each into the fourth and final prototype.
The ChopShop features "just feel good food" (fresh juices, acai bowls, protein shakes, sandwiches, specialty drinks made to order in full view) served in a fun, "contemporary farmhouse" setting that mixes reclaimed wood, decorative tiles, stainless, slate and bright yellow metal bar stools.
In about nine busy months after the acquisition, the first of ChopShop's four prototypes opened in Queen Creek, Ariz., in April '17. At press time, this new store has become the young chain's second most profitable unit, after the flagship location in Scottsdale, Ariz. And thanks to a smarter back-of-house layout, the new design has allowed ChopShop to reduce labor by one person during peak times.
"It's been an incredibly collaborative approach between owners, vendors, contractors and us, the designers," says Steve Starr, Principal of Charlotte, N.C.-based Starr Design, the kitchen consulting firm tapped to oversee back-of-house plans. "Instead of spending $1 million on one fancy new store, ChopShop owners opted to invest $250,000 four times on four models."
"Instead of thinking abstractly about the concept on paper, ChopShop's new owners wanted to create a working laboratory, a testing ground," adds Jeff Cangro, Senior Project Manager for Starr Design.
Room For Improvement
While almost perfect in the eyes of guests, the Chop-Shop needed operational fine-tuning before its national debut. "We visited each of the original stores (each is slightly different from the next), observed what they were doing well, recorded the top products and identified what defines the Chop-Shop brand and menu," Cangro says.
The decision to develop three variations to reach a fourth and final prototype was a practical one. Rather than choosing one of the three existing stores to replicate, the team decided to test elements from each, in various layouts and footprints. Their goal: a 2,800-sq.-ft. prototype with about 45% of the space dedicated to back-of-house.
"The original restaurants have two separate food production areas—the cold side, with its juices, shakes, parfaits, acai bowls, specialty coffees and teas, on-tap beer and wine, and the hot side, serving a broad menu of lunch and dinner items," Starr says. "Since cold-side products take less time to prepare than hot-side items, servers would bring out food as it was ready. That meant employees would serve tables in a somewhat sporadic manner."
Complicating operations, the hot-side and cold-side prep areas were so far from each other that cross-using staff was difficult. In slow times, "you still needed at least six people to run the restaurant," Starr recalls.
Finally, even though ChopShop was doing a booming call-ahead/carry-out business, there was no dedicated area for serving those guests, costing them valuable time as they wait with dine-in customers for their to-go orders.
Team ChopShop
A strong leadership team began working on a new design late in the summer of '16. Leading the way were ChopShop's new owners, CEO Jason Morgan (former CFO for Zoe's Kitchen), overseeing aesthetics and vision; and COO Kyle Frederick, operations expert and "the keeper of the flame— Kyle is present at all site visits and planning meetings," Cangro says. Starr Design, led by Starr and Cangro, came on board to handle kitchen design and layout. Equipment dealer Bresco, Birmingham, Ala., handled rough-in drawings, equipment choices and options.
ChopShop's Evolution: V.1-V.3
Step one in the design process was to make ChopShop's hot and cold kitchens play well together. Kitchen planners moved the two areas next to each other and linked them with a center expo point at the pass-thru window. They kept the cold side in the front to provide theater and placed the hot side behind.
ChopShop V.1 in Queen Creek covers 3,400 sq. ft.—far roomier than the target size, and with 1,250 sq. ft. dedicated to back-of-house. Its ample space proved a perfect testing ground for all the stations and menu items from the three original restaurants. "We brought in everything and the kitchen sink," Cangro says with a laugh.
The cold side features a 9-ft. x 7-ft. island topped with 4-in. thick marble, with action taking place all around it. "As we continue to evaluate the front-of-house cold kitchen, we have actively tightened up the size of the island to make that area as efficient as possible," Cangro notes. In subsequent ChopShop designs, the island has shrunk considerably to 6 ft. 4 in. x 5 ft. 5 in.
Storage and display combined were another key point. "As we planned the prototype, we wanted guests to be able to see the fresh product everywhere," Cangro says. Accordingly, baskets on walls and shelves, both above and below counters, store fruit and vegetables and the juicing station serves as focal point on the island.
"The layout works, but it could be more efficient," Cangro admits. "With the stations being back to back, the cold side stations get crowded during busy times. Our focus as we moved into prototypes V.2 and V.3 turned to optimizing these stations to improve operational efficiencies based on lessons learned in the first few stores."
And to better accommodate ChopShop's carry-out and to-go customers, who account for a good 40% of sales, planners added a carry-out staging area, a dedicated POS station and signage. Guests can wait for orders while sitting on a bench with a front-row view of employees pressing juices, making shakes, prepping fruits and more.
The front-of-house décor takes inspiration from the first three shops' unique looks. For example: A dark steel framework "cage" around the menu board makes a right angle turn at the corner of the counter, converting it into an open pillar with shelving to hold condiments. Vintage enamel sinks in the dining area echo the farm-style sink in the main island, and serve as merchandisers. (The sinks, complete with drain hookups, were initially intended to serve as ice baths for condiments," Cangro explains. "Turns out they sweated so much in the summer heat, we gave up that idea.") Decorative wood cages surround pendant lights.
ChopShop V.2 made its debut first in Phoenix in December '17, in a 2,800-sq.-ft. location, followed by a second V.2 store in North Scottsdale, Ariz., in March '18.
"We paired down the back-of-house to 1,200 sq. ft.," Cangro says of the second prototype. Space-saving changes included reducing the blender station from four machines to two; replacing the beer tower with specialty coffee and kombucha dispensers ("turns out beer was not a critical menu item," Cangro notes); replacing the charbroiler and small flattop with a single, larger flattop ("we found cooks use the flattop for most of the cooking and finishing," says Cangro); and downsizing the manager's work area from an office to a station.
A simple but significant tweak to V.2's cookline alleviates crossover traffic found in the first prototype, where line cooks have to step out of the way to allow prep workers to bring in trays of prepared food. In the new design, planners reduced the length of the dividing wall between the cookline and the prep area so there are now access points on both ends; these access points create a circular flow between the two areas.
Another key addition to the Chop-Shop cookline has been a combi oven, which takes the place of the flattop and range when it comes to protein and vegetable production. "The combi lets the team prep and hold food in advance of peak times," Cangro says. "It's made such a difference in food quality and consistency that ChopShop has gone back and added combi ovens to its original three restaurants."
A space-saving equipment upgrade has been to add wall-mounted lettuce crispers at the salad station. "It has increased volume and saved us about 12 in. on the line," Starr says.
ChopShop V.3 is currently underway, with openings planned for Irving, Texas, in March '18, followed by a Plano, Texas, shop slated for a June '18 opening. "In these two stores, we fine-tuned the cold side layout and flow," Cangro says. The back-of-house is now even smaller, covering 1,100 sq. ft. The team moved coffee making (hot and cold brewing) closer to the front, and "separated the juicing and blending stations to make each one distinct—and to reduce crossover during peak hours," Cangro says. The team also rearranged the island work stations so items all move from left to right, and from front to back (where the expo station is located).
A Look Ahead: ChopShop V.4
Big plans lie ahead for ChopShop. "We're wrapping up details for the fourth store (a V.3 model) and getting permits for the fifth location, which will serve as ChopShop's fourth—and final—prototype," Cangro says.
The company's goal for '18 is to open seven to 10 locations. At the same time, the operational lessons learned from Queen Creek and subsequent stores are leading to retrofits at the first three ChopShops, whose cooklines will be revamped to match the V.2 equipment line-up.
SPECS
MENU/SEGMENT: Fast-casual contemporary
HEADQUARTERS: Scottsdale, Ariz.
FOUNDED: Founded in 2013 by Ryan & Caitlin Jocque
NUMBER OF UNITS: 5
SIZE: 3,400 sq. ft. (V.1 proto, Queen Creek, Ariz.); 2,800 sq. ft. (V.4 final proto)
SEATING: 80 seats; 49 patio
HOURS: Mon.-Sat., 7 a.m.-10 p.m.; Sun., 7 a.m.-8 p.m.
FF&E PACKAGE: $200,000
2018 PLANS: 7-10 openings
ORIGINAL CHOPSHOP: Jason Morgan, CEO; Kyle Frederick, COO
CONSULTANTS/DESIGN FIRM: Steve Starr, Principal; Jeff Cangro, Senior Project Manager, Starr Design, Charlotte, N.C.
DEALER: Bresco/Birmingham Restaurant Supply, Birmingham, Ala.
WEB: originalchopshop.com
EQUIPMENT
FOH/Open Kitchen
Structural Concepts self-service refrig. merchandisers
Scotsman/Ali Group ice dispenser, ice cuber
Cal-Mil beverage dispenser
True back bar cabinet, u/c refrig., mega-top sandwich/salad prep table, u/c freezer
Vitamix bar blender, container Rinser
Micro Matic draft beer/wine dispensing tower
Atlanta Custom Fabricators dipper well
Nutrifaster juicer
Grindmaster-Cecilware beverage Dispenser
Advance Tabco ice bin & caddy, drop-in hand sinks
BOH/Cookline & Food Prep
True mega-top sandwich/salad prep table, refrig. base, reach-in freezer
Winston Industries free-standing warming drawer
Wells/Middleby drop-in hot well
Advance Tabco hot food table, shelving, drop-in hand sinks
Star/Middleby counter-model charbroiler, hotplate
Vulcan/ITW FEG counter-model griddle
Waring sandwich grill/toaster
RATIONAL combi oven
CaptiveAire hood, fire suppression system
Silver King/Prince Castle lettuce Crisper
Cambro ingredient bins
Town Equipment rice cooker
BOH/Support Areas
Scotsman/Ali Group ice cuber Berner air curtain
Kolpak/Welbilt walk-in cooler
Advance Tabco shelving, dishtables, drop-in sinks
Centaur epoxy walk-in shelving, mobile drying racks
New Age dolly
T&S Brass pre-rinse faucets
Jackson u/c dishwasher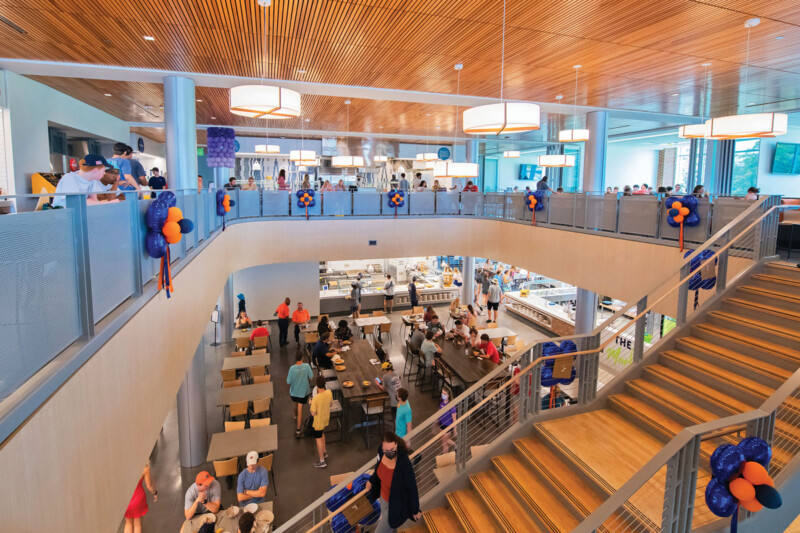 Design
Auburn University's new dining hall boasts an efficient layout with a variety of platforms, featuring a tortilla maker, Mongolian grill and other specialty equipment.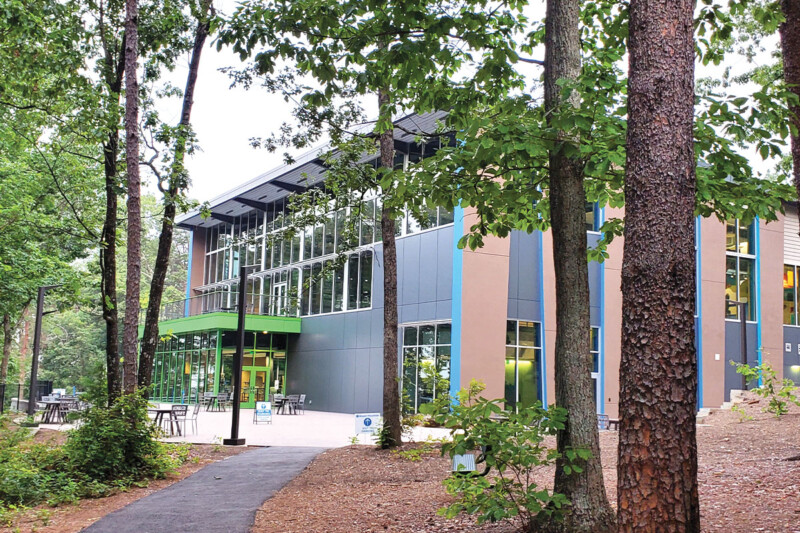 Kitchen Design
A dining facility at the Roper Mountain Science Center, part of Greenville County Schools, delivers freshly made meals to crowds on field trips while preparing students for a foodservice career.