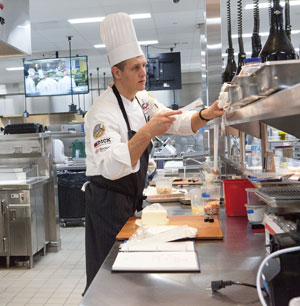 At Madison Area Technical College's Truax Campus in Madison, Wis., a new state-of-the-art Culinary Arts facility puts technology—in the form of video streaming capabilities—side-by-side with cooking equipment. Not only does the pairing enhance student learning, it also is helping build a name for the school nationwide.
Madison College's new Culinary Arts facility opened in fall 2016. The project, with its $1.8 million in equipment, is part of an overall expansion at the 11,000-student campus. The Culinary Arts portion covers 9,000 sq. ft. and includes just about every piece of commercial kitchen equipment a student might encounter in the real world. The new facility can easily accommodate up to 200 students each semester, compared with 120 students in years past.
Planners' goals included designing to maximize hands-on learning, connectivity throughout, instruction in niche areas of foodservice, and as a side benefit, hosting culinary competitions.
The planning and design team was led by Culinary Arts Program Chair Paul Short, Culinary Instructor Chef John Johnson and Baking Program Director Suzanne Daly, along with input from Madison College President Dr. Jack E. Daniels III. The kitchen details were worked out by foodservice design consultant Ed Whitney, Principal of E.F. Whitney, Birmingham, Mich. Architects Hamid Noughani, AIA, and Evan Weir, AIA, of Assemblage Architects, Middleton, Wis., oversaw the grand plan.
Digitally Forward
Short's vision called for moving the Culinary Arts program into the next era of culinary instruction by bringing in digital technology. The new facility can share the kitchens' culinary activity and instruction with and between guests, students, competitors—both on site or far away.
"By technology, I mean the ability to communicate with the rest of the world," Short explains. "We all walk around with a world of info in our smartphones. We want that ability in our teaching labs, too, where students can come into class, see a demo (which also is videotaped), practice the skill—then go home and review the demo again online."
To realize that goal, designers included High-Definition Multimedia Interface outlets throughout, including five outlets in the Skills Lab and two in the Advanced Culinary Lab. An HDMI outlet allows the team to use mobile HD video units ("think of the cameras on wheeled tripods you see on 'Iron Chef,' doing the extreme close-ups," Short says) to transmit data directly to computer monitors, video projectors, digital television or digital audio devices. A sophisticated media control room in back of the Demonstration Kitchen serves as the culinary program's digital hub.
In addition to portable cameras, the kitchens include six cameras mounted on retractable arms at demo stations ("during classes, instructors can operate these via iPad," Short says), and 10 stationary cameras built into the ceiling to stream kitchen action overviews. Throughout the space, flat-screen monitors (13 in all) are used to display culinary activity.
Incorporating such technology into a kitchen requires a lot of up-front planning. "The ceilings and walls of kitchens have a lot going on, from ventilation to pipes and electric," Short says. "With all our cameras and the HDMI outlets, it adds up to a lot of extra lines to deal with." In the Demonstration Kitchen, a Halton ventilated ceiling minimizes noise and does not block lighting during video recording.
Connected To Campus
The concept of connectivity extends to the physical layout, too. Components of the Culinary Arts program start with the Skills Lab, where first-year students develop basic cookery knowledge, and where culinary competitions can take place. Second-year students work in the Advanced Culinary Lab (a.k.a. Jones Dairy Kitchen after its largest donor), which combines an Instructional Prep Area (plus butcher shop and cure room) with a restaurant kitchen.
Wide windows visually link the Advanced Lab to the adjacent 70-seat Demonstration Kitchen. A waitstation area behind the Demo room serves as a student-run formal 40-seat dining area called Diane's Delicious Diner (after its biggest donor). Beyond the Diner is a narrow short-order cooking area—the Culinary Service Outlet—that opens on to the Commons so culinary students can practice making and selling breakfasts and lunches to campus customers. Sliding glass walls between the Diner and the Commons, and the Diner and the Demonstration Kitchen, add to the flexibility of the spaces.
In addition, the Culinary Arts program features a one-year-program Baking Lab and Decorative Arts, with its own retail sales area opening onto the Commons.
Equipping For Education
The Skills Lab comes equipped with 20 identical fully equipped cooking stations. Designers outfitted each station with a Southbend six-burner range/oven and a shared charbroiler on one side, and a prep table and (shared) sink plus smallwares and pans. (By contrast, "our previous kitchen had a work table for four students and a bank of stoves along the wall," Short recalls. "You'd always have an alpha student taking over, and then there would be people jockeying for position at the ranges!")
The Advanced Lab rivals commercial kitchens in its equipment array. During a recent visit, Short pointed out the island cooking suite (created by U.S. Range, a Gemini steam-injected deck oven, a Wood Stone stone-hearth oven, and his favorite item, the Traulsen blast chiller. The Instructional Prep Area offers plenty for students to experiment with: an Enviro-Pak smoker, a Wood Stone tandoori oven, and a full-powered wok station made by Imperial. The area includes a butchery and curing room (more below).
The Bakery and Decorating Lab is just as professionally equipped. A line of Hobart mixers, each on its own mobile stand, anchor the back wall of the room. Flourcovered butcher-block work tables fill the center. Gashor deck ovens, Doyon baking equipment, a Bravo chocolate tempering machine and Somerset fondant sheeter round out the area.
Every few months, professional chefs can be found manning the various stations. "As we designed the facility, we had 'hosting competitions' in mind [as a way of connecting our program to the culinary world]," says Short. And indeed, in February '18, Madison College hosted the American Culinary Federation's Midwest Regional Championships, with teams from nine states competing. Before that, in October '17, the ACF's Team USA, sponsored by Wisconsin's Milk Marketing Board, spent a day practicing for the upcoming Culinary Olympics.
Walk-Ins Anchor Meats & Charcuterie
Two specially equipped walk-in coolers allow the school to offer unique training programs. The Farm To Table Sustainable Meat Production course, a one-year program debuting this fall, will teach students all aspects of running a butcher shop. A walk-in dedicated to the Meat class is fitted with worktables, a rail system along the top for hanging carcasses and a band-saw in the back corner for cutting large portions of meat into smaller, sellable cuts. The program can accommodate up to 12 students per course.
A second dedicated walk-in is to teach the fine art of charcuterie. The cure room is set at 60°F with extra humidity. Prepared sausages hang from hooks. "We use a proofing box in the Instructional Prep Area to cure sausages at 60°F before bringing them in here," Short explains. "Actual timing depends on the sausage's pH, the humidity levels and the types of molds that develop during the curing process.
"We included the Cure Room in the design because we realized charcuterie work was going on all around," Short says. "We wanted our students to learn the science of the process so they do things right."
SPECS
MENU/SEGMENT: University culinary school
LOCATION: Madison, Wis.
CAMPUS POPULATION: 11,000 full- and part-time students
CULINARY FACILITY OPENED: Fall 2016
SIZE: 9,000 sq. ft. (total)
FF&E PACKAGE: $1.8 million
MADISON COLLEGE: Paul Short, Culinary Arts Program Chair; Chef John Johnson, Culinary Instructor; Suzanne Daly, Baking Program Director
CONSULTANT/DESIGN FIRM: Ed Whitney, Principal, E.F. Whitney, Birmingham, Mich.
ARCHITECT: Hamid Noughani, AIA, Principal; Evan Weir, AIA, Architect, Assemblage Architects, Middleton, Wis.
DEALER: Servco
WEB: madisoncollege.edu/program/culinary-arts
EQUIPMENT
Skills Lab
(First-Year Kitchen)
Southbend/Middleby 6-burner ranges w/oven base; charbroilers
CaptiveAire hoods
VictoryAli Group roll-in refrigs.; 3-section reach-in refrig.
Hobart/ITW FEG door-type warewasher
InSinkErator disposer
Advanced Culinary Lab
(Second-Year Kitchen)
U.S. Range/Welbilt Waldorf-style cooking battery w/fryer, dump station w/heat lamp, French hot top, convection ovens, 24-in. broilers, ranges
CaptiveAire hoods
Wells/Middleby food warmers
CookTek/Middleby induction cooktop
Hatco hanging heat lamps
Atlas Metal hot food wells
Alto-Shaam u/c warming drawers, combi ovens
Custom-built Chef's counter w/overshelf, refrig. base
Victory/Ali Group 2-section roll-in refrig., roll-in freezer
Traulsen/ITW FEG blast chiller
Hobart/ITW FEG 60-qt. mixer
Advance Tabco portable pan racks, hand sinks
Wood Stone gas-fired open-hearth oven
Doyon/Middleby proofer
Randell/Unified Brands worktop refrig.
Instructional Prep Area
Jade/Middleby wok range, oven/ ranges
Imperial wok station
Wood Stone tandoori oven
Enviro-Pak smoker
CaptiveAire hood, UDS
Groen/Unified Brands 40-gal. tilt braising pan, 60-gal. tilt kettle
Alto-Shaam combi oven
Warewashing
InSinkErator disposer w/spray assembly
Hobart/ITW FEG conveyor dishmachine
Demonstration Kitchen & Diane's Delicious Diner
Victory/Ali Group reach-in refrigs.
Advance Tabco hand sinks
True u/c refrig.
Wolf built-in wall oven, built-in wall microwave oven, 4-burner/ griddle-top range
Halton ventilated ceiling
Sub-Zero refrig./freezer
Hobart/ITW FEG u/c high-temp dishmachine
InSinkErator disposer w/sprayer
Wells/Middleby u/c warming drawers
Vivreau sparkling water dispenser
Hoshizaki ice maker, bin
Cambro ice transport cart
Culinary Service Outlet
TurboChef/Middleby speed oven
Atlas Metal hot food wells
FWE portable heated cabinets
Randell/Unified Brands worktop refrig., raised rail refrig. work counter
Victory/Ali Group reach-in freezer, refrig.
Jade/Middleby oven-range, griddle, refrig. base stand, charbroiler
CaptiveAire hood
Hatco pop-up toaster
Structural Concepts refrig. display case
Baking & Decorative Arts Labs
Victory/Ali Group roll-in refrigs.
Panasonic microwave ovens
CookTek/Middleby induction cooktops
Doyon/Middleby dough sheeters, spiral mixers, dough divider
Hobart/ITW FEG portable mixers, 7-qt. mixers, 20-qt. mixers
Gashor deck oven
Bravo chocolate tempering machine
Somerset fondant sheeter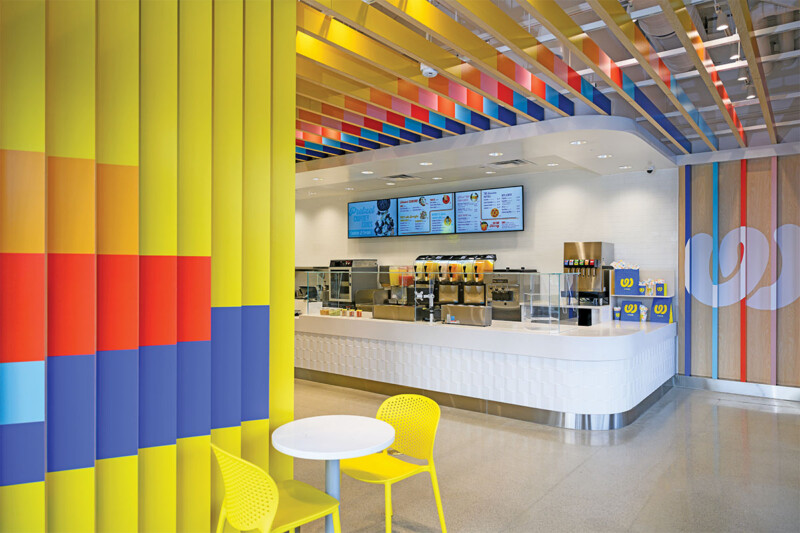 Kitchen Design
Wetzel's Pretzels, the multiunit bakery of shopping mall fame, now offers its soft pretzels and more at street-side through its latest concept.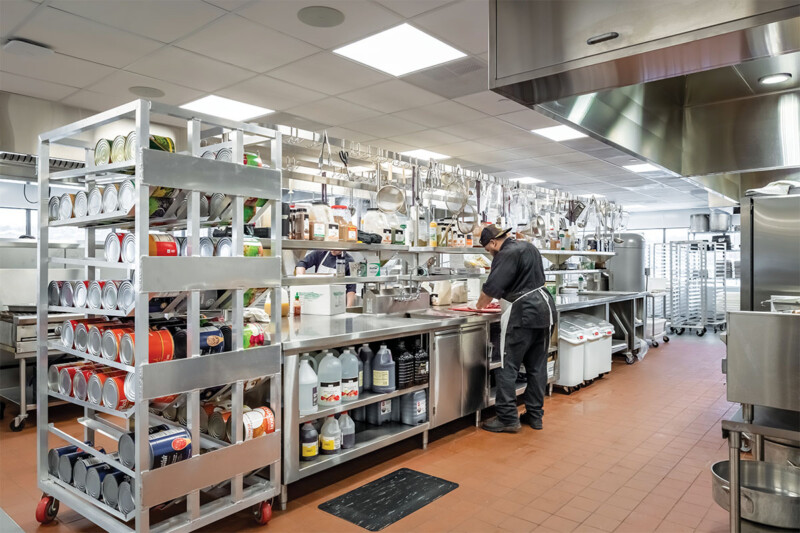 Kitchen Design
Open Arms of Minnesota—a volunteer-powered, nonprofit organization that provides meals to critically ill Minnesotans—needed more room.