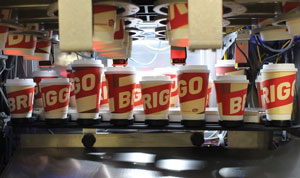 Artisanal coffee made by machines has been around for decades. But artisanal coffee made by robotic processes that's fast, sophisticated and consistent enough to match barista skills; Internet-connected so customers can micro-individualize their orders, and pay (via app, browser or touchscreen)—now that would require a Briggo Coffee Haus. This concept also is self-cleaning and operationally, self-"healing."
Founder and CTO Charles "Chas" Studor and Co-Founder and CEO Kevin Nater launched Briggo in Austin, Texas, in 2008. Between the two lie decades of experience in semiconductors, business, technology and financial services industries, and a shared passion for good coffee.
The company's early years were spent developing the robotic technology needed to power the Haus, sourcing sustainable coffee beans from Latin America and creating and refining the interfaces between customer and Haus, and between Haus and operator.
The team's goals for the freestanding robotic barista included quality, consistency and convenience.
"Quality comes from fresh-ground, sustainably-sourced beans from Latin America, plus real dairy and gourmet syrups— all of which are fully customizable," Studor says. Consistency is delivered by robotic precision paired with cloud-based diagnostics and direct-line customer service. And convenience comes from the app-based ordering model where customers can create, name and save favorite orders, and win loyalty points with each purchase.
Haus Development
The first unit was rolled out in '11 at the University of Texas, Austin, as a prototype that still needed a human attendant and had "all the charm of an airport terminal," according to one description. In '13, Swiss product designer Yves Béhar, head of San Francisco-based Fuseproject, gave the unit its retro-modern Coffee Haus branding, signature walnut-paneled exterior, gabled roof profile and pizazz.
"The small-house shape with table and stools reminds us of a place, a destination, rather than a robot or vending machine, and is expressed through use of real materials," Béhar told Wired magazine in a '13 interview. Customers could peer through windows to watch the robot arms in action, they could hear and smell roasted beans being ground and milk being frothed. A robot arm places the brewed cup at the service window, theatrically, in the form of a "magical turntable that ceremoniously presents the custom brew on a platter," Béhar said.
The upgraded proto—fully automated, sleek and sustainable—was rolled out in '15 to Dell's corporate headquarters in nearby Round Rock, Texas. "Our Dell Haus has served more than 200,000 drinks so far," Studor says.
The Haus has proved both fast and reliable. "On average, the time from order to drink completion is 2.5 minutes, and average time from drink completion to pickup is 3.4 minutes. Downtime—for cleaning, maintenance and the occasional repair—is minimal."
Rather than replacing baristas or going head-to-head with coffee chains, Briggo's target markets are locations with high traffic and high demand for coffee but few quality coffee options— corporate and university campuses, transportation hubs, healthcare, government sites, etc.
Efficient Haus
From capacity to speed to its little to no food waste, the Briggo Coffee Haus has proven an efficient operating model.
A fully stocked Haus can hold about 800 cups and lids, 45 gal. of dairy and non-dairy creamer, 13 gal. of syrups, and has the ability to crank out about 100 cups per hour without any breaks. On average, busy Haus locations serve about 350 to 400 cups per day. A Briggo service person restocks every other day.
"I started the company by thinking hard about the labor part of the equation," Studor says. "One Coffee Haus is the equivalent of three baristas, plus someone working the register, plus one more person in back—that's five FTEs who would not need to be hired, trained or kept on task."
"We also have made sure we don't waste our raw materials," Studor adds. "With this unit, every bean will be ground and used in a beverage. By contrast, typical coffee shops usually end up throwing away unused pots of coffee."
Haus Rules
The Haus' software "ecosystem" consists of three interlocked components: the cloud-based management system, app and on-board master controller.
Powering everything is the cloud-based management system. "This manages our drink menu for each Haus, customer accounts and favorites, customer orders and routing, payment processing, and communicating with guests via text and email," Studor explains.
The app allows customers to choose a Haus location, customize their drinks and view wait times. The app sends a text and an access code when the order is ready, lets customers save favorite drinks, and awards points in the loyalty program.
Each unit has a master controller, responsible for converting customer orders into robot-friendly "recipes," monitoring supply levels, evaluating each prepared drink to make sure it meets specs, and communicating system status back to the mother ship.
Metrics measured by this robotic operation exceed anything a human operator could muster and are constantly tracked. "The robot monitors shot times and drink parameters, adjusts the fineness of coffee grinders and dosing of coffee," Studor says. "It oversees pressures and temperatures of all the systems. Should any metric deviate from our expected ranges, it will discard that particular cup and prepare a new one."
Briggo is currently working on its third-generation model. "About 25% of the software and thinking has gone into making the drinks," Studor says. "The other 75% covers what happens when any step in the process goes wrong. It doesn't happen a lot, but when it does, we want the machine to be 'self-healing' in that it can shut down the affected resources and continue to run."
Open Haus
The Coffee Haus covers a compact 40 sq. ft., measuring about 10-ft.W x 4-ft.D x 8-ft.H. Installing the Haus, which can be done in about 12 hours, requires an indoor site with electric and water hook-ups. The drain can be located nearby or remotely, thanks to a built-in sump pump capable of pushing waste-water to a drain up to 30 ft. away. The Haus also needs a reliable, high-speed Internet connection supplied via a CAT 5 telecom cable.
Since each Coffee Haus is owned, monitored, restocked and maintained entirely by Briggo, a foodservice operator's role lies in providing the venue and publicity needed to encourage customer visits. A peek under the proverbial hood, however, would reveal souped-up coffee shop equipment—a customized refrigerator holding boxed milks and soy milk, ice maker dispensing chewable ice, the 40-lb.- capacity espresso bean hopper, grinder, cup and lid dispensers, and syrup and milk bag-in-box systems. The equipment is linked via cutting-edge robotic elements that move cups down the beverage production line.
The Haus exterior features include a touchscreen display on the left side for on-the-spot ordering, plus a viewing window through which customers can watch the robotics in action. On the right side, a 42-in. screen displays pickup information for completed orders as well as Briggo video and partner content. And in the center—the main stage—a rotating platform serves up completed drink orders. The machine won't serve a cup until the customer enters his or her number at the touchscreen. If the customer is late to pick up his order, the machine texts him, and after an hour, discards the cup at no charge.
Clean Haus
The Haus sanitizing system extends throughout the entire food production run. The unit self-cleans throughout the day by means of a "clean-in-place" rinse of the dispensing nozzle after every cup. "That way your chai latte won't affect the next customer's espresso, and dairy products won't edge into a non-dairy pour," Studor says.
"We're dealing with fresh milk, so the Coffee Haus includes a lot of engineering to ensure food safety standards are met. In addition, when it pulls espresso shots, oils from beans will start to build up in the hopper and grinder," Studor says.
"Every night, the unit runs through a 20-minute cleaning cycle. That way we don't have to rely on people to remember to clean it—or to clean it well," Studor says. In addition, "automated systems sanitize the milk lines nightly; ditto for the brew chambers," Studor says. During restocking visits, the attendant will empty trash bins and such. Throw in Briggo's monthly and quarterly preventative maintenance program, and the result has been "single-digit downtime despite our 24/7 operations," Studor says.
A Look Ahead
A remote ordering system (via order-tablets set up in proximity to each Haus) and new installations in several markets lie ahead for Briggo.
Currently, Austin is home to four Haus locations. Briggo plans to open additional Austin locations including the airport, as well as in Houston and Dallas this year, with further expansion to the Bay Area (San Francisco) in '19.
SPECS
MENU/SEGMENT: Connected coffee
HEADQUARTERS: Austin, Texas
FOUNDED: 2008
FOOTPRINT: 40 sq. ft.
SERVING MAX CAPACITY: 800 cups/day
COFFEE BEAN HOPPER CAPACITY: 35-40 lb.
THROUGHPUT: 100 cups/hr.
NUMBER OF UNITS: 4 in Austin
2018 PLANS: Further expansion in Austin to corporate locations and Austin Airport, openings planned for Houston and Dallas, followed by expansion to San Francisco Bay Area
BRIGGO: Founder/CTO Charles Studor; Co-Founder/CEO Kevin Nater; COO Marsha Osborn; Coffee "Guru" Scott McMartin
DESIGNER: Yves Béhar, Founder, Fuseproject, San Francisco
WEB: briggo.com
HASHTAG: #connectedcoffee
EQUIPPING BRIGGO
Eversys espresso brewer, milk steamer
Manitowoc/Welbilt ice machine
Turbo Air refrigerator
Flo-Jet syrup pumps
BWT water filtration
Dell Optiplex Enterprise servers
Boomi cloud interface technology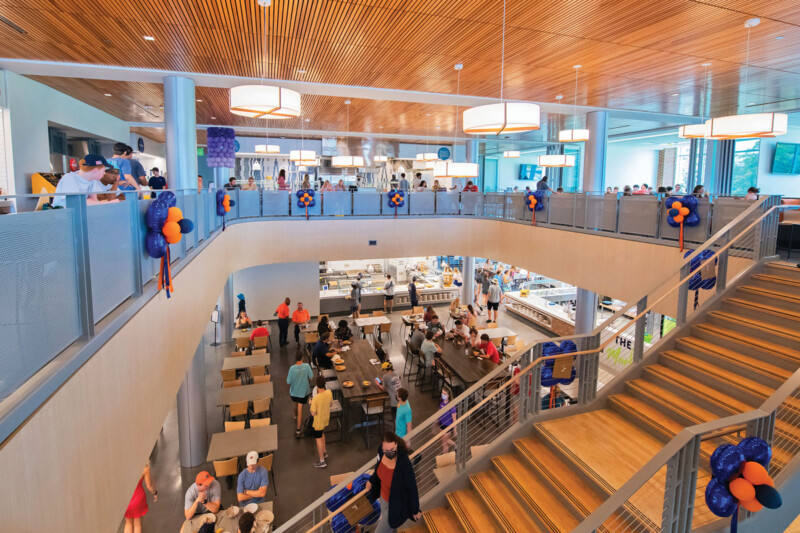 Design
Auburn University's new dining hall boasts an efficient layout with a variety of platforms, featuring a tortilla maker, Mongolian grill and other specialty equipment.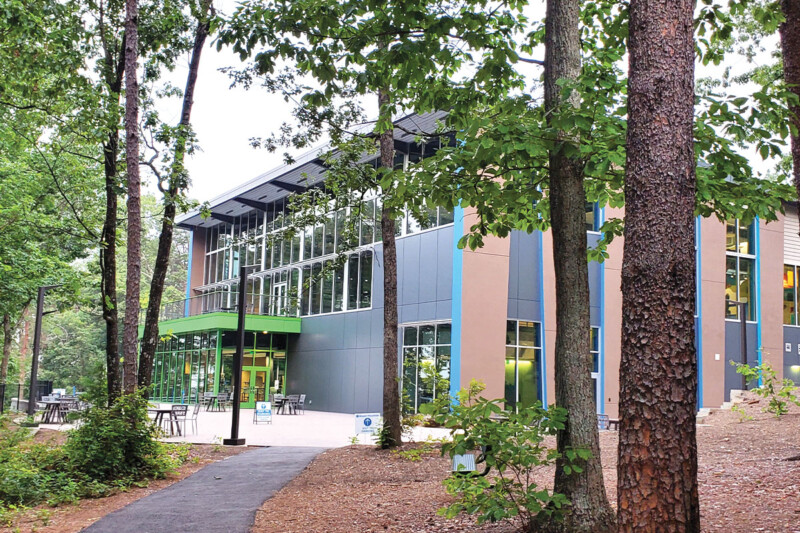 Kitchen Design
A dining facility at the Roper Mountain Science Center, part of Greenville County Schools, delivers freshly made meals to crowds on field trips while preparing students for a foodservice career.