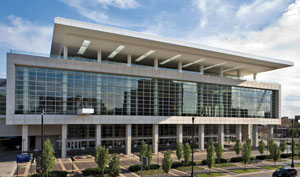 New technologies are infiltrating the foodservice equipment sector, and the results are products that help make things safer, more energy efficient, more convenient and even more attractive to customers. For 14 years, the National Restaurant Association has presented the Kitchen Innovations Awards to honor progressive equipment that increases efficiencies and productivity, helping improve the foodservice industry. This year's 22 recipients show just how much the industry can improve each year.
KI judges saw smart technology—similar to what drives automated cars—being used in ovens that can recognize food items and cook them to programmed settings. Other technological advances include new ways to control temperature for added flexibility in grills, and ovens that can combine two chambers into one larger one for oversized food items.
It's not just cooking that's seeing the benefit of new technologies. Bipolar ionization technology is being used to keep ice machines cleaner, and ultrasonic waves keep steamers free of scale, improving kitchen efficiency and food safety.
In addition to new technologies, another clear trend in this year's group of honorees is the emphasis on bringing people fresh foods fast. "The idea is to show guests that your food is freshly made," says Dan Bendall, Principal, FoodStrategy Inc., and a 2018 KI Awards judge. "When they see that pizza come fresh out of the oven, or see the ingredients used to make their sandwich in a display that never looks half-empty, they know their food is fresh." Manufacturers are rising to the challenge, with merchandising cases and food wells that improve product visibility to electric brick ovens with open mouths that cook pizza in 45 seconds, giving you new options that help meet the high standards of today's customers.
"As a judge, I'm looking for products with true innovations, things that are really ahead of the pack," Bendall says. "Every year is good, but this year was just exceptional, as there were a lot of products that had some really new ideas in them."
See for yourself the innovative technologies and creative new ideas from manufacturers in the KI Showroom at the NRA Show, May 19-22, at McCormick Place, Chicago.
2018 KI Awards Judges
• Dan Bendall, Principal, FoodStrategy Inc.
• David Chislett, FCSI, Executive Principal, Ri cca Design Studios
• Jeff Cook, Chief Engineer, Restaurant Solutions Group, McDonald's
• Richard Eisenbarth, FCSI, President/COO, Cini-Little Int'l.
• Foster F. Frable, Jr., Assoc. FCSI, AIA, President, Clevenger Frable LaVallee
• Randy Homer, Program Manager, Food & Beverage Operations Asset Management, Walt Disney Parks and Resorts
• Jim Krueger, Jr., CMCE, NRAMF, Chief, Air Force Food & Beverage Policy, Procedures, Business Development & Strategic Initiatives Air Force Services Activity Food & Beverage Branch
• Aaron LaMotte, Senior Director, Performance Interiors, Sodexo Performance Interiors
• Steve Otto, Director, Capital Equipment Purchasing, Darden
The National Restaurant Association KITCHEN INNOVATIONS AWARDS 2018
AIR OASIS: Bi-Polar Ice BPi200
The Bi-Polar Ice BPi200 provides a safe and easy way to keep ice machines clean, without putting any ozone, mercury or chemicals into the environment. The device installs easily into any ice machine and uses bipolar ionization technology to deactivate contaminants. It works by using water vapor already in the air to create positive and negative ions that seek out mold and bacteria. Once the job is done the ions revert back to water vapor and the cycle repeats. It removes 99% of contaminants, helping extend service cycles.
airoasis.com
ALTO-SHAAM WITH APPLIANCE INNOVATION: Vector F Series Multi-Cook Oven
Two things stand out about the F Series ovens from Alto-Shaam—the structured airflow and the flexibility. Using Structured Air Technology, the ovens produce high-velocity, focused heat for faster, more even cooking than traditional ovens. Independently control multiple chambers, which are large enough for full-size sheet pans. A choice of 3 or 4 chambers allows you to cook a variety of foods at different temperatures with no flavor transfer. The ovens also feature a combined chamber capacity, allowing for taller items (such as whole turkeys) without disrupting airflow.
alto-shaam.com
ANTUNES: GST-1H Flatbread Toaster
Antunes brings its award-winning toasting technology to a new category of breads. The wide-mouth opening allows for items such as pitas, tortillas and flatbreads to be easily fed into the toaster. From there, a conveyor belt guides the breads along 2 high-temperature platens, heating products to up to 200°F evenly, consistently and fast. A digital controller to adjust temperature, along with a front-load/front-return design, makes this toaster convenient for many operations.
ajantunes.com
Bizerba: GSP H & HD Illuminated Safety Slicers, Manual, Semi-Automatic and Fully-Automatic Operation
The ergonomic design of Bizerba's H and HD slicers uses gravity to make slicing easy no matter how heavy the product. But the safety option is what helped this equipment line gain recognition in this year's KI Awards. An illuminated panel uses color-coded lights to alert you of the machine's status at a glance. Flashing or solid green and red lights let you know important things such as whether the machine is in safe mode or the blade is spinning and ready to slice. The technology helps improve safety and reduce the risk of injury.
bizerba.com
Evo: MultiZone Plancha
The MultiZone Plancha from Evo with 3 independently controlled temperature zones provides a way to cook multiple food items all in 1 place. Using IsoBar technology, each zone is separated by a recirculating fluid thermal barrier to mitigate temperature carryover between zones, each of which have a temperature range of 175°F- 675°F. A touchscreen panel with preset temperatures makes control easy. You can now cook foods that need different temperatures at the same time, like steak and eggs. The flexibility also leads to energy savings, allowing you to turn off 1 or 2 zones as needed.
evoamerica.com
FLAT Tech: FLAT Equalizers
Creating a welcoming, pleasant environment is as important to a restaurant's reputation as the food it serves, and nothing is more annoying than a wobbly table. The new FLAT Equalizers have solved that problem with a hydraulic compression system that easily adjusts to make a table flat or line it up to be the same height as an adjoining table. The Equalizers replace a table's existing screw-in feet and are available in multiple thread sizes. Once installed, a small amount of pressure on the tabletop aligns the feet and locks them into place. The rounded design also allows you to move tables across floors and carpets without snags.
flattech.com/us
Garland: Instinct Induction Countertop Line
Instinct is the first multi-sensor induction countertop line to incorporate cook and hold functions within 1 unit, measuring temperatures across the entire surface for increased accuracy. Dual-zone Instinct can adjust frequency on each cook zone to match pan requirements, as well, adjusting for elements such as the amount of a pan's ferrous content and pan quality. This delivers precise performance and controls against temperature overshoots. The unit is a plug-and-play system with universal voltages. The patented technology also protects against "empty pan" heating, too.
garland-group.com
Genius Pan: Genius Pan
In a world where customers want foods prepared in sight, operations with salad bars and customer-facing prep lines spend a lot of time tossing dwindling ingredients from the bottom of food pans and refilling them to ensure they always look full and fresh. Genius Pan inserts help reduce waste and save time thanks to an innovative patented thread system. By rotating the top of the pan, the system pushes the bottom of the pan up bringing ingredients to the top so they always look topped off and fresh. The containers are easy to assemble, dishwasher safe, and fit standard sizes, making it easy to swap out with existing containers. Clear, black and soon, stainless "look" available.
geniuspan.com
Hoshizaki: KM Edge Ice Machine Series
A new design for the icemaker evaporator gives this line of ice machines an edge over the competition. Called the CycleSaver, the feature consists of a dual-sided stainless evaporator that envelops the copper tubing to optimize surface contact area. This allows for greater energy efficiency and allows the machine to produce the same quantity of ice in half as many cycles as competitor brands. Fewer cycles means less energy use, greater reliability and a longer life for the machine.
hoshizakiamerica.com
Markov: Level RF Oven
Level uses radio frequency energy to cook foods. Inside the compact, ventless oven, thermal cameras detect exactly what temperature each part of your food is to begin with and then cooks it to the proper temperature with the push of a button, pointing RF waves directly at harder to heat/cold spot areas. You can put several different items in at the same time and they'll heat perfectly but individually. The result: multiple foods cook quickly and evenly. The interior of the oven does not get hot.
markovcorp.com
Marra Forni: Electric Brick Oven with Open Mouth
Marra Forni's electric brick oven with an open mouth can produce pizzas as efficiently as any closed oven. The innovation comes through a combination of heat retention and balanced heat production. Walls made of brick from a Sorrento refractory, a deck that retains heat and a low dome all work together for efficient heat retention. Together with a balanced, powerful heat from all directions, the oven can reach temperatures up to 1,000°F. Pizzas cook in just 45 sec., with the ability to produce up to 200 pizzas per hr., perfect for high-volume restaurants.
marraforni.com
Marra Forni: Rotator Deck Brick Oven with Double Mouth Opening
A rotating deck and double mouth opening allows this oven to produce pizzas from both directions in just under 90 sec. Touchscreen controls allow you to regulate the heat, change the speed and direction of the deck and store recipes. The deck is controlled by separate burners, which means you can have separate temperatures for each side. You can even turn burners on or off, to match the production level of your operation, helping conserve energy during non-peak times.
marraforni.com
Multiplex: FreshBlender
The ability to control and blend drinks is no longer limited to soft drinks and juice. With the FreshBlender, customers can now make their own smoothies, shakes and frappes. The self-serve system integrates refrigeration, ice making, blending, dispensing and digital controls for creating cold drinks with any number of ingredients. The machine accommodates all ingredients on board, and they're easy to access and refill. It accepts liquid bagged product including dairy and fruit for a turnkey beverage solution. Product dispenses right into the cup and, along with an automatic rinse function, keeps the machine clean and appealing to customers.
multiplexbeverage.com
Omni-Rinse: Integrated Rinsing System
Save time behind the bar by eliminating the work of hand-rinsing barware tins, jiggers and tools. The Integrated Rinsing System from Omni-Rinse is a hands-free, warm-water rinsing station that easily mounts to a wall, speed rack, or under the bar. This system allows bartenders to easily rinse tools as they go, so unwashed tools don't pile up. It's more time-efficient than hand-washing and doesn't use chemicals or electricity, reducing the waste incurred when using automatic glass washers for this purpose.
omnirinse.com
Prince Castle: Modular Holding Bins
Customize your holding options to fit your operation with Modular Holding Bins from Prince Castle. A master base accommodates up to 8 modules on the 110V option or up to 16 modules on the 220V, with the option of going up to 5 modules vertically or horizontally. There's not only flexibility in the number of modules used, but also in the type of food you can hold. Each module's temperature and time is independently controlled to allow for versatility in menu options, and the individual cabinets eliminate flavor contamination.
princecastle.com
Sealed Air: Cryovac FlexPrep EZ Dispensing
Condiments come in all types of containers, from jars to paper boxes, but no matter how you scoop or pour there's typically no easy way to get every bit out. Sealed Air has created an innovative way to dispense condiments that reduces waste, improves portion control and allows you to offer more types of sauces and flavors without taking up more kitchen space. The FlexPrep system uses prefilled pouches loaded into equipment to dispense sauces and condiments; employees can get every bit of product out of the pouch. The sealed packages also improve sanitation and keep condiments fresh for longer shelf life.
sealedair.com
Soda Gun Jetter: Soda Gun Jetter
Soda guns are the most efficient tools you can find behind bars, but all that fast dispensing can build up a sticky syrup residue over time. That attracts bar flies, affects the taste of the soda and can harbor bacteria. The Soda Gun Jetter helps reduce those problems with easy, efficient cleaning on a daily basis. The fully automated system uses water pressure, no chemicals, to wash out soda guns during off-hours. The system includes holsters for the cleaning process and an app for programming.
sodagunjetter.com
Structural Concepts: Foodscaping Wells
Even with buffet-style operations, it's important to create an attractive display to entice customers and present food in the best way possible. Foodscaping Wells feature adjustable decks that accommodate a variety of dishes at different levels for an inviting display. The unit makes use of air both over and under the products to provide safe, reliable operating temperatures. It also has covers that are flush with the counter to close all or parts of the well when not in use.
foodservice.structuralconcepts.com
Vitamix: Aerating Container
Put away all your whisks, mixers and chargers—with the Aerating Container you can make a variety of emulsions, culinary foams, meringues and other aerated products. The container relies on a perforated disc blade (vs. standard chopping blade) to create a dense, pourable foam. Easily process large batches of foam on demand; choose from a variety of speeds. The 32-oz. container withstands high-volume use; it's made with BPA-free Eastman Tritan copolyester and double-sealed bearings. The Aerating Container can do much more than add volume, it also has applications including juicing, quick-chilling, infusing, and more.
vitamix.com/commercial
Vulcan: SonicSafe Ultrasonic Scale Prevention for Steamers
Steamers are generally a perfect environment for limescale, which can prohibit steam flow and cause other problems. Filters can help prevent scale but require maintenance. SonicSafe Ultrasonic Scale Prevention breaks up limescale particulates suspended in water, continuously preventing scale from attaching to heating elements, sensors and generator walls. The technology starts automatically when you turn the steamer on; it doesn't wear out over time like replaceable scale filters. It reduces other routine maintenance requirements; simply delime once a quarter instead of monthly and change your carbon filter once a year. Vulcan offers SonicSafe on all its electric generator-based steamers.
vulcanequipment.com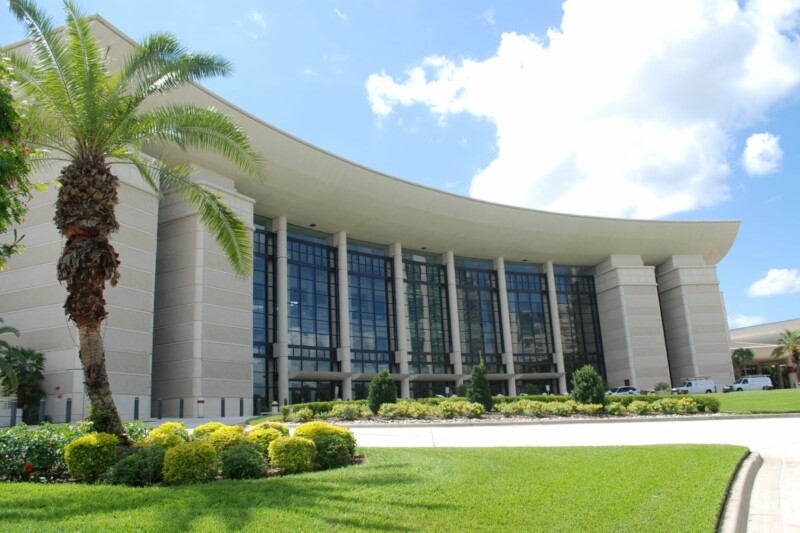 Event Coverage
It's been a rocky year and a half, but many manufacturers—deemed essential businesses—kept going, creating new products. It's showtime.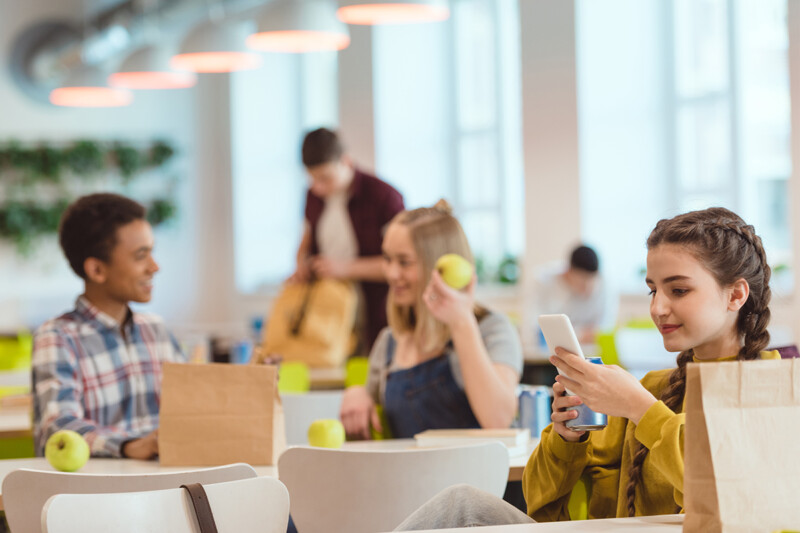 Event Coverage
During the past year, school foodservice directors approached feeding students and staff with care and creativity. As students return to campus into a still-changing environment, the dining model needs to…