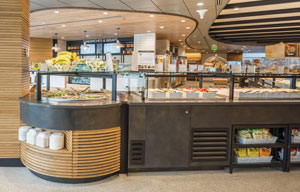 The serving line is the enduring cliché of institutional foodservice. From prisons to elementary schools to corporate cafeterias, we envision stainless counters behind glass barriers, cold pans and hot pans lined up just so. It's an image from long ago, yet serving counters or kiosks, fixed or mobile, still define most foodservices. What's different today is that the possibilities are almost endless in terms of configurations, materials, equipment and signage. Serving counters can literally be the face of interior design in serveries and restaurants.
"You can get anything from an affordable portable with hot and cold stations in a choice of set lengths and colors, to a semi-customizable modified counter where you can choose the size and shape, to a built-from-the-ground- up custom piece that can accommodate any equipment, any décor, any countertop material," says one manufacturer.
Each type serves different needs. Off-the-shelf portable counters come economically priced, offer short lead times, maximum versatility, easily relocate, and are a godsend when it's time to clean the floor at the end of the day.
Fixed serving counters are part of the room and its décor. At every price point, operators strive to impress customers. Fresh, colorful, made-to-order foods and sophisticated modern designs are important ways to do so. "Modified counters with higher-end features like solid-surface material or décor panels are in high demand," says one product specialist.
While basic portables or modifiable midrange designs are a good fit for many operations, upscale custom counters can be seen in colleges, corporate campuses and hospitals that want to stand out. Rather than being determined by the end-user, the look, shape, colors and details for these major investments may be chosen by a consultant or designer in consultation with the fabricator, particularly if the counter is part of a new build.
The time frame for delivery may stretch to many months, especially if unusual or hard-to-find materials are spec'd.
When it comes to serving counters, specifications can get complex.
Frame construction. Makers build counters using wood millwork, fiberglass or steel. Millwork counters keep initial costs down but may not last as long. Makers pour fiberglass counters and form them in a mold; they often use this material for smaller, modular units like those frequently found in K-12 settings.
For environments subject to moisture and heavy use, galvanized or stainless framing is imperative. Good steel counters can last 15 to 20 years. "There are many different ways to use steel in the construction of counters," says one expert. "Stainless sheet-metal bent into modular counter bodies can connect end-to-end to make a large continuous counter, or angle steel can be welded to make custom counters in many shapes and sizes."
Custom fabricators will often use a combination of millwork, angle steel and sheets of stainless to build counters at a lower price point. Or for a unified look in a servery, they can create steel counters for heavy-duty applications but reproduce the same look with less-expensive millwork for a POS station or a counter for packaged grab-and-go items.
Side panels. Counter exteriors may be wood, laminated wood, stainless, laminated steel, fiberglass, vinyl-covered fiberglass, stone or other materials. Some manufacturers offer removable side panels that you can switch out for a change of color scheme, décor or theme.
Inexpensive portables don't need to be bland: over-structures such as menu boards and venue signage, laminate side panels and vinyl wraps offer opportunities for pops of color, even logos or images that reference a school team or the type of food served.
Counter surface. Because counters must stand up to water, heat and heavy use, available materials are somewhat limited. Counters should have underbracing so they won't flex, sag or vibrate, particularly if a heavy material is used for the top. Certified installers know how to deal with materials like quartz or stone to make sure they don't crack. Also note: if you choose a non-stainless countertop, and plan to incorporate hot drop-in units, you'll need to install a stainless pan surround first; this creates the critical thermal break between the hot drop-in and the counter material. Here's a breakdown of counter surface options:
• Stainless. The "gold standard" for sanitation, ease of cleaning, heat resistance and longevity, stainless was once seen as "too institutional" by some, but it's now in fashion. Manufacturers recommend heavy 14-ga. stainless for counter surfaces.
• Laminate is a solid-surface, nonporous, easy-to-clean material that's available in a bewildering array of colors and textures. Even a very long counter can be built with no seams, and if the surface is later marred, it's fixable in the field. Laminate also is inexpensive compared to other materials, so it's more often the choice for lower-price-point counters.
• Corian is a solid-surface material made from a composite of resin and stone. Like laminate, it comes in many colors and textures, some resembling stone.
• Engineered quartz is a durable, nonporous material that promotes food safety, is harder than granite and as cool to the touch as natural stone. Because it can mimic granite or marble, it looks upscale. Quartz will have seams because it comes in standard lengths, but it can be seamed with no visible lines, and it can be repaired if it cracks. Seams need to be resealed periodically.
• Natural stone (such as granite or marble) is an upscale, attention-getting choice, but slabs of most stone materials don't do well with heat and cold and can crack easily. Natural materials must be carefully matched for a "seamless" look, and seams must be sealed. Because stone is naturally porous, the surface must be resealed periodically. "We rarely see anyone requesting marble or granite anymore," says one product specialist. Equipment. One manufacturer says operators "are not using as many only-hot and only-cold wells, and not as much equipment built into the counter that can't change its function."
Instead, flexibility is key. Induction countertops that stay ambient or heat up, and drop-in wells that can be switched from hot to cold and back again are a strong trend. "Hot/ cold drop-in units give you the ultimate in convenient serving options," says one expert. "Individually controlled wells allow you to serve products all at the desired temperatures, or to change from a cold salad bar to a hot buffet or a hot/cold combination bar with the flip of a switch." Additionally, more specifiers are opting for dry-heat conduction or induction holding wells, which take hot water out of the equation.
Undercounter heating or cooling may require a glass insert embedded into the surface above the heating or cooling element. In some cases the counter material itself can be heated or cooled. "You can put an induction unit underneath a quartz or stone material so you can put a metal pot right on the surface," says one company's design director. Some through-counter induction systems require a trivet of some sort under the pot to activate the induction. "The same goes for refrigeration; now you can chill stone with refrigeration from underneath. Cold foods displayed in shallow casserole dishes make a nice presentation. It's a clean, industrial, high-end look that adds value for the guest."
A caution: "Keep in mind that there is no NSF code for temperature maintenance for frost tops or hot tops," says one v.p. of sales. "Ask the manufacturer for their performance testing data to find out if you're comfortable serving like this." Using hot devices with heat lamps from above can maintain a temperature of 140°F or more, he notes.
Storage. Depending on the counter's function, under counter storage may be refrigeration (the compressor of a drop-in unit or a refrigerator or cold drawers custom fit or fabricated into the under-counter space), hot-holding cabinets or drawers, or removable, reconfigurable shelving. Or perhaps the right answer to what should go under the counter is—nothing. "Undercounter storage that you don't need winds up being a catchall for junk," one maker points out. "Why pay for it?" His company delivers POS stations with nothing underneath but a hook for a cashier's purse or backpack.
Makers also can incorporate plate shelves or storage above the counter, such as a shelf over the food shield.
Electrical and plumbing. Electrical components should be UL-listed and conform to local codes. Makers give mobile counters single-plug connections, but it's also best for fixed counters to come prewired with one feeder, with hidden access for individual pieces of equipment that the installer can connect easily. "Specifying daisy-chain configurations for modular counters and electrical load centers for custom counters can keep the cords off the floor and significantly reduce overall costs of construction and installation," says one manufacturer.
Avoid utility service from the floor via utility stub-ups; the stub bases are vulnerable to water leaks and can cause trip-and-fall accidents.
To reduce the amount of plumbing on the job site during installation, work with your dealer and manufacturer ahead of time to locate drains exiting the counter as close to the building's floor drains as possible.
Food shields and lighting. These components strongly drive aesthetics and "may be the most import element of a serving counter," says one maker. "People eat with their eyes, and using LED lighting and polished, radius-cornered tempered glass enables you to maximize merchandising. I tell folks that this is where they need to spend their money. Make it beautiful."
In food shields, the trend is toward infinitely adjustable panes that angle for self-service, full service, or even to a fully horizontal position to use as a shelf. (Some models require one employee to lift and lock into place while other units require two employees to adjust.) These units are great if you need them, but an unnecessary expense if you end up never switching the angle of the glass.
Lighting has been trending to LED; the long-lasting bulbs have advantages over fluorescents, which put off a cool light that's not as flattering to food, and halogen lights, which run hot and can make it tough to keep cold foods cold. Some counters also will require warming lights; in this case, look for fixtures with housing that stays cool to the touch so they won't burn anyone who bumps them.
Electrical lighting and heat lamps should comply to UL codes, food shields to NSF codes, and everything to requirements of local jurisdictions.
Signage. Consumers now demand more information about their food—sourcing, calories, allergens—and that can mean more signs on the serving counter. This clutter detracts from food presentation. At least one company offers a proprietary system of signage that can display nutritional information in the countertop or project onto the food shield.
Whether you need a simple, portable unit or a custom-built beauty, makers offer many options for serving counters; a good amount of homework will ensure you specify a model that meets your service needs and budget.
How To Choose A Supplier
Some manufacturers and fabricators of serving counters are generalists; some are specialists. Some are adept at multiple construction methods; others use just one or two. Some install equipment from their own company or a sister company under the same corporate umbrella; others will install any manufacturer's equipment. Some work closely with consultants, specifiers and end-users of their counters; some just deliver what they've been asked to.
"You need to find someone who is working for you and with you," says a category manager. He believes in the one-stop-shop approach: "You get the most out of a fabricator that can do the manufacturing, design and engineering work and deliver and install the unit in one shot. It makes it easier when you can talk to one person for multiple needs. It's a collaborative process, with a lot of conversations with the consultant, dealer and end-user."
One fabricator says it's always good to vet the supplier for its history, experience, budget and lead times, but potential customers should also look closely at the design process and the design and engineering team's experience: "This is the team that will make ideas come to life and will be able to help you meet your budget and timeline expectations."
What's the best way to find out about suppliers you may be considering? Going to trade shows is a good start, but visits to the manufacturer's existing installations can tell you more. "Talk to their customers and visit sites where they have installations— there's nothing like seeing it for yourself and talking directly to someone who went through the experience," says one maker. "You also want to hear what happened if the project didn't go perfectly—how did the manufacturer respond? We all know that things aren't perfect every time, but it's important that the manufacturer stand behind the product and make things right."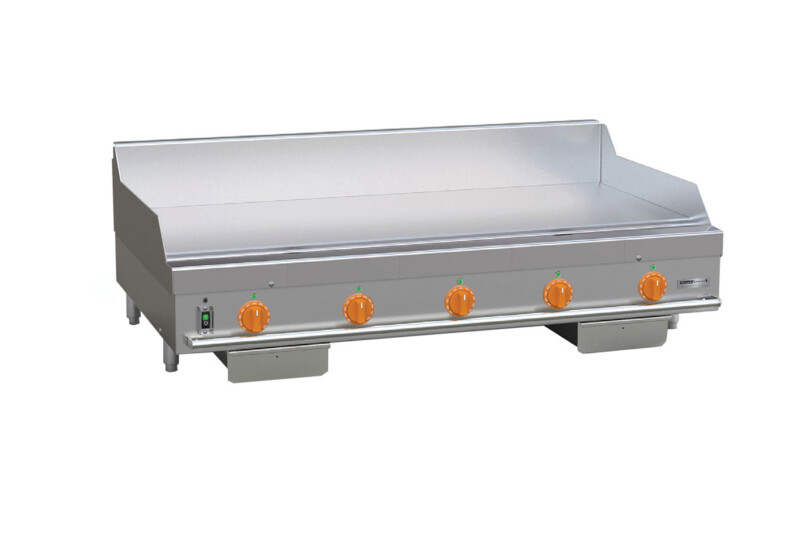 Cooking Equipment
Planchas, though convincing clones of their better-known sister product the griddle, quickly set themselves apart.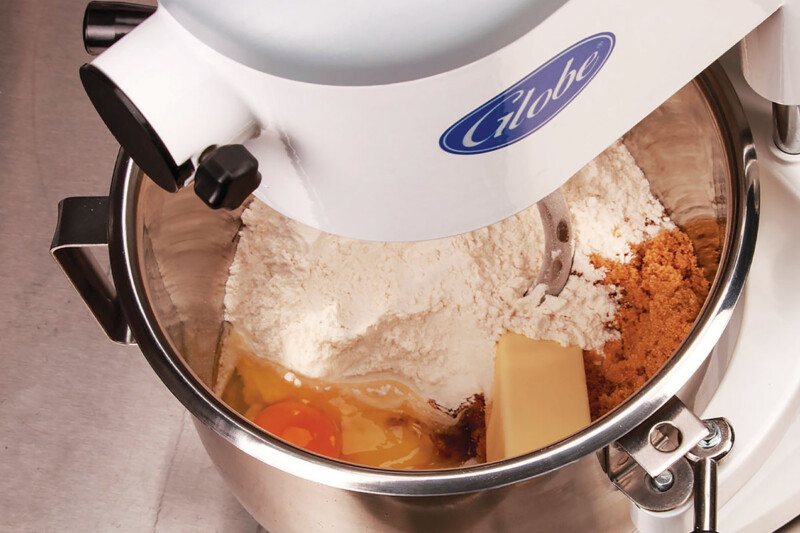 Equipment
The countertop mixer is the Swiss Army knife of the kitchen—small but mighty, with the power to perform various functions.